Welcome to my Be the Boss Network review.
You want online work. You want to be your own boss too. If that's you, that's great!
But the sad thing about it is, you simply can't find a legitimate way to start making money online, am I right?
I know, I had been in your shoes a few years ago.
So is the Be the Boss Network a scam or legit? The answer is simple. It depends on how you treat a scam.
I have some evidence that point in both directions.
There are several problems with this website and generally speaking, Be The Boss Network is not trusted.
In other words, you're not safe.
By the way, congratulations on researching before getting into things headfirst.
That's the way to avoid scams and schemes and to find the best way to make money online.
Within this Be the Boss Network review, I'll show you what this platform is about.
I'll show you what to expect from it without any BS and give my honest opinion about whether it is a scam or a legit way to make money.
Be The Boss Network Review – Overview
Product Type: MLM
Product Price: Free To Join
Product Owner: Responsive Data
Money-Back Guarantee: No
Recommended?: No!
Overview: Be the Boss Network is, in simple words, a website where you can browse various make-money-online business opportunities, mostly MLM.
At first glance, the site seems legitimate.
However, after you dig deeper, the problems and warning signs start to pop out. These issues show that BTBN is not a trusted website.
The main problem with this platform is that they will send you jobs that are mostly shady, outdated, and some of them are even shut down by FTC like in the case of Empower Network.
In other words, they will show you the way to scams. So does it make BTBN a scam as well?
For more details, read the rest of this Be The Boss Network review. The bottom line is, I don't want to recommend this to my readers because it's not safe.
If you are tired of scams and bogus websites, MLMs and pyramid schemes, check out a 100% legitimate way to make money online below I used to go from $0 to earning four-figure passive income online!
THE BEST WAY TO MAKE MONEY ONLINE IN 2023 >>
What Is Be The Boss Network?
According to the words form the About Us page, Be The Boss Network is a place where connections happen, where opportunity seekers meet business owners, and where life goals can get a head start.
In other words, it's a site that helps people to find make-money-online opportunities.
The site is, generally speaking, a web directory or database of seemingly legitimate Multi-Level-Marketing (MLM) companies that are looking for recruits.

Be The Boss Network is also a marketing social network that provides a simple and easy way for business owners to connect with real people seeking real business opportunities.
But as I started to browse through their directory, I saw many names that I didn't like.
For example, they host companies such as Empower Network, which I mentioned earlier.
Since the EN is a total scam, like some other companies from Be the Boss Network list, I have some difficulties to say that it's a legitimate thing.
See Empower Network was a notorious pyramid scheme that was recruiting people under promises of quick and easy money without offering any tangible or consumable products.
The scheme was running for a long time until FTC came along and reacted to customer complaints about the Empower Network and realized that it is a scam.
Now, don't get me wrong. Be The Boss Network is nothing like Empower Network, but it's difficult to say that it is a serious platform if they still promote Empower network.
UPDATE 2021: Be The Boss Network has excluded Empower Network from the database. There are still some untrusted companies on the list though.
Who Owns Be The Boss Network Website?
The official website does not reveal too much about the owner of the Be The Boss Network, which is another scam sign. Every legitimate company or website can offer more information about the organisation.
Unfortunately, BTBN hides those details from you.
I had to put some of my detective skills to work to find more info. Lucky for you, they've served me well again.
Responsive Data company owns this platform.
The company is accredited by the Better Business Bureau and had an A+ rating and only one customer review, which is negative, of course.
With that mystery solved, let's move on to more detailed parts of this Be The Boss Network review.
What's Inside Of Be The Boss Network?
As mentioned earlier, Be The Boss Network is a database for online jobs. So basically, the only thing you can find inside of the site are MLM opportunities, survey sites, and other similar online jobs.
By the way, you can find those jobs all over the net for free. The only difference between Google and BTBN is that they are sorted.
All jobs are lined up in alphabetical order. Some of the examples are:
AWON
Herbalife
HempWork
PartyLite
Shaklee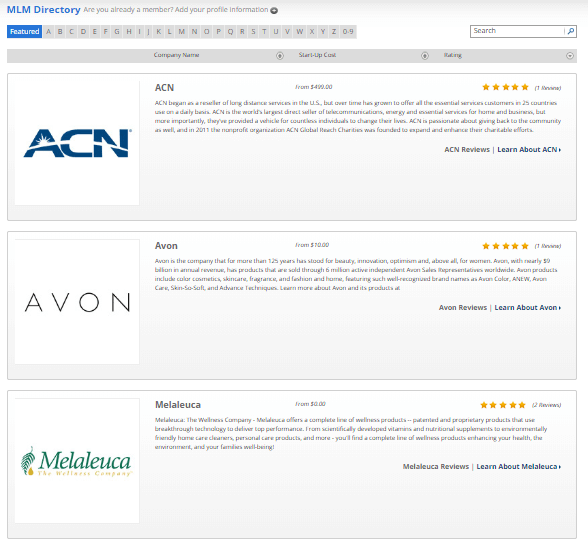 BTBN database contains approximately 200 to 250 jobs. You can sort them by name, rating, and start-up cost.
Regarding the latter, most of the jobs are free, which is something I'll discuss in more details a bit later.
Unfortunately, there are no tools or training found inside of Be The Boss Network.
You can't get any support either since there's no customer service. So if you ever get stuck, you're on your own.
How Does Be The Boss Network Work?
There isn't any science behind Be the Boss Network modus operandi. All you can do is browse between ML companies.
If you find something you like, you need to click the link, and BTBN will show you more details about the MLM and redirect you to the network.
Here's how it looks if you choose Herbalife, for example.
Herbalife is an MLM nutrition company that promotes various supplements and other products related to healthy living.
If you are not sure about Multi-Level-Marketing, what it is, or how it works, let me explain briefly.
MLM is a marketing method where the sales force earns commissions for the sales they generate personally and also from the sales of others that they have recruited.
This situation creates multiple levels of compensation, also known as MLM.
Now the problem with these companies is the success rate. There are plenty of data that tell us that only about 1-3% of people who join MLM end up in profit.
The rest give up and ends with looses, which is one of the reasons why many people call them a scam.
Be The Boss Network is not an MLM itself, but it promotes a lot of companies that you should probably avoid.
Joining Fees and Extra Costs
Be The Boss Network is free to join. However, some of those MLM companies have their start-up costs.
Let's take Herbalife once again.
If you decide to work with them, you'll have to pay $56 in start-up costs. This probably covers the training, some samples, and other things you need to promote this company successfully.
And then, you need an extra budget for promoting these companies.
For example, you have to build a website, get traffic to your site, buy autoresponder and tracking tools, and more!
So the costs of these promotions could rise up from a few dollars to a couple of thousands in a matter of days.
On the good side, most of the companies from Be The Boss Network platform are free to join.
But still, you have to keep in mind the fact that the promotion is not free.
THE BEST WAY TO MAKE MONEY ONLINE IN 2023 >>
Be The Boss Network Pros
It's Free To Use
One of the top perks is the price of the service.
In other words, the lack of it. Although the platform is not going to be my top choice for finding online jobs, I like that they don't charge anything to browse and start working with certain MLM companies.
It's Convenient for Finding MLM Opportunities
Since most of those MLM's are hard to find, BTBN comes as a convenient solution for those who are looking for MLM opportunity.
They even do your profile so that they can match you with the opportunity that suits your personality.
Be The Boss Network Cons
MLM's Have Meager Success Rate
The biggest problem with it is not even related to the site itself. The site just helps you to find MLM jobs.
However, most of those jobs are dead-end and have a shallow success rate.
This info is not something that I pull out of the hat just like that. It's a fact that most recruits give up, and that those who make money with MLM are in 1-3%.
Some of The Companies on the List are Scams
The second problem that raised while writing this review is in the fact that Be The Boss Network has listed some companies that are proven scams! I'm sure that you don't want to trust a site that pushes you into a scam.
My site didn't exist at the time when FTC has decided to shut down Empower Network, but I know the story. I know it very well.
Even worse, EM is still on BTBN's list. However, they did put a notice that Empower Network is closed for business.
Lack of Support & Training
The lack of training is not that a bad thing. I mean, what's there to teach you, right?
But it would be better if they have some video database that talks and walks you through the process of getting jobs through Be The Boss Network.
But on the other hand, the lack of support is a serious fault.
The only help you can get is the FAQ section where they answer a few most commonly asked questions, and that's all there is.
No Way to Prove Ratings
The last thing that you should be thinking about is those ratings.
You see, the owners earn a commission each time they send a recruit to one of those company that charge you a joining free.
And each of those high-ticket companies such as ACN or Ariix have some positive reviews. You can't be sure who wrote those reviews and gave those companies five-star ratings.
In other words, there's no way to prove this. It might be a trick to push you in so the owner can bank a commission.
Related: How To Start With Affiliate Marketing Business
Is Be The Boss Network a Scam?
I know that most people are concerned when they hear MLM. The first word that pops up to your mind is a scam. I know, I've been there.
But the truth is, not all MLM's are scams or pyramid schemes.
So what about Be The Boss Network, is it a scam or legit?
Technically speaking, BTBN is not a scam. There are no usual signs that could prove that something fishy is going on.
On the other hand, some indications, like listing proven scams, definitely do not go in favour of Be The Boss Network.
I don't like this especially because they say that they take care to let only 100% legitimate opportunities to use their service, and yet, they facilitate scams.
Basically, this fault in the system could lead to starting an investment with a shady MLM that could disappear after some time together with your money.
Would you trust BTBN now?
Generally speaking, I don't trust Be the Boss Network. It might not be an outright scam, in itself, but it does carry a lot of risks.
I do not recommend it to you either.
Be The Boss Network Review – Conclusion
At the end of the day, making money online is a serious business that, of course, carries a lot of benefits.
One of those benefits is the ability to be your own boss!
This platform looks like a good place to start, but I would be so confident to say that this is going to be your holy grail for making money online.
I would use the platform maybe only to find a few good opportunities.
However, from what I've seen, those seemingly legitimate opportunities could turn out to be a scam overnight.
So you never know about these things.
Thanks for reading my Be The Boss Network review. I hope my research was helpful. What do you think? IS it a scam or legit? Do you have any experience to share? Feel free to leave a comment below!
How To Make Money Online – Legitimate Way
If you really want to make money online and become your own boss, you should hit the button below.
The platform on the next page has helped me, and hundreds of marketers all across the globe to achieve financial independence.
My goal was to be my own boss, and with the help of my #1 recommendation, I managed to achieve that!
Would you like to be the next one? Being your own boss is great!
THE BEST WAY TO MAKE MONEY ONLINE IN 2023 >>
If you need any help or you have a question, feel free to contact me.
And don't forget to share this review with your friend and family!
All the best, Ivan. Founder, and CEO @freeaffiliatemarketingbusiness.com