Welcome to my CashCrate review. What is CashCrate? Can you make money with CashCrate? Do they pay you rightfully? And the main question is; Is CashCrate a scam or a legit website to make money online?
No worries. You're in the best place to find out the truth. In this review, I'll be showing you what it is about and how it works. Also, I managed to find some interesting CashCrate reviews for users that I want to show you as well.
But first, who am I?
Hi, I'm Ivan and I'm an online marketer who went from waiting tables to managing a full-time income online. I have also tried and tested 600+  courses, scams, and all sorts of schemes to find the best way to make money online.
In other words, I'm passionate about knowledge that helps to improve our lives, build a business online, and more.
So without further ado let's reveal my CashCrate review, shall we?
CashCrate Review – Overview
Type: Get-Paid-To Website
Price: $0
Owner: Unknown
Money-Back Guarantee: unavailable
Recommended?: No!
Overview: CashCrate is a GTP website that offers users to make money by completing online tasks. You can earn money by completing surveys, watching videos, referring people to CashCrate, etc.
✅ CashCrate PROS
offers some work online
most of the sites in the offer are legit
you can get paid on PayPal
🛑 CashCrate CONS
low earning potential
scarcity of offers inside
they send annoying spam mail
they don't pay out!!!!!!!!!
👎👍 CashCrate Scam or Legit?
At first glance, the CashCrate is legit. There are no signs of scams and everything they do seems to fit the profile of a legitimate GPT site.
However, based on many negative reviews from users, it actually seems like this website is a scam and a waste of time and effort. The main complaint is that CashCrate doesn't pay out rightful earnings to its users.
That said, if a GPT site doesn't pay out, it can be called a scam. Moreover, because of this fact, I don't recommend this site. You can see the rest of my CashCrate review to see why not.
Alternative: If you are tired of scams and bogus websites, MLMs, and pyramid schemes, check out a 100% legitimate way to make money online below I used to go from $0 to earning four-figure passive income online!
THE BEST WAY TO MAKE MONEY ONLINE IN 2023 >>
Who Created CashCrate?
CashCrate was founded in the year 2006 in Las Vegas, Nevada, USA. Patrick Clochesy is detailed as the General Supervisor of CashCrate from November 2008 to March 2019.
After Cashcrate, he ended up being the Supervisor of Technology for Powercode from 2019 to the here and now.
What Is CashCrate?
In simple terms, CashCrate is a get-paid-to (GTP) website where you can make money by completing various tasks such as:
Paid surveys
Side hustles
Reward programs
Shopping
Watching videos
If you have ever joined a website like Swagbucks, InboxDollars, or any other GTP website, then I'm sure that you're familiar with the concept behind this site.
Basically, you can choose from a list of these tasks, join, and complete it. Once you do so, you earn points that you can exchange for cash. It's that simple.
However, the problem is that there are a lot of scams online. So is CashCrate a scam as well?
Since CashCrate was started, they claim to have gathered more than 10 million members. In 2019, the new site was launched with more opportunities to make money online.
So far, so good. Let's see how you can make money, shall we?
Related: Top 5 Real Ways To Make Money Online
How Can You Make Money With CashCrate?
You can make money with CashCrate by taking on tasks, completing them, and getting rewarded with a cash prize. The cash you make will rely on how much effort you will certainly put into these tasks.
As it's been said in other CashCrate reviews, don't think that you will make thousands of dollars on a regular basis by simply taking surveys and completing small tasks.
How Does CashCrate Work?
You can join CashCrate for free. All you have to do is register your information (email, name, etc.) and you'll even get a $1 reward for signing up. The only requirement is that you're at least 13 years old.
Once you get access to the dashboard, you will find different tasks and offers that you can complete.
In a nutshell, CashCrate acts as an intermediary between opportunity seekers and opportunities to make money online by completing tasks.
They simply show you the best opportunities together with a review and a link to the third-party website.
As mentioned earlier, there are four main categories inside the platform.
Paid Surveys
In the surveys category, you can get paid for your opinion.
Basically, you can choose from a list of various paid survey sites. Once you click on one of these opportunities, CashCrate will redirect you to the website where you can get started.
Please bear in mind that CashCrate is not providing you with the surveys but they are offering these all on behalf of or in the interest of other companies.
Side Hustles
Inside the side hustles section, you will find a list of a few websites like SitterCity or DoorDash where you can find part-time job opportunities in your area.
Rewards
Rewards programs allow you to get paid to do a variety of things, including engaging with advertisers, getting paid to try new products, watching videos, and more.
The two most popular rewards program sites in this section are Swagbucks and InboxDollars.
Shopping
Online shopping rewards programs allow you to avoid paying full price by offering instant discounts, rebates, or coupon codes that help you get the best possible deal.
Some of the most popular sites in this category are Coupons.com and MyPoints.
Alternative: If you are tired of scams and bogus websites, MLMs, and pyramid schemes, check out a 100% legitimate way to make money online below I used to go from $0 to earning four-figure passive income online!
THE BEST WAY TO MAKE MONEY ONLINE IN 2023 >>
How To Join CashCrate?
CashCrate is free as there is absolutely no signing-up cost. You get $1 right off the bat when you sign up with your e-mail and password. Bear in mind that no person below 13 years old is allowed to join.
After registering, they will send you a verification link to your email. As soon as you confirm your account, you can visit the site and also start earning an income.
Related: Valued Opinions Review
What Countries Does CashCrate Accept?
You can sign up with Cashcrate from throughout the globe. It's more helpful if you speak English as a lot of those that speak English get the most deals.
How Much Can You Make With CashCrate?
There is no straight answer to this question. Generally speaking, the income potential with sites like CashCrate is extremely low. And you also need to keep in mind that you must get qualified for a survey or any other task first.
This means that once you choose a survey from the CashCrate dashboard, you'll be redirected to a third-party website.
Then, before you can actually start with the survey, you have to go through a qualification process to make sure that you're the right fit for the task.
If you manage to qualify, you will get access to the task. Some surveys will take a few minutes to complete, while others may take up to 30 minutes and more.
And depending on the challenge, you can earn from a few cents to up to a few dollars.
But in most cases, all these tasks available inside CashCrate are extremely low pay. This means that you'll have to take on a lot of daily tasks just to generate a few dollars per day.
So when you add that up, you may earn $50 to $100 per month.
As it's been said in other CashCrate reviews, don't think that you will make thousands of dollars on a regular basis by simply taking surveys and completing small tasks.
Related: Points2Shop Review
How Does CashCrate Pay You?
Before you can ask for a payout, you have to meet a threshold. CashCrate does not pay out anything under $20. This means that you have to take a lot of surveys before you meet a threshold.
But once you do so, you can request a withdrawal via PayPal or direct check.
Who Is CashCrate For?
CashCrate is for anyone interested in making money online by completing simple tasks like surveys, watching videos, etc. It does not require too much effort, but it sure does require a lot of time.
That said, this could be for a stay at home moms and dads, people in retirement, students, and basically, anyone else who wanted to earn a dollar or two per hour for clicking their mouse around and answering questions.
I personally am not the type for sites like CashCrate. In my opinion, these sites are a good place to earn some quick pocket change but are not a real opportunity to make real money online.
Related: RapidWorkers Review
Is CashCrate A Scam?
Technically speaking, CashCrate is not a scam. It's a legitimate get-paid-to website where you can earn cash for completing tasks, surveys, watching videos, etc.
They pay directly via mail or via PayPal if you are qualified.
However, when it comes to earning points as well as redeeming for incentives, it seems to be a lot more challenging right here compared to other GPT sites.
Because of that, some testimonials claim it's better to spend your time elsewhere (I'll show them to you below in my CashCrate review).
Alternative: On the other hand, if you're looking for the best business model to earn passive income online as a beginner, there are other, more suitable, and cost-effective alternatives.
My top-rated course has helped me to go from earning $0 to $100's per day!
THE BEST WAY TO MAKE MONEY ONLINE IN 2023 >>
Is CashCrate Legit?
CashCrate is a legit survey site. It is a get-paid-to site where you can earn credits and cash for completing online tasks.
Everything about this site seems legitimate except for one thing. See, I always check all the resources available before writing my reviews.
While I was researching to find everything I can about this site and to learn whether it is a scam or legit, I discovered that a lot of people say that CashCrate is a scam.
Check out these online reviews yourself…let's start with the positive ones.
CashCrate Positive Reviews From Users
One of the top resources to find out what users have to say about the XZY website is TrustPilot. Another great source is SiteJabber. I check both of these sites for CashCrate Reviews and was shocked!
Out of 200+ reviews, CashCrate has an average 2.5 rating on SiteJabber. On Trustpilot, they got 1.8 stars from 83 reviews.
Here are some of the most common positive reviews: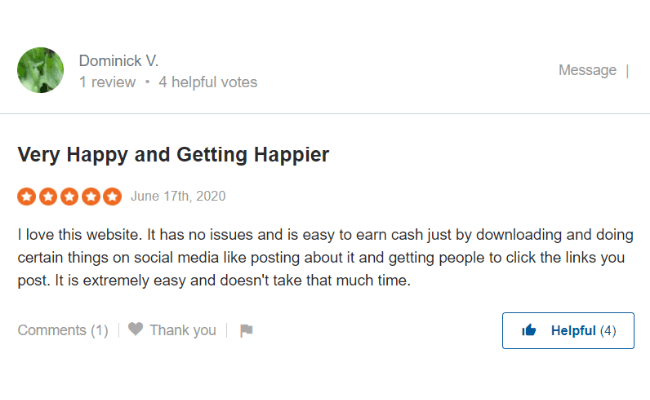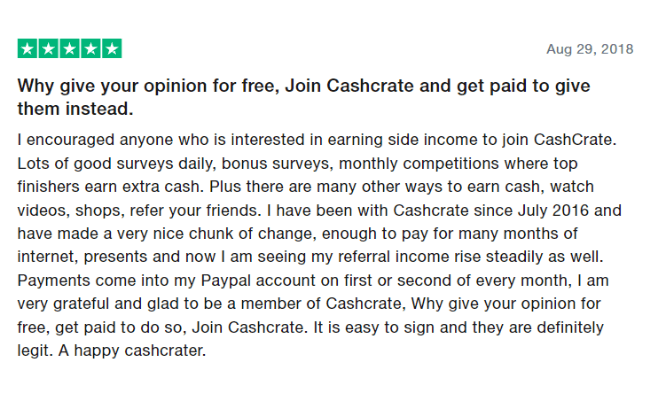 Most of the positive CashCrate reviews online seem biased and written by untrusted resources. I have managed to find some good reviews, but they are in the minority when it comes to this site.
As you are about to see below, over 65% of online reviews are negative!
Related: ApperWall Review
CashCrate Negative Reviews From Users
CashCrate got mostly negative reviews from its users. Since my review is mostly positive and oriented toward the technical aspect of the platform, I'm not going to bother you with that anymore.
However, you have to take a look at these reviews before you decide for yourself.
After all, the voice of people is the true voice. And they have nothing good to say about CashCrate.
For example, Madison claims that she joined the website, completed tasks, earn cash, asked for a payout, and never received her hard-earned money.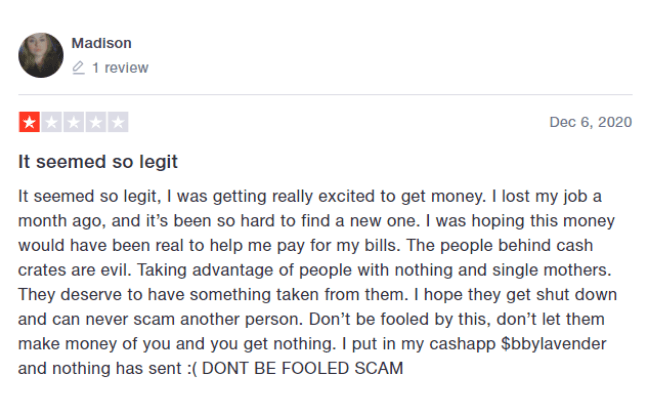 Then, Luke seems to be having the same problem as Madison. He says that he has earned a little bit over $1K and is still waiting for his cash to show up on his account.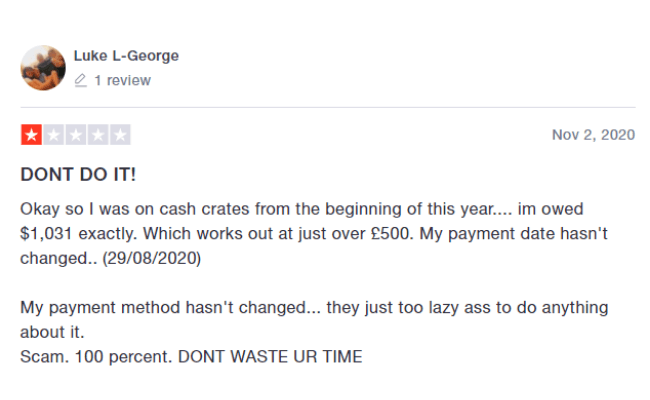 John has the same problem as Luke and Madison. He earned a lot of money over the last few months. However, when he asked for the payout, he was blocked.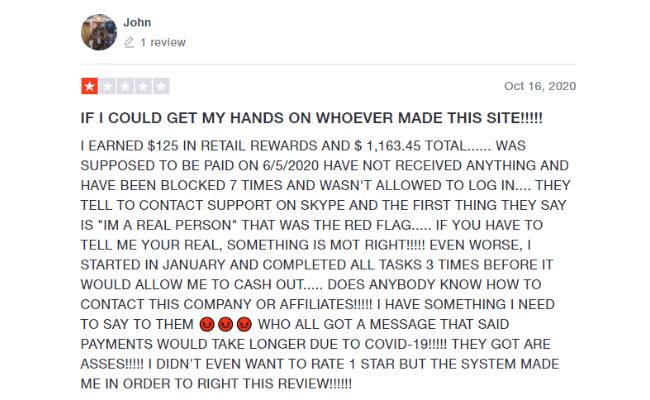 All in all, there are TONS of negative CashCrate reviews all over the internet. It seems like everyone is having the same problem. They complete the tasks and earn cash, but they never receive their earnings.
If these people are right, and I believe they are, CashCrate is a scam after all! I mean, I know I've said that it is legitimate, but that's only because they offer legitimate jobs and do redirect you to legitimate places to take these jobs.
But judging by the majority of these negative reviews seems like it's a scam, folks!
Alternative: If you are tired of scams and bogus websites, MLMs, and pyramid schemes, check out a 100% legitimate way to make money online below I used to go from $0 to earning four-figure passive income online!
THE BEST WAY TO MAKE MONEY ONLINE IN 2023 >>
What I Like About CashCrate
Truth be told, you can find some work online using the CashCrate website. They will link you up with legit websites like Swagbucks or InboxDollars where you can start earning cash.
And in most cases, these sites will pay you via PayPal. So if you earn some cash, you will get paid, probably…
As you can see from those negative CashCrate reviews, lots and lots of users have never seen a single cent they earned. Speaking of which, let's go over the negative sides of this platform…
Related: IndexClix Review
What I Don't Like About CashCrate 
The first thing I don't like about CashCrate is its low earning potential.
This is nothing new. GPT sites usually pay extremely low amounts for small tasks, which means that you have to do a ton of them every single day to earn a few dollars.
But the real problem is that there is a scarcity of offers on the CashCrate website.
And because of this, they will transfer you to legit websites like Swagbucks where you can get access to plenty of microwork online. CashCrate will earn commissions for recommending you, of course.
Another thing I noticed, and didn't like about it is the fact that they will spam you every day with emails.
But I wish that's the worst thing…
As you can see from the reviews above, lots of people say that CashCrate is a scam because they haven't been paid at all!
CashCrate Review – Conclusion
In my final opinion in this CashCrate review, I have to say that I don't recommend this website. After taking a closer look at it, I conclude that it is most likely a scam and a waste of time and effort.
Even if CashCrate is a legit website, I would still have a tough time recommending it.
I personally feel that these GTP sites are a complete waste of time. It's extremely hard to earn more than $1 per hour, which means that the income potential is extremely low.
And when I find out that CashCrate is not paying out its users. I really have no intention to give it a green light.
What do you think? Is it a scam or legit? Do you have experience with this site? Have they wronged you as well? Feel free to share your comments, reviews, and opinions with the rest of us in the comment section below!
Is There a Better Way To Make Money Online?
I know how hard it is to trust websites these days.
There are too many scams out there, especially in the make-money-online world.
I know, because I reviewed over 700+ sites so far!
Why did I review so many sites? Well, I wanted to find the best (and cost-effective) way for a beginner to start income online.
While searching for this information, I bumped into affiliate marketing.
Thanks to a decision to learn more, I went from waiting tables in restaurants to earning a full-time passive income online.
And today, I like helping people as you follow in my footsteps,
Keep reading…
How I Make Money With Affiliate Marketing
I earn online by creating simple affiliate websites that I use to connect people with products they are already looking for.
It requires no special skills or previous experience, which makes it the best way to start online.
The best thing about affiliate marketing is that it is passive in terms of results and income.
In other words, you could be earning an income from your affiliate website for years and years to come, even when you sleep.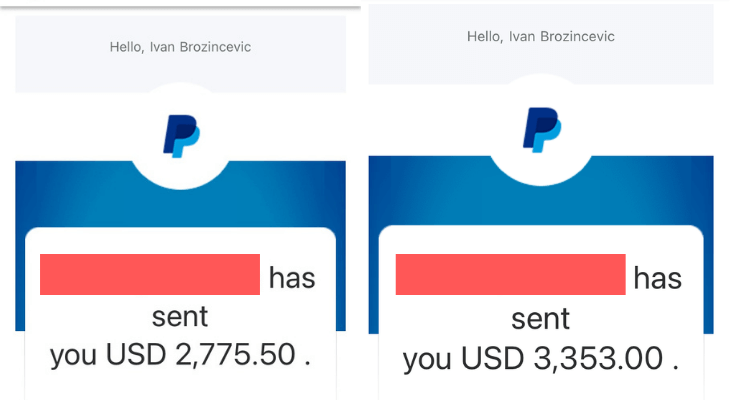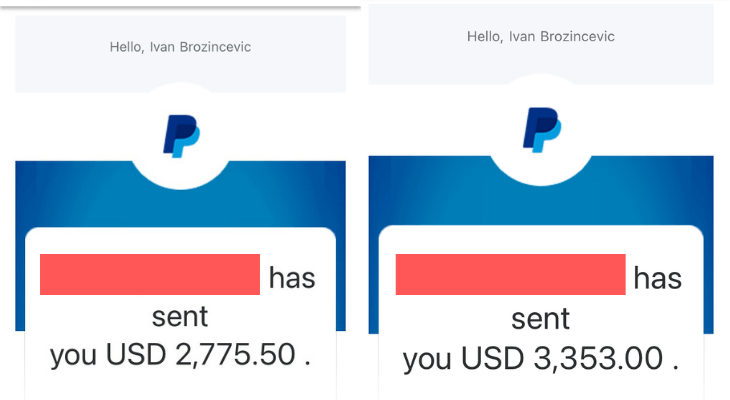 If you want to learn more about how you can start making money online with affiliate marketing, click the button below!
After evaluating over 700+ programs on the web, my conclusion is straightforward. This is the best way to start earning passive income online.
And if you're looking for the very same, I'll see you on the next page…
THE BEST WAY TO MAKE MONEY ONLINE IN 2023 >>
If you need any help or you have a question, feel free to contact me.
And don't forget to share this CashCrate review with your friends and family!
All the best, Ivan. Founder, and CEO @freeaffiliatemarketingbusiness.com
Related: Spare5 Review