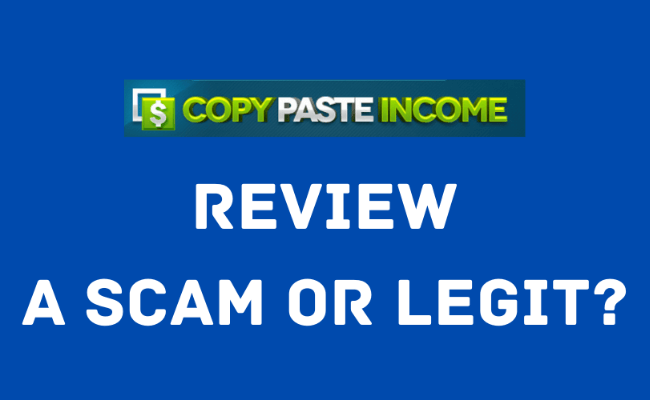 Welcome to my Copy Paste Income review!
Ewen Chia claims that you can "copy and paste" your way to earning $1000s a day even as a complete beginner with Copy Paste Income.
If you're looking to learn:
Is it a scam or a legit
What I found inside
How good is the training
Whether people are getting results
The real cost to start
And much more!
You've landed on the right website!
I've dedicated a few days to analyzing this program, taking notes, uncovering all sorts of truths, and thoroughly going over the details inside and outside so that I can provide you with a comprehensive Copy Paste Income review.
| | |
| --- | --- |
| | Affiliate marketing system by Ewen Chia. |
| | $37 one time, plus hidden upsells. |
| | Legitimate way of making money online. 60-day money-back guarantee. |
| | Expensive upsells. Fake testimonials. No proof from real users. Poor training material. Overhyped and misleading sales page. Designed to benefit the owner. |
| | Copy Paste Income is a low-quality affiliate course. It is not recommended because it is designed to benefit the creator at your expense. |
| | |
| | |
I Want To Know…
About the Reviewer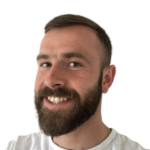 Hey, I'm Ivan Brozincevic!
Since 2018, I've been making a full-time income online, which allowed me to quit my old job (about me).
In the beginning, I struggled to identify legit courses and avoid ones that were just out for my money.
That's why I created this website – my main goal is to help you steer clear of pitfalls and discover the top online business courses.
Every week, I invest hours in reviewing online courses and writing reviews based on my fact-driven review guidelines to assist you in making an informed choice.
Related: Check out my FREE training program for making money online.
Is Copy Paste Income a Scam?
Now, here comes the real question: is Copy Paste Income a scam or legit?
I'm sure you have read that it is a scam.
However, in my opinion, Copy Paste Income is a legitimate offer. Notably, the program offers a 60-day refund policy and teaches a legitimate way to make money online.
Unfortunately, that's the only positive aspect I can mention after reviewing it.
The overall quality of the program and Ewen Chia's promotional tactics for Copy Paste Income raise concerns.
From the moment you land on this offer, the exaggerated claims leave the impression of a first-class scam.
The idea of making money within 24 hours by simply copying and pasting texts may attract newcomers, but it is an unethical way to promote a product.
Moreover, Ewen is employing fake testimonials to endorse this offer, further undermining its credibility.
What is Copy Paste Income About?
Copy Paste Income is a system created by Ewen Chia that aims to help individuals generate an online income through simple text copy-pasting.
According to Chia, even without prior experience or online marketing skills, one can supposedly make $3,053.68.
The concept revolves around affiliate marketing, which enables the creation of passive income. Chia suggests that the system can be set on autopilot, allowing users to enjoy leisure activities like watching movies or spending time in the park with their kids.
However, it is important to note that the exaggerated earnings promised by Chia in a short period are unrealistic.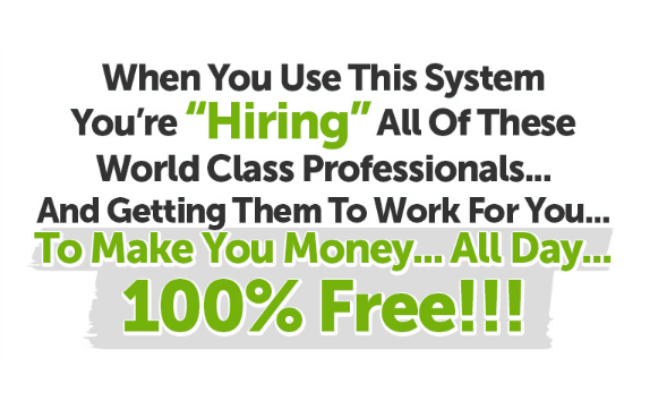 The issue with the Copy Paste Income system lies in Ewen Chia's marketing approach. The sales page you've viewed earlier is filled with enticing claims of rapid wealth accumulation, a desire shared by many.
However, the system is far from simplistic, and it's crucial to recognize that achieving quick online wealth is nothing more than a myth!
Generating income requires a significant time investment.
Holding onto expectations of immediate results, as proclaimed by Ewen, is naive, to say the least.
How Much Does Copy Paste Income Cost?
Copy Paste Income is available for a one-time payment of $37 through ClickBank.
Once you agree to pay, you'll be redirected to another page where Ewen will introduce a course on acquiring substantial internet traffic for your business.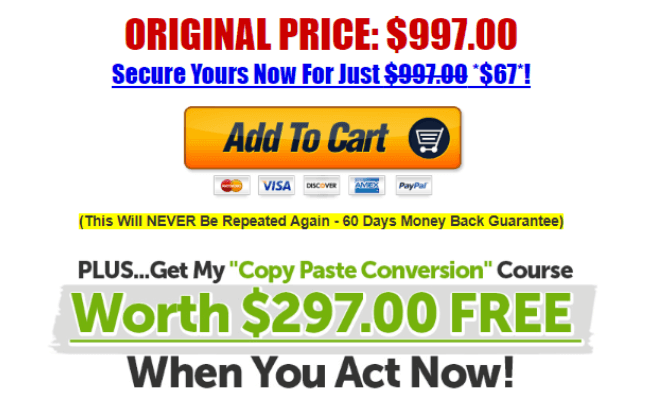 You have the option to say no and decline this offer.
However, once you are inside the system, you will encounter the same upsell and much more.
I have a feeling that the main purpose here is to sell you more and more of his product.
What's Inside Training Area?
After hearing about the story of copying and pasting text for cash, I didn't have high hopes. And my expectations were accurate.
In other words, Copy Paste Income does not provide significant training in return.
To start, there is a welcoming video where you can meet the owner, Ewen Chia.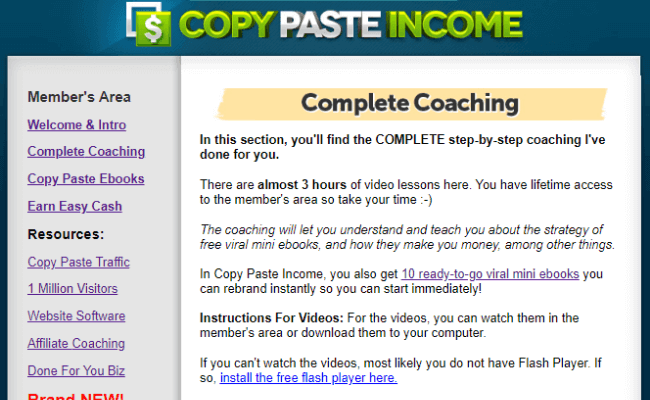 Inside the member's area, you will find a few training videos that explain how to get started with affiliate marketing. By the way, it's not going to be as easy as he said earlier. There is a lot more work to be done.
Here is the content of the program:
Complete Coaching (5 videos!!!)
Copy Paste Ebooks
Earn Easy Cash
Additional Resources
Complete Coaching
Complete Coaching is the section where you can watch five training videos. In these videos, Ewen explains the method in more detail.
Within this section, you'll find approximately three hours of video material.
The focus of these videos is on affiliate marketing and promoting other people's products as an affiliate. Specifically, with regard to ClickBank products, there's an emphasis on promoting owners' products.
Copy Paste Ebooks
Copy Paste Income offers a crucial section where you'll discover the essence of the program.
Within this section, you have the opportunity to utilize ten different Ewen's ebooks to promote as your own.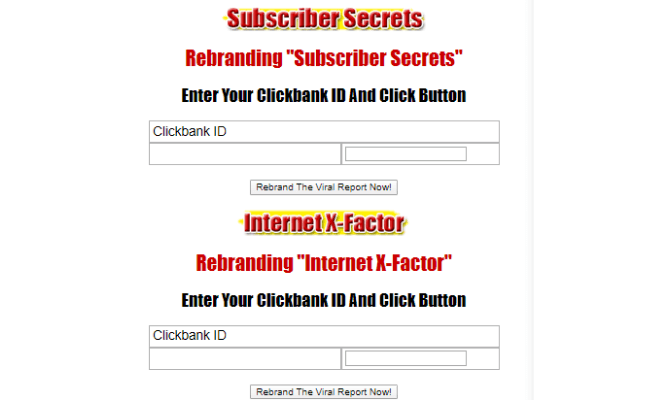 He's essentially granting you PLR rights to utilize and promote his books to others, allowing you to earn a commission for each sale.
I will explain the entire process shortly.
Earn Easy Cash
Inside this section, you'll find an affiliate program with resources for promoting the same offer to others. These resources include email swipes and various other materials.
Additional Resources
Also, there are a few more resources within the Copy Paste Income member's area that you can use to complete this system:
Copy Paste Traffic – Upsell!
1 Million Visitors – Upsell!
Website Software – Upsell!
Affiliate Coaching – Free Webinar for Affiliates
Done-For-You System – Upsell!
However, it's worth noting that the traffic methods suggested by Ewen are outdated and may not be effective anymore. This is something that I will explain in detail soon.
Additionally, it's important to mention that these upsells are not disclosed on the sales page, which is something I find concerning.
Unfortunately, many ClickBank products follow the same tactics employed by Ewen Chia in Copy Paste Income. You can observe similar strategies used in programs like CB Cash Code or Secret Millionaire Bot.
In summary, these products tend to overhype their sales pages, promising substantial earnings with minimal effort. But in reality, they often require costly upsells because the training they provide is incomplete.
How Does Copy Paste Income Work?
Ewen Chia has a history of creating products like Copy Paste Income and Autopilot Profits to promote his own products and increase his wealth.
The Copy Paste Income system involves watching training videos where he demonstrates how to find products, obtain affiliate links, use his ebooks, and sell them to others.Essentially, the idea is to promote low-quality products to others.
However, this method is unreliable, outdated, and unsustainable. Why?
Because people are intelligent and can distinguish between a subpar ebook and a legitimate training course with potential.
Furthermore, the traffic methods that Ewen recommends, such as sharing books on social media and sites like Scribd and Slide Share, are not effective.

The Copy Paste Income method may generate a small amount of traffic and potentially lead to some sales. However, experienced online marketers would argue that this method is not sustainable in the long run.
In other words, the traffic generation method demonstrated by Ewen is weak.
Without traffic, it is impossible to generate income.
Can You Make Money With It?
I can't guarantee if you can make money with Copy Paste Income. The system itself is legitimate, and it used to work in the past.
However, the results depend on your efforts.
If you put in the effort, there's a chance of success. But there are no guarantees.
That being said, I wouldn't confidently claim that you can, for several reasons. Some of these reasons include selling outdated products using ineffective traffic methods.
Even if you do succeed with Copy Paste Income, it might not provide a foundation for a long-term business.
Ewen doesn't teach long-term traffic strategies like SEO.
Once again, he's leveraging the opportunity to promote his previous creations through a copy-paste system that might sound too good to be true.
If anyone other than Ewen manages to make $3.052.68 with Copy Paste Income, I would love to hear about it!
Who is Copy Paste Income for?
Copy Paste Income is, in my opinion, the best for the owner.
However, the system has the potential to be beneficial for anyone interested in promoting Ewen Chia's ebooks on various platforms and forums.
Since it's based on legitimate methods, it provides an opportunity to advertise on social media as well.
What I Like About Copy Paste Income
1.) Based on Affiliate Marketing
Since stumbling upon online marketing, one method has stood out to me: affiliate marketing.
As an affiliate, your role is to promote products through techniques like link sharing, list building, social media marketing, SEO, PPC, and more.
I appreciate that Copy Paste Income revolves around these methods, even though the training provided may not be top-notch. Nonetheless, it does cover the fundamentals of this business.
2.) ClickBank Money-Back Guarantee
ClickBank is a vast online marketplace that offers a wide variety of digital products for affiliate marketing promotion. One standout characteristic of ClickBank is its customer-friendly refund policy.
If you decide to purchase Copy Paste Income through ClickBank, you have a generous 60-day trial period. If you fail to earn $3,058.62 over the weekend, promptly request a refund.
Rest assured, refunds are processed without any questions asked, and your money will be back in your account within a few days.
What I Don't Like About Copy Paste Income?
1.) Sales Page Is Full Of Get-Rich-Quick BS
The Copy Paste Income sales page is filled with claims about copy-pasting text, making money quickly, and other bogus promises, from the top to the bottom.
It's clear that Ewen Chia, the creator of these exaggerated sales pages, has gone too far and crossed many lines of decency.

He claims that you can make money in less than 24 hours without any experience or skills, simply by copying and pasting the text. This makes a legitimate business appear like a scam.
Consequently, affiliate marketing is earning a negative reputation due to programs like Copy Paste Income.
2.) Earning Potential is Seriously Overhyped
I must admit, the method Ewen teaches is legitimate. Personally, I use affiliate marketing to generate income online. I also agree with him that it's one of the best ways to make money online.
However, I would never claim that you can start making hundreds and thousands right away!
Speaking for myself, I haven't seen any proof from other users of Copy Paste Income. Have you?
Actually, I have! Let me show you more.
3.) Fake Testimonial
Ewen is using fake testimonials in an attempt to make you believe that people are making money with Copy Paste Income. The woman in the picture is clearly a fake stock photo.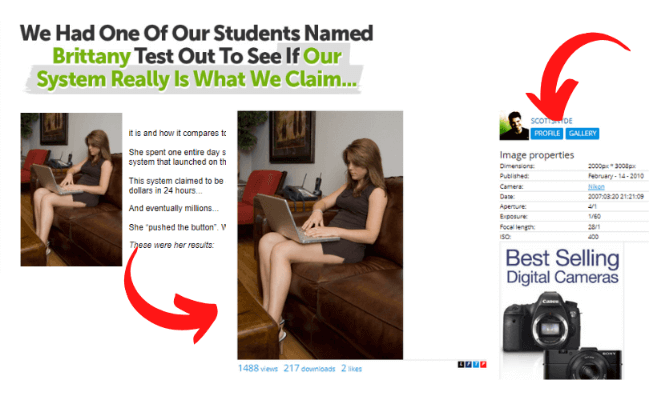 Now, you've got to ask yourself the following question:
Why would he do such a thing if Copy Paste Income is making cash for thousands of his students?
4.) Training Is Outdated
Once I gained access to the training dashboard, I found myself somewhat disappointed with the quality and quantity of the training.
In my opinion, Copy Paste Income is an outdated program that lacks substance.
Ewen does touch on some evergreen topics, such as finding products to promote, and a few other things. However, his traffic methods are no longer effective.
While sharing links and ebooks on social media, Slide Share, and other platforms and forums might yield some results, it's not something I would rely heavily on.
Moreover, it appears that the core traffic training is hidden behind expensive upsells, as is often the case. On the other hand, legitimate programs like Wealthy Affiliate provide comprehensive knowledge at a fixed price, without any unnecessary extras.
In conclusion, I highly recommend Wealthy Affiliate as their methods are always up-to-date, especially when it comes to traffic generation.
5.) Ewen Forces Expensive Upsells All Over the Place
The Copy Paste Income system guides you from one offer to another.
As you navigate the training area and click on links, you'll find that many of them lead to Ewen's previous launches.
Unfortunately, this indicates that the program owner may not be prioritizing it seriously. It seems that the program is being used as a vehicle for maximizing profits on every occasion.
This is not the first time Ewen has employed this approach. In essence, Copy Paste Income can be described as one big funnel.
Copy Paste Income Review – Verdict
After reviewing Copy Paste Income from head to toe, I don't recommend Ewens's offer.
It is an overhyped, and quite misleading affiliate marketing system designed to show you how to promote Ewen's product as an affiliate.
The ultimate goal of the program is to make Ewen even richer.
The main proof that Copy Paste Income is a low-quality product is in the fact that there are absolutely ZERO positive testimonials and reviews out there.
Do yourself a favour and skip this one!
Thanks for reading my Copy Paste Income review. Feel free to drop your comments and reviews below!
| | |
| --- | --- |
| | Affiliate marketing system by Ewen Chia. |
| | $37 one time, plus hidden upsells. |
| | Legitimate way of making money online. 60-day money-back guarantee. |
| | Expensive upsells. Fake testimonials. No proof from real users. Poor training material. Overhyped and misleading sales page. Designed to benefit the owner. |
| | Copy Paste Income is a low-quality affiliate course. It is not recommended because it is designed to benefit the creator at your expense. |
| | |
| | |
The Best Way To Make Money Online
I earn online by creating simple affiliate websites that I use to connect people with products they are already looking for.
It's called affiliate marketing and it is the best way to make money online (at least in my humble opinion).
If you want to learn more about how you can start making money online with affiliate marketing, I would strongly suggest you sign up for the free training on the next page.
And don't forget to share this Copy Paste Income review with your friends and family!
All the best, Ivan @freeaffiliatemarketingbusiness.com