Welcome to my Copy Paste Income review.
Ewen Chia has done it again. This time, you can copy and paste simple text to make $3000 in a weekend, just like he does all the time. Sounds like a perfect business deal for everyone, right?
Not only that he claims how you can copy and paste to make money, but he says that you can do this without any experience or skills.
On top of that, it's the fastest and most profitable way to get an online business started and make thousands of dollars on autopilot.
But is it really? Or could it be that Copy Paste Income is a scam?
First, who am I and why should you listen to me?
Hi, I'm Ivan and I'm an online marketer who went from losing my time waiting tables to running a thriving online affiliate marketing business.
In the meantime, I have actually tried and reviewed 600+ courses, scams, and even pyramid schemes to find the very best way to generate income online.
Within this Copy Paste Income review, I'll show you what this offer is about. I'll show you what to expect from it without any BS and give my honest opinion about whether it is a scam or legit.
Shall we?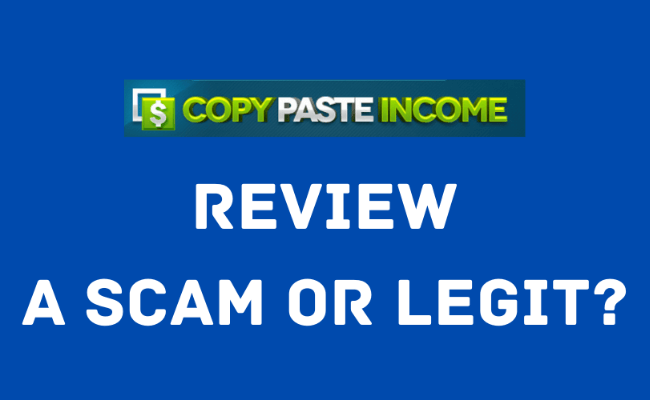 Copy Paste Income Review – Overview
Product Type: Affiliate Marketing Course
Product Owner: Ewen Chia
Product Price: $37 + UPSELLS
Money-Back Guarantee: 60 Days
Recommended?: No! Scam Alert!
Quick Summary: Copy Paste Income is yet another offer from Ewen Chia where he claims how you can make tons of cash, literally overnight with little to no effort.
He says that this program is going to help you to make $1000's online simply by copying and pasting some codes. And since this is so easy, you can do it once, and money will keep rolling in on autopilot.
But as you probably know already, Ewen is overhyping things to make as many sales as possible.
The truth is, you'll get a training course on affiliate marketing, and not a good one. Basically, he teaches simple and not reliable techniques that may and may not work.
This course is not recommended if you are serious about starting an online business. The reasons are lined up in this Copy Paste Income review.
Alternative: My #1 recommendation is a 100% legitimate program that helped me to go from being a complete newbie to making $100's per day with affiliate marketing! Click the button below to learn more!
THE BEST WAY TO MAKE MONEY ONLINE IN 2023 >>
What is Copy Paste Income About?
Copy Paste Income is about, as Ewen Chia suggests it, a system for creating an online income by copy-pasting simple text.
He says that if you can do this, you can make $3,053.68 without any experience or skills in online marketing.
According to the owner, you can use this system once, and just let it run on autopilot while you watch a movie or go out in the park with your kids.
It's a perfect business, wouldn't you agree?
In essence, the program is about affiliate marketing. And indeed, this particular online business model allows you to create a passive income. You can even put it on autopilot at one point.
However, it would be totally unrealistic to expect such huge earnings, in such a short time, and in a way that Ewen promises.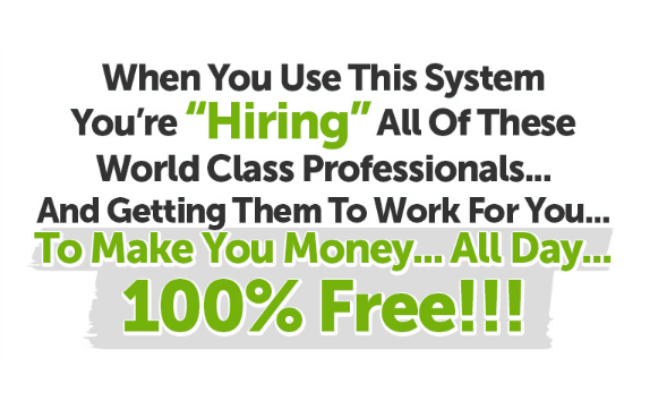 The problem with the Copy Paste Income system is mostly in the way Ewen Chia is advertising it. The sales page you've seen earlier is full of claims about getting rich quickly, which is something everyone is after.
That said, the owner knows this, and he plays on your desire to do so.
But in reality, the system is much more complicated than that, and most importantly, getting rich quickly online is a myth!
You have to invest a lot of time to make money. Expecting fast results as it's been promised by Ewen is childish, at least.
Copy Paste Income Price & Upsells
Before I show you what's inside of the program and explain how it works, let me show how much it could cost you.
You see, Copy Paste Income is selling via ClickBank for $37 one time.
But once you agree to pay the sum, you'll be taken to another page where Ewen is going to offer some course where he shows how to get tons of internet traffic to your business.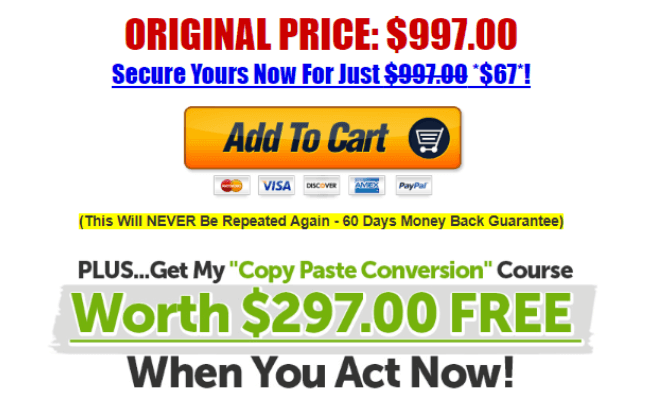 You can say no, and decline this offer.
However, once you get inside of the system, you'll find the same upsell and much more waiting for you once again.
It looks like Ewen didn't invest too much into the training. I've got a feeling that the main idea here is to sell you more and more and more of his product.
Let me show you what I mean.
What's Inside Training Area?
I wasn't expecting too much after hearing the story about copying and pasting text for cash. My expectation was on point! In other words, once you get access to Copy Paste Income, you won't get too much training in return.
First of all, you'll find a welcoming video here you can meet the owner, Ewen Chia.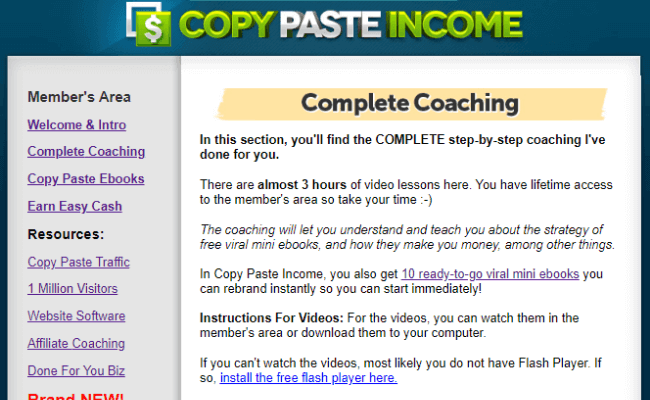 Inside the member's area, you'll find a few training videos that even explains how to start with affiliate marketing. By the way, it's not going to be as he said earlier. There's a lot more work to be done.
Here is the content of the program:
Complete Coaching (5 videos!!!)
Copy Paste Ebooks
Earn Easy Cash
Additional Resources
Complete Coaching
Complete Coaching is the section where you can watch five training videos where Ewen explains the method in more detail.
Here, you'll find approximately three hours of video material.
It all comes down to affiliate marketing and promoting other people's products as an affiliate. In this case, as it's quite usual with ClickBank products, you're pushed to promote owners' products.
Copy Paste Ebooks
In this section of Copy Paste Income, you'll find the essence of the program. Here,  you can use ten different Ewen's ebooks to promote as you own.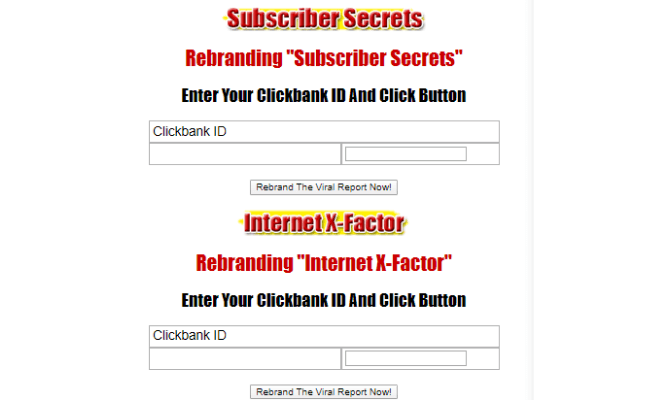 Basically, he's giving you PLR rights to use and promote his books to other people. For each time you make a sale, you can earn a commission.
I'll explain the whole process soon.
Earn Easy Cash
This section is an affiliate program. Inside, you'll find resources for promoting the same offer to others such as email swipes and other stuff.
Additional Resources
Also, there are a few more resources within the Copy Paste Income member's area you can use to complete this system:
Copy Paste Traffic – Upsell!
1 Million Visitors – Upsell!
Website Software – Upsell!
Affiliate Coaching – Free Webinar for Affiliates
Done-For-You System – Upsell!
Since the traffic methods Ewen is suggesting are outdated and probably won't work (I'll explain soon), it's logical that he offers two upsells that solve the problem.
This is not disclosed on the sales page and is something that I don't like to see.
Most ClickBank products today use the same tactics as Ewen Chia with his Copy Paste Income.
You can see the same tactics used in programs like CB Cash Code or Secret Millionaire Bot.
In a nutshell, they overhype the sales page, tell you how you can make tons of cash with little to no work, and then, force expensive upsells because the training is not complete.
How Does Copy Paste Income Work?
It would be fair to say that Ewen Chia has designed a Copy Paste Income to promote his own products and thus, make himself even richer.
He's done it once before with Autopilot Profits.
The first step of the system is to watch the training where he's going to show you how to find products, get affiliate links, use his ebooks, and sell the same to others.
It comes down to promoting more crap to others basically.
You see, Ewen is giving you those books to use as your own. Hence the story is about copy-pasting. He suggests copying and pasting your affiliate links within those books so that commissions go to you.
However, this method is not reliable, it's outdated, and most importantly, it's not sustainable. Why?
Well, people are not dumb; that's why. They can see a difference between a crappy eBook and a real training course with potential.
Another reason why Copy Paste Income won't work as Ewen claims is because of the traffic methods he's recommending. He advises sharing your books on social media and sites like Scribd and Slide Share.

This method could bring you a few drops of traffic, and who knows maybe even some sales. But if you ask anyone with long-term experience in online marketing, he'd say that the Copy Paste Income method is not sustainable.
In other words, the traffic method Ewen is showing is weak.
And if you can't get traffic, you can't make money!
Can You Make Money With It?
I'm not in the position to say whether or not you can make some money with Copy Paste Income. The system is legitimate, and those methods used to work in the early days.
That said, it's really up to you and your efforts.
If you really push it, you could succeed. But there are no guarantees.
However, I wouldn't be so confident to say that you can for several reasons. Some of them are mentioned before, such as selling crappy products using outdated traffic methods.
And even if you succeed with Copy Paste Income, I don't see how you can create a long-term business with it.
Ewen does not teach long-term traffic strategies, such as SEO.
Just like many times before, he's using the opportunity to share his former creations in the form of a copy-paste system that sounds too good to be the truth.
In fact, if anyone outside Ewen makes $3.052.68 with Copy Paste Income, I would love to hear about it!
Who is Copy Paste Income for?
In my opinion, Copy Paste Income is the best for the owner.
However, the system has the potential, and since it's based on legitimate methods, it could be for anyone looking to promote Ewen Chia's ebooks on social media and other platforms and forums.
What I Like About Copy Paste Income
1.) Based on Affiliate Marketing
Ever since I discovered online marketing, there's one method that I like the most. It's called affiliate marketing.
You, as an affiliate, have a task to promote products to other people using various techniques such as link sharing, list building, social media marketing, SEO, PPC, and many others.
I like that Copy Paste Income is based on these methods. The training inside is not high-quality, but it covers the basics of this business.
2.) ClickBank Money-Back Guarantee
ClickBank is one of the largest marketplaces online where you can find tons of digital products to promote via affiliate marketing.
One of the best features of ClickBank is its refund policy.
Since Copy Paste Income is selling via ClickBank, it means that you have 60 days to give it a try. If you don't earn $3,058.62 during the weekend, you should ask for your money back immediately.
Refunds are issued with no questions asked, and your money is back in your account in a few days.
What's Wrong With Copy Paste Income?
1.) Sales Page Is Full Of Get-Rich-Quick BS
From the top of the Copy Paste Income sales page, right down to the bottom of it, you are bombarded with claims about copy-pasting text, making money in a few days, and many other BS that is nothing but a myth.
Ewen Chia is known for creating these seriously overhyped sales pages, and his claims are crossing many lines of good taste.

Worst of all, he says that you can make money in less than 24 hours without any experience or skills. All you have to do is copy and paste the text.
He makes a legitimate business look like a scam. And because of the programs like Copy Paste Income affiliate marketing is getting a bad reputation.
2.) Earning Potential is Seriously Overhyped
I admit, the method Ewen is teaching is legitimate. I personally use affiliate marketing to create an online income. Even more, I agree with him that this is one of the best ways to earn money online.
However, I would never say how you can make 100s and 1000s right from the start!
I don't know about you, but I haven't seen any proof from other users of Copy Paste Income, have you?
Oh yes, I have actually! Let me show you more.
3.) Fake Testimonial
The woman in the picture is obviously a fake stock photo. So to make you believe that people are making money with Copy Paste Income, Ewen is using fake testimonials.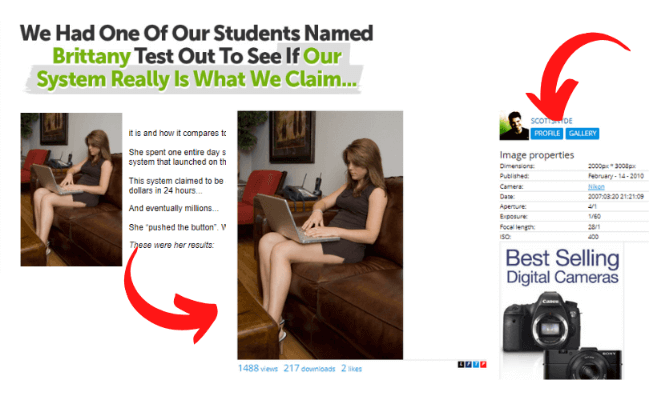 You've got to ask yourself the following question now.
Why would he do such a thing if Copy Paste Income is making cash for 1000's of his students?
4.) Training Is Outdated
Once I've got access to the training dashboard, I was somewhat disappointed with the quality and quantity of the training.
In my opinion, Copy Paste Income is a seriously outdated program.
Ewen is teaching some evergreen things such as finding the product to promote, and a few other things. However, his traffic methods are long forgotten.
Sharing links and ebooks on social media, Slide Share, and other platforms and forums might work, but I wouldn't count on it.
It looks like the core traffic training is, as always, hidden within expensive upsells. On the other hand, legitimate programs such as Wealthy Affiliate share everything you need to know for a fixed price. No BS or upsells.
WA is my top recommendation because their methods are all evergreen, especially traffic!
5.) Ewen Forces Expensive Upsells All Over the Place
From the moment you purchase the Copy Paste Income system, you're led from one offer to another.
If you browse through the training area and click on links inside, you'll discover that most of them lead to Ewen's previous launches.
This is something that I really don't like to see!
It shows that even the owner of the program is not taking it seriously. Moreover, he's using it as a funnel to make more cash on every occasion.
I'm afraid that Ewen's main intention here is to make as much money as possible for himself. And this is not the first time he's done this.
In essence, Copy Paste Income is one big funnel.
Is Copy Paste Income a Scam?
Now here comes the real question. Is it a scam or legit? Some people would say it's the former without any doubt.
But, in my opinion, Copy Paste Income is a legitimate offer. The program is covered with a 60-days refund policy, and it teaches about a legitimate way of making money online.
And unfortunately, after reviewing tons of similar online programs, that's the only good thing I have to say about it.
The quality of the program and the way Ewen Chia is promoting Copy Paste Income is something else.
Those claims leave the impression of a first-class scam from the moment you land on this offer. Making money in less than 24 hours by copy-pasting texts is a magnet for newbies and an unethical way of promoting a product.
Besides, Ewen is using fake testimonials to promote this offer!
Would you call it a scam because of that?
Whatever you chose to think, I don't recommend this program as for, in my opinion, it's not worth time and money.
Alternative: On the other hand, if you're looking for the best business model to earn passive income online as a beginner, there are other, more suitable, and cost-effective alternatives.
My top-rated course has helped me to go from earning $0 to $100's per day!
THE BEST WAY TO MAKE MONEY ONLINE IN 2023 >>
How I Earn Passive Income Online
First of all, thanks for reading my Copy Paste Income review. I hope this article was useful to you.
If you ever wondered how to make money with affiliate marketing, wonder no more!
The program that I recommend as my #1 solution for making money online with affiliate marketing is 100% based on free traffic from SEO and blogging.
The best thing about this method is that it is passive in terms of results and income.
In other words, you could be earning an income from your site for years and years to come because this method is so POWERFUL and overlooked by many marketers.
Just take a look at commissions that I earn passively all thanks to my #1 recommendation.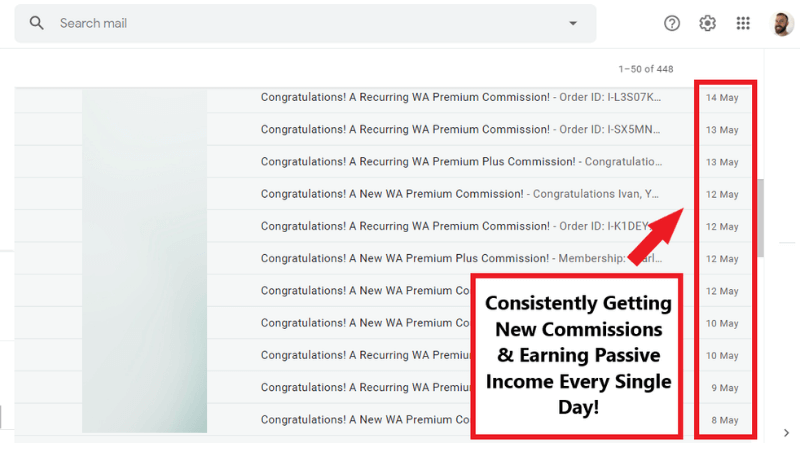 If you want to learn more about how you too can start leveraging SEO to get tons of visitors to your website and make money online, click the button below!
Among the best features of my # 1 ranked course is that you can take it for a test drive (just a $49 Premium subscription).
You will get one complimentary site and access to the very first ten lessons from the course to try things out.
After evaluating over 500 programs on the web, my conclusion is easy. This is the best course to learn about ins and outs of affiliate marketing.
And if you're looking for the very same, click the button below!
THE BEST WAY TO MAKE MONEY ONLINE IN 2023 >>
If you need any help or you have a question, feel free to contact me.
All the best, Ivan. Founder, and CEO @freeaffiliatemarketingbusiness.com