Welcome to my Dropshipping Titans review. If you are interested in learning more about Paul Joseph's training course, keep on reading this article…
The program is all about starting a dropshipping business. But the question is, is Dropshipping Titans a legit dropshipping course? Or is it just a flash in the pan? In other words, is it a scam?
I have spent hours on hours researching everything there is about this program. Finally, I'm ready to share my review with you to help you make your own decision.
Before you start reading my review, let me answer this first…Who am I?
Hi, I'm Ivan and I'm an online marketer who went from losing my time waiting tables to running a thriving online affiliate marketing business.
In the meantime, I have actually tried and reviewed 700+ courses, scams, and even pyramid schemes to find the very best way to generate income online.
Just like you, I'm always interested in different ways of making money online. Upon my research, I bumped into Dropshipping Titans course and decided to learn more and share my experience with you.
In this Dropshipping Titans review, I'm going to show you what exactly this online platform is all about. Moreover, you will get a chance to learn what is inside, and more!
By the end of this review, I'll share my conclusion and a few pros and cons so that you make an informed decision.
Shall we get rolling?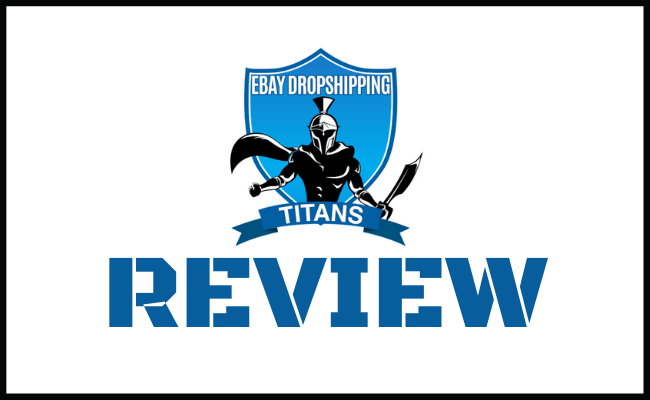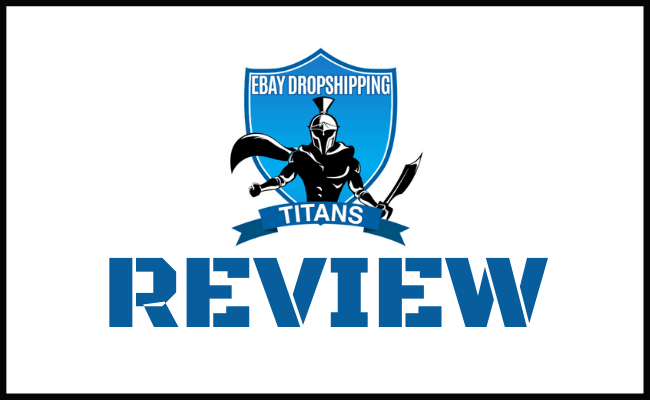 Dropshipping Titans Review – Overview
Product: Dropshipping Titans
Type: Dropshipping Training Course
Owner: Paul Joseph
Price: $297 (One-time payment) or three payments of $127
Money-Back Guarantee: 30 days
Recommended?: Read my review and find out
Overview: Dropshipping Titans is an eBay dropshipping course that aims to help you start a dropshipping business and earn money by promoting other people's products.
But is it any good? Or is it a scam?
✅ Dropshipping Titans PROS
Dropshipping Titans course includes 10 video modules where you can learn everything about dropshipping. The course starts with basics and ends up talking about advanced strategies.
The owner and creator, Paul Joseph, is a legitimate drop shipper and expert in this field.
Dropshipping Titans course is covered with a 30-day money-back guarantee. If for any reason you are not happy or satisfied with the course, Paul will give you a refund.
? Dropshipping Titans CONS
The sales page for Dropshipping Titans and other promo material is a bit overhyped. That's for the reason to sell as many copies of the course.
With this course, you will not be learning anything new and most of the things can be learned for free on YouTube.
But the most significant con, at least to me, is the fact that dropshipping is not a newbie-friendly business. Moreover, it requires skills and an upfront investment too.
?? Scam or Legit?
Dropshipping Titans is a relatively legitimate and valuable course for starting a dropshipping business. It's not my #1 rated course for making money online, but it gets the pass.
Before I reveal the rest of my review, make sure to check out my #1 recommendation.
Alternative: If you're a newbie who is looking to earn passive income online, there are other, more beginner-friendly, and cost-effective alternatives. My top-rated affiliate marketing course has helped me to go from earning $0 to $100's per day!
THE BEST WAY TO MAKE MONEY ONLINE IN 2023 >>
What Is Dropshipping Titans Course About?
Dropshipping Titans is a course created by Paul Joseph that teaches you how to start a dropshipping business through eBay.
In this course, Joseph will teach you how to set up a successful dropshipping business from scratch. You can learn stuff like creating your website, buying products, product listing, and many more you need to do to become a drop shipper.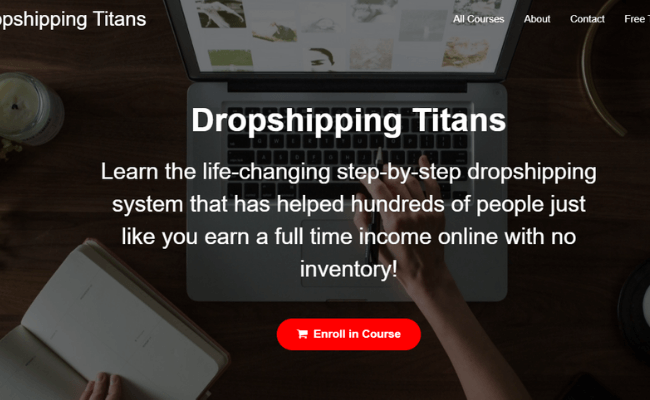 Just know, Joseph Dropshipping Titans takes a different approach from other dropshipping businesses.
In this course, he will show you how to list existing products on eBay. Most courses focus on buying cheap products from Chinese suppliers and selling them for higher margins on eBay or Amazon.
Joseph will also teach you how to check off a different site for customers while making a small profit.
But there is a problem. See, eBay used to be the number 1 dropshipping store globally. However, it has been slowly replaced from its spot as the number 1 dropshipping platform due to the high competition from other sites.
You're probably familiar with some of them. Hint: Amazon, AliExpress, or Alibaba.
That's because their product is much cheaper than other stores.
And that is the main reason why we will take a look at Dropshipping Titans review. I will help you to see whether this course is worth buying or maybe, just maybe, the whole thing is a scam.
To get started, let's do a background check first…
Who Is Paul Joseph?
Paul is an online entrepreneur that claims to have earned a lot of money by reselling products on eBay.
Paul Joseph has a website and a youtube channel named Paul J Lipsky. His channel has over 75,000 subscribers and he teaches about dropshipping mostly.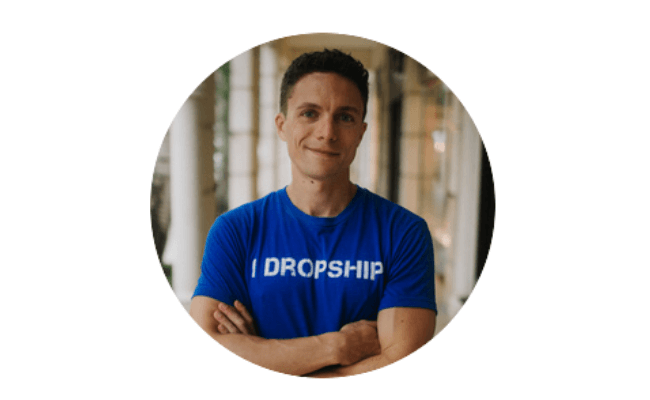 If you look at some of his videos, you will see that he collaborated with other small YouTubers as well. Overall, all videos are good quality and informative.
That said, a popular YouTube channel is always a good sign when I review products like Dropshipping Titans and their owners and creators.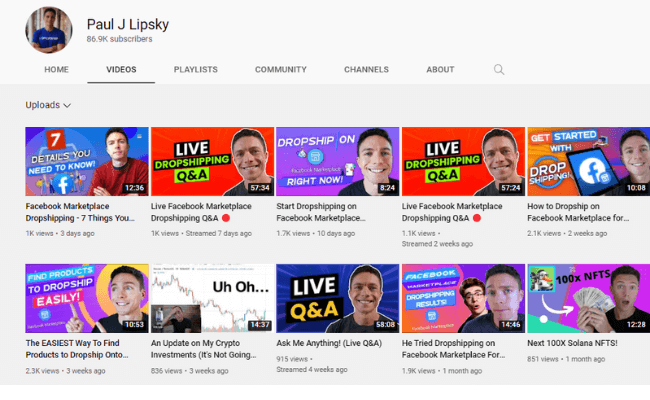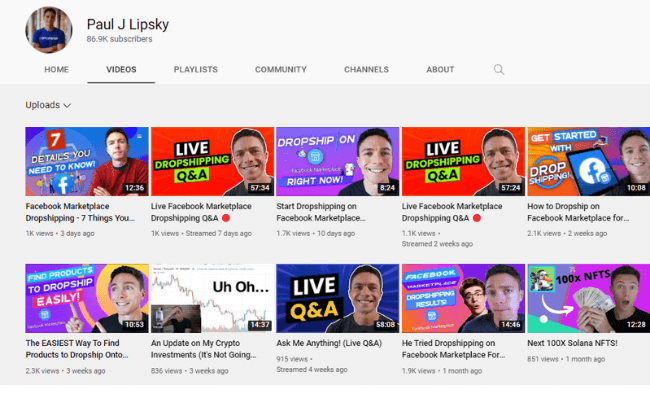 You wouldn't believe how many fake characters and gurus are out there.
For example, you can check out websites like China Cash Clone where they pretend to be someone who they are not. Another bad example is the eCom Profit Sniper website.
On the other hand, there are legit entrepreneurs just like Paul Joseph who have created good courses. One of the prime examples is Ecom Beast 2.0 by Harry Coleman.
All in all, Paul is a legit drop shipper so let's check out the rest of my review to see what you can learn from his Dropshipping Titans course.
How Does Dropshipping Titans Work?
Dropshipping titans course has 10 modules, and each of them has a different topic on how to create your dropshipping business.
In other words, each module is designed to lead you through one segment of building a dropshipping business until you build an entire picture.
Just like with every other course, the main goal is to earn an income online.
With drop shipping, your role is to create a store and offer products to people in your chosen niche.
However, you don't have to stock them, or even ship products because with dropshipping, big sites like Amazon, eBay, and AliExpress will handle those things for you.
That said, let's take a look at each training module inside the course in the next sections of the Dropshipping Titans review.
What Is Inside Dropshipping Titans Course?
Module #1 – Your Life Is About To Change!
The first module inside Dropshipping Titans is just an introduction video where Paul Joseph himself will show you how he made $150,000 in two years and claims that you can achieve that same result by following this course.
Module #2 – Get Your Store Up And Running FAST!
This module will teach you how to create your Paypal account, email, and eBay store.
The videos you will see in this module, like setting up your eBay store the right way, are no different from the video tutorial you will see on Youtube.
Module #3 – My Titans Product Research Formula
In this module of Dropshipping Titans, Joseph will teach you how to do product research.
You may want to pay attention to this part because it revolves around going on Walmart or Home Depot's website to find products that you can sell at a higher price.
However, the entire model doesn't teach you anything unique, and many of his teachings are very basic product research.
Module #4 – The Perfect eBay Listing
In this module, Joseph will teach you how to list your product on eBay.
There is no flashy or advanced teaching here as he will only show you how to set up your listing.
I found out that Joseph skips over some important things where he didn't tell you that eBay has limits where you can only list 10 items for new sellers.
It's just funny, though, because his entire Dropshipping Titans course revolved around quantity over quality, and forgot about that important part.
Module #5 – What You Need To Know Before Listing More Items!
As you already know, you can only list 10 items for new sellers, but if you want to increase your listing, you can call eBay and tell them to increase it, and once they have increased it, you can now sell more items.
You can also remove ones that aren't selling, get good reviews, verify your payment and sell.
You see, the entire module five inside Dropshipping Titans is summarized in six bullet points, and Joseph explains it on PowerPoint where the whole module can be taught in one video, but he chooses to dedicate an entire module to it.
Module #6 – Getting Your Customers Their Orders Fast
Just like the previous module, this one can be summarized in one point: buy it for them.
All you have to do is take the money they gave you and purchase it using your supplier's website.
But here, Joseph put in 9 different videos and shows you step-by-step tutorials on checking out Walmart.
Module #7 – Top Customer Service Hacks
In this module, Joseph will teach you various things like uploading your tracking numbers, answering questions, and avoiding cancellations.
This is just a pretty standard customer service that shouldn't need to be explained.
Basically, if you treat your customers nicely, they will leave nice reviews that dictate your eBay account.
Module #8 – Titan Hacks To Double Your Profit On Every Sale
This module of Dropshipping Titans will teach you how to increase your profit margins on each sale.
From making a couple of cents on each sale and a couple more cents if you:
Collect coupons and apply them
Buy your products altogether for free shipping
Collect sales tax
Buy discounted gift cards
Joseph will also teach you how to get free shipping for Home Depot products in Dropshipping Titans.
In this module, Joseph shows you how to save pennies on each transaction to develop a profit margin.
Module #9 – Keep Things Organized
This module inside Dropshipping Titans course teaches you how to use QuickBooks and how to put your orders in a spreadsheet.
Module #10 – Advanced Topics
There is nothing special about this module because he just tells you about creating a second store, where he just talks about the general idea of creating multiple stores.
He also talks about forming an LLC and teaches you how to use LegalZoom or discuss how to persist if your sales are slow.
To be clear, Joseph doesn't teach you how to open a second store, he just tells you the idea of how to create multiple stores.
There are no advanced topics here, just pages out of his YouTube channel.
That said, let's check out how much money you will have to spend on this course in the next section of my Dropshipping Titans review.
By the way, here's a useful video from Paul's Youtube channel about dropshipping.
How Much Does Dropshipping Titans?
Dropshipping Titans have two payment options: one is a one-time fee of $297, and the other one is three payments of $127, so this totals $381, which is quite expensive.
Dropshipping Titans also charge an extra $84 for the payment plan option.

The course is backed up by a 30-day money-back guarantee. All you have to do is email Paul himself if you want a refund.
With this course, you can also get access to the private Facebook mastermind group. In this group, you will find other students who bought the course and collaborate with them. You can also seek help from Paul himself.
You'll also get free customer service scripts. These are just standard responses to General inquiries. This may be valuable for any foreign entrepreneur, but it's pretty useless for everyone else.
Related: Ecom Dudes Review
Does Dropshipping Titans Deliver?
Dropshipping Titans deliver good quality content. It could help newbies to learn about the dropshipping business and start their own enterprise online.
To be honest, it does everything that it promises on the sales page.
You see, on his website, Paul said that "I'm not promising you a million dollars in a year, but I am promising to teach you valuable techniques that help you build a long-term and profitable dropshipping business!."
Based on the content alone, he's not lying…
However, keep in mind that the sales copy and figures that he presents there are only estimates. Those numbers are just made on the potential of how much you could earn in this business.
You see, Joseph teaches you how to build a business, not how to build a successful business.
This entire course is nothing more than just a guide on simple things.
That said, it is up to you to roll up your sleeves, learn from the Dropshipping Titans course (or any other course!), invest a lot of time and some money, and wait for good results.
There are no guarantees in this business no matter what Paul says…
Can You Make Money With Dropshipping Titans?
You can make money with Dropshipping Titansprogram, but it's absolutely not as easy as Paul Joseph Lipsky makes it seem.
There's a lot of hard work to be done upfront. Moreover, there is absolutely no real warranty of success. And above all, you require to do lots of sales to make any type of real money with this course.
In other words, with this method, you will have to spend a great amount of time before seeing any results (just like in every other business; whether it is online or offline it doesn't matter, the process is the same.).
By the way, I know there are a lot of testimonials on the sales page where people say they earned money fast!
Some of the examples are shown below in my Dropshipping Titans review as well…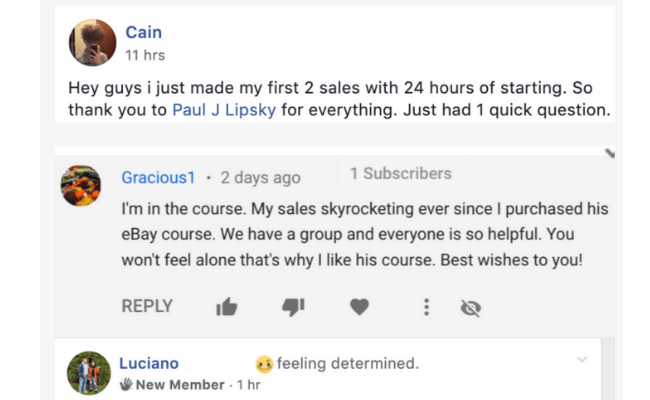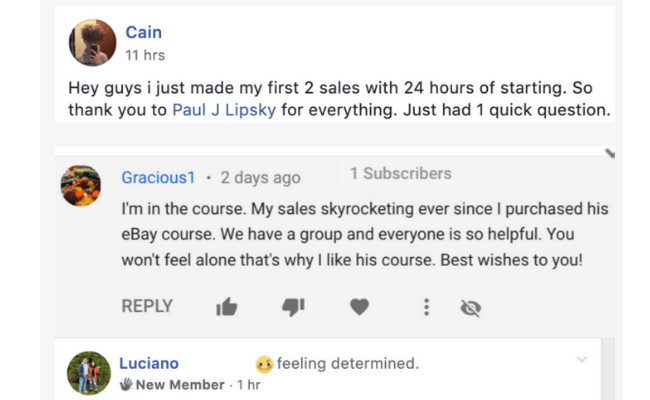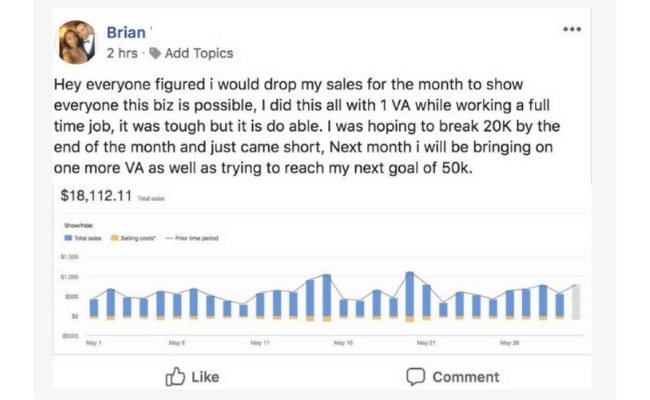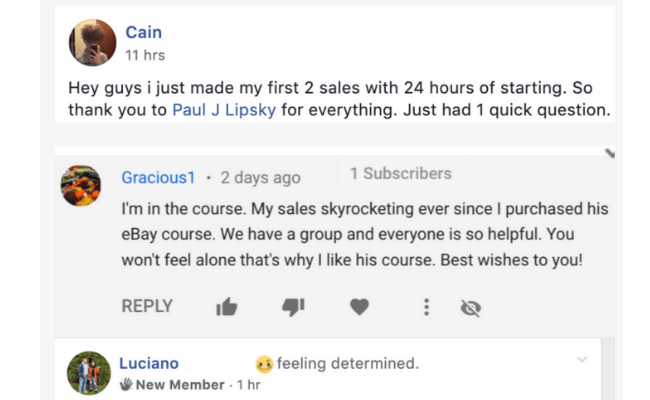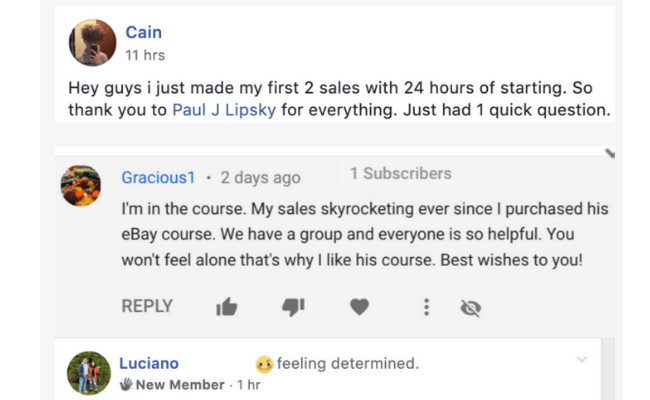 I just want to add that these people are blowing up the truth a bit. See, online business in any shape or form takes time, and above all, you need to learn the skills and develop experience.
That said, to expect the same results in the first few weeks would be insane!
So my advice to you is this; if you plan to join Dropshipping Titans after reading my review, make sure to set your mind straight and don't expect any miracles.
Is Dropshipping Titans Worth the Money?
Joseph's course is good, but it would not train you for success as you may expect. To start with, it's simply simple walkthroughs that are obvious.
His claims of accomplishment and flashing of the "thousands of dollars" made by others are simply misinforming.
Reselling products for pennies is a time-consuming procedure that, though it might have succeeded a year ago, is now obsolete and tiring.
With his techniques, you will deal with a difficult market with absolutely nothing other than your payment-verified eBay account.
Who Is Dropshipping Titans Best For?
Dropshipping Titans program is for those who want to learn more about dropshipping. Since the course is pretty basic, I can't see how advanced and existing business owners can benefit from this content.
All in all this course is for everyone. Anybody else will find zero value in this course.
Related: Automated Dropshipping Mastery Review
Is Dropshipping Titans A Scam?
No, Dropshipping Titans is not a scam because the course teaches you how to build a dropshipping business. That said, Dropshipping business is a legit business, and you can earn decent money with it.
As for the course, it doesn't set you up for success in any way, nor there are any guarantees. As I said earlier in my review, the course is just a basic walkthrough or a self-explanatory guide, to begin with, drop shipping.
Is Dropshipping Titans Legit?
Yes. Dropshipping Titans is a legit course. You get hours of training material, useful resources, and access to the community, and it is even backed up with a money-back guarantee.
However, reselling products for pennies on eBay is a slow process that may have worked long ago, but now, it could be a bit outdated.
You see, there is no way you can make thousands of dollars with this process, so everything that he shows you might not even work for some people anymore.
That's why I'm on the fence about it…
See, Dropshipping Titans course is not that bad or not that good either because it doesn't set you up for success but teach you to build a business.
That said, Joseph does present this course to be effective, but it will make you struggle to make a profit with the information you are given.
If you are trying to set up an eBay business, Dropshipping Titans course is legit. But it's not the best in this niche.
Alternative: On the other hand, if you're looking for the best business model to earn passive income online as a beginner, there are other, more suitable, and cost-effective alternatives.
My top-rated course has helped me to go from earning $0 to $100's per day!
THE BEST WAY TO MAKE MONEY ONLINE IN 2023 >>
What I Like About Dropshipping Titans
Easy to understand training material
Good for eBay dropshipping newbies
Paul Joseph is a legit online entrepreneur
What I Don't Like About Dropshipping Titans
It doesn't teach you anything new
Some of the methods are out of date
The expensive price tag is not for everyone
Unrealistic claims on the sales page
Dropshipping requires an upfront investment
Related: Google Ads Ecom Academy Review
Final Words and HONEST Recommendation
Dropshipping Titans is a good course, and you can learn more about dropshipping.
So what's the final verdict? Is the Dropshipping Titans course worth it? I can say it is worth it but I do know that I don't recommend you buy it.
As I said, there are many courses out there on the web and some of them are on Youtube where you can watch them for free. Moreover, you can find the same content for far less money on websites like Udemy.
All in all, the course is good, but it could be so much better. More content for sure, especially advanced stuff that you can't find on YouTube.
Thanks for reading my Dropshipping Titans review. What do you think about it? Is it a scam or legit?
Feel free to leave your comments and thoughts in the comment box below!
Is There a Better Way To Make Money Online?
I know how hard it is to trust websites these days.
There are too many scams out there, especially in the make-money-online world.
I know, because I reviewed over 700+ sites so far!
Why did I review so many sites? Well, I wanted to find the best (and cost-effective) way for a beginner to start income online.
While searching for this information, I bumped into affiliate marketing.
Thanks to a decision to learn more, I went from waiting tables in restaurants to earning a full-time passive income online.
And today, I like helping people as you follow in my footsteps,
Keep reading…
How I Make Money With Affiliate Marketing
I earn online by creating simple affiliate websites that I use to connect people with products they are already looking for.
It requires no special skills or previous experience, which makes it the best way to start online.
The best thing about affiliate marketing is that it is passive in terms of results and income.
In other words, you could be earning an income from your affiliate website for years and years to come, even when you sleep.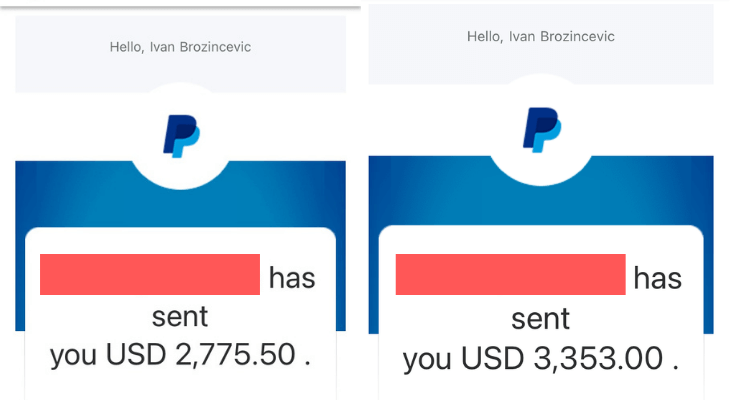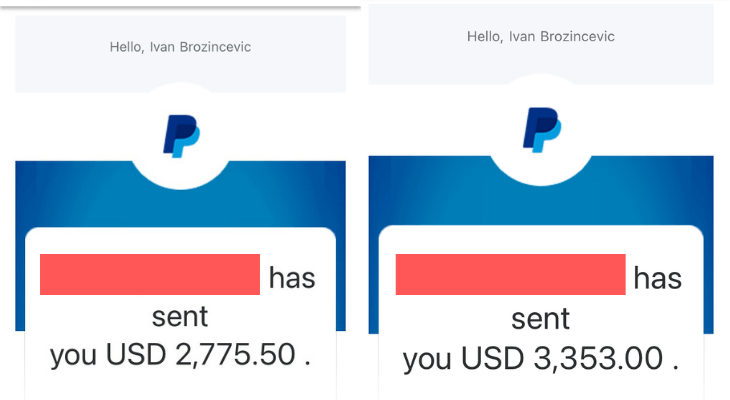 If you want to learn more about how you can start making money online with affiliate marketing, click the button below!
After evaluating over 700+ programs on the web, my conclusion is straightforward. This is the best way to start earning passive income online.
And if you're looking for the very same, I'll see you on the next page…
THE BEST WAY TO MAKE MONEY ONLINE IN 2023 >>
And don't forget to share this Dropshipping Titans review with your friends and family!
All the best, Ivan. Founder, and CEO @freeaffiliatemarketingbusiness.com
Related: Amazon FBA Empire Academy 2.0 Review