Welcome to my Ecom Lifestyle University review.
In this review, we're going to take a closer look at Ricky Hayes's Shopify course. The main question is, Is Ecom Lifestyle University a scam or legit?
Ricky Hayes's course has been around since the beginning of 2019. And since its launch, it's seen a few updates already. Ricky claims that his course is not like other e-commerce courses out there.
The course is priced at $697, which makes it a bit more attractive when compared to the competition.
So if you want to know whether or not Ecom Lifestyle University is worth money, make sure to keep reading this review. You're going to get a peek into the content of the course and more!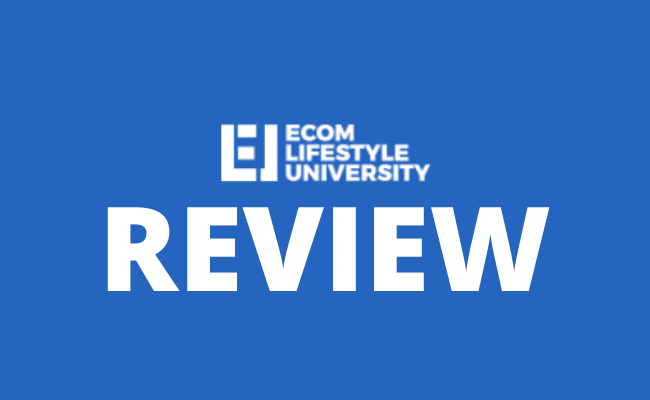 Ecom Lifestyle University Review – Overview
Product Type: eCommerce Training Course
Product Owner: Ricky Hayes
Product Price: $697 once or $250 three times
Money-Back Guarantee: 7 Days
Recommended?: See the summary below…
Quick Summary: Ecom Lifestyle University is a pretty decent eCommerce course. You get six weeks of training, 95 lessons, a Private Mastermind group, a 7-day money-back guarantee, and a few more bonus features as well.
So is Ecom Lifestyle University a scam or legit?
I went over the material and can confirm that it is legitimate.
However, I'm not a big fan of eCommerce because it's not the most beginner-friendlies method for earning an income online.
If you have no experience, courses like this are waste of time and resources. I would advise YouTube and free content first.
Don't get me wrong. I think that Ecom Lifestyle University is a legitimate course.
There are no signs of a scam or anything like that. And I believe Ricky can teach you a lot. I just don't like dropshipping because it is risky and requires a lot of initial investment.
If you are looking for more information about this course, keep reading my Ecom Lifestyle University review.
On the other hand, my top recommended program below is focused on a method that is 100% suitable for beginners. You don't need any special skills or knowledge, and you can start for FREE!
THE BEST WAY TO MAKE MONEY ONLINE IN 2023 >>
What is Ecom Lifestyle University?
Ecom Lifestyle University is a six-week step-by-step training course for building a drop shipping (e-commerce) business. The system has been designed for beginners in mind.
For six weeks of training, Ricky Hayes covers everything from setting up a store, building a brand, boosting conversions, and more.
Moreover, Ricky goes in-depth on topics such as finding and building a long-term relationship with your suppliers, handling logistics, creating a brand image, and a lot more.
The good thing about this course is that Ricky Hayes tasks care to update the system regularly.
Since its conception date, Ecom Lifestyle University has seen dozens of updates. And in addition to the continuously updated course, for $697, you get a bundle of bonus features, which I'm going to share later in the review.
Let's meet Ricky first…
About Ricky Hayes – The Owner
Unlike many other drop shippers and eCommerce gurus, Ricky Hayes does not boast on his YouTube channel with super-cars, villas, and other shiny objects.
Instead, you'll discover that Ricky is a genuine guy. He has about 17,000 followers so far and gets a lot of views on 190 of his videos.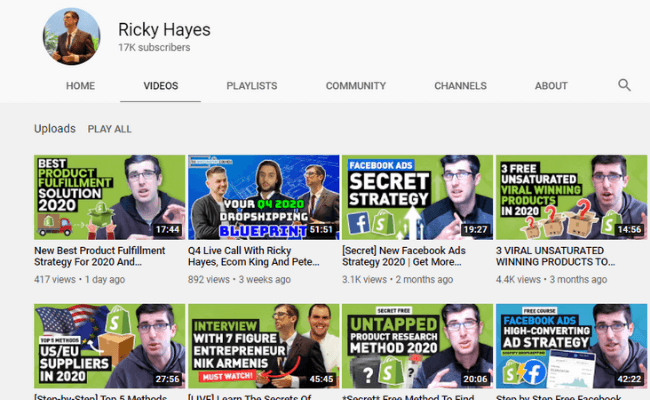 Parallel with free advice on YouTube, Ricky owns the Ecom University Lifestyle course where you can coherently learn from him.
Have you seen his YouTube channel? If not, it's an excellent opportunity to get to know about Ricky and tap into his knowledge before you shell out $700 for his course, wouldn't you agree?
How Does Ecom Lifestyle University Work?
Now, let's get into the meat and bones of this review. Ecom Lifestyle University course spreads over six weeks of training.
You get around 95 videos that contain over 20 hours of content designed to help you start an eCommerce business from scratch.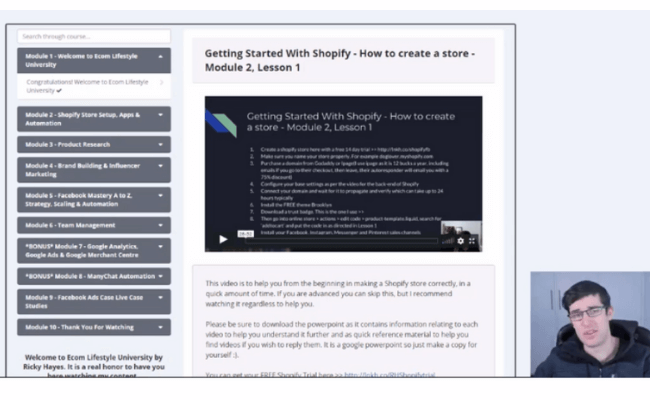 I don't like that you can't move at your own pace.
You see, you need to wait a week to unlock each next module. On the one hand, this is good because it keeps you focused on the task at hand.
But on the other hand, I like to see the whole course at once.
In any case, here's the content of the program:
Week 1: Welcome & Mindset
In this module, you're going to get a quick overview of the course. Also, Ricky talks about creating a mindset you must develop to succeed with eCommerce. Attitude is 80% of every success.
Moreover, he talks about how to keep up your motivation and more.
Week 2: Building Your Store A to Z
The second week is where you're going to start building your store.
In this module, Ricky goes over the process of setting up your own Shopify store. On top of that, you will be learning about how to connect your Facebook pixel, Google Analytics, Dropified app, Aftership tracking, currency converter, and more.
In a nutshell, you'll find out how to prepare and use all the tools you need to build an eCommerce store from scratch.
On an important note, most of these tools are going to cost you extra cash, but are more than necessary.
This module is quite comprehensive and talks about print on demand, post-purchase and upsells, and more. It indeed covers everything from A-Z.
Week 3: Product Research Academy A to Z
In this module, the focus is on product research and finding products for your store.
As it is the case with all eCommerce courses and business models, you're going to leverage Aliexpress, Amazon, Shopify Stores, etc., to find products.
Ricky also includes techniques such as Facebook Product Research and Google Product Research in this module.
Week 4: Building Your Brand
Some eCommerce coaches feel it's best to start building a brand first. And Ricky Hayes is one of them.
That is why this module is all about building your brand. You get four videos where you can learn how Ricky does it.
Also, he's going to lead you through the process of leveraging Instagram and Facebook to do so.
Week 5: Facebook Ads Academy
Now, traffic is the lifeblood of every business. The main focus is on paid traffic from Facebook.
So in this module, you get 27 videos where you are going to watch Ricky how to set up Facebook Ads properly to get traffic to your store.
In more detail, you'll be learning about how to create Facebook ads, use targeting properly, and create a test ad to see if it's all working correctly.
And if the test ad gets back positive results, Ricky is going to show you how to create custom re-targeting, scale, repeat customers, and boost your campaigns budgets.
Also, there are a few lessons where you can learn when is the time to kill ads, reducing costs, boosting effectiveness, and more.
All in all, it's a comprehensive module. And as I have noticed, Ricky updates this module continuously.
Week 6: Team Management
The last week of the training is about outsourcing your business. In other words, the focus is on finding Virtual Assistants on sites like Upwork that are going to help you grow your business faster.
It's a concise module, and it doesn't go in-depth. I'm guessing Ricky didn't reach this stage himself.
Week 7 – Bonus – Google Marketing
As I was saying earlier in the review, Ricky takes care to update the course regularly. So the first six weeks are all about setting up your store from the ground up.
This bonus week covered advanced traffic methods, Google Ads.
I'm happy to see an alternative to Facebook Ads. Most e-commerce courses focus only on Facebook, which creates a lot of competition. It's cool to have another option available.
In this module, Ricky talks about using Google Ads to run ads to get buyer traffic to your store.
The training covers topics such as Google Ads, Google Shopping, installing your pixel, running campaigns, keyword research, ad creation, etc.
Week 8 – Bonus – ManyChat Marketing
The last module is also a bonus where Ricky shows how to use ManyChat Marketing to communicate with customers via Messenger to increase your sales.
It's not an in-depth module, but I'm guessing Ricky is going to expand it in the future.
And that is the last piece of content within Ecom Lifestyle University. Here's where you say goodbye.
THE BEST WAY TO MAKE MONEY ONLINE IN 2023 >>
What Else You Get With Ecom Lifestyle University
In addition to six weeks of training, you get these features as well:
Copy-Paste Templates
Lifetime Access to Updates
Lifetime Access to a Private Group
Usually, e-commerce courses overdeliver on bonus features to justify the high price. But since this course is not one of the most expensive out there, that's all you get. Speaking of which, let's see how much this course costs.
Ecom Lifestyle University Price
At the time of writing this Ecom Lifestyle University review, the course is priced at $697 one time, or you can choose to pay $250 for the next three months.
Your purchase is covered with a seven-day money-back guarantee.
Ecom Lifestyle University Pros
The first thing that I like about Ecom Lifestyle University was the fact that Ricky Hayes is a legitimate guy who actually works in the eCommerce industry himself.
That said, I also like training. Seems like Ricky a+has included all the info one needs to start an eComm business from the scratch and he makes sure to update it regularly.
The good thing about the course itself is the fact that Ricky includes a lot of alternative traffic generation options.
A lot of courses focus only on paid methods, which is ok, but you always want to have alternatives available.
On top of all of those things, ECom Lifestyle University comes with a Private Mastermind group and a 7-day money-back guarantee.
Respectable Ecommerce Training
Ricky Hayes Seems Like a Legit Guy
The Content is Constantly Being Updated
Includes Alternative Traffic Methods
Private Mastermind Group
7-Day Money-Back Guarantee
Ecom Lifestyle University Cons
There's nothing much to say in this section of my review. For one, I think eCom Lifestyle University could use more information in some sections of the training and of course, it's expensive for beginners on a tight budget.
Could Use More Depth in Some Areas
Too Expensive for Beginners
Is Ecom Lifestyle University a Scam or Legit?
Now, the final question. Is Ecom Lifestyle University a scam or a legitimate course for getting started with dropshipping?
And my verdict is, it's legitimate. I haven't seen any signs of a scam in Ricky's system.
The price seems to be too expensive ($697). But you do get a decent amount of training spread over six weeks.
Moreover, Ricky Hayes is a legitimate online entrepreneur and not some fake guru. You can even get your money back during the first seven days after purchasing the Ecom Lifestyle University.
That said, once again, ECom Lifestyle University is not a scam. It's is a legit program created by a legitimate online entrepreneur.
You can enough content that could lead to having a successful dropshipping business.
But the truth is, however, this is not the top e-commerce course out there. I mean, you can find a lot of this information on YouTube for free.
I like the unique approach to Google Ads as an alternative source of traffic. Still, more or less, that's the only difference between Ecom Lifestyle University and other courses out there.
THE BEST WAY TO MAKE MONEY ONLINE IN 2023 >>
Final Words and Recommendation
So to conclude this review, Ecom Lifestyle University is a legitimate course for starting an e-commerce business.
My advice is to watch a few YouTube videos before you do anything else. You see, eCommerce is not an easy business to start with.
You need to know both sides of the story, not just the one you get from sales pages.
And that's it from me! Thanks for reading my Ecom Lifestyle University review. Let me know below if you have any questions. I would love to hear from you too.
And if you're looking for an alternative way to making money online, you should check out my top recommendation below as well!
How I Make Money With Affiliate Marketing!
Sure, eCommerce is a lucrative opportunity. But it involves a LOT of hassle.
You need to run ads, maintain your store, keep your listing in order, buy products, take care of customer support, and do many other things that drain energy.
Why do all that when you can run a simple site like mine, and recommend other people's products?
You don't have to bust your butt to keep your ads in order.
Moreover, you don't even have to pay for ads, because I can show you how to get traffic for FREE! And that's not all.
You don't have to keep a stock, deal with support, or do any of those tedious tasks.
That's why my top recommendation is affiliate marketing.
There are a lot fewer responsibilities and nerve-wracking tasks involved, and it's an equally lucrative opportunity.
And if you take it seriously, you can turn your life around, just like I did when I discovered affiliate marketing for the first time!
I managed to quit my lousy job and focus all my energy on running this site and earning passive income by promoting other people's products.
So make sure to check out my alternative way to earning an income online below!
THE BEST WAY TO MAKE MONEY ONLINE IN 2023 >>
If you need any help or you have a question, feel free to contact me.
And don't forget to share this Ecom Lifestyle University review with your friends and family!
All the best, Ivan. Founder, and CEO @freeaffiliatemarketingbusiness.com