Welcome to my Elite Marketing Pro review.
Since you're here, my guess is that you've discovered a program called Elite Marketing Pro. However, you're not quite sure about it and you need more information before you move on.
Good thinking! That's how you avoid scams and find the best way to make money online!
So what is Elite Marketing Pro? Is it a simple way to recruit new people into your network marketing business online? Or is Elite Marketing Pro a scam designed to rip off your wallet and never come back again?
Hi, I'm Ivan and I'm a successful online marketer who went from waiting tables to managing a full-time income online. I have also tried and tested 500+  courses, scams, and all sorts of schemes to find the best way to make money online.
In other words, I'm passionate about knowledge that helps to improve our lives, build a business online, and more.
That said, I've taken some time to analyze this program and have written this Elite Marketing Pro review to help you make a well-informed decision. In this review, I'm sharing the content of this program as well as my personal opinion about it.
Is Elite Marketing Pro a scam or legit? Keep reading my review to find out!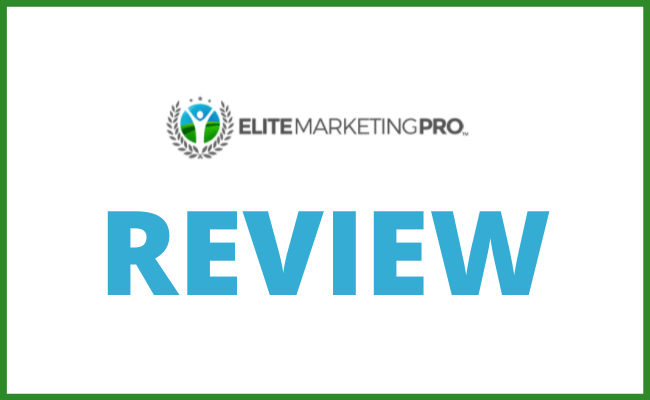 Elite Marketing Pro Review – Overview
Product: Elite Marketing Pro
Type: Affiliate Marketing
Owners: Tim Erway & Matt Crystal
Price: From $27 to $25,000
Money-Back Guarantee: 30-Days
Recommended?: Yes, but not for newbies
Quick Summary: Elite Marketing Pro is about learning online marketing skills such as lead generation, email marketing, traffic generation, and more.
Since its inception, the company claims to have helped over 50K businesses to attract more clients. Is this true? Or is Elite Marketing Pro a scam?
✅ Elite Marketing Pro PROS
The good thing about EMP is that the company and the people behind it are legit. Their products could help you to learn how to improve your online business, and get more leads, and sales.
You get access to two training courses, community, live events, support, and your purchases are covered with a money-back guarantee.
? Elite Marketing Pro CONS
The bad news is that EMP is for advanced marketers mainly. Newbies can join, but there's no basic training that will teach you how to start your online business from scratch.
Moreover, according to some Elite Marketing Pro user reviews, you can expect upsells and high-ticket items inside the program.
?? Scam or Legit?
The bottom line is, Elite Marketing Pro is legitimate. No scam signs were found while writing this review. It is a legit lead generation training company, community, and service.
Read the rest of my review for more information.
Alternative: My #1 Recommendation helped me and 1000's regular people to build an online business from scratch and earn a consistent passive income online. Learn how to follow in our footsteps below!
THE BEST WAY TO MAKE MONEY ONLINE IN 2023 >>
What Is Elite Marketing Pro?
Elite Marketing Pro is an online marketing platform that teaches how to start with the online marketing business through a series of courses. It's also a global community that counts over 50,000 active small business entrepreneurs from all over the world.
It was founded by three marketing entrepreneurs, Tim Erway, Matt Crystal, and Ferny Ceballos.

The main idea behind the Elite Marketing Pro platform is to provide targeted education, training, and mentoring program for people who share a passion for online entrepreneurship and want to develop a lifestyle business of their own.
Inside the platform, you can find a variety of training courses that are designed to accomplish these goals. Some courses are relatively cheap and are beginner-friendly, while those advanced ones cost a bit more.
In the meantime, EMP has been rebranded to Attraction Marketing. However, the company is still active under both names and you can still join and get access to all the features that I have mentioned above.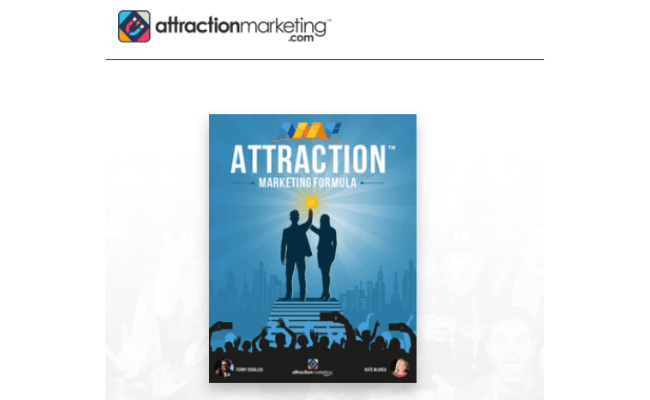 That said, the very purpose of the Elite Marketing Pro has remained the same. They are teaching marketers how to attract more leads and bring more sales using their program, tools, and coaching.
At first glance, I didn't find any signs that Elite Marketing Pro could be a scam. Everything seems legitimate. Even Elite Marketing Pro reviews are mainly positive, which is a great sign.
For example, there are some programs such as Inbound Closer that promise instant riches and results to get you to sign up. In contrast, EMP doesn't use any misleading claims or marketing tricks for that purpose.
And to be honest, it is quite refreshing to bump into a marketing company that uses white-hat marketing tactics.
Below is a short introduction video from the creators of Elite Marketing Pro.
How Does Elite Marketing Pro Work?
There are two different ways to leverage Elite Marketing Pro as an online entrepreneur to make money online. One way is by promoting their products. The second way is by promoting your own business using the resources and training inside the platform.
In both cases, you can learn how to create effective marketing campaigns, drive traffic (paid and free), create email lists, improve lead generation, and much more.
If you're not familiar with the business model behind Elite Marketing Pro, it's called affiliate marketing.
In a nutshell, the basic task in affiliate marketing is to connect people who are looking for products online with vendors and earn commissions after the sales have been made.
So if for example, you are already promoting products, you can learn how to improve your campaigns, improve your content, get organic and paid traffic, collect emails effectively, and earn commissions by promoting the same products to people looking for them.
Also, if you don't have any particular interest in a specific niche, you can promote Elite Marketing Pro courses as well. Some people will say that this is an MLM, which could be right.
However, there's nothing wrong with this model.
As long as the company sells legitimate products and services that help people in their niche, it is legit. All big and reputable companies use affiliate programs to attract marketers to help promote their products and services.
On the other hand, MLMs and pyramid schemes don't offer any value. These companies simply recruit and train people to promote their products without offering any other type of service or products.
So when you take a look at the Elite Marketing Pro, you can clearly see that there are no red flags showing that something is not right. It's basically a training platform for marketers of all levels.
Related: Four Percent Group Review
Who Is Elite Marketing Pro For?
Elite Marketing Pro sales website claims that the product is for aspiring entrepreneurs, start-up business owners, seasoned business pros, and everyone in between. It seems to have something for everyone.
I would agree because after seeing the platform myself, there is indeed something for everyone.
However, I have to say that EMP's main demographic are established businesses and marketers who are looking to make high-ticket commissions. See, their product line ranges from low-ticket items to pricey programs.
Establishes business owners can leverage these programs to improve their existing business. Although it is going to cost them a nice sum of cash to do so.
Newbies, however, might have a hard time leveraging all the features and programs inside the platform. Why? Well, it's because it is a high-ticket scheme, which means that most newbies don't have money to invest in something like this.
By the time of writing this Elite Marketing Pro review, the platform counts over 50,000 members from more than 100 countries from all over the world, which basically means that it is for anyone interested in online marketing.
More specifically, it could be for:
Brick and mortar businesses
Network marketers
Direct sales marketers
Affiliate marketers
Information marketing experts
Professional Services owners
When it comes to a platform like EMP, there's no one-size-fits-all.
As you're about to see in the next section of my Elite Marketing Pro review, the company offers a few courses suitable for complete beginners to courses that teach advanced online marketing techniques and methods.
What Is Inside Elite Marketing Pro?
At this moment, there are some Elite Marketing Pro reviews that contain a list of products that are outdated and not available anymore. The information below is from 2021.
Here is the breakdown of two courses currently available via EMP:
Attraction Marketing Formula
Attraction Marketing Formula is a beginner-friendly course that reveals the methods for getting "red-hot" leads and expanding your network marketing organization. It's said that it's worth $391. However, by the time of writing this Elite Marketing Pro review, it's available for $47.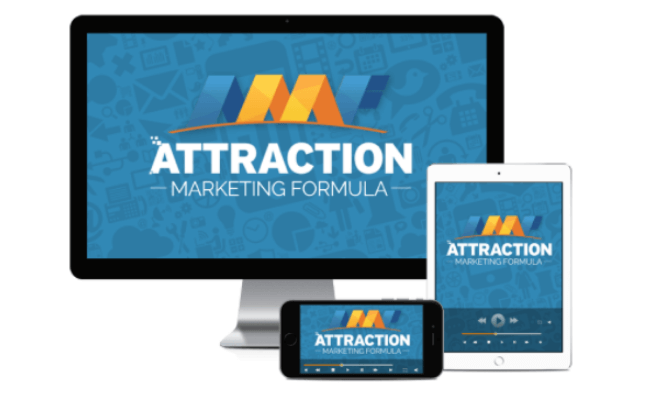 With Attraction Marketing Formula, you can learn:
How to attract and recruit an army of people into my Network Marketing business without so much as picking up the phone.
How to use the internet to put an end to rejection and frustration, and sponsor people with ease.
How to use email to automatically grow my prospect list, build relationships, and fatten my bank account… all in one fell swoop.
The BEST way to filter out tire kickers and lookie-loo's and get serious people to look at and join my business.
How to add brand new streams of income to my existing Network Marketing business… even from people who don't join you.
Social Retail and Enrolment Blueprint
Social Retail and Enrolment Blueprint is a course that is focused on creating a surge of new customers and new members to your network marketing business. Its value is $1000 but it's selling for $147.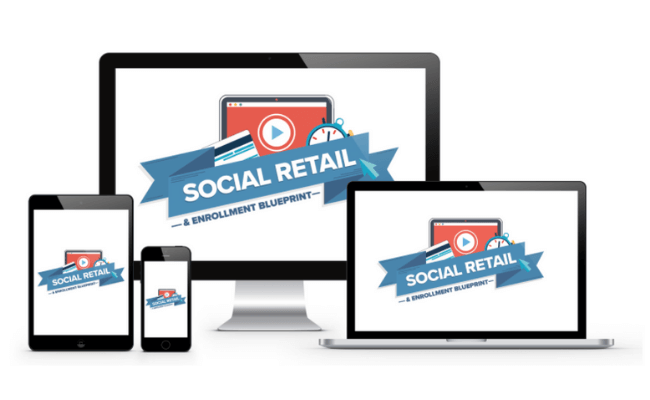 Here's the breakdown of the content of Social Rental and Enrolment Blueprint:
Simple 4 step formula for using videos to quickly attract ready-to-buy and the most likely to join prospects NOW.
The easiest way to create high-impact videos on a shoestring budget and build massive value around your product.
4 specific types of videos to showcase your product in the best way possible.
How to come up with 'knock their socks off' video topics that will attract your most perfect prospects.
The secret to quickly building rock-solid rapport and creating unshakable trust in your videos.
How to use videos to rapidly build a list of red-hot prospects and create new customers, even if you're brand-spanking new.
Elite Marketing Pro Live Events
In addition to two courses, at this moment, you can join live events via the EMP platform. Basically, every month or two, guys from EMP host live virtual marketing events that you can watch for free.
Elite Marketing Pro Support
If you're experiencing problems or have questions about the platform, courses, live events, or anything else, you can submit a ticket to what seems like functional customer support.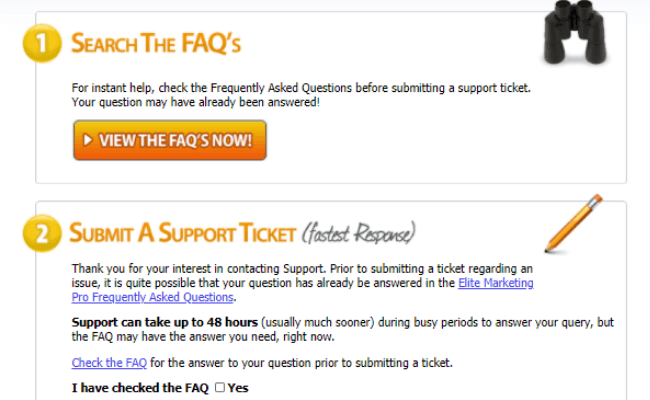 Also, there's a phone number available as well as an email address if you wish to speak to them directly.
Facebook Community
As a member of Elite Marketing Pro, you get access to a Facebook community as well where you can network with other members of the program.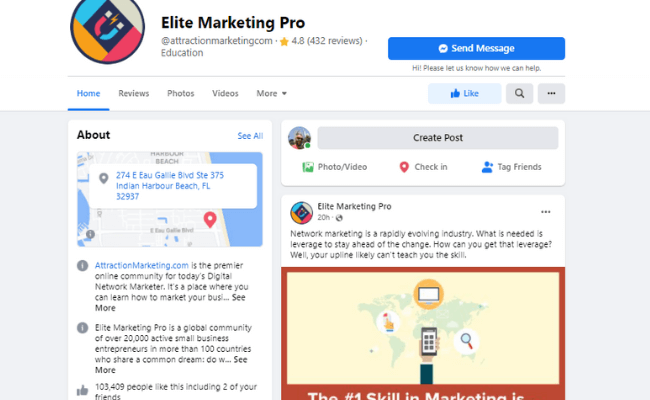 At the moment of writing this review, the Facebook group counts 109K members. The good news is that the community is active and the moderators are posting content every day.
Money-Back Guarantee
Both courses that are currently available via the platform are backed up with a 30-days no-questions-asked money-back guarantee.
However, there will upsell, advanced coaching offers, and live event offers inside the Elite Marketing Pro platform. These programs are not refundable.
In other words, you can get your money back only for front-end products.
In case you prefer video reviews, below is a trusted opinion of Arron Chen:
Is Elite Marketing Pro a Scam?
At this point in my review, I'm quite sure that Elite Marketing Pro is not a scam. I've done extensive research before writing this post to see whether or not it is a scam and all results came back negative.
In other words, EMP is a legitimate online marketing platform where you can learn how to get more leads for your online marketing business. You can learn traffic generation skills, marketing skills, and more.
It's important to understand that Elite Marketing Pro is focused on lead generation strictly, which means that you can't use their courses to actually build a business from scratch.
That's why I have said that the main demographic is seasoned business owners and marketers.
In contrast to internet scams, EMP doesn't use any dirty marketing tactics to get new customers, which shows that this platform is really legitimate.
For example, there are no overhyped claims where the owner promises a fast and easy way to make tons of cash. There are no fake testimonials, phony results and earning claims, etc.
You can check out examples of scam marketing being used in promoting programs such as Perpetual Income 365 or even Click Wealth System.
Everything about Elite Marketing Pro in this review seems legitimate. You get the opportunity to buy a program that could teach you how to attract more leads and customers to your online business.
On top of that, there is a live community where you can chat with other members. Also, you can get a refund in case you're not happy with the product.
And based on my research, there are no negative reviews of EMP. In other words, both reviewers and customers have nothing but good things to say about it. So once again, Elite Marketing Pro is legitimate.
On the other hand, if you're looking for the best business model to earn passive income online as a beginner, there are other, more suitable, and cost-effective alternatives.
My top-rated course has helped me to go from earning $0 to $100's per day!
THE BEST WAY TO MAKE MONEY ONLINE IN 2023 >>
Does Elite Marketing Pro Have an Affiliate Program?
Elite Marketing Pro offers a rewarding affiliate program. This is most likely where you'll focus most of your efforts; obtaining new EMP members.
Not only because it pays well, but, because much of the training is concentrated on teaching you how to promote EMP, which is fine.
The techniques and tactics used to promote EMP are similar and in many cases the exact same as you would use to promote products in other specific niches.
There are two affiliate programs. The standard affiliate program and premier affiliate program.
The premier affiliate program will set you back $500, but your commissions will be higher and your payments much faster.
The basic affiliate program pays between 20% and 40% commissions depending upon the item you're promoting.
There are likewise some items that don't qualify for the basic affiliate program. The premier affiliate program pays between 5% and 70% commissions.
Can You Make Money With Elite Marketing Pro?
You can make money with this system. I believe the training material is good and you can discover plenty. Although you've got to purchase numerous items to receive the optimum knowledge, you can wind up paying a lot.
You could make your investment return relatively quickly when you select to advertise EMP products and make money from them.
Are There Any Extra Costs With Elite Marketing Pro?
Elite Marketing Pro does feature a website/page builder, however hosting will be a separate expense.
Depending upon the quantity of traffic your site gets and what your marketing strategy is, hosting can range between $5 – $35 a month.
Like similar programs such as Invincible Marketer that use a sales funnel, you will also require an email autoresponder. Rates vary but are typically determined by the size of your email list or the variety of emails you send out to potential customers.
There are some totally free options to start, but as your list grows, so does the price. Anticipate paying anywhere from $15/month to as much as $300 – $400/month as you obtain leads.
Paid traffic is another expenditure to think about. Elite Marketing Pro does teach some free traffic techniques, but there are no complimentary traffic methods you can scale quickly.
Does Elite Marketing Pro Offer a Refund?
Elite Marketing Pro provides 30-day refunds on non-VIP items. Refunds are also offered for some live in-person recordings and workshops, along with trial deals.
VIP items, as well as coaching and mentorship programs, are non-refundable. Live in-person occasion registrations and all-access passes are non-refundable, but under specific situations, credit might be offered towards future events and passes.
Do I Recommend Elite Marketing Pro?
Although Elite Marketing Pro is a legit marketing system, I still have some difficulties recommending it, and here is why…
On one hand, it's a decent platform where you can learn how to generate more leads for your online or offline business, which is something every advanced marketer is looking for.
On the other hand, it seems very narrow. In other words, there are no courses that will show you how to start an online marketing business from scratch, which is something a lot of newbies are after.
There are definitely individuals who will profit from what Elite Advertising Pro has to offer, but it's a relatively slim group in my opinion.
The company has actually been around for several years now with 10s of thousands of members. They're undoubtedly doing something right. In fact, their Facebook page has been resembled and adhered to by 100,000+.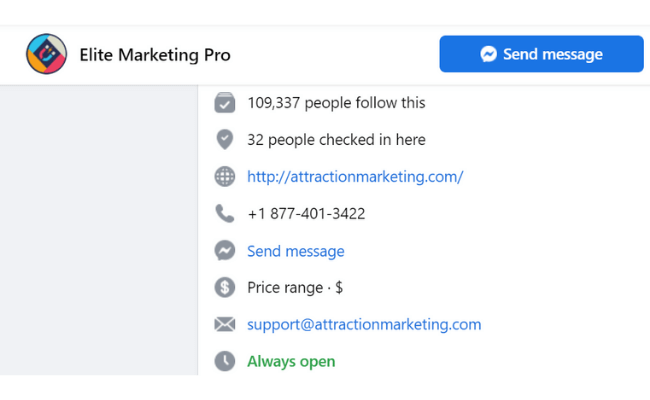 So overall, EMP is not a scam but a legitimate marketing platform. The good news is, if you join it but don't like the content, you have 30 days to get your money back, no questions asked.
However, I'm also aware that there are better places to start your own online marketing business too! Check out my recommendation at the end of this Elite Marketing Pro review.
Related: Learn Build Earn Review
What I Like About Elite Marketing Pro
Decent courses
Real owners
30-day money-back guarantee
Support and community
What I Don't Like About Elite Marketing Pro
Teaches lead generation only
Does not show how to start from scratch
It's not beginner-friendly
No free trial
You can expect more upsells
Elite Marketing Pro Review – Conclusion
All in all, Elite Marketing Pro is a legitimate platform where you can start learning how to get more leads and sales. The platform has recently been rebranded to Attraction Marketing. But in essence, it is a scam company.
Finding a legitimate online marketing course today is like finding a needle in a haystack – almost impossible.
That's why it is important to do your own research every time you land on a website that promises to show you how to make money online.
In case you're still on the fence about EMP, or you simply don't think it is for you, check out my #1 recommendation below instead!
And thanks for reading my Elite Marketing Pro review. I hope my post was useful. What do you think about it? Is it a scam or legit? What's your opinion and experience? Feel free to share your thoughts in the comment box below too!
Is There a Better Way To Make Money Online?
I know how hard it is to trust websites these days.
There are too many scams out there, especially in the make-money-online world.
I know, because I reviewed over 700+ sites so far!
Why did I review so many sites? Well, I wanted to find the best (and cost-effective) way for a beginner to start income online.
While searching for this information, I bumped into affiliate marketing.
Thanks to a decision to learn more, I went from waiting tables in restaurants to earning a full-time passive income online.
And today, I like helping people as you follow in my footsteps,
Keep reading…
How I Make Money With Affiliate Marketing
I earn online by creating simple affiliate websites that I use to connect people with products they are already looking for.
It requires no special skills or previous experience, which makes it the best way to start online.
The best thing about affiliate marketing is that it is passive in terms of results and income.
In other words, you could be earning an income from your affiliate website for years and years to come, even when you sleep.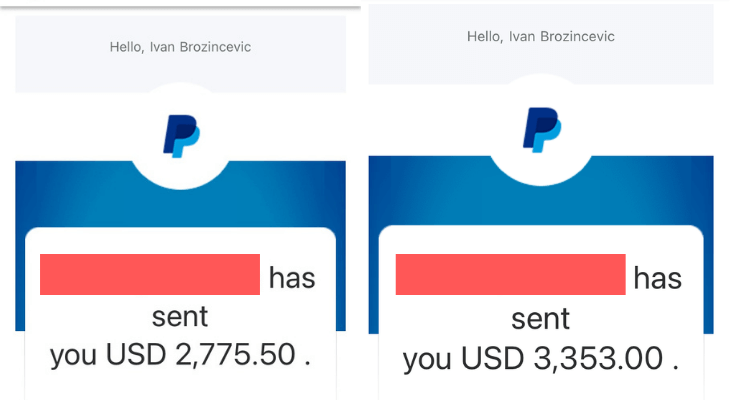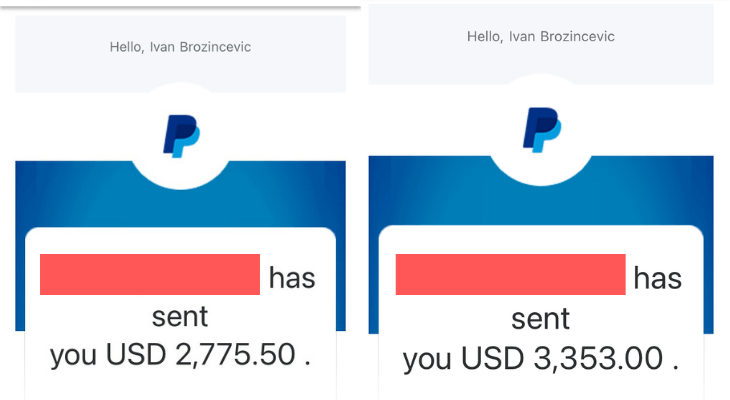 If you want to learn more about how you can start making money online with affiliate marketing, click the button below!
After evaluating over 700+ programs on the web, my conclusion is straightforward. This is the best way to start earning passive income online.
And if you're looking for the very same, I'll see you on the next page…
THE BEST WAY TO MAKE MONEY ONLINE IN 2023 >>
Related Make-Money-Online Reviews
I have reviewed over 500 courses, programs, scams, and legitimate places to make money online. In case my Elite Marketing Pro review has helped you to learn more, you can also check out these programs too.
If you need any help or you have a question, feel free to contact me.
All the best, Ivan. Founder, and CEO @freeaffiliatemarketingbusiness.com