Welcome to my EZ Money Team review.
EZ Money Team is a foolproof system that takes only a few minutes per day and a few clicks of your mouse to take you anywhere from zero to earning $500 to $5000 per week almost immediately.
This is something that all of us dream about, right?
This kind of easy and fast money could help you pay off your debts, get a better house, a brand new car, or take you on that well-deserved vacation.
And I'm not going to lie to you, it's all possible.
But only if you're willing to roll your sleeves and prepare yourself for a lot of hustle and certainly not with the EZ Money Team scam.
Don't believe anyone who tells you that he's got some foolproof system that requires only a few clicks per day and is willing to back this up with fake testimonials.
Yes, that's right. This website uses fake testimonials and many other marketing tricks to get you to sign up. So is EZ Money Team a scam? Yes, it is!
By the way…
Hi, I'm Ivan and I'm an online marketer who went from losing my time waiting tables to running a thriving online affiliate marketing business.
In the meantime, I have actually tried and reviewed 600+ courses, scams, and even pyramid schemes to find the very best way to generate income online.
In this EZ Money Team review, I'm going to show you what exactly this online platform is all about. Moreover, you will get a chance to learn what is inside, and why EZ Money Team is a scam…
EZ Money Team Review – Overview
Type: Affiliate Marketing Scam
Price: Free to Join, $1000's After
Owner: Jeffrey ???
Money-Back Guarantee: No
Recommended?: No!
Overview:  As the EZ Money Team video starts to play, you get served with a clip from TV news about a single mom that works from home, earns an income and can take care of her baby boy now.
She used to spend tons of cash on the babysitter and was rushing to work every day. Today, she can work from the comfort of her home all thanks to the power of the internet.
But have you noticed that the news clip does not have a single thing to do with EZ Money Team?
I've seen this video at least ten times so far in other online scams that use the same deceptive tactics to get you inside. And the story is the same all over again.
You get some foolproof system that is going to help you to earn millions of dollars just by copy-pasting. Some of the price examples are Click Wealth System and Easy Retired Millionaire.
I can save you some time and say that the EZ Money team is a scam, or you can read the rest of this EZ Money Team review to see it for yourself.
This system is all about getting you inside of a members area where you get access to a few basic training videos about affiliate marketing that seem like a legit deal at first.
However, these videos are poorly designed, not helpful, and worst of all, they serve as a funnel to various sites where you can buy expensive tools for which the unknown owner of EZ Money Team earns commissions.
That's basically the science behind this scam.
The bottom line is, EZ Money Team is a scam because they put making money (for themselves) in the first place, and helping you in the last place. And to do so, they are willing to use fabricated testimonials, fake names, and many other dirty tricks.
Alternative: My #1 recommendation below is a 100% legitimate course that helped me to go from $0 to earning $100's per day after a lot of work and effort! If you're tired of get-rich-quick scams, click the button below.
THE BEST WAY TO MAKE MONEY ONLINE IN 2023 >>
What is EZ Money Team 
Now, have you noticed that the spokesperson from the sales video hasn't told you what EZ Money Team is all about?
I mean, you have heard that it is a foolproof system that helps ordinary people like you to make $100 and even $1000 per week while working only a few minutes per day.
But how?
Oh yes, he did say that it involves some copy-pasting and clicking your mouse a few times. Best of all, these few clicks per day are going to make you tons of cash in a week and as soon as you start working with the EZ Money Team program.
I wish something like that is real.
But it's not!
And these lies are not alone in this scam. They tell you a lot of false information and use a lot of fake things to convince you that you've found something out of this world.
I'm using a lot of "they" here. So let's see who's behind the EZ Money Team.
Who Owns the EZ Money Team?
Jeffrey Hart appears during the sales pitch and introduces himself as the owner and creator of the EZ Money Team.
He said something about breaking the internet before with his secret system, and now, he's doing it again.
You and I (and the rest of those who saw the video) were allegedly hand-picked to watch this secret and highly confidential video.
But it seems like Jeffrey Hart is not a real guy. In other words, it's a fake name used to represent the owner.
I tried looking up the name, I ran his image through Google Image Search, and I could not find a single result that will confirm that Jeffrey is a real guy.
Not even a Facebook profile!
All I found were reviews like mine that say that EZ Money Team is a scam and Jeffrey is a phoney!
But let's say you forget about all of that and fall for the sales pitch. Let's see what's behind it.
Inside EZ Money Team
Firstly, you'll have to enter your email address and watch a few more get-rich-quick brainwashing videos before you can get access to the EZ Money Team dashboard.
And in the meantime, they will splash you with discount after discount just to secure your position.
Why is that?
Well, I'll show you why in the next section of my review.
Once you get inside, here's what you'll find.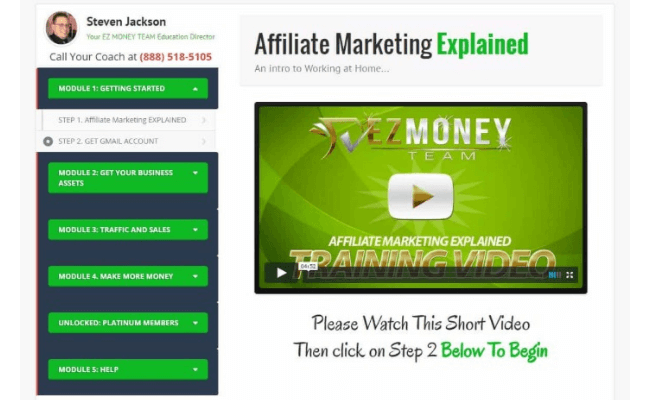 You get a simple training program that shows how to set up an affiliate marketing website and teaches some risky traffic methods.
I'll explain these in the next part of the review as well.
On top of that, you'll get access to a private coach that you can contact to get guidance and help.
But in reality, this person is nothing more and nothing less but a pushy salesman whose job is to upsell you expensive offers one on top of the other.
Now, let's talk about the training in more depth.
How Does EZ Money Team Work?
Ok, so I said that you're going to get training that explains how to start an affiliate marketing business so let's talk about that first.
Then, I'll show you how EZ Money Team REALL WORKS!
The training videos inside will take you through the simple process of setting up an affiliate website, as shown in the image below.
Module one explains how to buy a domain name and hosting and how to set up a WordPress site from scratch.
Module two is going to show you how to create a landing page and how to integrate tools such as autoresponder into your campaigns so you can collect leads.
And module three is designed to show you how to get traffic from the WebFire website where you can get free traffic by posting your content on their network or paying for questionable Solo Ads.
A note about this traffic source: some people have used the site and claim it's a total scam!
In any case, that completes the training, and there's one more module with FAQ.
The EZ Money Team training teaches a legitimate method, yes. However, the training is, well, basic would be a strong word.
It's less than elementary…
This information won't be good enough to help you make any money.
Now, let me show you how EZ Money Team really works and what the real intention of those videos is!
Here's How EZ Money Team Scam REALLY Works!
There's one last video module where you are offered to upgrade to Gold and Platinum Membership, and that is the real intention of this offer.
They have designed a system where the only people that are making money are the owners.
You're led inside with a bunch of lies and discounts just for the sake of getting you inside.
Then, once you're there, they start pushing expensive memberships using more fake-ass claims like "this is going to make you even richer" to earn more money off you.
And the training itself is designed to squeeze even more cash from your bank account.
Don't believe me?
Well, let me show you the list of tools you have to buy through the EZ Money Team website. By the way, they earn commissions each time someone buys those tools they promote.
CoolHandle Hosting – $288 per year
GetResponse Autoresponder – $49 per month
WebFire Lead Generation and Analytics Tools – $2,997 per year
The whole training is nothing more than a set of tutorials on how to buy those tools and put them together.
It's elementary and straightforward information that you can find on YouTube in less than 2 seconds!
The whole thing is just a big sales pitch.
So how do you feel now that you know that EZ Money Team is nothing but a scheme designed to make easy money off you?
Would you still go for it? Or do you think it's a rotten scam best for Jeffrey and his team?
If you're still on the fence about your decision, make sure to read the next section of my EZ Money Team review to get a full picture.
Related: EZ Passive Paydays Review
EZ Money Team Scam Signs
These scam signals below are only the tip of the iceberg. As you dive deeper and deeper, a lot of nasty stuff starts to show up.
Most of them are shown in the section below, and here's a quick breakdown.
A Few Clicks Per Day to Riches BS
Testimonials are Not Real
They Use Fake Scarcity To Trick You
Desperate To Sign You Up
They Say It's Free, But It's Not
From a Few Bucks to $100′ per Month in Expenses
The Training is Outdated and Shallow
VIP Coaches Are Nothing But Pushy Salesman
A Few Clicks Per Day to Riches BS
Whenever you hear claims such as "all you have to do is copy and paste" or "it takes a few clicks and 30 minutes per day", you're on your way to a scam.
They tell you these things because they know a lot of people are curious about earning an income online, and 99% of them are looking for some magic system.
They design these fake claims to make you believe these get-rich-quick schemes exist.
But in reality, they are baloney!
EZ Money Team Testimonials are Not Real
The second scam sign that appears as soon as the video starts are testimonials. And not just any testimonials.
As you can see from the image below, they use fake ones to make you believe that EZ Money Team is helping ordinary people to earn an income online.
Now, put yourself in the shoes of the owners.
Would you use fake testimonials to represent your program if your system has already once "broke the internet" with its powers?
They Use Fake Scarcity To Trick You
They say how you're lucky to be here, and how this chance might never appear again if you click away.
On top of that, they put a timer at the foot of the video to trigger pressure to buy this product before it disappears together with your opportunity to make $ 1000's online.
But if you refresh the page, you'll notice that the timer starts counting from the top again.
And if you come back to the EZ Money Team page a few days later, you'll notice that nothing has changed.
This is just another trick that they use to trick you into buying this scam.
Desperate To Sign You Up
Speaking of tricks, have you noticed how many discounts and popups appear during the sales funnel?
The price drops from $47 to $27 to only $9 in a few moments!
They really want you in.
And the reason for this desperate behaviour is shown in this review earlier. Once again, they do this because they want you to start buying those tools so the owner of the EZ Money Team could earn commissions.
They Say EZ Money Team Is Free, But It's Not
At one point during the sales video, Jeffrey says that he's going to give you access to this foolproof system for free.
That's a lie!
Some companies use the freemium membership model to give their customers a chance to test it before they decide to shell out for the membership.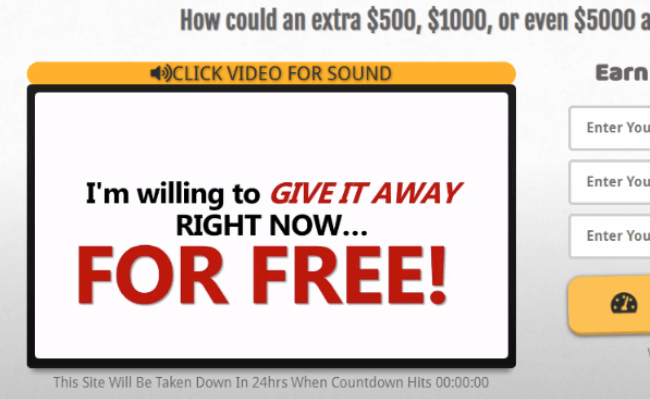 And that's a fair approach, in my opinion.
But these guys are using this lie just to get you in, that's all.
From a Few Bucks to $ 1000's per Year in Expenses
As you know already, EZ Money Team is not free, and the costs keep rising from a few dollars up to a few $ 1000's per year!
You'll have to shell out for hosting, domain, autoresponder and traffic.
The latter is going to be a massive expense, and the chances are that this traffic is going to go to waste because the training inside is not good at all.
The Training is Outdated and Shallow
The good thing about the EZ Money Team (yes, there is something right after all) is that you'll get training that teaches about the legitimate method.
However, the training itself is not legit at all!
In my opinion, these videos are worthless. Their only purpose is to redirect you to those third-party companies and show you how to buy those tools.
The complete lack of mentorship in those videos is a massive reason to stay away from this scam.
VIP Coaches Are Nothing But Pushy Salesman
I have said that you don't get mentorship in the previous paragraph, but I was wrong, sort of.
You will get access to a VIP coach as a member of the EZ Money Team. But this person is not going to help you to earn an income online.
Instead, he or she is just going to call you all the time to sell you Gold and Platinum memberships.
They don't really care about your success. All they want is your hard-earned money.
If you want to learn more about this scam, see the EZ Money Team review below as well…
Is EZ Money Team a Scam?
So there you have it! I've laid out eight reasons why EZ Money Team is a scam.
Would you still trust Jeffrey with your money after seeing all these scam signs?
If you're still not sure, here's a quick recap of everything I've said in the previous section.
The promise of income as a result of copy-pasting and working only a few minutes per day.
They use fake names to hide the real identity of the owners.
They record fake testimonials and use fake images to represent "happy users."
Forcing you to get inside with tons of popups, discounts and fake scarcity.
They give you a short training that has no use or real intention to teach you anything.
They push you to purchase expensive tools so they could earn commissions.
The sad thing is, there are tons of these scams all over the internet just waiting for gullible newbies to rip them off, and to do so hard!
So what do you think? Have you purchased the EZ Money Team? Have the experience to share?
Feel free to comment in the section below this review.
Related: EZ Bay Payday Review
Final Words and Honest Recommendation
I know that you're looking for legitimate ways to earn an income online. We all do all the time!
And I know that your heart skips a beat when you hear that you can make money in just a few clicks or by working only a few minutes per day.
That would be awesome if it were only real…
As you have had a chance to see in this EZ Money Team review, those things do not exist.
Unfortunately, there earning an income online is not as easy as it sounds in these scams and you may have to hustle hard to make your first $100 online.
But once you do so, you're golden!
You see, the first $100 is the toughest. But once you understand how it really works, you're going to be unstoppable!
And if you want to learn how to earn your first dollar online, I have an excellent recommendation below.
How I Make Money With Affiliate Marketing
If you ever wondered how to make money with affiliate marketing, wonder no more!
The program that I recommend as my #1 solution for making money online with affiliate marketing is 100% based on free traffic from SEO and blogging.
The best thing about this method is that it is passive in terms of results and income.
In other words, you could be earning an income from your site for years and years to come because this method is so POWERFUL and overlooked by many marketers.
Just take a look at commissions that I earn passively all thanks to my #1 recommendation.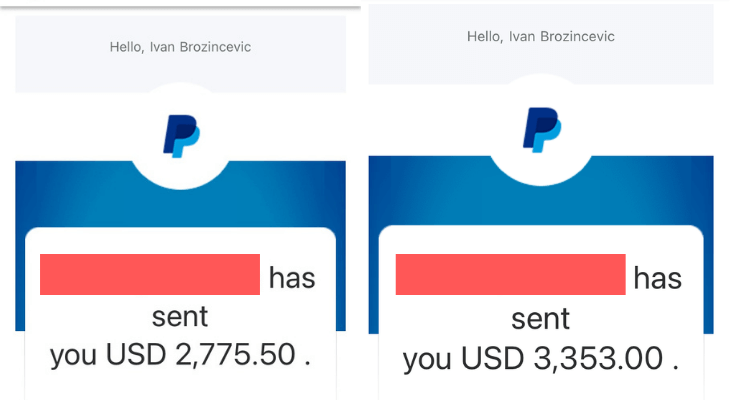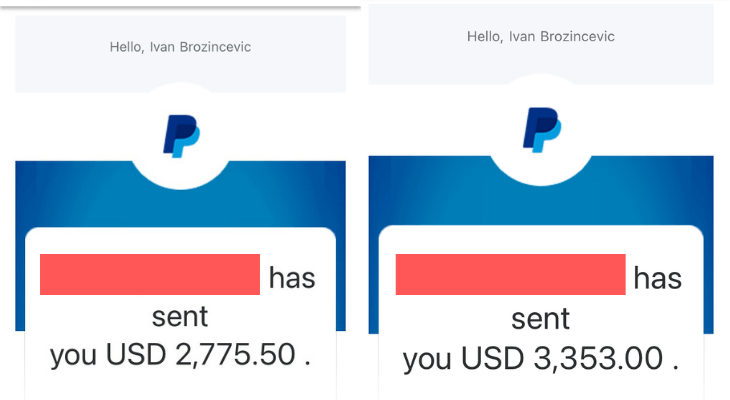 If you want to learn more about how you too can start leveraging SEO to get tons of visitors to your website and make money online, click the button below!
Among the best features of my # 1 ranked course is that you can take it for a test drive (just a $49 Premium subscription).
You will get one complimentary site and access to the very first ten lessons from the course to try things out.
After evaluating over 500 programs on the web, my conclusion is easy. This is the best course to learn about ins and outs of affiliate marketing.
And if you're looking for the very same, click the button below!
THE BEST WAY TO MAKE MONEY ONLINE IN 2023 >>
If you need any help or you have a question, feel free to contact me.
And don't forget to share this EZ Money Team review with your friends and family!
All the best, Ivan. Founder, and CEO @freeaffiliatemarketingbusiness.com