Welcome to my Funnel Scripts review!
Funnel Scripts claims to help you get all your online resources such as sales letters, emails, and ads, written in as little as 10 minutes.
If you're looking to know more about:
How it helps you write faster
What you get inside
The real cost to start
Whether it is worth it
And more!
You've landed the right website!
I've dedicated a few days to analyzing this online offer, taking notes, uncovering hidden information, and thoroughly going over the program so that I can provide you with a unique Funnel Scripts review.
| | |
| --- | --- |
| | A copy-generating system that help you create compelling and marketable copy fast. |
| | $797 on time payment, plus upsells. |
| | Helps to generate copy fast. Includes training videos. Exclusive bonuses are included with the purchase. A free trial is available. 30-Day refund policy. Created by experts in copywriting. |
| | Lots of hype but a weak delivery. Lack of transparency on the sales page. It is not different from cheaper tools. Funnel Scripts is expensive. |
| | Funnel Scripts is a recommended (but overpriced) copywriting software. |
| | |
| | |
I Want To Know…
About the Reviewer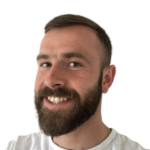 Hey, I'm Ivan Brozincevic!
Since 2018, I've been making a full-time income online, which allowed me to quit my old job (about me).
In the beginning, I struggled to identify legit courses and avoid ones that were just out for my money.
That's why I created this website – my main goal is to help you steer clear of pitfalls and discover the top online business courses.
Every week, I invest hours in reviewing online courses and writing reviews based on my fact-driven review guidelines to assist you in making an informed choice.
Related: Check out my FREE training program for making money online.
What is Funnel Scripts?
Funnel Scripts is a copy-generating system created by Jim Edwards and Russell Brunson. It is a product under ClickFunnels.
Both Jim Edwards and Russell Brunson share their ideal and most effective draft scripts.
These scripts help you create compelling and marketable copy that engages your audiences and leads to conversions.
The sales copies are tailored to the user's target market, needs, challenges, and issues. They focus on how one product or service can solve these challenges.
Before deciding whether or not to purchase Funnel Scripts, you have the opportunity to join a free webinar with Jim Edwards and Russell Brunson.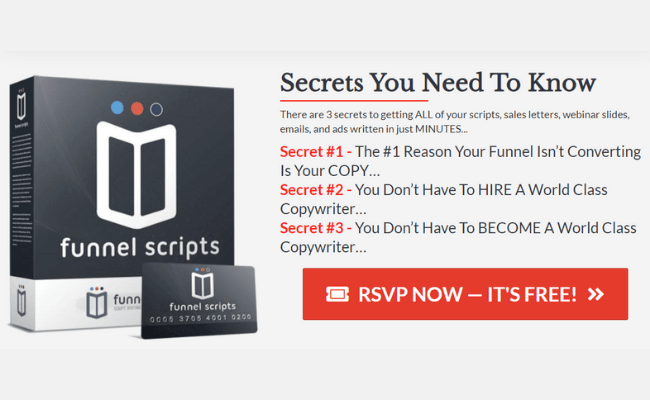 During this webinar, they will discuss copywriting issues and how this software can resolve them. By the end of the free web class, you will have the opportunity to purchase this tool for $797.
According to the official sales website, this software is designed to assist you in creating compelling copies for various purposes such as email scripts, sales copy, ads, video sales letters, and more.
Moreover, it offers an array of tools to help you customize your copy to suit your business needs.
One of the key features I like about Funnel Scripts is its collaborative effort by Brunson and Edwards, leveraging their marketing experience to generate custom copy based on your target market, business challenges, needs, and products.
Additionally, the software provides several training videos tailored particularly for copywriters.
However, it's worth noting that Funnel Scripts does not bring anything groundbreaking to the table.
It primarily generates content for you, and some might say that it can be a bit shallow.
In summary, while the product may be a bit overly marketed, as is often the case with Russell's franchise, it is a decent yet pricey purchase for those seeking assistance with copywriting.
Who Are Jim Edwards And Russell Brunson?
Jim Edwards and Russell Brunson, both marketing experts, are also the founders of Funnel Scripts.
Jim, the owner of ClickFunnels, pioneered The Jim Edwards Approach and is the proprietor of Surefire Reaction Advertising and Marketing.
The foundation of Jim Edward's copywriting solutions is to simplify the process by providing "plug and play" formulas that eliminate multitasking, making it easier to generate more leads and write more effective copy.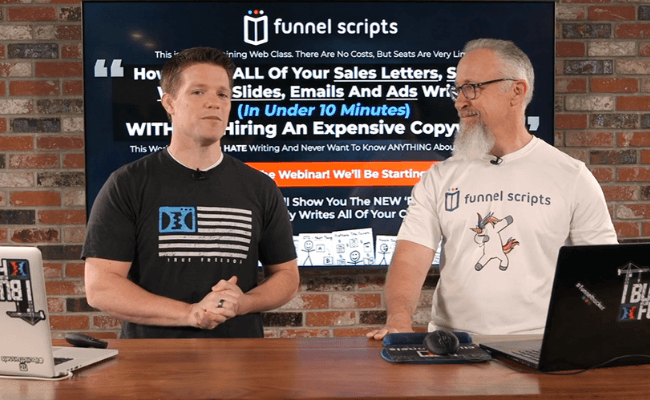 Russell Brunson is a marketing expert known for his expertise in sales funnels.
He is also the owner of ClickFunnels. Russell studied computer system information systems at Boise State University in Boise, Idaho before diving into the world of online marketing.
In addition, it's worth mentioning that both Russell Brunson and Jim Edwards are reputable individuals.
So, let's continue with this Funnel Scripts review to gain a deeper understanding of how this tool operates.
How Do Funnel Scripts Help You?
Funnel Scripts aims to replace the need for copywriters by providing custom sales copy for every aspect of a business.
The sales copy is generated by combining proven pre-written sales material with user input, such as information about the product and its advantages.
This platform is targeted toward internet-savvy entrepreneurs who sell products and capture leads online.
Copy plays a vital role in online marketing, and Funnel Scripts positions itself as a comprehensive solution for entrepreneurs' copy needs.
Additionally, it caters to busy business owners who lack the time to create content from scratch.
What Do You Get With Funnel Scripts?
Funnel Scripts Features
Once you purchase Funnel Scripts, you will gain access to a range of features:
Variety of scripts: You can find different scripts such as video sales scripts, opt-in scripts, ad scripts for Facebook and other social media platforms, and more.
Downloadable script wizards: Take advantage of four script wizards including Perfect Webinar Wizard, Video Sales Letter Wizard, Easy Survey Wizard, and more.
Easy fillable forms: Each script includes samples for your convenience and guidance.
Training videos: Short, informative training videos are provided for each script, along with monthly training calls.
Live training every thirty days: This is one of the best ways to utilize Funnel Scripts for your business.
Funnel Scripts serves as an all-in-one web-based dashboard specifically designed for creating different types of copy.
With Funnel Scripts, you can create a variety of copies, including but not limited to:
Sales copies
Ad copies
Webinar scripts
Survey scripts
Email copies
And much more!
Improve your copywriting with the versatility and convenience of Funnel Scripts.
Video sales letters
Email subject lines
Product descriptions
Lead capture pages
Webinar opt-ins
Ad copies
Sales copies
Call to Action (CTA) copies
Email scripts
Headlines
Inside Funnel Scripts
When you become a member of Funnel Scripts, you'll discover a wealth of content, including features, walkthroughs, and valuable quick-start videos.
While the learning curve may seem intimidating, you can rely on these videos for comprehensive guidance on using Funnel Scripts.
Here is a sneak-a-peak inside the dashboard: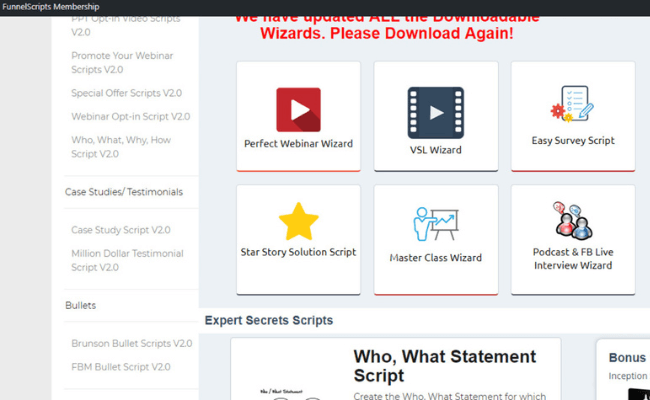 Additionally, within Funnel Scripts, you'll find downloadable wizards that offer a vast array of web-based and offline scripts, catering to high-volume requests and diverse business niches.
Once you purchase the program, you'll gain access to tutorials, updates, popular scripts, and more.
The scripts are categorized based on types like DotCom Secrets and Expert Secrets, each accompanied by tutorial videos.
Simply fill in the required fields with your information, following the guidance provided, and click "build" to generate your new copy.
Funnel Scripts Bonuses
In this Funnel Scripts review, as I mentioned earlier, you'll receive exclusive bonuses when you make an account.
Below are the following bonuses you'll get from Funnel Scripts:
Funnel Blueprints – This interactive PDF file breaks down each script to help users understand which script is right for their specific needs.
Inception Secrets – This is a live recording training session from Russel Brunson that focuses on selling.
5 Fast Shared Funnels – This one is a collection of pre-made ClickFunnels funnels that you can easily import into your account if you have a ClickFunnels account.
How Much Do Funnel Scripts Cost?
In this section of the Funnel Scripts review, let's discuss the price. The program is available for a one-time payment of $797. Here's what you'll get for that price:
Funnel Scripts Unlimited, which includes DotComSecrets scripts, Expert Secrets scripts, and O.F.A. scripts.
Funnel Scripts Blueprints
A live monthly coaching session with Jim Edwards
The Copywriting Secrets Masterclass
60+ additional scripts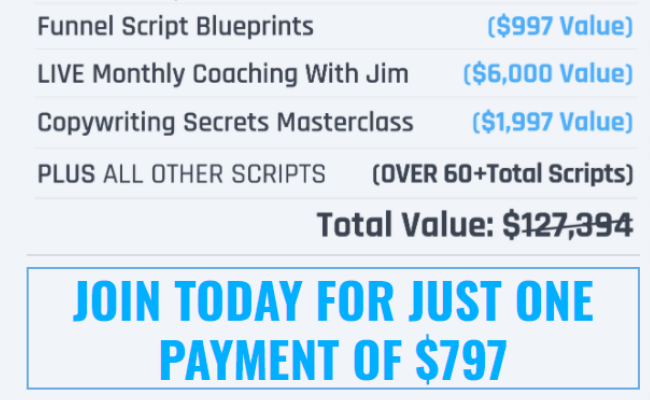 Funnel Scripts provides exclusive bonuses that are not explicitly listed. These bonuses can only be accessed after purchasing a membership.
I will share with you later what these bonuses are.
Additionally, Funnel Scripts offers an even more expensive option called Funnel Builder Secrets.
The Funnel Builder Secrets program offers two payment options. The first option is a six-month membership that costs nearly $2,000, and the second option is a 12-month membership priced at $2,997.
With Funnel Builder Secrets, you gain access to various benefits, including an enterprise account for ClickFunnels, Funnel Builder Secrets Training, The Funnel Hacks Masterclass, Traffic Secrets Memberships, and year-long access to Funnel Scripts, and unlimited funnels bonuses.
However, it's worth noting that this program comes with a high price tag, making it unaffordable for many individuals.
This is especially disappointing considering their claim to be a cost-effective solution for copywriting problems, despite the availability of affordable copywriters elsewhere.
Do Funnel Scripts Offer a Free Trial?
You can try the free version of Funnel Scripts to get an account and test some scripts before making a purchase decision.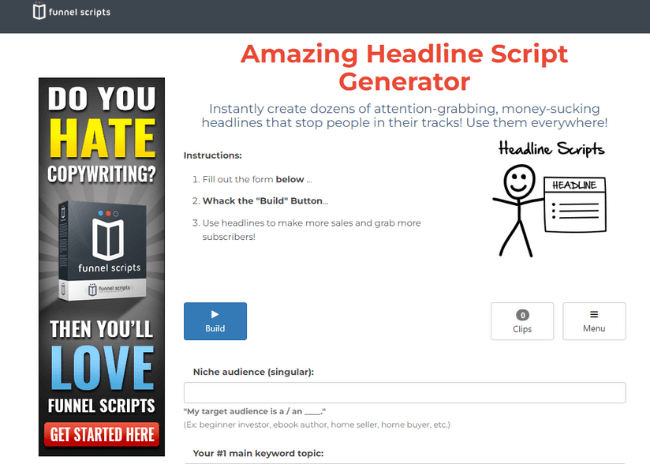 There are two ways to trial Funnel Scripts for free, each with its advantages and disadvantages.
The first option is the Headline Generator. Simply input some information, and it will provide a variety of headlines for you to choose from.
The second way is to sign up for Funnel Scripts Lite, which grants access to a couple of Funnel Scripts features for free.
You can try Funnel Scripts for free here.
Do Funnel Scripts Have a Refund Policy?
Russell Brunson offers a conventional 30-day money-back guarantee for your Funnel Scripts purchase.
You can study the training, test the product, and still return it for a refund within thirty days if it's not for you.
Are Funnel Scripts Included With ClickFunnels?
Funnel Scripts is not included in ClickFunnels. It is a stand-alone product, which means you will need to purchase it separately.
Is Funnel Scripts Worth the Price?
After reading this Funnel Scripts review, you may be wondering if it's worth it.
Let me break it down for you: If you frequently use marketing content, buying this tool is worth it. It can assist you with landing page copy and ad copy.
However, if you won't be using it regularly, it's not worth the money.
Related Review: Systeme.io
Funnel Scripts: Pros
Helps to Generate Copy Fast
Includes Training Videos
Exclusive Bonuses Included
Free Trial Is Available
30-Day Refund Policy
Created by Experts in Copywriting
Funnel Scripts Helps to Generate Copy Fast
Funnel Scripts is a great tool for quickly and easily generating effective copy that captures readers' attention.
While it's difficult to predict how well a piece of copy will resonate with customers, Funnel Scripts allows you to modify content for improved readability and speed effortlessly.
Many users of the platform have noted that after testing several scripts, they found the messaging they used to be highly effective.
Additionally, with real copywriting techniques and solutions, it becomes easy for both consumers and potential customers to engage with your brand.
Includes Training Videos
Once you are inside Funnel Scripts, you will get access to a set of training tutorials and quick-start guides.
Since the software costs almost $800, it was only fair that this feature is available.
Exclusive Bonuses Included With Funnel Scripts
This platform offers an abundance of web-based manuscripts that are easy to access, as well as downloadable wizards for offline use.
The downloadable wizards are primarily used for high-volume requests, capable of generating large-scale manuscripts.
Additionally, the wizards provide customizable templates to cater to specific needs or niches of any business.
Free Trial Is Available
One of the top features of Funnel Scripts is the ability to test the software for free.
I wasn't that fascinated with it, as I stated the fact a few times in my review. However, I think it is a cool tool that helps create content faster.
30-Day Refund Policy
In case you are not happy with your purchase, you can get a full refund during the first 30 days.
What I like about the refund policy behind Funnel Scripts is that it is unconditional.
This means that you will not have to jump through hoops and loops to get your money as is often the case with digital products these days.
Created by Experts in Copywriting
The fact that Jim Edwards and Russell Brunson are two experts in their respective fields (funnel marketing, copywriting, affiliate marketing, etc.) is reassuring.
Whenever you buy a product online, you want to be sure that it was created by people who can walk the walk and talk the talk.
In this case, Jim and Russell can do both at the same time!
Funnel Scripts: Cons
Lots of Hype But Weak Delivery.
Lack of Transparency on the Sales Page.
It is Not Different From Cheaper Tools.
Some Scripts are Low-Quality.
Funnel Scripts is Expensive.
Lots of Hype But Weak Delivery
The Funnel Scripts dashboard appears outdated, resembling the old WordPress control panel. It feels overwhelming with numerous functions and lacks organization.
However, to their credit, Funnel Scripts provides a how-to guide and quick-start video tutorials to help users navigate the platform's extensive content.
It would greatly benefit from a more responsive interface that prioritizes user experience.
Lack of Transparency on the Sales Page
The program makes a lot of promises, but there is little evidence of the product in action.
The brand behind Funnel Scripts prefers not to reveal too much insider information.
Despite the numerous advertised promises and vague titles, there are no samples or demos to try the program before purchasing it.
Although the program offers a free webinar, it only focuses on a small aspect of its ability to help users write quick copy. It would be preferable to have a free trial option to provide a glimpse of what users will receive.
It is Not Different From Cheaper Tools
The process of combining individual inputs and a manuscript is similar to other tools in this niche. These tools also allow you to easily modify different parts of an existing layout to create duplicates.
The main difference that sets Funnel Scripts apart is its industry-leading and extensively marketed tool. Consequently, they leverage this advantage to charge a significant amount of money for it.
In other words, considering the price tag of hundreds of dollars, the value is simply not justified.
Many savvy local business owners opt for search-proven scripts and make their modifications. Fortunately, this process doesn't require much time.
Funnel Scripts is Not-So-Revolutionary
Meshing up user input and a script doesn't have much of a difference. It involves manually altering different portions of an existing template to create a copy.
The only dissimilarity is that Funnel Scripts provides process guidance. However, regrettably, the value doesn't justify the cost.
Most business owners are smart enough to seek out proven scripts and make their edits.
Funnel Scripts is Expensive
The price of this program is very expensive, and not everyone can afford it.
While the program looks nice, I would prefer hiring a copywriter for the job instead of spending thousands of dollars on this expensive program.
There are many places to post job listings for copywriters and content firms that can help you find a suitable writer.
Funnel Scripts Review – Conclusion
Funnel Scripts is a handy software tool for content marketers. It aims to improve sales copy, leading to more conversions and sales.
However, considering the price, it may not be worth it for beginners who don't need it as often.
On the other hand, Funnel Scripts is a great option for advanced marketers and even agencies who are constantly creating marketing materials such as funnels, emails, ads, etc.
Thank you for taking the time to read my Funnel Scripts review.
| | |
| --- | --- |
| | A copy-generating system that help you create compelling and marketable copy fast. |
| | $797 on time payment, plus upsells. |
| | Helps to generate copy fast. Includes training videos. Exclusive bonuses are included with the purchase. A free trial is available. 30-Day refund policy. Created by experts in copywriting. |
| | Lots of hype but a weak delivery. Lack of transparency on the sales page. It is not different from cheaper tools. Funnel Scripts is expensive. |
| | Funnel Scripts is a recommended (but overpriced) copywriting software. |
| | |
| | |
The Best Way To Make Money Online
I earn online by creating simple affiliate websites that I use to connect people with products they are already looking for.
It's called affiliate marketing and it is the best way to make money online (at least in my humble opinion).
If you want to learn more about how you can start making money online with affiliate marketing, I would strongly suggest you sign up for the free training on the next page.
And don't forget to share this Easy1Up review with your friends and family!
All the best, Ivan @freeaffiliatemarketingbusiness.com