Hey, and welcome to my Inboxr review!
Let's face it. Lead generation can be a pain in the buttocks. It's true! The problem is not getting leads as much as maintaining communication with your subscribers.
See, the problem with the traditional autoresponders is that they are not an instant means of communication. And 99% of your list will want an instant reply to their messages. After all, we live in a world of instant results!
And if you don't hit back to them as soon as possible, they will go somewhere else.
So what is the fastest way to keep in touch with your subscribers?
Social media! Or in the case of Inboxer, we're going to be talking about a Facebook (and Twitter) messenger – an app that everyone out there is using to maintain instant communication.
But is Inboxr any good? Can it help you to leverage Facebook as it's been said on the sales page? Should you invest your money into another shiny object? Is it a smart investment at all? Is Inboxr a scam or legit?
Join me in my honest Inboxr review to discover all you need to know about it!
But before I reveal the truth about this program, who am I? Why should you listen to me?
Hi, I'm Ivan and I'm a successful online marketer who went from waiting tables to managing a full-time income online. I have also tried and tested 500+  courses, scams, and all sorts of schemes to find the best way to make money online.
In other words, I'm passionate about making money online and helping you to find legit ways to do so!
While doing one of my researches online, I learned about Inboxr. I was following this course and decided to share my findings to help you make a well-informed decision.
Shall we begin?
Inboxr Review – Overview
Type: Internet Marketing Tool
Owner: Luke Maguire
Price: $37 one-time + Upsells
Money-Back Guarantee: 14-Days
Recommended?: Yes, but not for newbies!
Quick Summary: In short, Inboxr is a cloud-based app that helps automate Facebook and Twitter accounts and could help to improve engagement with your customers and conversion rates as well.
The good thing about Inboxr is that the app was created by a legit social media marketer (Luke Maguire). Moreover, it is relatively affordable and backed up with a 14-day money-back guarantee.
The bad news is that the app is cloud-based. This means that if Luke decides to shut down the Inboxer app, you will instantly lose access and all the features.
Also, you need to have a large and active social media following on Facebook and Twitter to use this app.
That said, I personally recommend this app to advanced marketers only! In my opinion, this app is not for newbies because it does not teach how to build an online business from scratch.
In other words, Inboxr is an internet marketing tool designed to help advanced marketers to manage their social media marketing efforts easily.
For more information about this app, keep reading my Inobxr review.
Alternative: My #1 Recommendation taught me how to build this website and earn $100's per day with affiliate marketing. It's a 100% newbie-friendly program that requires no skills or experience and is 100% PROVEN to work!
THE BEST WAY TO MAKE MONEY ONLINE IN 2023 >>
What Is Inboxr?
INBOXR is a Facebook app that helps users to improve the marketing, engagement, and monetization of their online marketing campaigns. In addition to Facebook, the software works well with Twitter as well.
The way that this app benefits the users the most is by allowing you to manage all your contact easily. Inboxr allows you to communicate with your leads by sending automated messages on autopilot and building your list through the Facebook messaging system.
As I said earlier, managing your list and contacts requires a lot of work. With apps like this, you can manage your workflow and keep your leads up to date about your newest promotions, answer their questions faster, and more.
It reminds me of Engagbot app that I review earlier on this blog. It too does more or less the same job as Inboxr.
In the next sections of my Inboxr review, I'll reveal the content and the features of the app. But first, let's learn more about who has created this app too!
Who Created Inboxr?
The creator of Inobrx is a social media marketing expert, Luke Maguire. Originally, Luke is from Australia and has been involved in social media marketing for some time.
He managed to reach the status of a 7-figure earner and help others to follow in his footsteps.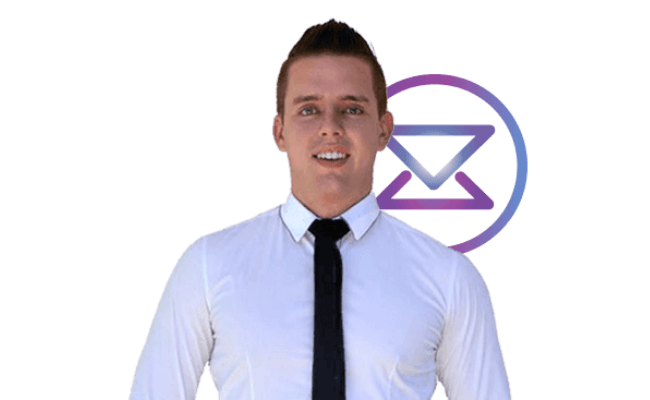 Luke is known as the author of a few such apps like Live Leap, Socialite Pro and Instamate as well.
His latest creation, Inboxr is designed to help engage your Facebook and Twitter account 24/7 by automating most of the work. Speaking of which, let's take a closer look at the app itself.
What Are The Features Of Inboxr?
In this section of the Inboxr review, I'm going to quickly go over some of the key features of this app.
Automate And Engage With Your Audience
The top feature of Inobrx is the ability to automate all the work that is required to keep in touch with your audience. This includes automated messages, drip-feed content on-demand, and more.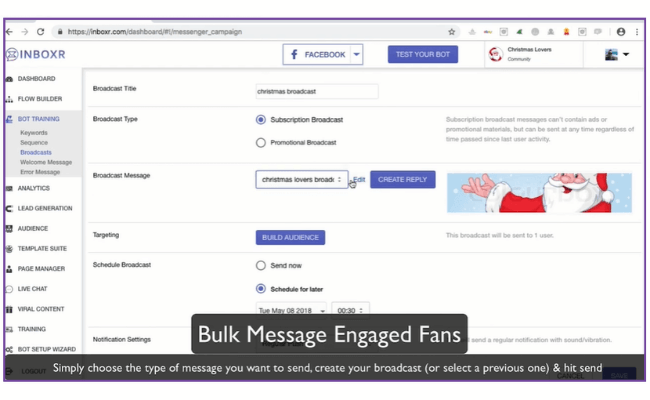 Increase Conversions
Inboxr could also help you to boost your conversions. We all know that people are impatient these days and they expect answers quickly. If you can deliver this, you could improve your conversion rates significantly.
Build Email And Mobile List
You can also connect Inboxr to an autoresponder and use this feature to build an email list quickly.
Each time a visitor enters an email address to a form, the Inboxr app is going to store the information in a database and allow you to build a list and send offers and followups easily.
Drip Feed Content To Users
Another cool feature of Inboxr is the ability to drip-feed your content to all your subscribers. This way, you can keep your audience constantly engaged and informed about your business, news, new posts, promotions, etc.
Unlimited Number Of Messages
Most of these apps have restrictions on how much you can use the features. However, Inboxr allows you to send an unlimited number of messages every day via an unlimited number of Facebook or Twitter pages.
Easy FollowUps
Inboxr app allows you to manage and automate all your followup and create a series. This way, you don't need to worry about sending messages constantly because the app will send them for you completely on autopilot.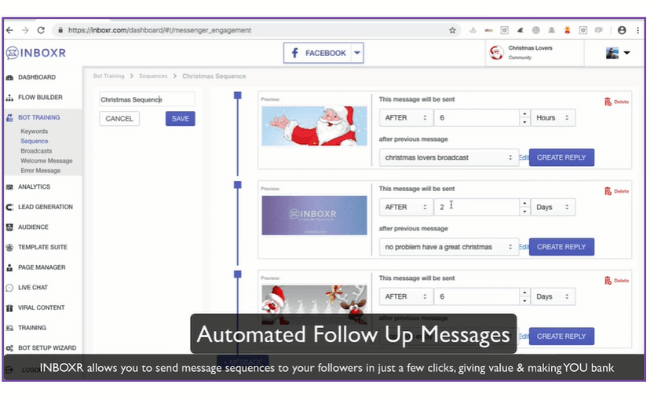 Analytics Manager
With the help of Inboxr Analytics Manager, you can track your results, your opt-ins, which messages are working the best as well as when people react the most to know how well your bot is working for your goal.
Training Videos
In addition to all these features of Inboxr, you get access to a set of training videos where Luke is personally going to show you how to use the app step-by-step. Also, you get access to support in case you have some questions.
Cloud-Based Software
Inboxr is a cloud-based app, which means that there is no downloading required. All you need to do is activate the app and it's ready to be used.
Inboxr Review Demo – How Does It Work?
The main idea behind the Inboxr app is to allow you to automate all your massages and content via Facebook and Twitter. You can send messages to your old and new fans, send offers and broadcasts, drip-feed content, and more.
Here's a quick demo video with Luke Maguire where he shows how the app works in real-time.
Who Is Inboxr For?
I'm not a big fan of these apps, but Inboxr seems like a good investment. Anyone looking for a tool that could help to organize the social media marketing tasks could find a good solution in the Inboxr app.
The Inboxr app works basically on autopilot, which means that you can keep in contact with your customers even when you're not online. It comes with step-by-step training videos and a lot of cool features that could really improve your marketing campaigns if used correctly.
It could be for:
social media marketers
affiliate marketers
email marketers
online business owners
bloggers and content creators
anyone looking to boost conversions
Is Inboxr A Scam Or Real?
Let's be honest. There is a ton of scam software out there that promise instant sales, traffic, and a lot of unrealistic things. You can never be sure about what is a scam and what is legitimate.
The good news is, Inboxr is not one of those scams.
While writing this Inboxr review, I didn't notice any misleading tactics, overhyped claims, fake results and testimonials, or any other tricks that scammers usually use to sell you a piece of junk.
For example, you can take a look at Monstermode 700K, or Beast Funnels to see what a marketing scam looks like.
The owner of this app is a legitimate guy who knows about social media marketing. If Inboxr was a scam, the owner wouldn't be showing his face at all.
That said, the Inboxr app is a legitimate product that has the potential to help its users to improve their social media marketing efforts, bring more sales, more leads, and improve communication with your customers.
Alternative: On the other hand, if you're looking for the best business model to earn passive income online as a beginner, there are other, more suitable, and cost-effective alternatives.
My top-rated course has helped me to go from earning $0 to $100's per day!
THE BEST WAY TO MAKE MONEY ONLINE IN 2023 >>
Inboxr Price And OTOs
In this section of the Iboxr review, I will go through the price and some additional one time offers that you can find inside the sales funnel. I personally don't recommend those upsells because you probably don't need them.
It's just owners' attempt to make more money from you.
Front-End Price
You can buy the Inboxr app for only $37 one-time. If you do so, you have 14 days to test it out and file a refund request if you're not satisfied with the product. Luke promises to pay you back every cent.
Inboxr OTOs
Inboxr VIP Training $27
Done For You Chatbot Marketplace $37/Monthly
WhiteLabel Chatbot and Resell License $197
What I Like About Inboxr
Helps to automate your social media accounts
Could improve opt-in rates, conversions, etc.
Comes with step-by-step video tutorials
Luke Maguire is a legitimate social media marketer
The app allows you to send unlimited messages
Relatively affordable price + 14-days guarantee
What I Don't Like About Inboxr
Works the best only on large Facebook and Twitter accounts
It could be very confusing for newbies to use it
Advanced training is sold separately
Cloud-based app – if the owner shuts it down, you lose everything
Inboxr Review – Conclusion
In the end, Inboxr could be an excellent solution for marketers who need to automate their large social media following. If that's you, you can use this app to send automated followups, broadcast messages, drip-feed content to your users, build and manage your list easily, and more.
However, I would not recommend Inboxr to newbies who are just trying to get started with online marketing.
In my opinion, this app could be a waste of time and effort if you don't learn how to build a social media following first. Also, it's important to learn the basics of online marketing as well.
See, Inboxr is a marketing tool that helps to improve your marketing efforts and skills. So if you have none, what's the use of this app to you?
That is just my honest opinion, guys. I hope you appreciate it. Thanks for reading my Inboxr review! Feel free to ask questions and leave your comments in the bottom section.
How To Start A Successful Online Business
If you're a newbie who is just getting started online and is looking for the best ways and means to learn all the basics, develop skills, and earn some money while you learn as well, keep reading this section.
As a newbie in online or affiliate marketing, you need to learn these four key steps first.
Choose your niche properly
Build your online assets
Get traffic and following
Monetize your traffic
If you don't learn those four key elements, you can buy 100's of apps like Inboxr and just waste your time and money trying to figure out why they don't work for you.
Trust me. I've been there! No amount of apps will help you if you don't learn the basics first.
I realized this a few years ago and decided to start from zero. I followed and learned those four steps from the above and thanks to this decision, today, I earn $100's per day from my online business.
My #1 Recommendation For Making Money
My #1 recommendation is a step-by-step beginner-friendly affiliate marketing course that has helped me to go from $0 to earning $100's per day with affiliate marketing without any prior experience.
The reason why I recommend it over other courses is that my #1 recommendation is the leader in the affiliate marketing training industry.
Also, my #1 recommendation comes with all the tools like hosting, websites, keyword tool, etc., included with the course!
Moreover, my #1 recommendation is proven by 1000's from all over the world.
On top of it, my top-rated course is the largest online community of marketers of all levels.
This means that you can get help 24/7 and get answers from 1000's of expert coaches, including me!
Best of all, I used this exact system to go from $0 to $1000's per month in passive income!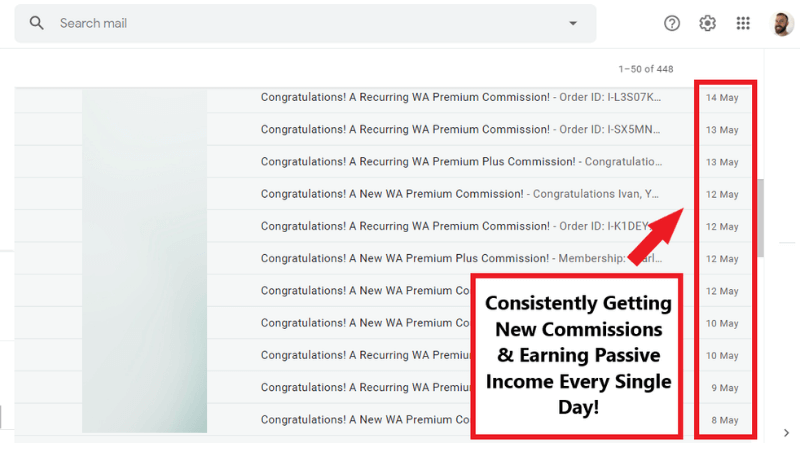 Among the best features of my # 1 ranked course is that you can take it for a test drive (just a $49 Premium subscription).
You will get one complimentary site and access to the very first ten lessons from the course to try things out.
After evaluating over 500 programs on the web, my conclusion is easy. This is the best course to learn about ins and outs of affiliate marketing.
And if you're looking for the very same, click the button below!
THE BEST WAY TO MAKE MONEY ONLINE IN 2023 >>
If you need any help or you have a question, feel free to contact me.
And feel free to share this Inboxr review with your friends and family!
All the best, Ivan. Founder, and CEO @freeaffiliatemarketingbusiness.com