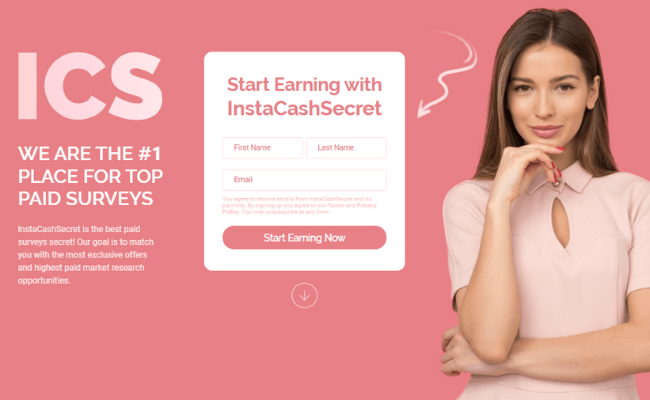 Welcome to my Insta Cash Secret review.
Insta Cash Secret website claims to be the #1 place for top-paid surveys. It also claims to help you earn $100+/day by taking surveys.
If you are curious to learn:
Is Insta Cash Secret a scam
The real cost to start
Whether users are successful
And much more!
You've come to the right website!
I've dedicated a few days to analyzing this website, taking notes, uncovering info, and thoroughly going over the platform so that I can provide you with the most helpful Insta Cash Secret review.
| | |
| --- | --- |
| | |
| | |
| | |
| | No owners or website info. False earning claims. Overhyped marketing. Lack of transparency. No surveys to work on inside. Complete lack of user testimonials. Lots of negative reviews. |
| | Insta Cash Secret is a scam that doesn't offer any real-life value. |
| | |
| | |
I Want To Know…
About the Reviewer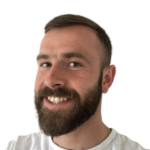 Hey, I'm Ivan Brozincevic!
Since 2018, I've been making a full-time income online, which allowed me to quit my old job (about me).
In the beginning, I struggled to identify legit courses and avoid ones that were just out for my money.
That's why I created this website – my main goal is to help you steer clear of pitfalls and discover the top online business courses.
Every week, I invest hours in reviewing online courses and writing reviews based on my fact-driven review guidelines to assist you in making an informed choice.
Related: Check out my FREE training program for making money online.
Is Insta Cash Secret A Scam?
I can confirm that Insta Cash Secret is a scam. The website provides misleading information and false promises of big earnings.
It's evident that their intention is to deceive and make you believe that you can earn money.
However, the truth is that they profit by referring you to other survey companies and bombarding you with promotional emails.
They receive commissions from the programs they recommend when you sign up. While everyone wants to make money, it's unethical to scam others with false claims.
If you truly want to make money online, it's important to do it the right way and not by exploiting people's time and money.
Therefore, I strongly discourage you from using Insta Cash Secret. Instead, I encourage you to explore better alternative methods for making money online.
It's worth mentioning that paid surveys don't offer substantial rewards, typically paying around $1 or less per survey.
So the bottom line is, Insta Cash Secret is a scam. I recommend reading the rest of my review to get more information about how it operates and what you should know for the next time!
What is Insta Cash Secret?
Insta Cash Secret is a website claiming to be the #1 top-paid survey site. They promise that you can earn over $100 just by taking surveys. However, these claims are often false and can lead to scams.
It's important to be cautious when dealing with websites like these.
One red flag is the lack of information about the website and its owner. This raises concerns about transparency and accountability. Furthermore, the absence of a FAQ page makes it difficult to get answers to any questions you may have.
Overall, it's crucial to be aware of websites that make grand promises without providing sufficient information or transparency.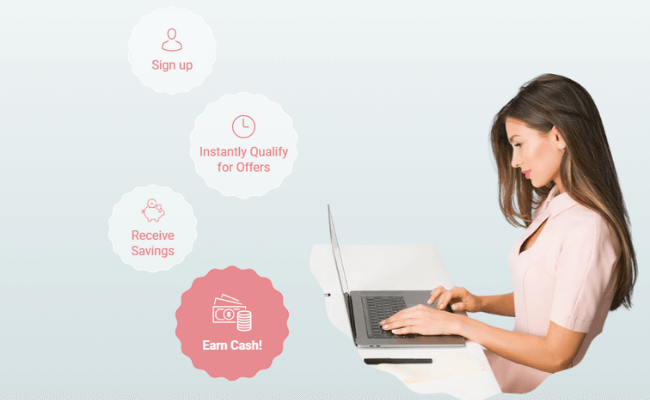 When signing up with Insta Cash Secret, you may expect access to numerous paid surveys within the member's area. However, upon further examination of their website, it becomes evident that this is not the case.
The website claims to match you with exclusive offers and high-paying market research opportunities, but it is unclear what services they provide prior to joining.
This lack of clarity may be especially confusing for those who are new to survey sites.
Typically, when a site mentions matching you with offers, it means that you cannot earn directly on the site itself, but rather they will present you with promotional offers.
In the case of Insta Cash Secret, it is not possible to earn money through their website. Joining a survey site that offers additional opportunities is acceptable as long as it provides informative content to aid in decision-making and determine its worth.
Let's now delve deeper into an Insta Cash Secret review to explore what happens when you join.
Related: ClickEarners.com Review
How Does Insta Cash Secret Work?
Although I've already mentioned that there is nothing here, I will explain how it works.
Firstly, if you decide to give this website a try, I recommend using a fake email address to avoid receiving spam emails from other businesses.
On their website, you will find a sign-up section where you need to provide your full name and email. That's all there is to it.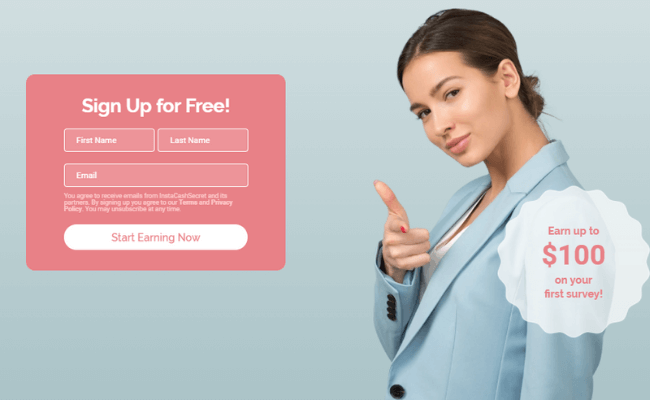 Once you are finished, you will be directed to a survey site where you will encounter questions about your desired earnings and interest in earning opportunities.
However, it is important to note that Insta Cash Secret, despite claiming to offer high-paying surveys, is merely a "paid surveys aggregator." What this means is that they provide recommendations for other paid survey companies.
Moreover, there is no need to sign up for a website like Insta Cash Secret to access a paid survey company, as you can easily find them online without any sign-up requirements.
Additionally, it is crucial to be cautious as the surveys within Insta Cash Secret are fraudulent.
Once you enter, you may come across links that promise unrealistic amounts of money for completing surveys.
However, once I clicked to start a survey, my browser promptly warned me about the danger of a Phishing scam, as shown in the image below.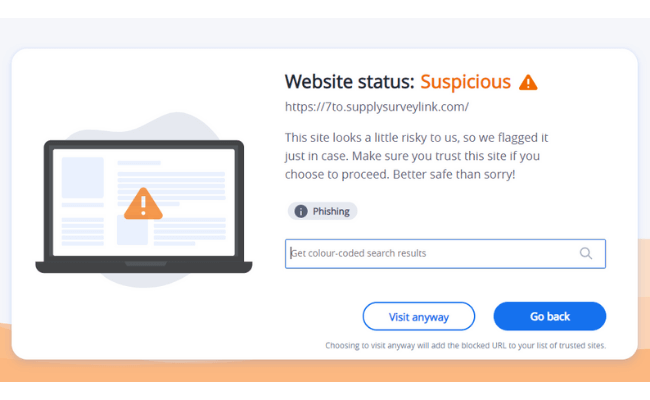 Insta Cash Secret wants you to sign up so they can flood your inbox with spam emails. Watch out for their pitch, promoting other make-money-online-related stuff.
They are affiliated with the companies they recommend, earning commissions for signing you up.
Surveys are not inherently bad, but Insta Cash Secret is taking a dishonest approach. They falsely claim that you can earn big money by completing the survey.
As mentioned earlier, paid surveys often pay very little. Finding high-paying surveys is challenging and even those may only result in earnings of $20 or $30.
Paid surveys rarely reward you adequately for your time.
It's important to note that there are other paid survey scams promising access to high-paying surveys but requiring upfront payment.
Be cautious and never pay upfront to access paid surveys. If a site asks for money, it's obvious that Insta Cash Secret intends to scam you.
How Much Does Insta Cash Secret Cost to Start?
Insta Cash Secret is free. You don't have to pay a fee in order to get access to the website. All you need to start is an email address.
Are Insta Cash Secret Users Getting Results?
I spent hours trying to find at least one positive Insta Cash Secret testimonial online, but my research was in vain because I couldn't find any such reviews.
On the other hand, I managed to come across a ton of negative reviews.
It appears that no one is making any money with this website, which only confirms everything I have mentioned in the earlier sections of my review.
What I Like About Insta Cash Secret
This website lacks any valuable content or offerings.
Related: Paid Social Media Jobs Review
What I Don't Like About Insta Cash Secret
They Are the Ones Earning
Earlier, I mentioned that you won't earn anything from this website. It's merely a time-waster.
The person behind this website is the one who earns. Whenever someone signs up, they share that information with the recommended company and receive commissions.
I'm unsure about the exact amount they earn, but it's not significant. Nevertheless, they do make some money.
No Information Who The Owner Is
You may already know that this website lacks any information about its owner, including their name or image.
On their website, you will only find a picture of a girl and some text.
Furthermore, there is no contact or about pages available on Insta Cash Secret, making it challenging to gather more details about the owner or the business.
They Will Send You Spam Emails
When signing up for Insta Cash Secret, it's natural to expect to receive emails from them.
However, what concerns me is that they don't disclose the identity or number of their partners. Consequently, you won't know how many organizations might share your information and start sending you promotional offers.
This lack of transparency is a deal-breaker. To mitigate any potential risk, it is advisable to use a fake email instead of your personal one.
Exaggerated Earning Claims
Their website makes claims that you can earn up to $100 for your first survey. But let me repeat this to you again, on Insta Cash Secret, earning $100 is not possible, even though it might appear so.
Once you complete the registration, they present you with paying surveys that give the impression of earning good money simply by taking the first survey.
However, in reality, you will receive nothing.
There are No Surveys
Allow me to clarify that Insta Cash Secret does not offer any surveys for you to take. Although their website claims that you can earn money by completing surveys, this is not their actual offering.
While I don't mind websites promoting offers, it is important for them to be honest and provide only high-quality offers.
In my opinion, it's crucial that you are fully aware of what you'll be receiving before joining because their website lacks clarity in this regard.
Personally, I don't wish to support or join a website that lacks transparency about its offerings.
Insta Cash Secret Review – Conclusion
There are various types of survey scams that make unrealistic claims, like the promise of earning big money, such as Insta Cash Secret.
However, it is important to note that earning $100 or any substantial amount of money through this website is simply not possible.
As someone who has done surveys before, I can confidently say that such high payouts are unheard of.
Scams emerge because some individuals seek quick and effortless ways to make money. They employ absurd claims to promote different products, targeting beginners who may naively believe that making substantial money is easy.
While it is indeed possible to earn money by taking surveys, it is crucial to understand that completing simple surveys that only take a few minutes will not provide enough income to cover your bills, housing, and other expenses.
To make thousands of dollars, one must engage in more complex tasks and put in significant effort.
Thank you for taking the time to read my Insta Cash Secret review. If you have any experiences or thoughts to share, please feel free to leave them in the comments below.
| | |
| --- | --- |
| | |
| | |
| | |
| | No owners or website info. False earning claims. Overhyped marketing. Lack of transparency. No surveys to work on inside. Complete lack of user testimonials. Lots of negative reviews. |
| | Insta Cash Secret is a scam that doesn't offer any real-life value. |
| | |
| | |
The Best Way To Make Money Online
I earn online by creating simple affiliate websites that I use to connect people with products they are already looking for.
It's called affiliate marketing and it is the best way to make money online (at least in my humble opinion).
If you want to learn more about how you can start making money online with affiliate marketing, I would strongly suggest you sign up for the free training on the next page.
And don't forget to share this Insta Cash Secret review with your friends and family!
All the best, Ivan @freeaffiliatemarketingbusiness.com