Welcome to my Ad Click Xpress review.
Wondering if Ad Click Xpress is a legitimate opportunity to earn income online?
Look no further, this article provides all the information you need. Discover warning signs and complaints about the website that you must see before making a decision.
It is not a trusted site, and your money and data could be at risk.
Learn what Ad Click Xpress is about, how it works, and most importantly, familiarize yourself with scam signs and customer complaints to make an informed choice.
Let's dive in.
Is Ad Click Xpress a Scam ?
There is no doubt in my mind – Ad Click Xpress is a scam. It is not a legitimate platform and I do not recommend it for earning income online.
The owner of the website, Frederic Mann, has a bad reputation for failing to honor his commitments and absconding with the money invested by unsuspecting online investors.
You can find several significant pieces of evidence below in my review.
Furthermore, there is no evidence to support the existence of Frederic Mann, which strengthens my claim that this platform is a scam.
My sincere recommendation is to steer clear of ACX, as your finances and data are at risk. The internet is replete with such fraudulent websites that solely aim to defraud you of your money.
It is advisable to distance yourself from these sites as well.
Alternative: My #1 Recommendation is a 100% legitimate training platform that has helped me to go from $0 to earning $100's per day with affiliate marketing. Wanna follow in my footsteps?
THE BEST WAY TO MAKE MONEY ONLINE IN 2023 >>
What Is Ad Click Xpress?
As mentioned earlier, Ad Click Xpress is an online advertising company. It has been around since 2013 and allegedly provides more traffic, leads, and sales through its advertising platform.
You can open a free account with ACX and even get 600 visitors for free. However, it's important to remember that this won't be free forever.
Freemium membership is a popular way to attract more customers, but eventually, you'll have to pay. B
efore you do, I recommend reading the rest of this review.
While the site may seem like a legitimate place to get traffic through ad sharing, there are some important issues to consider.
I will explain them further in the following section of my review.
How Does Ad Click Xpress Work?
Ad Click Xpress operates using the Paid to Click (PTC) model. Acting as an intermediary between advertisers and customers, the website offers two main services.
You are paid for viewing ads, allowing you to generate more traffic and sales by paying to display your ads.
In this section, we will explain the primary business model of the platform and provide an inside look at how it works.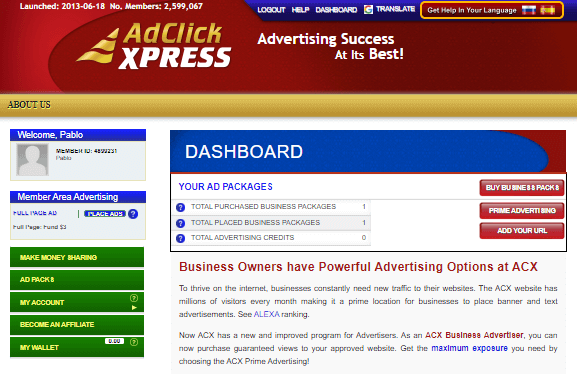 The business model behind ACX is based on hosting ads on their website to generate more traffic and potential sales. ACX receives a considerable amount of monthly traffic as a PTC site, offering you the opportunity to showcase your ads.
Initially, you are provided with 600 free clicks to try out the system.
Afterward, to continue using the platform's resources, you need to purchase the Prime Advertising package which grants access to banner ads and other campaign tools.
However, let's move past the words and focus on concrete evidence. While attempting to find success stories of people benefiting from Ad Click Xpress (ACX), the majority of what I encountered were complaints.
Some even go so far as to claim ACX is a scam, but we'll delve deeper into this topic later.
Another drawback of the ACX traffic sharing system is that the clicks you receive are often from individuals who are primarily interested in earning revenue through ad packs.
Consequently, these individuals might not be genuinely interested in your website or sales page— their primary motive is watching ads, as described in the following section of this review.
In summary, ACX does deliver the promised traffic to your site; however, these clicks may not convert into sales.
This quandary raises the question of the usefulness of generating vast amounts of traffic without generating actual sales.
Can You Make Money With Ad Clicks?
There are three ways to make money with Ad Click Xpress. The first one has been explained above, while the second and third ones will be described below.
Buying Ads Packs
Earlier, I mentioned that you and other members can earn money by watching ads. Here's how it works:
First, you need to purchase an ad pack for at least $10. Once you have an ad pack, you can start earning by watching ads for at least 12 seconds. Each ad pack has the potential to provide a return of 1%-2%.
In addition, each ad pack has a maturity period of 90 days. If you hold onto it for three months, it can earn you a 50% increase in value, making it worth $15 per pack.
While this may explain the traffic sharing model ADX uses to deliver traffic to your site, I personally find it to be worthless.
Most people will simply click on sites to get paid without showing any real interest, which can ultimately harm your search engine rankings.
Imagine receiving 1000 clicks per day, but those visitors only spend 12 seconds on your site. This lack of interest will result in a high bounce rate, damaging your rankings overall.
Affiliate Program
One way to make money with Ad Click Xpress is by referring other people to the website. When your referrals purchase ad packs, you can earn money. There is no limit to the number of referrals you can bring to the platform.
Your earnings are divided into three levels.
5% from direct referrals
2% from 2nd tier referrals
1% from 3rd tier referrals
You can earn a 25% commission when a person or business purchases an ad pack through your affiliate link.
However, their affiliate program requires an upgrade to a paid membership for eligibility, which is different from most free-to-join affiliate programs. This raises questions about their intention to maximize profits from users.
Now, let's explore the price tag.
Ad Click Xpress Price
The pricing of Ad Click Xpress is somewhat unclear. Understanding their price structure and membership levels has been quite challenging for me.
First, it's important to note that joining the platform is free. However, if you want to start making money or generate traffic, you need to upgrade from advertiser to affiliate.
Additionally, upgrading your membership will allow you to receive higher payouts and enjoy more platform benefits.
Unfortunately, ACX does not disclose prices. Since I haven't bought any exclusive membership, I am unable to provide more details.
However, you can refer to the following complaints to get a better understanding.
Ad Click Xpress Reviews
A person had been using the platform for a long time but faced difficulties withdrawing earnings because of frequent ownership changes. In the past five years, the platform underwent three ownership transitions.
Here's a screenshot of the complaint.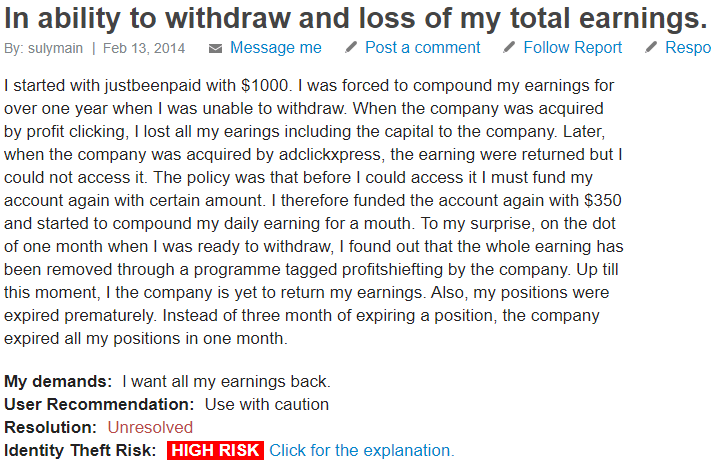 A person invested around $850, but the company is refusing to pay out their investment. Please see the screenshot below.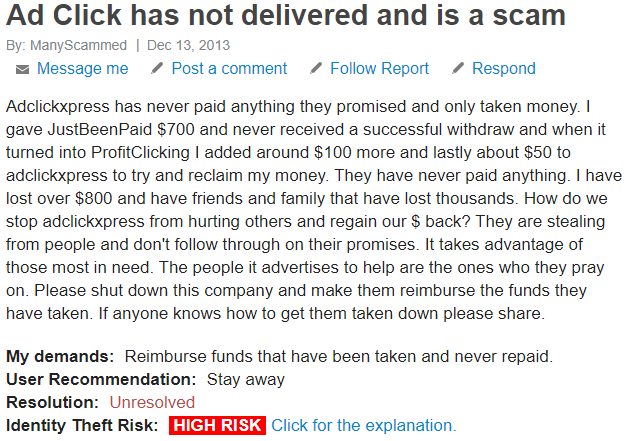 The fact that Ad Click Xpress receives negative complaints confirms its lack of trustworthiness and suggests that it may be a scam.
While the website promises an appealing payout program and increased traffic, there is another side to the story.
Is Ad Click Xpress a Legit ?
During my research for this review, I discovered numerous complaints about Ad Click Xpress that provide a conclusive answer to the question of whether it is a scam.
Now, let me reveal the other signs of this scam that you should also be aware of.
The Company Has Changed Names Several Times
Back in 2012, they initiated the platform as Just Been Paid. Shortly after that, they rebranded it as Profit Clicking. However, Profit Clicking was later acquired by Ad Click Xpress. This raises the question, why did they make these changes?
Upon conducting my research, I found that Profit Clicking faced allegations of fraud and engaging in criminal and irresponsible activities. For more information, you can read further here.
Naturally, the owners opted to relocate their questionable practices under a new name, only to possibly change it once again.
The Price Structure is Not Disclosed Before Joining
While collecting information for this review, I couldn't wrap my head around the price of the service. All I've got was the price of the ad packages; the rest was not disclosed.
The lack of transparency about the price is a severe scam warning sign.
They promise high commissions and tons of converting traffic to create a sense of urgency to get rich quick. But once you purchase the service, you soon realize the overhyped promises were just misleading tactics.
A lot of online scams use this tactic to create curiosity and make visitors purchase their service.
The Website is Not Secure
Ad Click Xpress might be a scam due to the absence of an SSL certificate. In other words, the platform lacks security, putting your data at risk. This also increases the likelihood of identity theft.
Consequently, I decided not to proceed after initiating my free membership.
They Have Received a Lot of Negative Complaints
Many individuals across the internet have filed complaints and written numerous negative reviews about Ad Click Xpress and its previous incarnations. This serves as a major warning sign of potential scams.
The company is promoted as a smart online advertising platform that offers great traffic and opportunities to earn money.
However, these claims are undermined by the substantial number of users who have reported it as a scam after using the platform for an extended period.
Alternative: On the other hand, if you're looking for the best business model to earn passive income online as a beginner, there are other, more suitable, and cost-effective alternatives.
My top-rated course has helped me to go from earning $0 to $100's per day!
THE BEST WAY TO MAKE MONEY ONLINE IN 2023 >>
Ad Click Xpress Pros:
Ad Click Xpress Cons:
It is a scam
No refund
Negative reviews
Don't know anything about the owner
Company changed the name couple of times
How I Earn a Passive Income From Home
A few years ago, I was exactly where you are right now. I was looking for ways and means to make money online.
It took me a while to get away from these 30 Minute Money Methods scams and other get-rich-quick schemes and to find a legitimate training program.
But once I found it, everything changed!
My #1 recommendation is a step-by-step beginner-friendly affiliate marketing course that has helped me to go from $0 to earning $100's per day with affiliate marketing without any prior experience.
The reason why I recommend it over other courses is that my #1 recommendation is the leader in the affiliate marketing training industry.
Also, my #1 recommendation comes with all the tools like hosting, websites, keyword tool, etc., included with the course!
Moreover, my #1 recommendation is proven by 1000's from all over the world.
On top of it, my top-rated course is the largest online community of marketers of all levels.
This means that you can get help 24/7 and get answers from 1000's of expert coaches, including me!
Best of all, I used this exact system to go from $0 to $1000's per month in passive income!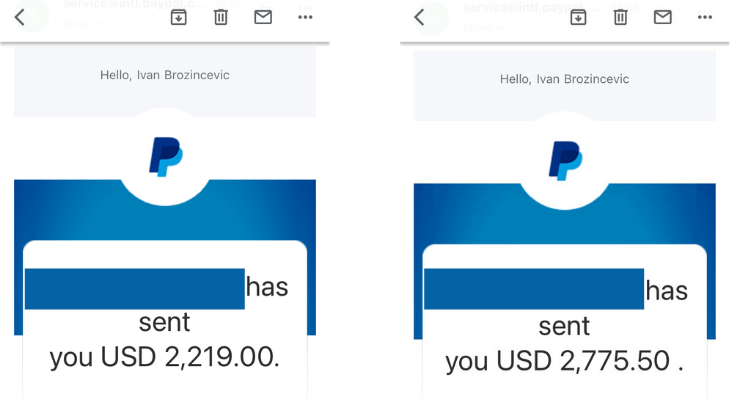 Among the best features of my # 1 ranked course is that you can take it for a test drive (just a $49 Premium subscription).
You will get one complimentary site and access to the very first ten lessons from the course to try things out.
After evaluating over 500 programs on the web, my conclusion is easy. This is the best course to learn about ins and outs of affiliate marketing.
And if you're looking for the very same, click the button below!
THE BEST WAY TO MAKE MONEY ONLINE IN 2023 >>
If you need any help or you have a question, feel free to contact me.
And don't forget to share this Ad Click Xpress review with your friends and family!
All the best, Ivan. Founder, and CEO @freeaffiliatemarketingbusiness.com