Welcome to my Profit League review.
Created by Jeff and Jessica Samis, this is one of the most expensive marketing courses out there. The price is a whopping $3999! But is it worth it? Or is the Profit League a scam?
Well, the smartest thing you can do before you jump into something is to look for a review.
And you just did, so congratulations!
Before we begin to talk about this course in more detail, I want to disclose that I'm not associated with the owners of this course, nor do I promote it to earn a commission.
This post is based on my observations, experience, and research, and is just an expression of my opinion.
Hi, I'm Ivan and I'm an online marketer who went from waiting tables to managing a full-time income online. I have also tried and tested 500+  courses, scams, and all sorts of schemes to find the best way to make money online.
In other words, I'm passionate about knowledge that helps to improve our lives, build a business online, and more.
Within this Profit League review, I'll show you what this course is about and give my honest opinion about whether Profit League is a scam or a legit way to make money.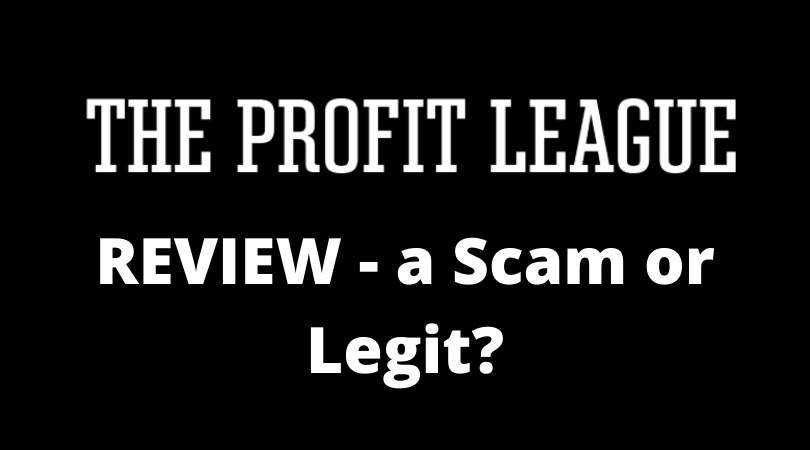 Profit League Review – Overview
Type: Local Lead Generation
Owners: Jeff and Jessica Samis
Price:$3,999 one-time
Money-Back Guarantee: Unavailable
Recommended?: Yes, but not for newbies
Quick Summary: The Profit League is a very expensive but legitimate training course that shows how to start with the local lead generation using Facebook ads as the main traffic source.
In other words, it's not a scam and I would recommend Jeff and Jessica Samis' course to people interested in local lead generation and making money online.
In my personal opinion, the Profit League is not for newbies because it's expensive and it requires some basic knowledge about online marketing.
Otherwise, it could be a costly experience.
I believe that newbies should first master the basics and learn how to build their own websites, write content, get free traffic, and more, for a reasonable price (see my #1 recommendation below).
Then, it would be a good idea to learn about local lead generation and paid ads.
But if you are on the advanced level, and have lots of online marketing knowledge, read the rest of my Profit League review for more information…
Alternative: My #1 Recommendation is a 100% beginner-friendly course that's helped me to go from $0 to learning $100's per day with affiliate marketing. Make sure to check it out as well!
THE BEST WAY TO MAKE MONEY ONLINE IN 2023 >>
What Is The Profit League About?
Created by Jeff and Jessica Samis, the Profit League is about local marketing and lead generation.
The process comes down to finding local businesses that need more customers and running online campaigns for them.
Sounds easy, wouldn't you agree? Well, nothing is that easy in the real world.
Nonetheless, it's a legitimate business model, and Jeff and Jessica are quite successful with it. Today, they are spreading their knowledge within this pretty expensive course.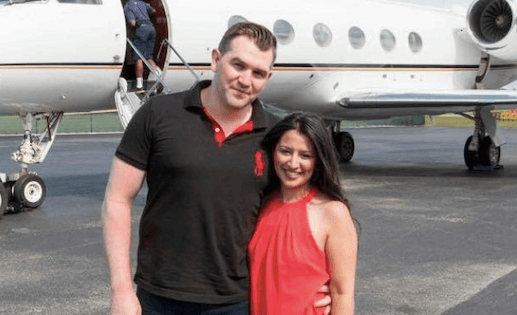 The course is focused on teaching you how to build a few page sales funnels using ClickFunnels. Then, you can learn how to use these funnels to get customers for other people's businesses.
By the way, you're going to need a premium version of the software for this, which I'll explain in more detail in the next section of this Profit League review.
The point is to find a local business that needs more clients.
To do so, Jeff & Jessica teach how to write Facebook ads that convert and how to run FB ads to drive potential clients to your funnels.
I'll explain the whole process in more detail later in my Profit League review. Let's go over the price talk first.
Related: 7 Figure Franchise Review
The Profit League Price Review – Is It Worth $4k?
As you probably know already, Jeff's and Jessica's training is priced at $3999.
The price is one time, and it includes video lessons for getting started with Facebook lead generation for local businesses, coaching calls, and some other perks, which I'll disclose in this Profit League review as well.
Also, it's essential to understand that you need an extra budget a premium license of ClickFunnels ($97 per month) to run this business successfully.
Now, most of you wonder whether or not it's worth the price, right?
In my opinion, $4k might be a bit too much for a course about FB ads. But hey, it's just cheap me talking.
I mean, there are so many courses on local lead generation that cost much less. I don't see how this one is different.
The bottom line is, you're going to get a lot in return for your hard-earned money.
So whether or not the Profit League is worth it is up to you.
Who Is The Profit League For?
Interested in local lead generation? It's a profitable business indeed, and Jeff and Jessica could show you how it's done.
However, as I said in the previous section, I don't feel like this business is for beginners.
First of all, you need a lot of money to start with local lead generation. Secondly, you'll be responsible for other people's money too!
Thirdly, no matter how good a course is, you still need some background in marketing to succeed in this business.
On the other hand, if you feel like you are ready to run your own local marketing business, go for it. These two individuals are completely ok, and they could help you.
Related: Automatic Clients Review
What Do You Get With The Profit League?
You'll start the Profit League with a webinar. At the end of the webinar, you'll need to decide of purchasing the program for a large cost of $3,999.
You'll be shown whatever that you need to understand about developing an ad agency company.
This isn't the kind of training program that you download and install, read, and afterward are left by yourself to execute every little thing.
Jeff and also Jess has actually created a program that you can work with to find out exactly how to generate leads and also manage your marketing campaign.
Bear in mind that they are revealing to you just how to do this, they are not doing this for you.
You'll be in charge of finding your own customers as well as creating advertisements. They will supply you with some free advertisements that you can utilize, but you'll need to change them to fit your service.
Throughout the course, you'll additionally discover just how to automate ad campaigns.
Here's what you get for your money.
Two live weekly coaching calls
20+ Done For You FB ad campaigns
DFY Sales and email scripts
Extensive FB ads and Clickfunnels training
As I said, before you can get started with the training, you'll have to watch a webinar, and then you'll have to book a call with Jeff, Jessica, or one of their associates.
And then, you can start your membership and training.
What Can You Learn From Jeff and Jessica?
Creating Funnels
Transforming your visitors right into leads and eventually right into a customer is a crucial duty in the marketing success of your service.
In order to do this, you'll require to learn exactly how to get them to invest their money in your product/service. And trust me, this is not an easy game.
The Profit League educates you on these sales and marketing techniques so you can increase your revenues.
Generating Traffic
Getting website traffic to your website, blog, funnels, or online service is essential for your success.
You'll need to obtain the attention of prospective consumers and make your service interesting enough for them to head to your website and then buy your products or services.
You'll learn exactly how to do this with the Profit League program by Jeff as well as Jessica Samis.
Utilizing Scripts
Scripts will aid in following up with your potential clients. They are usually utilized for email advertising and for your advertisements.
You'll discover how to choose the best one with the Profit League. Also, Jeff and Jessica will reveal to you in the training what has actually worked for their advertising initiatives and what hasn't.
Utilizing Campaigns
There are over 20 campaigns in this course. Having accessibility to this information proves to be practical.
Certainly, you'll require to make some adjustments to these projects before using them. However, it's a good means to get going with something.
This is often the toughest part of advertising and marketing along with the ad copy. And the Profit League has got you covered here as well.
Utilizing Webinars
Jeff and Jessica Samis hold regular Webinars to make sure that you can stay on par with the current fads in the industry.
This is excellent due to the fact that modifications and updates are frequent when it comes to the internet. These changes can influence your earnings margin as well as advertising initiatives.
Related: Unlimited Leads Challenge Review
How Does The Profit League Work in Practice?
If you ever have seen an ad on Facebook for some service or business in your area, there's a chance that someone like Jeff and Jessica is behind the campaign.
Basically, if you click on the ad, you're dragged into a sales funnel where they pitch you to become a customer.
If you let's say agree to do business with the company, the marketer is going to get paid a commission.
And in a nutshell, that's the modus-operandi of The Profit League training.
Jeff and Jessica Samis are experts in this area, and they teach the process step-by-step.
Below is what the process looks like in a few short steps.
Find Clients
Step up a Landing Page
Create Ad Campaigns
Run FB Ads
In theory, the business model looks simple.
But you need to realize that it's not perfect and there are some risks, such as taking care that you find the right customers, taking care that your CTR is high enough, so you don't waste your client's money and such.
On the other hand, Jessica is a professional Ad copywriter, and she promises that her ads convert like crazy.
Also, the training on FB ads is extensive, and there shouldn't be any problems.
That said, I believe that it works as promised and you could, if executed correctly, earn commissions running ads for local businesses.
The Profit League Reviews 
As you may have noticed while doing your own research, The Profit League has got a lot of positive testimonials and reviews on YouTube.
Wondering whether those are real or fake?
Well, I do too. So I did some research of my own and couldn't find any evidence that reviews are fake.
In other words, it seems like these people have achieved genuine success with this course.
Below is one of the Profit League reviews from YouTube:
The Profit League Review PROS
Jeff and Jessica are Experts and Legitimate Marketers
The good thing about the Profit League is that it's created by two people who are experts in the field of FB ads, local marketing, and copywriting.
They offer many customer testimonials and seem like two genuine people.
Training and Resources are Good
They give an extensive education and even include a lot of resources such as DFY email copies and FB campaigns, which is something that I like a lot.
So if you are new to this business, those resources could come in handy to see how it's supposed to turn out.
FB Marketing is Effective Method
Facebook marketing is one of the popular ways to make money online, which is proven by the continuous rise of FB advertising costs.
This training program is designed to teach you how to master this file of marketing and those two, Jeff and Jessica, know how it all works.
Related: Powerhouse Affiliate Review
The Profit League Review CONS
The Course is Too Expensive
$4k is not a lot of money if you look at the potential of this business.
However, the problem is, there are many courses on FB and local marketing that are way cheaper than The Profit League.
But then again, if you pull it off, your investment should return back to your pocket even multiplied.
No Free Trial or Refund
Another thing that I don't like about it is the lack of a free trial and money-back guarantee.
Once you're in, that's it!
I would like to see at least a week or two of free trial so that you can see what's inside and get the taste of it before you shell out $4k!
Facebook Ads are a Beginner Friendly Method
The thing is, FB ads are not as easy as they might seem at first.
You're going to handle other people's money and be responsible for it.
This business model is risky and requires a high dose of concentration and expertise.
I wouldn't recommend this to beginners!
Related: Product Launch Formula Review
Is the Profit League a Scam or Legit?
Before I finish off this Profit League review, it's important to mention that it's not a scam.
Yes, it's suspicious and expensive (owners do not reveal too much until the pitch). But it's created by two legit marketers, who are experts in this area.
Jeff and Jessica know how to talk the talk and walk the walk.
And if you ever decide to join them, you'll get a chance to replicate their success with local marketing and lead generation.
Therefore, it's a legitimate course. You don't need to worry about a scam.
But there are a few things that you need to know before going forward.
First of all, you don't get a money-back guarantee. So if you ever jump in, your money is gone.
There's no coming back. The price is final!
Also, this is not something that I would recommend for beginners.
The success with The Profit League depends, first and foremost, on your level of marketing skills.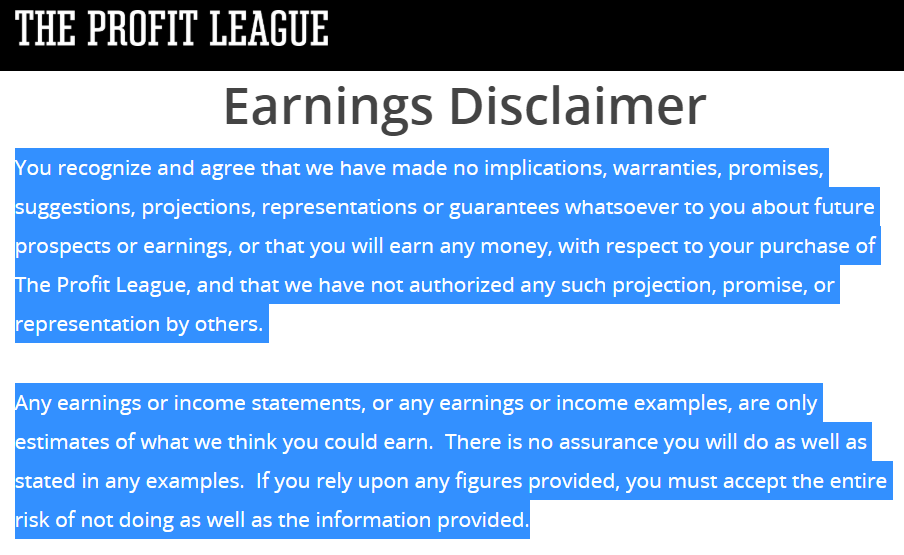 Even the owner has put out a clear earning disclaimer where they say that there are NO GUARANTEES.
FB ads and local marketing are not a piece of cake. You need at least some background in this area.
That's why I wouldn't recommend this course to beginners.
On the other hand, if you're looking for the best business model to earn passive income online as a beginner, there are other, more suitable, and cost-effective alternatives.
My top-rated course has helped me to go from earning $0 to $100's per day!
THE BEST WAY TO MAKE MONEY ONLINE IN 2023 >>
The Profit League Review – Conclusion
Thanks for reading my Profit League scam or legit review. Let me know if you have any questions about it.
As I said at the beginning of this post, this training program requires a lot of work, skills, and above all, a lot of money.
Local lead generation is almost like an extreme sport.
It works, but rarely anyone is doing it, and the reason is that it's an expensive and dangerous feat.
If you know what you're doing and you have enough money to invest, go for it.
But if you are a beginner, I wouldn't recommend this course to you.
You should, first and foremost, learn the basics of digital marketing and get some experience first.
How I Make Money With Affiliate Marketing
Instead of telling you to join the Profit League, I have a much better recommendation.
If you're looking for ways and means to start a legitimate affiliate marketing business to earn an income online, you should check out my top-rated program first.
The program that I recommend on the next page has helped me to reach the status of an online entrepreneur in a short period, and I'm confident it could help you too!
I went from struggling marketer to earning $100's per day promoting ANY products I choose and I want to show you how you too can do the same.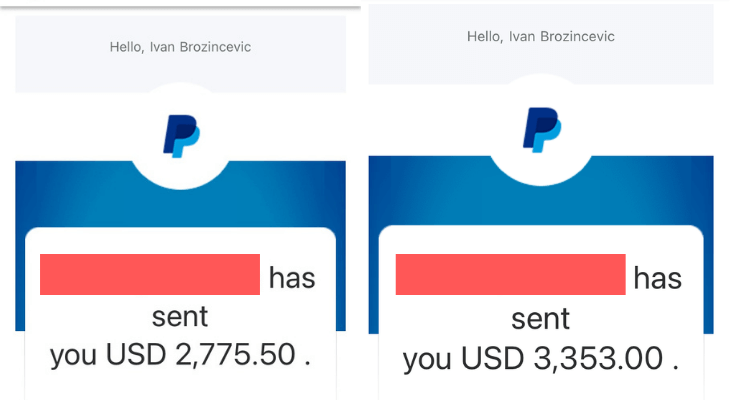 Among the best features of my # 1 ranked course is that you can start for free. You will get one complimentary site and access to the very first ten lessons from the course to try things out.
Furthermore, this program is in fact all-in-one. You get everything that you need to make money online.
This consists of detailed training, all the very best tools, hosting and websites, live assistance, community aid, technical assistance, one-on-one coaching, and so much more!
After evaluating over 500 programs on the web, my conclusion is easy. This is the best method to make money online.
And if you're looking for the very same, click the button below!
THE BEST WAY TO MAKE MONEY ONLINE IN 2023 >>
If you need any help or you have a question, feel free to contact me.
All the best, Ivan. Founder, and CEO @freeaffiliatemarketingbusiness.com
Related Reviews: