Welcome to my Job Quitter Club review.
Another program that promises huge earning opportunities with a push of a button. Allegedly, you can earn around $3000 per day with this system
Wondering whether Job Quitter Club is a scam? Well, let me show you.
Like many other get-rich-quick scams out there, the Job Quitter Club is a program that is supposed to make you tons of cash with a few minutes of work each day.
The creator, Richard Harper, claims that you can use this program to replace your job in a matter of days.
But how much of it is true? Very little to none.
The truth is that the people who create these schemes are targeting newbies who are looking for some quick cash. To an experienced person, the Job Quitter Club sounds like a scam, and it's not far away from being one.
Within this Job Quitter Club review, I'll show you what it is about. Also, I'll explain how the whole thing works.
I'll show you some warning signs and give my take on whether it is a scam or a legit way to make thousands per day.
Let's go!
The Job Quitter Club Review – Overview
Product Name: The Job Quitter Club
Product Type: Affiliate Marketing Course
Owner: Richard Harper (Fake Name)
Price: $47 + Upsells
Recommended?: No! Scam Alert!
Quick Summary: The Job Quitter Club is a website that claims to reveal one proven trigger that forces money into your bank account. You can leverage this system to make $1000's per day online.
So is it a scam or legit?
While reviewing the Job Quitter Club, I found a few red flags that I want to share with you.
Here's a quick summary.
The first warning sign was the undeniable fact that the site leaves an impression of a get-rich-quick scam. For example, the owner promises huge earnings in record time with no work or effort and other unreal things.
Moreover, Richard Harper promises to give you real money by the end of the video and other things just to get you to buy this program and to sell more copies to gullible newbies.
But unfortunately, there's no money waiting for you once you buy this product.
And on top of that, Richard Harper is not a real person. In other words, the real creator of The Job Quitter Club hides his identity behind the stock image and a fake name.
Why would you trust a person who does this?
I know I wouldn't.
For all these reasons and many more, I'm pretty sure that Job Quitter Club is a scam. Make sure to read the rest of my review to see all the evidence and stay away from this one!
If you are tired of scams and bogus websites, make sure you check out the legitimate way to make money online below that I use to make $1000's per month.
THE BEST WAY TO MAKE MONEY ONLINE IN 2023 >>
What is The Job Quitter Club?
I've got this offer in my email inbox this morning. As soon as I've seen the email, I knew it was from a spammer, and the offer is probably some scam or something like that.
I opened the email, clicked the link, and landed on the Job Quitter Club website.
Here's my first take. It is a site that promises 100's per day with little to no work.
Allegedly, the site has been created by Richard Harper. The guy was a regular bloke, working his job as a waiter and cursing life.
Then one day, Richard got sick and tired of his career and decided to start an online business.
Now, today, Richard is a super successful businessman who has some secret system in his hands that makes money with a push of a button.
This system is supposed to make you money like clockwork. You need to work only 5 minutes each day to keep the money rolling in.
Sounds cool, but is it a scam or legit?
Well, the truth is that nothing you've heard is real.
The Job Quitter is another get-rich-quick system that promises the world if you give them your $47. I've reviewed tons of these programs over the last few months.
You can see how this program is very similar to other scams and get-rich-quick systems — for example, Secret Millionaire Bot, 7 Minutes Daily Profits, and Affiliate Millionaire Club.
This offer is no different. They feed you with a bunch of crazy promises that you'll get rich in a matter of days and even quit your job within the first month.
They say that all the hard work is done for you and how you don't need any experience or skills. All it takes is a push of a button.
So let's check out the next section of the JOb Quitter Club review to see if those claims are true.
How Does Job Quitter Club Work?
Job Quitter Club is carefully designed to lead you step-by-step until you reach those upsells because that's where they make the real money.
If you remember, I said that I'd got an invitation via email.
That's only the first of many steps that create a sales funnel.
The highly misleading and unethical sales video is the second step. Unfortunately, there's no mentioning how the Job Quitter Club works.
All they say is that you'll be earning money ethically from other people's efforts without having to talk to them or knowing them.
These sites like to be secretive. They never reveal the system until you buy it. They know that curiosity is one of the most potent forces in the world, so if they make it a secret, they know you'll be drawn to it like a moth to a flame.
But in reality, you'll get disappointed because there's no secret system, only a few scripts, and videos that will teach you nothing.
You'll need to leave your information such as name and email address and pay $47 to see what's behind the scenes.
Like many other scams, as soon as you do so, they will start pushing those upsells immediately.
Even worse, each of those upsells is another secret missing piece of the puzzle that you need to buy. Otherwise, you'll fail and never make money.
The whole thing could cost you 100's of dollars if you fall for those misleading sales pitches.
That said, take a look at the seven red flags that I have gathered together with evidence in the next section of the Job Quitter Club review.
The Job Quitter Club Warning Signs
Before I share my final verdict about the Job Quitter Club, I want to show you seven red flags.
1.) You'll Earn Money Just For Watching
At the beginning of the sales pitch, the spokesperson says that you will get paid only for watching this video.
He claims that by the end of it, you'll make money. Regardless of what he says, that's not true.
If you ever decide to give them your cash to claim the money, you'll be unpleasantly surprised to see that there's no money waiting for you.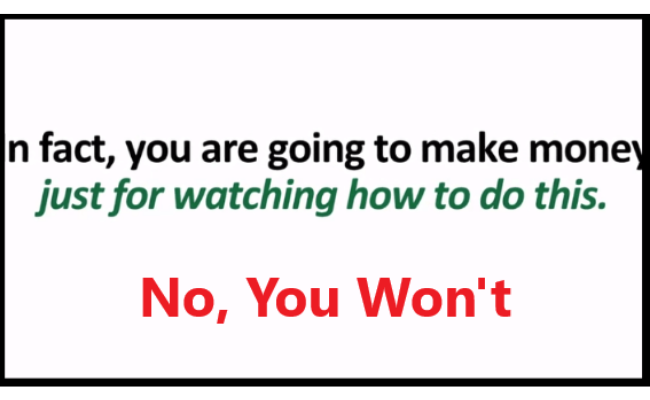 It's one of many dirty tricks designed to get you to watch the full video and do what they ask you to do. In other words, they promise you cash so that they can take yours.
It's a filthy trick that can't be justified.
2.) No Information About How The Job Quitter Club Works
Together with fake promises about fake money, the creator of this scheme uses a lot of works like a secret system or secret loophole that will make you rich.
But why? Why can't he be a man and explain in short how Job Quitter Club system works?
See, those overhyped headlines, shiny objects, promises of fast and easy money are nothing but tactics designed to make you forget about those important questions and make you buy this system.
Luckily, you're smarter than that!
3.) Work Only a Few Minutes Per Day – Fake Claims
The Job Quitter Club is supposed to be a system that will make you money by virtually working only a few minutes per day.
It is supposed to make you thousands of dollars and even help you to quit your job in a matter of days.
To make it even more appealing to our lazy nature, they claim that all you need is push buttons, and you'll make money.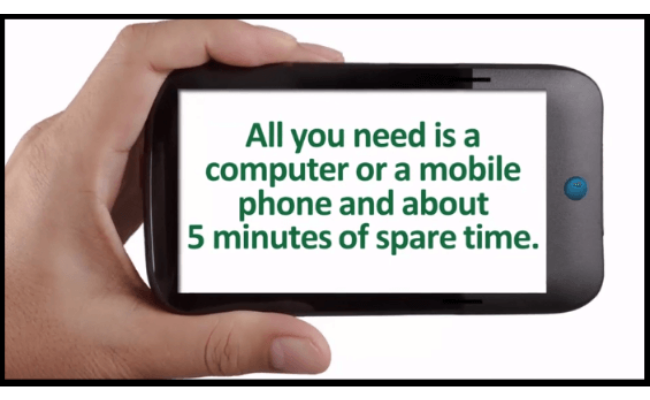 In reality, there's no such system, and there would never be. Making money online is a process; it's a business.
In other words, they want you to think that you'll get rich by doing nothing, but the only person who's getting rich is the creator of this system.
4.) Act Fast or Lose Your Spot – Fake Scarcity
One of the oldest marketing tricks in the book is fake scarcity. They tell you to act fast because if you don't, you'll lose your chance and there won't be another one.
But the truth is that there are no spots at all.
If you come back to the sales page over and over again, you'll see that it's nothing but a fake widget.
Scarcity is not unethical if it's real. For example, in the sales of physical products.
But the Job Quitter Club is a digital product that sells via ClickBank. And like many others, it will eventually disappear because people will notice a scam.
The creator will move on to the next project and finding new victims.
5.) Richard Harper is a Stock Photo – Fake Owner
Speaking of which, Richard Harper is not the real owner and creator of The Job Quitter Club.
The actual owner is hiding behind an alias and is using a random stock photo from a site called Shutterstock. The story about working in the restaurant is fake too.
Richard and his life story are designed to connect with people who are in a similar situation. This improves sales of this and many other get-rich-quick schemes.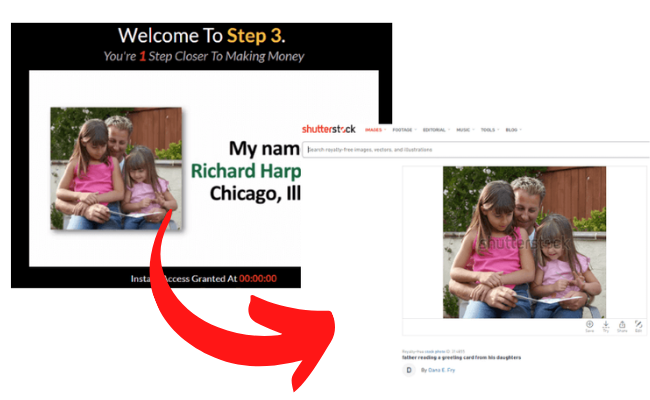 Also, they do this because whoever is behind this scam doesn't want to be found and exposed to the public eye.
If this were an honest biz opportunity, the owner would be happy to show his real face and share his real name.
That would make even more sales.
6.) Fake Price and Discount
Before you actually get a chance to buy the Job Quitter Club system, Richard tells you that it costs $1,495 and that he could easily charge you much more than this.
And then, because he's a good person, he tells you that you're lucky to get it for only $47.
The main idea behind this trick is to make you believe that you're really lucky to be there and will get this product for practically nothing.
7.) Get Ready to Pay More Than $47
The sole purpose of all those tricks above is to make you give up your hard-earned cash.
However, $47 is not going to be the final price.
Before they let you see the system, which is probably a few generic videos and ebooks about internet marketing, they will force you to spend more of your hard-earned cash on expensive upsells.
In my opinion, this is the primary intention of the Job Quitter Club. Instead of helping you, they are after your money.
The same is with many other scammy products out there such as Easy eCash or Click Wealth System.
Is The Job Quitter Club a Scam?
I gave you enough information to decide for yourself whether or not The Job Quitter Club is a scam.
In my opinion, it's a highly unethical sales funnel that has no genuine intentions. It seems that all they want you to do is give them your hard-earned cash.
If you look up a definition of a scam in a dictionary or Wikipedia, they say it's an attempt to defraud a person or a group by gaining their confidence.
Judging by the definition, this offer fits the profile. You could call it a scam because that's precisely what is happening from the beginning to the end.
They are gaining your trust by telling you that you'll get rich working only a few minutes per day.
You will get your hands on some secret system that will help you to quit your job.
You are lead to believe that Richard Harper is a real person who wants to help you.
But as you can see, it's just a fake character.
All this is created to steal your confidence and make you pay $47 (possibly even more!) without giving it a second thought.
The only reason why you can say that it's not a scam is that you'll probably get some random information labeled as "online marketing training" in return for your money.
And that's what you can expect if you ever buy The Job Quitter Club.
So in my opinion, The Joby Quitter Club is a scam that you should avoid at all costs.
The Job Quitter Club Review – Conclusion
Job Quitter Club is not my honest recommendation. I don't believe the word from the video, nor do I think that this will help you to quit your job.
In fact, I doubt that anyone buying this would make a dime.
I only recommend products that are proven to work.
Thanks for reading my The Job Quitter Club review. I hope I have helped you to learn more about what it is and how does it work.
If you have any questions about the program or maybe you can offer an experience, feel free to leave them in the comment box below.
How I Make Money With Affiliate Marketing
Before I let you go, let me tell you how I make money online with affiliate marketing.
The program that I recommend has everything you need to get started online and nothing to do with getting rich by tomorrow.
Make sure to check it out.
This EXACT SYSTEM made me go from $0 to earning $1000's per month from my websites.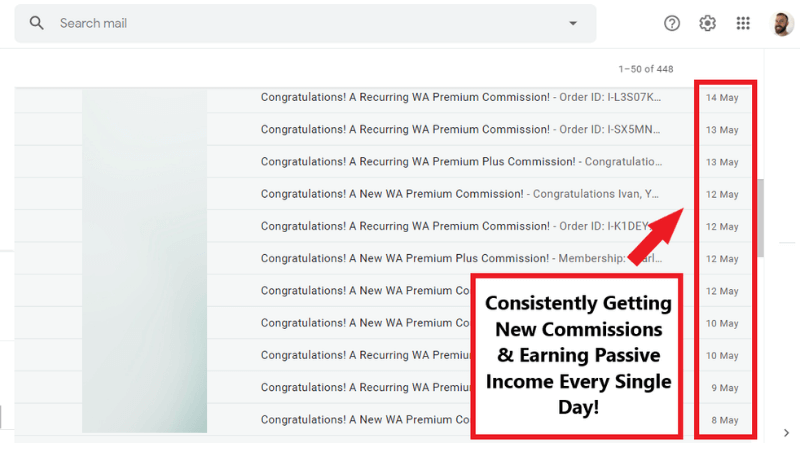 THE BEST WAY TO MAKE MONEY ONLINE IN 2023 >>
If you need any help or you have a question, feel free to contact me.
All the best, Ivan. Founder, and CEO @freeaffiliatemarketingbusiness.com