Welcome to my LeadPal review.
Whether you're already collecting leads or you're just thinking about starting your first lead generation campaign, you need a set of tools that will help you to increase your sign-up rates, open rates, conversion rates, and all other kinds of rates.
So what is LeadPal and how can it help you to start your first or to improve your existing lead gen campaigning?
LeadPal is a brand new software that allows you to grow your list without any technical skills or list-building experience.
It helps to create smart lead generation campaigns that allow 1-click opt-in of verified email addresses in just 60 seconds.
Those claims sound incredible, even too good to be true.
That said, there's another question that we have to answer. Is LeadPal a scam or legit software?
And in this LeadPal review, I'm going to be walking you through the process and show you how it works. Also, I will disclose the full price, share a few pros and cons, and give my honest opinion about this lead generation software.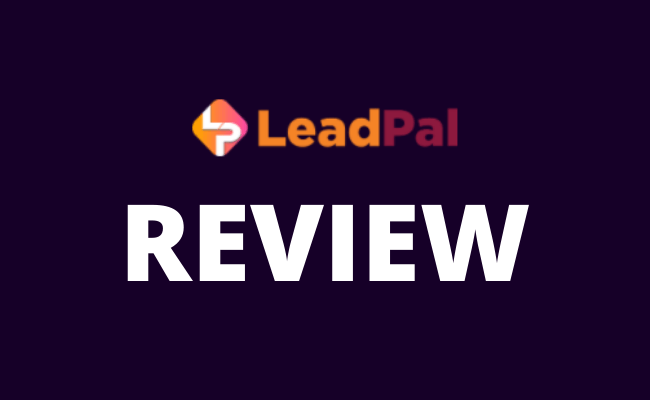 LeadPal Review – Overview
Product Type: Email Marketing Tool
Product Owners: Able Chika
Price: $47 + OTOs
Money-Back Guarantee: 30-Days
Recommended?: Yes
Quick Summary: According to the official website, LeadPal is software that is designed to help you to start lead generation campaigns with ease even if you don't have any experience.
You can use this tool to collect leads and build email lists using 1-click signup to get leads from all major platforms such as Facebook, Twitter, Google, Linked In, etc.
The main feature of this software is that it helps to eliminate fake emails and allows only verified contacts.
It comes with step-by-step video training, support, and several upsells (OTOs) that contain advanced features of the software.
So is LeadPal a scam or legit?
LeadPal is not a scam. I have found a few red flags such as unrealistic claims, hidden upsells, questionable refund policy, etc. (see pros and cons section of the review).
However, since you receive content, in this case, a software that helps with lead generation, I confirm that it is a legitimate product.
I would recommend LeadPal in case you're looking for a tool that could improve your existing online business. It's could help to get more leads and eliminate fake signups.
However, this software is not for beginners as it's not going to help you to build a successful online business from scratch. It's just a marketing tool, that's all.
For more information, keep reading my LeadPal review.
If you're looking to earn an income online, make sure to check out the PROVEN SYSTEM that I use every day to generate a consistent passive income with affiliate marketing below!
THE BEST WAY TO MAKE MONEY ONLINE IN 2023 >>
What Is LeadPal?
LeadPal is a cloud-based lead generation software that helps to start with lead generation in a few simple steps and in less than 60 seconds.
The way this software does so is by helping you to collect emails from 1-click opt-in forms on sites like Facebook, Apple, Microsoft, Twitter, Amazon, Google, Yahoo, Linkedin, etc.
One of the top perks of LeadPal is that it helps to eliminate fake mails and signups using 1-click opt-in forms. And we all know that we like to use fake addresses to sign up for lists we don't trust.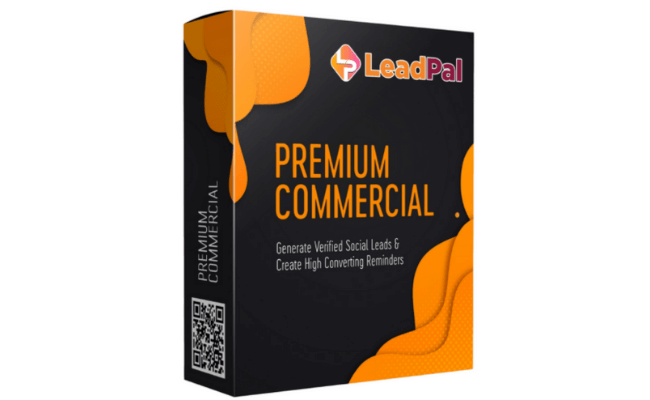 So what else could this software do for you?
It also helps you to connect and sync your contacts with all major autoresponders such as GetResponse, Aweber, Constant Contact, Convertkit, Sendlane, Mailchimp, Zapier/Webhook, and more…
Moreover, you can add LeadPal as a pop-up to any website or blog and software will automatically send reminders to visitors who opt-in and easily share your unique opt-in links on social media, websites, forums, and ads platforms.
How Does LeadPal Work?
LeadPal is designed to collect leads from visitors in just one click. It requires visitors real email address or social media account for sign up, which means that you get only 100% real and verified opt-ins.
The process of starting a campaign can be summarized in these three steps.
Step #1 – Create Your Lead Campaign
As per usual, you'll have to start a new campaign within the dashboard. Just click on the new campaign feature and follow the directions from the instruction videos.
You can choose between various events and features such as landing pages, sign-up forms, webinars, etc.
Also, you can connect any of the major autoresponders to your campaigns as well. This will make sure all your signups go the same autoresponder campaigns.
Step #2 – Share Or Promote Your LeadPal Link
Once you have finished setting up your campaigns, you will have to connect all your social accounts with LeadPal so that you can easily share and promote your campaigns in just one click.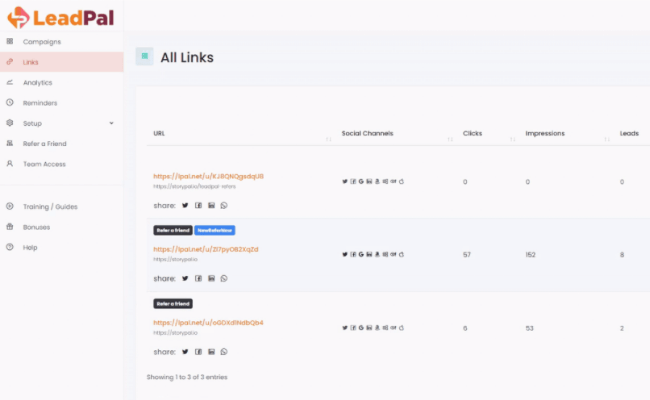 You can use this software to promote your link across all major platforms such as:
Facebook
Google
Twitter
Linkedin
Apple
Microsoft
Yahoo
and more!
Step #3 – Get Hot Leads
The last step is pretty much self-explanatory. If you follow all the steps and work on your campaigns, you should be successful in collecting leads.
To learn more about how LeadPal works, make sure to check out the demo video below:
LeadPal Features
In this section of my LeadPal review, I just want to list a few features and benefits of this software.
Newbie-friendly and easy-to-use cloud-based tool
Create lead pages with a 1-click opt-in for more leads
A large percentage of visitors turn away when they have to fill a form to opt-in to your offer.
Most users are constantly logged in on Facebook or Google, etc. So they will need just one click to sign up to your list.
Rapid signup/user adoption: People won't need to type a thing, they'll simply grant you access to their existing credentials.
Eliminates false identities: Because social networks authenticate individuals and generally don't allow multiple accounts, the likelihood of false identities goes down.
Require opt-in for any content that you choose (web pages, videos, lead magnets… anything!)
LeadPal shows social opt-in buttons that the user is currently logged into so you always get the BEST, verified email address added to your list
Integrates and Syncs with all major email marketing software tools
You can run ads or promotions to your LeadPal opt-in link directly
You can even add LeadPal to any website or blog and LeadPal will send out automatic reminders boosting your opt-ins on autopilot
Who is LeadPal For?
I would say that LeadPal is for all kinds of marketers who would like to try a different way of getting leads and growing their email list. It is a convenient tool that has the potential to do this for you.
Bloggers
Email/Affiliate Marketers
eCommerce Store Owners
Coaches and Consultants
Anyone Looking To Build An Email List
LeadPal Online Reviews
Before I share a few pros and cons as well as my own opinion about this tool, let's go over some LeadPal reviews that appeared on the internet. These reviews are from users and here's what some of them have to say about it.
The first review that caught my attention was from a user named Riche who claims that this software has done a lot of good for his online business.
Basically, he's excited about all the features of LeadPal and recommends it in his review.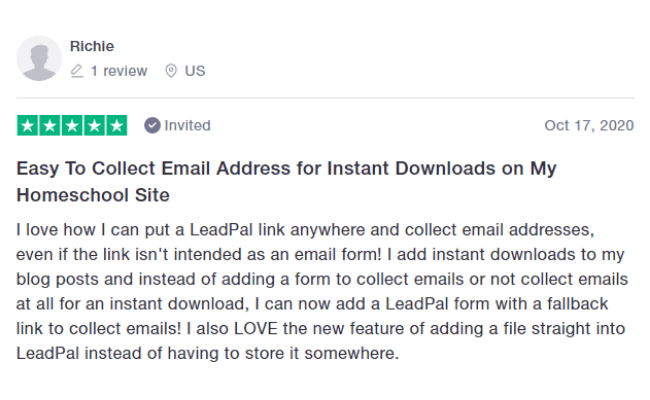 Roe Fisher has almost the same experience with this software. He claims that LeadPal has made it easy for him to add a social share feature to his site and has fitted perfectly to his website.
Of course, not all reviews were positive.
For example, Diane claims that that software was not as easy to use as it's been advertised and that she has wasted her money on LeadPal.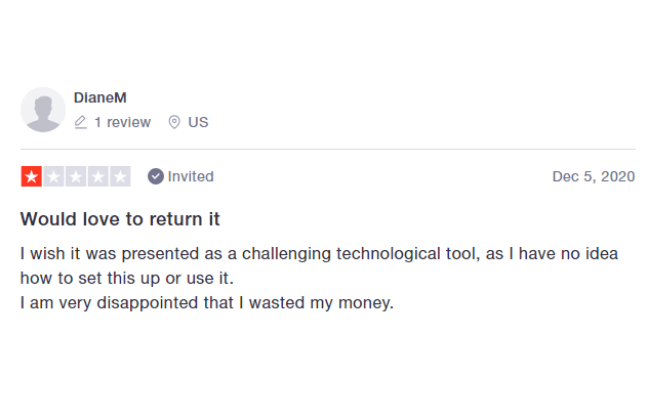 This user claims that the refund policy is not valid. In other words, he contained the support and JVZOO on multiple occasions and each time without any results. This is actually very common these days, unfortunately.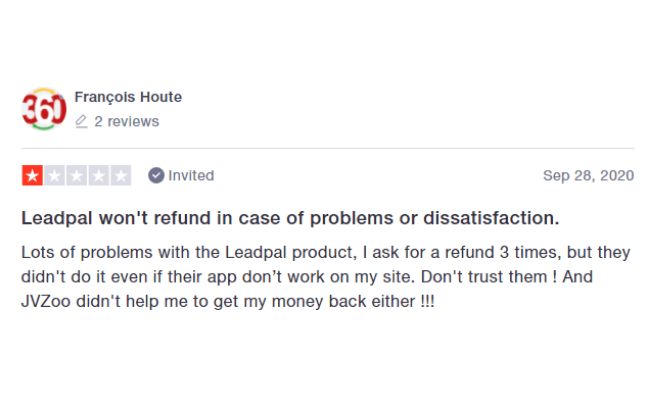 All in all, the opinions about LeadPal are quite mixed out there. I personally feel like it is a good tool, but nothing more than a tool.
At the end of the day, it is up to you and your own marketing skills. Software and tools could only help to improve your results, but will never bring them without any work and effort on your part.
LeadPal Price and OTOs
At the moment of writing this LeadPal review, the software is available in two versions.
Lite Version – $44.94
Get leads from Facebook
Get leads from Twitter
Get leads from Google
Get leads from LinkedIn
Lite Analytics
Sync leads to autoresponders
3000 leads
500 viral participants
5 popup domains
50 reminders popup
Full product training & bonuses
Priority support
Premium Version – $47
Get leads from Facebook
Get leads from Twitter
Get leads from Google
Get leads from Amazon
Get leads from LinkedIn
Get leads from Apple
Get leads from Microsoft
Get leads from Yahoo
Full Analytics
Sync leads to autoresponders
5000 leads
1000 viral participants
10 popup domains
100 reminders popup
Full product training & bonuses
Priority support
LeadPal OTOs
OTO #1 – LeadPal PRO $67
The PRO upgrade unlocks professional and advanced features giving your subscribers the ability to do more with their LeadPal software;
PRO upgrade users get the ability to unlock 3 great features;
Remove our Powered by branding
Custom domain integration (10 domains)
Connect up to 50 social apps
OTO #2 – Platinum Edition $97 Yearly or $27 Monthly
Unlimited LeadPal leads collections
Unlimited custom domains
Unlimited reminder domain
Unlimited reminders pop up set up
Unlimited reminder leads
Unlimited social accounts
Unlimited team members
OTO #3 – LUXURY Edition $47
Just like the name "Luxury" users get the Luxury to unlock some cool features that cannot be found anywhere;
Resend to unopened
Include a special offer
Retargeting integration
Weekly stats by email
QR Code for leads
Sync leads to more than 1 autoresponder at a time
OTO #4 – Whitelabel Rights $297
Brand LeadPal with your own custom branding (Domain) and sell lead gen access to businesses or marketers.
Get a unique dashboard with your brand, logo, URL, favicon, emails, etc.
Rebrandable dashboard
Create LeadPal pages and reminders for clients
Create clients account (500)
White label domain (White label users should be able to use their own domain)
Custom email address and logo
Totally re-brandable with your own company details and colors
Clients can have team members
Related Product: Unlimited Leads Challenge
LeadPal Refund and Guarantees
According to the official website, you can apply for a full refund during the first 30 days of the purchase of LeadPal software.
However, some users have reported that the owner simply ignores refund requests.
This is nothing new when it comes to products from the Warrior+ marketplace. I have no idea why these vendors do so, but it is a red flag!
So is LeadPal a scam because of this?
Well, not necessarily. You still get a product that you have paid for. But it is a considerable con to the quality of this software.
What I Like About LeadPal
Software is easy to use
Comes with detailed video instructions
The leads you get are verified email addresses which means you'll get more opens
You can create campaigns quickly on the fly
Affordable one-time cost
30-Day money-back guarantee
What I Don't Like About LeadPal
You don't own the software because it's a cloud-based app
The sales page is a bit overhyped (but not too much)
Hidden OTOs (you have to pay more for additional features)
The refund policy seems to be fake
User reviews are not very encouraging
THE BEST WAY TO MAKE MONEY ONLINE IN 2023 >>
Is LeadPal a Scam or Legit?
I can't say that LeadPal is a scam. If you purchase this product, you will get software that helps to improve your lead generation campaigns.
Moreover, it comes with video tutorials and it's affordable, which are all good signs.
However, the main problem and the reason why some users might say that LeadPal is a scam is that the vendor doesn't respect his refund policy.
Basically, he gives fake guarantees like many other Warrior+ vendors.
This is the main reason why people don't trust products from this marketplace. That and overhyped sales pages, which is the case with this product as well.
I personally consider those two things as red flags.
But all in all, LeadPal is legit because you get a product in return for your money.
Is LeadPal Recommended?
If you're looking for a new way of getting leads and growing your email address, LeadPal is a recommended tool/software.
In my opinion, it's legitimate and could help to get more leads.
Keep in mind that this software is not magically going to get you leads on 1 push of a button as some parts of the sales page have been leading you to think.
It should work as advertised, but it also takes time and effort to get results.
That said, thanks for reading my LeadPal review. I hope this post has helped you to make a well-informed decision. If you have questions, feel free to ask them in the comment section below.
Related Product: The Lead Generation Blueprint
How To Make Money With Affiliate Marketing
If you're interested in making money with affiliate marketing, I've got another great recommendation for you!
Affiliate marketing is my #1 recommended system for earning an income online because you can turn any passion or hobby into a lucrative online business.
All you need is a PROVEN SYSTEM, tools, and coaching, and support.
To get access to the platform that offers the best of all three that I have personally used to start a successful online business and earn a consistent 4-figure passive income with affiliate marketing, click the button below!
THE BEST WAY TO MAKE MONEY ONLINE IN 2023 >>
If you need any help or you have a question, feel free to contact me.
And don't forget to share this LeadPal review with your friends and family!
All the best, Ivan. Founder, and CEO @freeaffiliatemarketingbusiness.com