Wanna know more about Anthony Morrison's partnership program?
Is it yet another scam or something legitimate?
Well, I purchased the program and want to show it to you through my eyes.
By the way, congratulations on being a smart person and doing the research yourself.
Quick research saves you time and money. ?
It also shows that you are serious about finding a legitimate way to make money online.
It was a year ago when I first heard about this program.
Since then, I've received tons of emails from Anthony.
Today, I finally decided to dive in deeper into PWA and to see what all the fuss is about to help you make a well-informed decision.
So without any further ado, let's start this Partner With Anthony review to see whether it's worth your time and money or a scam.
Shall we?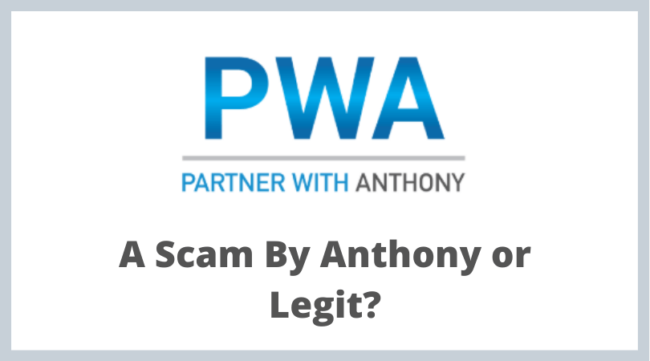 Product Name: Partner With Anthony
Product Type: Affiliate Marketing
Price: $7/monthly or $97 one time + 100's for upgrades, tools, and traffic
Owner: Anthony Morrison
Rating: 2/5
Quick Summary: Partner With Anthony is a marketing system where you get a chance to promote the PWA to others. Despite Anthony's claims, this is not going to be an easy task, nor he will do everything for you. In reality, PWA is expensive (see the price section), and a difficult system to pull off. For seven bucks, you get a decent training that explains how to set things up. But to actually make some money with it, you'll have to invest a few 100's if not even 1000's into traffic and tools. It could work, but PWA is not my top recommendation.
Who is Anthony Morrison?
If you have been swimming around "make-money-online" waters for some time, you may have noticed one name that keeps popping all the time, Anthony Morrison, a self-proclaimed guru and online marketing specialist.
The truth is, Anthony Morrison is a legitimate 'guru.' Meaning, he knows how online marketing works.
He's been around for over a decade and in the meantime managed to become an expert, an author, and wide-known figure in the MMO industry.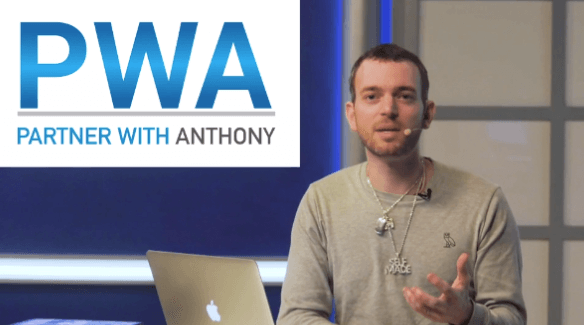 But unfortunately, just like many other 'gurus' out there, Anthony has a bad reputation. Some people even say that Antony Morrison is a scam artist.
The reason?
Well, Anthony has tons of courses behind him. Partner With Anthony is just another one in a row of questionable courses where the primary intention is, like every time before, to help HIM to make money first!
I'll explain this in the following sections of my review.
My point here is, Antony and his course have got a lot of negative reviews out there, and there's a strong reason for that.
And since I purchased the Partner With Antony program, this review might be the next one.
You see, Anthony is a slick salesman. But he might not be that good at helping people to succeed online.
Let me show you more.
What is Partner With Anthony About?
As you're lead to think, Partner With Antony is an affiliate marketing program where you get a chance to become Anthony's partner and thus, create an online income leveraging his knowledge and expertise.
While this might be true, it's only partially right.
Partner With Anthony is essentially a 14 session training course where you can learn how to set up an affiliate marketing business from scratch.
The main intention of Partner With Antony is to become an affiliate for PWA and earn commissions by selling Anthony's material to others using marketing funnels.
That explains the story about the partnership, but that's all you're going to get.
You see, once you agree to purchase this course, despite Anthony's claims, you'll be left on your own.
He's not going to be there for you, nor he will help you as he promised during the sales pitch.
Now you see why I say that you'll be helping him to make money first.
Moreover, let me show you how this is going to happen in more detail.
It's highly essential to start with the price first.
Partner With Anthony Price
By using slick marketing tactics and the power of persuasion, Anthony led you to believe that PWA is going to cost you only seven bucks.
During the second stage of the sales pitch, he even says that he's going to include all the upsells for free because he knows how annoying they are.
Moreover, all of them were being uploaded to your account as he speaks.
But then, out of a blue sky, he pulls out, not an upsell, but an "exclusive member offer."
WTF?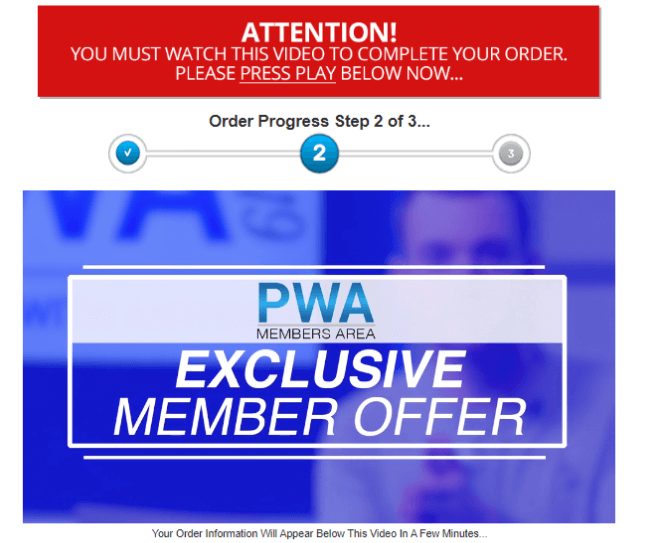 He explains that every online business depends on traffic and how without traffic, you can't succeed online.
Therefore, the exclusive offer is a Traffic Bootcamp upsell.
This upsell allows you as a member to purchase traffic directly from Anthony's sources.
However, it also tells you that you can't make money with Partner With Anthony if you don't know how to get traffic on your own or if you don't take the UPSELL.
I haven't purchased the Traffic Bootcamp since I know how to get tons of free traffic.
So, unfortunately, I have no idea whether it's worth it or not.
Once you pass by the exclusive offer, you'll get a basic system in video format and a chance to spend a lot more on all the tools and resources you need to put this system together.
First of all, you'll have to purchase tools such as:
ClickFunnels (funnel builder) $99 – $297 per month
BuildRedirects (link tracking software) $19.99 – $99.99 per month
GetResponse (autoresponder) $15 – $1,199 per month
Aweber (autoresponder) $19 – $149 per month
Everwebinar (webinar software) $499 per year
PurchaseYou.com (domain name & hosting) $8.99 – $69.99 per month
The links to all those resources can be found within your Partner With Anthony dashboard.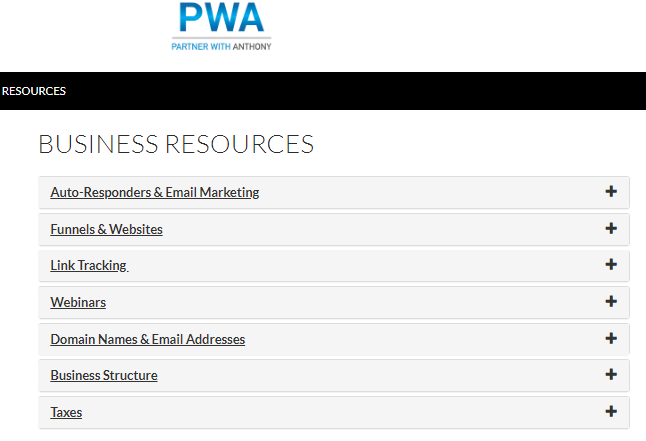 Also, you'll be offered to purchase more programs and courses from Anthony down the road which you can promote yourself too.
Digital Marketing Mastermind (Anthony's membership site) – $69.95/year
M Insider Newsletter (monthly newsletter from Anthony) – $9.95/month
So to round up the price, all those tools and resources are necessary to implement the system and to make it work.
So instead of only $7, you'll have to shell out at least a few 100's PER MONTH just to get started.
By the way, once you purchase those tools, Anthony makes a commission. And that is how you're going to Partner With Anthony to help him make money FIRST.
But as you're about to see, you can do the same if you follow through with the program.
==>Click HERE for My #1 Recommendation<==
How Does Partner With Antony Work?
As I've mentioned earlier in this review, the way Partner With Anthony works is by teaching you how to promote the PWS using sales funnels.
The main focus is to become Anthony's affiliate.
So for each sale you make as an affiliate, you get a commission, and Anthony earns a commission too.
But as you've had a chance to see, this is going to be a costly feat.
However, on the bright side of things, if you follow through, set up the system, and manage to get some traffic to your funnels, you could make money with Partner With Anthony.
You see, once you purchase all those tools and resources that Anthony suggests, you also get your affiliate link and become qualified for commissions each time you make a sale.
So for example, if one of your referrals decides to follow through, you'll earn a commission for each sale you make.
Anthony calls this an "ecosystem", and from a marketing point of view, it's an extremely clever one.
After all, Anthony has been doing this for ten years.
But don't get me wrong. As much as it sounds cool, this is not going to be a piece of cake.
There are 14 sessions that contain several video modules, each of which you need to follow to the letter if you want to make it happen.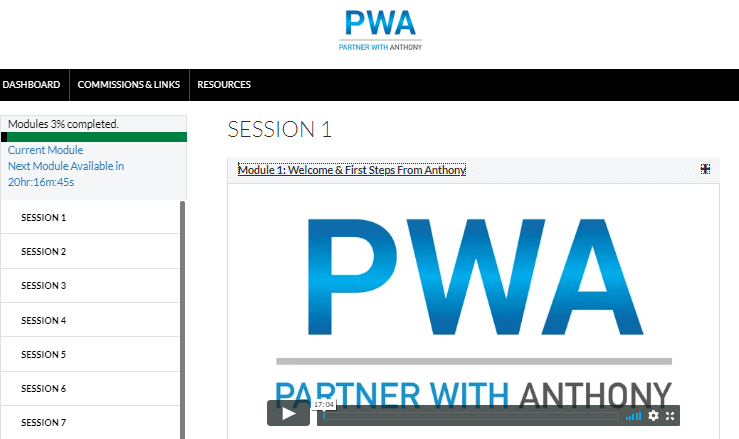 Also, you need a lot of money on the side for traffic too! Don't forget this.
Anthony is going to show you how to get traffic using paid advertisement. And paid ads are a costly sport.
You need a few 100's just to get started.
So once again, do not expect some system where all you have to do is push a button, and Anthony is going to do the work for you for only $7.
This would be a rather foolish and unwise expectation.
Now, with those two essential aspects of Partner With Anthony program covered, let's take a look at some pros and cons.
What I Like About Partner With Anthony
Anthony Is a Marketing Expert
Despite his bad reputation, Anthony is a marketing expert and a guy who knows how to make money online. He's been featured in a lot of magazines and TV-shows too.
Also, Anthony is an author and a speaker, which adds to his credibility.
If you want to learn all about making money online, Anthony could be your 'guru.'
You Get a Decent Training
Partner With Anthony is a decent marketing training course. You get 14 sessions where Anthony is going to show you how to set up the system to make money.
Unlike some other courses out there, this one is without the fluff. All you have to do is follow the directions and apply the training.
But it's not as comprehensive as it should be, which is a big downside.
You Get 30 Days to Test the System
Partner With Anthony is backed by 3o-days money-back guarantee. Anthony promises to refund you every cent if for any reason you don't like the training.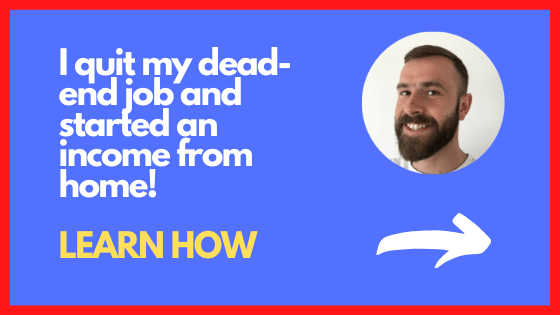 What I Don't Like About Partner With Anthony
Anthony is Not Honest About the Price
The first thing that poked my eye was the price. If you listen carefully, you won't hear anything about the real cost of the system. All you get is the story about becoming Anthony's partner for only $7 per month.
But once you get inside, the things get messy.
It's going to cost you at least $169.64 per month just to set up the primary system. However, as you keep moving forward, you'll have to upgrade half of those tools, which will raise the monthly costs dramatically.
Also, you'll have to pay for traffic, which adds more and more to the cost of the startup.
Seven dollars per month is an attractive price. On the other hand, a few 100's is not so, right?
It would be nice if Anthony were honest about this.
Does Not Show How to Get Traffic
Don't get this wrong. He shows how to get traffic, but you'll have to pay for it too. Anthony offers an upsell, oh sorry, an exclusive member offer called Traffic Bootcamp where he shows you how to drive customers to your funnels.
But the core training is missing this critical aspect. For seven bucks, you'll get a set of videos where you can learn how to set up the system, and that's all.
This is just another sleazy marketing trick used to attract as many gullible newbies as possible. I wonder how many people have paid seven bucks to learn that the success with the Partner With Anthony program is going to cost a lot more.
It's Not Done-For-You
Anthony says that the Partner With Anthony is a DFY system, which is also not true. Yes, you'll get a few resources such as landing pages, email swipes and a few other bonuses that you can use down the road.
But you'll have to work a lot to put this system together!
In other words, this was yet another trick designed to make you rush into this without thinking too much.
I mean, what's there to think about when a guy says that he's going to do almost all the work for you, right?
Is Partner With Anthony a Scam?
No, Partner With Anthony is not a scam, at least not in technical terms.
PWA is a cleverly done marketing system where you get a chance to promote the same course (and more!) to others using affiliate marketing method.
You get some training and an opportunity to make money with Anthony, as it's been promised.
However, this does not mean that I recommend PWA. It might not be a scam in itself, but in my opinion, it's not the most honest and transparent offer out there.
In my opinion, Anthony is using the story about partnering with him to get as many customers as possible.
But all you get here is an opportunity to make a lot of money for him first.
Just remember all those costs I've mentioned earlier. Worst of all, none of which have been mentioned before joining.
Then, if you are lucky and have money to invest in this system, you'll get a chance to make some as well.
However, this is not going to be as easy as Anthony claims.
The bottom line is, I don't recommend programs that are not honest and transparent right from the start.
Just like many times before, Anthony has proved himself as a shady marketer who is looking to earn money without caring too much about his students.
It's not a scam, but I wouldn't recommend this as the best way to make money online.
In my opinion, Partner With Anthony is in the category of programs that are designed to help the owner to make money.
Some of the examples are Six Figure Mentors and Big Commission Blueprint.
How I Earn an Income From Home
Thanks for reading my Partner With Anthony review. I hope this post was helpful.
If you have any questions about this program or maybe you can offer an experience, feel free to leave them in the comment box below.
Before I let you go, let me show you how I earn an income online from home which has enabled me to even quit my lousy job.
I wouldn't have succeeded without help from the marketing platform that I recommend above all other.
Make sure to check it out!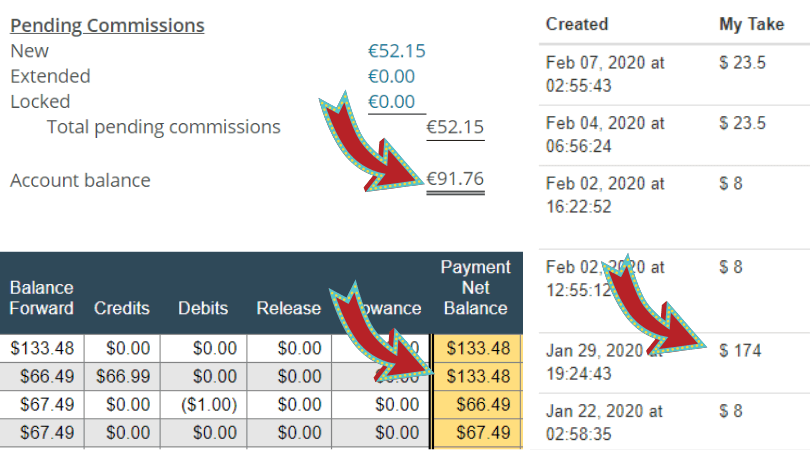 ==>Click HERE for My #1 Recommendation<==
If you need any help or you have a question, feel free to contact me.
All the best, Ivan. Founder, and CEO @freeaffiliatemarketingbusiness.com