Welcome to my Passive Income Geek review!
Morten Storgaard, the creator of Passive Income Geek promises to teach you to make money online with blogging, ads and affiliate marketing.
If you want to learn:
How it works
Who is Morten
Whether students are successful
The real cost to start
And much more!
You've landed on the best website!
I've dedicated a few days to analyzing Morten's course, taking notes, uncovering all sorts of information, and thoroughly going over the curriculum so that I can provide you with a comprehensive Passive Income Geek review.
| | |
| --- | --- |
| | Making money with blogging and affiliate marketing. |
| | $399 for first year, $199 per year thereafter, plus extra costs. |
| | Beginner-friendly course. Systematic training modules. Morten is a real deal. Offers good value for money. 30-day refund policy. Includes community access and bonuses. |
| | Expensive in the long run. Lack of student results. |
| | Passive Income Geek is one of the top affiliate marketing, blogging and SEO courses for beginners on a budget. |
| | |
| | |
I Want To Know…
About the Reviewer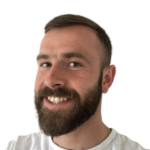 Hey, I'm Ivan Brozincevic!
Since 2018, I've been making a full-time income online, which allowed me to quit my old job (about me).
In the beginning, I struggled to identify legit courses and avoid ones that were just out for my money.
That's why I created this website – my main goal is to help you steer clear of pitfalls and discover the top online business courses.
Every week, I invest hours in reviewing online courses and writing reviews based on my fact-driven review guidelines to assist you in making an informed choice.
Related: Check out my FREE training program for making money online.
What is Passive Income Geek?
Passive Income Geek is an online course created by Morten Storgaard. Launched in November 2020, the course teaches you how to make money with blogging and affiliate marketing.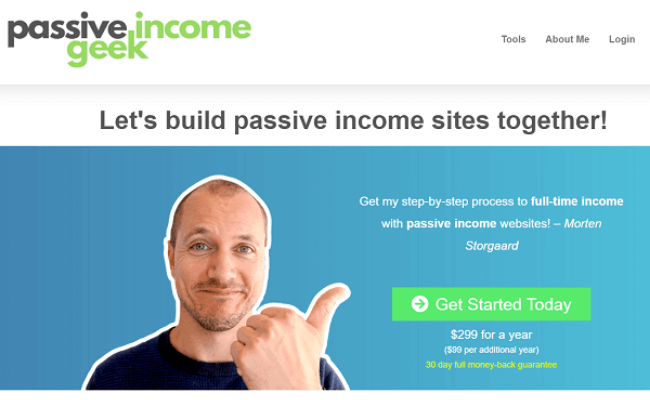 Nowadays, there's an abundance of courses that aim to deceive individuals.
These courses provide misleading information, claiming that you can make substantial profits by following their system or buying their recommended tools, which in the end, turn out to be useless.
So, the question remains: Does Mortent's Passive Income Geek course fall into this category?
Passive Income Geek is a legit course. Phew!
The instructor, Morten Storgaard, has a genuine background in affiliate marketing.
Furthermore, the course focuses on creating a website that generates organic traffic for free and monetizing it through affiliate marketing and ads.
And the great news is that Morten has successfully implemented these strategies for several years.
Here's an example of one of his websites: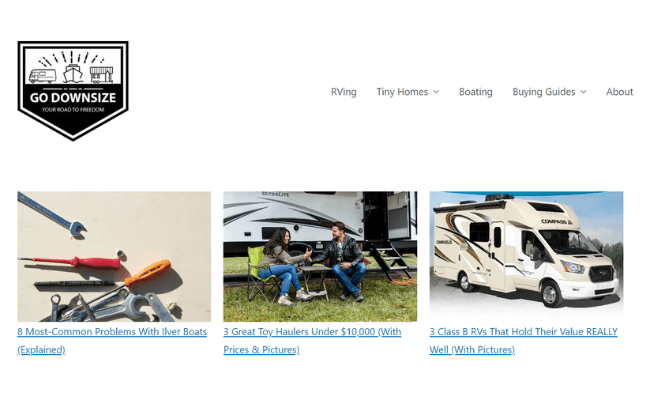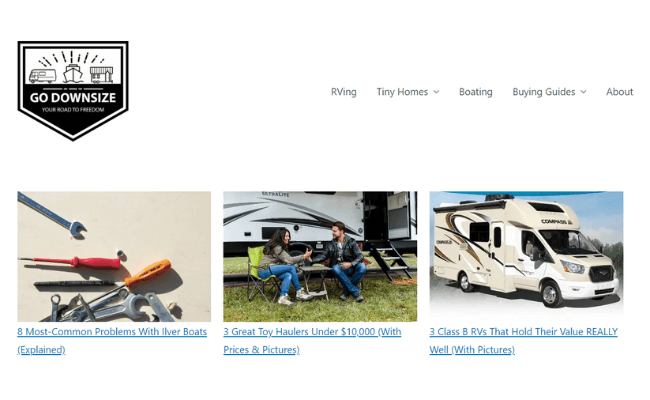 GoDownSize.com is essentially a niche site where Morten shares his insights on frugal living through his blog.
Furthermore, Morten has now created the Passive Income Geek course to teach others the same principles.
Let's move on to the next section of my Passive Income Geek review and explore the various methods and techniques Morten teaches in this new affiliate marketing course.
What Can You Learn With Passive Income Geek?
The Passive Income Geek course will teach you how to create niche sites using examples from Moreten's sites. Some examples include GoDowsize.com and a few others.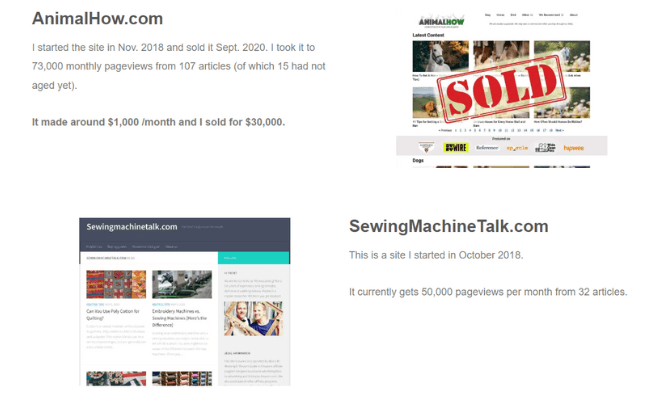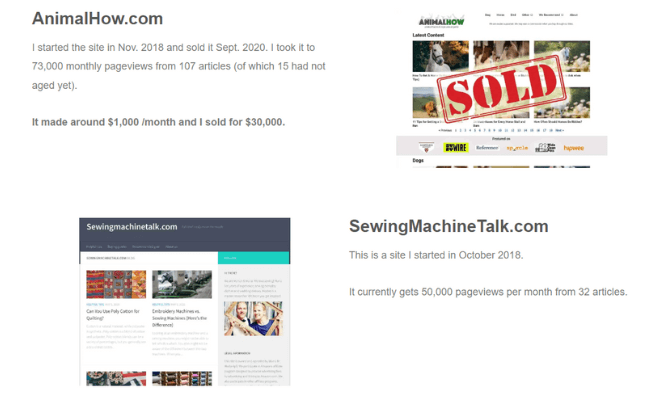 These websites monetize through ad displays and affiliate marketing.
I recommend avoiding ads as they can significantly slow down your site, ultimately lowering your rankings. Instead, focus on affiliate marketing.
Recently, I came across news that Morten sold AnimalHow for $30,000, just 21 months after launching Passive Income Geek using his system.
This is another way to utilize his course: build sites, rank them, monetize them, and flip them for a much higher profit, up to 30 times more!
Before I unveil the content of this course in the following sections of my Passive Income Geek review, let's get to know the owner and creator of this course.
Who is Morten Storgaard?
Back in 2007, Morten Storgaard launched his online business and has since achieved considerable success.
Recently, he released the Passive Income Geek course, aiming to share the knowledge he has gained over the years and help you achieve the same level of success.
He is a successful affiliate marketer from Aarhus, Denmark.
In 2010, he became a full-time SEO consultant and ran multiple websites. In 2020, he launched the Passive Income Geek YouTube channel, which currently has over 10,000 subscribers and 467,949 views.
On his channel, you can find one of his videos where he shares his milestones, including one of his affiliate websites that generates significant income.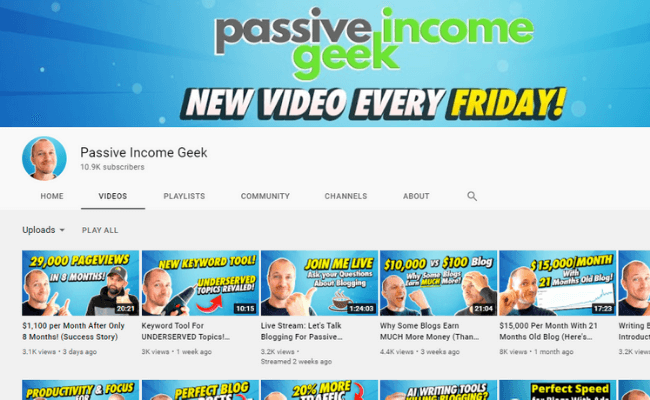 Morten Storgaard is experienced and generous in sharing his knowledge with others.
He ventured into online business to spend more quality time with his family.
If you're interested, keep reading my review of Passive Income Geek to gain insights into the course and the valuable lessons you can learn from Morten.
How Good Is Passive Earnings Geek Course?
The Passive Income Geek Course is a comprehensive learning program that combines text, videos, and tools to guide you through the step-by-step process of creating and generating income from niche sites.
Once you purchase the course, you will get to:
Watch an initial video by Morton Storgaard.
Create a profile on PassiveIncomeGeek.com.
Explore the tutorial on how the community works.
Introduce yourself to the community.
Begin the first module of the course.
Each section, along with its subsections, starts with an introduction that includes informative text and a series of video tutorials demonstrating how to complete each task effectively.
The course follows a logical sequence, where each section builds upon the previous one, allowing for easy navigation and progression.
Upon completion of each section, you can mark it as complete, enabling you to track your progress throughout the course.
Moreover, you have the flexibility to revisit any section as many times as you desire, giving you the freedom to learn at your own pace.
What Is Inside Passive Income Geek Course?
Earlier in the review, I mentioned that Passive Income consists of 9 modules. Each module is further divided into various topics.
Niche selection
Topic research
Finding a domain name
Setting up your website
Writing awesome content
SEO Tips
Monetization
Social media
Outsourcing content
Here is a little preview of the course: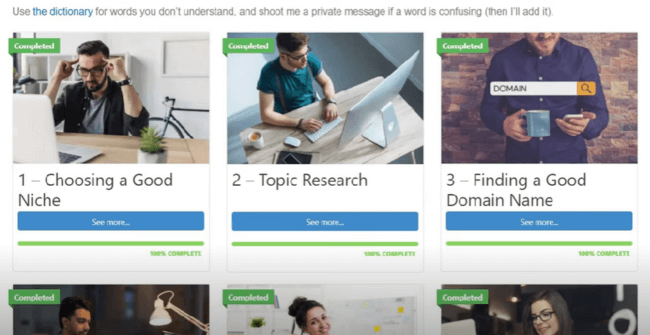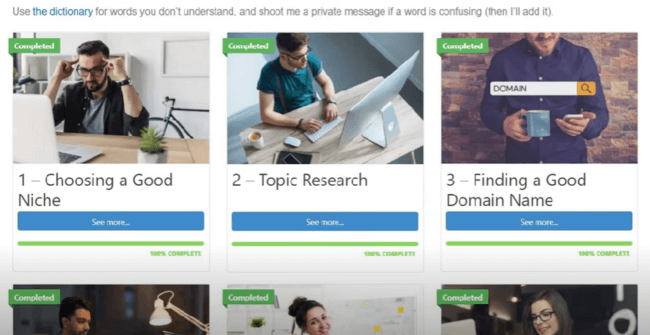 Here is the content in more detail:
Module 1 – Niche Selection
This module focuses on the crucial aspects of affiliate marketing.
It will teach you how to select a profitable niche and avoid the less desirable ones.
Additionally, you will learn how to assess income potential and conduct competition research.
Finding the right niche may require some trial and error, but once found, it will serve as the foundation for your business and income generation.
Module 2 – Topic Research
This module will teach you how to find the right keywords and topics that can help you generate income.
It will also provide insights on what keywords and topics to avoid within your niche.
When it comes to organic traffic, selecting the correct keyword is pivotal for achieving top rankings.
Make sure to choose a keyword that aligns with the search queries of your target audience.
While there are numerous keyword tools available online, it's worth noting that some may come with a cost. Take advantage of the resources that best suit your needs.
Module 3 – Find a Domain Name
This module is brief and will teach you how to select and buy a domain name.
It builds upon the first two modules and follows a straightforward process.
Module 4 – Setting Up Your Website
This module demonstrates the process of building a website on WordPress and connecting it with Google Analytics.
One of the great aspects of this module is that you don't need prior web development experience.
Morten will guide you through creating a high-quality website from scratch, making the process less intimidating.
Module 5 – Writing Awesome Content
This module will teach you how to create compelling and authoritative content that your readers will enjoy.
It will also cover techniques for crafting engaging headlines and understanding the needs of your audience.
Writing high-quality content is crucial for attracting an audience.
It should be interesting, well-structured, and sufficiently lengthy to demonstrate value to search engines like Google.
Module 6 – SEO Tips How To Rank Your Website
Search Engine Optimization (SEO) is a crucial aspect of your business. It is a technique used to improve the visibility of your website on Google.
SEO encompasses various tips and techniques that can help you rank your website.
Some examples include on-page optimization, such as using relevant keywords, adding images with alt tags, and writing compelling titles and meta descriptions.
Module 7 – Monetization
This module will teach you how to monetize your blog through premium ads and affiliate marketing.
Additionally, you'll receive further training on email marketing, creating info products, and consulting.
Module 8 – Social media
In this module, you will learn about using social media platforms like YouTube, Facebook, and Pinterest for your business.
Morten believes that social profiles are unnecessary and that you don't need them to be successful.
On the other hand, running your business on social media has its benefits since most people are using it.
However, it is important to note that building a following takes time and it is not easy.
For better results, it is recommended to focus on organic or paid traffic.
Module 9 – Outsourcing work
This module will guide you through the process of outsourcing your content. In simple terms, you will hire individuals to create content for you and manage your website.
Once you have completed one hiring process, you can move on to the next and repeat the cycle.
This cycle can be repeated multiple times, even on platforms like YouTube, and there is no limit to the potential revenue.
This is precisely what Passive Income Geek offers.
What Are Passive Income Geeks' Features?
Passive Income Geek offers access to their community, where Morten shares their knowledge and experiences with you.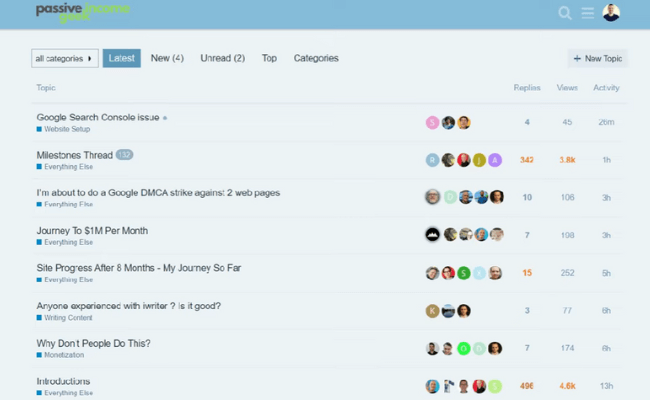 This is great because it means there will be questions, and luckily, you have access to a room full of answers!
In addition, Morten provides a set of tools within the course that are essential for building passive income sites.
Here are some of the tools you will need:
Hosting
Ad Networks
WP Rocket
Affiliate programs
Stock Photos
VPN Service
Mic for Voice Typing
Project Management Tools
SEO Tools
Email Autoresponder
Please note that the majority of the recommendations mentioned in this review come with a monetary cost. This implies that Morten's course will involve additional expenses.
I hope this section of the Passive Income Geek review has provided you with a clear understanding of the course's contents and functionality.
Now, let's shift our focus to the pricing and other relevant aspects aside from the course content.
How Much Does Passive Income Geek Cost?
Passive Income Geek is available for $399 per year, with an additional year priced at $199. While some other courses offer free trials, this course does not.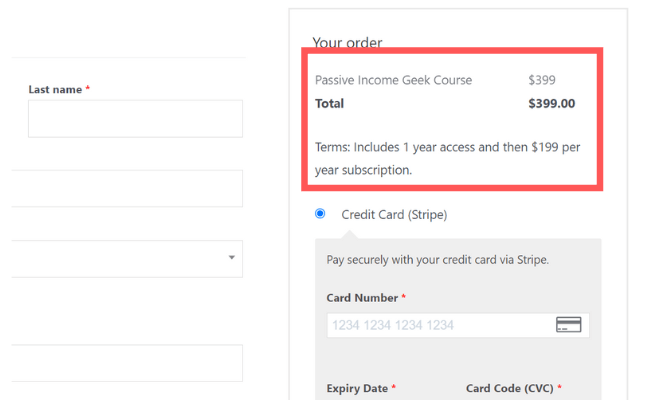 Running a business is no easy task. It involves facing trials and errors, which can be costly.
There are expenses to consider, such as web development and advertising, depending on the tools you choose to use.
Therefore, it is crucial to have a budget in place and be prepared if you are seriously committed to building a business.
Does Passive Income Geek Offer Refunds?
Yes, you can get a refund from Passive Income Geek.
It is covered with a 30-day money-back guarantee, allowing for a refund if the course does not meet your expectations.
Here is the official word:
We offer a 30-day money-back guarantee. Meaning, that in case you aren't satisfied with the product you can request a refund. You just reach out to us and explain the matter. In case your subscription is renewed by accident you can also reach out and have your money back.

Source: PassiveIncomeGeek.com Refund Policy Page
Are Passive Income Geek Students Getting Results?
Alright, so I did some digging to see if people are making money with Morten's Jungle Influencer course.
Unfortunately, I couldn't find any concrete evidence to support the few positive reviews on the sales page.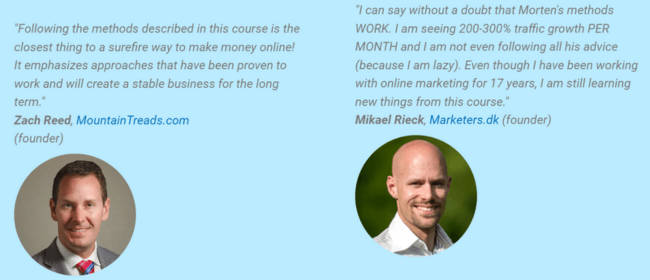 This doesn't necessarily mean that the course is a complete dud, but it does raise some scepticism.
I couldn't help but feel a little disappointed when I couldn't find any real success stories from students who have used the course.
That being said, I don't want to completely write off Morten's course without having tried it myself. I will be updating this section in the future.
Is There Private Coaching in the Passive Income Geek Course?
The Passive Income Geek Course is an online, self-paced course and community that doesn't promise individual coaching.
But here's the good part: the course and community make it super easy to launch your niche website.
If you have any questions along the way, chances are other members of the Passive Income Geek community can help you out. Especially now, since the community is still relatively small.
How Long Will It Take To See Results?
According to PassiveIncomeGeek.com, you can expect some level of outcomes in the first 12 months. Niche site bloggers may experience quicker or slower results.
Typically, it takes around 6-8 months for a new post to rank well on Google, as most blog writers agree.
However, my experience shows that by focusing on underserved topics, you can achieve faster rankings within the first 1-4 months.
By closely following the course and putting in hard work, you can anticipate positive trends in your traffic, page views, and profits within the first 6 months or even sooner.
Who's Passive Income Geek For?
Passive Income Geek is a platform designed for everyone, particularly beginners interested in affiliate marketing.
If you're eager to learn about building websites that rank on Google and generate passive income, this course is an excellent option.
While the course isn't overly expensive, it's important to be well-prepared and have a budget in mind if you plan to establish a business.
If the cost is a concern and you feel that Passive Income Geek isn't the right fit for you, it may be beneficial to explore alternative methods of making money online.
What I Like About Passive Income Geek
In the Passive Income Geek review section, I will highlight a few aspects of this course that I genuinely appreciate.
Meant For Beginners
The Passive Income Geek course is designed for beginners, with simple and easy-to-follow content.
The modules are straightforward, allowing anyone to learn without facing hardships or confusion.
Morten is a Read Deal
One thing I appreciate is that Morten Storgaard is an experienced online entrepreneur. He has solid results that can be easily verified.
This means you'll be learning from someone who knows what they're doing, instead of some fake guru.
Good Value
Passive Income Geek seems fairly decent, considering it costs less than $400 for the first year and $199 for the following year.
In contrast to other courses that charge $100 or $200 per month rather than per year, it is not worthwhile because they offer low-quality content.
Systematic Modules
The course is designed to have a sequential flow, ensuring that you can navigate through the modules in a logical order without any hassle.
Morten has carefully structured the course to facilitate your understanding of the business model as a whole, even when you are working on individual components of the model.
Refund Policy
If, for any reason, you are dissatisfied with Passive Income Geek and choose to cancel within the first 30 days, Morten will refund your order.
This serves as evidence of the legitimacy of the course.
What I Don't Like About Passive Income Geek
My dislikes about Passive Income Geek are as follows:
A Bit Expensive
Morten's experience and knowledge are truly invaluable. However, $399 may be a significant amount for some.
Nevertheless, if you follow the advice diligently, there is a high probability that your investment will yield substantial returns in the future.
Lack of Results
The Passive Income Geek course has gotten nothing but praise from users all over the internet.
However, the small issue with the course is the lack of evidence that these users are getting real tangible results with Morten's course.
Do I Recommend Passive Income Geek?
When it comes to recommending courses, I'm usually strict due to encountering numerous scams and low-quality offerings.
However, in the case of Passive Income Geek, I highly recommend it.
The reason behind my recommendation is the credibility of Morten Storgaard, who stands out as a genuinely helpful person. Unlike many gurus, Morten has invested significant time in the field and truly wants to assist you.
Naturally, my recommendation does not guarantee financial success.
I make no promises of that sort in my Passive Income Geek review, and I won't start now. However, I find the methodology taught in this course to be impressive.
Additionally, it is affordable, making it accessible even to beginners on a tight budget.
Passive Income Geek Review – Conclusion
Passive Income Geek is a good course for learning about making money online through affiliate marketing and ads. Morten Storgaard helps people achieve financial success without hefty investments in ads.
The course is simple, easy to follow, and accessible to everyone. It is affordable and worth considering.
I hope this review was helpful and provided a clear understanding of the course. Please feel free to leave any comments or questions below, and I will be happy to engage with you.
| | |
| --- | --- |
| | Making money with blogging and affiliate marketing. |
| | $399 for first year, $199 per year thereafter, plus extra costs. |
| | Beginner-friendly course. Systematic training modules. Morten is a real deal. Offers good value for money. 30-day refund policy. Includes community access and bonuses. |
| | Expensive in the long run. Lack of student results. |
| | Passive Income Geek is one of the top affiliate marketing, blogging and SEO courses for beginners on a budget. |
| | |
| | |
The Best Way To Make Money Online
I earn online by creating simple affiliate websites that I use to connect people with products they are already looking for.
It's called affiliate marketing and it is the best way to make money online (at least in my humble opinion).
If you want to learn more about how you can start making money online with affiliate marketing, I would strongly suggest you sign up for the free training on the next page.
And don't forget to share this Passive Income Geek review with your friends and family!
All the best, Ivan @freeaffiliatemarketingbusiness.com