Welcome to my SFI Affiliate Center review. At first glance, SFI looks like a legitimate business opportunity. But looks aren't everything. That's why you need to learn more and check for a scam. And I'm here to help you. Let's go!
Product Name: SFI Affiliate Center
Product Type: MLM
Price: Free To Join + Costs To Participate in the Scheme
Owner: Gery Carson
Rating: 2/5
Recommended: No
Quick Summary: SFI Affiliate Center is an online marketing company that works in connection with Tripple Clicks. Despite many negative reviews, the company is legitimate (sort of). However, creating an online income with the help of this company is not going to be easy. Moreover, there's a large possibility that you'll end up losing money. In my opinion, SFI is legitimate but not recommended.
CLICK HERE TO DISCOVER THE BEST WAY TO EARN AN INCOME ONLINE >>
SFI Affiliate Center is a company that promises to help to create a 24/7 income stream. They say that they've helped millions worldwide to do so. Even better, they say that they have a secret to mammoth commissions. Sounds exciting, right?
Now, as I've said, the looks aren't everything.
All those internet companies are quite good at making you believe in a lot of things. One of those things is that making money is effortless. My point here is to show you the opposite and reveal the truth about this company.
By the way, congratulations on researching before getting into things headfirst. I know it's hard to trust people on the net these days. But if you are looking for something real, check out this genuine way to make money with affiliate marketing.
Within this SFI Affiliate Center review, I'll show you what this company is about. I'll show you what to expect from it without any BS and give my honest opinion about whether it's a scam or legit way to make money online.
Shall we begin?
What is SFI Affiliate Center?
SFI Affiliate Center is an online business opportunity for earning a passive income online. The company teaches people how to promote the same company to other people. So, in other words, SFI is an MLM (multi-level-marketing) scheme.
SFI claims that they are in the business for eighteen years and have helped thousands in more than 200 countries to create a passive income online.
There are tons of reviews out there that confirm this. But there is also a hand-full of negative ones as well.
Who to trust, ha?
Well, the company seems like a legitimate thing at first. And it might be. However, after a few hours of research, I've got a feeling that those claims about easy and 'mammoth' commissions are falling into the water. (I'll explain later)
In my experience, SFI Affiliate Center is, a least, confusing. I bet you too are wondering what the hell is going on there.
Who Owns the Company?
Carson Group is the company that owns the SFI Marketing Group. The same group owns TripleClicks.com, and other Zing Network sites. However, the company itself is owned by one Gery Carson.
According to BBB (Better Business Bureau), the company is in business for 34 years and has been accredited by BBB in 2000. They hold A+ Rating. Over the years, SFI has collected many complaints, which I'm going to discuss later in this review as well.
Is SFI Affiliate Center Really Free?
SFI Affiliate Center is free to join. There are no joining fees. All you need to do is leave your info, such as name, last name, and email address.
However, only the registration is going to be free. Once you are inside, things start to change quickly, and the rising costs of the scheme are the reason why so many people say that SFI Affiliate Center is a scam.
So to answer that question ourselves, let's take a look at the whole thing form the inside.
How Does SFI Affiliate Center Work?
Many people, including myself, are quite confused with how SFI Affiliate Center works. You see, once you join the scheme and get access to your account, you're up for a joy ride.
And I don't mean it in the right way. The platform is somewhat confusing. Finding your way around is quite tricky.
However, after a few hours of sweating, I've got the hang of it and learned that SFI Affiliate Center works on a principle of MLM. In other words, they show you how to earn money by recruiting other people to the scheme.
And that's not the only way how you can make use of SFI.
There is another sub-company that acts as a part of the scheme. It's called TripleClicks.com. In the most simple words, Triple Clicks is a shopping platform where you can buy and sell things to earn additional revenue.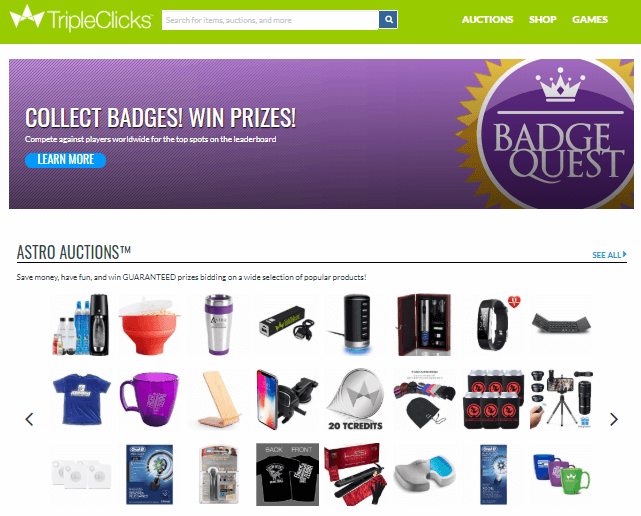 I've got the impression that the main point of SFI Affiliate Center is to show you how to spend money on TripleClicks. And after some research, I discovered that many people had confirmed my suspicion. I'll show you some negative reviews later.
Before we move on, it's important to mention that SFI Affiliate Center has a training section where they explain how the whole thing works. Also, they provide the tools and resources for getting started.
How Do You Make Money With SFI Affiliate?
Now, let's get busy with the essential part of this SFI Affiliate Center review. That is, let's see how and how much you could earn if you ever join the scheme.
According to the official website, there are a few different ways to start making money with SFI.
Earn Money By Accumulating Versa Points
Earn Money By Generating TripleClick sales
Earn Money By Referring others to SFI
Vendor Referrals
Executive Pool
T-Credit Bonuses
Versa Points
As soon as you join the SFI Affiliate Center, they greet you with a To-Do list. Once you start accomplishing tasks from the list, you begin earning VP's or Versa Points. Once you've collected enough points, you can exchange them for cash.
However, the minimum threshold is 1500 points. You have to meet this threshold each month to qualify for a payout.
TripleClicks
As I said earlier, TripleClicks is an essential part of the SFI Affiliate Center. Basically, you earn money by referring other people to the scheme. Once they join, you send them to TripleClicks, where they can spend money on shopping. The commission is earned on each purchase of one of your referrals.
Also, you can use TripleClicks to:
Buy Things
Sell Things
Bid On Penny Auctions
Play Games
Affiliate Program
SFI Affiliate Center will pay you a commission for each time you refer someone to the scheme. This also earns you additional Versa Points, and you get paid each time your referral spends money.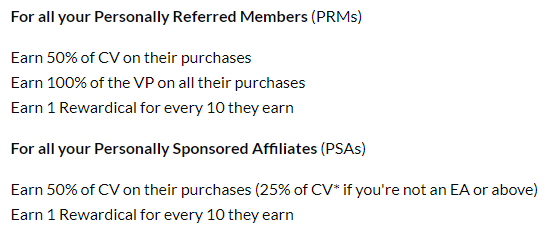 Vendor Referrals
The company offers a few additional streams of income too. For example, you could refer ECA's to Triple Clicks and earn Versa Points and royalties for life. You could receive 100VP as soon as you ECA lists their first product as well as 10% of all their sales.
Executive Pool
SFI's Executive Pool is an income stream that all SFI affiliates can tap into. This is how it works in a nutshell. At the end of every month, they determine the total CV for all sales at all Zing Network properties. Then, they put 50% of the CV of every purchase–companywide–into the Executive Pool for affiliates to share.

T-Credit Bonuses
Lastly, the SFI Affiliate Center offers something called T-Credit Bonuses. It's a part of the scheme where you earn credits based on your rank. This is why SFI is looking more like a pyramid scheme than anything else. Anyway, you could use those credits within Triple Clicks for various purposes.
What I Like About SFI Affiliate Center
MLM or Pyramid scheme doesn't necessarily mean a scam. It depends on the company that employes the model. In my opinion, the SFI Affiliate may not offer the best online business opportunity, but there are a few things that I like about the SFI Affiliate.
1.) Free To Join the Scheme
There are no fees to become a member of the SFI Affiliate Center. You just need to register, and you're automatically accepted. I like the "test drive" business model because it allows you to see what's going on from the inside.
2.) It Has Earning Potential
The company has based its business around TripleClick, which is a shopping platform that offers various ways of earning money. Not only that, but SFI Affiliate Center has incorporated plenty of other ways to earn online income. All in all, I like that it has real earning potential.
What I Don't Like About It
At first glance, the company looks like a great opportunity. But as you get inside, you start to realize that it's not going to be as easy as it seemed from the outside. Here's what I think is wrong with SFI Affiliate Center.
1.) Hard to Understand
Once you get inside of the member's area, you get slightly confused with tons of tabs, drop-down menus, shortcuts, and links. I didn't like the overwhelming feeling, and I've got the impression that they did this for a reason to confuse you.

The good thing though, is that they offer training and support. But still, their structures and fees are hard to understand, which makes it repulsive, at least.
2.) Expenses Will Pile Up as You Go
SFI Affiliate Center is free to join. However, that doesn't mean that you are deprived of spending. How do you think they keep running the scheme? Well, you've guessed it right. Being a member will cost you money down the road, and your earnings will largely depend on your spending level.
3.) Way Too Many Complaints
The last thing that I don't like about SFI Affiliate Center is tons of customer complaints all over the net. They have some on BBB, SiteJabber, Glassdoor, and many others. In other words, many people felt like they've been scammed, so they decided to spread the word.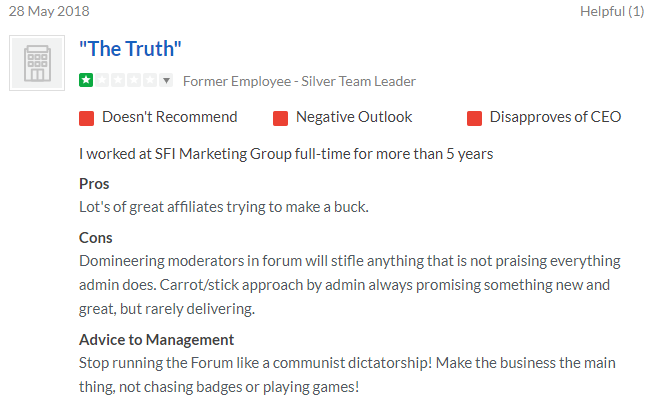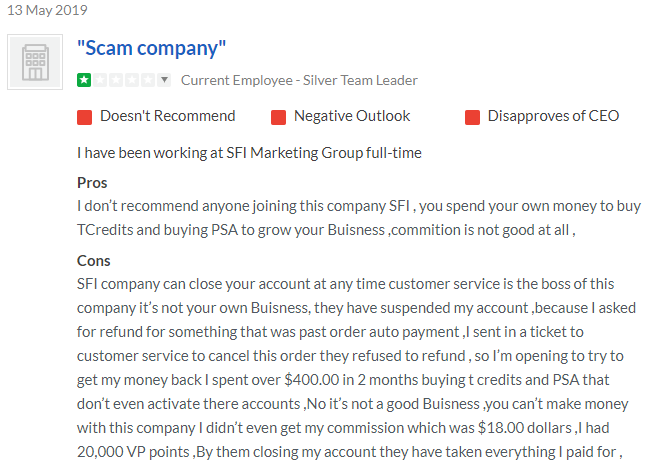 It's never a good sign to see so many complaints. Even worse, people directly claim that the company is not worth it, and it'll only be the waste of your time and, most importantly, your hard-earned cash.
Is SFI Affiliate Center a Scam or Legit?
In my opinion, the SFI Affiliate Center is not a scam. Based on my research, SFI is a legitimate company that has a few decades of work behind it. The scheme is free to join, and it has the potential to earn.
There are plenty of ways you could start earning with this company. The most lucrative way is probably by referring others to the scheme. Since the company has a large structure, you could earn revenue from multiple sources.
However, many people who have experience working with SFI Affiliate Center say that it's a scam. Maybe not in the real sense of the word, but they have certainly had a lot of problems and have felt that the company is not an honest way to start an online income.
Do I Recommend SFI Affiliate Center?
From my standpoint of view, I don't recommend this company. I feel like this is a time and money waster. I've got the impression that the success rate is meagre and that all they do is funnelling you to TripleClicks.
Besides, those negative reviews are there for a reason. Maybe it's not a scam, per se, but I personally wouldn't want to work with SFI Affiliate Center. In my eyes, there are too many layers of it and I don't like it.
How do you feel about SFI? Is it something that you would want to be a part of?
In my experience, the best way to start an online income is by starting your own website. This way, you're free from MLM's and pyramid schemes and have full control and responsibility for your business. It's not a hard thing to do. Best of all, you can turn your hobby or passion into an online business.
Even better, you could earn multiple sources of passive income.
Here's How to Start an Online Business!
Thanks for reading my SFI Affiliate Center review. I hope I've helped you to learn more about what it is and how does it work and to answer your question, whether it is a scam or legit. If you have any questions about the program or maybe you can offer an experience, feel free to leave them in the comment box below.
Before I let you go, let me show you a legitimate training course for making money online. This is proven to work by thousands of marketers all over the world, including me. ?
CLICK HERE TO DISCOVER THE BEST WAY TO EARN AN INCOME ONLINE >>
If you need any help or you have a question, feel free to contact me.
All the best, Ivan.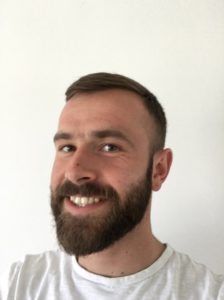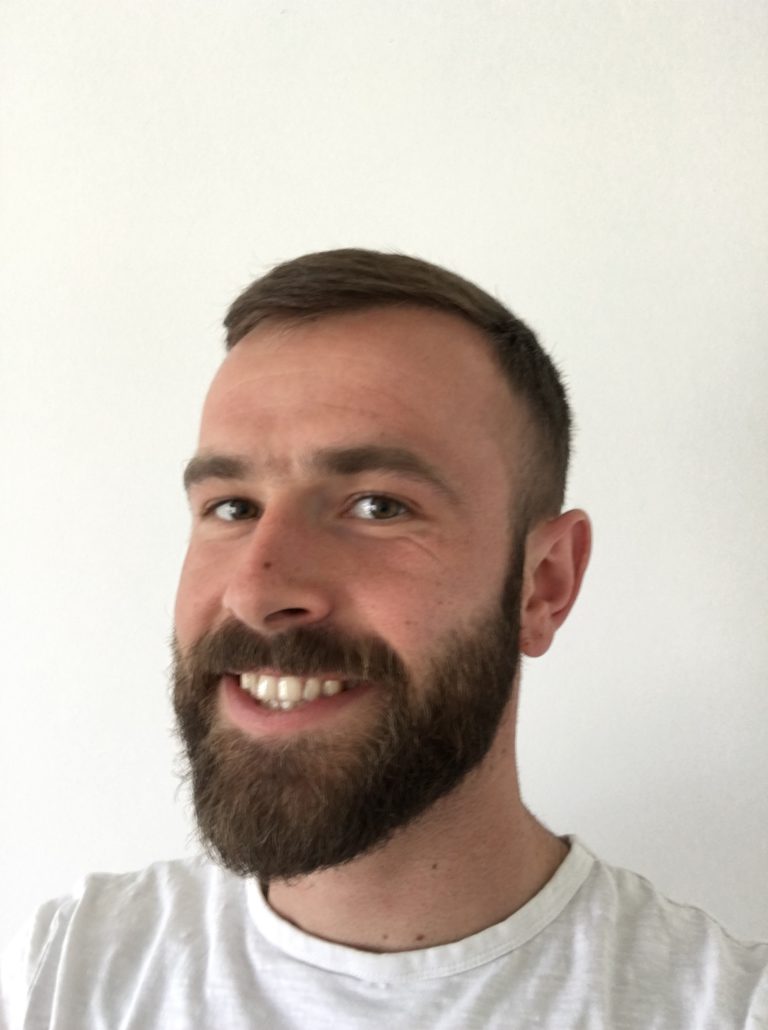 Founder, and CEO @freeaffiliatemarketingbusiness.com