Welcome to my Simple Traffic review.
Are you struggling to get traffic to your site? Wondering if there is some sort of easy solution? Have you bumped into the Simple Traffic platform? Not sure whether it is a scam or legit? Need an honest review?
Buying traffic to your website is a risky business. See, there are a lot of scams and schemes that will send you bots and fake traffic and yet will gladly charge you $100's and even $1000's for fake clicks.
On the other hand, there are a few legitimate places where you can get real human visitors.
So in my search for more traffic, I bumped into Simple Traffic. It's a platform that promises to send you real visitors to your site that will generate more revenue, boost your stats, and even improve your organic rankings in search engines.
Sounds like a perfect deal, right? But is it really?
In this Simple Traffic review, I will take you through this traffic platform. You will learn what it is, how it works, what you can expect from it, how much it costs, whether it is a scam or legit, and more!
Shall we get rolling then?
Simple Traffic Review – Overview
Product Type: Traffic Generation
Product Price: Free To Try, Various Monthly Subscriptions
Product Owner: Ascend Corporation
Money-Back Guarantee: 30-Days
Recommended?: Yes, but NOT for beginners!
Overview: Simple Traffic is an online platform that any website owner could utilize to get traffic. In short, it's a legitimate service. However, since the traffic is "cold" it requires marketing skills which is the reason why I don't recommend this to beginners with no marketing experience.
If you're a beginner who is just getting started, you should consider first learning how to get your own traffic and acquire marketing skills before wasting money on cold traffic.
My #1 recommendation is a 100% beginner-friendly course that I used to learn how to go from 0 to 100's of clicks per day from Google and other search engines!
>> Check Out My 🏆 #1 Recommendation Here <<
What Is Simple Traffic?
Simple Traffic is a website that provides traffic to your affiliate links, website, or sales funnel. According to the official information, the traffic is 100% real human traffic. In other words, they don't use bots.
Upon landing on the website, you can register and open a free account for five days and they will send you 2500 free visitors. Then, if you're happy with the stats, you can choose from different traffic packages. For example, you can order 15K monthly visits for only $15 per month or even 600K monthly visits for $400 per month.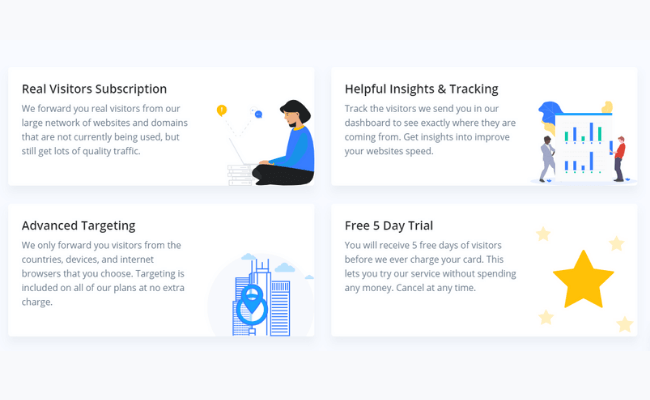 According to the information from the Simple Traffic website, they generate traffic from their large network of websites and parked domains that receive huge amounts of traffic. They claim that they send you visitors from countries, devices and browsers of your choice.
The platform also offers a tracking system so that you can track your visitors and see exactly where they are coming from. But more about this in the next few sections of my Simple Traffic review.
Who Owns Simple Traffic?
To be sure about whether Simple Traffic is a scam or a legitimate platform for getting traffic to your site, I've done some research to learn more about the background of the company.
In this digital age, it's easy to create a fake site and make it look like a real deal. Scams usually cover up the traces with fake names, addresses and mother companies. So searching for information about ownership is one of the tasks I will always do before recommending a product or service.
According to the information from the official site, the platform is owned by Ascend Corporation from Thailand. It's a privately-owned company that that specializes in the fields of cloud centres, fintech, and E-commerce.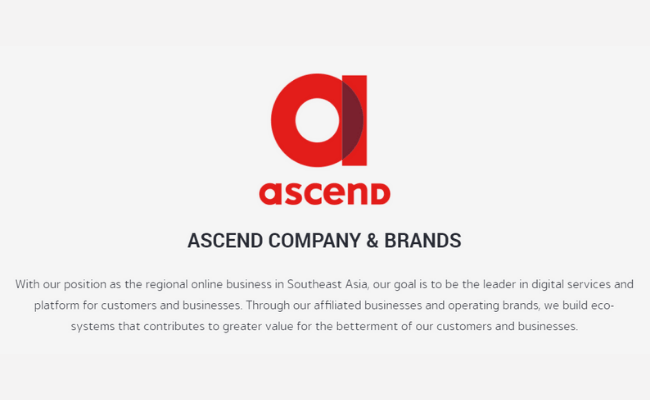 So I did a quick Google search on Ascend and didn't find any red flags or signs that it might be a scam. It seems like Simple Traffic is owned by a legitimate entity, which means that it also could be legitimate.
How Does Simple Traffic Work?
Simple Traffic collects visitors from one of their rented websites or parked domains that have huge amounts of traffic. They claim to have a lot of these sites that generate massive traffic each month.
Then, they use software to forward that same traffic to your website based on your requirements. The software first checks if visitors match the targeting you choose and if so, they are automatically redirecting them to your link.
So the first step is to create a free account with Simple Traffic. The first five days will be free and you will get complimentary 2500 visitors to test-drive the platform.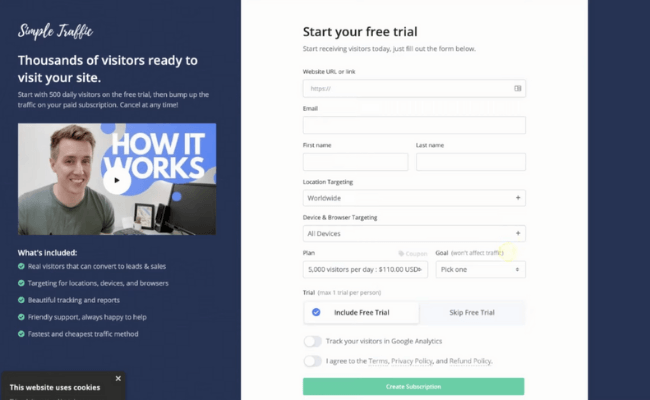 Then, once your free trial expires, you will have to choose from one of the packages available on the website. Here's the breakdown of the options that you will have:
15K monthly visitors
30K monthly visitors
45K monthly visitors
60K monthly visitors
90K monthly visitors
150K monthly visitors
225K monthly visitors
300K monthly visitors
600K monthly visitors
Before you select the package, you can customize the traffic with demographics, location, browser and other details.
It's important to highlight that you can only use one URL with Simple Traffic. They don't allow more than one but they do allow changing the targeted URL as many times as you want inside the dashboard.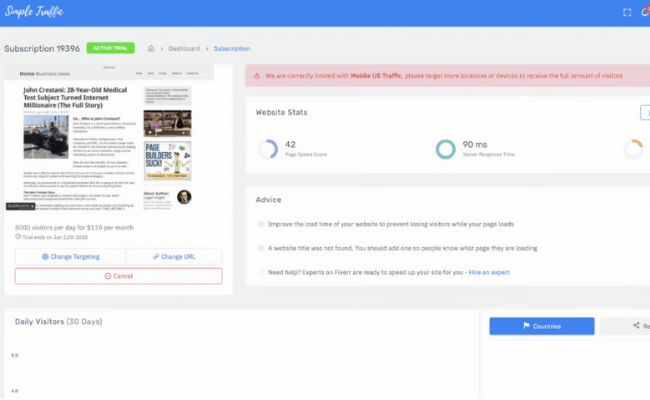 Once, you've set everything up, they will start sending you traffic to your website, link, or funnel.
They will basically redirect the old traffic from their own sites to your URL. Here's the list of these sites so thar you can inspect them before making a decision.
That is how this traffic scheme works. Now, the question is, is this cold traffic going to convert?
In my opinion, it's unlikely that you will receive massive conversions, leads, and signups. On the official website, the creators of Simple Traffic say that the conversion rate you receive is based on your websites ability to convert the traffic you target.
In other words, you will have to test and optimize your landing pages to get desirable conversion rates and this might take a lot of time and work. There are absolutely no guarantees that the traffic they send you will convert and that is a bit of a problem.
What is the use of massive amounts of traffic if it's cold and not converting?
With other traffic schemes such as SEO and PPC, you're behind the wheel so to speak. Meaning, you have the ability to drive hot traffic to your site using keywords or search terms, interestest, and other methods that allow you to "hand-pick" only high-quality traffic.
See, traffic is just a small part of the equation.
It's possible to convert cold traffic into leads and sales but takes a lot of work, testing, and above all, you need advanced marketing skills to convert cold clicks into interested customers.
That said, I'm not fascinated with Simple Traffic. But the good news is, it's legit and could bring in a few conversions if you know what you're doing with it.
Related: Paid Traffic Mastery Review
Is Simple Traffic A Scam?
Simple Traffic is not a scam, in my opinion. After checking out the background of the company and joining the platform, I didn't find any red flags or scam signs that could lead me to say that this platform is not legitimate.
Who Is Simple Traffic For?
This platform is for people that need more traffic to their website. In my opinion, anyone from affiliate marketers, eCommerce store owners, bloggers, to all sorts of website owners could leverage Simple Traffic to get clicks to their online property.
Once again, keep in mind that the traffic they will send you is cold and you need conversion skills to turn those cold clicks into leads, signups and possibly even sales.
How Much Does Simple Traffic Cost?
As I said earlier in this Simple Traffic review, you can join for free and you will receive 2500 free clicks to your URL. The free trial lasts five days. Once it expires, you will have to choose from one of the paid packages.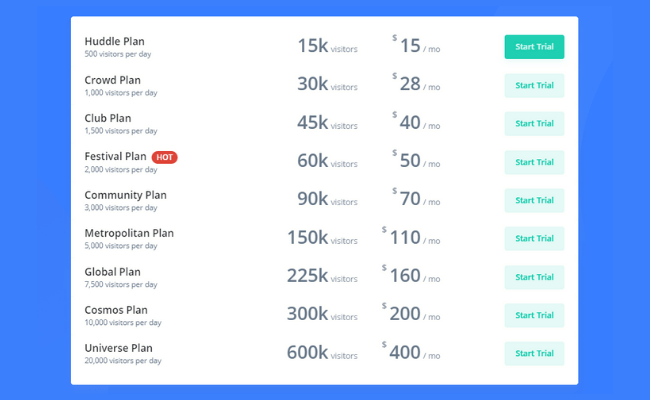 Huddle Plan – 15K visitors ($15 per month)
Crowd Plan – 30K visitors ($28 per month)
Club Plan – 45K visitors ($40 per month)
Festival Plan – 60K visitors ($50 per month)
Community Plan – 90K visitors ($70 per month)
Metropolitan Plan – 150K visitors ($110 per month)
Global Plan – 225K visitors ($160 per month)
Cosmos Plan – 300K visitors ($200 per month)
Universe Plan – 600K visitors ($400 per month)
All plans are covered with a 30-days money-back guarantee. In other words, if you don't like the service, you can cancel and ask for a refund within 30 days of purchase.
Simple Traffic Reviews Online
While researching the information about this website, I found a lot of Simple Traffic reviews online. To my surprise, most of these reviews are generally positive. However, it seems like they are biased.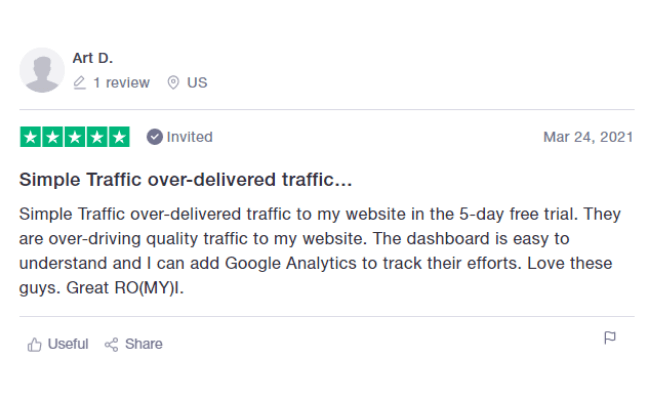 There are a few reviews from unhappy users that claim that the product is bad. For example, this user said that traffic is fake and it did more damage than good to his site.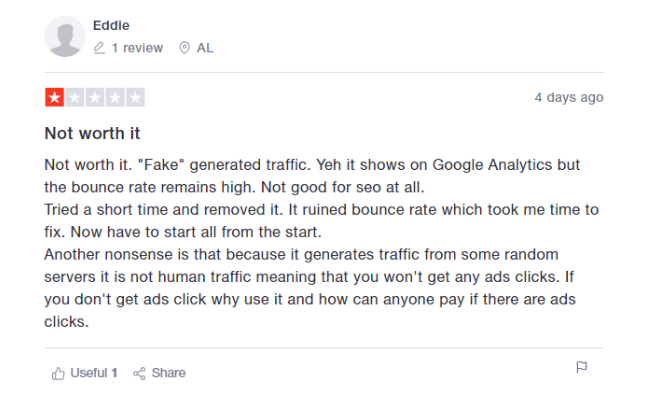 Another user said that traffic is basically spam and it caused a 100% bounce rate.
All in all, one thing is for sure. Simple Traffic will send you traffic to your site and the service is legitimate. But it's up to you and your marketing skills to make the most out of it.
What I Like About Simple Traffic
Five days of free trial and 2500 free clicks
Traffic is generated from their own websites
Easy to use, optimize and track your stats
Affordable packages + 30-days refund policy
User reviews are generally positive
What I Don't Like About It
It's not as effective as SEO or PPC
Traffic is cold and requires a lot of skill
Simple Traffic is not for beginners!!!
Related: EasyHits4U Review
Simple Traffic Review – Conclusion
Let's face it, anyone who owns a website wants more traffic, conversions and sales. Without a steady flow of traffic to your site, you can't make money and all your work and effort could go to waste. And we don't want that, right?
So do I recommend Simple Traffic or not?
To be honest, I'm not 100% sure about it. Yes, I would recommend Simple Traffic to advanced marketers and website owners that have experience with turning cold traffic into leads and sales. They might pull something and make this work for them.
But if you're a beginner, I strongly suggest you avoid sites like Simple Traffic. It's not that I'm against them or anything. I just don't recommend it to beginners. You could waste a lot of money on cold traffic, which is something that I don't want to be responsible for.
In my opinion, all beginners should first learn and master free traffic methods like SEO to develop conversion skills. Then, and only then you can use traffic generation services like this.
But at the end of the day, the choice is yours. I hope my Simple Traffic review was helpful and I hope you can now make a wise decision. If you have questions, feel free to leave them at the end of the review!
How To Get HOT Traffic To Your Site
As I said a few times in this review, my favourite method for getting hot traffic to your site, affiliate link, eCommerce store, blog, or any other online property is SEO or search engine optimization.
It's a free method that requires some time and effort but it's the best one in terms of ROI.
All that you have to invest in SEO is your brain and some work. If you're willing to do so, you could earn $100's and $1000's per day from 100% free traffic! There would be no need for services like Simple Traffic.
If you're interested in learning how to get your own FREE and HOT traffic, make sure to click the button below.
>> Check Out My 🏆 #1 Recommendation Here <<