Welcome to my Survey Compare review.
I don't believe online survey sites are good places for people looking to make a full-time income online.
However, it isn't untrue that some survey sites can help you make a little cash on the side. The problem is most of them make false promises and waste the naive internet user's time.
But Survey Compare seemed like an exception.
Unlike most other survey sites, Survey Compare is pretty straightforward from the beginning. They explicitly state that surveys are never an alternative to full-time income.
But they can make people with full-time jobs a few bucks happier at the end of the month.
So, is Survey Compare Legit? Keep reading this in-depth Survey Compare Review to find out for yourself.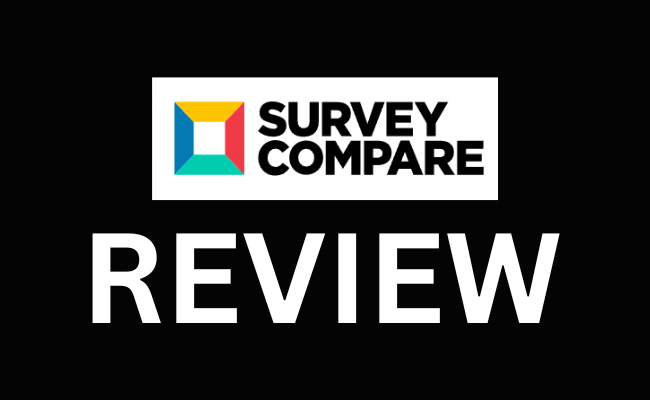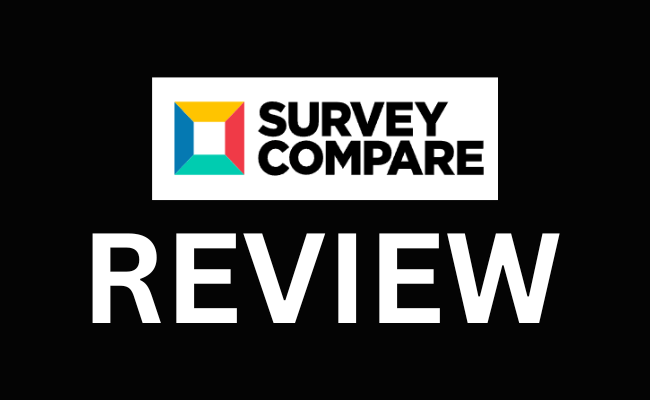 What Is Survey Compare?
Survey Compare is a UK website connecting survey takers and companies conducting market research. Note that, unlike other paid survey sites, Survey Compare doesn't directly provide you with surveys.
Instead, they work as an intermediary between the two parties.
If you have been trying to make money with online surveys, you know how hard it can be.
First of all, a large number of these sites are scams. For example, Social Sale Rep is one to avoid!
They sign you up to collect valuable personal information. Then they keep showing you ads, sending emails, and following other methods to sell their sponsors' products to you.
Most of the time, you make no money from these sites. You might waste close to an hour taking a never-ending survey. When you are halfway through it, the survey will suddenly become unavailable.
As a result, you not only don't get any money, but you also waste your time. On other occasions, you won't get paid despite completing the survey.
In other words, finding a legit survey site that truly pays its users is the main challenge.
And Survey Compare can help you in that regard. The site works like a matchmaker for survey takers and companies who need them.
So, you will always find legit survey sites that will follow through with their promise of payment for your participation.
If you have wasted much time at scam survey sites, Survey Compare could be your solution. You don't have to go surfing the web to find legit surveys anymore. Instead, you can find them all in one place at Survey Compare.
You can join all the true paying survey programs on the internet just by signing up once at this site.
You can sign up very quickly for the site. After that, you will receive surveys depending on your demographic.
For most surveys, you need to be at least 16. But some surveys also welcome 13 and 14-year-olds. Usually, you receive one to five pounds per survey. For which, you might have to spend ten to twenty minutes.
What I found reassuring about the site in this Survey Compare review is they don't try to present surveys as a way to make a full-time income.
Instead, they have made it clear on their home page that the survey can only provide you with a little side cash at the end of the month.
It's not much, but still fun.
Who Created Survey Compare?
I found a photo of the Survey Compare team on the website. Looks like a decent group of people. If you are wondering, 'Is Survey Compare legit?', this is another indication.
Usually, scam websites don't feature a team photo.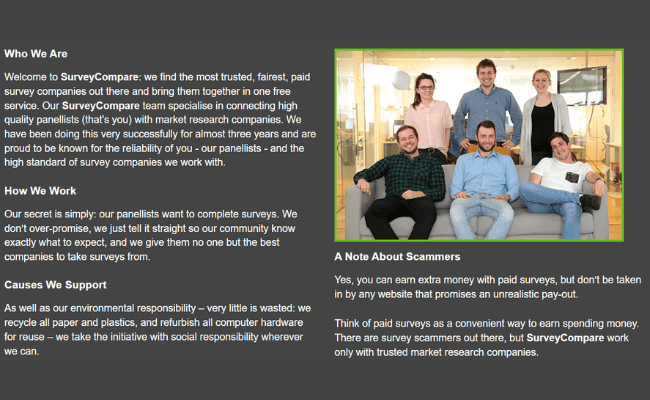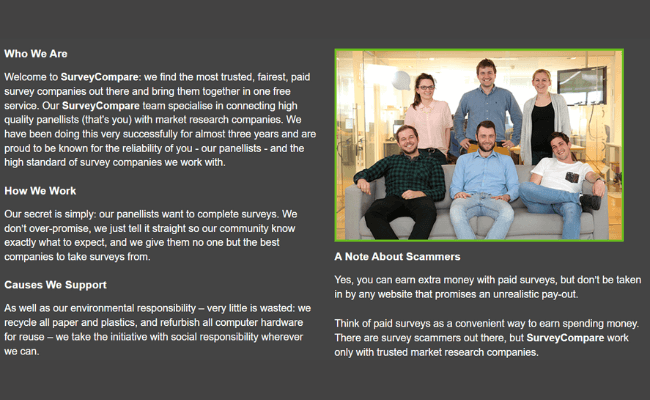 In addition, Survey Compare has also stated its physical address and contact number on the website.
However, I didn't find anything more about the team on the website. Further research revealed that Survey Compare is owned (and presumably created) by MVF Global.
It's a company that helps businesses grow by driving potential customers to them. They have been one of the fastest-growing tech companies in the US.
Survey Compare uses its various projects to generate customers for big businesses. They also help them gain insight into new products.
For instance, when you are participating in a survey at Survey Compare, you are helping a client of MVF Global to learn about consumer perspectives on a new or existing service.
Most of the free and paid survey sites follow this business model. However, most of them don't tell their users. But Survey Compare is straightforward with it from the beginning.
This further reinstated my confidence in the program's legitimacy while doing my own Survey Compare review.
RELATED: Best Way To Make Money Online For Beginners
What Do You Get With Survey Compare?
You don't get hundreds or thousands of dollars with Survey Compare. However, you might be able to earn some cash for a nice meal or a new dress. At the same time, you get access to all legit survey websites from one single place.
Plus, you have the opportunity to help companies design better products.
All surveys in one place: Surveys aren't a means of earning a full-time income. However, their minimal rewards would mean nothing if you had to search the web for hours for a survey that truly pays.
With Survey Compare, you get one-point access to all the legit surveys on the web. In other words, Survey Compare does your initial research for you.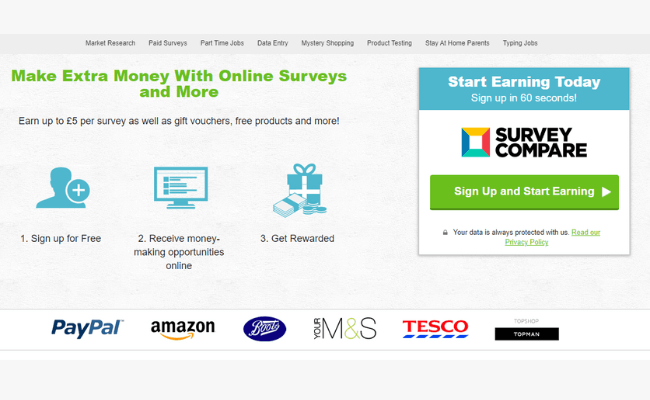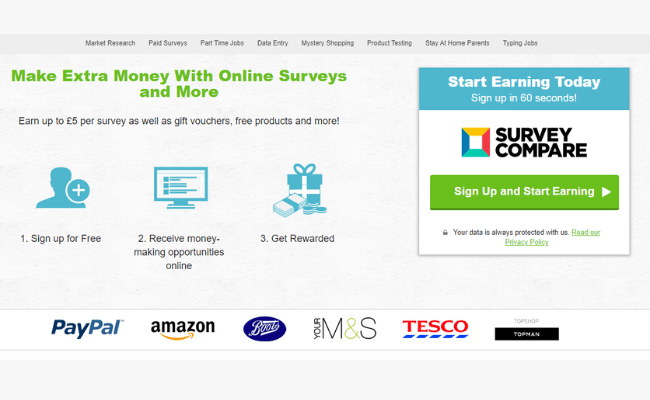 Many users report making 40-50$ a month with Survey Compare. That can pay for a week of Mcdonald's lunches. Some sites also offer gift cards and other rewards for your effort.
And all it takes is one or two fifteen minutes sessions a week. Plus, it doesn't require any specialized skills.
How Does Survey Compare Work?
Successful businesses are always trying to determine what consumers think about their products. The most effective way for them to know this is to hold surveys.
However, the people answering these surveys need to be from their target demographic. Survey Compare works by connecting the two parties.
The process is simple. You start by signing up for the platform. The platform then connects you with legit surveys. When you complete those surveys, the companies pay you for your efforts.
Note that Survey Compare has almost nothing to do with the payment. They just find high-paying and reliable surveys and hook you up.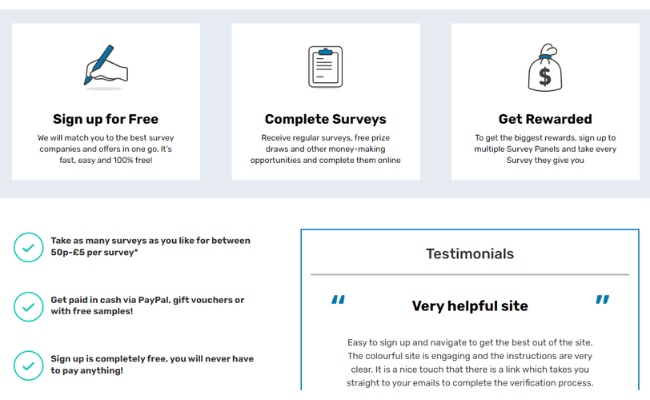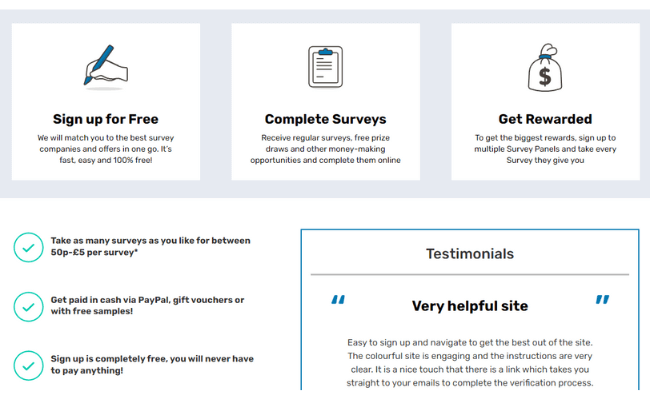 Signing Up
When you visit the website, it's hard to miss the prominent 'Sign up for FREE today!' button. You can click it to start the sign-up process.
As it is evident, you don't have to pay anything to sign up for the program. Nor shall you pay anything to its partner survey sites. The site explicitly tells you to steer clear of any site that demands payment from you to participate in surveys.
The sign-up process requires some basic information. These include your name, sex, age, and contact information.
Based on this information, they determine your demography. The site shall send a link to your email. You should find it in your inbox and follow it to confirm your address.
Once your email is confirmed, they will show you a list of survey panels available at that moment.
As said at the beginning of the Survey Compare review, these are legit well-paying surveys from companies who are looking for consumer opinions from people of your demographic.
Choosing And Participating In Surveys
You can choose the surveys you want to participate in from Survey Compare's dashboard. The major appeal of the platform is the opportunity to sign-up for multiple surveys from one place.
You can take advantage of this fact by signing up for all the surveys that come your way. Usually, a legit survey program only provides 2-3 surveys a month.
Which roughly translates to 10-15$. Signing up with several different programs will help you get more surveys per month and hence add to your income.
Before signing up with any program, you might want to check the payment per survey and the minimum payout. Survey Compare's dashboard can streamline all this information and help you choose the best programs worth your time.
Toluna, LifePoints, Swagbucks, Inbox Dollars, Branded Surveys, and other popular names frequently make the lists at Survey Compare.
When you select a program, you need to sign up again for that site. Once you have signed up for all your chosen programs, you will receive email notifications whenever a survey is available.
Remember that you are free to leave a program whenever you want. You are not getting into a contract or anything when you sign up for these surveys.
Simply click on 'Unsubscribe' at the bottom of the invitation email to leave a program.
Survey Compare also assures the user that their details are safe with the company. However, I am not so sure about that. Maybe Survey Compare doesn't sell or misuse any of the info you provide them.
But what about the programs you are signing into from their sites? These are indeed reliable sites. Still, you should be careful.
So, I would recommend you not use the same passwords you use for your email or financial accounts.
Also, remember survey sites might ask various personal questions for the sake of product research. There is no harm in answering them. But none of them should ask for sensitive financial information. If any survey site is doing so, stay away from it.
Getting Paid
It should be clear from the beginning that Survey Compare doesn't pay you anything. It is the survey sites you sign up with from their list that pay you. So, the amount, payment method, and conditions will be different across programs.
Some programs will pay you cash per survey. Some will reward you with points. When you accumulate a certain number of points, you will be able to cash out.
The rate also differs across platforms. Some surveys pay five pounds. Meanwhile, the others pay you less than a dollar.
The methods and minimal withdrawal are also different for each survey site. However, these platforms are reputable, so Survey Compare lists them.
So, it is safe to assume that you wouldn't have much trouble getting paid.
RELATED: Best Way To Make Money Online For Beginners
How Much Does Survey Compare Cost?
Survey Compare is completely free to sign up for. The same is true for the sites. The platform mentions this multiple times on its home page. If any site demands money to participate in surveys, you should avoid it.
At the same time, you should inform Survey Compare about the incident.
The cost of participating in surveys is your time and effort. So, you should be strategic about it. Complete surveys when you are not doing anything important.
For instance, when you are sitting in front of the television or watching the laundry swirl. Getting paid for the time you would have otherwise spent mindlessly scrolling social media will be nice.
Does Survey Compare Offer a Refund?
You don't pay the website anything for sign-up or for participating in surveys. The same applies to the surveys listed on the platform. Since there is no payment at any stage of the activity, there's no question of any refund.
You might wonder what happens if I complete a survey and don't get paid for it. This is a common problem that survey takers face. It usually happens when you register for a survey and the company hosting it is at the end of their research project.
When they shut down the program, you will notice that the survey you were taking has become unresponsive.
Or, you might not get paid for completing the survey because the host company has already gained the information they need. So, they didn't require any more of your input.
Such a situation can be frustrating.
But you can't hold Survey Compare accountable for this since they are not the ones who are hosting the survey. You have to take your complaint to the site that was conducting the survey.
And whether you get compensation will depend on their policies.
However, you can write or call (020 7424 3137) Survey Compare to inform them about the situation. If there are multiple complaints of this nature regarding a specific site, Survey Compare might remove it from their lists.
Who Is Survey Compare Best For?
In this Survey Compare Review, I tell you the same thing I have told in my other blogs. And that is, surveys are not for making a full-time income. It is only a means of making a little extra cash. This can easily help you understand who the site is for and who isn't.
You should be on Survey Compare if you already have a full-time income. Surveys can be a great way of relieving stress when taking a break from your job.
So, if you have fifteen to twenty minutes to spare during your lunch break, why not take a survey and make five pounds? Or you might do it at all the other times when you are mindlessly surfing the web.
Instead of wasting the megabytes, help companies design a better product and make a few bucks while you are at it.
Who Should Avoid Survey Compare?
Are you looking to replace your job with an online income source? Then don't waste time at Survey Compare or any other platform. Instead, you should be using this time to learn a skill in high demand.
You can find clients for that skill at online marketplaces and make money through freelancing.
Some of the skills include copywriting, programming, graphic designing, web development, and many more. If you already have a high school level education, these skills don't take much time to learn.
A highly dedicated student, who puts all working hours of the day into it, can become competent in these skills in as little as six-eight months.
Is Survey Compare a Scam?
The most important question: Is Survey Compare a scam? The answer: No, it's not. It is one of the most legit survey websites I have come across so far. This platform is the furthest thing from a scam.
I would say, anyone looking to make money from online surveys should start at this platform. Here are my reasons.
States The Reality of Surveys
Most scam survey sites don't inform the users about the reality of surveys. They try to make it seem like you are going to quickly become rich from taking surveys. Meanwhile, the truth is the opposite.
Even the most dedicated survey takers rarely make more than 50$ from taking surveys.
Survey Compare takes a much different approach. From the beginning of their homepage, they tell you that surveys are not a way to 'replace your job'. They forbid you to have any kind of 'unrealistic payment' expectation.
The money you make from the site might buy you a few beers at the end of the month. If you are looking for more than that, the site tells the user you should learn an in-demand skill.
Provides An Address and Contact Info
One of the common signs of scam survey sites is that they don't give you an address. Often there is no information on who owns the site. Nor will they provide you with contact information to forward queries and complaints.
This is not the case with Survey Compare. The homepage features a photo that shows all the smiling, trustworthy faces of the team that manages the platform.
They also provide an email address and a phone number. You are also invited to visit their physical establishment in North London.
Clear on How They Make Money
Most surveys don't tell you the truth about how they earn money. They make it seem as if they are doing you a favour by paying you from their pockets. Survey Compare doesn't lie like that.
They state the truth by telling you that the money comes from the companies they help with market research and donations.
You should also feel good about participating in the platform because they contribute to environmental causes. The platform also raises money for charity through various athletic adventures.
You Get Paid For Real
The problem with many survey sites is that they ultimately don't pay you. This can be very frustrating, especially after all the time you spend signing up and answering survey questions.
So far as I am concerned, Survey Compare doesn't have this problem. I got paid the 15 pounds I made on askGFK using Survey Compare.
And I have also found a large number of positive reviews on the web where the writers report making 30-50$ with the platform. I also noted that there aren't many reviews that completely dismiss the site as a scam.
RELATED: Best Way To Make Money Online For Beginners
Survey Compare Pros
There are many things I liked about Survey Compare in my review. The obvious one is their honesty. They are saving aspiring online earners from wasting their time on surveys.
Meanwhile, they are also helping people with full-time income make a little cash on the side. Here are some of the reasons to be on the site-
Get access to all the legit and well-paying survey sites on the net from one place.
Helps you compare various survey programs to find the one that is worth your time.
Has valid contact info so you can tell them what you think or place complaints.
Helps you participate in market research and contribute to product designs.
User-friendly dashboard and other features.
Survey Compare Cons
I didn't find anything particularly objectionable on the site. However, I would say this again- survey sites are a waste of time if you are looking to build a serious online career.
From that aspect, I wouldn't recommend the site to aspiring online businessmen. Go work on your skill and your business.
You should also remember that companies will keep a survey open as long as they need input. They would close it down the moment they have gained the necessary information.
This means you always have to be prepared to lose a survey halfway or not get paid for it.
Survey Compare Review – Conclusion
Hopefully, this Survey Compare Review answers any queries you might have had about the platform. To summarize, if you have a full-time job and a few fifteen minutes to spare throughout the week- go and have some fun on Survey Compare.
Is Survey Compare legit? It is. Unless you have unrealistic expectations regarding online surveys, the platforms shall serve you to your satisfaction. To end this discussion, I would leave you this advice as always- work on your skill or business if you want to make a serious income online.
Is There a Better Way To Make Money Online?
I know how hard it is to trust websites these days.
There are too many scams out there, especially in the make-money-online world.
I know, because I reviewed over 700+ sites so far!
Why did I review so many sites? Well, I wanted to find the best (and cost-effective) way for a beginner to start income online.
While searching for this information, I bumped into affiliate marketing.
Thanks to a decision to learn more, I went from waiting tables in restaurants to earning a full-time passive income online.
And today, I like helping people as you follow in my footsteps,
Keep reading…
How I Make Money With Affiliate Marketing
I earn online by creating simple affiliate websites that I use to connect people with products they are already looking for.
It requires no special skills or previous experience, which makes it the best way to start online.
The best thing about affiliate marketing is that it is passive in terms of results and income.
In other words, you could be earning an income from your affiliate website for years and years to come, even when you sleep.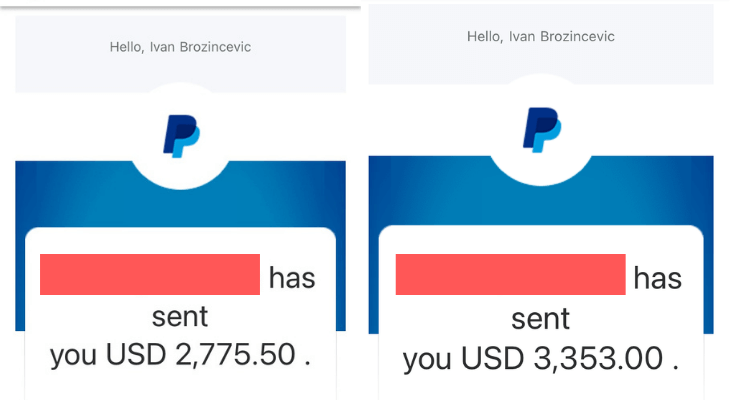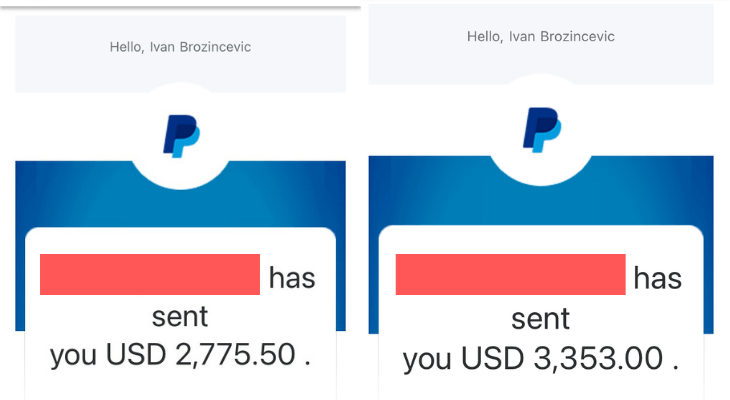 If you want to learn more about how you can start making money online with affiliate marketing, click the button below!
After evaluating over 700+ programs on the web, my conclusion is straightforward. This is the best way to start earning passive income online.
And if you're looking for the very same, I'll see you on the next page…
THE BEST WAY TO MAKE MONEY ONLINE IN 2023 >>
And don't forget to share this Survey Compare review with your friends and family!
All the best, Ivan @freeaffiliatemarketingbusiness.com