Welcome to my Traffic Mate review.
SEO is one of the best ways to get traffic to your business. But, it is also the most challenging way to reach out to people to show them your business.
It takes hours and hours of hard work to become good at SEO, and even then, you have to work some more to get that life-meaning traffic to your business.
But imagine not having to bust your butt for traffic.
Imagine if you can use software that gets you tons of free viral traffic on demand.
How would this change your business?
Traffic Mate plugin helps to sell SEO services, get tons of viral traffic and unique content.
Best of all, it does so on-demand. It takes only one click to activate it, and your business goes from dead to skyrocketing in a matter of minutes.
This could take your business from the dead to soaring in a matter of minutes.
And in the rest of my Traffic Mate review, we're going to find out whether or not this is true, shall we?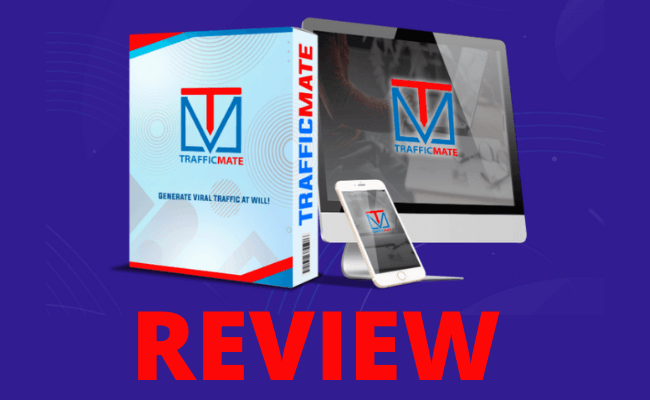 Traffic Mate Review – Overview
Product Type: Traffic Plugin
Product Owners: Radu Hahaianu, Mike McKay & Luan Henrique
Price: $19 + UPSELLS
Money-Back Guarantee: 30-Days (Questionable!)
Recommended?: Not really…
Quick Summary: Traffic Mate is a WordPress plugin that is designed to help users to get traffic on autopilot. It is supposed to work in any niche, etc.
But in my opinion, Traffic Mate is an overhyped product, and here's why.
As you scan through the sales page, you can see some very bold promises and unreal benefits of this plugin. If you don't remember, let me refresh your memory.
Here's an overview of what this plugin will do for you.
TrafficMate gives you instant free traffic from social media!
TrafficMate gets you #1 in Google and Youtube with backlinks and SEO!
TrafficMate generates unique content for yourself and your clients at the push of a button!
TrafficMate is 100% newbie-friendly!
TrafficMate enables you to start your own online business by selling digital marketing services to other people!
TrafficMate allows you to get all benefits of free organic SEO traffic, without ever doing any of the work or creating a single SEO backlink yourself!
TrafficMate provides the ultimate DFY business in a box; this simple software lets you insert any link from any customer and give them back a full report of the optimization that was done!
TrafficMate gives YOU the edge on the competition and puts you at the TOP of both Youtube & Google!
Now, you know that most of these sentences have nothing to do with getting traffic or making money online, but for the sake of this Traffic Matereview, let's say they are valid, and let's take a closer look at this plugin to reveal the truth.
My objective here is not to promote Traffic Mate to earn commissions. I
just want to share my own personal opinion after having gone through 400+ training programs, courses, plugins, software, apps, etc.
On the other hand, if you are getting sick of overhyped plugins, software, and programs that never work, click the button below to discover something REAL!
THE BEST WAY TO MAKE MONEY ONLINE IN 2023 >>
What is Traffic Mate?
Traffic Mate is the easier way to start your own online business and get unlimited traffic to any site on Earth.
It works in any niche, and it is 100% newbie-friendly, which means you don't have to have any previous skills or SEO knowledge. The plugin does everything for you.
It's always lovely to hear these promises, but how much of it is true?
Well, honestly, getting traffic and mastering SEO at a push of a button is going to remain a dream. The creators are overhyping the truth.
Just ask yourself, why are they selling groundbreaking software that could make you millions with free traffic on demand for only $20?
And why isn't everyone using this plugin then?
In a nutshell, the plugin allegedly takes over the authority of any site on the internet and gives it to you, and with authority comes trust.
Then, you can easily convert that trust of your visitors into a river of online sales. It's all done on autopilot and with one click.
Gone are the days where you have to lose sleep to get traffic…LOL!
In addition to this "ground-breaking" ability to take over the authority of large sites, the Traffic Mate plugin comes with a few features that "force" visitors to interact with your site.
This could lead to more opt-ins, leads, better metrics, building a list, and more.
For example, the plugin comes with features that allow you to send visitors to full-screen pop-ups that display your offer or an opt-in form.
You can also add your Facebook messenger button to these authority sites that you'll take over so that you can communicate directly with their visitors.
And if you are curious about whether all this is BS or has some truth in it, make sure to keep reading my Traffic Mate review.
Related: 10 Minute Traffic Review
Who Are the Owners?
The brains behind this plugin are Radu Hahaianu and his partners, Mike McKay and Luan Henrique.
If you've been around the making-money-online niche for a while, then you may have heard about Radu Hahaianu and his associates.
They are behind a lot of these overhyped products and software.

And as you're about to see in the rest of my Traffic Mate review, this plugin is nothing special and most of the promises about getting free traffic and mastering SEO in a matter of minutes are fake.
Shocked?
What You Get With Traffic Mate
Before we dig in into details, let me show you what you get with the plugin.
Traffic Mate Powerful WP Plugin
Traffic Mate WordPress plugin is designed to show you how to take over the authority of large authority sites and take their traffic for free in just a few clicks.
The moment you take over the website, you can use that traffic to send it to your own site, YoutTube video, affiliate links, etc.,
Step-By-Step Video Training
To help you learn and understand how this plugin works, the owners had included a set of step-by-step training videos.
These could help you to get the best results as soon as possible. You even get to learn some make-making and list-building secrets too.
Technical Support
It's unrealistic to expect that you'll master this software from the first try. That is why the creators give you access to a technical support team in case you get stuck.
All you have to do is send them an email and wait for the best.
To sum up, here are the top features of the Traffic Mate plugin:
Get 24/7 access
Create 100s of backlinks with just one click
One on one support from successful leaders
One-click SEO inbuilt ranking
Social media linking tool
Keyword research tool
Great efficiency
Transparent
Simple
compliant
Professional team
Very much profitable plans
Secure control panel
How Does Traffic Mate Work?
Here you are at the most crucial section of my Traffic Mate review.
I'm about to show you how this plugin works and how you can use it to "take over" the authority of any site on the internet and send tons of free traffic to your own online property to make tons of free money.
Here are three simple steps to activating the traffic with this plugin:
Step #1 – Instal the Plugin to WordPress
Step #2 – Insert the Link You Want Traffic to
Step #3 – The Software Does the Work For You
After you follow these three steps, you'll be able to get traffic in three different ways:
Social Media Traffic
Auto Content Creation
SEO Traffic
Social Media Traffic
So, for example, you can log into the Traffic Mate plugin and share your content on social media like Facebook and Twitter to get viral traffic.
However, for this feature of the plugin to work, you'll have first to accumulate a vast social media following.
The social media traffic feature is not going to work correctly if you don't have tons of followers.
But if you do, however, then this feature is going to help you to bulk and share all your content on social media in just a few clicks.
For now, only two channels are available, Facebook and Twitter.
Auto Content Creation
The second feature of the plugin gives you the ability to create content using other people's content.
The software is going to use content spinners to create unique content for your site so you don't just copy and paste other people's content to your site, which could lead you into trouble with Google.
You can leverage the software to get three types of content, text, video, or images. So if you chose to get some textual content, the first thing you have to do is select the category and enter the keyword related to your niche.
You'll find a lot of categories from:
health and fitness
automotive
real estate
dental care
personal training
and more
Once you finish the search, the software is going to show you a list of content you can use.
All you have to do is select the articles you want, click on a spin content feature, and you get unique content you can then publish on your website to drive free traffic from Google and search engines.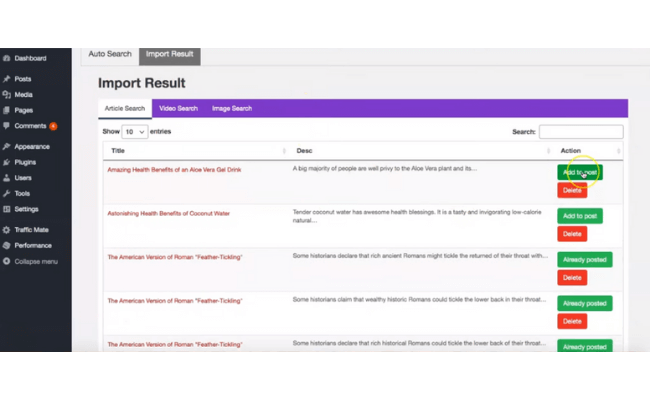 Also, to make your content more unique, Traffic Mate allows you to customize the content. You can edit words, add images, change titles, add more keywords, add videos, etc.
A word of caution is needed here.
You see, content spinners are not the best way to create content.
This is known as a grey hat SEO which means that these methods are not welcomed in the eyes of Google and other search engines.
They want you to create your unique content and will give you high rankings if you do so.
If you're going to copy and paste and then use software to scramble the words a bit, I'm more than sure you won't achieve long-term success in search engines.
Also, you're getting yourself in danger of being penalized for using duplicated content.
SEO Traffic
You can use the SEO traffic feature of the Traffic Mate plugin to get backlinks to your site. It's a known fact that Google loves sites that get the most backlinks.
However, it's important to say that not all backlinks are created and valued equally.
You need high-quality backlinks to get love from Google.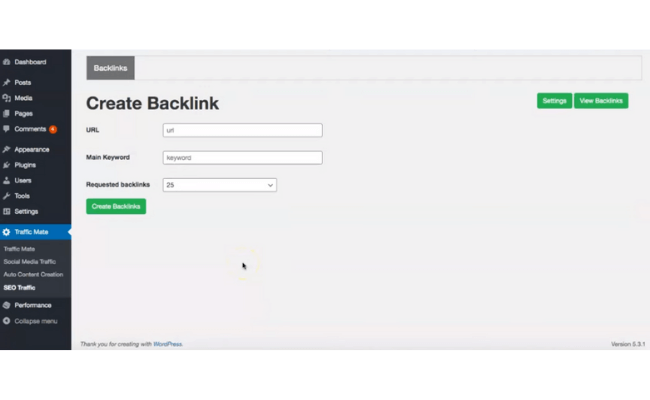 All you need to do is paste your link, your main keyword, how many backlinks you want, and you click create backlinks.
That's it. They create backlinks so you can get better rankings on Google.
But this feature comes with a word of caution.
I know for a fact that Google will not take into consideration just any links.
You can use Traffic Mate to get 10,000 backlinks to your site, but if they are low authority backlinks, Google will consider them worthless, and they won't change a thing in your SEO.
Moreover, I know for a fact that getting high-quality backlinks to your site is a task that takes a lot of work. It would help if you had a good reason why authority sites will link back to your site.
What do you think? Do they share backlinks like that? No! You need to earn it.
So forgive me for being skeptical that the Traffic Mate plugin and all its features are overhyped and could lead you more into trouble than they could benefit your business.
Traffic Mate Review – Price and OTO
Traffic Mate plugin is priced at $18 one time. With this purchase, you're getting access to those three features mentioned above in the review.
Also, if you take action and buy the software, you're going to get a 30-day window to ask for a refund in case you don't get results.
And if you buy the software, you're also going to get a chance to purchase these OTOs:
OTO #1 – Pro Version ($67) – This upgrade gives you access to the unlimited version of the plugin, 54 SEO features, in-depth training, and more.
OTO #2 – DFY Package ($47) – This TrafficMate DFY upgrade shows you in-depth how to sell your products, leverage your traffic and use everything inside TrafficMate to start an online business.
OTO #3 – Reseller Licence ($67) – With this Traffic Mate Review page, you can get an agency license to TrafficMate. Which means you will keep 100% of what customers pay you. Plus, the owners take care of support and give you access to all the resources and everything.
OTO #4 – Internet Marketing X ($67) – This upgrade gives you access to new products that owners release every month. They will include more coaching, strategies, resources, etc. To help you sell these.
If you're tired of overhyped products and turbo-expensive sales funnels, but you still want to earn an income online, check out this PROVEN SYSTEM below I use to earn a consistently increasing passive income online!
THE BEST WAY TO MAKE MONEY ONLINE IN 2023 >>
What I Like About Traffic Mate
One of my favorite things about Traffic Mate is that it comes with some cool features and is easy to handle. I'm not sure this is going to work as promised, but it's sort of a useful plugin.
Moreover, if you buy it, but you don't like how it performs, you can ask for a refund during the first 30 days, which is another thing I like about this product.
The Plugin is Easy to Navigate
Come With Some Neat Features
30-Days Money-Back Guarantee
What I Don't Like About Traffic Mate
I'm a person who has a lot of experience online. When I see the Traffic Mate sales page and all those unrealistic and overhyped claims, my scam alarm goes off.
It's never going to work as the owners claim on the sales page.
See, they boldly claim that Traffic Mate can do things that are literally impossible and every experienced marketer knows it.
For instance, there's no such thing as an instant authority and no plugin can achieve this. Authority is something you have to build over years and years of HUSTLE!
On top of that, Traffic Mate uses a few shady (read Grey Hat) SEO methods that could get you in trouble with Google easily.
You don't want to risk all of the hard work to some plugin that uses shady SEO…
The next thing about Traffic Mate is the sales funnel. I just hate upsells. When I see an overhyped sales page, and cheap price ($20), I know that there are going to be at least 3-5 upsells waiting for me as soon as I get inside.
Not cool.
Overhyped Promises and Claims
You Can't Get Instant Authority and Traffic
Base on Gray Hat SEO (Could Get You In Penalty)
It's Not Beginner Friendly System
Comes With Expensive Upsells
Is Traffic Mate a Scam or Legit?
The only reason why I'm not going to say that Traffic Mate is a scam is that you do get a neat plugin for less than $20. That's it.
Everything else related to this plugin is overhyped and blown out of proportion for the sole purpose of driving more sales to the owner's account.
You see, SEO and traffic generation is a serious business.
Everyone who is either doing or teaching SEO knows that getting instant free traffic and "stealing" authority are words that do not fit into the game. Search Engine Optimization means helping other people by writing unique and helpful content.
That's the only way to master SEO to get free traffic to your online business.
Moreover, Traffic Mate could get you into more trouble than it could do you good.
You see, the feature of the software that creates content for you uses content from authority sites. It spins the words and creates a semi-unique version of the same piece of content.
While in some areas, this way of content creation could result in fast rankings and traffic, it could also lead you toward penalty.
And if this happens, you're going to lose a lot of time and work for nothing.
That said, I do consider Traffic Mate to be a legitimate plugin, but the methods upon which it is based are not ethical, and that is the main reason why I don't recommend it.
Besides, the sales page is the second biggest reason why I'm not going to promote this plugin.
The final decision is yours? What do you think? Is it a scam or legit?
Related: Traffic Takeover Review
Traffic Mate Review – Conclusion
All these things this plugin does for you are the very same things every SEO person should be doing manually.
In other words, you shouldn't be using a plugin to create content and get backlinks. Automation is the top reason why Google is releasing so many updates every year.
The only feature of Traffic Mate that I consider useful is social sharing. You can share all your content is just a few clicks on Facebook and Twitter.
And if you have a mass of followers on those two social media networks, you could get some instant traffic to your site.
But once again, do not expect fast results or instant rankings.
The sales page for this product is jam-packed with overhyped BS.
Thanks for reading my Traffic Mate review. I hope you can now make a well-informed decision. And if you need more information, make sure to leave your questions and comments in the section below.
BONUS – How To Master SEO and Make Money Online
As I said, plugins and automatization could only get you in trouble. You don't want to use content spinners like Traffic Mate to crate content or software to get some worthless backlinks.
Instead, you want to learn white hat SEO.
White hat SEO means that you build a website, just like mine, and publish your unique content, just like I do.
And then, you submit your work to Google and wait for them to decide whether your content deserves 1st-page rankings or not.
The key to success in SEO is quality, quantity, frequency, and consistency. In other words, if you can publish high-quality content daily for an extended period (1 year at least), Google is going to notice your website.
And once you get seen, they will start sending you tons of free traffic.
The condition is, you need to follow Google's guidelines for SEO. That means no software and plugins that cheat the algorithm as Traffic Mate does.
Those things are nothing but a quick way to failure.
If you want to learn how to master SEO and make money online, make sure to click the button below…
THE BEST WAY TO MAKE MONEY ONLINE IN 2023 >>
If you need any help or you have a question, feel free to contact me.
And don't forget to share this Traffic Mate review with your friends and family!
All the best, Ivan. Founder, and CEO @freeaffiliatemarketingbusiness.com