Welcome to my Warrior Commission Academy review.
I'm a member of Aidan Corkery's mailing list, and today, I have received an email from him to try out a brand new method that combines WarriorPlus and Messanger Bots to make passive income online. I was interested in learning more so I decided to write up this review.
Aidan says that this method is guaranteed to help your bypass two biggest issues most newbies have. One is getting approved for high-ticket products that are proven to convert and the second one is getting traffic to your sales pages once you have gotten the approval.
And that is where the Warrior Commission Academy training course comes into play. Aidan has come up with a system that is going to help you to smack two birds with one stone. If you're curious about learning more, make sure to read the rest of my review.
Let's get started with a product overview…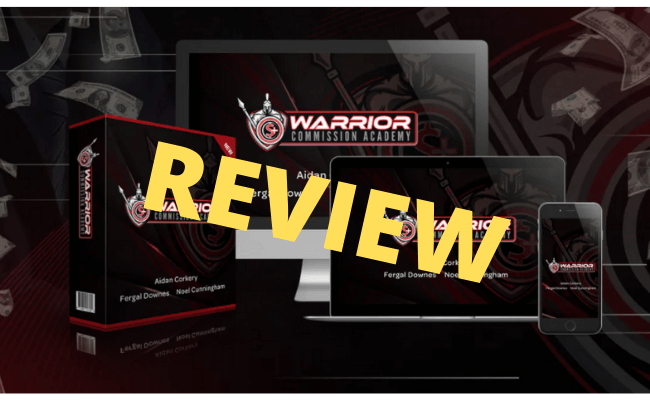 Warrior Commission Academy Review – Overview
Product Type: Affiliate Marketing Course
Product Owner: Aidan Corkey
Product Price: $12.95 + 5 Upsells
Recommended?: Yes, But Not For Beginners
Quick Summary: Warrior Commission Academy is a brand new training course created by Aidan Corkery. The program is designed to show you how to combine high-ticket affiliate products with sales funnels and chatbots to make money with affiliate marketing.
The training program itself is selling via Warrior Plus for $12.95 and it comes with a 30-day refund policy as well as a set of five upsells that are, in my opinion, needed to complete this training program.
That said, Warrior Commission Academy is a legitimate training program. The system that you can learn from this training has the potential, but only if you put your head into it and take OTOs. The main sales page might have given you the wrong idea about what this product is, which his the only red flag I've found.
On the other hand, if you don't want to spend time and money on unreliable training full of upsells, make sure to click the button below and check my top recommended program for making money online…
CLICK HERE TO DISCOVER THE BEST WAY TO EARN AN INCOME ONLINE >>
What is Warrior Commission Academy?
Warrior Commission Academy is a step-by-step training program that is going to show you how to increase your sales and commissions using a powerful combination of Messanger Bots and Warrior Plus platform.
Here are some of the top features and benefits of this training program.
In my opinion, the sales page is overhyped and some or even most of these claims are pure hype that has nothing to do with real life and how this product really works.
The training program is based on three simple steps. These steps include:
getting approved to promote high-ticket Warrior Plus products
setting up your sales funnel
getting traffic to your sales pages and making money
Warrior Commission Academy also contains a set of DFY sales funnels that Aidan has personally used in his own campaigns. These funnels have gotten results and you too can use them to try to do the same.
One thing that caught my attention were those claims how this program is going to solve the second biggest issue most marketers have. In other words, Aidan promises to show you how to use Messanger bots to get viral traffic to your offers.
That said, let's see the next section of my Warrior Commission Academy review to find out how this training is going to help you to get traffic and to make some money online as well.
Related: Cyclone Software Review
How Does Warrior Commission Academy Work?
Once you get started with the training program, you'll get access to six training modules that contain 17 videos. In my opinion, this is a bit short, but let's not make any judgement yet. There's a lot to cover.
So as I was saying, the Warrior Commission Academy training program is designed to show you how to promote high-ticket products from Warrior Plus platform through a combination of funnels and Messanger bots. The latter feature is getting more and more popular in the world of affiliate marketing because it gets results.
Here is how this system works according to the sales page: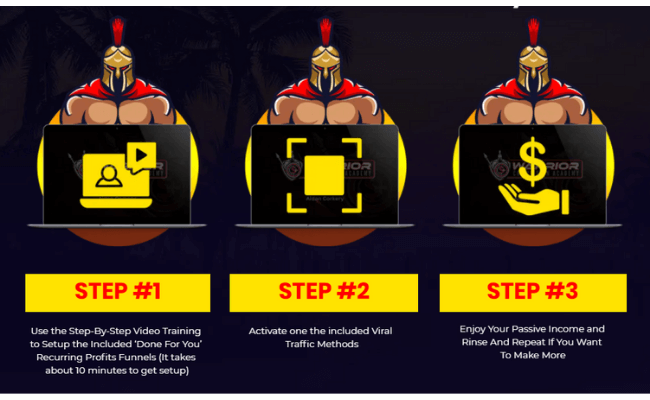 But as you're well-aware by now, these claims are not the real reflection of the system inside. Here's the untold truth.
Thought the training, you'll get a chance to set up your own sales funnels. But firstly, you'll have to get approval from Warrior Plus vendors to promote their products. This process has been explained with training videos.
Then next big part of the process is going to be building your own funnels and installing and setting up Messanger Bots. These bots are going to act on your behalf each time a potential customer lands on your sales page. Once again, this process has been explained within Warrior Commission Academy training videos.
If you don't want to build your own funnels, Aidan has included a set of DFY sales funnels that he's used in his campaigns and that have gotten results. This might be a good option if you're looking for a sure thing.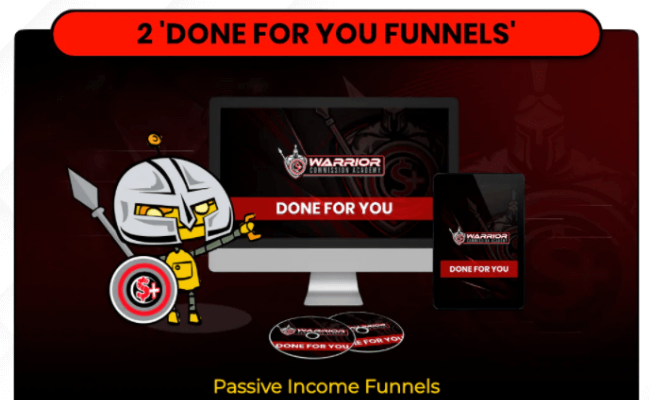 After you set up sales funnels with Messanger Bots installed, you will have to start promoting your pages to get traffic. And this is where, in my opinion, Warrior Commissions Academy falls a bit short. Aidan does not go in-depth with this topic and instead, he's decided to upsell you more expensive parts of the program where he helps to bridge this gap.
This move is a classic thing with affiliate marketing training courses these days, so I'm not surprised at all with this move.
You do, however, get a set of Warrior Commission Academy bonuses that include some lessons on getting traffic to your funnels. This could be used to accomplish the feat. And if you manage to do so, the result should be affiliate commissions.
To conclude this section of my review, I think Warrior Commission Academy is the way too overhyped product. Surely, this could work if you are ready to put your head down and give your best shot. But I do mind some claims from the sales page that are giving you a bit of false hope.
What You Get With Warrior Commission Academy
In this section of my review, I'm going to show you a detailed set of features that come with the Warrior Commission Academy training program. Some of them have been already mentioned, but here, I give you a complete breakdown of all features in one place.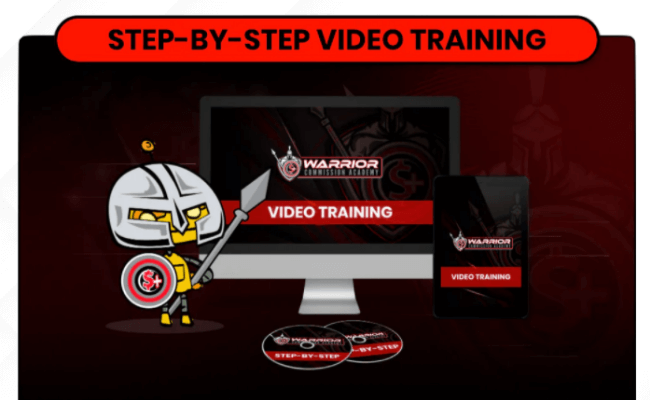 Here's what you get with this program:
Step-By-Step Training Program
Viral Traffic Methods
2 DFY Passive Income Funnels
Bonus #1 – Elite Buyer Traffic
Bonus #2 – Ultimate Bot Opt-Ins
Bonus #3 – Untapped Bot Traffic
Bonus #4 – FB Bot Traffic
Bonus #5 – Emoji Traffic
Bonus #6 – Super Solo Traffic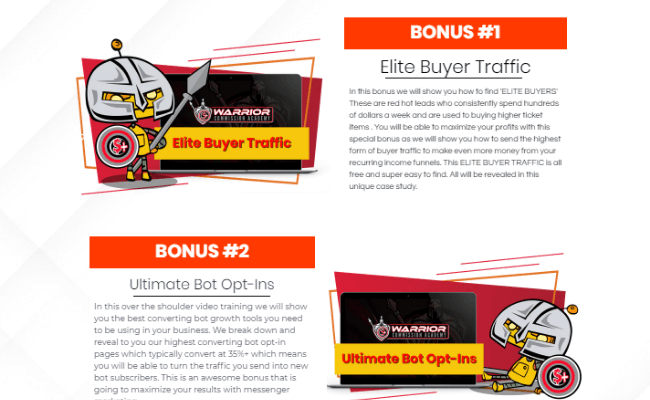 The last six features are something that you can use to learn how to get traffic to your sales funnels. You see, the first part, setting up and getting approved is practically DFY. All you will have to do is follow the instructions.
However, the second, and most critical part of Warrior Commission Academy, is in a do-it-yourself format. This means that those promises from the sales page such as "activate your free viral traffic to make sales" are nothing but a bunch of white lies.
In other words, you'll have to go through these six bonuses and dig out the method that is going to work for you. My suggestion would be the last one, Solo Traffic. It's a paid traffic method, but it's one of the surest ones out there if you know what you're doing, of course.
Also, Aidan has decided to offer some OTOs in before and after you get access to the members' area. That said, let's go over the Warrior Commission Academy price and the sales funnel to reveal these as well.
Warrior Commission Academy Review – Price 
Warrior Commission Academy is selling for $12,95 one time plus five one-time-offers that complete the basic package. Speaking of which, here's a breakdown of OTOs:
OTO #1 – Done For You Bundle ($37)
Here's what the first OTO is all about:
Guaranteed Approval To Promote High Converting Affiliate Offers
10X Your Results With Done For You Coupon Codes To Drive Hungry Buyers To Your Promotions
Done For You Eye Grabbing Voucher Images
Done For You High Engagement Facebook Posts For Each Approved Offer
Done For You Many Chat Follow Up Sequences To Increase Your Conversions
Done For You Lead Magnets & 100% Resell Rights To Drive New Buyer Leads Into Your Business
OTO #2 – Buyer Extractor Case Studies ($17)
These are the features of Buyer Extractor Case Studies OTO:
Getting people from Facebook on to a Bot is probably the most challenging thing you will encounter when you begin to grow your bot list from scratch.
With these 6 'Buyer Extractor case studies you will get trialled and tested techniques that will easily get buyers from Facebook to your bot landing pages.
This product is highly recommended for new marketers starting out with the Infinity method
OTO #3 – Done For You Buyer Bot ($197)
The 'Done For You' Buyer Bot OTO is a completely automated system that comes with:
2 Completely 'Done For You' Bot Sequences – Just follow the simple instructions to get these set up, and within a few minutes, you'll have a fully automated system that turns your traffic and leads into money in your pocket.
2 Completely 'Done For You' Bonus Review Pages – These product review pages are professionally designed and proven to boost your results.
100% Commissions on 2 Top-Quality Digital Products- It can be hard to get approved to promote some products, but when you get this upgrade, you're PRE-APPROVED to promote 2 hot products.
OTO #4 – 1-on-1 Coaching ($97)
This OTO is designed to show you how to build messenger bot subscribers using both free and paid traffic methods. This is, in my opinion, the missing link from the basic package.
OTO #5 – Platinum Affiliate DFY Funnel ($127)
The last OTO in Warrior Commission Academy funnels is a tested and proven funnel that you can use to start earning affiliate commissions right away, according to Aidan. It comes with instructions on how to promote it using a free traffic method.
Related: EZ Passive Paydays Review
Is Warrior Commission Academy a Scam?
At first sight, I was a bit sceptical about Warrior Commission Academy and I was sure it is going to be a scam. The sales page leaves a strong sense of a get-rich-quick scam for sure.
However, I have gone through the product and saw all the features, bonuses, and upsells and could say that it is legitimate. It's not completely honest and transparent, but it is based on legitimate methods for making money online that worked for Aidan Corkey and his team.
What I Like About Warrior Commission Academy
Step-By-Step Training Included
2 DFY Sales Funnels Included
Six Traffic Bonuses
Affordable Front-End Product
30-Days Money-Back Guarantee
What I Don't Like About Warrior Commission Academy
Overhyped Sales Page
Front End Product Falls Short
OTOs are Needed to Make it Work
Related: 24 Hour Commission Academy Review
Warrior Commission Academy Review – Conclusion
Overall, I believe that the Warrior Commission Academy is a good product. The front-end product comes for a low price as well as the 30 days money-back guarantee, which makes it a safe purchase.
The front-end product might not be enough to make you any money, but it still brings some value on the table. I feel like a beginner user will have to purchase upsells to achieve success with this system. That is my objective opinion.
However, I personally don't recommend products like Warrior Commission Academy to my readers. One of the main reasons is the hype from the sales page. The second reason is that the product is not complete without upsells. Lastly, there are no guarantees that this is going to make you any money.
What do you think? Is this program legitimate? Let me know what you think in the comments section below, and thanks for reading my Warrior Commission Academy review. I hope it was helpful.
While you're here…
If you're looking for the best way to make money online, make sure to check my recommendation below…
CLICK HERE TO DISCOVER THE BEST WAY TO EARN AN INCOME ONLINE >>
If you need any help or you have a question, feel free to contact me.
And don't forget to share this Warrior Commission Academy review with your friends and family!
All the best, Ivan. Founder, and CEO @freeaffiliatemarketingbusiness.com