Welcome to my Writers Work review.
What is it about? Can you make money with this site? Should you join the platform or not? Most importantly, is Writers Work a scam or legit? You're in the best place to learn more!
A few weeks ago, while searching for an extra way to earn an income online, I bumped into Writers.Work website.
As a blog owner and amateur writer, I was immediately interested to learn more about this gig. After all, writing for other people can be a lucrative side hustle, wouldn't you agree?
However, the main problem with these sites on the internet today is that we don't know whether it is legit or not.
Of all people, I should know this because I have actually tried and tested 600+  courses, scams, and all sorts of schemes to find the best way to make money online.
That said, the same question applies today: Is Writers Work a legit website or just another scam?
This review will take an in-depth look at the specs of Writers Work platform. I will help you to learn whether it is a legitimate site for writers or another online scam.
Throughout my Writers Work review, you can rest assured that you will get an honest and unbiased review from me.
Shall we get rolling?
Writers Work Review – Overview
Product Type:

Writers Work

Owner:

Unknown

Price:

$47 one time payment or $15 per month

Recommended?:

Read my

Writers Work

review and find out
Overview: Writers Work is an online website for writers that offers various tools and services for writers.
The website has job listings for freelance writing work and a database of publications that accept article submissions.
If you are a subscriber, you'll get access to various tools such as an online portfolio, document editor, grammar checker, and a basic project management system.
Writers Work offers training materials for you to help you learn the basics of writing and help you establish a writing career, start working at home, and make some money.
Let me remind you that Writers Work doesn't employ new writers directly or hand out writing jobs. 
The jobs available on their platform are with clients that you have to apply to individuals.
Also, signing up to Writers Work doesn't guarantee that you will get any clients or an income because you have to do the groundwork to win each writing job.
That said, you have to be brutally honest and let them see that you are good at writing to compete as a freelance writer.
Now, let's take a look at this Writers Work review and see what you will get from this website.
Alternative: My #1 recommendation is a top affiliate marketing course that helps to build a successful online business from scratch! I used this exact system to go from $0 to earning $100's per day! Learn more below!
THE BEST WAY TO MAKE MONEY ONLINE IN 2022 >>
What is Writers Work?
Writers Work is a website that is designed for freelance writers.
It is an online platform that offers services for new writers, such as training materials, listings for jobs, and features designed to streamline writing from developing content.
Basically, this website enables writers to find writing work posted by the clients, and once it is done, the writers get paid. 
Writers Work allows you to work from the comfort of your home. In other words, they manage all the writing jobs by communicating with clients, payments, and writing reviews.
There are various types of writing jobs available on this website, such as:
writing content

blogging

copywriting

social media posts
They claim to be a one-stop shop for freelance writers as they offer job listing features, writing tools, and training modules for you.
Furthermore, Writers Work offers a personal project management system that will help freelancers organize their tasks. 
Also, they offer various features to their subscribers, including a list of publications seeking pitches, a web-based text editor, an online portfolio area, and a Writer's Work University. 
One of the main questions in my Writers Work review is; Is Writers Work a scam? The answer is coming soon! If you like video reviews, below is my friend Roope's review:
How Does Writers Work Work?
Signing Up
The signup process is simple, and all you need to do is put your email address and credit card details. 
Once it's all done, you'll gain access, and there you will be guided through the initial setup for your profile and get started.
Once everything is done, you will gain access to their dashboard, and there you will see different features, and a tour function begins automatically that will help you understand each part of the dashboard.
Job Search
For you to make money from writing, you need to find a job first.
The good thing about Writers Work is that they have a job listing for you as there are few of them on the list.
You can search for particular keywords to find a job or use a series of search filters. 
Here is the list of jobs:
JournalismJobs

Mediabistro

Indeed

Problogger

Craigslist

Writers. Work 

Telecommunity

Freelancewritinggigs
It is nice to have these jobs listed because it saves you a lot of time.
However, I like to point out a couple of issues here, like the existence of very old job adverts that mean that you have to pay attention to when the jobs were posted. 
The other issue is that in Problogger, upon searching for a job there, I found some up-to-date listings that haven't been found on the Writers Work. 
Related Review: Write Your Way To Freedom
How To Apply for a Job On Writers Work?
If you plan to apply for a job, it is important to note that the procedure will depend entirely on the individual job.
Once you have found a job that you are interested in, all you have to do is click on it, and it will take you out of the dashboard and to the original job advert. 
From there, you have to follow the instructions on the job listing. 
This means emailing a pitch or applying via a different website. 
Writers Work isn't supplying the jobs. It is merely organizing a list of what is available. 
Submissions
Writers Work also has a list of publications that accept article pitches and pay for the content.
There are plenty of publications listed here, and if you search for it using a keyword, you might find some things that you like to write about that suit you. 
The Text Editor
You can use Writers Work to create your written content. 
The functionality of the text editor is not that good as it covers basic formatting and image insertion. 
Once you have created a document in the editor, you can export them as PDFs or Word files or publish them directly to WordPress or Medium. 
Spelling and Grammar Checks
Here, Writers Work editor includes some useful grammar features that will analyze and check your writing for readability.
This one is helpful because it will help you work on writing and help you shake off bad habits like using clichés are producing overly word sentences.
Portfolios in Writers Work
Writers Work also gives you a portfolio for your Work where you can share it with potential clients.
With this, you can list the services you can provide to your clients and show them your previous Work.
You can also link your social media profiles by putting your information about yourself and putting all your writing work so that your clients will see it.
Goals and Time Tracking
This one gives you the ability to set goals such as writing words per day on a specific project. 
As for the time, tracking will show you how many hours you're going to write per day.
Training Materials
With Writers Work, you'll get access to a small collection of training materials called the Writers Work University. 
It is a small online course with three modules and 19 video lessons that each video span only for a few minutes. 
The contents are put together well and cover topics such as sending pitches, building a portfolio, and managing the freelance writer's practicalities.
Related Review: High Income Copywriter
How Much Does Writers Work Cost?
There are two options with Writers Work if you plan to join.
The monthly membership is a good way to test the website and see whether you like it or not. On the other hand, $47 for lifetime access is an amazing deal!
The first option costs a one-time payment of $47 and the second option is $15 per month.
There is also an upsell here with Writers work that will cost you more than $200.
Here are the upsells:
The first offer is $99, including a one-to-one 30-minute writing coaching session and a Freelance Writers Toolkit. 

The 2nd one is a 30-page freelancer's playbook eBook that costs $29. 

The last one is two extra video courses that cost $99.
It is up to you if you want to buy this or not, it is your choice.
Do Writers Works Offer A Refund?
Writers Work offers a 30-day money-back guarantee, but there are complaints that some people have difficulties claiming their refunds within those 30 days over the years. 
For example, the BBB or Better Business Bureau gave the company an "F" grade rating and a 1.4/5 star rating.
See the image below:
As you can see, they are having trouble getting their money back even though one of the customers said that he/she demanded a full refund.
They said they would issue in 10 business days, but in the past 10 days, there is still no refund. 
How Much Can You Make With Writers Work?
It says that you can start earning from 20-65 dollars per hour as a freelancer within 30 minutes.
However, these rates are unrealistic, and there is no telling on how much you can make, and you might even get zero outcomes when taken lightly.
All the jobs listed come from third-party sources, so there is no fixed amount you can expect to earn.
Like I said earlier, the site doesn't hire writers directly. 
Related Review: Write to 1K 
Is Writers Work a Scam?
In this Writers Work review, I can say that Writers Work is not a scam. The price is not that bad as you can afford the $47 one-time payment and $15 per month, but that doesn't mean it's worth it.
As you can see, the website does offer quite a lot for the money, as you can see the upsells above.
Also, there is an issue with their refund, and there is no guarantee that you will get the job directly.
Not just that, the rates that they give you are unrealistic, and there is no telling on how much you can make, and all the jobs listed here come from a third party, so there is no fixed price.
The refunds issue bothers me. That is why I can't recommend this website to you because I don't want you to end up like them.
Another reason why I don't recommend it is that I prefer to write for myself and earn passive income (a much better way to make money from your content)!
I'm not saying that Writers Work is not legit! It is, and you can make money with it. It's just that I don't feel that it is worth time and effort.
Also, you would want to avoid the Write App Reviews scam. It is a 100% scam website that lures writers to post fake review articles.
So if you're looking for the best business model to earn passive income online as a beginner, there are other, more suitable, and cost-effective alternatives.
My top-rated course has helped me to go from earning $0 to $100's per day!
THE BEST WAY TO MAKE MONEY ONLINE IN 2022 >>
Is Writers Work Legit?
Writers Job is a legit website for freelance authors. It lists great deals of freelance opportunities. Also, it supplies online tools and training products for brand-new writers.
Nonetheless, the platform has a questionable reputation, largely thanks to its way of advertising.
For example, people take issue with the means it is advertised as a platform that assures you high paying composing work.
Yes, the prospective to make money exists, but it doesn't occur overnight.
However, Writers Job reviews have actually boosted as they work to correct these issues.
So, yes, Writers Job is a legitimate freelance writing system! You will certainly receive the features and jobs when you enroll in a membership.
By the way, one of the websites in this niche that you want to avoid is called Paid Online Writing Jobs! It's a scam that tricks people into signing up for fake work!
What I Like About Writers Work
Low price

Plenty of job listings

Easy to use

Portfolio feature
What I Don't Like It
No way to filter older opportunities

Refund Issues

F rate on BBB

Upsells

There is a possibility that you won't get hired
Writers Work Review – Conclusion
Writers Work offers some good tools and teaching content, especially for beginners and new freelance writers who want to make money online or work from home.
However, the problem with Writers Work is their refund. As you can see on BBB, there are many complaints out there, and not just that they got a bad rating with their customers.
That is why I can't recommend this website and suggest finding another website that offers a writing job that offers a good rate.
There are many writing jobs out there that some of them pay so decent money that you don't have to pay to get a job.
There are many online jobs out there, such as Freelancer, Fiverr, Upwork, and many more on the web.
Of course, to get a job, all you need to do is create a resume that showcases your skills and work.
Always keep your resume ready and fill out those application forms for jobs that best suit you.
This concludes my Writers Work review. I hope that I have answered all your questions about this website.
How To Turn Your Writing Into Profits
If you're looking for ways and means to turn your writing skills into an income online, you should check out my top-rated program first.
The program that I recommend on the next page has helped me to reach the status of an online entrepreneur in a short period, and I'm confident it could help you too!
You can learn how to create your own blog website, write your own content, and earn passive income with affiliate marketing!
I went from struggling marketer to earning $100's per day promoting ANY products I choose and I want to show you how you too can do the same.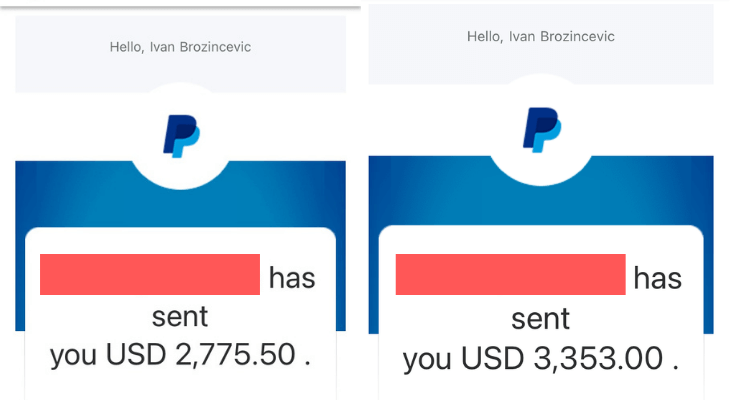 Among the best features of my # 1 ranked course is that you can start for free. You will get one complimentary site and access to the very first ten lessons from the course to try things out.
Furthermore, this program is in fact all-in-one. You get everything that you need to make money online.
This consists of detailed training, all the very best tools, hosting and websites, live assistance, community aid, technical assistance, one-on-one coaching, and so much more!
After evaluating over 500 programs on the web, my conclusion is easy. This is the best method to make money online.
And if you're looking for the very same, click the button below!
THE BEST WAY TO MAKE MONEY ONLINE IN 2022 >>
And don't forget to share this Writers Work review with your friends and family!
All the best, Ivan. Founder and CEO @freeaffiliatemarketingbusiness.com
Related Review: Elite Blog Academy