Welcome to my AffiliSites PRO review.
Four figure daily commissions, epic new software, and no experience or tech skills sounds pretty awesome! However, it would've been even better if it's really like that.
I bet that every single person in this world, including you too, wants to make money without having to lift a finger. I mean, 100/100 will say, yes, I want to live like that.
Who wouldn't want to make 1000's in passive commissions with no online experience whatsoever, with AffiliSites PRO, right?
Now, a quick snap back to reality.
I know that a sales page like the one you've just seen sounds and looks incredible. But honestly, that's all thanks to ClickFunnels, a landing page builder that creates such cool looking sites.
I reviewed a few products from Glyn Kosky so far and was not so impressed. Most of his programs, including AffiliSites PRO, probably won't make you a single dime and this review is going to show you why.
By the way, congratulations on researching before getting into things headfirst. That's how you avoid time and money wasters and find the best way to make money online.
Now, it's time to show you the rest of my AffiliSites PRO review. You'll learn what it really is, how it really works, and whether it is a scam or legit!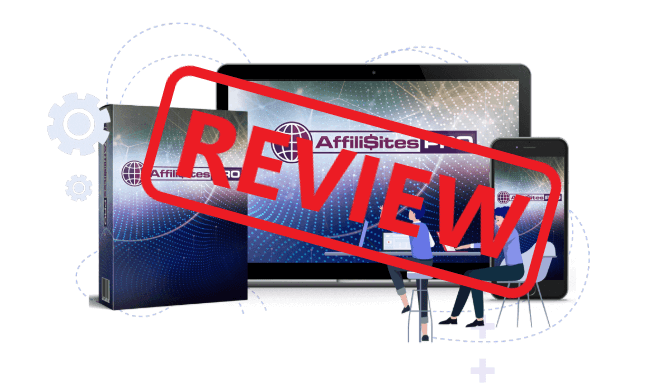 AffiliSites Pro Review – Overview
Product Type: Affiliate Marketing
Product Owners: Glynn Kosky
Price: $20 + Hidden Upsells
Money-Back Guarantee: Yes
Recommended: No
Quick Summary: AffiliSites Pro, at first glance, looks like a good product. The sales page is appealing, especially if you are a newbie.
However, like with every other offer out there, the story behind the scenes is a world for itself.
You see, in reality, this program is about affiliate marketing, which is a completely legit method for earning an income online.
And one of the best ways to do so is by engaging in creating product reviews on a website just like mine, for example.
In more detail, the AffiliSites PRO software will give everyone who buys this program access to the same set of DFY reviews and show how to share them online to make money on commissions.
But there is more than one problem with this. Firstly, reviews are looking bad and pretty generic (read soulless).
Secondly, search engines will knock them down as duplicated content as soon as they pop out.
Thirdly, the only hope of getting free traffic is social media, but if you don't have the following, that one is gone as well.
The problem with AffiliSites PRO is that there is no legitimate training inside except a few video tutorials. You will not learn how to get traffic on your own.
However, they will offer you instant upsells as soon as you join that solve this little "problem."
In my opinion, and as you are going to learn too with this AffiliSites Pro review, this offer is nothing but an overhyped sales page and owners attempt to make money off you.
Not recommended!
Alternative: My #1 Recommendation is a 100% legitimate affiliate marketing course that helped me to go from $0 to earning $100's per day. Wanna follow in my footsteps?
THE BEST WAY TO MAKE MONEY ONLINE IN 2023 >>
What is AffiliSites PRO?
AffiliSites PRO is, allegedly, some new software that creates 1-click done-for-you sites that generate 4+ daily figure commissions.
And the best part is. You don't need any skills or experience to make it work.
All you need to plug in some secret software and the money starts to roll in like magic.
With this software, there's no content creation, no paying for traffic, no list needed. Everything is 100% done for you.
AffiliSites PRO even has a built-in free traffic source. There's nothing to install since everything is cloud-based.
And the second-best part is, it all takes simple three steps.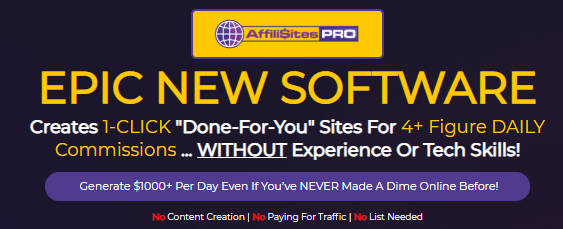 As I've said, it would've been everyone's dream come to life if something like this exists.
Well, honestly, the software is real, and I'll explain how it works soon.
But everything else is nothing but a fog in your face, which clears away after you pay for it and realize that you probably won't make a dime with this program.
See, AffiliSites Pro is actually a sales funnel. In other words, it's designed to get you in without giving it a second thought.
That explains those overhyped and misleading claims from the sales page.
The idea is to sell you this software together with a dream about making money instantly. But the trick is that as soon as you jump for it, the owner is going to slap you with a set of upsells.
These upsell contain critical parts of the AffiliSites Pro system, which means that you will have to invest more and more money into this offer.
Each new upsell comes with another cheesy sales pitch where the owner promises even faster earnings just to get you to buy it. That's how he makes money with offers like this.
Yes, I use the plural for a reason. The first time I saw AffiliSites PRO, I knew this was something familiar.
And then I remembered that just a few days, maybe a week ago, I reviewed precisely the same software called Auto Traffix PRO.
It's software that creates affiliate sites for you and makes tons of money while you sleep.
In other words, it's the same junk from WarriorPlus, just rehashed and rebranded under a different name.
Who is Glyn Kosky?
Glyn Kosky is an online entrepreneur, affiliate marketer, and serial product creator.
Like every other online entrepreneur these days, Glynn is more focused on creating products to make money for himself rather than helping other folks to make money.
So far, I've had a chance to review a few of his programs, such as:
None of them has proved the statements from the sales page and was given a meagre rating from me.
I'm not going to judge yet, because this AffiliSites PRO review is far from done, but it seems that the latest creation is going into the same basket too.
Who Is AffiliSites PRO for?
In my opinion, AffiliSites PRO is best for the owner and creator. I'll explain why, as well.
If you are a newbie, you're probably very tempted to go for it, mainly because it says that you don't need any skills or experience.
AffiliSites PRO sounds like a dream come true, right?
But that's precisely the target group for this product.
Inexperienced and naive newbies who are going to trust in every word from the sales page don't get offended, please.
I was a sucker as well before I learned that making money online does not work on a push of a button or with some magic software that does all the hard work for you.
How Does AffiliSites PRO Work?
Now, according to the sales page, this software is going to create DFY review sites.
In other words, AffiliSites PRO is all about affiliate marketing and making commissions while promoting other people's products.
You can earn commissions by selling products from JVZoo, WarriorPlus, and ClickBank marketplaces.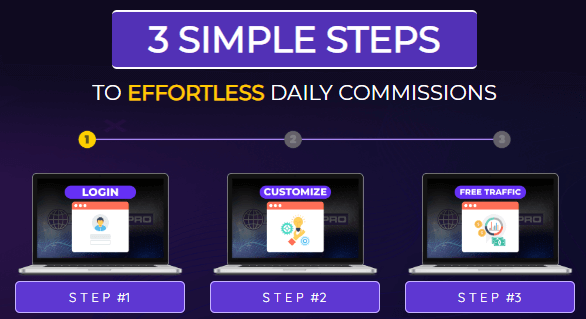 The software works in three steps:
Login to the cloud-based software and enter your affiliate IDs so you get paid for every sale.
Customize campaigns with your details, then select the products for DFY review sites and bonuses
Use included free traffic to start banking passive daily commissions
In reality, it's a little bit harder than it looks.
As I've said at the top of this AffiliSites PRO review, the story sounds incredible.
It's easy to get tricked by the flashy sales page and all those screenshots of pro earnings.
But let me tell you about a few things that you need to know first.
Why It Won't Work As Advertised
First of all, if you don't have an affiliate ID with any of those three companies, you'll have to open a free account to get yours.
However, the problem is that some of the vendors don't share affiliate links just like that.
You need to get approved first, and most of the time, it sucks, especially with vendors from WarriorPlus.
I tried and failed several times, and I'm experienced. The reason? I'm not a member of their 'gang.'
Secondly, these review sites that AffiliSites PRO software is going to generate for you are all pretty lame.
Worst of all, everyone is going to get the same sites.
This means that you can kiss goodbye with free traffic from the search engines.
Google and the gang hate duplicated content. And that's precisely what you get here.
Besides, those reviews are not professional. The review site needs to talk to people, just like I'm doing right now.
You won't trust a generic piece of content written by software, won't you?
Lastly, let me say a few about that built-in free traffic.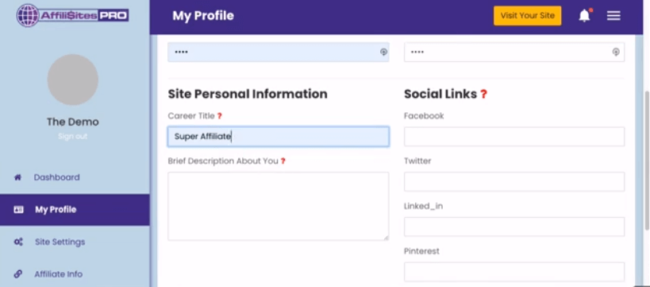 You see, since SEO will fail because of duplicated content, the creator has thought of showing you how to share your reviews on social media instead.
Now, there's nothing wrong with this method.
Facebook, Instagram, Pinterest, YouTube, and others are excellent sources of free traffic.
But let me ask you this. How many followers do you have on any of those?
You need to build a targeted audience first before you can ever make a dime.
Besides, those are real people. They will notice a scam or a poorly written review site as soon as they see one.
And There's Another Problem 
Affiliate marketing is a profitable business. In theory, affiliate marketing sounds like an easy way to make money.
Recommend something to someone and earn a commission.
Then, you have offers like this one, which is making it sound even easier.
The truth? Well, the truth is always different, my friend.
I hardly doubt that you can make any cash with this software, especially if you are a newbie.
I'm an experienced marketer and a reviewer, and I wouldn't put a cent into this offer myself.
See, Affiliate Sites PRO has been promoted as a 1-click solution to making $1000's per day with affiliate marketing.
Any professional and experienced affiliate marketer knows that these claims are rubbish.
In other words, you can't make money in just a few clicks using some DFY system as a complete newbie.
It's a marketing trick. And in most cases, shows that the product is a scam.
With all that being said, let me show you the next section of the AffiliSites PRO review where you can see how much this magical software could cost you.
Related: How To Start With The Affiliate Marketing Business
AffiliSites PRO Price & OTO's
$20 for a done-for-you system that is going to make you 100's and 1000's in passive income even if you are a beginner sounds like a bargain.
I mean, you just want to get it and start banking those commissions.
Am I right? No, you're smarter than that. You're here, reading this review.
You see, twenty bucks plus an exciting sales page are here to get you into a spending cycle, also known as the sales funnel.
I personally hate upsells, especially if they are hidden like in the case of AffiliSites PRO.
Twenty bucks could turn into hundreds into a flash.
Unlimited Version $97 (downsell $47)
Done-For-You Campaigns $97 (downsell $67)
Automated Traffic Flow $97 (downsell $67)
Conversion Boosting Tools $67 (downsell $47)
Bonus Page Creator $67 (downsell $47)
License Rights $197 (downsell $97)
So basically, these upsell tell you that the whole thing is worth much more than it's advertised.
Also, if you want to get the results like it's advertised, you're going to have to take at least the first three upsells.
The software itself is not going to be enough to make it happen.
In any case, you can see why some people like to think that offers like AffiliSites PRO are a scam.
Alternative: On the other hand, if you're looking for the best business model to earn passive income online as a beginner, there are other, more suitable, and cost-effective alternatives.
My top-rated course has helped me to go from earning $0 to $100's per day!
THE BEST WAY TO MAKE MONEY ONLINE IN 2023 >>
What I Like About AffiliSites PRO
Nothing much.
Honestly, the whole thing is deceptive, and the owner is pulling your nose to get you to buy some of those upsells.
There's only one thing I like about AffiliSites PRO.
Money-Back Guarantee
If you don't get the results within the first 30 days, you can get a refund.
Now, you need to know that when it comes to refunding, vendors from WarriorPlus are going to do anything they can to stop you.
During the promo, they claim that it's hassle-free and 100% sure thing to boost you with confidence.
But as soon as you file for a refund, they start to play 21 questions to get you confused and give up.
What I Don't Like About This
Like I've said earlier, the whole thing is, in my eyes, very misleading and overhyped.
Starting from the sales page, and down the very product itself, there are tons of things that I find disappointing.
Let's start with the AffiliSites PRO sales page first.
Hyped Up Sales Page
The sales page is full of professional earnings, and other get-rich-quick BS that it makes my eyes hurt.
The owner and creator of AffiliSites PRO is an expert in using ClickFunnels builder.
It looks like he spends more time creating flashy sales pages than he does in actual product creation.
It's like coming into McDonald's and looking at the board.
And then, instead of a fancy burger from the sales page, you get a road-kill.
Testimonials Come From Other Vendors
It's always a good thing if a product has some testimonials.
But when they are coming from Brendan Mace, Jono Armstrong, and Jason Fulton, I'm not sure that they are not 100% honest.
These guys work close together, and they are always giving each other positive reviews to sell more products.
The fact that there are no real-life customer reviews of AffiliSites PRO is concerning as well.
Unexpected & Expensive Upsells
As soon as you fall on those overhyped promises and low front end price, you will get surprised with six upsells altogether.
The total is $622!!!
Now, you don't need to take them. There's a 'No Thank You' button at the bottom of each page that comes at you.
But still, it shows that the owner is taking excellent care to squeeze as much money off you as possible.
Not a cool move.
You Don't Own Your Sites
When it comes to AffiliSites PRO software itself, the big problem is that it's cloud-based.
In other words, if this product gets shut down, which is not a rare case, your business will do down with it.
You will not be in control of your sites, and that's a huge problem. At least it is for me.
I like to be the owner of my own business. How about you?
Getting Traffic is Not As Easy As It Seems
The owner claims that the software has built-in free traffic.
This means that there's a button you use to share your reviews on social media. Nothing special about it.
If you haven't read the 'how it works' part of this AffiliSites PRO review, I strongly suggest you do.
Getting traffic is critical for the success of any business. These methods are shaky.
You could end up with a bunch of reviews in your hands with zero traffic and zero customers.
Related: Affiliate Traffic Bots – Scam or Unlimited Traffic?
Is AffiliSites PRO a Scam or Legit?
No, AffiliSites PRO is not a scam. From the objective point of view, it's a legitimate offer. In other words, you will get something in return for your dollars.
The training is not empty. There is software that creates review sites for you, as well. The real value of both is $20 tops!
On the other hand, from the subjective point of view, you could call AffiliSites PRO a scam and get away with it.
The owner is not honest with this offer. It's not going to be as easy as it's been advertised.
If you don't know how to get traffic to your offers, you won't make any money.
And then, you need to take an upsell in the hope of making it work. And that's precisely what they wanted you to do from the beginning.
My biggest issue is the fact that AffiliSites Pro has been advertised as a 100% DFY system that, and I quote, "prints money" without any daily effort.
To a newbie, these claims might sound like a perfect deal.
But to me, and every other experienced marketer, those claims usually translate to a scam.
I'm not saying that AffiliSites PRO is an outright scam. All I'm trying to say here is that it is not going to work as promised.
This product has been falsely advertised to attract newbies so that the creator can make money.
If you take a closer look at the sales page, this system has no testimonials from its users, which means that no one except the owner is making money with it.
I'm not counting those fake testimonials, which is, by the way, another scam sign.
Alternative: On the other hand, if you're looking for the best business model to earn passive income online as a beginner, there are other, more suitable, and cost-effective alternatives.
My top-rated course has helped me to go from earning $0 to $100's per day!
THE BEST WAY TO MAKE MONEY ONLINE IN 2023 >>
AffiliSites PRO Review – Final Words
I would never invest time and effort into AffiliSites Pro. In my opinion, it's not worth it.
Duplicated reviews that are written by the software are not something that's going to make you a fortune online.
As you can see, I write a lot of reviews on this blog.
It means that I have some experience, and I know how it all works.
You see, people are not internet illiterate anymore.
Most of us can easily spot an online scam or a get-rich-quick scheme as soon as we see one.
Those reviews that you're going to get with AffiliSites PRO are something that people will avoid big time.
Making money online is not something that's going to happen overnight.
No software is going to do the work for you while you are enjoying the sunshine.
To become successful, you need to learn the process on your own first, and hustle and grind second.
The best thing is to avoid software like AffiliSites PRO.
How To Make Money With Affiliate Marketing
Creating your own affiliate business from scratch is not hard at all.
You need:
a niche (products)
a website
some traffic
and someone to show you how it's done
How I Make Money With Affiliate Marketing
A few years ago, I was exactly where you are right now. I was looking for ways and means to make money online.
It took me a while to get away from these 30 Minute Money Methods scams and other get-rich-quick schemes and to find a legitimate training program.
But once I found it, everything changed!
My #1 recommendation is a step-by-step beginner-friendly affiliate marketing course that has helped me to go from $0 to earning $100's per day with affiliate marketing without any prior experience.
The reason why I recommend it over other courses is that my #1 recommendation is the leader in the affiliate marketing training industry.
Also, my #1 recommendation comes with all the tools like hosting, websites, keyword tool, etc., included with the course!
Moreover, my #1 recommendation is proven by 1000's from all over the world.
On top of it, my top-rated course is the largest online community of marketers of all levels.
This means that you can get help 24/7 and get answers from 1000's of expert coaches, including me!
Best of all, I used this exact system to go from $0 to $1000's per month in passive income!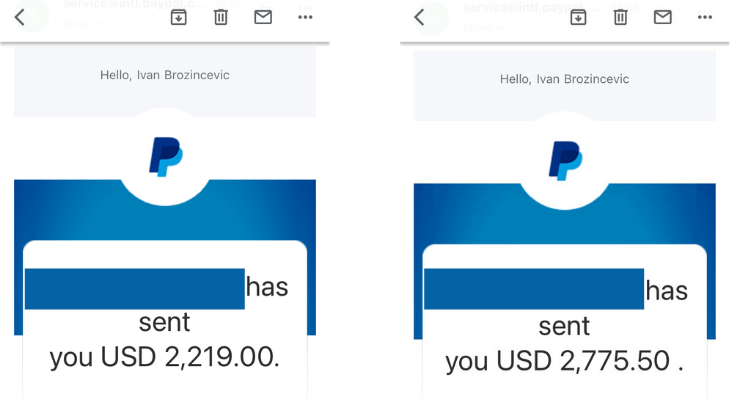 Among the best features of my # 1 ranked course is that you can take it for a test drive (just a $49 Premium subscription).
You will get one complimentary site and access to the very first ten lessons from the course to try things out.
After evaluating over 500 programs on the web, my conclusion is easy. This is the best course to learn about ins and outs of affiliate marketing.
And if you're looking for the very same, click the button below!
THE BEST WAY TO MAKE MONEY ONLINE IN 2023 >>
If you need any help or you have a question, feel free to share them in the comment box below.
Thanks for reading my AffiliSites PRO review.
All the best, Ivan. Founder, and CEO @freeaffiliatemarketingbusiness.com