Welcome to my App Coiner review.
Allegedly, you can make a ton of easy money by testing and reviewing mobile apps. But is this website trusted? Is App Coiner a scam or legit?
Here's the deal, guys…
Just a few days ago, I reviewed a cloned scam called Write App Reviews. It was a site that led me to App Coiner. And as soon as I landed there, I noticed that those are two same sites, just with different front pages.
In other words, someone is double-scamming people.
That was the first red flag.
Secondly, I discovered that the product in the backend is not going to work as it's been advertised, which lead me to the conclusion that you can't make money with App Coiner.
And there's more!
Keep reading my honest review to discover more about what it is about, how it works, how much it could cost you, what are pros and cons, and more!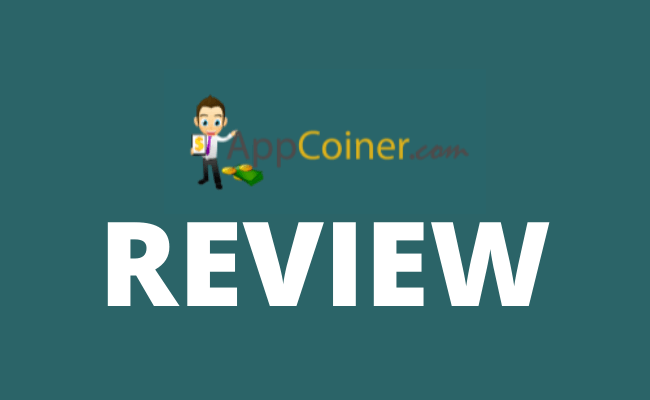 App Coiner Review – Overview
Product Type: Testing Apps
Owners: Unknown
Price: $ 27 + UPSELLS
Money-Back Guarantee: 60-days
Recommended: No! Scam Alert!
Quick Summary: App Coiner is on the verge between a scam and a legitimate platform. It's legit because you do get a product in return for your money. However, the product is faulty and is not going to work as advertised.
The bottom line is, I don't recommend it.
Check out the rest of my App Coiner review to learn everything about this platform and to read about all the red flags that I found while reviewing this product.
If you're looking for legitimate ways to make money online, click the button below.
My #1 recommendation is a legit training platform that made me go from $0 to earning $100's per day promoting products I don't even own!
THE BEST WAY TO MAKE MONEY ONLINE IN 2022 >>
What Is App Coiner?
App Coiner is a get-paid-to (GPT) website that allows users to make money by downloading and reviewing apps. Allegedly, all you need to do is choose an app, write about it, and get paid.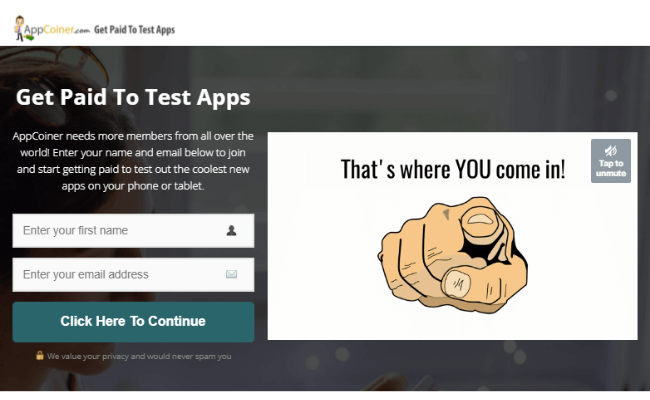 According to the information from the sales page, it's simple as 1, 2, 3!
Choose an app from our app review database and test it on your phone or tablet.
Write your honest opinion of the app on your AppCoiner app website.
AppCoiner monetizes your website traffic and the more apps you test and review, the more money you make.
As you can see from step number two, you will get your own customized website on which you can share your reviews.
It's a simple DFY cloud-based website through which you can access a large database of apps. Then, you can download any app easily, test it, and share your review.
So at first, there are no major signs that App Coiner is a scam, right? Well, let's think twice.
Hidden Signs Of a Possible Scam
First of all, as you scroll down the sales page, there is no information about the owners of this platform. When you can't find this info, it usually means that the owners don't want to be traced.
That was the first sign of a scam.
Secondly, there's a problem with making money via App Coiner, which I'll explain in more detail later in the review.
In a nutshell, they will not teach you how to get traffic to your reviews. Getting traffic is a key element. If no one can see your reviews, you simply can't make money!
Thirdly, App Coiner is just a rehashed version of the Write App Reviews website.
Meaning, we have two slightly different sites that give you access to the same system for reviewing apps and making money. In other words, they are clones!
So yeah, there are a lot of signs that App Coiner could be and probably is a scam.
Related: Paid Social Media Jobs Review
How Does App Coiner Work?
The process of making money with App Coiner seems very simple. I've already mentioned those three steps that you need to take to make money with this website.
Before you can access the platform, you will have to register your email and pay $27.
This gives you access to the platform, database of apps, your personalized review website, and a short tutorial on how to start reviewing apps to get paid.
Now, let's go over the steps inside App Coiner.
1. Choose an app from the database and test it on your phone or tablet.
Before you can actually start reviewing apps, you will have to register for free accounts with ClickBank and JVZoo and upload your unique affiliate ID to App Coiner.
This action makes sure that you get paid properly.
Once you finish this pre-step, you can access your review website and start downloading and reviewing apps.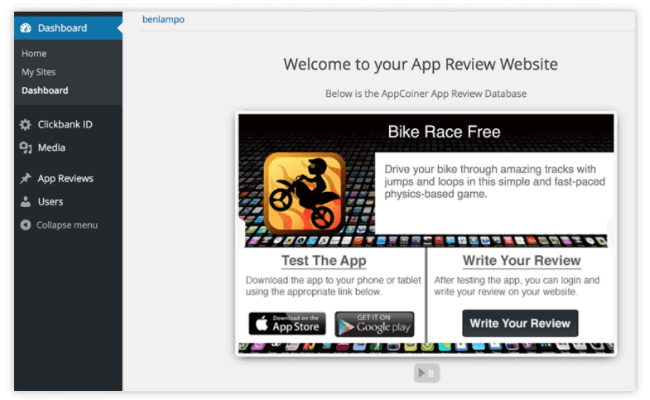 Inside your own website, you will find a lot of different categories and tons of apps.
All you have to do is pick an app that interests you the most. Then, download it to your phone or tablet and test it out.
Once you've finished with this step, it's time to share your opinion.
2. Write your honest opinion of the app on your AppCoiner app website.
The process is basically very simple. Simply log into your App Coiner website and start a review by pressing the button below the app.
This will open a new page where you can share your review.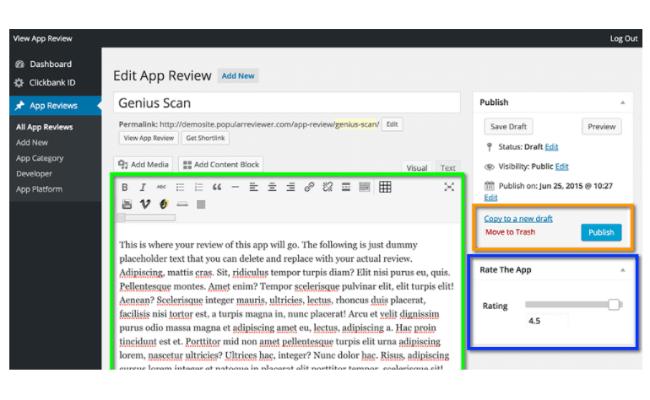 You're advised to write at least 500 words per review to get traffic.
However, here lies one of the major problems and it is the main reason why I think that App Coiner could be a scam.
3. Get traffic to your reviews and make money.
In theory, once you publish your review, it should get you traffic. But how?
There are no SEO instructions or training inside the App Coiner website. They just advise you to write 500 words per review and publish it to get traffic.
That's not going to work.
To get traffic to your reviews, you need advanced SEO skills! Search Engine Optimization is a complex topic that requires a lot of skills, effort, and patience.
On the official website, you're lead to believe that SEO is automatically done for you.
This is not true either.
They just instruct you to write reviews and post plain text but they will not optimize it for search engines.
Writing reviews and posting them is not going to work unless you master the keyword research, on and off-page optimization, backlinks, etc.
But let's say that you manage to get some traffic. How will you get paid?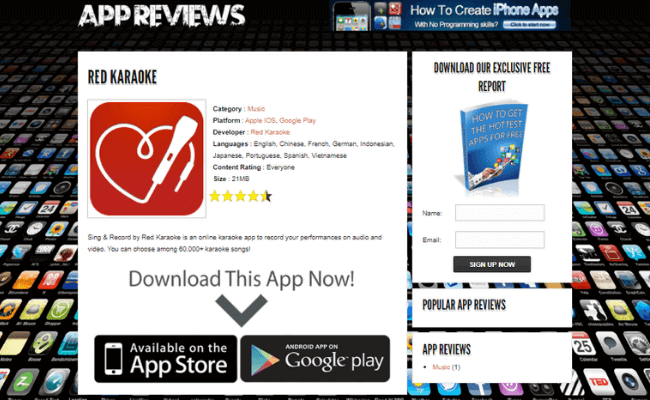 There are three ways to make money with your App Coiner website:
When someone clicks on affiliate banners on your site
When someone subscribes to your email list
When people download the app through your site
So basically, you earn money each time someone performs one of those three actions and it's all done for you.
At least something was true.
Your App Coiner website is already loaded with customized banners that are connected to your affiliate ID. If I, for example, click on a banner and buy the product on the other side, you earn a commission.
The process is called affiliate marketing and it's a legitimate way to make money online.
However, I'm not sure that App Coiner is…
How Much App Coiner Costs?
Before I share my verdict about whether App Coiner is a scam or legit, let me show you how much it costs and how you can get access to your review site.
The platform is available via the ClickBank marketplace and it costs only $27 to get access.
If you choose to purchase this service, you will get access to:
Cloud-hosted review website
Database of latest apps on the market
Step-by-step instructions
Also, your purchase is covered with a 60-day money-back guarantee by ClickBank. If you choose to bail out, simply contact the support and submit your refind request.
Who Is App Coiner For?
This platform is for people who would like to make money writing app reviews. It's as simple as it sounds.
However, it's not for beginners without any SEO skills.
Without these skills and experience with search engine optimization, you can't make money with App Coiner. So I would suggest getting some experience first.
You can check out my #1 recommendation below to do so.
My recommendation is the top SEO training program that shows how to create your own site/blog, share posts and product reviews, optimize your posts to get rankings and free traffic, and make money with affiliate marketing!
Thanks to this EXACT SYSTEM, I went from $0 to earning $100's per day.
THE BEST WAY TO MAKE MONEY ONLINE IN 2022 >>
Is App Coiner A Scam?
Realistically speaking App Coiner is not a scam. At least not in the traditional sense where you get promised a product or service, pay the price asked for it, and get nothing in return.
If you choose to get involved with this platform, you will get a cool website for reviewing apps and some other features that are useful like apps database, etc.
But that's all there is about App Coiner that I find to be legit as well as the refund policy.
On the other hand, there were a few red flags that I want you to focus on before you make any decisions.
The first red flag was the fact that I couldn't find the information about who really owns AppCoiner.com. This shows me that this platform is not trustworthy.
Legitimate sites always have about and contact sections on their sites.
Moreover, legit sites always reveal the identity of the creator or creators or the whole company behind them.
Another red flag was the fact that AppCoiner.com is a rehashed version of WriteAppReviews.com. Both websites advertise the same platform just in two slightly different ways.
Legitimate sites don't have to do this to get more customers.
Scam sites have to create clones because they usually get a bad reputation quickly and therefore, lose customers instantly.
Then, probably the biggest red flag was the fact that they don't teach how to get traffic.
With App Coiner, you're simply instructed to share reviews to get traffic and earn money. But that's not going to happen as easily as they say.
As I have said earlier in this review, you need advanced SEO skills to get traffic.
Those are the top three red flags that show that App Coiner could be a scam after all. But we'll let the time be the judge.
Do I Recommend This Website?
No. I don't recommend App Coiner. In my opinion, this platform is not worth the time and effort.
If you want to know why just read the previous section of my review.
Related: Digital Veteran Blueprint Review
What I Like About App Coiner
You get easy access to the app database and DFY review site
All users of App Coiner get a cool website that allows you to get access to a ton of legitimate and real apps that you can review on your site.
App Coiner is backed up with a 60-day refund policy
If you don't like your site and the whole system inside, you can get a refund during the first sixty days since the purchase.
Simply send a request and you will get a refund. No questions asked.

What I Don't Like About It
App Coiner owner or owners are unknown
I don't like the fact that you don't know who the owner or owners are.
There's no way of communicating with them, which is a clear sign that this platform is not trusted.
A cloud-based website is not in your ownership
Your App Coiner site is cloud-based. This means that it is hosted on a sub-domain and it is not 100% your ownership.
So in case that the owner of App Coiner decides to shut down the entire scheme (which is probable), you will lose your entire business overnight.
You will not learn how to get traffic (get paid!)
To make money with your website, you need to rank your reviews on top (first 3 places) in Google for a given keyword.
This process takes a lot of fine-tuning, skills, and a few years of experience.
App Coiner platform doesn't include any training on this topic, which means that, unless you have SEO skills, you can't really make money with your site.
App Coiner is rehashed version of Write App Reviews
I found out about App Coiner via another app review site that uses almost the same sales page to get you inside.
However, both sites lead you inside the same system and give you access to the same DFY review site. They even cost the same and sell via ClickBank.
Lack of social proof and positive online reviews
Have you noticed that all App Coiner reviews on Google are negative? Moreover, did you notice that there are no social proof or testimonials from users?
What kind of a business doesn't have testimonials but gets tons of negative reviews?
The one that you can't trust!
Related: ClickEarners.com Review
App Coiner Review – Conclusion
App Coiner really allows you to get access to apps and write reviews on a website. But there are too many red flags and signs of a scam for my taste.
In other words, although it is not an outright scam, I don't want to send you in that direction.
Writing app and product reviews is not a joke. It takes a lot of time, work, and effort to develop the skills, master SEO, get traffic, and make money.
A platform like this seems to be the best for those who created it.
There's no in-depth training inside, no support, no community, no success stories, etc.
Thanks for reading my App Coiner review. Do you have any questions? Want to share your experience and reviews of App Coiner?
Feel free to leave them in the comment section below!
How I Make Real Money Online
I make money online by reviewing and recommending high-quality products and services to my readers.
The main reason behind my success is that I know how to rank these reviews to get free traffic and sales.
And the main reason why I know how to rank and make sales is that I joined this training program a few years ago that gave me in-depth SEO training, all the tools, and even private coaching!
Thanks to this training program, I get 1000's of clicks from Google every month.
And all those clicks translate into a passive income! Click the button below to learn more.
THE BEST WAY TO MAKE MONEY ONLINE IN 2022 >>