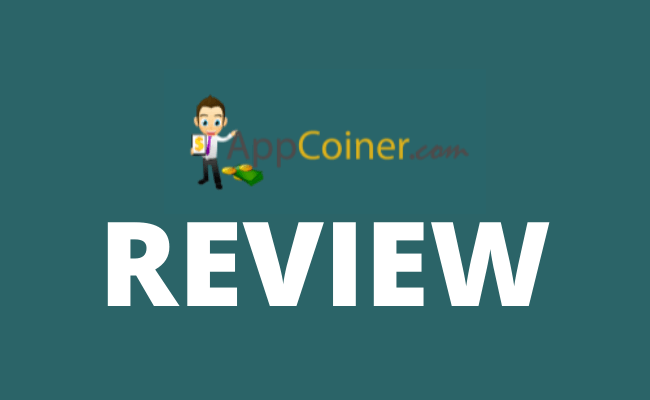 Welcome to my App Coiner review!
App Coiner promises to show you how to get paid for testing apps. All that it takes for you to earn is an email address, allegedly…
If you want to learn about:
Is it a scam or a legit
Who owns the App Coiner
What is inside
Whether students are successful
And more!
You've come to the right website!
I've dedicated a few days to analyzing this appealing opportunity, taking notes, uncovering all sorts of hidden info, and thoroughly going over the details inside and outside so that I can provide you with an honest App Coiner review.
| | |
| --- | --- |
| | Website for making money testing apps. |
| | $27 one time, plus hidden upsells. |
| | You get the DFY review website. 60-day money-back guarantee. |
| | The platform is not trustworthy. Doesn't show how to get traffic. No testimonials or positive reviews. DFY site is not 100% your ownership. Rehased version of another shady website for testing apps. |
| | App Coiner is not a legitimate website for making money online. |
| | |
| | |
I Want To Know…
About the Reviewer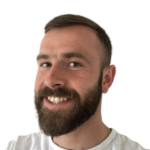 Hey, I'm Ivan Brozincevic!
Since 2018, I've been making a full-time income online, which allowed me to quit my old job (about me).
In the beginning, I struggled to identify legit courses and avoid ones that were just out for my money.
That's why I created this website – my main goal is to help you steer clear of pitfalls and discover the top online business courses.
Every week, I invest hours in reviewing online courses and writing reviews based on my fact-driven review guidelines to assist you in making an informed choice.
Related: Check out my FREE training program for making money online.
Is App Coiner a Scam or Legit?
I have more than one reason to believe that App Coiner is not legit.
The first red flag that raised concerns about the credibility of AppCoiner.com was the unavailability of information about its ownership.
Trustworthy websites typically include comprehensive sections about and contact details.
Furthermore, legitimate sites always disclose the identity of the creators or the company behind them, unlike AppCoiner.com.
Another indication of suspicion was the similarity between AppCoiner.com and WriteAppReviews.com, suggesting a rehashed version of the same platform.
Genuine websites do not resort to such tactics to attract customers. Conversely, scam sites often create clones due to their rapid decline in reputation and subsequent loss of customer trust.
Perhaps the most significant red flag was the absence of training on generating website traffic.
App Coiner proposes sharing reviews to generate traffic and earnings, but achieving this as effortlessly as they claim seems unlikely.
As mentioned earlier, acquiring advanced SEO skills is essential for driving traffic to the site.
Lastly, if you search for App Coiner reviews, you will not find any positive testimonials or student success stories online.
All there is about this offer are negative reviews from angry customers.
These red flags collectively suggest that App Coiner may indeed be a scam. But let give it a benefit of a doubt and complete reading this review.
What Is App Coiner?
App Coiner is a "get-paid-to" (GPT) website that enables users to earn money by downloading and reviewing apps. Allegedly, all you have to do is select an app, write a review, and get paid.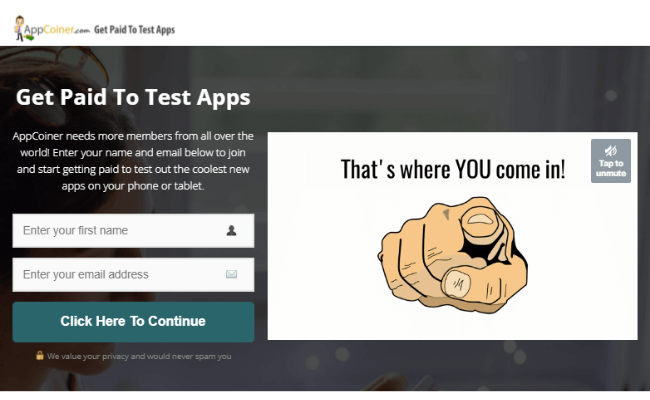 According to the information on the sales page, using App Coiner is as easy as 1, 2, 3!
Here's how it works:
Choose an app from our app review database and test it on your phone or tablet.
Write an honest opinion of the app on your AppCoiner app website.
AppCoiner monetizes your website traffic. The more apps you test and review, the more money you can make.
As you can see from step number two, you will have your customized website to share your reviews.
With App Coiner, you get a simple DFY (Done For You) cloud-based website that grants you access to a vast database of apps. You can conveniently download any app, test it, and share your review.
At first glance, there are no major signs that App Coiner is a scam, right? Well, let's take a second look.
Why I Have Seen App Coiner Already…?
Firstly, as you scroll down the sales page, there is no information about the owners of this platform. Typically, when this info is missing, it indicates that the owners don't want to be traced. This is usually the first sign of a scam.
Secondly, there's a problem with making money via App Coiner, which I'll explain in more detail later in the review.
In a nutshell, they will not teach you how to get traffic to your reviews. Getting traffic is a key element. After all, if no one can see your reviews, you can't make money!
Lastly, App Coiner is simply a rehashed version of the Write App Reviews website.
We have two slightly different sites that provide access to the same system for reviewing apps and earning money. In other words, they are clones! T
herefore, there are numerous indications that App Coiner could potentially be a scam.
Related: Paid Social Media Jobs Review
How Does App Coiner Work?
Making money with App Coiner is a simple process. First, you need to register your email and pay $27 to access the platform.
Once registered, you'll gain access to the platform, a database of apps, your personalized review website, and a short tutorial on how to start reviewing apps and getting paid.
Let's now go over the steps inside App Coiner.
1. Choose an app from the database and test it on your phone or tablet.
To begin reviewing apps, there are a few steps you need to follow:
Register for free accounts with ClickBank and JVZoo.
Upload your unique affiliate ID to App Coiner to ensure proper payment.
Once you have completed these pre-steps, you can access your review website and start downloading and reviewing apps.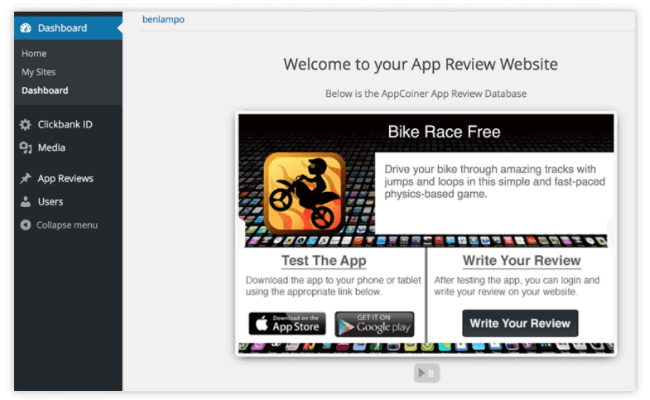 Within your own website, you'll discover various categories and an abundance of apps.
Simply choose the app that piques your interest the most. Next, download and test it on your phone or tablet.
After completing this step, proceed to share your opinion.
2. Write your honest opinion of the app on your AppCoiner app website.
The process is quite simple. To start a review, log into your App Coiner website and click the button below the app.
This action will open a new page where you can share your review.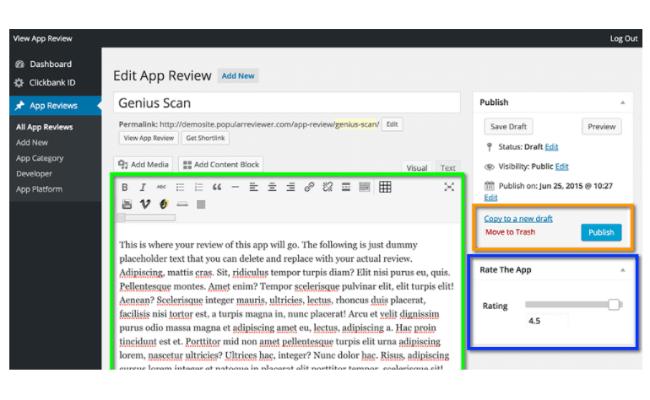 To increase traffic, it is advised to write at least 500 words per review.
However, there is a major problem with App Coiner that makes me suspect it might be a scam.
3. Get traffic to your reviews and make money.
Once you publish your review, it is presumed that it will generate traffic.
However, the question remains: how?
Unfortunately, the App Coiner website lacks SEO instructions or training, merely suggesting the publication of 500-word reviews as a means to acquire traffic. Nevertheless, this approach is ineffective.
To truly attract traffic to your reviews, advanced SEO skills are paramount. Search Engine Optimization is a multifaceted subject that demands proficiency, diligence, and patience.
Despite the official website's claim that SEO is automatically handled, this is untrue.
While they instruct you to write and post reviews, they neglect to optimize them for search engines. Consequently, writing and posting reviews alone will not suffice unless you possess expertise in keyword research, on and off-page optimization, backlinks, and more.
But, let's assume that you do manage to generate some traffic. The question remains: how will you receive payment?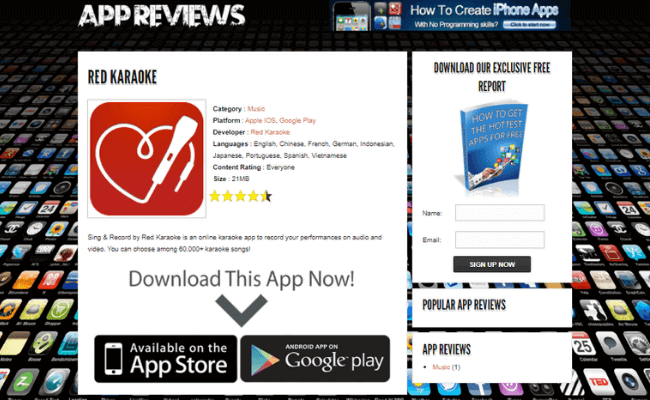 There are three ways to make money with your App Coiner website. These methods involve:
Clicking on affiliate banners on your site.
Subscribing to your email list.
Downloading the app through your site.
Every time someone performs one of these actions, you earn money. The good news is that your App Coiner website is already equipped with customized banners linked to your affiliate ID.
So, when someone clicks on a banner and purchases the product, you receive a commission.
This process is known as affiliate marketing and it is a legitimate way to earn money online. However, I am uncertain about the legitimacy of App Coiner.
How Much App Coiner Costs?
Before I give my verdict on whether App Coiner is a scam or a legitimate opportunity, let me first show you the cost and how you can gain access to your review site.
The platform is available through the ClickBank marketplace and it only costs $27 to gain access.
If you decide to purchase this service, you'll receive:
A cloud-hosted review website
A database of the latest apps on the market
Step-by-step instructions
Does App Coiner Offer Refunds?
Your purchase is protected by ClickBank's 60-day money-back guarantee. If you decide to opt-out, simply reach out to the support team and submit your refund request.
Are Users Getting Results With App Coiner?
During my research, I couldn't find a single income proof from real users.
In fact, if you type in Google "App Coiner reviews", you'll find only negative testimonials and reviews, which means that it is not as legit as it may seem at first.
Who Is App Coiner For?
This platform is designed for individuals interested in earning money by writing app reviews. It's as straightforward as it sounds.
However, it's not suitable for beginners who lack SEO skills.
Without these skills and experience in search engine optimization, it's difficult to earn money with App Coiner. Therefore, I suggest gaining some experience first.
You can find my top recommendation below for an excellent SEO training program.
It demonstrates how to create your website or blog, share posts and product reviews, optimize your content for rankings and free traffic, and make money through affiliate marketing!
Thanks to this EXACT SYSTEM, I went from earning $0 to hundreds of dollars per day.
Is App Coiner Legit?
App Coiner is not a scam, but let's examine both the legitimate aspects and the concerns before making any decisions.
Realistically speaking, App Coiner does offer some legitimate features, such as a cool website for reviewing apps, an apps database, and a reasonable refund policy.
However, it is important to consider a few red flags before getting involved with this platform.
Do I Recommend This Website?
I do not recommend App Coiner. In my opinion, this platform is not worth the time and effort.
If you want to know why, please refer to the previous section of my review.
What I Like About App Coiner
You get easy access to the app database and DFY review site
App Coiner provides users with a sleek website, offering access to a wide range of legitimate and real apps that can be reviewed on your site.
App Coiner is backed up with a 60-day refund policy
You can request a refund within the first sixty days after purchase if you are dissatisfied with your site and the entire system.
Just send a request, and you will receive a refund with no questions asked.
What I Don't Like About It
App Coiner owner or owners are unknown
I do not appreciate the fact that the owner or owners are unidentified.
The lack of communication raises concerns about the credibility of this platform.
A cloud-based website is not in your ownership
App Coiner is a cloud-based site, which means it is hosted on a sub-domain and you don't have complete ownership.
Consequently, if the owner decides to shut down the scheme (which is likely), you could lose your entire business overnight.
You will not learn how to get traffic (get paid!)
To monetize your website effectively, it is crucial to achieve top rankings (within the first 3 positions) on Google for relevant keywords.
However, this process requires significant fine-tuning, skills, and several years of experience. Unfortunately, the App Coiner platform does not provide any training on this topic.
As a result, unless you possess SEO skills, it becomes challenging to generate revenue from your website.
App Coiner is rehashed version of Write App Reviews
I discovered App Coiner through another app review site that has a nearly identical sales page to lure you in.
Surprisingly, both sites direct you to the same system and provide access to the same "Done For You" review site. What's more, they are priced equally and sold through ClickBank.
Lack of social proof and positive online reviews
Did you notice something interesting? All App Coiner reviews on Google are negative. And what's even more interesting is the absence of social proof or testimonials from users.
It's quite peculiar for a business to not have testimonials but receive a plethora of negative reviews.
This raises questions about trustworthiness, doesn't it?
App Coiner Review – Conclusion
App Coiner allows you to access apps and write reviews on their website. However, there are several red flags and signs of potential scams.
In other words, while it may not be a complete scam, it's not a direction I would recommend going in.
Writing app and product reviews is no easy task. It requires time, effort, and skill development, including mastering SEO, generating traffic, and making money.
This platform appears to be best suited for its creators, as it lacks comprehensive training, support, a community, and success stories.
Thank you for reading my review of App Coiner.
If you have any questions or would like to share your experience and reviews, please feel free to leave them in the comment section below!
| | |
| --- | --- |
| | Website for making money testing apps. |
| | $27 one time, plus hidden upsells. |
| | You get the DFY review website. 60-day money-back guarantee. |
| | The platform is not trustworthy. Doesn't show how to get traffic. No testimonials or positive reviews. DFY site is not 100% your ownership. Rehased version of another shady website for testing apps. |
| | App Coiner is not a legitimate website for making money online. |
| | |
| | |
The Best Way To Make Money Online
I earn online by creating simple affiliate websites that I use to connect people with products they are already looking for.
It's called affiliate marketing and it is the best way to make money online (at least in my humble opinion).
If you want to learn more about how you can start making money online with affiliate marketing, I would strongly suggest you sign up for the free training on the next page.
And don't forget to share this App Coiner review with your friends and family!
All the best, Ivan @freeaffiliatemarketingbusiness.com