Welcome to my Class With Jeff review.
I bumped into an email the other day from Jeff Lerner where he was inviting me to join a class where he's going to reveal his secrets to building a multi-million dollar business. So I jumped in to see what the fuss is about.
I was surprised to see a video where Jeff talked about this opportunity and all the reasons why I should join in. Sounds like a deja-vu? Have you got the same email from Jeff? Need to know more information about Class With Jeff? Worried it might be a scam?
Keep reading my Class With Jeff review for more information…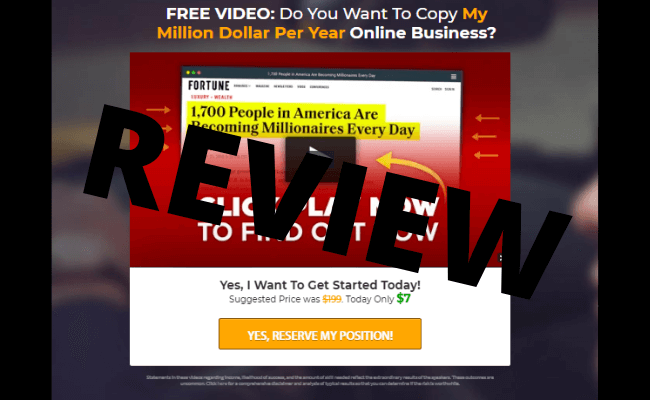 Cass With Jeff Review – Overview
Class With Jeff is just a two-step sales funnel for Entre Institute. As you have probably had a chance to see, Jeff Lerner was talking about a unique opportunity to get inside of his multi-million dollar business and copy the same.
And if you accept to cooperate with Jeff, you're going to enter a series of vicious upsells. You see, Class With Jeff is just a preliminary training package where you get a chance to learn more about the business opportunity for only $7 one time.
Then, if you want to keep working with Jeff, you'll have to shell out much more to get access to the educations, the tools, and all other features of success. You can check out the section of Class With Jeff review where I mention the full price of each upgrade.
This is not a scam in technical terms, but I'm not happy to recommend this either.
In my opinion, Class With Jeff is manipulative sales machine that tricks people into spending more and more money with each new upgrade. And the person who is going to benefit the most from this is Jeff himself.
In other words, it is a high-ticket scheme that I don't promote.
If you want to start with affiliate marketing, but you don't want to be tricked into spending $ 1000's on hidden courses, make sure to check out my top recommendation below…
CLICK HERE TO DISCOVER THE BEST WAY TO EARN AN INCOME ONLINE >>
What is Class With Jeff About?
Class With Jeff is about starting an online business through a platform called Entre Institute. You can read about it in my Entre Institute Review. In a nutshell, it is a company that hosts a series of training programs where they teach people how to become digital entrepreneurs.
The questions you might be asking yourself are, is it possible to copy someone's business and earn millions? And, who is this Jeff guy, and can I trust him or is he a scam?
And the answers are, yes, you can copy someone's business and earn millions. And secondly, Jeff is a serial entrepreneur and affiliate marketing expert who was involved in a series of training programs. Some programs were even shut down by FTC, whic his not so praiseworthy.
However, Class With Jeff is legitimate, and you don't have to worry. That said, let's keep this Class With Jeff review rolling and see how this program works, shall we?
How Does Class With Jeff Work?
As I have said, Class With Jeff is designed to funnel you to Entre Institute. It is one of the many funnels Jeff and his team use as a marketing tool to get people interested in their company and their products.
It's not a real product in itself, just a sales page.
From that page, you get to watch a bit overhyped marketing video where Jeff was talking about the benefits of starting an affiliate marketing business. He said how becoming millionaires faster and easier than ever all thanks to the power of the internet.
And it is true! He was not lying.
However, most of his speech is pure marketing talk about getting you interested in his company. So once you click the "Yes, Reserve My Position" button at the bottom of the Class With Jeff page, you'll be taken to a checkout page where you can purchase the first in series of products from Entre Institute product line.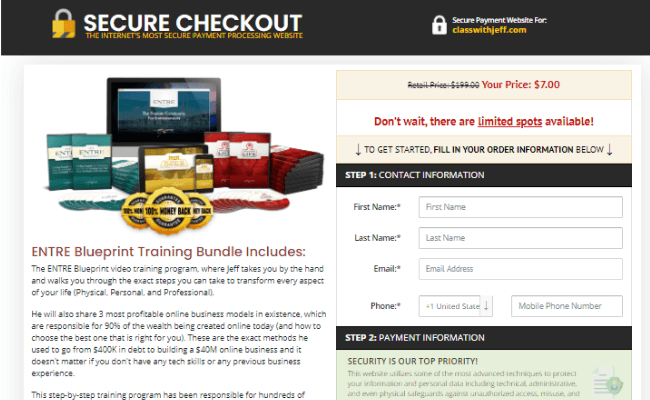 The program is selling for only $7, but keep in mind that it is just an introductory course. You'll have to buy much more expensive packages to get the affiliate marketing education, tools, and coaching need for success online. Think of this as a motivational course, nothing else.
By the way, the program is called the Entre Blueprint. It is a video training program, where Jeff takes you through the exact steps you can take to transform every aspect of your life (Physical, Personal, and Professional).
He will also share three most profitable online business models in existence, which are responsible for 90% of the wealth being created online today (and how to choose the best one that is right for you). These are the exact methods he used to go from $400K in debt to building a $40M online business.
Now you get it why he has decided to name the sales page the Class With Jeff. It's also important to say once again that the product line begins with $7 for Class With Jeff, and then keeps climbing up to $30,000 per year!!!
Related: How To Start With The Affiliate Marketing Business
What You Get With Class With Jeff
In this section of Class With Jeff review, I will show you what you get if you purchase the first course from the product line as well as the list of other classes that Jeff and his team are going to pitch all the time.
You see, upon registration, you're required to leave your phone number as well as your email address. This is because they want to call you all the time and encourage you to buy expensive packages. As you know now, Class With Jeff is just a preparatory course.
In any case, here what you get for only $7 one time:
Entre Blueprint Training – This is a six-step motivational program with Jef Lerner, where he talks about affiliate marketing, e-commerce, and digital consulting as three roads you can take to build a digital business.
Personal 1-on-1 Business Advisor – This is going to be your "coach." But in reality, it is just a person who is going to call you and try to talk you into buying exclusive packages.
Awesome Life Challenge – Inside this training, Jeff breaks down everything he's learned about how to create an extraordinary life from over a decade of study into daily videos that will help you transform ALL aspects of your life.
Entre Nation Community – This community is going to provide all the support you need on your journey to success. It's a worldwide network of thousands of entrepreneurs supporting each other.
30-Day Money-Back Guarantee – If you're not satisfied within 30 days, they'll refund your money and let you keep the bonuses as their gift to you.
How Much Does Class With Jeff Cost?
That's what you get with if you buy Class With Jeff beginners package, which is going to cost you only $7. Now, for the third time, this package is just a basic pack, more like a motivational thing. To copy Jeff's business and learn how to make money online with affiliate marketing, you'll have to keep upgrading your membership.
Here is the list of upgrades:
Nation Elite Package – $49 per month or $348 per year
Digital Package – $1997 one time
Results Package – $15, per year
Inner Circle Package – $29,997 per year
Mastery Package – price not disclosed.
The good news, however, is that you can earn commissions by promoting these packages to other people using funnels like Class With Jeff. There's only one condition first. You'll have to buy each package before you can earn commissions promoting it.
What I Like About Class With Jeff
Jeff is a Well-Know Marketer
Only $7 to Get Access to The Scheme
High-Ticket Affiliate Program
30-Days Money-Back Guarantee
What I Don't Like About This
Class With Jeff is Not a Practical Training Program
It's a High-Ticket Scheme
Lack Of Transparency Before Joining
Basic Training Could Use Less Talk and More Action
Is Class With Jeff a Scam or Legit?
My answer is no. Class With Jeff is not a scam. It is a legitimate high-ticket affiliate program where you can learn how to start with affiliate marketing, e-commerce business or your digital marketing agency. All three business models are legitimate, and Jeff has its fingers in all of them.
I personally don't like and don't promote these schemes because they lack transparency. They draw you in with low front-end price tag and exciting story about becoming a millionaire, but they never tell you how much money you will have to invest in making this happen, which is, by the way, always a few $ 1000's and some!
But if you would like to give it a try, be my guest. Class With Jeff (Entre Institute) is not a scam. Moreover, if you don't like the program, you can get a refund during the first 30 days of your membership.
Related: Affiliate Institute Review
Conclusion and Much Better Alternative
At the end of this Class With Jeff review, I want to say a few words about getting started with affiliate marketing. You see, you don't have to pay $1000's to shady companies to get access to Premium tools and training for building your own successful affiliate marketing business.
Sadly, most companies do business the same way Jeff does, by forcing expensive upsells throughout your education. And in my opinion, that is not the way to help regular people like you and me to become online entrepreneurs.
On the other hand, there's one company that does not do business this way. I personally have leveraged this one platform to build my own income-producing business in just one year, and I want to show you the way…
Click the button below to discover more…
CLICK HERE TO DISCOVER THE BEST WAY TO EARN AN INCOME ONLINE >>
If you need any help or you have a question, feel free to contact me.
And don't forget to share this Class With Jeff review with your friends and family!
All the best, Ivan. Founder, and CEO @freeaffiliatemarketingbusiness.com