Welcome to my Affiliate Institute review.
If you're looking to make money online with affiliate marketing, you've probably heard of Affiliate Institue.
In a nutshell, AI is a company that empowers individuals to start a successful online business via affiliate marketing.
But is Affiliate Institute a scam or legit affiliate training company? Is this going to be a waste of time and money? Is Affiliate Institute another overpriced scheme in disguise?
Unfortunately, the Affiliate Institute website does not tell you what exactly you will be doing to earn an income (never a good sign). But I will.
You see, the company was known as GAZ before, which was an MLM scheme. And they train you to sell Enagic or Kangen water filters!
What did you say, Ivan? They train people to sell water machines? Yup, you've heard that right.
Before we begin, a disclosure. I'm not associated with this company. All I want to do here is to share my research to help you make a wise decision. So without any further ado, let's get busy with this Affiliate Institute review.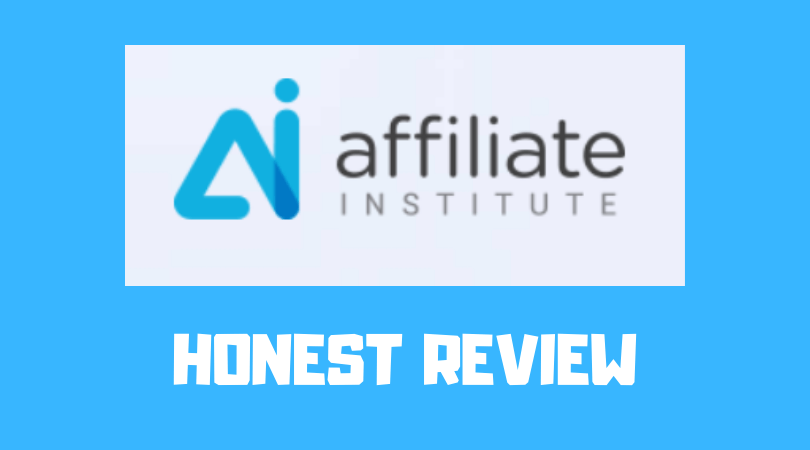 Affiliate Institute Review – Overview
Product Type: Affiliate Marketing Training Course
Product Owner: Julian Sherman
Product Price: $99 per month or $2,994 one time
Money-Back Guarantee: 14 Days
Recommended?: Not really…
Quick Summary: Affiliate Institute's official website doesn't reveal too much about the program nor about the price of the training. Instead, you're lead through the cycle of "greasing up" with freebies such as ebooks and free webinars. But at one point, they'll start asking to sign up for various and each time more expensive membership levels.
Affiliate Institute is involved in MLM for a water machine company called Enagic (Kangen). In a nutshell, they will train you to become a sales representative (affiliate) for Enagic. You may even have to purchase the expensive machines, to become qualified for high-ticket commissions.
I personally don't like the Affiliate Institute system and I'm not 100% confident to recommend it either because I'm not a big fan of these overhyped MLM schemes.
If you are familiar with Amway or Herbalife, then you know how MLM works. That said, let's dive into the meat and bones of this Affiliate Institute review to see whether it is a scam or legitimate.
On the other hand, try my top recommendation below if you are looking for 100% legit affiliate marketing training!
MY #1 Recommendation is a 100% legitimate training program that helped me to go from $0 to earning $100's per day promoting ANY products I want. Wanna do the same?
THE BEST WAY TO MAKE MONEY ONLINE IN 2023 >>
What Is Affiliate Institute About?
Affiliate Institute is an affiliate marketing training company that teaches people how to start an affiliate marketing business. The company provides various levels of memberships.
The truth is, affiliate marketing is an excellent opportunity to create an online income. I've been doing this for over two years now and have had my fair share of success.
It's not an easy business, but it pays off large dividends to those who are willing to stick to it until success.
But is Affiliate Institute a scam or legit?
Unfortunately, it's almost impossible to discover the true nature of this company just by looking at their website.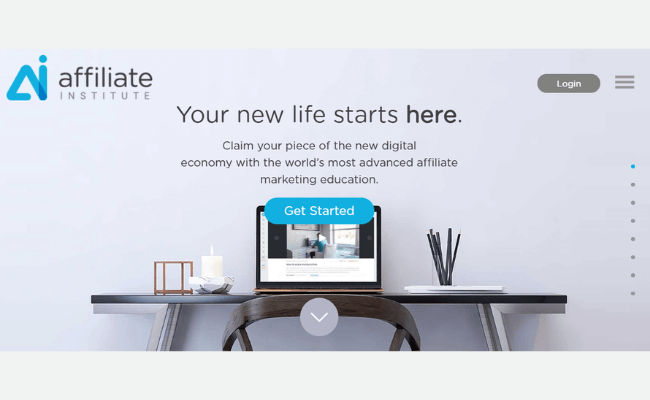 My experience after reviewing 100's of digital marketing companies tells me that lack of transparency is never a good sign.
All you can tell about them without taking any risks is that they empower individuals to become affiliate marketers.
However, after a few hours of research, I found out that the company is, among other things, a high ticket MLM scheme.
In a nutshell, the Affiliate institute is very close to an MLM scheme where they recruit individuals to promote water machines using affiliate marketing.
Wait, what? Water machines?
I was shocked as you are right now. But the truth is, affiliate marketing is legit, and you need a good product right from the start if you want to become successful.
And Kangen/Enagic water machines fall into a category of high-ticket products that have the potential to produce an income if you know what to do with them.
And that is where Affiliate Institute comes into play. They host a series of training courses where you can learn how to promote these machines and earn affiliate commissions for doing so.
The first step is to register for a free webinar, which I did and was not fascinated with the content. It was just like every other webinar out there.
Nothing special.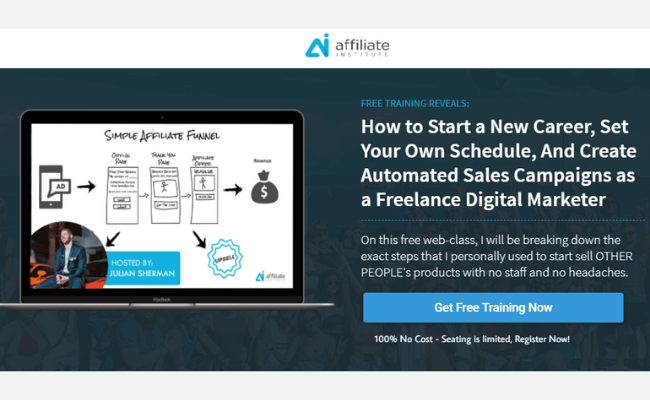 After you register your name and email address, you'll receive an email from the owner.
Inside, you'll find two links that lead to some freebies.
An eBook called Affiliate Playbook
Free Webinar with Julian Sherman
The Affiliate Playbook is nothing but a greased-up material and doesn't have any real-life value.
It's just an invitation to a webinar, which is the second stage of the greasing-up process, where they invite you to join the program.
At this point, it was clear to me that Affiliate Institute might not be a scam but instead just another shady and high-ticket MLM.
Nonetheless, I kept digging. Here's what I found.
Who is the Owner of the Affiliate Institute?
Julian Sherman is the co-founder of the Affiliate Institute. Before writing this review, I've never heard of Julian Sherman, but it seems that he's a successful online entrepreneur.
He says that he's helped thousands of people to escape the chains of a 9-5 to create an online business. That may sound good, but I have hardly seen any evidence online.
By the way, the free webinar is where you can meet him in person.
During the class, Julian is going to talk about how he went from dropping out of college and working as a broke personal trainer to quickly creating a 7 figure Advertising business leveraging a new wave of social media strategies.
Julian seems like a knowledgeable person and it struck me as a person who knows what he is talking about. But I was aware of what the purpose of the free content is.
It was an introduction to an open invitation to join Affiliate Institute. Once you do so, you'll get an opportunity to learn about affiliate marketing from Julian and his coaches.
In other words, they will start offering you various memberships that unlock the Affiliate Institute training program.  Here's what they offer.
Affiliate Institute Price and Memberships
As you may have noticed so far, Affiliate Institute is free to join. Well, at least the part where they grease you up is free.
Then, you'll have to purchase memberships to get access to training.
Level 1 Membership – $99 per month
Level 2 Membership – $2995 one time fee
Accelerator Course – price not disclosed

Once you join the Affiliate Institute, you're going to get step-by-step training, resources, and tools for starting an affiliate marketing business.
They offer live training sessions, weekly Q&A webinars, personal mentoring, and more. According to my findings, these resources are very good, and some people say they are worth the price.
Also, there's a 14-days free trial period, which is something that I like to see.
As I was saying earlier, the point is of the Affiliate Institute program is to show you how to promote a company called Enagic or to start with the Amazon Associates program.
In a nutshell, they will show you how to start marketing campaigns and get traffic to your offers so you can start earning commissions.
More information about this is in the rest of this Affiliate Institute review.
How Does Affiliate Institute Work?
As I said earlier, the Affiliate Institute teaches people how to start an affiliate marketing business.
Once you sign up and pass through the process of freebies, you'll have to enroll and pay for the first-level membership.
And once that part is completed, you'll get access to the Affiliate Insititute affiliate training center.
The training inside is pretty raw, and you can learn about affiliate marketing, funnels, content writing, social media marketing, traffic, and more.
In other words, the course struck me as legitimate. They cover all the important aspects of running an affiliate business.
However, they focus heavily on Facebook ads for traffic.
Is this good?
Well, not really. It's going to add a few $100's to the start-up costs, which was not disclosed and I don't like it.
It's always a better option to start with free traffic.
The main point of the Affiliate Institute program, at least in my opinion, is to show you how to become an affiliate for Enagic and their water purifiers called Kangen.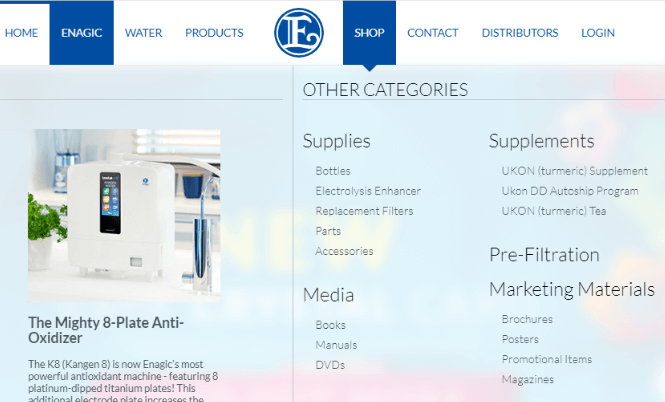 In that case, your task will be recurring other people into the scheme and selling Kangen water machines.
Those devices fall into the category of high ticket products and could therefore lead to juicy commissions. However, there's a catch, you see.
You will probably have to purchase one yourself since that's how MLM marketing works in most cases.
Here's how the process of creating a business with an Affiliate Institute looks like broken down into actionable steps:
Join the program
Purchase Kangen (this is optional)
Create a Campaign
Run Facebook Ads
Post on FB for Free Traffic
So the point is clear. Each time you sell a Kangen water machine, you earn a commission. And the more units you sell, the more money you could take down the road.
But since they are focused on this one product, it comes to me naturally that you will have tons of competition on your path.
The good news is, if you don't want to sell Kangen (Enagic) water machines, you can take an alternative route.
Affiliate Institute also teaches you how to join the Amazon Associates program, which gives you more choices when choosing a product to promote with your business.
You can create a business in any niche you want, which provides you with more options and the ability to earn an income from multiple streams.
But as I said in this Affiliate Institute review, the company is a representative for Enagic, so they'll probably push you to join the scheme.
Once a member, among other resources, you'll get a coach, as well as access to live training sessions and other resources for starting your campaign.
However, keep in mind that you will be required to purchase all the levels (upsells) to get access to all the features of the Affiliate Insititute.
Can You Make Money With Affiliate Institute?
To make those juicy commissions and to make some real money with Affiliate Insititute, you'll probably have to purchase Kangen at one point or another.
You see, only those members who have purchased the machine are qualified for high-ticket payouts.
That's only the theory, of course. It's not a statement nor a guarantee.
Like with every other program, your earning level depends on your skills and devotion.
Attending webinars, seminars, and training programs will not do you any good.
You need to invest a lot of your time as well as your hard-earned money to succeed with MLM.
The most important thing is your passion for the product or service you promote. That's the key to success.
The good thing about this company is that they don't promote a get-rich-quick mentality.
There's an earning potential if you follow through.
In addition to becoming an affiliate for the Enagic, the Affiliate Institute offers a substantial 30% commission for each new referral you bring in.
So my final answer is, yes, you could make money with this program.
Related: How To Start With The Affiliate Marketing Business
Who is Affiliate Institute for?
I would recommend Affiliate Institute to someone who is looking to scale their existing business and earn commissions with high-ticket programs.
It's best for people who are passionate about the work, don't look for ways of getting rich quickly, and, most importantly, have enough money for capital investment.
I wouldn't recommend Affiliate Institute to newbies though. It's an expensive scheme, and the costs will keep rising as you go.
The best way for beginners is to start with something that doesn't require a large initial investment.
If interested in something beginner-friendly, click the button below.
THE BEST WAY TO MAKE MONEY ONLINE IN 2023 >>
What I Like About Affiliate Institute
After receiving my invitation and landing on the website, I was suspicious from the get-go that this is another scam.
However, after some research, I found a few things that I liked about this company.
Affiliate Institute Offers Marketing Training
Affiliate marketing is getting global since everyone can start one.
The main benefit besides passive income is the laptop lifestyle. Meaning, you can work wherever and whenever you want.
Affiliate Insititute offers basic and more advanced (depending on your budget) training on the subject.
They teach necessary things such as starting a website, joining Amazon's affiliate program, getting traffic via social media, and more.
14-days Free Trial
I believe that every company should give some sort of free trial or money-back guarantee, and the Affiliate Insititute follows the route.
This also shows that the company is not a scam.
Each member has 14-days to give it a try before signing up for Level 1 or Level 2 membership.
Related: Affiliate Domination Blueprint Review – Easy $100 Per Day?
What I Don't Like About It
I'm not a fan of MLM's. They have a meager success rate, and most of the time, you're required to promote a product that you may even don't like.
You see, having a passion for a product or a service is another key to success.
Affiliate Institute might not be a pure MLM because they teach affiliate marketing, but it's geared toward Enagic and their Kangen machines.
Here are some things that this company has in common with a scam and what that I don't like about it.
Lack of Transparency
The official site could provide, in my opinion, more information about the content of the program.
They did an excellent job by staying away from claiming to get rich quickly.
But still, they don't share anything about the content, price, or any other essential information.
The lack of transparency always warns me about a scam in progress.
Affiliate Institute is Not Free
On their official website, Affiliate Institute is at first glance fee to join.
They say that you can start a business for free and keep the status for as long as you want.
However, it's not going to be free forever. You have only 14 days to test it and make your decision.
Then, you must take at least the Level 1 membership to get started.
After that, there are other expenses and more advanced membership.
It's a High-Ticket MLM
While I'm on the subject of the price, the company promotes a high-ticket program.
As you had a chance to read in this Affiliate Institute review, it's a company called Enagic.
The main point of the scheme is to recruit you to become a sales representative for the company.
To be successful, you'll probably have to purchase those water machines to qualify for high commissions.
It's Not Beginner-Friendly
Since most beginners are on a tight budget, I wouldn't say that this is suitable for newbies.
Their starter membership is $99 per month, and the upgrade, which contains advanced training, is nearly $3000!
Besides, to become successful with a scheme like this, you need more money for tools and other things such as Facebook ads.
So no, this is not a beginner-friendly program.
That said, let's conclude this review with the answer to the most important question "Is Affiliate Institute a scam or legit?"
Is Affiliate Institute a Scam? – Verdict
Affiliate Institute is not a scam.
The fact is, this company hosts legitimate training for individuals interested in learning more about online marketing, and that's what counts the most.
You can join for free and try it out for 14 days.
I wouldn't, however, recommend this company to newbies. In my opinion, this is not beginner-friendly at all.
It may seem like it is because you get a lot of free stuff like an eBook and a webinar, but that's just a process of greasing up for the main course.
And once you dive in, you'll soon realize that you may have made a mistake.
You see, it takes a lot of time and effort to achieve success with opportunities like this. Moreover, it may look like a cheap way to get started, but it's not.
To achieve success, promoting a product like Kangen, you need to invest a lot of money. And since everyone who joins the Affiliate Institute is going to be promoting the same product, well, guess what?
You're up for a lot of competition. This could lead to market saturation and a massive loss of time and resources.
Thanks for reading my Affiliate Institute review. I hope this article was useful to you.
Affiliate Institute PROS
You Get Affiliate Education
Could Help To Start an Online Busines
They Offer 14-Days of Trial
Company Seems Legitimate
Affiliate Institute CONS
The Content of the Program Is Not Suitable For Beginners
You Need To Upgrade to Expensive Memberships to Get Full Education
They Teach Only Facebook Ads (paid traffic, no free alternatives)
They Promote High-Ticket Water Machines (Kangen/Enagic)
Thy Changed the Name (negative reviews), It Was Called GAZ Before Affiliate Institute
Is There an Alternative to Affiliate Institute?
Are you looking for the best way to make money online? Need affiliate marketing training that is suitable for beginners? Don't want to invest $ 1000's just to get started?
Well, getting started online doesn't have to be hard when you have the right training, the tools, and support all for a reasonable price.
Affiliate Institute is a legit company. However, my #1 Recommendation is a much better alternative if you're looking to become successful with affiliate marketing in the long run.
My #1 Recommendation is a 100% legitimate (and transparent) company that is also been a leader in the affiliate marketing industry for 14 years and counting.
Do I need to buy products to make money?
No! With my #1 Recommendation, you don't have to buy shady water machines to earn an income online.
Can I try your #1 Recommendation for free?
Yes! You can join it for free and take it for an unlimited trial.
Are there any hidden costs and upsells?
No! There's a Premium membership, which gives you access to full training. No upsells!
Do they teach free traffic?
Yes! the training is based on free traffic from search engines and social media.
Can you make money with it?
Yes! I went from $0 to earning $100's per day thanks to my #1 Recommendation!
Click the button below to learn more!
THE BEST WAY TO MAKE MONEY ONLINE IN 2023 >>
And don't forget to share this post with your friends and family!
All the best, Ivan. Founder, and CEO @freeaffiliatemarketingbusiness.com