Welcome to my Coffee Shop Millionaire review.
When I see the word millionaire in the title, I get suspicious and excited at the same time. How about you?
You are probably here because you are a bit of both.
There are plenty of reviews out there, and each one says something different, so you can't really trust anyone. Some even write fake positive reviews to make sales on CSM!
But you don't need to worry. I'm not going to sell you this program.
I just want to help you to make a wise decision regarding Coffee Shop Millionaire, and avoid wasting your time and most importantly, your hard-earned money on a scam or merely an inferior program.
Hi, I'm Ivan and I'm an online marketer who went from waiting tables to managing a full-time income online. I have also tried and tested 500+  courses, scams, and all sorts of schemes to find the best way to make money online.
In other words, I'm passionate about knowledge that helps to improve our lives, build a business online, and more.
Coffee Shop Millionaire is an online marketing program created by Anthony Trister that has been around for ages.
And it's still live.
To me, that fact shows that CSM must be something real, so I took a leap of faith and purchased the program to see what's inside and to help you see it through my eyes.
So without any further ado, let's dive into this Coffee Shop Millionaire review!
Coffee Shop Millionaire Review – Overview
Type: Affiliate Marketing
Product Owner: Anthony Trister
Price: $27+ Hidden Upsells
Money-Back Guarantee: 30-Days
Recommended?: No. See Below…
Quick Summary: Without beating around the bush, Coffee Shop Millionaire is a decent training course on online marketing based on local lead generation.
In my opinion, you need more than this to succeed in this business.
You see, this course could show you how to get started. But the training is lacking in structure and support, which might cause failure.
It will take a lot of extra time to do the research on your own. In my opinion, Coffee Shop Millionaire is more like an info-product. There's still a lot to learn once you start creating your own business.
Imagine a scenario where you pick up a few clients and fail to deliver because CSM training did not teach you all the specifics of local lead generation.
Not a pretty picture.
The reality of local lead generation is a lot harder than Trister makes it sound during the sales pitch as well as during the training videos.
It's not impossible to succeed, but it'll take a lot of time, work, and even some cash to achieve success.
However, I'm afraid that this training won't cut it.
The bottom line is, Coffee Shop Millionaire is not a scam and could be good enough to teach you the basics.
But it's probably not going to be enough to help you to earn a decent income online, let alone to become a millionaire.
That said, I'm not recommending Coffee Shop Millionaire. I don't believe in this course and I have even filed for a refund shortly after publishing my review.
Alternative: If you are interested in making money online, check out a 100% legitimate training program that I used to go from $0 to earning four-figure (and rising!) passive income online!
THE BEST WAY TO MAKE MONEY ONLINE IN 2023 >>
What Is Coffee Shop Millionaire?
Contrary to the title of the program, you won't make millions with this system from Starbucks or any other coffee place.
However, Coffee Shop Millionaire could show you some basics of digital marketing.
CSM is all about learning the basics of online marketing and lead generation.
Anthony Trister has put together a decent training course where he explains what is necessary to become successful in marketing other people's products or services.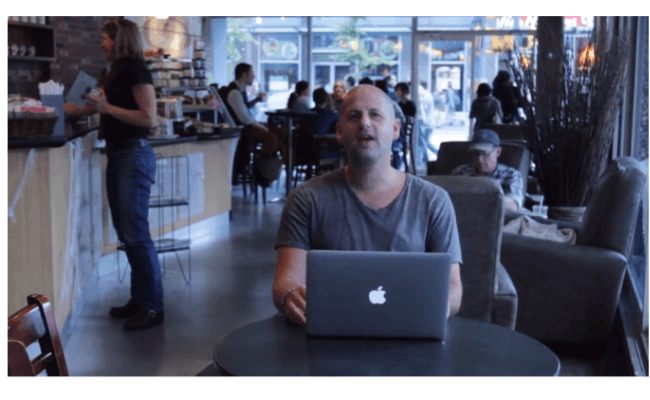 That's the basic model of CSM, which in theory sounds very simple. But this program would not be my top recommendation.
In fact, after seeing the content of the program, I wouldn't recommend it if you are looking for comprehensive education in online marketing.
In my opinion, it's a bit worn out model. The program has some good points and covers the most basic stuff.
But I believe that you need much more than this to make it with affiliate marketing.
I'll show you what I mean in the rest of this post.
As I said at the top of this Coffee Shop Millionaire review, the word millionaire in the title of the program is there to put some unrealistic ideas and expectations from this business.
I think that Anthony has done an excellent job with marketing (read hype); that's all. I see this all the time reviewing MMO programs and courses.
The quality of the program is something else, and I certainly wouldn't expect to make millions with CSM.
It could help you to grasp basic stuff and who knows, if you give it an honest try, maybe even to make a few commissions.
But I wouldn't be too excited about it.
Coffee Shop Millionaire Price & Upsells
So as I said, I actually purchased CSM to help you find out the truth and give you a chance to see it through my review.
The front-end price was (and still is) $27.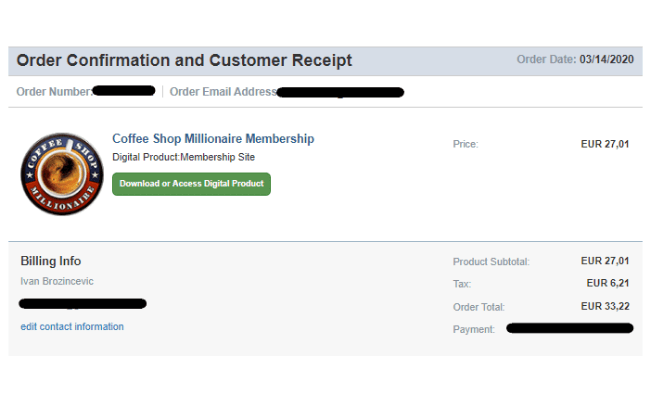 Once you open the door, you'll get smacked with a few upsells.
You don't have to take them if you don't want to. You can decline them at the bottom of the page.
Six-Figure Secrets Club – $297 or $147
Direct Email Coaching – $197
The first upsell is about getting access to 10 secret websites that make for Antony 1000's per week.
If you decline, you get 50%.
And then, there's a second upsell, which is all about Anthony helping you through 1 on 1 email coaching.
Inside Coffee Shop Millionaire Training Area
Now once you get inside Coffee Shop Millionaire, you'll find a simple dashboard where you can go through 11 training modules and start the training.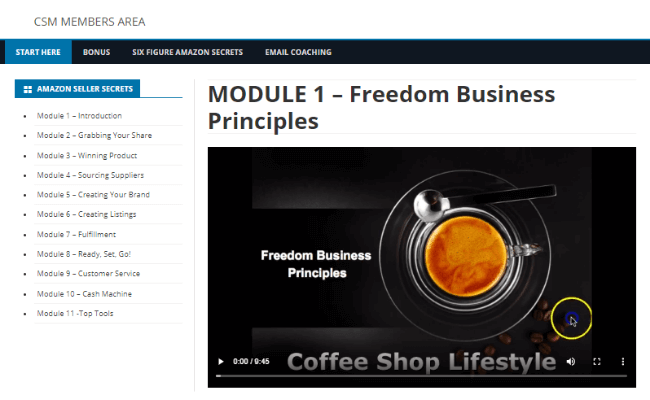 Plus, you get a goal-setting worksheet (PDF) and a bunch of bonus material that compliments the core training.
Module 1 – Introduction 9:45
Module 2 – Grabbing Your Share 11:51
Module 3 – Winning Product 20:12
Module 4 – Sourcing Suppliers 23:08
Module 5 – Creating Your Brand 21:37
Module 6 – Creating Listings 13:32
Module 7 – Fulfillment 6:31
Module 8 – Ready, Set, Go! 9:22
Module 9 – Customer Service 11:35
Module 10 – Cash Machine 18:42
Module 11 -Top Tools 6:05
So as you can see, the training inside of CSM is not even close to a comprehensive education.
There's barely a couple of hours of training. But it does teach about the legitimate business model.
Let's talk about it in more detail now.
How Does Coffee Shop Millionaire Work?
First of all, Coffee Shop Millionaire is far from a get-rich-quick program.
It's based on the business model that takes a lot of groundwork on your part. It's unrealistic to expect fast and massive results as a beginner.
In my opinion, the course teaches mostly about how to approach this business.
Anthony spends a lot of time just talking about the business and shares directions. It's not teaching about in's and out's of online marketing, which is not a good thing.
I think you'll be left with a lot of questions marks above your head with this program.
The program will show you how online marketing works, but that's all you get.
So, in theory, the main point of the Coffee Shop Millionaire method is to reach out to some local businesses and offer them your marketing service.
Once you get the job done, and manage to get your customer more of the same, you earn a commission.
Then all that's left to do is keep repeating the process.
Lastly, you can outsource the work and put your business on autopilot.
Crazy idea, right? But will it work?
The truth is, yes, you can make it happen. However, this business model is complex, and it'll take a lot of time to reach the stage where you can outsource your business.
It's possible, but it's a long process.
In my opinion, CSM is not going to help you to tackle lead generation. Antony teaches a lot about basic stuff, which is good.
But on the other hand, the course has its shortcomings which will undermine your chances for success.
Also, it's essential to highlight that this business model will require some further investment.
Coffee Shop Millionaire is just a training program. You still need to outsource tools and resources to build your very own online business, which ads a few 100's on total expenditure.
Who Is Coffee Shop Millionaire For?
If you're looking for an introductory course when it comes to starting a business that sells digital marketing services (local lead generation), then CSM could be enough to help you to understand the modus-operandi.
But if you are not willing to spend your hard-earned money on a training course where you get half-baked information, and that requires further investment and education on this topic, then you should probably skip Coffee Shop Millionaire.
Also, if you are looking for a get-rich-quick scheme with which you'll magically make you a millionaire, you should skip CSM, because you'll be disappointed.
THE BEST WAY TO MAKE MONEY ONLINE IN 2023 >>
What I Like About Coffee Shop Millionaire
Decent Basic Training
The core of the CSM is to make money with affiliate marketing and lead generation. This business model is legitimate and works for many people.
I like the fact that it could teach you some basics of the business.
But on the other hand, I couldn't escape the thought that I can find all this on YouTube in less than an hour of research.
100% Money-Back Guarantee
ClickBank allows a 60-days refund policy on all products sold via the marketplace, which stands for Coffee Shop Millionaire as well.
Related: Commission Blueprint Review
What I Don't Like About CSM
It's Not As Easy As Antony Makes it Look
First of all, you're led to believe that you can master this in record time and earn massive commissions, which is absolutely not right and is not going to happen no matter what some of those 'GURUS' say.
While I was going through the sales funnel, I noticed that Antony spends most of the time talking about commissions and showing you his results.
He flashes with a bunch of commissions slips but fails to tell you that he's a pro who is doing this for years.
He makes a tough business look too easy, and thus, puts the wrong ideas into your mind.
Then, when you compare the content of the Coffee Shop Millionaire to those claims, you can see that those words were nothing but overhyped marketing.
Lack of How-To Parts
Speaking of which, I sat through lessons of the program and noticed that it's more like an info program than it's actually a training course.
Yes, it has some good points, and you can learn something from Anthony, but I feel like it's missing a lot.
Learning about marketing and lead generation is not hard at all.
But the part that requires an effort on your part has been, in my opinion, left out of Coffee Shop Millionaire.
It's like watching how to build a building, but once you step outside to do it, you'll be lost.
Imagine you manage to complete the training and find a few customers who are willing to trust you with their money, and you fail to deliver.
Not only that you'll lose clients and their money, but you'll turn back to those who sent you to do it and realize that you were not prepared well.
Unexpected & Expensive Upsells
The last thing that puts me off Coffee Shop Millionaire is surprising and aggressive upsells.
It's pretty much standard procedure, but to me, it says that the program you're buying is not going to be enough and that at one point or another, you'll fail.
The part with upsells is tied directly to all things that I've said under the previous headline.
It's a fact that the training contains holes and is not comprehensive as it should be when we talk about online marketing.
So if you fail, you'll probably have to reach out to spend more and more of your hard-earned cash on upsells and additional resources.
So instead of spending just $30 on some course that is supposed to teach you how to make millions, you'll end up paying $100's.
Related: China Cash Clone Review 
Is Coffee Shop Millionaire a Scam?
The answer to whether Coffee Shop Millionaire is a scam or legit lies in your own experience with the course.
If after going through the training, you don't achieve ANY results with CSM, then you can say that it's a scam.
But if you do manage to make something out of it, you can claim otherwise.
So it's really up to you and your own experience with Anthony Trister's methods.
I personally would not call CSM a scam.
In my opinion, it's a decent crash course that explains local lead generation and how to dive into these waters.
So my verdict is that it's a legitimate course.
However, I don't like the fact that the course is not comprehensive enough.
To achieve success in this business, you need a lot of resources and spend a lot of time connecting the pieces.
Would I recommend this training?
Honestly, no. I wouldn't recommend this training course.
On the other hand, if you're looking for the best business model to earn passive income online as a beginner, there are other, more suitable, and cost-effective alternatives.
My top-rated course has helped me to go from earning $0 to $100's per day!
THE BEST WAY TO MAKE MONEY ONLINE IN 2023 >>
Coffee Shop Millionaire Review – Conclusion
First of all, thanks for reading my Coffee Shop Millionaire review. I hope this article was useful to you.
As I said at the top, local lead generation is a serious business, and if you want to take a part in it, you've got to learn a lot.
A simple info-product like CSM is not going to be enough on its own.
You'll still have to conduct a lot of research on your own to gather the information that is missing from this course.
Thanks for your attention!
What do you think about it? Is Coffee Shop Millionaire a scam or legit? Do you have any experience with Anthony Trister's program? Feel free to share your opinions below this review!
How To Make Money With Affiliate Marketing
If you're looking for ways and means to start a legitimate affiliate marketing business to earn an income online, you should check out my top-rated program first.
The program that I recommend on the next page has helped me to reach the status of an online entrepreneur in a short period, and I'm confident it could help you too!
I went from struggling marketer to earning $100's per day promoting ANY products I choose and I want to show you how you too can do the same.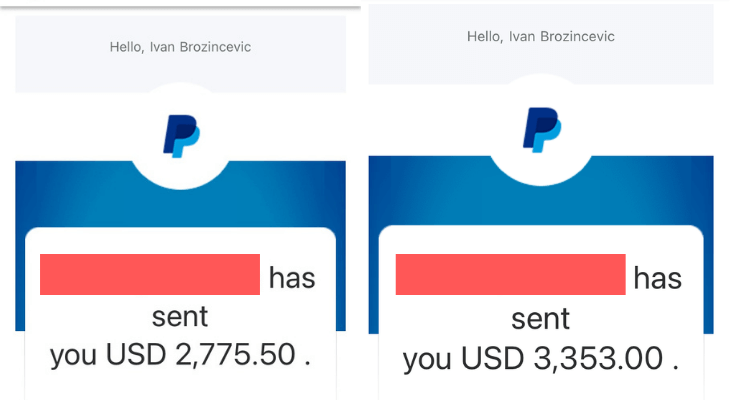 Among the best features of my # 1 ranked course is that you can start for free. You will get one complimentary site and access to the very first ten lessons from the course to try things out.
Furthermore, this program is in fact all-in-one. You get everything that you need to make money online.
This consists of detailed training, all the very best tools, hosting and websites, live assistance, community aid, technical assistance, one-on-one coaching, and so much more!
After evaluating over 500 programs on the web, my conclusion is easy. This is the best method to make money online.
And if you're looking for the very same, click the button below!
THE BEST WAY TO MAKE MONEY ONLINE IN 2023 >>
If you need any help or you have a question, feel free to contact me.
Don't forget to share this review with your friends and family too!
All the best, Ivan. Founder, and CEO @freeaffiliatemarketingbusiness.com