Welcome to my Create and Go review.
Blogging is fun. Blogging is creative. Blogging can help you to express your passions, make money online, and even quit your job, travel the world, write your own paycheck, have more time, money, and freedom!
However, there are too many courses out there that promise to show you how to make it happen. Unfortunately, most of them are scams and get-rich-quick schemes created by fake gurus who are looking to capitalize on your desire to start making money online.
It's natural to ask yourself then: Is Create and Go a scam? Or is it a real course?
In this unbiased review, I will share my experience with Create and Go training program. Among many things, I'll share with you my personal pros and cons as well as the opinion about whether it is a scam or legit.
Shall we get started?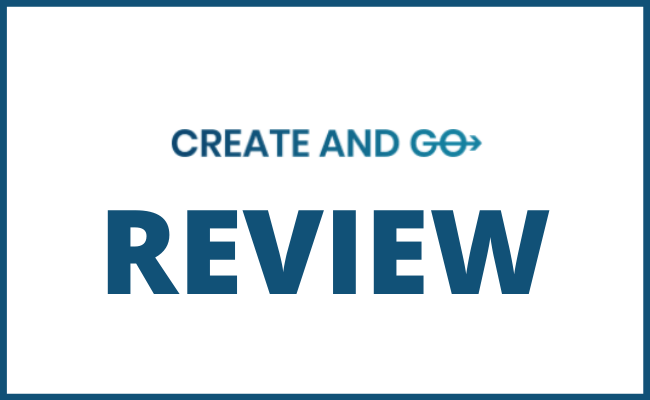 Create and Go Review – Overview
Product Type: Blogging Course
Product Price: Free + Extra Costs
Product Owner: Lauren and Alex
Money-Back Guarantee: Unavailable
Recommended?: Yes
Overview: Create and Go is a legitimate training course that is focused on helping people to start a blog from scratch. It includes five basic lessons that were created and are hosted by two successful bloggers.
I would recommend this course. However, keep in mind that it's not entirely free. Meaning, you will have to invest in hosting and tools. Also, in my opinion, the course lacks in-depth content, which could jeopardize your chances for success.
On the other hand, my #1 recommendation below is a step-by-step in-depth training course that includes all the tools, help, and support you need to get started on the right foot. It's free to try it out and only $49 per month to go full-time online!
>> Check Out My 🏆 #1 Recommendation Here <<
What Is Create and Go?
Create and Go is a 5-day free course created by two successful bloggers, Lauren and Alex, that shows how to start a blog from scratch without any previous skills or blogging experience.
During the five free lessons, Lauren and Alex teach how to choose your niche, build your own WordPress-operated blog, design it, get visitors to your blog, and how to monetize the traffic with affiliate links.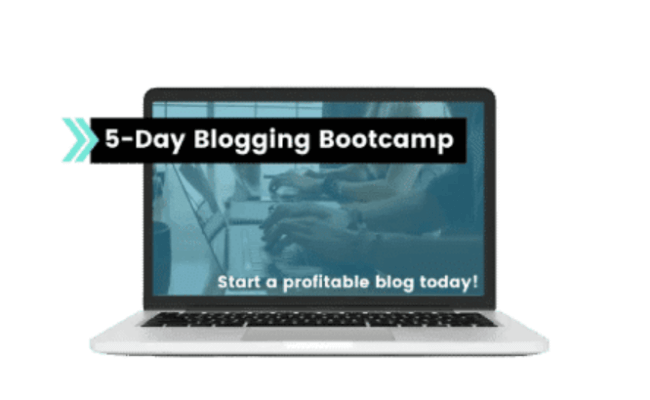 Pretty much basic stuff that I was expecting to see. After all, it's a free course, right?
Well, actually, it's not.
See, Create and Go is free to join. But you can't get started with the course unless you purchase BlueHost hosting that you will be using to build your blog. That's a small trick Lauren and Alex use to make money from this course.
Does this make it a scam? No!
You will need hosting for your blog whether you go through Create and Go or alone. So it's actually not that bad to help them to make some money and they will show you how to start for free in an organized manner.
So who are they? Who are Lauren and Alex?
Who Are Lauren and Alex?
Alex Nerney and Lauren McManus are successful bloggers who are now dedicated to sharing their success and experience with other people who share their interest in blogging and making money online via Create and Go website and training course.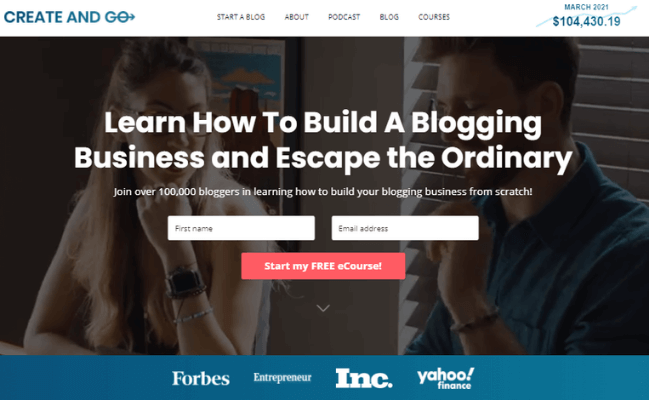 Like every other success story, their story started with failure.
Lauren's and Alex's first blog was in the health and fitness niche and it failed after only three months. I can relate to them because my first blogging experience was the same.
Can you relate? Did you build a blog only to see it fail so far?
In any case, Lauren and Alex didn't give up. They kept learning and improving. Their second attempt in the same niche went off and before they knew it, they were both able to quit their jobs and go full time!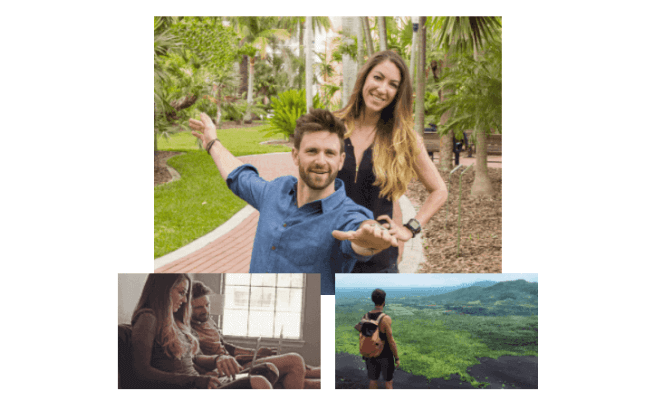 The blog that I'm talking about is called Avocadu.com.
Today, after a few years of hustle, they created Create and Go course and website to help other aspiring bloggers follow in their footsteps.
One of the things that I like about these guys is their YouTube channel.
They have about 123K subscribers and tons of free videos that you can subscribe to and watch before joining their courses. One of their videos even got on million views, which is amazing!
Here's the video that I'm talking about.
I was glad to learn that Lauren and Alex are real people with a real background. This gives them credibility and shows that Create and Go is not a scam – more about this later in the review.
Let's now learn what you can learn from Lauren's and Alex's course, shall we?
How Does Create And Go Work?
As I said earlier, Create and Go is about blogging. It's a free course that anyone can join to start a blog from scratch. All you need to get started is an email address and a few bucks for hosting for your website.
Once you register for the course, you will receive an email from Lauren and Alex.
This email contains a link to the Create and Go 5-day free training course. But before you can get started with lesson one, you will have to use their links to go to the Bluehost platform and buy hosting for your site.
Then, you will have to send your details and proof of purchase back to Lauren and Alex to get access to the course.
And this is where the fun begins.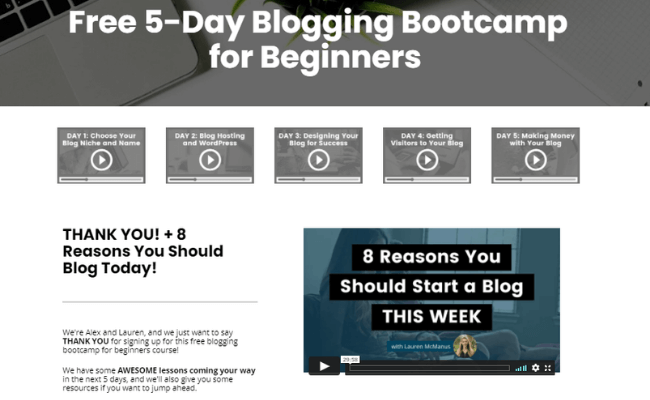 During the next five days, you will be learning how to:
choose your niche
set up hosting and WordPress
design your blog
get visitors to your blog
make money
Create and Go course starts with choosing your niche and naming your website.
The best way to choose your niche is by searching your passions and hobbies for the one that you would like to share with others via your blog in a form of blog posts. This can be anything you want!
Then, you just have to give your site some catchy name and proceed to the next lesson.
The next lesson inside Create and Go course is about setting up hosting and WordPress. This process might sound scary if you're not tech-savvy. But don't worry. Building a website is actually a very simple process that anyone can do today.
Basically, all you have to do is click and save and once you're all set up, you will be ready for the next lesson.
With lesson number three, Lauren and Alex will show you how to install a theme and design your blog. For example, you will learn how to create menus, use widgets, and more. It's a very fun process.
Once you set up your blog, Create and Go course then moves to the part where you will learn how to write blog posts to get free traffic from search engines and social media.
Then, the last lesson is about monetizing your blog with affiliate links.
And that's it!
Just keep in mind that these five lessons are basic and will help you to get your blog up and running.
To achieve real success with the blogging and Create and Go course, you will have to write at least 50-100 blog posts to get the first traffic and sales. And then, you have to keep building up and up to maintain and grow your results.
Related: High Income Copywriter Review
Is Create and Go a Scam?
Create and Go is not a scam. Overall, it seems like a legitimate course. While preparing for this review, I haven't found any scam signs or red flags.
In other words, everything seems good to me.
The sales page (official website) for this course is clean. There are no overhyped claims and promises, misleading statements, unrealistic income claims, and other hyped-up things that scams use to get you in.
I always check the owner's background because you can't really trust people on the internet these days. I reviewed a bunch of fake courses with fake owners so far so I'm always skeptical about these characters.
So what about these guys? Are they legit?
Yes, Lauren and Alex are real and legitimate bloggers who own a few successful blogs, Create and Go platform, YouTube channel, and more! You can even contact them via Facebook and Instagram too.
Usually, scams use fake testimonials to make you believe that their offer works for others.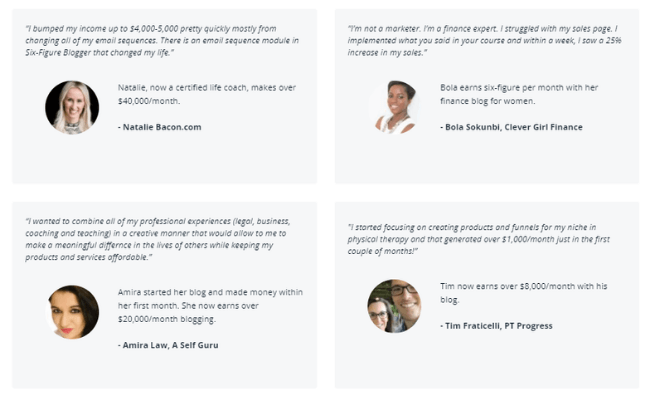 When I saw testimonials on Create and Go website, I immediately did a background check to see whether those testimonials were fabricated or not.
The good news is, they are real!
So all in all, Create and Go is not a scam. As I said, it's a perfectly legitimate course created by two legit bloggers who seem to be very successful at what they do.
Who Is Create and Go For?
Anyone interested in starting a blog from scratch can join Crate and Go course. In my opinion, the course is beginner-friendly and easy to follow and is aimed toward helping newbies to get started fast.
It's for people who enjoy writing and would like to turn passions into profits.
I'm not so sure that advanced bloggers and marketers will find anything new here since most of the stuff related to this course is something that you probably already know.
How Much Does It Cost to Get Started?
As I said earlier in this review, Create and Go is a free course.
There is, however, a price to pay if you want to get full access. You need to purchase BlueHost hosting for your website via Lauren's and Alex's links inside the dashboard.
If you do so, you will get a special discount on your hosting, only $2.95 per month for a basic plan for one website.
Selling hosting is how Lauren and Alex make money from this course, and it's nothing bad or wrong. In fact, they are open and transparent about their affiliation.
Is Create and Go Recommended?
Yes, I would recommend Create and Go course if you're interested in it. In my opinion, it is a good course, but it's not great though.
The course itself is legit but very basic and could use a lot of improvement. For example, I feel like Lauren and Alex could have included or could include in the future more lessons on SEO (search engine optimization).
SEO is a big part of a successful blog and basically a world for itself.
Setting up a blog, learning how to write posts, and monetizing your blog is just a start. The real work and the real reason for the success of every blog out there is SEO.
Nonetheless, Create and Go is a great course for beginners who want to set up a blog for free (+hosting).
Related: 30 Day Blog Challenge Review
What I Like About Create and Go
Laura and Alex are legitimate bloggers
The course is based on workable methods
Easy to follow the beginner-friendly course
Free access to the course
What I Don't Like About It
No tools – you have to buy hosting, domain, etc.
The course is basic – lacks advanced methods (SEO)
Create and Go Review – Conclusion
Overall, Create and Go is a simple and basic course on blogging that could help you and anyone interested in starting a blog to get started on the right foot.
I especially like the fact that the course was created by two real bloggers who know how this industry works and who have a good reputation as well. In other words, Laura and Alex are expert bloggers.
Although the course is free, you still need to be prepared to invest some money (tools, hosting), so make sure to keep that in mind if you choose to follow Laura's and Alex's course.
And that's all there is to my Create and Go review. I hope this post was helpful.
What do you think about it? Do you have any experience with this course? Feel free to ask questions and share your experience at the end of this review.
Related: Write To 1K Review
Create and Go Alternative (My #1 rated blogging course)
In my opinion, Create and go is good, but not excellent. I'm sure that the owners could and probably will include more advanced content because after all, it seems like this course needs it.
On the other hand, my #1 recommendation has everything a blogger needs to build a highly successful blog.
Meaning, you will get access to the in-depth training course (SEO and advanced methods too!), all the tools such as hosting, website builder, keyword too, content writing platform, and more, are included. Plus, you get access to 24/7 help and support!
My #1 recommendation has helped me to start this blog and go from $0 to earning $100's per day! Click the button below to learn more.
>> Check Out My 🏆 #1 Recommendation Here <<