Welcome to my DFY Hero 2.0 review where I'm going to share my personal views on this new updated software.
As its name suggests, Cindy Donovan has decided to update and improve the previous version with more website templates and useful features all wrapped into a new DFY Hero 2.0 version.
And since you're here, it means that you're actively looking for more information about this software before you make any decisions. Well, congratulations! That's how smart folks shop for products online. Good for you.
Now, with this review, I'm going to be helping you to understand and get answers to a few questions such as:
What Is DFY Hero about?
How does it work?
How much does it cost?
What do you get with this?
And more!
I have gone through the entire sales page and sales funnel to show you what you can really expect from DFY Hero 2.0. Also, it's important to know that I'm not selling this software. In other words, my DFY Her0 2.0 review is 100% unbiased and honest.
This is not one of those glowing reviews where you get tons of bonuses as a bribe to buy through their affiliate links.
Hi, I'm Ivan and I'm an online marketer who went from losing my time waiting tables to running a thriving online affiliate marketing business.
In the meantime, I have actually tried and reviewed 600+ courses, scams, and even pyramid schemes to find the very best way to generate income online.
That said, let's stop this chitter-chatter and let's get busy, shall we?
DFY Hero 2.0 Review – Overview
Product Type: Internet Marketing
Owner: Cindy Donovan
Price: Starter $29.97/monthly or Deluxe $47/monthly
Money-Back Guarantee: 30-Days
Recommended?: Not really
Quick Summary: DFY Hero 2.0 is a cloud-based software that allows you to build websites without any web design skills. It's equipped with 100+ DFY templates and a drag-and-drop feature that allows you to customize your sites easily.
You can use these sites as they are or you can customize them with your own logo, images, text, menus, etc. It does not require hosting as it also comes with the ability to host on a sub-domain within DFY Hero 2.0 dashboard.
In my opinion, it is a useful software that I would recommend to advanced marketers who have skills but don't want to waste time and effort creating websites from scratch.
On the other hand, I don't recommend it to beginners as I believe it could be confusing and just a waste of time. Why? Well, it's hard to use such a tool if you don't learn the basic web-design skills and terminology.
In my opinion, some degree of experience and previous knowledge is needed to get the most out of DFY Hero 2.0
But all in all, it is a legitimate product. You can give it a try and if you are not satisfied, you can get a refund within 30 days after the purchase has been made.
Alternative: Wanna start your own website and make money online? Click the button below to reveal this PROVEN training platform that I use to earn a consistent passive income online from my websites!
THE BEST WAY TO MAKE MONEY ONLINE IN 2023 >>
What Is DFY Hero 2.0 About?
DFY Hero is an updated version of cloud-based software that gives you access to 100+ ready-to-use website templates. In a nutshell, the software helps to build websites with ease without any previous skills, knowledge or experience as it comes with a simple drag-and-drop editor.
You can use this software to launch eCommerce and affiliate marketing websites in half the time. The drag-and-drop editor allows users to play around with the features, use DFY layouts, add their own images, change templates, change text, colours, and more.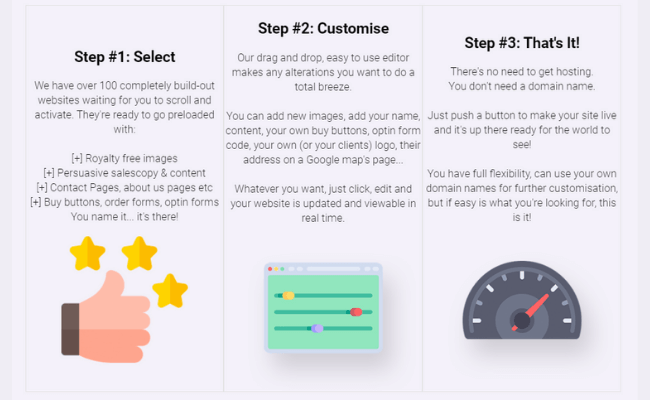 In addition to all these features, DFY Hero 2.0 allows you to build an unlimited number of websites. You can use blank templates and start a new project or you can use a DFY template and just tweak it a bit to make it unique.
All in all, it seems like a convenient tool.
It's highly important for me to say that this software is not a scam. I don't see any signs of a scam or anything unethical about DFY Hero 2.0 like I found while reviewing other products of this kind such as xPress Funnels and Viral Store.
However, it's also important to understand that this software is just a tool that helps to build sites fast. You don't need any WordPress or web-design skills to use it. But you do need skills in traffic generation in order to make money with it.
So don't get confused that this software will earn you an income just because it's easy to use.
That said, let's keep this DFY Hero 2.0 review in motion and let's meet the owner of this software, shall we?
Who Owns This Product?
Cindy Donovan is the person behind the DFY Hero 2.0. She's a successful marketer and an online entrepreneur from Australia. You may know Cindy from her previous product called Traffic Ivy.
However, these two products are not the only ones Cindy has released so far. She's also behind Fearless Netpreneur, Video Overplay, Ultimate Banner Plugin, and more!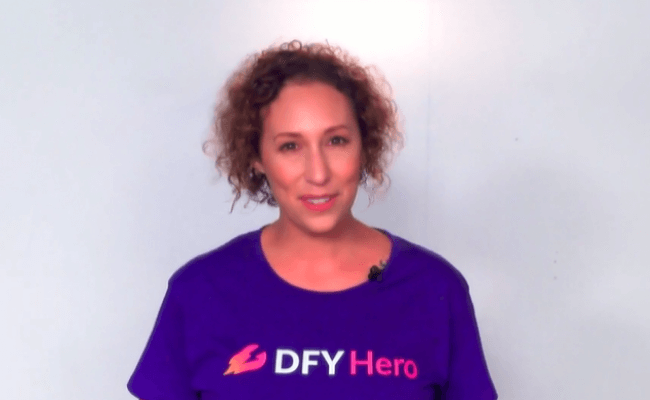 What I like about her is that unlike many other product owners today in this MMO (make-money-online) niche, Cindy Donovan has high moral standards.
In other words, you will not see her giving you any false promises or leading you to think about how her products will make you $1000's overnight just so that she could make more sales.
And you wouldn't believe how many people overhype their products and give false promises just to earn money.
Instead of pulling your nose, Cindy does her best to stand behind her products and really help online marketers, affiliate marketers, e-commerce owners, bloggers and all sorts of online entrepreneurs to improve their businesses and their results as well.
Speaking of which, let's jump to the next section of the DFY Hero 2.0 review to learn how Cindy could help you with this software to become a better marketer.
How Does DFY Hero 2.0 Work?
The main idea behind DFY Hero 2.0 is to help you create a website without having to learn WordPress, web design, coding, etc. All you have to do is log into the software, choose one of the following categories of websites and pick your DFY theme.
You can choose from these categories:
Corporate
Portfolio
Creative
Local Business
Medical
Blog
Squeeze Pages
Sales Pages
eCommerce
Local Services
Education
You can use a DFY Hero 2.0 website as it is or you can play around with the software and customize your site using a drag-and-drop builder to make your site look unique.
For example, you can change the images, text, layout, logo, menus, etc. You can also add and change the existing lead generation forms and many other pretty basic features.
All these sites come with:
Royalty-free images
Persuasive sales copy & content
Contact Pages, about us pages etc
Buy buttons, order forms, opt-in forms
Once you are finished with customizing your website, you will have to add a few details such as site address (domain name) and site title.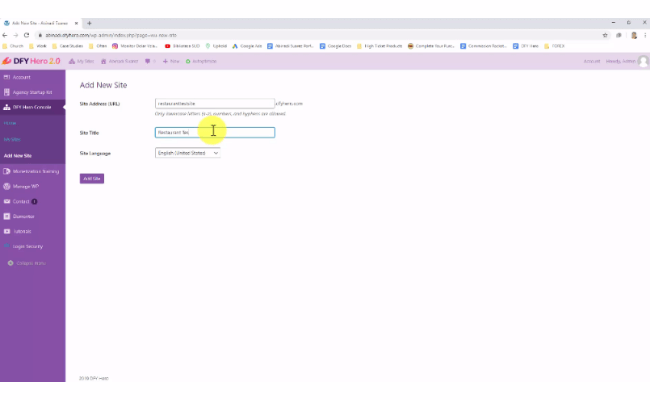 You don't need to buy a domain name because DFY Hero 2.0 allows you to use a hosted subdomain. But if you want, you can also connect these websites to your own hosting, which is a better idea, in my opinion.
And that's basically it! Once you go through this process, you'll have a professionally looking website in your hands ready for whatever you want. You can use it as a personal blog, marketing site, business website, etc.
However, it's important to highlight that DFY Her0 2.0 is not a training program where you can learn how to get traffic to your sites and make money. That part is up to you.
You do get a set of training videos, but those are just showing how to use the software.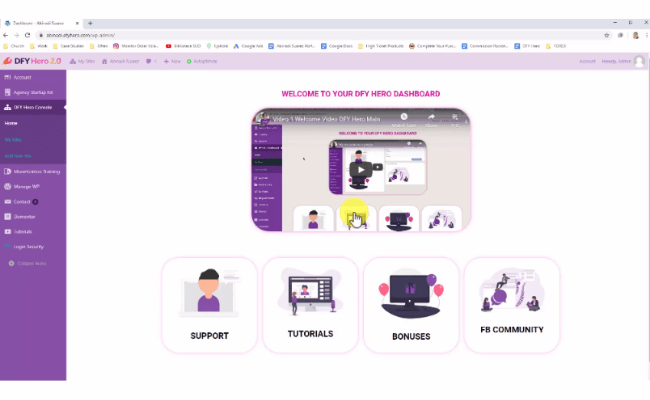 So if you're looking for an all-in-one online business solution, DFY Hero 2.0 is not going to be it. In my opinion, it's more like a WP drag-and-drop builder such as Elementor, ThriveThemes, ClickFunnels, etc.
Who Is DFY Hero 2.0 For?
In my opinion, DFY Hero is for people looking for an easier way to create websites. I've seen a lot of website builders so far, and this one comes somewhere at the top of my list of recommended internet marketing tools.
For example, my #1 recommendation is the SiteRubix site builder which comes included with Wealthy Affiliate membership ($49/per month). It's got all the features and comes with step-by-step training where you can learn how to get traffic and make money from your site.
That is something DFY Hero 2.0 is missing to show you, which is a shame really because I think it's a good tool that could use step-by-step internet marketing training.
Nonetheless, I still would recommend this tool for:
Affiliate marketers
Bloggers
Digital product marketers
eCom store owners
Physical product vendors
Brick and mortar business
Local business owners
Small business owners
Digital agency owners
What You Get With DFY Hero 2.0
Now, in this section of my review, I will reveal what you get with DFY Hero 2.0 in more detail. I have mentioned a few features so far, but I'm going to be more thorough here and give you a complete list of features included with this software.
And Easy-To-Use Page Builder
Fully Mobile Responsive Pages
A Training Module
Instant Real-Time Updates
Landing Pages and Sales Funnels
An Extensive Template Library
Domain Hosting Included
Unlimited Comercial Licence
Pre-Instaled Plugins
The top feature of DFY Hero 2.0 is of course a drag-and-drop page builder that comes with a set of DFY website templates. These templates are fully mobile responsive, which is extremely important these days.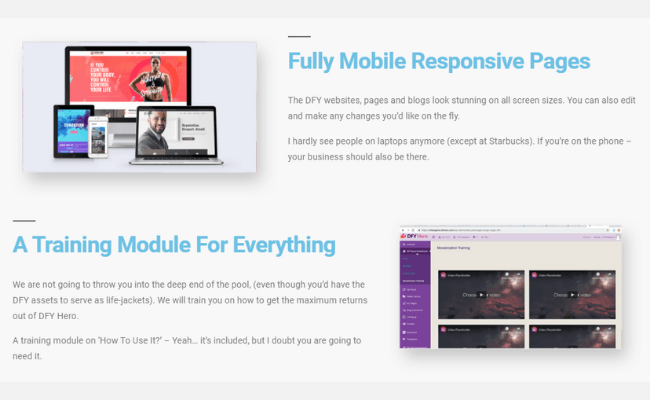 Another cool feature of this tool is domain hosting is included. It's important to know that this is subdomain hosting. However, you can buy your own hosting and take full ownership of your sites, which is highly recommended.
All users of DFY Hero 2.0 get access to training tutorials where Cyndy Donovan shows how to use her tool effectively. On top of that, instant updates are included as well.
Last but not the least, a commercial licence is also included so that you can leverage this tool for commercial use.
That said, let's check out the next section of the DFY Hero 2.0 review to see how much all these features cost.
DFY Hero 2.0 Price and Upsells
By the time of writing this DFY Hero 2.0 review, you can get this software in two versions. One version is called Starter and the other one is Deluxe. Each comes with a different price tag and a set of unique features.
Also, you have 30-days to test and review the software. In case you're not happy, you can ask for a refund via the Customer Support desk within the members' area.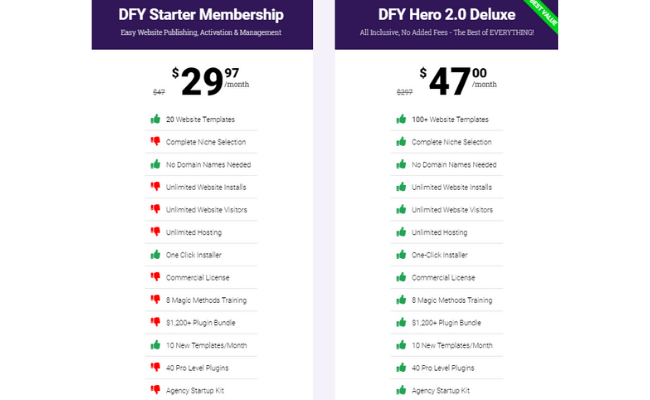 Now let's take a closer look at both options.
DFY Starter Membership – $29.97 per month
This option costs $29.97 per month and it gives you access to a few basic features of DFY Hero 2.0. Some of those features are:
20 Website Templates
No Domain Names Needed
One-Click Installer
10 New Templates/Month
This version is pretty much basic and is not recommended if you're looking to take full advantage of this tool. For that, you'll have to choose the second option.
DFY Her0 2.0 Deluxe Membership – $47 per month
The second version of DFY Hero 2.0 costs $47 per month and gives you access to the following features:
100+ Website Templates
Complete Niche Selection
No Domain Names Needed
Unlimited Website Installs
Unlimited Website Visitors
Website Hosting
One-Click Installer
Commercial License
8 Magic Methods Training
$1,200+ Plugin Bundle
10 New Templates/Month
40 Pro Level Plugins
Agency Startup Kit
And once you decide upon one of those two memberships, you will be offered a few more one-time offers (upsells). You are not obligated to buy these because they do not contain critical parts. In other words, these are just additional features.
Upsell #1 DFY Hero Templates Group – $19.97 Per Month or $297 Lifetime
This upsell gives you access to ten extra templates designed by professional web designers and marketers. On top of that, you get 10 extra templates every single month within your DFY Hero 2.0 Template Library.
You can choose from three billing options:
$19.97 Monthly
$197 Yearly
$297 One time
DFY Hero Agency Startup Kit – $47
This upsell allow you to use DFY Hero 2.0 as an agency. In other words, you can create sub-accounts for your clients and let them use your websites.
This upsell comes with training hosted by creators where they show you the best ways to utilize this software and everything that comes with it.
DFY Hero Resellers License – $97
In case you wish to resell DFY Hero 2.0 as your own product to keep 100% commissions, this upsell will allow you to do so and it costs $97. It includes full customer support and development costs.
What I Like About DFY Hero 2.0
Easy to use
Customizable DFY themes
Video tutorials included
Relatively affordable price
30-days money-back guarantee
What I Don' Like About It
Sales page hype
No training on how to make money
It's not 100% beginners-friendly
Expensive in the long-run
Is DFY Hero 2.0 a Scam?
DFY Hero 2.0 is not a scam, get-rich-quick scheme or anything like that. It's just a marketing tool that gives you the ability to build websites with ease and use DFY templates. It's definitely not a scam.
DFY Hero 2.0 Review – Final Words
Overall, I think that DFY Hero 2.0 is a neat software that truly helps to get quick and easy access to websites. It does not require any special skills or knowledge. The question is, do I recommend it?
My answer is two-fold for two reasons.
On the one hand, I would recommend this software to people who already know how to make money online. It could save you a lot of time and effort wasted on designing websites. Instead, you can simply choose a DFY template, tweak it to your taste, and it's ready to go.
What I want to say is that I recommend DFY Hero 2.0 to advanced marketers.
On the other hand, I'm not 100% sure that this software is a good choice for beginners. If you're just getting started and are looking to earn an income online, this software should wait.
In my opinion, it's best to learn how to build a website on your own before using software such as DFY Hero 2.0
In other words, I don't really see how this tool could help newbies to get started because all it does is, it gives you done-for-you websites.
You can't learn how to start your own website from scratch, choose your niche, get traffic, use affiliate links, and make money, which is something every beginner should learn first!
In any case, thanks a lot for reading my DFY Hero 2.0 review! Let me know if you have any questions or thoughts about this product in the comment section below.
How I Make Money With Affiliate Marketing
If you're interested in learning the basics first, building websites second, and making money third, you should stick with me for a few more seconds.
The training program below is my #1 recommendation for marketers of all levels, especially newbies.
In my opinion, this training program is the best thing for many reasons.
One, you will get step-by-step training where you can learn how to start your own affiliate website from scratch, get traffic to your site and earn an income promoting other people's products.
Second, you get access to website builder, domains, hosting, keyword tool, market research tool, content writing platform, 1000+ profit ready themes, private coaching, 24/7 tech support, and much more!
Three, I joined the same program, learned everything they showed me, applied it, and today, I earn a consistent passive income from affiliate marketing by recommending products I trust and believe in!
Just take a look at commissions that I earn passively all thanks to my #1 recommendation.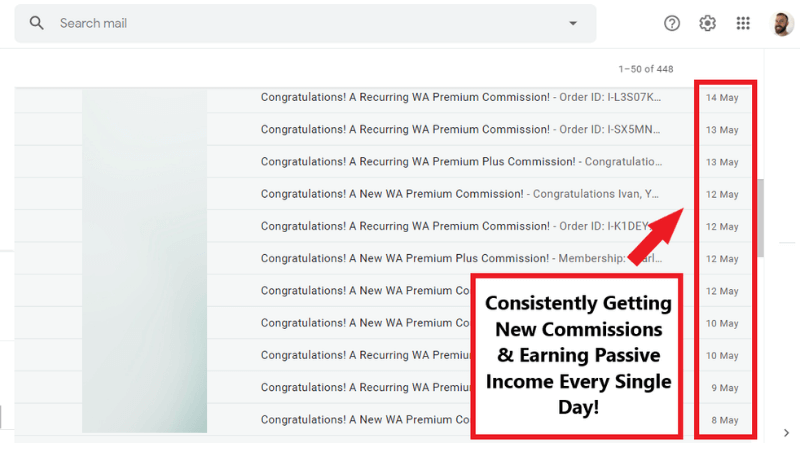 Among the best features of my # 1 ranked course is that you can take it for a test drive (just a $49 Premium subscription).
You will get one complimentary site and access to the very first ten lessons from the course to try things out.
After evaluating over 600 programs on the web, my conclusion is easy. This is the best course to learn about ins and outs of affiliate marketing.
And if you're looking for the very same, click the button below!
THE BEST WAY TO MAKE MONEY ONLINE IN 2023 >>
If you need any help or you have a question, feel free to contact me.
And don't forget to share this DFY Hero 2.0  review with your friends and family!
All the best, Ivan. Founder, and CEO @freeaffiliatemarketingbusiness.com
Related: Click Wealth System Review