Welcome to my Direct Mail Pro review. 
One of the first things that set my scam alarm off is the lack of information about what you're going to be doing with this organisation. After seeing the page, my initial thoughts were "Direct Mail Pro is a scam, for sure." 
The official website does not give you any direct answer about the nature of the business, which is never a good sign. Another bad sign is negative Direct Mail Pro reviews that flood the internet. Things were not looking good right from the start.
So I started to dig deeper to reveal the truth and to help you to avoid wasting your time and money on a scam or merely an inferior program. Let's dive into this Direct Mail Pro review to see what's going on.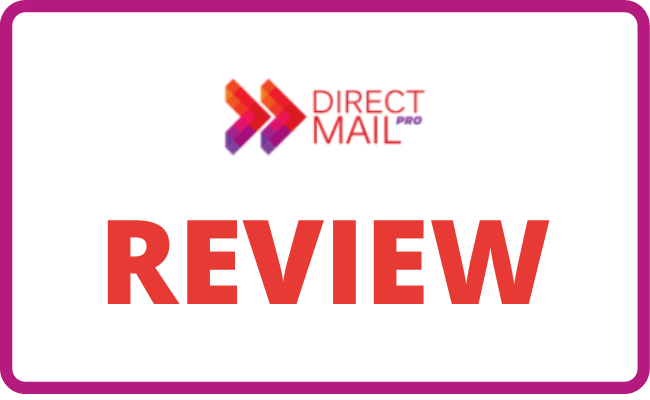 Direct Mail Pro Review – Overview
Product Type: MLM
Product Price: $9,250
Product Owner: Peter Wolfing
Money-Back Guarantee: not available
Recommended?: NO!
Quick Summary: In my opinion, Direct Mail Pro is not recommended because it is an expensive MLM (Multi-Level-Marketing) scheme in disguise. The main intention is to recruit you into the scheme and force expensive memberships on you (total: $9,250!) and show you how to do the same.
The bottom line is, Direct Mail Pro is a highly risky business opportunity. Moreover, it's not the way to start your own online business where you have complete freedom of choice, and you don't have to spend a ton of money to make money.
I don't recommend Direct Mail Pro MLM scheme. (see all the reasons why not in the rest of my review).
If you're looking to start a legitimate online business, have more time, money and freedom in your life, make sure to check out my top-rated program below!
THE BEST WAY TO MAKE MONEY ONLINE IN 2023 >>
What Is Direct Mail Pro About?
It was not an easy task to detect what Direct Mail Pro is really about. The official webpage that it is some kind of a stupid simple business in the box. All you need to do is peel, point, and profit—their words, not mine.
But I have to say this right from the start. I hate to see claims like these. That's why I said that I felt like Direct Pro Mail is a scam. Only scams and get-rich-quick schemes use claims like these. Don't you agree?
In any case, I kept digging and managed to reveal the truth. This website is about multi-level-marketing.
In other words, they provide with a step-by-step training for starting an affiliate marketing business. And the difference between this platform and others on the market is that DMP is going to send you two versions of the training. You'll get the online version, and one delivered to your mailbox on USB.
The latter is something I see for the first time in my life—training on a USB. Must admit, it's a cool idea.
So after the first wave of doubts that it might be a scam, it turns out that Direct Mail Pro is a legitimate company. But let's see what else is there before we make a decision.
Who Is The Owner?
As I said at the top of the review, the second scam sign that popped out was the lack of information about the person or the legal entity behind the Direct Mail Pro platform.
The about us page contains zero information that could help you to learn more about the people to whom you are supposed to give your hard-earned cash. This is a scam sign in my books.
The domain was registered in 2007, which means that it is in business for a long time. But that doesn't mean anything. We need names, not dates, right?
I managed to find in one of the reviews out there that the Direct Mail Pro is owned by Peter Wolfing from New York, USA. However, I don't know whether this information is 100% accurate because the official site does not reveal the names of the owner.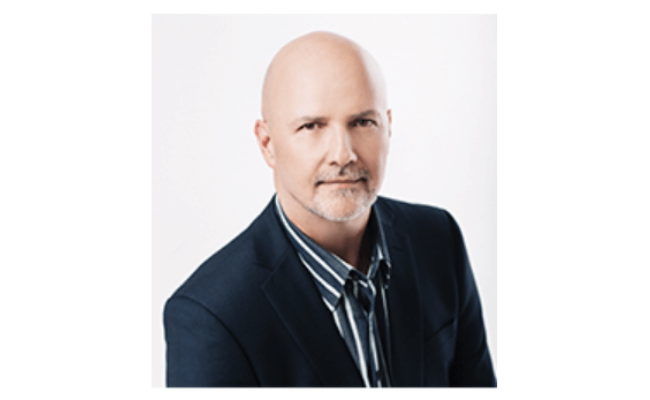 In any case, it seems that Peter has a long history in the network marketing business. He was involved in:
Turbo Cycler ($200-$1000 matrix-based Ponzi scheme)
Turbo Cycler (cash gifting)
Ultimate Cycler (Ponzi cycler)
Business Toolbox(chain-recruitment)
Infinity 100 (cash gifting)
National Wealth Center (cash gifting)
Pay Me Forward (cash gifting)
Now, let's see the rest of the review to learn how you can leverage Direct Mail Pro.
How Does Direct Mail Pro Work?
Although the Direct Mail Pro website say that they specialise in assisting individuals and small to medium-sized companies to rais their marketing game, the company is mainly focused on recruiting others into the scheme.
Could this mean that it is a pyramid scam?
Since there are some products involved (I'll reveal these in the next section of the review), I can't say that Direct Mail Pro is a pyramid scheme. However, since they operate on a multi-tier system, it's easy to conclude that this is an MLM scheme in disguise.
In other words, they will recruit you, give you some products (already mentioned Business In The Box package), and show you how to reach out and recruit more people under you. You'll get a team leader who earns an income from you and your referrals. And you had the opportunity to do the same.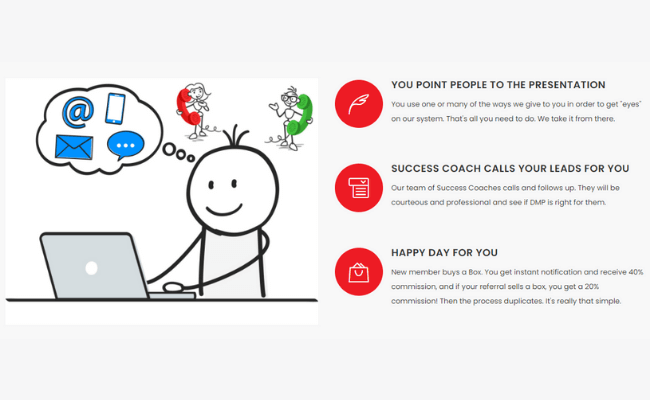 Your main goal is to advance through levels (read: buy each time more expensive packages) and promote the same opportunity to others. You get paid based on your level.
Sounds legitimate enough? Well, a lot of people would argue, but it's legit.
The company offers an affiliate program with a generous compensation plan – 40% on all membership packages. Each time you recruit a new member, you earn a commission based on your membership level.
Also, once your referral starts to build his own network, you earn a commission from two levels below you, just like with every other MLM scheme.
Some people find this business model extremely lucrative. And the truth is, Direct Mail Pro could be a good opportunity to earn a nice income online. But do you know what the problem with these schemes is?
First of all, very few people have enough time and resources (money and effort) to invest in MLM schemes. And if you want to make it happen, you'll have to put in an enormous amount of effort and a lot of cash. You see Direct Mail Pro has several memberships and you'll probably have to take them all to advance in the business.
Kickstarter Level – $250
Amateur Level – $500
Elite Level – $1,000
Pro Level – $2,500
VIP Level – $5,000
Secondly, even if you manage to pull it off, and you build a team below you that start doing the same thing, what if they shut the business down? We've seen this happening a lot of times so far, and Direct Mail Pro would not be the first MLM that closed its doors.
If this happens, you lose everything. Can you imagine the scenario?
Imagine you work your ass off to build a network, and you finally start earning some decent income from the scheme. And then, out of a blue sky, the owners decide to shut it down, or even worse, FTC comes in and finds some shady business and terminates the scheme.
Nota pleasant scenario.
All in all, I don't think that Direct Mail Pro is a scam (I'll talk about this later), but I'm not so confident that it will work as easy as it seems. Moreover, there are very few testimonials out there that could convince me that this is a good opportunity.
What You Get Inside Of Direct Mail Pro?
The main product is called The Business In the Box. It's literally a box that contains:
A USB Flash Drive with Training (video and pdf)
A Ticket for a Live Event
Physical Marketing Material
Onboarding Material
Books and Magazines
This is your "KickStarter" package which you can use to educate your self about the business and to start your own. If you want more resources, you'll have to upgrade through the scheme to get more "boxes" delivered to your address.
Price And Memberships
The price is already mentioned, but here's the breakdown once again:
Kickstarter Level – $250
Amateur Level – $500
Elite Level – $1,000
Pro Level – $2,500
VIP Level – $5,000
The first level includes all those "goodies" that I've mentioned above.
If you want to receive better packages and get paid commissions for selling them, you'll have to upgrade your level to Amateur, Elite, Pro and VIP eventually.
Each package comes with more and more physical products and training, which means essentially you'll have to purchase them all to build your own Direct Mail Pro campaign properly.
So yeah, you're going to get some products, which means that Direct Mail Pro is not a pyramid scheme per see. Speaking of which, let's answer another question.

Is Direct Mail Pro A Scam?
Objectively speaking, Direct Mail Pro is not a scam. It's a legitimate opportunity to start an MLM business model based on recruiting others to the scheme and earn a residual income.
However, as you have had a chance to see throughout this review, the company does not reveal this information on their official webpages. Instead, they serve you a childish video where they give you pointers and hints.
To me, the lack of transparency usually means a scam in progress. But after taking the time to see what's it about, I conclude that Direct Mail Pro is not a scam.
In reality, you'll get a lot of "goodies" and a legitimate training material that will help you to start your own Direct Mail Pro campaign. The main idea is to learn how to recruit others into the same scheme so that you can start earning commissions when they spend money.
In some circles, schemes like this one are being labelled as a pyramid scheme. Some others say it's an MLM.
I'm leaning toward the latter because you do get training, coaching, some tools (even a laptop if you join VIP!), which is kind of cool, but still, I'm not a big fan of these schemes.
The reason why I'm not so confident about Direct Mail Pro is that you'll be taught how to promote the same company to others.
Now, it for some reason, Peter Wolfing decides to shut down the whole system, guess what's going to happen to your business?
If you said, it's going to disappear, you were right!
Can you imagine investing $100's and $1000's into an MLM scheme, and all of a sudden it just disappears?
With Direct MAil Pro type of schemes, this is more than possible, which is why I don't recommend it at all. In my opinion, the best thing you can do is to start your OWN online business.
Who Is Direct Mail Pro For?
Technically speaking, Direct Mail Pro is for people who want to become a part of an MLM scheme and earn an income by recruiting others. In my opinion, this is only for people who have a background in MLM.
I'm against MLM and pyramid schemes, and I highly recommend beginners to stay away from this!
Related: iThrive Network Review
What I Like About Direct Mail Pro
At first glance, I was sure this is a scam. However, as it turned out, the company does offer some training, and they even send physical products to your address. Also, another thing that I like about Direct Mail Pro is a generous compensation plan (40% commission).
They Provide With Training
Generous Compensation Plan
What I Don't Like About Direct Mail Pro
In general, I wouldn't say I like schemes like this. My experience tells me that a company that fails to provide as much details as possible on their webpages is up to something. I can't understand why they don't give this info.
Also, I'm not a fan of these schemes because the success rate is meagre. Moreover, they don't tell you that you'll have to upgrade your Direct Mail Pro membership to receive higher payouts, which is not fair.
Lastly, the owner is a guy who has a shady history, which is never a good thing. And they don't even offer a refund. So once you're in, you're in—no coming back.
Lack Of Transparency
You Need To Upgrade Levels To Recieve Higher Payouts
Success Rate Is Meager (about 2% achieve success)
No Money-Back Guarantees
Owner Has Shady History
Not An Opportunity To Set Up Legit Online Business
Related: Awol Academy Review
Direct Mail Pro Review – Conclusion
As one of the last things I want to say in this review is that I don't recommend Direct Mail Pro to people who are looking to make money online. I've started all my reasons why not in the above section. The main reason why not is that it's expensive and has a low success rate.
Moreover, it's not an opportunity to start your own legitimate online business. Instead, you're directed to recruit other people into the MLM and earn commission by doing so. There's no opportunity to build your own business and sell whatever you choose to sell.
Thanks for reading my Direct Mail Pro review. I hope my article was helpful to your research and you can now make a confident decision about whether to go for it or not. If you need more help, feel free to comment below.
How I Make Money Online
If this turbo-expensive MLM is not your cup of tea, and if you're more interested in attaining full freedom by starting your own online business, I want to show you something unique!
Click the link below to discover the best way to start a 100% legitimate online business.
THE BEST WAY TO MAKE MONEY ONLINE IN 2023 >>
And don't forget to share this review with your friends and family!
All the best, Ivan. Founder, and CEO @freeaffiliatemarketingbusiness.com