Welcome to my Easy Pro Reviews review. If you are double thinking about this software, you're in the right place. Becoming a Pro reviewer is not possible with software, trust me. So is it legit or Easy Pro Reviews is a scam?
You see, becoming a reviewer is one of the best ways to start making money online. It's not hard at all. All you need to do is share your opinion about products within a chosen niche. The more reviews you write, the more money you could make.
And when you combine this with a passion for a product or service, you've got a winning combination. For example, I love making money online, and I have a passion for writing reviews of programs and tools to help you find the best opportunity and avoid scams and time and money wasters.
So what about this one? Is it any good? Could software do the same job as a real person?
You see, Easy Pro Reviews is something that could help you to bypass the most challenging part of the reviewing business. That is, writing or recording your own content. But can it make you any money? Will people trust fake reviews?
By the way, congratulations on researching before getting into things headfirst. I know it's hard to trust people on the net these days. But if you are looking for something real, check out this genuine way to make money with affiliate marketing.
Within this Easy Pro Reviews review, I'll answer all your questions and show you what to expect from the content of the program and give my honest opinion about whether Easy Pro Reviews is a scam or a legit offer.
Before we begin, I'm not associated with this product like all other reviews out there, so my opinion is my own.
Easy Pro Reviews Review – Overview
Product Type: Affiliate Marketing
Product Price: $37 + Upsells
Product Owner: Matt Garret
Money-Back Guarantee: 30-days
Recommended?: No
Overview: Easy Pro Reviews is software that, as its name suggests, creates reviews for you. Those reviews are related to various ClickBank, JVZoo, and WarriorPlus products. All you need to do is customize them with your affiliate link and publish them.
You can buy this software for $37 one time. But you have to keep in mind that the owner hid a few upsells that pop out as soon as you agree to get this software. In other words, these upgrades are going to raise the price to about $150.
The software is legitimate. However, I don't recommend it because those reviews are artificial and would hardly convert. In my opinion, it's a shortcut that's not proven.
To learn more about this software, its features, and how it really works, you should read the rest of my Easy Pro Reviews review.
My #1 recommendation (is a 100% legitimate program that helped me to go from being a complete newbie to making $100's per day with affiliate marketing! Wanna follow in my footsteps?
THE BEST WAY TO MAKE MONEY ONLINE IN 2023 >>
What is Easy Pro Reviews?
Easy Pro Reviews is a piece of artificial intelligence that creates reviews. It's software that could be used for reviewing various digital products from the three most popular online marketplaces.
JVZoo
WarriorPlus
ClickBank
According to the creator, the software creates high converting review pages in just a few clicks of a mouse. Those reviews are so good that people are almost forced to buy. Emphasis on the word almost!

You see, I took a peek behind the scenes and found out the truth. There really is a software that produces review articles in just a few clicks. I'll explain how the whole thing works a bit later. But in my opinion, there are a few big problems with this product.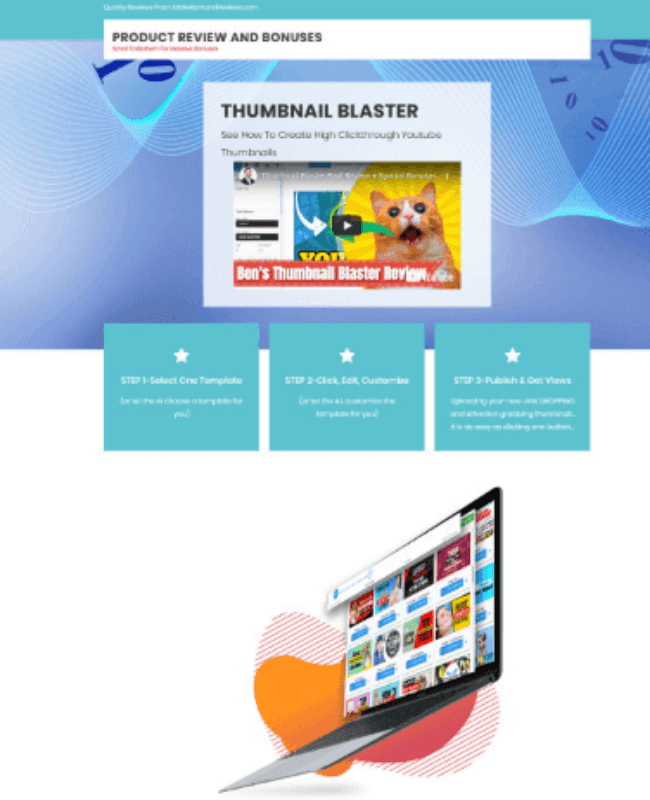 First of all, those reviews are artificial. Would you trust a random slap-together video when looking for decent information about a product or a service or a real person?
I wouldn't.
You see, Easy Pro Reviews is software, and, in my opinion, those artificial reviews would never convert visitors into buyers. To be successful as a reviewer, you need to master the skill of reviewing.
It's not a hard thing to do, really. But using software to do so is one way to failure, in my opinion.
The good thing about Easy Pro Reviews is that it helps to shorten the process of creating product reviews. It basically allows you to choose a digital product that you want to promote and the software will lead you through the quick process of crafting a review article from the scratch.
Keep in mind that the software is limited in terms of the products available for reviews.
The second problem is getting traffic to your offers, which I'll explain in the following sections of my Easy Pro Reviews review. Let's take a look at the sales funnels first to understand the price better.
Related: AffiliSites Pro Review
Easy Pro Reviews Price and Upsells
Before I explain how this works (or doesn't work), let me tell you the story about the price and upsells. You need to understand that Easy Pro Reviews is a sales funnel. In other words, you'll pay $37 for software.
But you'll also be forced to take some expensive and unnecessary upsells, as well.
EPR Sales Funnel
Easy Pro Reviews Front-End – $37 one time
Upsell #1 Easy Review Packs – $27 per month
Upsell #2 WP Tool Kit – $77 one time
Those two upsells are the owner's way to make money off you since you're already in. The former grants you access to monthly updates and DFY review pages. The latter is a set of WordPress themes and resources.
How About Refund?
Yes, Easy Pro Reviews come with 30-days money-back guarantee. You can test the product, and if you don't make any money with those pages, you can ask for a refund via WarriorPlus.
What's Inside of Easy Pro Reviews?
Now, once you skip all those annoying and unexpected upsells, you'll finally get a chance to test the Easy Pro Review software. Together with the software, you'll get a set of bonuses and other resources.
Inside you'll find:
Easy Pro Reviews Software
Video Training
Bonus PDF's
In addition to these main features of the software, here are some benefits of having this software creating reviews for you.
Choose From Thousands Of Digital Products
Works With Clickbank, JVZoo, WarriorPlus, etc.
Free Cloud Hosting Included
Pre-Done-For-You Review pages available
100+ Free Bonus Products Built In
Can host your own Server
Commercial License included
Related: Click And Bank Review
How Does It Work?
Here we are at the most critical part of my Easy Pro Reviews review page. This software is based on the affiliate marketing method. It helps you to create product review pages and earn commissions each time you make a sale.
That's the theory. And here are the five steps that show how it works in practice:
Step #1 – Choose a Digital Product From a List
Step #2 – Chose a Digital Product Video
Step #3 – Copy & Paste Testimonials, Features, and Text
Step #4 – Select Free Bonuses
Step #5 – Upload to Free Cloud-Based Hosting or Host it Yourself
Those steps pretty much explain how the Easy Pro Reviews works. It's simple to use, and it produces one-page reviews that you can use to promote ClickBank, JVZoo, and WarriorPlus digital products.
Now let me take you through the process of creating these reviews with this software.
Step #1 – Choose a Digital Product From a List
To get started, you have to log in to the dashboard and choose your product first.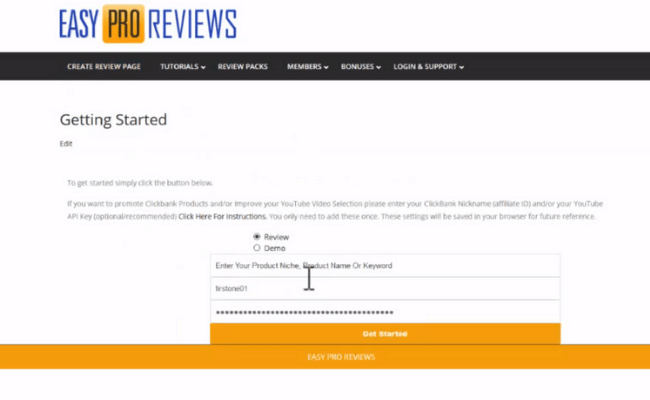 All you have to do is enter your niche or product name and select one of the products that come out on the list.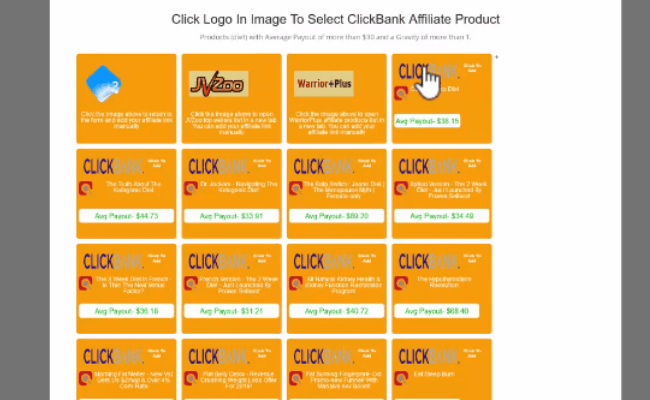 Once you have decided about which product you want to review, approach the next step.
Step #2 – Chose a Digital Product Video
This software allows you to select a review video based on your interest. As said earlier, you're going to get a list to choose from.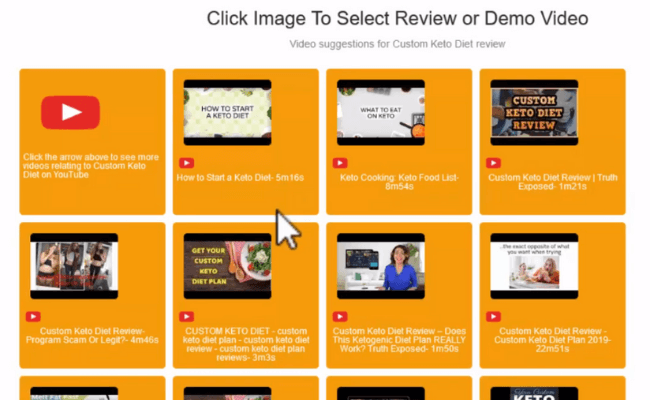 Once you have chosen the video review, the software allows you to customize your video. You can select start and stop times, trim unnecessary parts of the video, and more.
Step #3 – Copy & Paste Testimonials, Features, and Text
The next step is to copy and paste any extra information such as customer testimonials, you can add a list of features, some product images to make it look more attractive, and so on.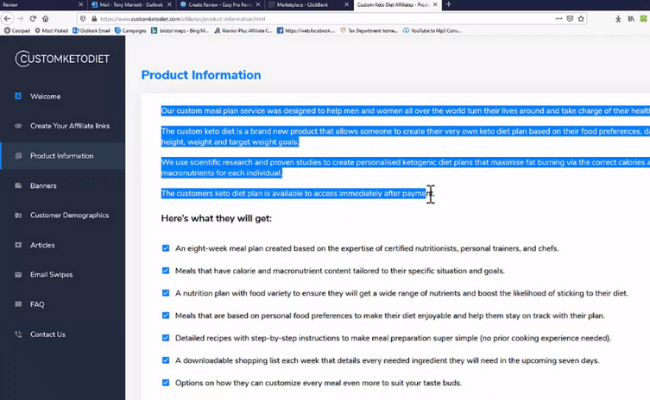 Once you finish the customization, the next step is going to be adding some bonuses.
Step #4 – Select Free Bonuses
The software gives you a list of bonuses (100+) you can offer to your visitors to boost your conversion rates. Bonuses are a proven tactic and this feature is great.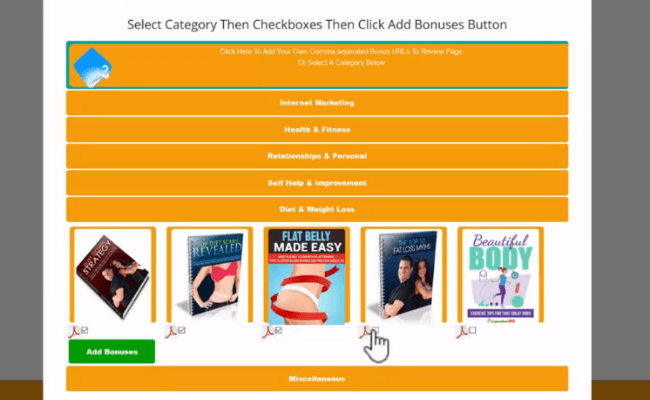 Step #5 – Upload to Free Cloud-Based Hosting or Host it Yourself
Lastly, you can choose to either download the review page to host it on your own domain or use the one-click upload to host on the cloud servers. It's all up to you.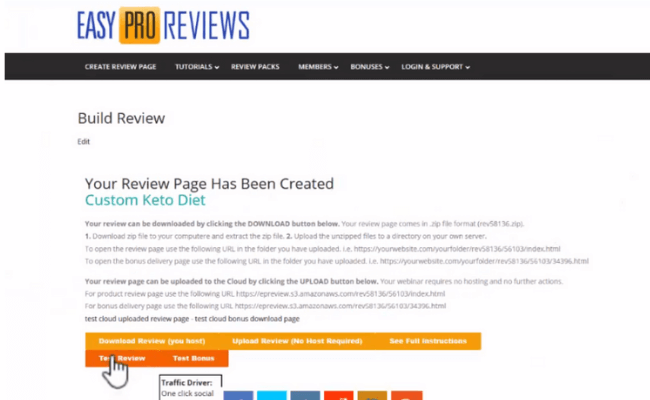 And now what? How do you get traffic to your pages?
If you are new to this business, you need to know that having a review page is close to nothing. If you can't bring hordes of buyer traffic to your offers, you won't make anything with it. That's the hard reality, guys.
And these folks won't help you to solve the most critical part of every online business. In other words, there is no training that teaches how to make money with those reviews.
I won't count the short video where they show you how to share those reviews on social media. The reason? Well, to who are you going to promote your reviews? Friends and family?
You need thousands of followers on social media to make this method work. These guys won't teach you how to attract people.
Can You Make Any Money With It?
I'm not positive that Easy Pro Reviews will make you any money. I'm not in a position to prove this. But based on what I've seen, I'm pretty sure it won't work as it's been advertised.
Those reviews are pretty, I admit. They have videos and copy-pasted text from the sales page and look all nice. But no traffic means no sales, guys! Traffic is the bloodline of every business.
See, I'm writing reviews on this blog and I've learned one thing for sure. You should always write your own reviews, do your own research, and make sure that your reviews are original.
When using software like Easy Pro Reviews, you're basically getting generic content that is available to all users of Easy Pro Reviews software. This means that your reviews won't get any attention from the search engines.
In some rare cases, if you have SEO skills, you could leverage those artificial reviews to get traffic and make sales. However, as I said, the chances that it will happen are very slim.
In my opinion, this software sounds much better than it is in reality. In fact, there are no real-life testimonials for users that could confirm that Easy Pro Reviews actually works!
THE BEST WAY TO MAKE MONEY ONLINE IN 2023 >>
Who is Easy Pro Reviews For?
They claim that it's perfect for beginners. And it's true because beginners are looking for ways and means to quicken the path to success. It's also for:
Website owners
Affiliate marketers
Product reviewers
Freelancers
Digital marketers
But in my honest opinion, this is the best for the owner and affiliates because these reviews are not genuine and I don't believe they will convert very well.
What I Like About Easy Pro Reviews
Let's share a few good things about the Easy Pro Reviews software first.
1.) You Get Pretty Review Pages
Although I would never use those fake and copy-pasted reviews, they look good and could be useful for the PPC campaign or any other paid form of traffic.
In other words, the software inside is legitimate and works. You can use it to create review pages for 100+ ClickBank, WarriorPlus, and JVZoo products.
2.) 30-Days Money-Back Guarantee
Another good thing about Easy Pro Reviews is a money-back guarantee. You can get a refund during the first 30 days after the purchase.
What I Don't Like About It
Before I give you a conclusion about this Easy Pro Reviews, let's go over a few cons as well.
1.) They Don't Teach Traffic Generation In-Depth
With the basic training inside, you can learn how to share your reviews on social media. However, this is not a comprehensive education on traffic generation. In other words, it's incomplete.
In addition to free social media traffic, you can get insights into paid ads. But once again, this training is brief and does not cover this topic in-depth.
2.) Review Pages are Copy-Pasted Sales Pages
A person who is looking for a review, like you now, is searching for an opinion and advice before you purchase the product. You need someone to help you learn more before you give away your hard-earned cash.
All that Easy Pro Reviews software is going to do is copy & paste the information from the sales page. In other words, it produces duplicated sales pages and gives you artificial reviews.
I hardly doubt that these are going to, as the owner says, force people, to buy.
3.) The Software Comes With Upsells
Easy Pro Reviews is a sales funnel that contains two upsells. This is not the worst thing that I found about it. However, it's enough to show that there is more than one surprise down the road.
4.) There are No Testimonials
Except for those fake reviews from guys who are promoting this offer to make commissions, there are no testimonials that Easy Pro Reviews is working for other people.
If it were something so good and groundbreaking, I believe there should be a few testimonials from people who used it and made some money with it.
Wouldn't you agree?
Related: Affiliate Funnel Bots Review
Is Easy Pro Reviews a Scam or Legit?
Easy Pro Reviews is not a scam. It's legitimate software that you can use to create product reviews for any of the hundreds of ClickBank, JVZoo, WarriorPlus, and other digital products available through these networks.
The software works fast, and those review pages are good looking. However, the product doesn't contain the full training on traffic generation, which is an issue. Also, those reviews are short, not SEO friendly, and they are literally copy-pasted version of the product sales page, which is another issue.
See, what Easy Pro Reviews does is copy-pasting the sales page. Those review pages will never get any chance in a competitive game such as Search Engine Optimization.
So in my opinion, all you get is software that creates artificial reviews. But what then? How to make money from your work? How to get traffic? What about connecting with your visitors?
Another thing that I really don't like about Easy Pro Reviews is the fact that there aren't any testimonials from users. This means that this product is not as good as it's been advertised and it is a scam sign and a red flag.
But from the objective point of view, it's not a scam but a legitimate offer.
After all, you do get a tool that helps to create reviews. If you want to learn more about it, feel free to check out my Easy Pro Reviews video review below!
Easy Pro Reviews Review – Conclusion
As one of the last matter of my review, I would like to address that I don't promote Easy Pro Reviews to my readers. This is not recommended.
In my opinion, this method won't work as it's been advertised. It breaks the fundamental rule for success with product reviews. That is, you need to help people to make wise and better-informed decisions. Fake reviews are not going to work as real.
Even the owner of Easy Pro Reviews says that they 'ALMOST' work. There's another similar product from the same vendor that I don't recommend. It's a software called Easy Pro Funnels.
How to Become a Reviewer & Make Money
Thanks for reading my Easy Pro Reviews review. I hope I've helped you to learn more about what it is and how does it work and to answer your question, whether it is a scam or legit. If you have any questions about the program or maybe you can offer an experience, feel free to leave them in the comment box below.
Before I let you go, let me show you a legitimate training course for making money online. This is proven to work by thousands of marketers all over the world, including me.
You can learn how to create your own successful online business. In other words, we're going to show you how to build a website from scratch, create YOUR OWN UNIQUE CONTENT, write honest reviews, get tons of free internet traffic, and finally, to make money online in 50+ ways!
So if you're tired of these schemes, scams, loopholes, and easy software that never work as advertised, make sure to click the button below…
The best thing about my top recommended platform is it's entirely safe and free to join.
THE BEST WAY TO MAKE MONEY ONLINE IN 2023 >>
If you need any help or you have a question, feel free to contact me.
And don't forget to share this review with your friends and family!
All the best, Ivan. Founder, and CEO @freeaffiliatemarketingbusiness.com