Hi, and welcome to my HercuList review.
The official website says that it is a branded safelist that promotes your offer to its members.
It operates in the same way as a solo ad, but there are key differences in this email list type that set it apart from solo ads and ultimately make it a better way to advertise online.
So the question is, is HercuList a scam? Or, could this be a legit way to generate traffic and make sales?
You're in the best place to learn more…
Keep reading this review to get all the information.
But first, let me introduce myself. Hi, I'm Ivan!
Just like you, I'm always interested in new ways to make money online. I'm also an avid student of the make-money-online industry because it helps me to take my business to the next level.
Throughout my HercuList review, you can rest assured of getting an honest and unbiased review from me.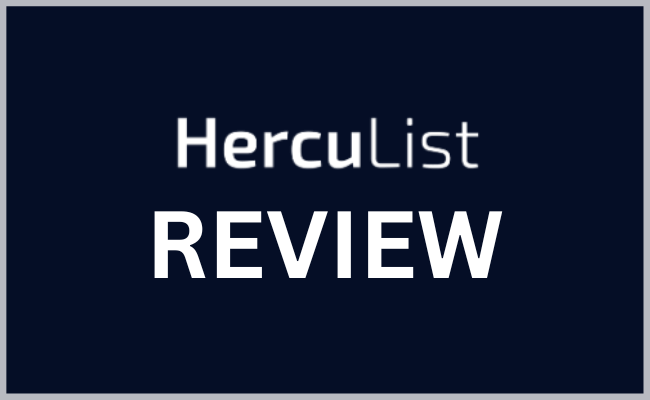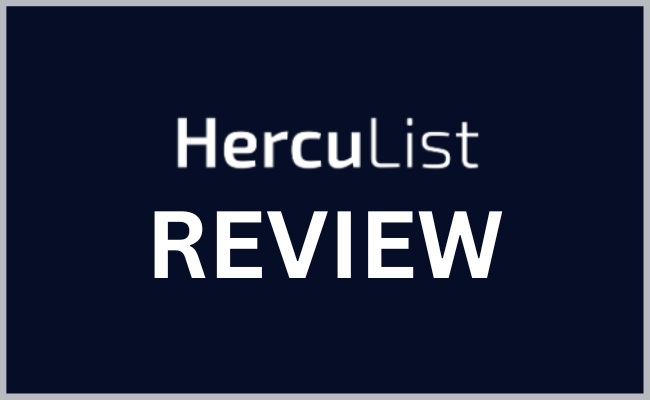 HercuList Review – Overview
Product Type: HercuList PLUS
Owner: John Gloeckner
Price: Free to join, $29/year (PRO), or $39.99/year (GOLD)
Recommended?: Read my review and find out
Overview: HercuList is one of the longest-standing traffic generation websites. The site allows you to join for free and advertise your business to other members.
Basically, the way it works is that it allows you to promote your offer via the platform through specialized ads.
However, you will also get a lot of annoying ads from other members, so the key here is to ignore all the ads and focus on what you're promoting.
So is HercuList a scam or a legit advertising platform?
The good news is that you can sign up for free. A free trial gives you the best opportunity to learn more and see whether it is legit or not.
Secondly, there is some evidence that people are making money using HercuList PLUS.
On the other hand, the major con is that you can't target a specific audience like in other forms of paid advertising.
And as a member, you will be bombarded with offers from other members. It may be hard to stay focused on your own marketing when you're distracted constantly.
All in all, HercuList is not a scam. Keep reading my Herculist review to learn more before you decide whether to join or not…
Alternative: If you're a newbie who is looking to earn passive income online, there are other, more beginner-friendly, and cost-effective alternatives. My top-rated affiliate marketing course has helped me to go from earning $0 to $100's per day!
THE BEST WAY TO MAKE MONEY ONLINE IN 2023 >>
What Is HercuList?
HercuList is an exchange platform from which you can advertise your website to a thousand cost-free targeted audiences.
It consists of a simple database of people who give other members permission to email them several offers.
That means you can email other members, and they can as well email you back.
HercuList allows registered members to promote their businesses to one another mainly in the form of emailing as well as browser surfing.
You can join HercuList for free (see image below) and earn credits by clicking other members' ads and using that credit to advertise yourself.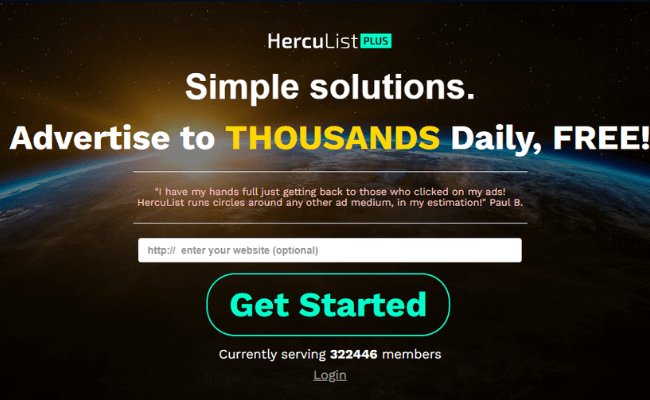 There is also a premium option that allows you to pay to advertise to a more significant number of members with fewer credits.
HercuList also promotes the safelist marketing method, which I will tell you about later in this review.
Now, you are not allowed to promote the Adult/porn niche anything illegal, but other than that, you can promote businesses in any niche.
According to my research, HercuList was registered in 2001, and John Gloeckner owns it.
What Is Safelist Marketing?
Safelist marketing is an email spamming method that both senders and recipients agree to.
Usually, when you receive unrequested mail, you can mark it as spam so that the ISP or what they call an internet service provider will blacklist the sender's email address.
Any emails from the same sender will be sent straight to the junk mail folder.
With safelist marketing, you can join a closed group where members bombard campaign emails with each other.
Nobody will complain that your campaigns are on the right terms set out by the group.
How Does Herculist Work?
Herculist works on a credit-based system. As a cost-free participant, you can gain credits by clicking the promotional emails of other participants, as well as considering other participants' ads.
Inside the main dashboard, there is a long list of new adverts every day that you can click on (see image below)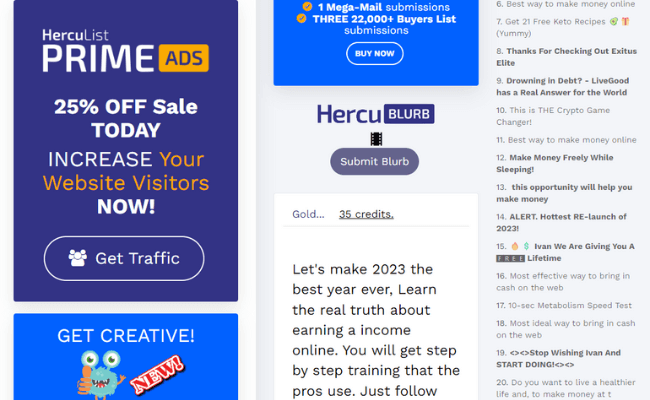 But you can also post your ads and links here and leverage the free exposure to generate links to your website, funnels, etc.
This method is known as  "pay to click/surf" which is understood to have infamously low click-through rates, high bounce rates, and low time on the page.
Herculist participants can make use of these email- and on-page ads to send out their advertising messages and offers to other members.
Because of the nature of safelists, the members typically react to rather aggressive "make money online" as well as website traffic generation-related online marketing deals.
At the end of the day, that is the reason anybody comes to be a participant is to get more web traffic to their squeeze web pages and affiliate deals.
Alternative: If you're a newbie who is looking to earn passive income online, there are other, more beginner-friendly, and cost-effective alternatives. My top-rated affiliate marketing course has helped me to go from earning $0 to $100's per day!
THE BEST WAY TO MAKE MONEY ONLINE IN 2023 >>
What Are the Features Of a Herculist?
Herculist PLUS offers several different free and paid ways to advertise your offer.
Ad Mailers
You can send your ad daily to thousands of random Herculist members as free members.
Pro members can send their ad to the entire database every other day, and the same goes for the Gold member as you can send an email every day.
Prime Ads
Prime ads are where you can get your offer displayed at the very best "Prime" areas of their website.
This will give you a lot more exposure than banner ads or text links.
The Zone
Here, you can get instant traffic to your offer by surfing for credits in "The Zone."
HercuBlurb
You can get massive traffic here by creating and submitting large web-based ads to HercuBlurb.
MonsterBlurb
Here, you can create your customized MonsterBlurb splash page.
Free and Pro members will get 1 active MonsterBlurb, and Gold members will get 10.
Login ads
You can have your ad seen by other members who log in to the Herculist membership area.
Solo Ad Specials
Herculist offers solo ad specials to send your email solo ad to the people who have purchased products and services.
Special Advertising Deals
Inside your Herculist membership area, you can find really special advertising deals for an affordable price.
Related Review: Invincible Marketer
How Much Does HercuList Cost?
There are 3 membership options available inside HercuList (see the image below). There is a free membership option, and the other two are Pro and Gold.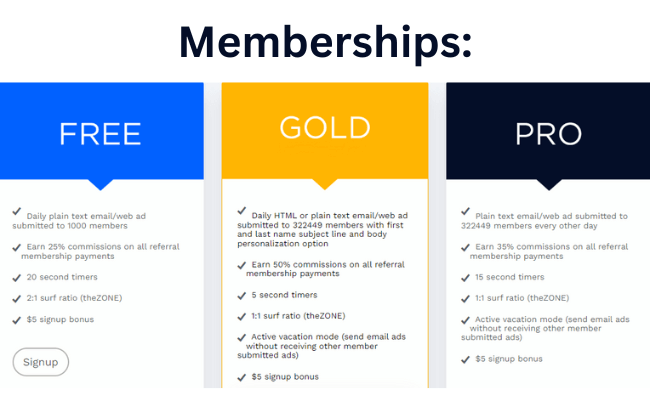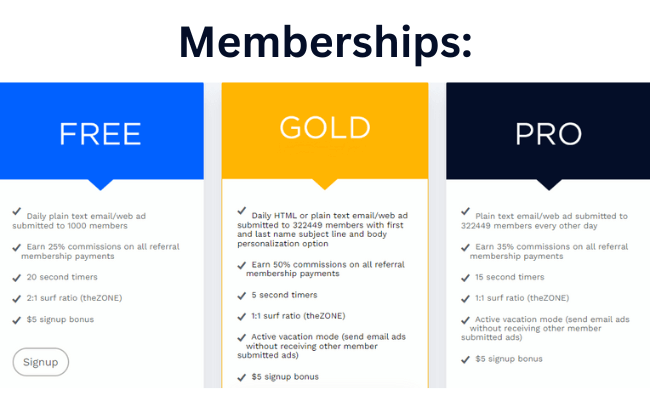 Here's what you will get from each membership:
Free 
Daily plain text email/web ad submitted to 1000 members
Earn 25% commissions on all referral membership payments
20-second timers
2:1 surf ratio (the zone)
$5 signup bonus
Pro ($9/monthly or $29/yearly PRO) 
Plain text email/web ad submitted to thousands of members every other day.
35% commissions on all referral membership payments
15-second timers
1:1 surf ratio (the zone)
Active vacation mode (send email ads without receiving other member-submitted ads)
$5 signup bonus
Gold ($9/monthly or $39/yearly GOLD) 
Daily HTML or plain text email/web ad submitted to thousands of members with first and last name subject line and body personalization option.
50% commissions on all referral membership payments
5-second timers
1:1 surf ratio (the zone)
Active vacation mode (send email ads without receiving other member-submitted ads)
$5 signup bonus
However, the downside here is that HercuList does not offer a non-tangible service, which means NO REFUNDS ARE AVAILABLE on any paid membership or other service payments.
If you have any questions regarding membership or other HercuList service payments, you can contact them directly by clicking HERE.
Now, let's answer the most important question in this HercuList review and that is…
Is HercuList A Scam?
No, HercuList is not a scam. They have been around for 2 decades now, and they are still running to this day.
However, I don't believe that a safelist is a right way to generate traffic.
You won't learn anything if you keep relying on a membership site that sells traffic and ad packages for extra fees.
You can still try the free sign-up option if you are interested in HercuList, and with the free membership plan, you can earn a 25% commission and earn $5 sign-up bonus.
The decision is up to you but just remember they don't offer any refund, so if you plan to go with the Pro or Gold plan, make sure that you make the right decision.
Alternative: If you're a newbie who is looking to earn passive income online, there are other, more beginner-friendly, and cost-effective alternatives. My top-rated affiliate marketing course has helped me to go from earning $0 to $100's per day!
THE BEST WAY TO MAKE MONEY ONLINE IN 2023 >>
What I Like About HercuList 
The ad exchange only works if various instantly recognizable creations are in the community.
For example, if you are at a gadget convention, you'd try out your competitors' gadgets and see new ones.
Whereas with HercuList, most of the members promote more or less the same thing like 100% Bitcoin Commissions or Amazing Daily Profits.
Considering that, I can think of two things you can do.
Learn Marketing Techniques
You join HercuList anytime you want, as you can join in the evening or the morning and find 100+ new promotional emails.
You don't have time to check those emails one by one, and neither does anybody.
Imagine one of them is from you. It would suddenly be buried before anyone noticed it.
So you can look through the subject lines and try figuring out which ones are for you.
When you go and click the link on the email and visit the landing page, again, you don't want to waste your time reading thousands of words to find out whether it is worth taking or not.
You can learn some marketing techniques from their landing pages.
For example:
Page design – If you plan to promote affiliate products or not, you'll need to build a landing page in the future. A simple, modern-looking, fast-loading landing website is more effective.
Copywriting technique – You don't have to write too much on your details. You can use a few possible sentences and tell the audience what you're selling. Be direct!
The skills you learn are everywhere and can also be taken away and used elsewhere.
You can test them on Herculist or anywhere else, such as solo ad marketing.
Promote An Attention-Grabbing Niche
Among the thousands of "make money" emails, the only ones that caught my attention were the non-wealth-related campaigns.
If you still want to promote something as an affiliate on HercuList, why not promote a unique niche?

What I Don't Like About HercuList 
I do think that ad exchange and safelist marketing are outdated strategies. It could work a couple of years ago, but now they face critical problems.
Here are some of the typical ones that also apply to Herculist in this review.
Number of Promotional Emails
When you sign up with HercuList, you'll be bombarded with promotional emails from the HercuList mailer.
You see, you will get one or two emails every 10 minutes throughout the day and night.
The emails you will receive are all about generating wealth, promoted by other members.
All the emails go straight to your spam folder, and I wouldn't allow it if I were you if you don't want your inbox filled up with emails from Herculist every day.
Not just that, the sheer number of emails you receive is entirely out of order.
No Target Audience
If you received a hundred emails a day, you would not take any of them, right?
If you are new to online marketing, you might be curious and want to know what others are promoting, but you will quickly get tired of checking out the emails.
It means from the sender or other Herculist member's point of view, you are not the target audience.
That's because you, too, are a member of Herculist to promote your products.
As you can see, everyone is busy promoting their business to other members, who are all busy promoting theirs.
New or Very Old Users 
You know that the ad exchange and safe mailer websites like Herculist only get you to sell your products to your competitors that you have a problem with.
Such sites are either new or old to online marketing and never keep up to date.
You see, beginners are still learning what's going on. As a result, they tend to exaggerate sales copies.
As for the old marketers, their landing page designs are decades old.
It shows that they stopped learning new strategies years ago and still believe in outdated marketing methods.
HercuList Review – PROS
Offers free sign up
$5 sign-up bonus
Real human traffic – no bots
There's an opportunity that you can make some money here
HercuList Review – CONS
No target audience
Poor navigation
You will get a lot of emails from other members
You need marketing skills to be profitable
Related Review: Wealthy Affiliate 
Final Words and HONEST Recommendation
HercuList could be a good way to make money if you decide to promote it. As you can see, you can earn up to 25% commission up to 50% depending on your membership plan.
But is it a good way to drive traffic to your offer, website, or funnel?
The free membership plan is ok as you can send your daily email to thousands of people. With the right offer, you'll get new signups for your offer and also sales down the road.
The system works, and by signing up for a free account, you have nothing to lose.
Again, the decision is up to you if you are into this, but if not, and you want to build your own business and make money where you don't have to send spam emails, I recommend you check my number 1 recommendation below.
Thank you for taking the time to read my HercuList review.
I hope this Herculist review is helpful and makes it easier for you to decide if this is the one you are looking for.
If you have any questions? Feel free to leave a comment in the comment section below!
Is There a Better Way To Make Money Online?
I know how hard it is to trust websites these days.
There are too many scams out there, especially in the make-money-online world.
I know, because I reviewed over 700+ sites so far!
Why did I review so many sites? Well, I wanted to find the best (and cost-effective) way for a beginner to start income online.
While searching for this information, I bumped into affiliate marketing.
Thanks to a decision to learn more, I went from waiting tables in restaurants to earning a full-time passive income online.
And today, I like helping people as you follow in my footsteps,
Keep reading…
How I Make Money With Affiliate Marketing
I earn online by creating simple affiliate websites that I use to connect people with products they are already looking for.
It requires no special skills or previous experience, which makes it the best way to start online.
The best thing about affiliate marketing is that it is passive in terms of results and income.
In other words, you could be earning an income from your affiliate website for years and years to come, even when you sleep.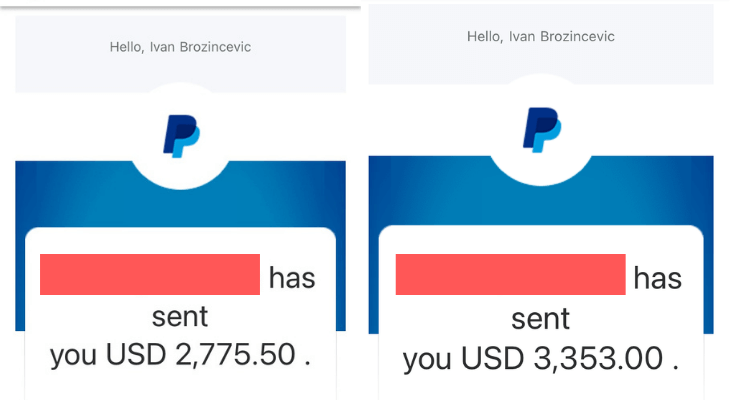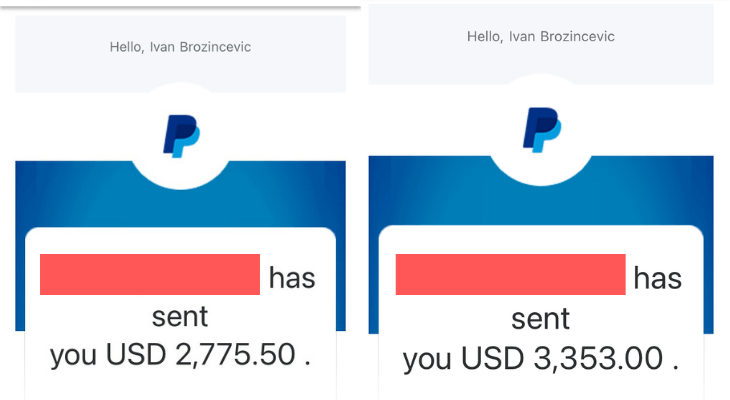 If you want to learn more about how you can start making money online with affiliate marketing, click the button below!
After evaluating over 700+ programs on the web, my conclusion is straightforward. This is the best way to start earning passive income online.
And if you're looking for the very same, I'll see you on the next page…
THE BEST WAY TO MAKE MONEY ONLINE IN 2023 >>
And don't forget to share this HercuList review with your friends and family!
All the best, Ivan @feeaffiliatemarketingbusiness.com
Related Review: Commission Academy