Looking for an honest Hustlers University review? I have spent days analysing this famous platform and its creator – Andrew Tate. Here is my experience…
I have seen many disputes and discussions about Hustlers University in the past year. The creator Andrew Tate's controversial rise to fame has fueled these further. Plus, the course itself has been as scandalous as the creator himself.
In the past few years, it has shut down multiple times and re-emerged as a newer version. Plus, there are unbelievable reviews and success stories about the course.
So, this Hustlers University Review has been a long time coming. You may have also heard how Hustlers University's affiliate program was almost on the verge of becoming an MLM scheme.
Makes you wonder, 'Is Hustlers University legit?' Also, is this how Andrew Tate became so rich? And will it work for you too? Let's find out.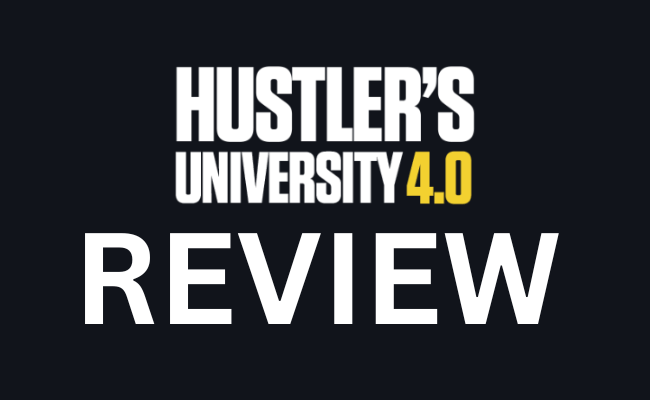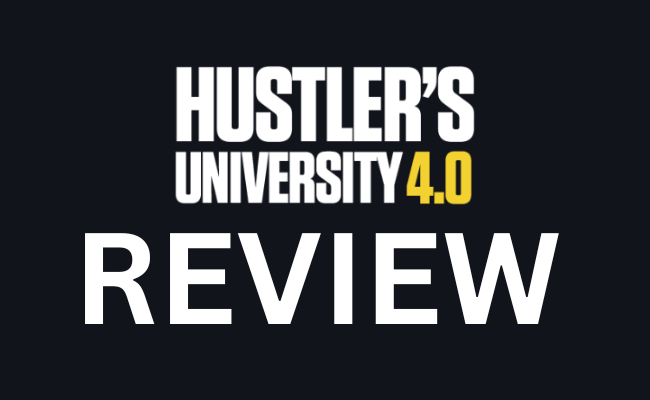 Is Hustlers University a Scam?
Is Hustlers University legit? Well, you can get Tate arrested for a lot of things, but not his online course. It's a legit online course like any other.
You pay a moderate membership fee, and they provide materials. You can get out anytime you want. No one forces you to do anything or tries to steal from you.
However, what Hustlers University sells isn't exactly what it advertises. Andrew makes it look like the materials of this course are the secret to his success. But that's certainly not true.
Moreover, HU depends more on Andrew's popularity than on material quality.
Here are some of the main red flags or the reasons why some say Hustlers University is a scam.
Tate Didn't Make His Multi-Millions With These Skills
People always assume or expect that an online course teaches the methods of money-making that the course creator himself has used to make millions.
Well, that is hardly true for Andrew Tate. It becomes clear when you review the course creator's three main income sources.
As per the online sources and Tate's own words, he makes his money from Webcam & Casino business and Crypto investment.
And there are many things in between. The earnings from selling online courses are also significant.
But he certainly didn't make money writing copies and managing amazon businesses. Although, the course's marketing content makes it seem otherwise.
Take the webcam and casino business, for example. You now know that this is not a course category at Hustlers University.
Andrew doesn't teach you how you can build up a casino and webcam business or run a sex-trafficking ring and manage a criminal group.
But allegedly, these had been contributors to his wealth.
Although Andrew Tate is teaching you how to make money, he isn't going to teach you how he made his money.
His methods have nothing to do with what he teaches.
This is different from other course mentors who supposedly teach the same methods they have found success with. And also make the course's underlying marketing statement look like a complete lie.
I would feel differently if I saw that the courses at HU included- casino business, webcam business, human trafficking, and running organized crime groups.
Andrew's Crypto Investment
Crypto investment has played an important role in creating Andrew Tate's wealth.
But that is not connected to how he made money from his Bitcoins. If you think Hustlers University's Crypto Campus will bring you the same success, I have some bad news.
Andrew was one of those lucky people who had bought Bitcoin at 1$ during its primary years.
And like them, he magnified his investment to incredible proportions when Bitcoin sold at $60,000/coin in 2021.
In other words, Andrew isn't a crypto specialist. He has just been lucky with it. Indeed, Andrew doesn't directly teach the course on Crypto at HU.
But Andrew's success with Bitcoin is what markets and sells the course. That seems kind of deceptive.
The Reality of HU's skills
Joining Andrew's course doesn't necessarily promise the sports car driving, champagne drinking glittery lifestyle he portrays on the media.
I think most grown men and boys would understand that. It's the young and naive people that fall for these marketing techniques.
Even if you learn complete one of the courses well, there's no guarantee you will start generating significant income.
The market is extremely competitive. And developing your skills to truly professional standards can take years.
Also, consider that the average income for copywriters, Amazon FBA sellers, and other skills that HU teaches falls in the range of 40,000-50,000/year.
Which means you will earn an average salary if you work hard at these skills. This is certainly not the 10k-500k income that Andrew's alleged experts are flashing.
I don't feel good about this because Hustlers University is telling you that it welcomes you to the real world. At the same time, it's driving you to have unreal expectations about money.
Fake Positive Reviews
The majority of positive reviews and success stories of Hustlers University are essentially fake. People who posted them received some form of payment from the program.
For instance, affiliate marketers received high commissions for promoting the course. Many of them were students of the course's affiliate marketing campus. HU was teaching its student affiliate marketing by giving them the task of marketing the program itself.
Apart from that, Andrew Tate has a personal network of influencers.
They also helped promote the course for Andrew's sake, not because they got something out of the course. And some of Tate's blind followers have exaggerated their success with HU.
It's true that Tate never directly pushed anyone to lie about how awesome his course is. But he certainly provided the incentive.
RELATED: Best Way To Make Money Online For Beginners
What Is Hustlers University?
Hustlers University is an online course that teaches its students to make money on the internet. You will have the option to choose from a variety of options, such as copywriting, freelancing, e-commerce, crypto, stock investing, and more.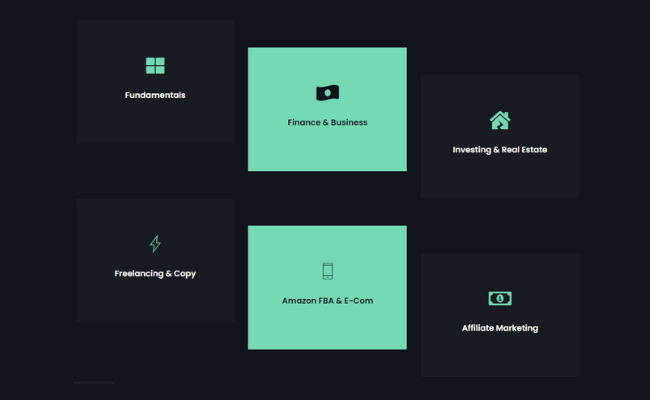 Course Overview
When I first wrote my Hustlers University review, there were 18-20 wealth-creation methods at Hustlers University. And all of them have a few things in common.
For instance, anyone can learn them. A laptop and a working internet connection are enough to attempt them. And all these skills are in high demand. This means you start generating income only a week or two into the course.
The main attraction of the course is the creator himself- Andrew Tate.
It's hard to miss this man if you have been a regular on the internet for the past few years. Students who join Hustlers University get the opportunity to learn business directly from the famous/infamous multi-millionaire himself. At least, that's what the course promises.
From what I gathered from the website, student reviews, and Mr Tate's words is that Hustlers University aims to be an alternative to traditional higher education.
In the traditional environment, you learn non-practical skills that don't directly convert into income. Meanwhile, you spend a few years of your life and a good amount of money behind it.
In contrast, Hustlers University is all about practical skills and earning money.
The sole purpose of everyone on the platform is to only make money. They don't talk about or care for anything else. They want 'just results' and have no time for the 'BS' that traditional education wastes your resources on.
Course History
Hustlers University has constantly shut down and rebranded itself in the past few years. The first one was Hustlers University 1.0. The course probably started around 2019-2020.
Hustlers University 1.0, 2.0 and 3.0
Well, HU 1.0 doesn't exist anymore. However, many of the student reviews of the first version are available.
They mostly talk negatively about the course. For instance, much of the course material was a mere repackaging of common tips and advice on online money-making freely available on the web.
Some also complain about terrible audio quality.
It was probably due to these reasons that version one was pulled off. The course then re-emerged in 2021 as Hustlers University 2.0.
Alike the first version, the second course, too, was hosted on a single discord server.
It offered more or less the same content as the first version. However, their aggressive affiliate marketing gained much attention. The marketing was so outrageous that it almost made Hustlers University seem like a pyramid scheme- which it wasn't.
This probably contributed to the course's ultimate shutdown in 2022.
Plus, Mr Tate's social media ban during that time also played a huge role. Their website says that HU 2.0 was taken off due to a massive platform upgrade.
However, Hustlers University soon re-appeared as Hustlers University 3.0. Again the content wasn't significantly different than the last time. And it used discord's server as a host.
Hustlers University 4 or The Real World
Only after a few months, in November 2022, Mr Tate rebranded the course as Hustlers University 4.0 or The Real World again. I initially found this confusing, as two separate websites for HU 4.0 and Real World exist on the web.
But when you click the Enroll or Apply Now button, both take you to the same page. So, presumably, both are the same thing.
Hustlers University 4.0 offers some significant changes.
Firstly, the controversial Affiliate Program that had been unavailable since 2.0 is back. Secondly, Hustlers University is now using its own server.
Although, as a nod to the past courses, they have designed it to look like the Discord platform. Plus, Mr Tate appears more regularly here than in past courses.
There are currently 160,000+ (according to the HU 4.0 website) or 200,000+ members (according to the Real-World site) at Hustlers University.
And considering they got their server now; Hustlers 4.0 will probably not go away anytime soon. Although, you can't tell until the next controversy hits Andrew Tate or his course.
RELATED: Best Way To Make Money Online For Beginners
Who Created Hustlers University?
Emory Andrew Tate III, or Andrew Cobra Tate, created the course. And for a lot of people, this is the first reason to join Hustlers University.
This is no surprise since Andrew Tate is a genius at Viral Marketing. He's also insanely rich. And a lot of people find him loveable.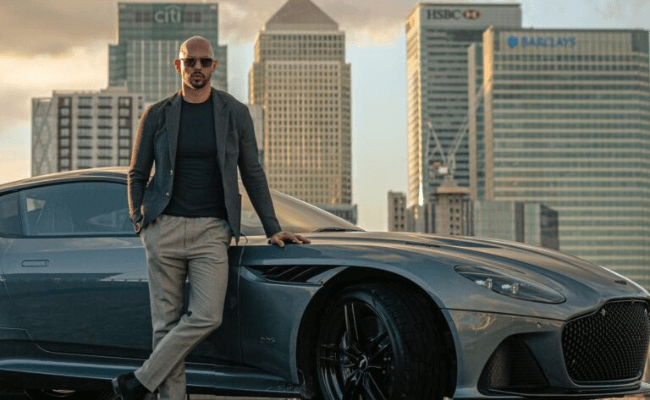 Like my former takes on various online courses, this Hustlers University Review also considers the course creator a crucial component to evaluate the program. Especially when it involves someone who is a breathing embodiment of controversy.
Let's see what Tate's life reflects about his course's legitimacy.
Who Is Andrew Tate?
Andrew Tate was born in 1986. His father Emory Tate was an international chess master. Andrew also became a competent chess player at the age of five and participated in competitions against players far older than his age.
So, he was an exceptionally smart kid, to begin with. His mother moved her two sons to the UK after her divorce.
The world first knew Mr Tate as an American-British professional kickboxer. He was among the top ten light heavyweight British Kickboxers during his retirement.
Andrew claims, and it's probably true, that he didn't make any of his millions from kickboxing.
However, while becoming a professional stage fighter, Andrew learned a lot about appearing powerful and dominating before the naive public. And that persona had gone a long way to establish him in the eyes of young men and subsequently sell his course.
After retiring from kickboxing, Andrew had been a lot of things. He started giving away online courses way before Hustlers University was a thing.
He was also a celebrity, social media influencer, investor, and owner of multiple businesses.
Andrew Tate's net worth is supposedly 700 million dollars. Although he claims to be the world's first Trillionaire.
Yet another example of how much this man loves to exaggerate things. Also, he had been 2022's most googled person on earth. Which tells us how incredibly successful he has been at attracting public attention.
Fame and Controversy
Andrew Tate is one of those celebrities who thrive on controversy. His kickboxing career gained him some attention.
But the general public first became aware of him when he was removed from the show "Big Brother Uk" in 2016 for allegedly hitting a woman.
It was during this time his social media posts expressing wild views on gender and society started gaining attention.
From there on, Tate never stopped riding the waves of controversies. As a marketing expert, he probably understood how well it worked for him.
He kept on expressing his opinions and accumulated a massive following. Because guess what?
Andrew's explicitly inappropriate views, especially those about women, resonated with many timid young men of today.
Presumably, those who are intimated by powerful independent members of their opposite sex. And these are the men who make up a significant portion of HU.
Ultimately the major social media platforms banned Andrew Tate in August 2022. However, Elon Musk reinstated Tate's Twitter account when he took over the company.
Then came probably the biggest controversy in Tate's life since he rose to fame.
On December 2022, the Romanian police arrested him on charges of human trafficking and affiliation with organized crime groups.
What I Take From The Creator's Back Story
What I take from all the above is that consistent controversies have kept Andrew at the centre of attention.
His extreme views have attracted like-minded followers. And he has funnelled all of this toward his course.
In other words, a majority of the hundred thousand-plus members of Hustlers University are not there because of the course material but Andrew Tate.
So, Hustlers University doesn't thrive on the quality of its content but on its creator's cultish popularity.
Also, the police charges against him make us wonder how Andrew Tate actually made his money.
RELATED: Best Way To Make Money Online For Beginners
What Do You Get With Hustlers University?
You get three things when you join Hustlers University. The first one is course material in video and text forms.
Then there are the Top G-approved professors as your guide. And lastly, a huge community of people with the same kinds of aims.
Course Material
There are six campuses at HU University. These are copywriting, freelancing, Amazon FBA, Stock market, crypto investing, and e-commerce.
You might wonder why it says 18-20 wealth creation methods on the website, then.
Well, these campuses have their sub-inches. Collectively, they reach the advertised number.
The campuses all used to be Discord groups. They still look and function the same way, but on the company's server. You get recorded video tutorials, pdf files, text updates, and live sessions with the instructors.
My opinion is that the copywriting campus is the best HU has to offer. It is well-organized and covers essentially every topic on the matter.
Plus, this is the program at HU that Andrew Tate personally teaches. Professor Tate teaches you everything from the basics of creating good copy to landing and maintaining clients.
Professors and Community
The other campuses have assigned Professors. Keep in mind that, they are not "Professors" in the traditional sense.
Instead, these are experts in the respective fields whom Andrew has verified himself. Most of them come from Andrew Tate's Telegram group – The War Room.
There are two eligibility criteria for a Hustlers University professor.
Firstly, they should have made at least one million dollars with the skill they are about to teach. Secondly, they should also be currently making 10k-500k dollars a month with that skill.
As for the community, they are mostly fans of Andrew Tate and people who think they can get rich like him with the course.
Many of them are toxic people, but you might be lucky to find some good ones.
How Does Hustlers University Work?
When you first join Hustlers University, you come to the personal finance campus. This is essentially a motivational part of the course.
There will be recorded videos of Andrew telling you how the system is trying to make a slave out of you, why you should break free from it and etcetera.
You will then choose from one of the six campuses. This depends on your affordability.
For instance, if you want to start with zero investment, you will start with the copywriting or freelancing campus.
If you are willing to invest some money, you can start with the e-commerce or Amazon FBA courses. Note that you are not paying that money to HU but investing yourself.
Once you have made some money (six-figure threshold) with the basic skills, you can move to the second step- the Stocks and Crypto campuses.
Here, HU teaches you how to increase your hard-earned money with the proper investment strategies.
The final step is 'Scaling your Business'. You will learn how to manage and maintain the business you have built up with the former steps. Andrew Tate will share how he manages his business empire in these lessons.
How Much Does Hustlers University Cost?
At the moment of writing this Hustlers University review, the price is $49 per month. When you join for the first time, you have to pay an extra 100$ as the initial membership fee.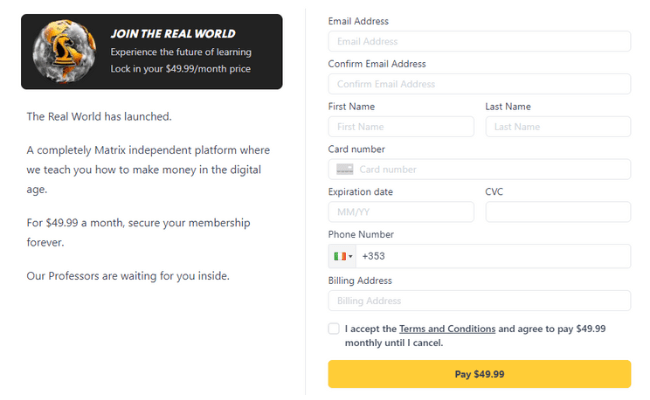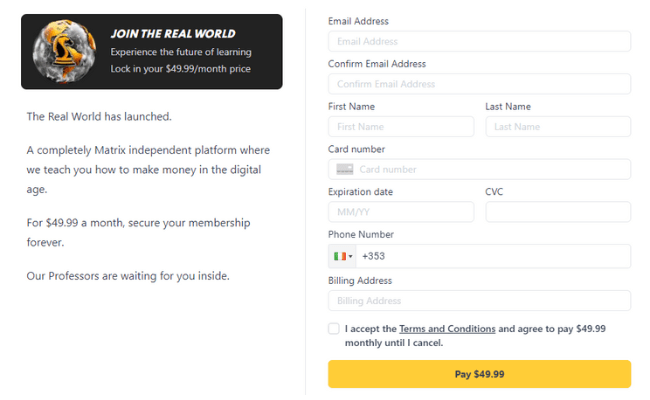 So, the first month costs you 149$. The website says that this fee will increase in the future once the community becomes fully loaded.
Apart from these basic costs, you will find various sub-niches and options once you join a HU Campus. They have individual pricing and keep changing with time.
Does Hustlers University Offer a Refund?
No, Hustlers University doesn't offer any refunds. The course material they provide you are digital assets.
Once you receive them, HU considers that you have consumed the product. So, there's no question of a refund.
You might wonder what happens if Hustlers University rebrands itself again.
Do you lose the 100$ you paid for the initial membership? No. As I found while researching the course's history, the newer version always lets in the past members free of the initial membership.
RELATED: Best Way To Make Money Online For Beginners
Who Is Hustlers University Best For?
Andrew Tate has established himself as a cult figure. And I speculate that the present member base of Hustlers University is mostly Andrew's cult followers.
So, if you love the Top G and support his views, Hustlers University can certainly be a great place. You will meet your like-minded brethren, and you all can have a good time together.
In contrast, if you are truly looking to learn a skill that can help you make money online with honesty and hard work, Hustlers University is not for you.
The content is nothing special. You can find similar courses on the internet that cost next to nothing.
Plus, many past students have complained that the course material is ridden with basic errors. And the groups are so crowded that you rarely get the chance to talk to the instructor.
So, from my viewpoint, Hustlers University is not worth your 600 dollars a year.
You should also note that it's not an alternative to traditional education. In the long run, a college degree would be more rewarding than the skills HU teaches you.
Hustlers University Pros
There are many things I have found questionable about HU. But that doesn't mean there's nothing good in it.
Here are some of the admirable features of the course in my Hustlers University review.
The price is higher than a similar program but not outrageous.
You make monthly payments and can sign off whenever you want.
The copywriting course provides some good materials.
Get access to professionals and learners in your sector of interest.
The course guides you on investing and magnifying the income you make from its teachings.
Hustlers University Cons
If you are strongly against Andrew Tate, HU would have looked bad to you even if it had great content.
But I have tried to rise above that bias. And then I found a few things about the course that would disappoint anyone, whether you are a Tate supporter or not.
Here are some things that I didn't like while writing my Hustlers University review.
Other than the Copywriting campus, most of the material is disorganized.
You would be lucky if you ever got a live interactive session with Andrew Tate- the main reason most people joined the course.
The materials don't provide any extra value than it's a competitor. You can get more organized and insightful courses at one-third the price.
The community is full of brutish and atrocious characters (following the footsteps of their cult leader).
You can't trust the reviews and success stories.
Hustlers University Review – Conclusion
There are better and cheaper courses than Hustlers University to learn online money-making skills. That said, you can join Hustlers University if you want to. Because the answer to 'Is Hustlers University legit' is yes.
You don't get robbed or become part of something illegal. It's just an online course that depends on its creator's popularity to attract members.
I would like to end this Hustlers University Review with a few parting pieces of advice. Choose a skill, and work hard at it, and you will get some reward. But don't get carried away by fake reviews and promotional language.
Is There a Better Way To Make Money Online?
I know how hard it is to trust websites these days.
There are too many scams out there, especially in the make-money-online world.
I know, because I reviewed over 700+ sites so far!
Why did I review so many sites? Well, I wanted to find the best (and cost-effective) way for a beginner to start income online.
While searching for this information, I bumped into affiliate marketing.
Thanks to a decision to learn more, I went from waiting tables in restaurants to earning a full-time passive income online.
And today, I like helping people as you follow in my footsteps,
Keep reading…
How I Make Money With Affiliate Marketing
I earn online by creating simple affiliate websites that I use to connect people with products they are already looking for.
It requires no special skills or previous experience, which makes it the best way to start online.
The best thing about affiliate marketing is that it is passive in terms of results and income.
In other words, you could be earning an income from your affiliate website for years and years to come, even when you sleep.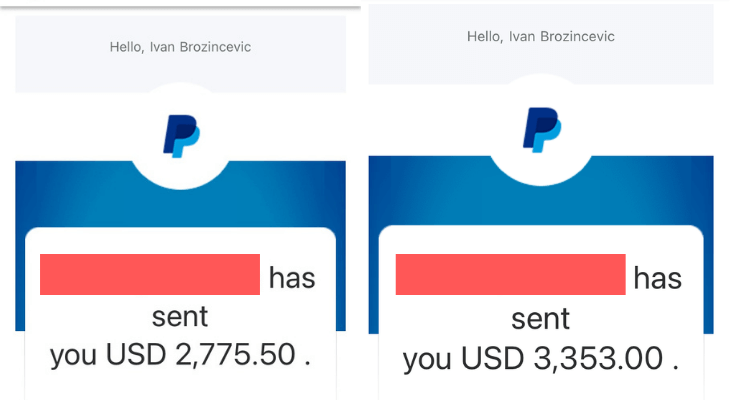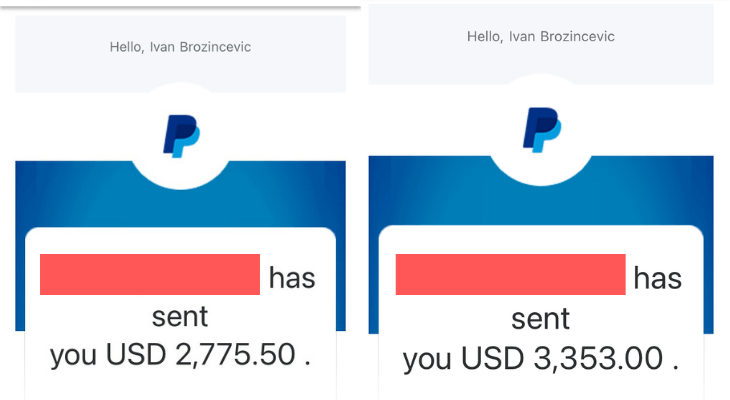 If you want to learn more about how you can start making money online with affiliate marketing, click the button below!
After evaluating over 700+ programs on the web, my conclusion is straightforward. This is the best way to start earning passive income online.
And if you're looking for the very same, I'll see you on the next page…
THE BEST WAY TO MAKE MONEY ONLINE IN 2023 >>
And don't forget to share this Hustlers University review with your friends and family!
All the best, Ivan @freeaffiliatemarketingbusiness.com