Welcome to my review. Is Jeunesse a pyramid scheme? Is it a scam or a legit MLM company for you to join? Can you make money promoting their products?
Jeunesse Global is a company that specializes in providing youth-enhancing solutions based on cutting-edge science, such as adult stem cell technology, DNA repair, and nutrigenomics.
It is also a network marketing company that you can join to become a distributor and earn an income through its MLM program.
The latter is the main reason why people confuse Jeunesse with a pyramid scheme or a scam?
And that is exactly the topic of this post.
Before we get into this review, let me introduce myself…
Hi, I'm Ivan and I'm an online marketer who went from losing my time waiting tables to running a thriving online affiliate marketing business.
In the meantime, I have actually tried and reviewed 600+ courses, scams, MLMs, and even pyramid schemes to find the very best way to generate income online.
Keep reading my Jeunesse review where I'm going to show you what this company is about.
Also, I show you how it works, and I share my opinion about whether Jeunesse is a scam pyramid scheme or a legit MLM opportunity.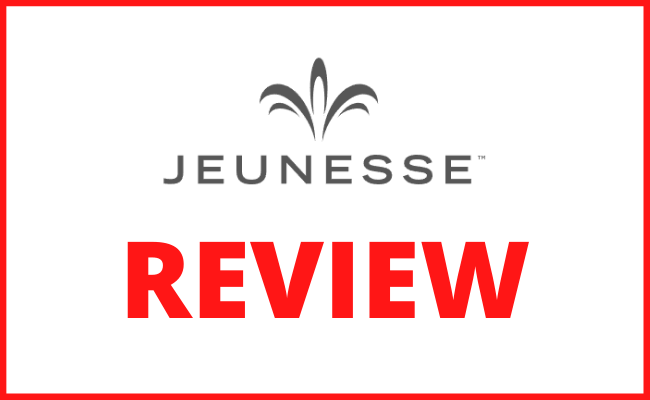 Jeunesse Review – Overview
Type: MLM (Multi-Level Marketing)
Owner: Randy Ray
Price: $49.95 + Extra Costs
Recommended?: Read my review…
Overview:  Jeunesse is a multi-level marketing business that allows you to become a part of its direct selling team. In other words, it is an MLM (multi-level marketing) firm.
And because of this, many people call Jeunesse a pyramid scheme in a disguise.
So is it a scam or legit? That question has been answered in detail in my review. But if you're in a rush, I can save you time and say that Jeunesse is legit MLM.
It's because they offer real products as well as the chance to make money selling the same.
But like every other company that uses this model, it's got some problems. Keep reading my Jeunesse MLM review to learn more before you make your own decision.
Alternative: If you're a newbie who is looking to earn passive income online, there are other, more beginner-friendly, and cost-effective alternatives. My top-rated affiliate marketing course has helped me to go from earning $0 to $100's per day!
THE BEST WAY TO MAKE MONEY ONLINE IN 2023 >>
What is Jeunesse?
Jeunesse is a skincare and wellness Multi-Level-Marketing company that was founded in 2009. By the way, Jeunesse is a French word that suggests "the time when you are young".
The focus of the company is to offer skincare and supplements that assist people to look and feel more youthful.
They also offer a possibility for everyday people to earn money from home.
The 3-minute video clip below describes more about this business…
Its primary goal is to offer the most up-to-date scientific breakthroughs in the fields of wellness, skincare, and anti-ageing to people. They call themselves the "Generation Young".
In view of this truth, it has established a so-called "Y.E.S." system which reads as (Young people Enhancement System).
It helps individuals to accomplish their best "look and feel" and take pleasure in a top-quality life.
Moreover, it takes pride in following the highest possible criteria of straight marketing as well as multilevel advertising and marketing.
But as I said, their MLM model is the reason why people say that Jeunesse is a pyramid scheme or a scam. Keep reading my Jeunesse review to learn the truth…
Related Review: DXN Pyramid Scheme
Is Jeunesse a Pyramid Scheme?
Some MLMs are accused of being pyramid schemes because they focus on recruiting. Jeunesse does the same, but it is not a pyramid scheme.
It's feasible for distributors to make money by selling the products without recruiting anyone right into the business.
Nevertheless, it is very hard to make any type of considerable cash in this manner or even cover the regular monthly sales allocation.
Because of that Jeunesse is compared to a pyramid scheme in disguise.
To learn the difference, take a look at the section and video below:
What Is a Pyramid Scheme?
According to Wikipedia, "A pyramid scheme is a business model that recruits members by promising payments or services in exchange for enrolling new members into the scheme, rather than providing investments or product sales".
You can check out a short video below to learn more…
From the video above, we can see that the continuous demand to bring in new members is a vital part of a pyramid system.
So why do so lots of people assume that Jeunesse is a pyramid scheme? It's due to the fact that it's possible for you as a representative to offer their items to make compensations.
It's also because you can make cash by hiring a lot of individuals right into the multi-level advertising and marketing plan.
That's the most significant reason some individuals call it a pyramid scheme in disguise …
Is Jeunesse a Pyramid Scheme in Disguise?
As I said in my review so far, Jeunesse is not a pyramid scheme. They promise you commissions based on the sales made by you and others you register.
However, there are no straight repayments just for getting them to sign up. That said, Jeunesse, once more, is not a pyramid scheme. To put it simply, the company sells real items for people to consume.
Jeunesse Pyramid Scheme Lawsuits
In 2015, Truth in Advertising, Inc., slammed Jeunesse over deceptive income declaring that the business and its distributors utilize to induce customers to become distributors themselves.
In addition to outlining its findings in a warning letter to Jeunesse, Truth In Advertising submitted a formal complaint with the Federal Trade Commission and the Florida Chief law officer urging them to do something about it.
Contributing to the doubtful nature of Jeunesse's operations was their discovery of more than 100 instances of inappropriate health claims concerning the ability of Jeunesse supplements, creams, and gels to treat cancer, lower high blood pressure, disappear psoriasis and treat a variety of other illness.
Having that said, although not legitimately a pyramid, whether you consider Jeunesse a pyramid system depends upon your viewpoint of these schemes.
Related Review: Atomy Pyramid Scheme
Is Jenuesse a Scam or Legit MLM?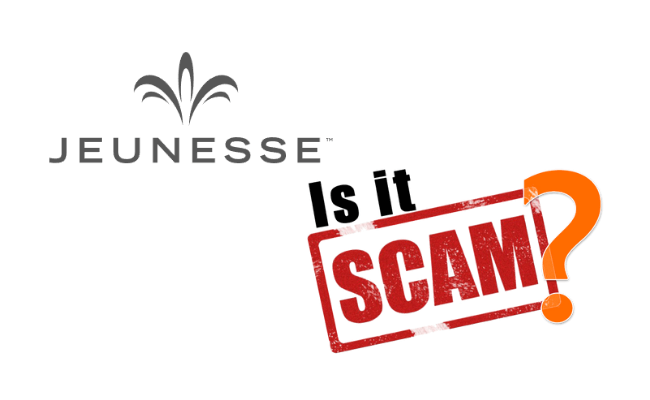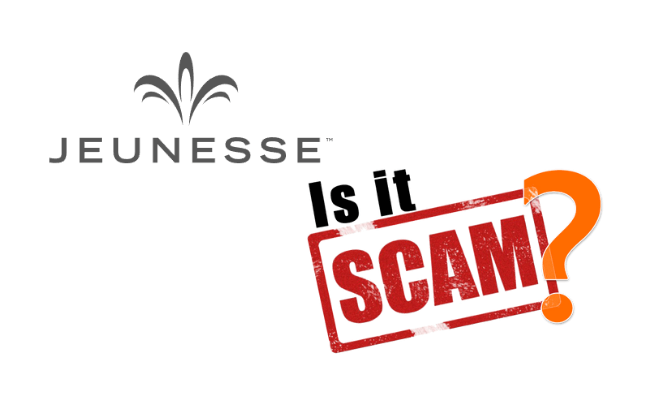 If you take a look at the totality of the info above, it is impossible to conclude that Jeunesse is a scam or pyramid scheme.
There are clear and top-quality products and a strong settlement plan.
However, I think this is inadequate, as you can see from the information about their business below in my Jeunesse MLM review.
Obviously, even if the company is legit, the network marketing business is saturated and there are tons of things to discover as well as grasp to defeat the heavy competitors.
The price of the products in addition to the online reputation of the network marketing makes it harder to market as well as recruit new members.
As I went over in my review, Jeunesse has absolutely nothing brand-new to offer the market. It is just among the many companies in this particular niche such as Mary Kay or Young Living.
The fact is that the only individuals being successful with MLM are expert salesmen.
The general public that gets sucked into these schemes loses money and funds those on top…
The rest of this Jeunesse MLM review will help you to expose the concealed facts to make sure that you can make an educated choice concerning it.
Alternative: On the other hand, if you're looking for the best business model to earn passive income online as a beginner, there are other, more suitable, and cost-effective alternatives.
My top-rated course has helped me to go from earning $0 to $100's per day!
THE BEST WAY TO MAKE MONEY ONLINE IN 2023 >>
What Products Does Jeunesse Sell?
Jeunesse has a broad range of products that range from items that cater to youthful vigour, health and wellness, and also health and fitness issues.
Additionally, it is being acknowledged by Inc., Direct Selling News, and Stevie as a result of its remarkable company development in no time.
The success made by Jeunesse is due to its competitive products that resolve the skin issues such as under-eye bags, great lines, wrinkles, as well as pores.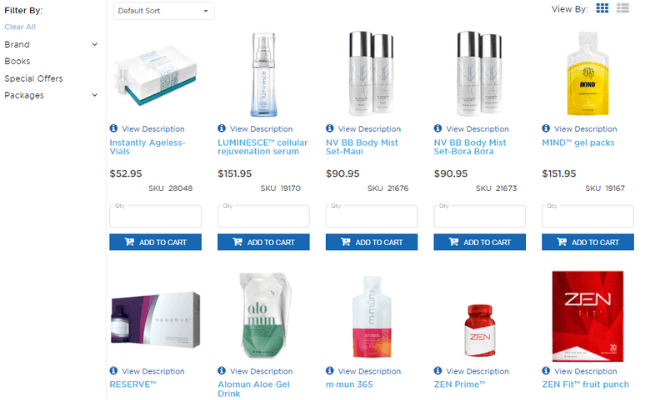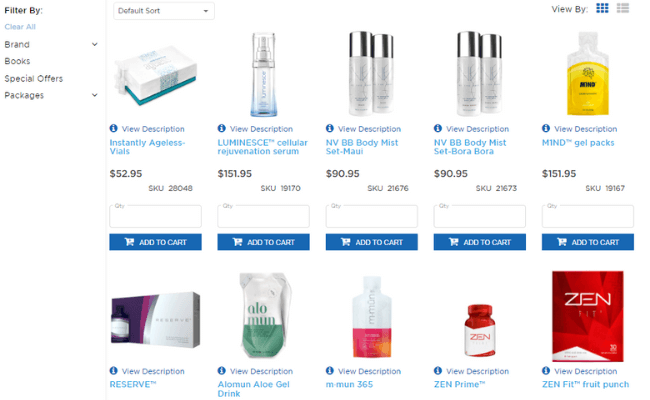 Jeunesse skincare products include masks, peels, overnight serums, and eye creams that are designed to reduce the appearance of fine lines and wrinkles.
The products are divided into five different collections:
Instantly Ageless
Luminesce
NV
Naara
RVL
How Much Does Jeunesse Products Cost?
Instantly Ageless ($74.95) – micro cream which reduces fine lines on your forehead. Other uses are for the eyebrows, eyes, and large pores.
Luminescence ($44.95 to $137.9) – is a very expensive product that is tagged as an anti-ageing regimen which is not only for your face but your whole body.
AM & PM Essentials ($139.95) – are high-end multivitamins that must be taken morning and evening.
Reserve ($137.95) – a blended concoction of fruit juices, seed extracts, and Resveratrol meant to protect live cells from oxidative damage.
Finiti ($144.95 to $289.95) –  is considered the most advanced supplement to date packed in a capsule. It contains both fruits and vegetables and is free of most allergens. You can buy it at $289.95 per 120 capsules.
Zen Project 8 ($21.95 to $79.95)- refers to a weight loss program that consists of coaching, diet, and exercise which is also made up of three phases. The first phase is a detox product, phase two offers a belly-busting product, and phase three is supplementation.
Nevo ($71.95) – a 50-calorie energy drink in a can, which is a combination of real fruit juice and different flavours.
M1nd ($137.95) –  memory and focus supplement featuring Cera-Q (silkworm cocoon proteins), L-Theanine, GABA, and L-Acetyl L-Tyrosine.
When you take a look at those prices above and compare them to the competition, you can easily conclude that Jeunesse products are overpriced.
That's because they invest a lot of research into these items. Moreover, they take great pride in claiming that their products (unlike those from the competition) actually work.
Hence, the high prices.
But in my opinion, that's just an attempt to make Jeunesse products stand out from the competition.
Related Review: Ambit Energy Scam
How Does Jeunesse MLM Work?
As I stated in my review, Jeunesse is multi-level marketing. This suggests you can register (for a charge) for the capability to offer products to consumers by yourself for a commission.
In addition, you earn awards for employing individuals under you (constructing your downline). This implies that you make commissions from the sales of individuals under you.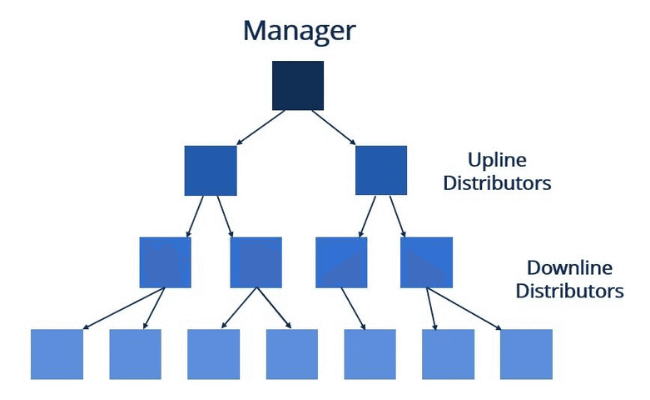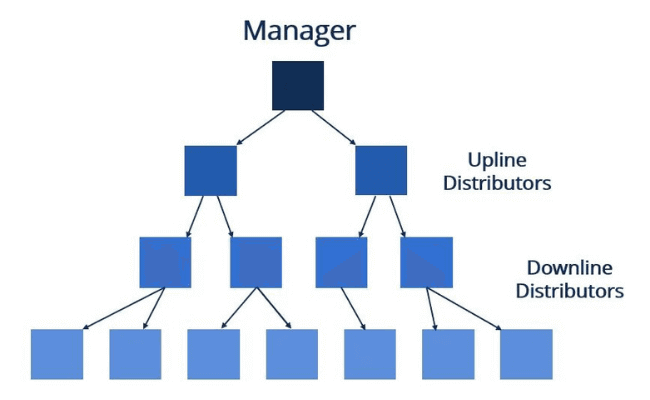 Lastly, there are smaller-sized incentives which you can earn money from. This is usually based upon individual sales and your downline's sales.
Doing this type of advertising is among the main reasons why people often tend to perplex Jeunesse with a pyramid scheme.
However as I stated in my review, Jeunesse is a legit marketing business. Even if you do not want to build a team, you can still make an income just by reselling their items to the public.
How Can You Join Jeunesse MLM?
It is very easy and simple to register and become a Jeunesse distributor. Once you're done with the process, you can start building your team and earn commissions from sales.
First, you just have to fill out the online Jeunesse Application form. During the registration process you will:
Fill in personal data: name, email, mobile number,  shipping address, date of birth, etc.
Choose a membership product package according to your need.
Payment with Credit Card. Payment with transfer (cash) is also available in several countries.
To learn more about the onboarding process, check out the video I found on YouTube…
How Much Does It Cost To Join Jeunesse MLM?
You've got to pay $49.95 for the Jeunesse starter package. This is rather cheap compared to other MLMs that usually charge hefty amounts to new members.
When it comes to product plan purchasing, nonetheless, it is elective but very encouraging. In fact, you will be pushed to purchase one of these plans due to the fact that your upline will gain payment from them.
The options are listed below:
Ambassador Package ($1,149.95)
Supreme Package ($499.95)
Basic Skin Care Package ($199.95)
Basic Nutritional Package ($199.95)
Are There Any Extra Costs?
One thing to remember, this business has an annual renewal cost of $19.95 which can be off-setted by building up 360 Curricula vitae in the previous year.
Plus you require to auto-ship monthly obligatory products minimum of $85 to be an active supplier and eligible for payments.
In my opinion, this is not how a business should work. You are placing money first inside Jeunesse's company's pocket after that your upline pocket, and then, you get the opportunity to earn as well.
That's why I don't like MLM firms, they think about themselves first before offering value to anyone.
Related Review: Oriflame MLM
How To Make Money With Jeunesse MLM?
As opposed to straight marketing it to consumers, Jeunesse has chosen to utilize the network marketing version which offers you the selection to generate income by:
Selling the products for a commission
Recruiting people to earn bonuses
The former approach works like every other affiliate marketing program. As shown in the image above, all you have to do is share the word, link to the product, and earn revenue.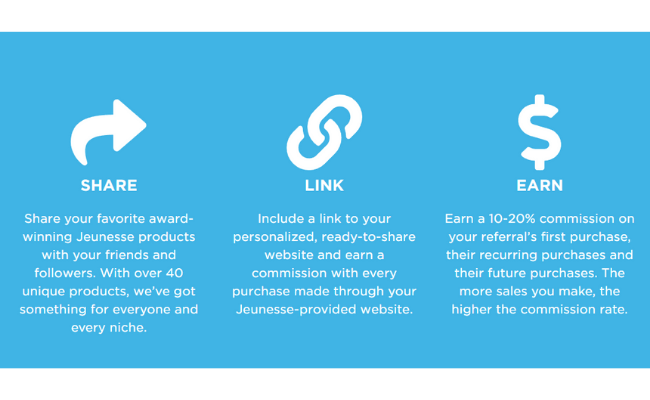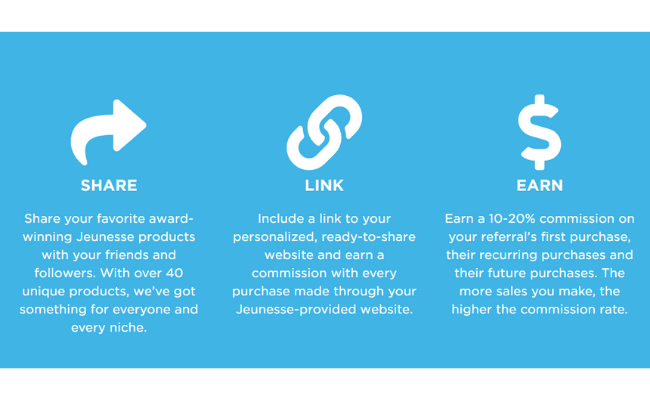 On the other hand, the latter approach to making money is the main reason why Jeunesse is accused of being a scam or some sort of illegal pyramid scheme.
But as I established in my Jeunesse review, everything about this MLM company is legit.
What Is Jenuesse's Compensation Plan?
There are 7 ways that Jeunesse will pay you…
Retail profit (up to 35%)
New customer acquisition bonus ($25-$250 depending on their product package purchase)
Team commission (bonuses when you have two "legs" aka recruits that accumulate 100 PV per month)
Leadership matching bonus (5-20% bonus on sales your downline makes)
Customer acquisition incentive (5% additional bonus on recruits product pack purchase if you have 5 regular customers, 10% if you have 10 regular customers)
Diamond bonus pool (share 3% of total sales in Jeunesse when you reach Diamond rank)
Lifestyle rewards (incentive trips if you reach certain ranks/ quotas)
Alternatively, you can learn more about the compensation plan in the video below if you'd like…
Can You Make Money With Jeunesse?
Yes, you can make money with Jeunesse or any other multi-level marketing. Nevertheless, you should understand that the success rate with any MLM is extremely low…
Did you know that only 1 in 278 earns over $16k a year?
The 2014 Jeunesse income disclosure shows this to be true. As you can see, 72% of distributors didn't earn a single penny!
Once you actually do the maths, you can see that 0.36% of all distributors earn over $16k a year. In simple English, that means that only 1 person out of 278 made more than $16k in 2014!
I think we can all agree that it is a massive warning to see this Earnings Disclosure Declaration.
Does the low success rate imply that Jeunesse is a scam that conceals something? Not truly. But it's not an encouraging truth either.
Who Is Jeunesse Best For?
Obviously, Jeunesse is best for people who are interested in using, selling and promoting skin care products.
And since the cash in this business is made from extroverted individuals that make use of social media sites to promote Jeunesse products, it's perfect for someone who fits the profile.
They offer the dream of "being your own employer" to people and afterwards invest most of their time on Zoom calls with their "down line".
Furthermore, they encourage their "team" to offer as well as recruit much more so it gives them bigger benefits. However, most of their "group" will actually wind up shedding money and buying the products themselves to continue to be energetic.
This fact has been established by Jeunesse income disclosure statement in my review earlier…
Related Review: Total Life Changes
Jeunesse Reviews and Complaints
One of the best ways to learn whether Jeunesse is a scam or legit is to read some testimonials online. Most Jeunesse reviews online are directed toward their products and are generally positive.
Below are some of the examples:
Positive Reviews
I have used this product since it first hit the market. I have suffered from dark bags under my eyes since my mid 20's. Foundation and concealers never worked; only caked under my eyes. I HIGHLY recommend this product and suggest searching for an application video to watch. It's the real deal ladies and works like magic. From trial and error, I've learned it is best not to apply anything before application and likely powder when dry. It will take you a few times to get the right amount of product for you. Always buy this specific brand. Knock-offs just don't work the same. I've also put a slight amount right above my forehead lines and it gives a slight lift. A warm washcloth is all you need to remove it.
One of my can't-live-without products! It's imperative that you dampen under-eye first, then use the tiniest dot you can get . . . like pinhead size to use. When it dries, if you have any residual, you've used too much. Took me a while to figure out how little you use to get the results. I've been using it for over 3 years, almost daily. Even if I'm not wearing make-up or going anywhere, since sheltering is in place, I will still use Instantly Ageless as I have become so accustomed to the improvement it makes in the appearance of my under-eye area.
As you can see, their products also get quite positive ratings on Amazon, which is a good sign. The average rating is 4 stars.
Negative Reviews
To be honest, there is a small percentage of negative Jeunesse reviews online. Those few that exist are referring to packaging, delivery, etc.
I have been using this product for almost 2 years now and have always loved the results. However…. this last batch of products does not seem to be the original formula. I am constantly getting the white filmy residue regardless of how little I use it. I also do not experience the tightening of the skin as I did with previous orders and lastly, the physical colour of the product appears to be lighter (like it's been diluted) I may be willing to purchase again to see if this is just a fluke box but I have already started researching other products to replace Instantly Ageless…
It works only for a minute (probably it was made just to take pictures :-)). As soon as you start smiling or put on any face moisturizers – the tightness is gone like you never put anything on your face. To keep the way they are shown in the video – you have to walk around not blinking and emotionless!
That said, this is proof that Jeunesse is not a scam. If people are generally satisfied with their products, this means that there is a need for these items and distributors could fill it in.
Related Review: Rodan and Fields
Jeunesse Review – Pros
Proven History and Legit Company
Jeunesse began in 2009 so it's secure to say that it most likely won't simply disappear tomorrow. This is one more fantastic sign that Jeunesse isn't a scam as the FTC hasn't shut it down.
The business have been signed up in INC 500's in 2016 as the fastest-growing firm, which attained $1.4 billion that year.
Good-Quality Product Line
They have excellent products, which are science-based. I agree their skincare item is great as they claim although there are numerous problems, the various other products are just typical supplements which are overpriced.
Lots of Positive Reviews From Product Users
This is undoubtedly a substantially positive sign. Jeunesse products are of good quality and have got lots of positive reviews, which makes their items a lot better than various other Multi-level marketing.
You can check out the live demonstration of how one of their anti-wrinkle products works below…
Jeunesse Review – Cons
Extremely Low Success Rate
MLMs have a very low success rate as just 1% make any kind of cash. That's how they're designed to function, unfortunately. And the same rule applies to this company.
As you have had a chance to see from my Jeunesse MLM review, only about 1% of distributors make real money.
Overpriced Products
MLMs are additionally known for having pricey products. Unfortunately, this company takes that to the next degree. Their supplements and also creams cost way too much.
As you can see from this Jeunesse MLM review, customers are generally happy with their products, but they also claim that they are overpriced.
Saturated Niche Market
There are probably millions of various supplements and also anti-ageing creams and companies that distribute them in this space. There is Avon, Yong Living, DoTerra, and many others.
You'll have a hard time persuading individuals they need to change from their favourite brands.
Requires Pushy Sales Techniques
Individuals who join multi-level marketing typically wreck partnerships since they're too hostile with their marketing. This is just one of the most awful parts of Network marketing.
You will have to annoy your friends and family to start making sales. That is – unless you have an established sales system already.
Related Review: Tupperware MLM
Jeunesse MLM Review – Conclusion
There have actually been lots of accusations against Jeunesse, claiming that the company is a pyramid scheme.
Nonetheless, Jeunesse is a legit MLM as it has reputable items and it is possible for participants to generate income simply by selling items and not recruiting new members.
But is it a good business opportunity?
Simply put, it is a multi-level marketing business that offers anti-ageing as well as elegant products. But if you're aiming to make money with this business I would recommend looking in other places.
While Jeunesse isn't precisely a scam or pyramid scheme, it's extremely hard to earn money with the – 99% of individuals who join Multi-level marketing lose their hard-earned cash.
For that reason, I would not recommend joining it unless you really like business and have a solid marketing plan.
Thanks for reading my Jeunesse MLM review. What is your opinion? Is Jeunesse a scam pyramid scheme? Were you a part or maybe still are a member of this business?
Feel free to leave your reviews at the end of this page!
Related Review: Mary Kay MLM
Is There a Better Way To Make Money Online?
I know how hard it is to trust websites these days.
There are too many scams out there, especially in the make-money-online world. I know, because I reviewed over 600+ sites so far!
See, Jeunesse is just one of the many MLM companies I have reviewed…
While searching for the best ways to make money online myself, I bumped into a platform where you can start making money online in the best way possible.
It is a 100% legit company that helps people to create a successful affiliate marketing business.
So if you want to succeed online and make money finally, my best and only recommendation is affiliate marketing.
Best of all, all you need is an email address to get started.
Keep reading for more info…
How I Make Money With Affiliate Marketing
The program that I recommend as my #1 solution for making money online with affiliate marketing is based on a 100% proven and tested system.
The best thing about this method is that it is passive in terms of results and income.
In other words, you could be earning an income from your site for years and years to come because this method is so POWERFUL and overlooked by many marketers.
Just take a look at commissions that I earn passively all thanks to affiliate marketing.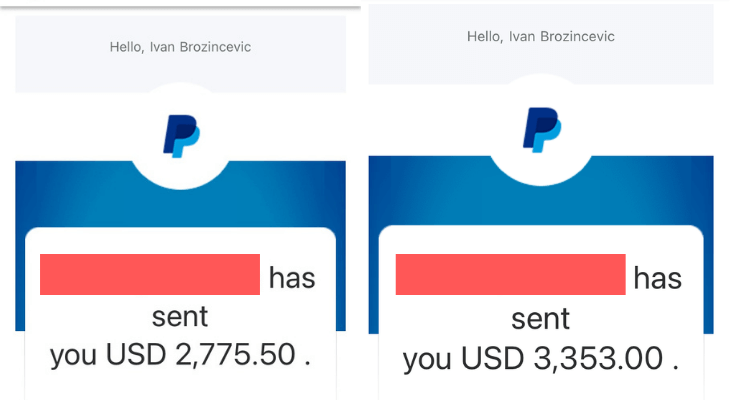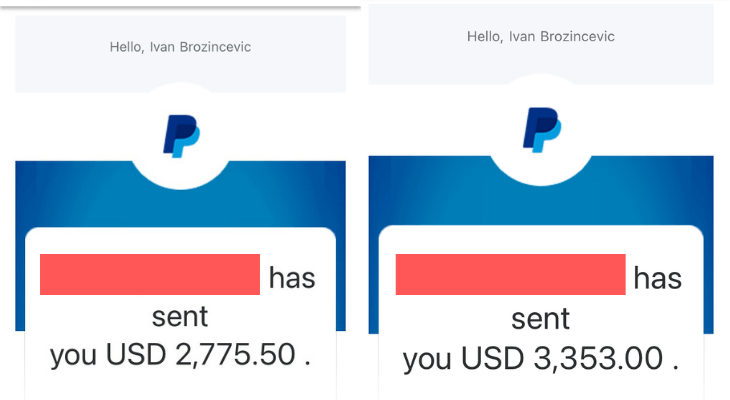 If you want to learn more about how you too can start making money online with affiliate marketing, click the button below!
After evaluating over 600+ programs on the web, my conclusion is easy. This is the best course to learn about ins and outs of affiliate marketing.
And if you're looking for the very same, click the button below!
THE BEST WAY TO MAKE MONEY ONLINE IN 2023 >>
And don't forget to share this review with your friends and family!
Thanks for reading my review of the Jeunesse MLM!
All the best, Ivan. contributor @freeaffiliatemarketingbusiness.com
Related Review: Herbalife MLM