Welcome to my Kindle Cash Flow review.
Kindle Cash Flow is a 3-step system to $30,000 a month in completely passive income. So what's the secret? Nothing special, it comes down to uploading 25 page Word documents to Amazon that Ty Cohen is using for 10+ years to earn an income from Amazon.
But is this going to work like that? Can you just upload simple documents on Amazon to earn $ 1000's per month? And even better, is this a scam or legit way to learn how to make money online?
Join me in my Kindle Cash Flow review where I reveal what you get with this, how it works, price of the system, some pros and cons, and my verdict and conclusion about this product.
Kindle Cash Flow Review – Overview
In a nutshell, the Kindle Cash Flow System is the step-by-step approach to creating digital products using word documents, uploading them once on Amazon Kindle, and getting paid if and when someone buys the copy.
In my opinion, the sales page is a bit overhyped for my taste, which gives you a wrong impression about Kindle publishing business. For example, they say some things that don't belong on a sales page like "start making money by the end of the next week" and such things.
But if we put that on the side, Kindle Cash Flow is a legitimate training course for learning how to become a publisher on Amazon's Kindle platform. You get the training, the tools, and even the live help.
The training costs $697 one time or $277 three times, and you're covered with 30-days money-back guarantee.
If you need more information and details about the course, keep reading my honest review.
If you are interested in making money online, make sure to check out my top recommendation below too…
CLICK HERE TO DISCOVER THE BEST WAY TO EARN AN INCOME ONLINE >>
What is Kindle Cash Flow?
Kindle Cash Flow is a digital training course for learning about how to publish eBooks on Amazon Kindle and earn a passive income for doing so. Ty Cohen created the system in partnership with Anik Singal.
Ty says that he's been publishing eBooks on Kindle for 10+ years and after earning millions through this platform, he's decided to share his secrets with the world. Kindle Cash Flow has nothing to do with traditional ways of making money online that include things like:
building a website
building a funnel
running traffic
building a product
building an email list, etc.
The system is simple, and it comes down to finding a niche, doing the research, creating a book (on your own or outsourcing), publishing, and waiting for the right results—more about the system in the next sections of my review.
Before we move on, one thing I like to see about these training courses for making money online, in this case, with Amazon Kindle, are real success stories. I can't prove that those testimonials from the official site are accurate, but they sure look honest to me, which is always a good sign.
That said, let's see what you get with this product.
What You Get Inside of Kindle Cash Flow
Here's what you are going to get from Ty and Anik:
Step-By-Step Training
Tools and Examples
Community of Coaches
7 Bonuses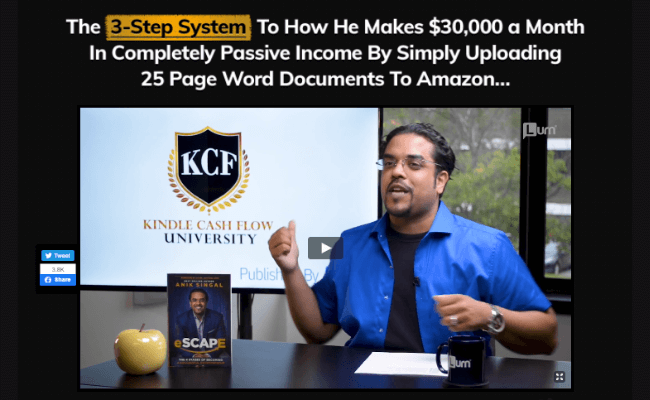 Step By Step Training
You'll agree with me that the most important thing from this list of features is video training. So here's what you get inside of Kindle Cash Flow training area:
Module 1 – An intro to making easy money on Amazon with Microsoft Word docs.
Module 2 – How to prepare and dominate for quick success.
Module 3 – Outsourcing Magic – How to Quickly & Easily Get Your Docs Created
Module 4 – Writing Your Own eBook – Fact of Fiction (The Do It Yourself Route)
Module 5 – The Buyer Magnet Model – How To Explode Your Kindle Sales
Module 6 – KDP Cash Extraction – Using KDP Select to Attract Non-Stop Customers
Module 7 – Offline Publishing Profits
Tools and Examples
You'll also get all the tools & resources Ty Cohen personally uses to run his $30,000/Month online Amazon Kindle business. This feature includes everything from…
Finding the hottest topics.
Finding high-quality outsourcers.
Creating your eBook.
Marketing & more…
You'll also get a full walkthrough and breakdown of how to use all these tools to get the absolute best out of them. You'll get a chance to see them put these tools in action, so you know exactly how to do it.
Community of Coaches 
You'll also have access to a group of Coaches and students on the same journey as you—people who are starting just like you and the people who are making upwards of 5-figures a month. You can lean on them and ask questions whenever you feel stuck.
I believe that this feature of Kindle Cash Flow is equally essential as the first two, and I appreciate and like to see this included. Everyone needs help and coaching at the beginning. It's critical for the success of the program.
7 Bonuses
In addition to the training, tools, examples, and the community, all members of Kindle Cash Flow are going to receive these seven bonuses from Ty and Anik. I think some of these are extremely useful. My personal favourite is the bonus number one.
Here's the full list of bonuses:
Bonus #1 – Hottest Niches For Kindle
Bonus #2 – Money Multiplicity
Bonus #3 – Socializer Scaling
Bonus #4 – Full Community and Coaching
Bonus #5 – Case Study
Bonus #6 – Case Study #2
Bonus #7 – Top Secret
How Does Kindle Cash Flow Work?
In the previous sections of this Kindle Cash Flow review, I've started explaining how this system for making money online works. Now, in this section, I'm going to share a bit more details about the science behind Ty's formula for Amazon Kindle publishing.
There are three necessary steps that you will lead during the training. Those steps are:
Market Research
Create Content
Publish on Amazon

At first glance, Kindle publishing seems simple, and it is. I've flirted with this field before because of its simplicity. Most importantly, I like it because you can outsource 90% of the work and still earn an income. But you need to know what you're doing.
Speaking of which, let's see what you can learn from Ty Cohen.
Market Research
Ty claims that he's discovered a simple black and white formula for choosing the right niche. It all comes down to using two sites and the procedure he shares, and you're guaranteed to choose the right niche.
You see, this step is crucial. If you don't take this step seriously, if you don't pick the right niche, your whole business operation and everything that you do from this step forward are going to be worthless.
Create Content
Once you have the winner, the right niche, you have to create the eBook that you're going to sell on Kindle. Now, this is the step that most people shy away from because they are afraid that they can't write. I know, I've been there. I used to think that I'll never be able to write and sell.
However, you don't have to be a great writer. First of all, you can learn. It's a skill like every other. Secondly, Ty shows how to outsource 90% of the process, so no worries.
Publish on Amazon
The last step is the simples one. It is going to take about 30 minutes to publish your book on Amazon, and after it's listed, you're done. You can relax and wait for it to start selling, or you can rinse and repeat the process as much as you want.
And that's it. Kindle publishing is a simple process. Most importantly, I believe that anyone can do it. Speaking of which, let's jump to the next section of my Kindle Cash Flow review to pint the picture of a perfect candidate.
Related: My Freelance Paycheck Review
Who is Kindle Cash Flow For?
As I said, I believe anyone can start with Kindle publishing. Your nationality, location, language, writing skills are not essential. In my opinion, this training is excellent. If you take it seriously, you could become a Kindle publisher.
That said, I think Kindle Cash Flow is for:
writers
non-writers
entrepreneurs
bloggers
marketers
However, there's one thing you need to know, which is, in my opinion, essential to say. That is, do not take this as an easy way to making money online. You see, Kindle publishing is a time-consuming process that requires a lot of patience and faith.
So if you're a person who is not willing to do the work, or you are looking for some shortcuts to success, it's the best for you to skip this program because you'll be disappointed.
CLICK HERE TO DISCOVER THE BEST WAY TO EARN AN INCOME ONLINE >>
Kindle Cash Flow Price
Kindle Cash Flow costs $697 one time or thee payments of $277, which comes to $831 in total. Also, Ty Cohen backs up his product with a 30-day money-back guarantee.
What I Like About Kindle Cash Flow
Comprehensive Training
Tools, Resources, Case Studies, Bonuses
Owners are Legitimate Entrepreneurs
30-Days Money Back Guarantee
Success Stories
Comprehensive Training 
I believe that knowledge is power, but only if it's used. Otherwise, it's useless. And I like the training included with Kindle Cash Flow program. The owners are knowledgable when it comes to Kindle publishing, and this training is a reflection of their knowledge and experience.
Tools, Resources, Case Studies, Bonuses, and Community
In addition to quality training material, everyone needs tools, examples, and a lot of help from other people involved in the program. I was happy to see that Kindle Cash Flow includes everything one needs for success in business. You get all you need, all you have to do is use it.
Owners are Legitimate Entrepreneurs
Ty Cohen and Anik Singla are two very familiar faces in the world of digital entrepreneurship. They have made millions so far, and they own a few more training programs where they teach different methods for making money online. Some of the examples are:
Inbox Blueprint
Copywriting Bootcamp
30-Days Money Back Guarantee
Taking into consideration the potential power of Kindle Cash Flow training program, I don't think that it is an expensive program like some other reviews out there. $697 is a reasonable price, and the good thing about it is that it is backed up with a 30-day refund policy.
Success Stories
As I said earlier in the review, I have no authority to say whether those testimonials are real or fake. I tried to run a background check to discover more about those people, and as it turns out, those testimonials are real.
That said, the fact that there are so many success stories that could confirm that Kindle Cash Flow works for regular people like you and me is highly encouraging. You don't want to get involved with a program where they either lie about the success of the students or don't share it with you before you join.
What I Don't Like About This Product
It Takes a Lot of Time and Effort
Competition on Kindle is Huge
It Takes a Lot of Time and Effort
Kindle publishing is not going to be your easy way to riches. There are no such things. It takes a lot of time, work, effort and money to succeed with Kindle Cash Flow program.
What I want to say is that I don't like to see those claims on the sale page such as "he makes $30,000 a month simply by uploading a 25-page document to Amazon…" You see, that is a misleading claim. I know for a fact that uploading document is not going to be the only thing you need to do.
Realistically speaking, if you have resources and you want to speed things up, it may take a week or two to finish the book. Then, you need to publish the book and wait. So it may take months before you make a single dollar if any.
Competition on Kindle is Huge
One thing that Ty and Anik are not saying on the Kindle Cash Flow sales page is that the Kindle competition is enormous. I don't like to think about the competition because it helps me to stay focused on my work, but it's a fact it is there.
And as we speak, the competition is getting larger and larger. People are getting more and more aware that there are ways to make money online which is the main factor for the rapid growth of digital entrepreneurship in general, not just Kindle publishing.
So if you ever join Kindle Cash Flow with an idea to dominate the Amazon, make sure to come prepared. It's going to take a lot of time to beat all those wannabee writers and publishers.
Is Kindle Cash Flow a Scam?
I'm aware that there are some reviews out there that claim that Kindle Cash Flow is a scam. And honestly, I have no idea why. They are probably just trash-talking the program to recommend something else instead.
In my opinion, Kindle Cash Flow is not a scam. The main reason why I say so is that a lot of people can confirm that the training works and it is possible to make money online with this. It works for those who are ready to take the opportunity seriously.
Those that are looking for easy ways to riches and are just going to dabble with Kindle are going to throw stones and accuse Ty and Anik of scamming them into spending their money. There are no doubts about it.
But don't be confused, the program is legitimate. They give you the training, the tools and resources, and most importantly, you get help from the community, which is the key to success. To top it off, you even get 30-days to go through the training and to ask for a refund if Kindle Cash Flow is not for you.
So once again, I seriously have no idea why one would say that this is a scam.
Related: KDL Sniper Review
Kindle Cash Flow Review – Conclusion
Kindle publishing is a decent opportunity to make money online. But you see, I'm not going to say it is a great or excellent opportunity because truth be told, it isn't that cool as it used to be. The main problem is on the market. It is getting saturated with more and more publishers.
Those pioneers like Ty Cohen or Stephan James (K-Money Mastery) have already taken their lion's share of the market. And now, they share knowledge with others, which is the main reason why so many people are diving in. Everyone wants to repeat their success.
However, this is not going to be an easy task. If you ever decide to dive into a program like Kindle Cash Flow to become an Amazon publisher, be sure that it is going to take a lot of sweat and tears to reach the top. This program is going to help on the way, but still, be ready to hustle and grind.
That said, I want to thank you for reading my Kindle Cash Flow review. I hope my research was beneficial to yours. And if you still have some questions or doubts, make sure to comment below. Experiences are welcomed too!
MY SPECIAL BONUS RECOMMENDATION
While you're here, I want to give you an excellent recommendation for making money online. The concept is similar to Kindle publishing, but it is much easier to break through and start earning an income.
Moreover, my recommendation is perfect for newbies that have zero experience. We also give you all the tools, the training, private 1-on-1 coaching, access to the largest online community, and more!
I've personally used this platform to learn how to make money online and to build my very own successful online business. Thanks to this platform, I managed to quit my 9-5 job and take the road to financial independence.
So if you're interested, make sure to click the button below to learn more…
CLICK HERE TO DISCOVER THE BEST WAY TO EARN AN INCOME ONLINE >>
If you need any help or you have a question, feel free to contact me.
And don't forget to share this review with your friends and family!
All the best, Ivan. Founder, and CEO @freeaffiliatemarketingbusiness.com