Welcome to my Pure Leverage review.
I'm sure you've got a lot of questions about this offer such as:
What is it about?
How does it work?
How much does it cost?
Is Pure Leverage a scam or legit?
All those questions have been thoroughly answered in this review.
In a nutshell, Pure Leverage claims to be a #1 complete solution for building your list and your freedom providing all the tools you need to achieve success online for only $24 per month ($97 per month if you take advanced training).
Before you dive in, you must know that I'm not associated with this company, and my review here is 100% honest.
Hi, I'm Ivan! I'm an affiliate marketer who went from waiting tables to earning a five-figure income online with my affiliate marketing business!
Moreover, I have also reviewed 500+ schemes and scams to find the best way to make money online. Simply put, I'm passionate about earning money online and assisting you to follow in my footsteps!
That said, let me show you what you need to know about Pure Leverage before you decide for yourself.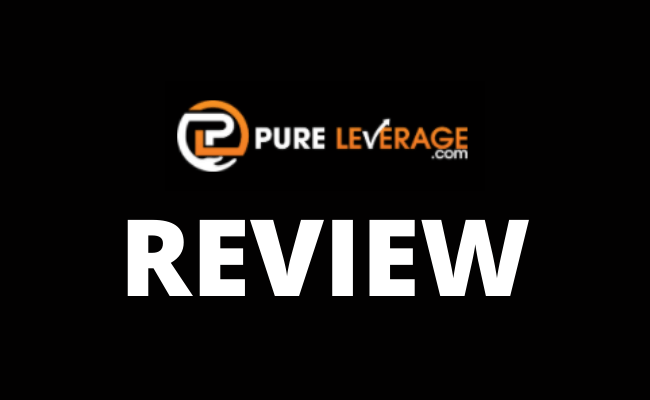 Pure Leverage Review – Overview
Product Type: MLM
Price: $24 per month + upsells
Product Owner: GVO
Money-Back Guarantee: 30 days
Recommended?: No
Overview: Pure Leverage is an MLM company that offers a set of tools and training for starting an online business.
The main idea is to show you how to promote the same company through multi-level marketing.
The company is a part of the GVO (Global Virtual Opportunities) founded in 1999 by Joel Therien. GVO is basically an "ancient" internet company that provides hosting and internet marketing services.
In 2013, Joel created Pure Leverage as his own channel for helping internet marketers to start their own online business using GVO tools and resources.
However, the problem with Pure Leverage is in the way Joel promotes this platform.
He basically claims that all the hard work will be done for you. All you have to do is relax and watch the money roll into your bank account.
Another red flag I found while reviewing this platform is hidden costs and upsells.
In other words, you can join Pure Leverage for only $24.95 a month. However, like every other MLM company, it will "force" you to buy expensive upgrades to unlock everything you need to succeed online.
Technically speaking, Pure Leverage is not a scam. It's a legit platform.
However, I don't recommend it because of poor-quality products, shady history, lack of testimonials, hidden upgrades, and simply because I personally would not use it to start an online business.
Alternative: If you're looking for the best way to make money online, click the button below to learn more about my PROVEN SYSTEM for making money with affiliate marketing!
THE BEST WAY TO MAKE MONEY ONLINE IN 2023 >>
What Is Pure Leverage?
Pure Leverage is a website that offers tools to leverage your freedom and grow your business, no matter what business you're in. The company provides tools such as:
Web Hosting and Websites
Auto Responder
Lead Capture System
Authority Blog
Live Meeting Room
Elite Coaching Program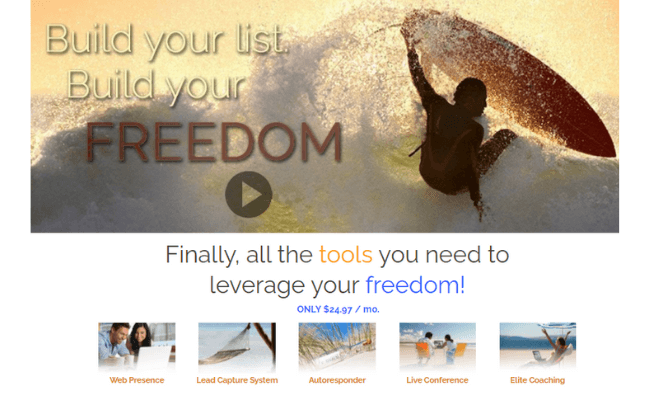 When compared to some other companies that provide the same service, Pure Leverage seems like a cheap alternative to Lead Pages, ClickFunnels, ad other MLM  companies out there.
Pure Leverage is also being called the complete solution for starting or growing a successful online business. You can leverage these tools and services for the price of only $24 per month.
However, the price is not final. You can get access to these tools for $24 per month, but you'll have to pay $97 monthly to get access to the advanced training.
More about this in the later sections of my review.
For now, I have to say that I'm not completely sure that Pure Leverage is a scam. It seems like the platform offers legitimate service, which is a good sign.
I can compare it to Wealthy Affiliate, for example, which is a 100% recommended platform for creating a legitimate affiliate business. Out of 400+ programs, WA is my #1 rated, so make sure to give it a try.
Now, let's keep this review in motion to learn more about Pure Leverage.
Who Owns The Pure Leverage?
PureLeverage.com is backed by a multi-million dollar marketing company called GVO (Global Virtual Opportunities), a company that has a track record of 15 years of developing marketing tools and systems.
The owner of GVO (Pure Leverage) is Joel Therian.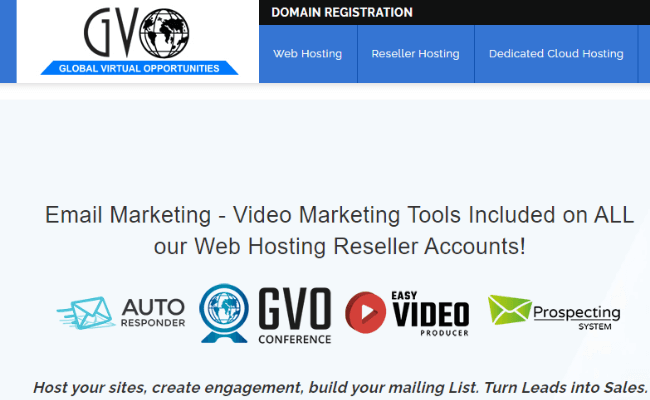 The majority of the tools and services they offer are related to video conferencing, lead capture systems, email marketing autoresponder, etc.
All these products are 100% legitimate and needed when building an online business.
However, when compared to already mentioned leaders in the industry, Pure Leverage tools fall into a category of low-quality tools. I've personally seen some of them and was not impressed.
Honestly, they look like they haven't been redesigned and updated ever since the company has been launched.
How Does Pure Leverage Work?
The scheme under which Pure Leverage operates is also known as multi-level-marketing. Some people will even say that it is a pyramid scheme.
However, since you get some products in return for your money, it's an MLM.
One of the biggest issues with these schemes is that you need to purchase all the products and coaching before you can start selling them.
So the main target audience is people who have no idea where to start and what products to sell.
Here's how Pure Leverage really works.
The company offers an affiliate program. Your first step should be joining the Pure Leverage.
This is going to cost you $24 per month for basic tools and training, and then, you need to buy an upsell ($97/monthly) to get access to the advanced tools and training.
The main idea is to learn how to sell the same packages to other interested individuals out there.
In other words, they will train you to become a sales representative (an affiliate).
The good thing is that you'll get all the tools.
Although these tools are poor in quality, some are not even workable, which is one of the biggest issues with Pure Leverage.
Nonetheless, your main task would be reaching out to other individuals who are looking to start an income online, and recruit them under you.
Once successful, you earn a commission for each new person who becomes a paying customer through an MLM compensation plan.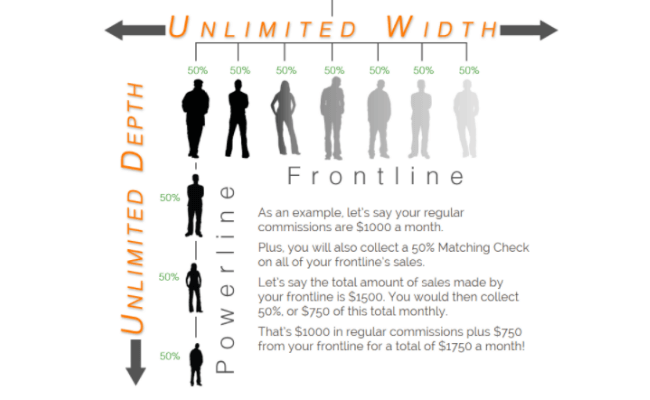 The commission structure is somewhat different than usual. Here's how it works:
100% commission on first-month membership – Make 100% commissions on all your direct referrals in the first month.
50% on each next membership – After the first month, you make 50% of your direct referrals subscriptions and a 50% matching check bonus of their total income.
50% from your referral referrals – This goes into unlimited depth, which means that you earn 50% commission for every new member from your downline.
Like every other MLM out there, Pure leverage offers a multi-tier commission system.
This means that you can get paid from referrals of your referrals and it goes like that to infinity.
It's just like the Power Lead System scheme I reviewed earlier on this blog.
In other words, the compensation plan resembles a pyramid scheme style quite a lot.
But as I said earlier in this review, I can't say that it is a pyramid scheme because the company offers tools and training in return for membership.
However, this does not mean that the platform is legitimate either.
I've seen a few reviews out there where authors claim that Pure Leverage is a scam and that their service is not worth it – more about that later.
Let's see what you get in return for your money first.
What You Get With Pure Leverage
As mentioned earlier in this review, Pure Leverage hosts six different tools that you can leverage to build an online business, which is the first reason why I can't say that it is a scam.
These tools are needed and useful for affiliate marketing, and any other sort of digital marketing enterprise.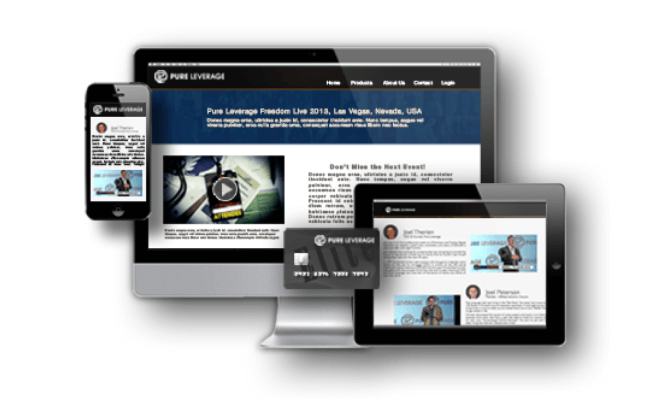 Here's what you get if you take basic membership.
Web Hosting
Hosting is always a good idea. I'm not 100% sure about the quality of the service, but this is the foundation of every online business.
Auto Responder
I've seen this tool being promoted in a few online schemes and scams. It's a simple and outdated autoresponder that can't compare to leaders on the market.
Lead Capture System
The same story is with the lead capture system. It's an outdated version of modern tools like ClickFunnels, Lead Pages, etc. The good thing is, you get a set of DFY landing pages.
Authority Blog
You get access to pre-designed websites preloaded with spun content that could get you in more trouble than do you any good. This is actually a terrible idea.
Live Meeting Room
Elementary tools for creating webinars and video material that you can use to communicate with your team and referrals.
Elite Coaching Program
This is a training program that teaches you how to promote Pure Leverage and earn commissions by recruiting others to the platform.
Who Is Pure Leverage For?
Although you do get a set of legit tools and resources with Pure leverage membership, it's hard to say that this is a high-quality product.
See, I don't recommend this company at all.
In my opinion, the quality of the product and service is poor.
Moreover, there are very few success testimonies out there that could confirm that this system works.
And all in all, it looks very shady to me and I would suggest avoiding it.
However, objectively speaking Pure Leverage is for people who want to start an online business selling internet marketing tools and training provided by the same company.
In other words, it's an MLM opportunity that anyone can try to earn an income online.
If you're looking for a world-class PROVEN SYSTEM for making money with affiliate marketing, make sure to check out my recommendation below!
I've personally leveraged this system to earn a four-figure passive income with affiliate marketing in one year!
THE BEST WAY TO MAKE MONEY ONLINE IN 2023 >>
What I Like About Pure Leverage
In a spirit of complete honesty and transparency, I have to say that Pure Leverage is a decent platform where you can get access to affordable marketing tools.
Also, the company offers training as well as 30 days money-back guarantee on all its products.
Affordable Internet Marketing Tools
30 Days Money-Back Guarantee
Affiliate Training Provided
What I Don't Like About Pure Leverage
I recommend only high-quality and proven products and systems to my readers.
Unfortunately, Pure Leverage is not one of them.
Don't get me wrong. These tools are legit, but because of the low quality, I'm not confident in them.
Moreover, you'll discover that some of these resources, such as DFY sites are a terrible idea because you will get the same sites as every other user.
These sites might seem like a good idea, but in reality, will cause you more damage than good.
Another thing I didn't like is the fact that you have to pay to play.
On top of that, there are hidden upsells and extra costs once you join the platform, which is not disclosed.
And to top it all, Pure Leverage is a controversial company that has a low success rate and hasn't got a lot of positive testimonials during the last 15 years of existence.
For me, that's enough…Here's a recap.
Low-Quality Tools
DFY Websites (Duplicated content issues)
Pay-To-Play Program
Hidden Upsells
Controversial Company
Low-Success Rate
Lack of Testimonials
Pure Leverage Online Reviews
Is Pure Leverage a Scam?
Let's start answering the most important question in this review. Is Pure Leverage a scam or legit?
To be 100% honest, I'm not going to say that it is a scam although it seemed like a scam right from the start.
The company is in business for 15+ years.
You get a set of legitimate tools and training that you can combine to start an MLM business and to earn an income promoting Pure Leverage to others.
And since I'm 100% honest, I also have to say that this company is not the one that I would be happy to recommend.
First of all, the tools they provide you with are outdated. We all know that people who buy these tools today are looking for top-quality service.
The company tools do not fit into this category.
If you don't trust me, see them for yourself.
Secondly, to get training and promote these tools to earn an income, you have to pay first.
You see, legitimate companies of this kind have free all affiliate programs.
All you have to do is apply for a free membership and take your affiliate link.
Because you have to pay-to-play, Pure Leverage is on the borderline between a legit company and MLM or even a pyramid scheme.
Thirdly, the company promotes advanced training after you pay for membership.
The problem is that the first level of training is not good enough to teach you how to succeed, so they upsell advanced training to help you move forward.
This is not fair, in my opinion.
Fourthly, the mother company (GVO) that stands behind the Pure leverage system has got a lot of negative reviews and critics from customers.
And these are in the majority, which is not a good sing at all!
On top of that, I could find any positive reviews or testimonials from students.
The bottom line is, Pure Leverage is not a scam in technical terms because you get training, tools, etc. But it barely gets the green light, and I would not recommend it.
It reminds me of Profit Passport, which is a pure breed pyramid scheme, and Be The Boss Network where you can find MLM business opportunities.
Final Words And Recommendations
So there you have it. Pure Leverage is not a scam. It's a legitimate platform to start an online business, which I do not recommend because it seems outdated, and deficient trust score (lack of testimonials).
If things were a bit different, in other words, if the owners would care more to update the content, tools, and everything they offer, I would perhaps change my final statement. But for now, it's not recommended.
Thanks for reading my Pure Leverage review. Feel free to share your thoughts in the comments section.
How I Make Money With Affiliate Marketing
If you're looking for ways and means to start a legitimate affiliate marketing business to earn an income online, you should check out my top-rated program first.
The program that I recommend on the next page has helped me to reach the status of an online entrepreneur in a short period, and I'm confident it could help you too!
I went from struggling marketer to earning $100's per day promoting ANY products I choose and I want to show you how you too can do the same.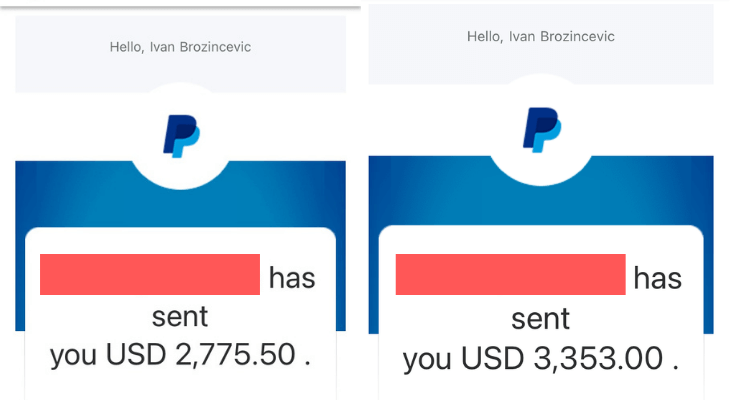 Among the best features of my # 1 ranked course is that you can start for free. You will get one complimentary site and access to the very first ten lessons from the course to try things out.
Furthermore, this program is in fact all-in-one. You get everything that you need to make money online.
This consists of detailed training, all the very best tools, hosting and websites, live assistance, community aid, technical assistance, one-on-one coaching, and so much more!
After evaluating over 500 programs on the web, my conclusion is easy. This is the best method to make money online.
And if you're looking for the very same, click the button below!
THE BEST WAY TO MAKE MONEY ONLINE IN 2023 >>
If you need any help or you have a question, feel free to contact me.
And don't forget to share this Pure Leverage review with your friends and family!
All the best, Ivan. Founder, and CEO @freeaffiliatemarketingbusiness.com
Related: Entre Institute Scam or Legit Review