Welcome to my Secret Millionaire Bot Review. Charles Allen claims that you can make tons of cash with this software. Wondering whether the Secret Millionaire Bot is a scam or legit?
Here's all you need to know. Let me show you more.
Every day people like you and I are hearing this information about how it is easy to make money online nowadays.
You can make money using Instagram, Facebook, YouTube, and Google instead of just wasting your time there.
How cool, right?
And when you learn that you don't have to do anything, just activate the Secret Millionaire Bot, then you get excited, don't you? Well, the hard truth is that there are no bots.
It takes time and effort to learn affiliate marketing and start making money.
I don't know about you, but I have seen and been through a few scams so far. So is the Secret Millionaire Bot a scam as well? In my opinion, yes! Secret Millionaire Bot is an outright SCAM!
It's full of BS and sounds too good to be true, and with this review, I'll show you everything you need to know about this scam.
By the way, congratulations on researching before getting into things headfirst. I know it's hard to trust people on the net these days.
If you are looking for something real, check out this genuine way to make money with affiliate marketing.
Within this Secret Millionaire Bot review, I'll show you what it is about. Also, I'll explain how the whole thing works. Lastly, I'll show you set red flags that prove my point that this offer is an outright scam.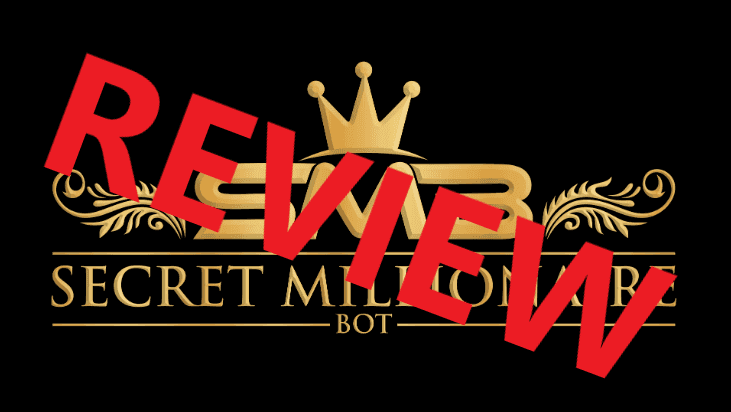 Secret Millionaire Bot Review – Overview
Product Name: Secret Millionaire Bot
Product Type: Affiliate Marketing Training
Owner: Charles Allen (Fake Name)
Price: $37 + Upsells
Recommended?: No! Scam Alert!
Quick Summary: Secret Millionaire is advertised as some turbo-secret system, which is supposed to take you from zero to earning 1000's per day without any work and effort.
Sounds like a scam, right? Well, that's because it is!
In reality, the Secret Millionaire Bot is an expensive sales funnel. It's designed to make you believe that you can make money quickly and easily just to get you inside of a funnel where you can spend money on the more secret system.
You will get a short Instagram marketing course. But this is worthless and is not going to make you any money.
The bottom line is, there's nothing I like about this offer, nor do I recommend this.
There's a lot of evidence in this review that the Secret Millionaire Bot is a scam.
For example, student testimonials are fake! The owner is not a real person. The sales page is deceptive and misleading. The training is concise and has no real-life value.
And more! I recommend steering clear from SMB and all other lookalikes!
If you are tired of scams and bogus websites, make sure you check out the legitimate way to make money with affiliate marketing that enabled me to quit my job to start a successful online business!
THE BEST WAY TO MAKE MONEY ONLINE IN 2023 >>
What is Secret Millionaire Bot? 
While watching the sales video, it was hard for me to detect what the Secret Millionaire Bot is really about. There is no mentioning of how it works.
The only info that Charles Allen has revealed is that a team of his colleagues has spent years perfecting this software. They have made millions over the last two years, and now, they've had enough.
Today, they are willingly sharing the piece of software with a minimal number of people. That's why they call it a secret.
Wow! The truth is that this story is created to attract as many newbies as possible. They want people to think that making money is some joke.
You see, every beginner at affiliate marketing is looking for help. Many people are desperate to start making money online ASAP. All of those conditions turn us into suckers, and people like Charles Allen, the alleged owner of the Secret Millionaire Bot, are welcoming us with their hands wide open.
They will promise you hills and valleys if you agree to follow them.
They'll even say that all you need is an automated robot, and you're good to go. What a load of BS!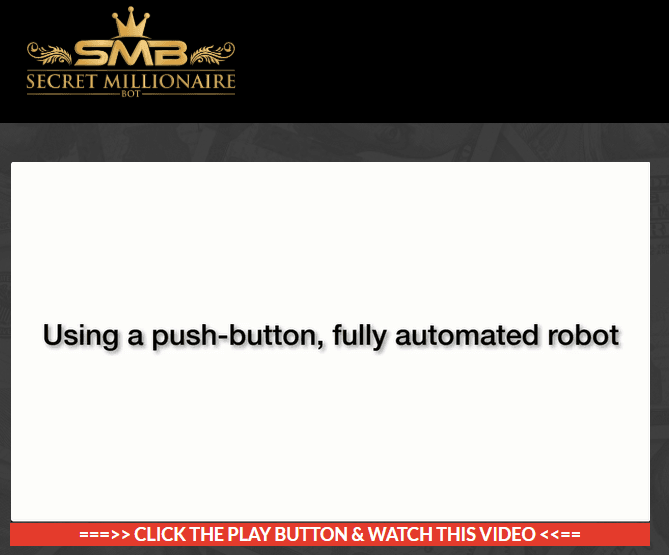 If we are to believe in what we have heard during the video, this piece of software has nothing to do with MLM (multi-level marketing) or Bitcoin, or Forex.
It is a bot or software that generates the most lucrative opportunities on the internet and saves them to a file.
You can use that information to start making millions in just a few simple clicks on the computer. No previous marketing or computer knowledge needed. The guys have perfected this software for you, so you don't have to lift a muscle.
However, in reality, there is no such thing as secret software, nor you can make millions in a few clicks.
Secret Millionaire Bot is nothing but a cool story designed to get you in and a get-rich-quick scam!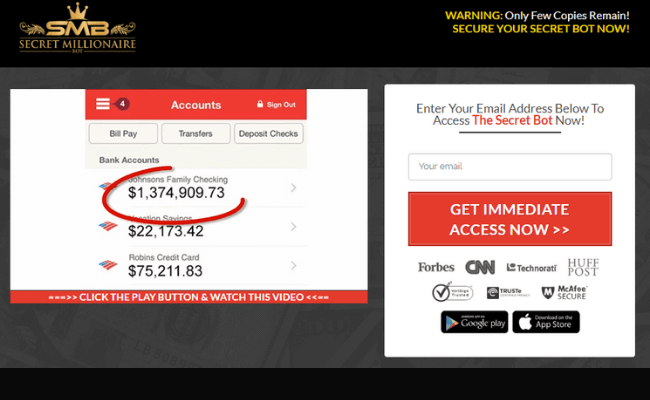 It's the first phase of the sales funnel that awaits those that buy in. After (if) you do so, you'll discover that there is something behind the hilarious sales video, but it's not secret software.
We'll go over the stuff that awaits those who decide to follow the misleading promises in the second half of this Secret Millionaire Bot review.
Let's find out more about the name behind the whole shebang, Mr Charles Allen.
Who is Charles Allen?
Mr. Charles Allen introduces himself at the beginning of the video as the founder and owner of the Secret Millionaire Bot.
This fully automated robot has helped him to make millions over a few years.
Charles is a leader of the underground group of millionaires that have been using the same secret software to generate millions as well.
Cool, ha?
But after a quick Google research on the name Charles Allen, I was not able to connect any of the people with our mystery man from the video. The truth is that Charles Allen does not exist.
It's a pen name, and it's disclosed on the bottom of the page. So far, not so good.
Who is Secret Millionaire Bot for?
As I've said once at the beginning of the Secret Millionaire Bot Review, this software is for no one! It doesn't exist. It's only clickbait to lure you into something much different and much more expensive.
Behind this charade is an affiliate marketing training course. I'll reveal the course in a few moments.
The real training that is behind is a few short lessons in the Instagram advertisement.
Everyone interested in learning how to sell various ClickBank products via FB and Instagram can find something at the end of the rainbow.
However, you'll have to be willing to invest some serious time and money into this. But I wouldn't call this a legitimate education.
If you are looking to learn how to make money online, and with zero costs as well, make sure you check out the legitimate way to make money online!
What's Inside of Secret Millionaire Bot?
Now it's time to see what's behind the curtains. Once (if) you decide to access the Secret Millionaire Bot, you'll be welcomed with a short video.
But before you can start with the training, you'll have to jump over a few additional offers.
Upsell #1
Right after the video, you can see that there is an open invitation to supercharge your income. If you click the link, you'll be redirected to John Crestani's Super Affiliate System.
Oh, by the way, the Super Affiliate System is priced at $997!
Upsell #2
The second offer within the Secret Millionaire Bot members area is a free website, hosted by Coolhandle. However, according to the information from the hosting service, the site is not free.
It turns out that you have to pay some $140 to claim your website. That's far away from free.
Upsell #3
The last offer before the Secret Millionaire Bot video training is another scammy product called Bulletproof Profits.
8 Weeks Training Course
If you have survived all those offers, you should land at eight weeks long training course about Instagram affiliate marketing.
There are eight modules altogether; each of them contains one or two video lessons. The video lessons are between three and eleven minutes long.
Week 1 – What is Instagram
Week 2 – Starting On the Right Foot
Week 3 – Building Your Instagram Brand
Week 4 – Creating an Instagram Business Account
Week 5 – 5 Ways to Make Money on Instagram
Week 6 – Becoming a Dropshipper on Instagram & Create Google Forums
Week 7 – Affiliate Marketing Case Study
Week 8 – Growing Your Instagram Followings
As you can see, there is no sign of the secret bot or anything like that.
Instead, there is training on how to sell on Instagram, which is pretty damn short to be real.
I highly doubt that the information covered within those eight modules is sufficient enough to help you make money online.
You'll have to purchase the upsells that are coming right after the main course if you want to make this system work for you.
Or you'll end up buying John Crestani's Super Affiliate System, which is more or less about selling ClickBank products on Instagram and Facebook.
I hope you can see things the way I see them and realize that the Secret Millionaire Bot is nothing but a scam. Now, let's continue this review and inspect how much all of this potentially costs.
Looking for a Legitimate Way to Make Money Online? Click HERE!
Secret Millionaire Bot Price
Alright! To be entertained by the sales video and a short training course on Instagram, you'll have to hand over $37 one time payment for the Secret Millionaire Bot.
If you, however, have some doubts and try to close the window before buying anything, you'll get a pop-up screen offering you a discount! The Secret Millionaire Bot can be yours for only $17!
Ok, now check this out. There is a full disclaimer on the bottom of the page where it says that and I quote:
for all intents and purposes you agree that our content is to be considered "for entertainment purposes only".
Therefore, it's going to cost you $37 or $17 to be entertained!
Can You Get a Refund?
The Secret Millionaire Bot is a ClickBank product, which means that if you are not satisfied with what you've got, you can ask for your money back.
There is a 100% money-back guarantee on all ClickBank products, including this one, no questions asked. Only make sure that you ask for it in the first 60 days after you purchase the product.
More Upsells!
The total for the full package is around $800! The Secret Millionaire Bot is a pretty expensive entertainment for my taste. The following are upsells:
Secret Millionaire Bot Pro – $147 (discount price – $97)
Auto Profit Replicator – $147
Unlimited Traffic on Tap – $497
I wonder, do those upsell have any value at all, or they are designed with a particular purpose to sell you something else?
What I Didn't Like About Secret Millionaire Bot
Huh, before we decide if the Secret Millionaire Bot is a scam or legit, I will sum up a few things that I did not like about this product.
1.)  Overhyped and Misleading Sales Pitch
The fact is that newbies in new people in the affiliate marketing world suffer from the Shiny Object Syndrome.
It's a problem that appears after they feed your mind with tons of crap like they do in the case with the Secret Millionaire Bot.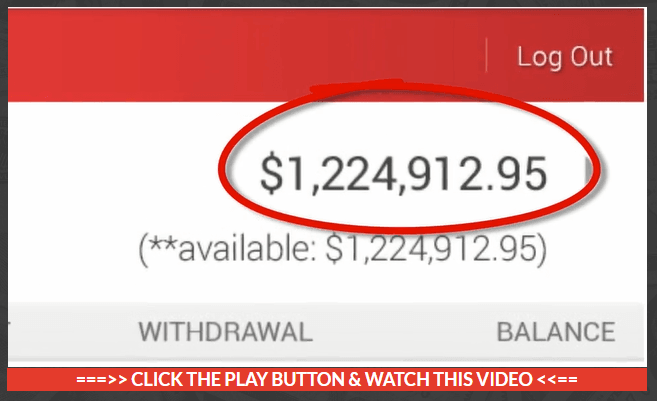 The video presentation is full of fake earning claims, misleading stories, false promises, and whatnot. Our minds are like magnets.
They get attached to things that resonate with our desires. The owner knows that. That's why he's using many dirty tricks to get those weak to buy.
2.) Student Testimonials are Fake
I was laughing my ass off while listening and watching those people while they were 'spreading a good word' about the Secret Millionaire Bot.
The older man was at the top! LOL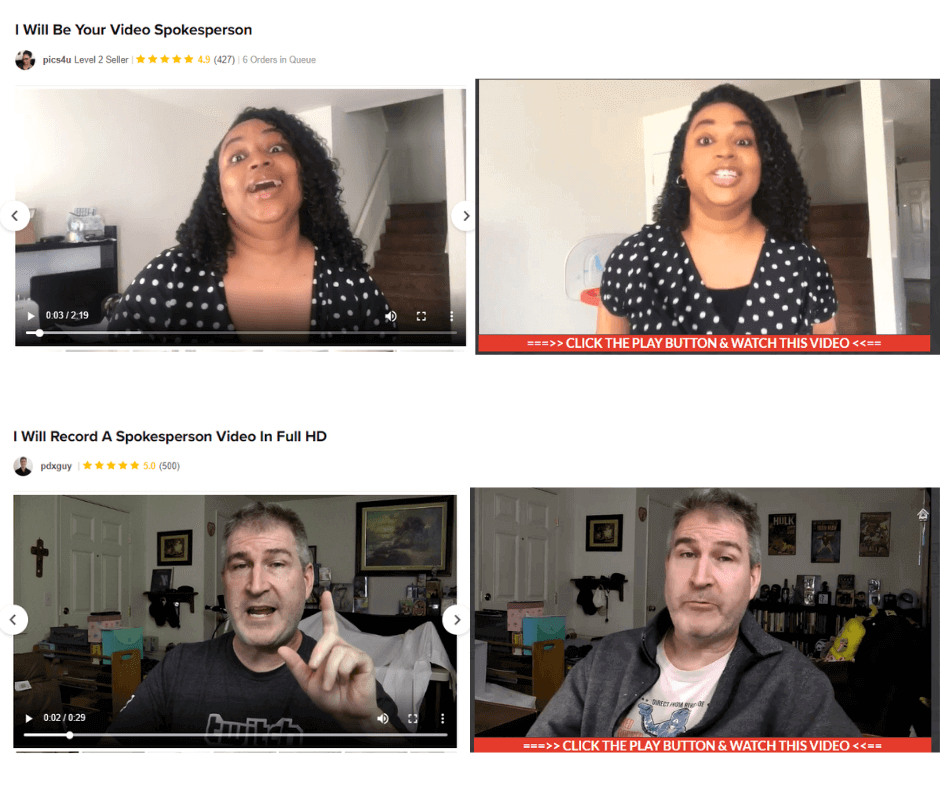 Anyway, those people that you've seen are freelancers. You can find their gigs being advertised on Fiverr.
They will say anything you want in front of the camera for ten bucks.
3.) There is No Secret Bot!
The mysterious Charles Allen talks about the secret software that will make you millions in a finger snap.
But when you get into the members' area, you realize that there is no sign of any damn software.
Instead of the magical bot, you'll be offered a bunch of other things, which are not related to the Secret Millionaire Bot.
My free assumption is that the whole thing is designed to funnel you to the Super Affiliate System by John Crestani, which is, once again, a legitimate and costly affiliate marketing course.
4.) Fake Scarcity
To make you buy this program as soon as possible, the creator is using a false scarcity. Secret Millionaire Bot is a digital product.
Meaning, the copies are unlimited.

Fake scarcity is just one of too many dirty tricks used to part you from your hard-earned cash.
5.) Instagram Course is Too Short
The stuff you'll find underneath all those shiny objects is a training course on how to sell on Instagram. The course has eight modules altogether packed in eight weeks.
However, they can be watched in less than one hour if you want to!
What kind of millionaires course comes in the one-hour format?
Anyway, I think that the information is too short and it serves only as an introduction to something much bigger than Secret Millionaire Bot, speaking of which.
6. ) It's Expensive Funnel
Once you enter the course, you'll be bombarded with too many upsells for my taste. I don't know if any of those upsells are real.
I found out that many other reviewers claim that there is nothing but a false promise behind all of them except one.
You guessed it right — it the Crestani's Super Affiliate System.

It looks like the whole thing has been designed to sell and not to teach. In other words, it's designed to make money for the creator and affiliates.
Looking for a Legitimate Way to Make Money Online? 
Is Secret Millionaire Bot a Scam?
Yes, Secret Millionaire Bot is a scam. Everything about this product is misleading. It's full of lies, fake testimonials, etc.
The only good thing about it is that you'll get a training course in return for your cash.
But although you'll get training, there's nothing that I like about this offer. It's full of lies and misleading tactics that are designed to make you buy it.
In my opinion, there's no doubt about it. Secret Millionaire Bot is an outright scam!
However, internet marketing is an open field. The owner of the course has a full right to offer you as many of these dirty tricks as he wants.
Moreover, you'll find a full disclosure on the bottom of the page where he guards himself against any accusations regarding income claims, testimonials, spokesperson, and many other things.
But don't be fooled by his disclosure!
See, Secret Millionaire Bot is just first in a series of get-rich-quick scams that you can find all over the internet. All of them offer huge success without any work and effort using bots, loopholes, and other BS!
Do yourself a favor and avoid these scams as well:
If you scrolled to this part of my review, feel free to watch the video review where I summarize everything I said in this post.
Do I Recommend Secret Millionaire Bot?
I do not recommend this program or whatever it is, not to you or anyone else!
The reasons why I don't support the Secret Millionaire Bot are all listed under the heading where I talked about what I didn't like about it.
You see, I like the honest approach to business. And this one, well, this one is far far away from the word honest.
It would be highly immoral to recommend this product to you.
Is There a Legitimate Way to Make Money Online?
Thanks for reading my Secret Millionaire Bot review. I hope I have helped you to learn more about what it is and how does it work.
If you have any questions about the program or maybe you can offer an experience, feel free to leave them in the comment box below.
Before I let you go, let me tell you how I make money online with affiliate marketing with the help of a REAL program.
The program that I recommend has everything you need to get started online with zero costs and nothing to do with getting rich by tomorrow.
Wealthy Affiliate has been and still is the best online platform for making money online. These guys can teach anyone how to become a successful affiliate marketer.
The best thing is, it entirely safe and free to join. No BS, no upsells. 
These guys have helped thousands of regular people like you and me to make money online and even quit our 9-5's. Make sure to grab your opportunity!
THE BEST WAY TO MAKE MONEY ONLINE IN 2023 >>