Welcome to my Simple Sites Big Profits review.
So you've met Marcus Campbell, and he got you interested in his training program for earning an income online.
But you've been around for a while, and you know that the internet is not the safest place in the world.
So, you want to learn more about Marcus, his training program, and to discover whether Simple Sites Big Profits is a scam or legitimate way to go.
The training program deals with legitimate methods, and it's not a scam, I can tell you that.
However, you need to know a few things about CPA affiliate marketing before going any further.
I've done this research for you, so you don't have to waste your time and money to learn thing the hard way.
So let's skip the intro and dive into this Simple Sites Big Profits review!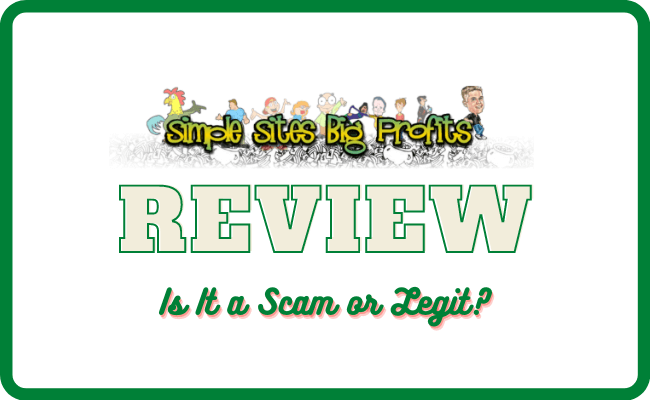 Simple Sites Big Profits Review – Overview
Product Type: Affiliate Marketing
Product Owners: Marcus Campbell
Price: $297 one-time + UPSELLS
Money-Back Guarantee: Unavailable
Recommended?: Yes, but not for newbies
Quick Summary: Simple Sites Big Profits is a training course that teaches how to create websites from scratch and rank them for specific keywords within a chosen niche. The idea is to get free traffic through SEO and earn profits with CPA marketing and affiliate marketing.
In other words, Marcus's course is legitimate. There are no signs of a scam, in my opinion.
However, I don't recommend it to newbies. It seems a bit outdated and very narrow in terms of marketing education. Plus, there's o community, which is highly important for newbies when getting started.
Nonetheless, it is a legit course. Read the rest of my Simple Sites Big Profits review for more info.
THE BEST WAY TO MAKE MONEY ONLINE IN 2023 >>
What Is Simple Sites Big Profits Program About?
Marcus Campbell has been around for years and is a notable figure in the world of affiliate marketing.
Over the years, he's gathered his experience into a training course that I'm about to review today, called Simple Sites Big Profits.
Quite a catchy name, right? But what's behind the name?
Well, it's a straightforward training course that teaches CPA affiliate marketing—something Marcus is doing effectively for a decade.
He's determined to show you the same methods he is using to generate an income online.
In my opinion, the course is legitimate and brings value to the table.
As I was saying, Simple Sites Big Profits is an affiliate marketing training course focused on teaching people how to start with CPA or Cost Per Action.
The training consists of several training modules where Marcus is explaining how to get started even if you are a newbie.
You can learn how to:
set up websites
find profitable niches
assess and join different affiliate programs
find the best affiliate offers
write ads that convert visitors
leverage Google Ads to make money
build an email list
get traffic to your sites
For example, he's going to show you how to create an asset, find profitable niches, get traffic, and monetize your websites with affiliate offers, and more!
That rounds up the training course. Now, let's continue the review to meet Marcis some more.
Who Is Marcus?
Marcus Campbell is a guy with a deep background in affiliate marketing. In one of his videos, Marcus says that affiliate marketing has been his profession for 17 years.
As every other marketer, Marcus had his ups and downs, but eventually, he came through and became super-successful.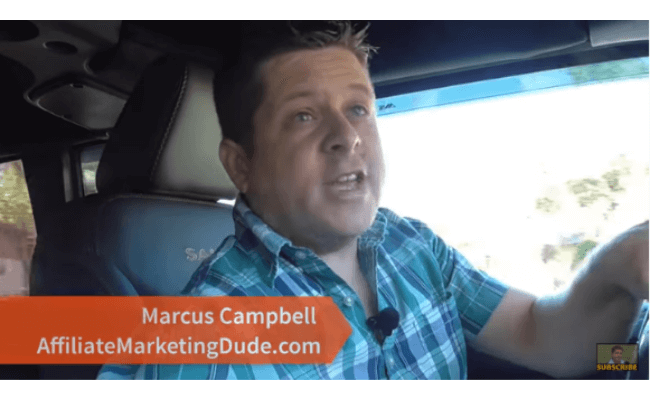 I didn't find anything about Marcus that could throw a shadow of doubt on his work, which means that the guy is legit.
He did, however, had an episode in his life where he battled with addiction with alcohol.
However, this isn't a reason to call this training a scam. Marcus seems like a good guy, and his past does not matter.
Now let me show you what you get with his Simple Sites Big Profits training course if you ever decide to go with Marcus.
What You Get With Simple Sites Big Profits
There are a few critical aspects of the program. Those are:
education (training)
tools
support
The training consists of video modules where Marcus is going to lead you through the process of creating your affiliate marketing website.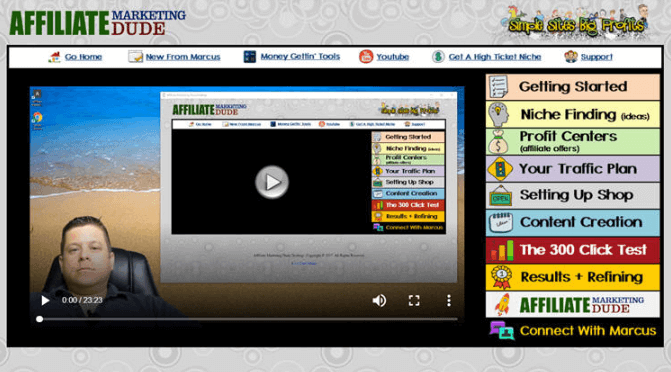 Here's a breakdown of training modules inside of the course.
Module 1 – Getting Started
Module 2 – Niche Finding
Module 3 – Profit Centers
Module 4 – Your Traffic Plan
Module 5 – Setting Up Shop
Module 6 – Content Creation
Module 7 – The 300 Clicks Test
Module 8 – Results and Refining
He shares a lot of useful resources and gives access to the tools you need to become successful.
And if you ever bump into some obstacles on your way, you can contact Marcus and his team for support.
All in all, Simple Sites Big Profits seems like a real deal. There are no scam signs whatsoever, so let's keep moving with our review.
Related: What Is Affiliate Marketing?
How Does SSBP Work?
Here are the basics of how the Simple Sites Big Profits system works.
Find What People Search For
Set Up Simple Sites That Give Users What They Want
Run Ads That Pay You For Your Visitors
The key to success with this system is to find what people search for online using keywords.
This gives you an insight into a consumers mind and a clear picture of the problems within your industry that cry for solutions.
And you as a marketer provide a solution in the form of a product or a service.
For example, if people are searching how to play the guitar, you can market a training course for learning how to do so in the shortest time possible.
Once you have discovered what it is that people want, you have to build your website.
Modules five and six of Simple Sites Big Profits are designed to show you how to complete this step.
Lastly, once you have finished with building a site and creating the content, the next step is getting traffic. This is going to be done through Google Ads.
The last step adds more expenses to your overall campaigns, but it's critical.
And that's it! If you do this right, the results should be positive. In other words, you should earn commissions.
Simple Sites Big Profits Price
Marcus's training program is not the cheapest one on the market, but it's not that expensive either.
Here's a part of my review where you can get all the information about the price of Simple Sites Big Profits.
Just keep in mind, you'll need more cash for Google Ads (roughly $500 to get started).

Front End
$297 one time payment
$127 three monthly payments
I feel this fair price for the information you're given, and the instalments option is always welcomed.
But before Marcus gives you access to the course, he's going to offer you some more upsells.
Done-For-You
This upsells costs $297 one time. In a nutshell, Marcus and his team offer themselves to do the entire project for you.
All you have to do is fund it, and get involved as well. This offer includes:
website and plugins
done-for-you content
profitable niche and products
traffic
30-day support and coaching
Premium Package
Simple Sites Big Profits premium package costs $997 one time or $397 three times and includes:
extended coaching and support (90 days)
high ticket niche products
Simple Sites Big Profits PROS
Here's what I like about this program.
Marcus Has Been Around For 15 Years
Training Has Got a Head and a Tail
CPA Affiliate Marketing is Profitable
Marcus Has Been Around For 15 Years
Unlike other "gurus" on the internet, Marcus is not flashing with cash, villas, and luxury cars.
Instead, he is a down to earth guy who seems to be very knowledgable about this industry and is willing to help you to follow his success.
Training Has Got a Head and a Tail
I review courses daily, and the one thing most of them have in common is what I like to call "half-baked" training.
In other words, they start well but never finish as they promised.
With Simple Sites Big Profits, this is not the case. Marcus has created a course that will take you from A to Z.
Affiliate Marketing is Profitable
If you follow all the steps from the course correctly, you could profit big with affiliate marketing.
This form of online business is my favourite, and I highly recommend everyone to discover it for themselves.
Simple Sites Big Profits CONS
No Free Trial or Money-Back Guarantees
Expensive Upsells
Feels A Bit Outdated
No Free Trial or Money-Back Guarantees
A massive bummer about Marcus's course is a lack of a free trial or a money-back guarantee.
In my opinion, it's not a scam because he asks for money upfront, but it would have more customers if there are at least a few days of a free trial.
Expensive Upsells
One thing that I really hate are unexpected upsells and Simple Sites Big Profits course has got two of them.
When we include upsells, the full price of the course is roughly around $1,591!
Don't get me wrong. Upsells could be useful in some cases. However, they should be disclosed, in my opinion.
Feels A Bit Outdated
The training program is legitimate; the methods that Marcus teaches are too.
But the platform feels like it's been stuck in the early 2000s for too long.
This isn't really a con to Marcus's program because it's not about the looks of the platform. It's about the content.
But a facelift would be desirable.
Related: Online Success Apprentice Review
Is Simple Sites Big Profits a Scam?
Certainly not.
Simple Sites Big Profits is not a scam or a get-rich-quick scheme, an MLM or a pyramid scheme or anything like that.
Marcus Campbell has created a legitimate training course for earning an income online.
He's talking about CPA affiliate marketing, which is proven method that anyone can leverage regardless of their skills and experience.
Unlike scams, this training program does not promise unbelievable results.
There are no signs of a scam whatsoever, which means that you're safe with Marcus.
Final Words – Is It Recommended?
Despite it is a legitimate program, Simple Sites Big Profits is not my top recommendation for earning an income online for a few reasons.
First of all, the training course is a tad expensive compared to some other training courses that teach the same stuff (an example is behind the blue button below!).
Secondly, the method that Marcus is showing is not 100% guaranteed to work, nor does Marcus gives any guarantees whatsoever.
Just like every other business model, CPA affiliate marketing is something that requires a lot of work, and some failure, before you manage to get it right.
Lastly, I have discovered that Marcus does not care too much about his customers, which is actually a huge reason why this course is not my top recommendation.
In other words, the customer support is not the best one.
If you are going to invest a few $ 100's in a training course, you would expect them to be on your call 24/7, right?
Nonetheless, the training course is legit, you're safe from a scam, and the final decision is yours.
Thanks for reading my Simple Sites Big Profits review, and I hope it has helped you to make a well-informed decision.
If you feel like Marcus's course is not for you, check out my top recommendation below!
Wanna Start A Successful Affiliate Marketing Business?
The point of affiliate marketing is to build simple sites and use those sites to connect customers with product owners.
So in a nutshell, you're helping people to find solutions to their problems and vendors to reach more customers.
And in return for your service, you receive a commission each time you make a sale.
Essentially, that is also covered with Simple Sites Big Profits training course.
However, my best recommendation is a lot better alternative to SSBP, and if you're looking to start a successful affiliate marketing business, you should keep reading.
A few years ago, I was in your position and I wanted to start an income online.
I did a lot of research and bumped into a platform that has given me everything I needed to build my own affiliate business.
I'm talking about:
step-by-step video training
hosting and websites
live help and coaching
technical support
community
and more!
I've reviewed more than 300 courses and platforms on this website and still haven't found a better way to start a successful affiliate marketing business.
Thanks to this training, I managed to even quit my old job and go full time online!
Click the button below to learn more!
>> Check Out My #1 Recommendation Here <<
And don't forget to share this review with your friends and family!
All the best, Ivan. Founder, and CEO @freeaffiliatemarketingbusiness.com