What's up, guys? It's Ivan here. Welcome to my Wood Profits review.
Honestly, my biggest woodworking project was a bow and an arrow, which I made like 20 years ago as a kid. So it goes without saying that I'm not a woodworking expert, that's for sure.
However, I know marketing. That's my forte. I know how to tell between a legitimate opportunity and a scam as soon as I see the offer.
Wondering whether or not Jim Morgan's Wood Profits is a scam?
Well, I've seen too many red flags that clearly show that you need to see too! The main point is, I can't see how this could help you to make $90.000-$150.00 a year.
But it could cost you a lot more.
By the way, congratulations on being a smart person and doing the research yourself. Quick research saves you time and money. ?
It also shows that you are serious about finding a legitimate way to make money online.
In this Wood Profits review, I'll help you to see the truth behind the sales page. We'll go over a few red flags. I'll show you what's the full price, and more!
Shall we begin?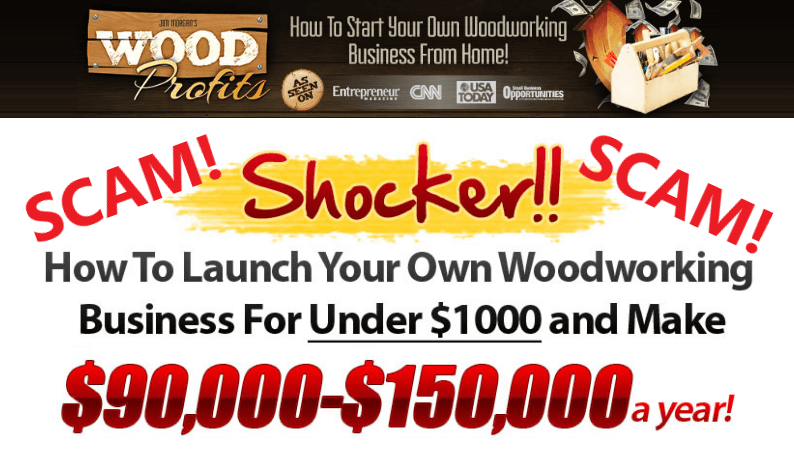 Product Name: Wood Profits
Product Type: Info-material about starting a woodworking business
Owner: Jim Morgan
Price: $37+ UPSELLS!
Rating: 1/5
Recommended?: No
Quick Summary: Jim Morgan promises that he can help you start a woodworking business for under $1000 that makes huge profits up to $150.000 per year. However, all you get for $37 is an eBook and an MP3. The same info is available all over the net for free. I don't believe these claims especially after learning that Jim Morgan is a fake character. And he's not the only one. Those testimonials are fake too. You can see the evidence by the end of this review. Also, Wood Profits could cost you a lot more than $37. The offer comes with a set of expensive upsells which are not disclosed on the sales page. I don't trust the legitimacy of this product, and I don't recommend it.
THE BEST WAY TO MAKE MONEY ONLINE IN 2023 >>
What Is Wood Profits?
According to Jim Morgan, Wood Profits is a step-by-step guide to launching your woodworking business from home. Jim claims that he can help you to earn $90.000-$150.000 with minimal capital. In this guide, he shares the "dirty little" secrets of woodworking business.
At first glance, Jim's offer sound like a once in a lifetime opportunity to turn your woodworking skills into a profit. But in reality, Jim is merely overhyping his offer to get you interested in buying.
So what it is?
First of all, Wood Profits is not a turnkey solution for making money online, far from that. It's just an eBook and MP3 that talks about woodworking business.
That's right, a 50 pages long eBook and audiotape! You can find the same stuff all over the net for free.
You see, I review ClickBank products like this one almost every day.
The fact is that 100% of products from ClickBank are overhyped sales pitches. 95% of those offers are just a simple piece of information about a selected topic. Only 5% contain some form of training and have the potential to help you make money.
Jim Morgan's offer falls into the first group. It's not a mistake if you call Wood Profits a scam because of the way he promotes his offer. Jim knows that people are desperate to make money, so he gives you hope, but delivers nothing.
Do You Want to Turn Your Hobby Into Profits? Learn How I Make Money Online Here!
Who is Jim Morgan?
Jim Morgan claims to be a woodworking business owner and enthusiast. All we know about Jim comes from Wood Profits sales page. He shares a story about how he's been broke and how starting a woodworking business from his garage changed his life forever.
It's easy to connect with a guy, right?

But, that's all we know about Jim. Since I'm a curious man, I decided to research Jim Morgan, the woodworking specialist.
As I've suspected, he is not real. Meaning, Jim is a fake character designed to sell you this program. I'll show you a few images that prove my claims by the end of this review.
Fake ownership is just one of many signs that this is a marketing scam. Under the next headline, I'll show you why that is so, and what Jim's (or whoever he is) real intention is.
How Does Wood Profits Really Work?
The Wood Profits sales page works by design. You see, the real owner doesn't have an honest intention to help you make a living by turning your woodworking skills into a business.
The whole page is just a bunch of overhyped and fake claims designed to sell you an already mentioned eBook and MP3.
What's your opinion so far? Does it sound legitimate to you? Of course not. That's why you are here reading my review. So, what is the intention of the sales page?
The real intention of the Wood Profits sales page is to aim at people who are desperate to make money. When compared to the promised benefits, the price of the material starts to seem like nothing, right? It pushes you into a buying mode instantly.
So all they really want to do is to sell you an eBook masked into a great deal that will turn your life around.
Woodworking or any other business startup requires much more than 50 pages copied from the web. A book could help you to get the feeling of how it is to have one.
But it's far from a step-by-step guide that will help you to make $90.000-$150.000 per year in profit.
I've once read a book called "What I Know About Running Coffee Shops" and yet, here I am working as an internet marketer. Maybe one day, down the road, I'll use the feeling that I've got from the book to learn more about running a coffee shop and to start my own. But the book itself could've never helped me to do it.
The bottom line is that Wood Profits is an overhyped marketing funnel that's designed to sell you a dream followed by the book and MP3.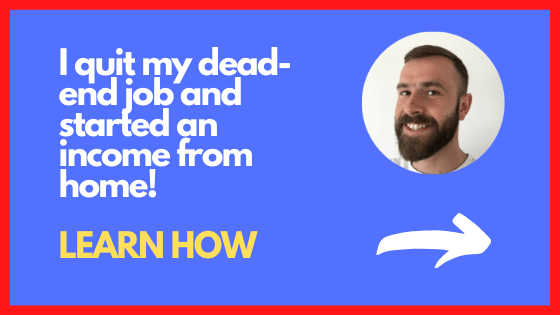 Can You Make Money With It?
As I've said at the top of this review, I don't see how Wood Profits could deliver the promise. $90.000-$150.000 per year is a ridiculous claim that has nothing to do with the content of the program.
You see, instead of earning money, this ClickBank offer could make you spend even more of your hard-earned cash. If you have noticed, I've used the word funnel. It means that, before you can get your hands on the book, you'll be bombarded with expensive upsells.
I believe that the only person who is genuinely going to make money with this is the owner himself. Also, the people who promote this to earn a commission could make a few bucks as well.
On the other hand, if you are looking to turn your woodworking skills into a profit, you may want to check the blue button below. I can show you how to turn your woodworking knowledge into a profitable website in less than one year!
What's the Price of Wood Profits?
If you what to check out what's behind the sales page, you'll have to shell out $37. It's a one-time payment. However, the spending party does not stop there. As I've said, Wood Profits is an expensive funnel.
Like every other ClickBank product, this one will cost you much more than it's advertised. It's designed to make money for the owner of this offer and his affiliates.
Oh Look, Upsells!
As soon as you pay $37, you'll get a few more upsells in your face. There are three upsells altogether. As you can see in the image below, each one comes with a downsell. Meaning, they really want you to buy.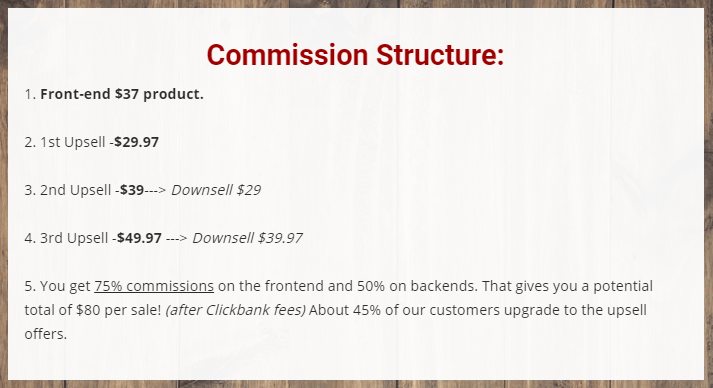 I have no clue what's behind those upsells, nor do I want to know. Based on everything, I have serious doubts that you'll get something that'll change your life and help you to make money.
As I've said, the primary purpose of Wood Profits is to make money for the owner, and you can even call it a scam if you want.
Can You Get a Refund?
Fortunately, you can get a refund. The product comes with a 60-days money-back guarantee. Meaning, if you don't like the book and MP3, you can contact the ClickBank customer support. I hope they'll grant your request.
What's Good About This Program?
Before I conclude this review, let's go over a few pros and cons. As you'll see, there are more cons than pros, but in any case, both are worthy of mentioning. So let's start with good things.
1.) Nice Read About Woodworking
Although Wood Profits won't help you to make $90.000-$150.000 per year, the material could be a good source of entertainment if you like woodworking. If you can swallow the crap from the sales page, you could find something good in there that could be useful if you ever decide to start your own woodworking business.
2.) Money-Back Guarantee
As I've said in a few paragraphs from above, there's a 60-days window to ask for a refund. So if you don't find the material of the program pleasing, you can get your money back.
Here's What's wrong With Wood Profits!
Now, to back up my claim that Wood Profits could be a scam, let me show you a set of warning signs. The following are clear indications that this offer is up to no good.
1.) Overhyped Sales Page
The owner of Wood Profits claims that his system could help you to make huge profits. He's talking about $90.000-$150.000 per year in profit! You may have noticed me saying this already, but this is a ridiculous claim.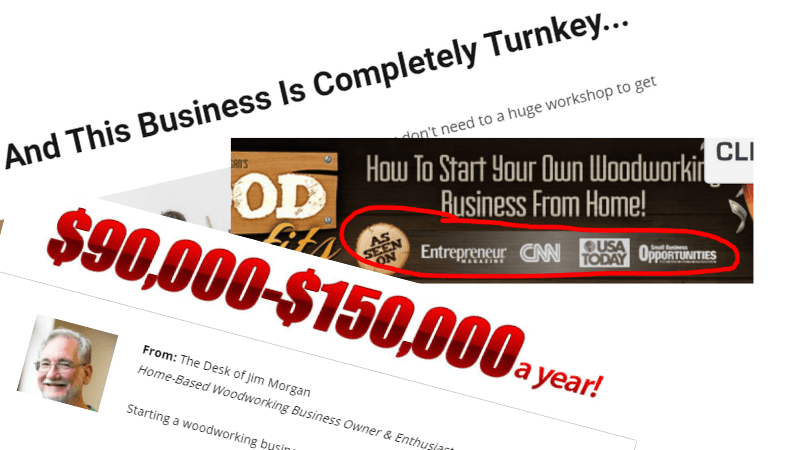 In addition to those fake claims, he even goes a step further and claims that the business is completely turnkey. I mean, that just has absolutely nothing to do with real-world business. The sales page, in general, is full of overhyped claims that have zero proofs!
2.) Jim Morgan is Not the Real Person
One of the first signs that Wood Profits might be a scam is a fake owner. Jim Morgan is not sharing anything about himself that could convince you that he is a legitimate and trustworthy man. Oh yes, he does actually. Those photographs of himself working on his business should convince you that he wants to help.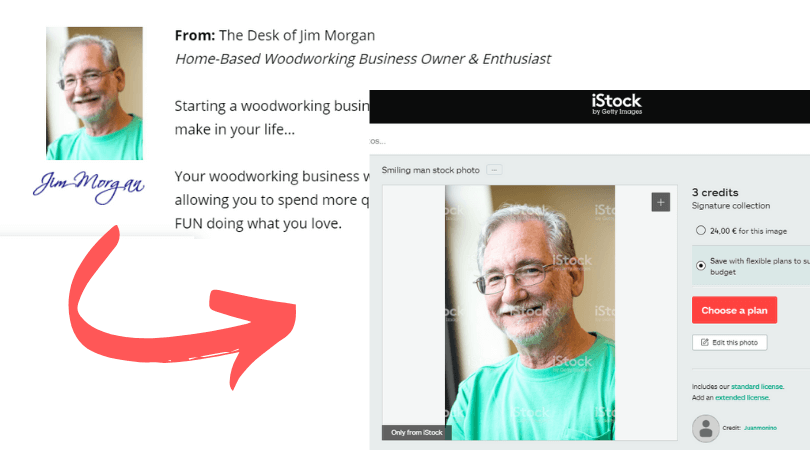 However, as you can see in the image above, Jim Morgan is a stock photo. Meaning, he's fabricated to mask the true identity of a person ho is trying to sell you this crap.
3.) Success Stories are Fake 
The fake owner is not the only phony person withing the Wood Profits sales page. All those testimonials are stock images, as well. Those people have never seen or touched this program because they are simply not real. The owner of the sales page is using them to convince you about the legitimacy of his offer.
If there were real people making money with this program, it would be easy to discover them, right? It wouldn't have been necessary to use stock images, right?
4.) Expensive Upsells Raise the Price in the Sky
I believe that the primary purpose of this offer is to make you spend, spend, and spend some more. The price is only $37, but as shown already, it could cost you a lot more than that. Wood Profits is a sales funnel that ends with a book and an MP3. However, in the meantime, you'll get a chance to spend much more.
The problem is that those upsells are not disclosed. They are hidden and come as a surprise once you decide to try this out. The whole system is geared toward helping the owner to make more cash of your desire to learn more about woodworking business.

Is Wood Profits a Scam or Legit? 
Yes, Wood Profits is a scam.
To me, it's evident that this offer has no real intention to help you make money. It's an overhyped info-product, that's all. The sales page is fake and full of false testimonials.
Besides, if the real owner has got honest intentions, he would've been proud to show his face.
Woodworking business is profitable, like every other business. This product could help you to learn more about how to do it. However, you'll need much more than an info-product to make things happen in the real world. I don't see how a book could help you to make $90.000-$150.000 per year.
Besides, you can find the same info all over the net for free.
Based on the fact that the offer comes with a lot of upsells, I think that the only people who are making money here is the owner and his affiliates.
In my opinion, Wood Profits is a scam.
How to Turn You Woodworking Skills Into a Business?
Thanks for reading my Wood Profits review. If you have woodworking skills and you would like to make some money, I can help you to make it happen.
Down below is a link to Wealthy Affiliate. WA is a platform where you can learn how to turn your passion into a profitable online business.
They will show you how to build a site and make money while doing something you love to do.
Wealthy Affiliate has helped me and thousands of others to turn a passion into a profitable business, and you could be the next one. It's a completely safe and trusted platform.
No credit card information needed. Check it out!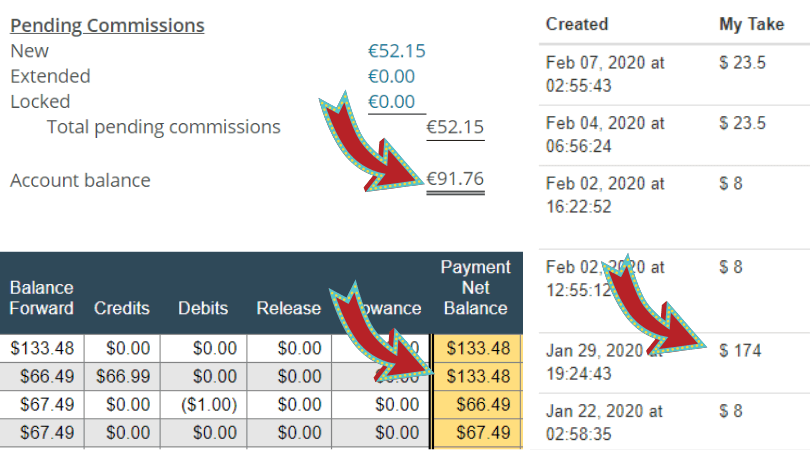 ==>Click HERE for My #1 Recommendation<==
If you need any help or you have a question, feel free to contact me.
All the best, Ivan. Founder, and CEO @freeaffiliatemarketingbusiness.com