Welcome to my 10X Profit Sites review.
To become a highly successful affiliate marketer, it's no secret that you'll have to invest a huge amount of time and work into your affiliate campaigns. That's the only way to reach the top of the mountain.
To put it into perspective, you'll have to create product reviews, both written and perhaps video reviews as well. Then, you must take care that you add some personal value to those reviews. You must promote your content all over the place to get it in front of the people, and more!
The key, the secret sauce to success is to help your visitors in any way you can and make them happy for bumping into you. Then, they will be happy to buy from you.
Now…all this is hard work. Don't get any wrong ideas that affiliate marketing is a get-rich-quick scheme, because it's not. And if you are not able to accomplish all those tasks by yourself, then you have a very small chance for success.
However, Glynn Kosky claims that he has a solution for you. He promises to give you access to 10X Profit Sites that will give you instant authority. These sites have everything you need, which includes free traffic.
All you have to do is put in your unique affiliate link so that commission goes to you, and that's it! You're a super affiliate in no time.
Could 10X Profit Sites be your ticket to affiliate success?
Naturally, when I review offer like 10X Profit Sites, I get suspicious immediately. I've seen tons of software that promise to do the same for you, but they are nothing more than a scam. So is 10X Profit Sites a scam too?
Keep reading my unbiased 10X Profit Sites review to find out the truth!
10X Profit Sites Review – Overview
Product Type: Affiliate Marketing Software
Product Price: $17 + 6 UPSELLS
Product Owner: Glynn Kosky
Money-Back Guarantee: 30-Days
Recommended?: No
Overview: 10X Profit Sites is a set of DFY affiliate review sites that, in my opinion, will never work unless you purchase expensive upsells. Even then, your chances are slim.
The truth is, 10X Profit Sites is not a scam. However, the main problem with this software lies in a fact that all users are going to get access to the same DFY sites, which means that you have absolutely 0% chances of ranking high in search engines.
Glynn Kosky talks about getting instant authority and traffic with these sites, but trust me, it's an impossible feat with duplicated websites and content.
In my opinion, the only way you could make money with 10X Profit Sites is if you drive paid traffic to your offers. And this requires a budget as well as long hours of training, trial, and error.
The bottom line is, I don't recommend this software because I don't believe in it and I've seen it under many different names so far (just see some examples in this review).
10X Profit Sites is the best for the owner who repacks the same software over and over again to make money off gullible newbies who believe that you can get the instant authority and make money overnight.
If you're done with these schemes and magic software, click the button below to discover a REAL WAY to make money online with affiliate marketing!
THE BEST WAY TO MAKE MONEY ONLINE IN 2023 >>
What Is 10X Profit Sites?
Simply put, 10X Profit Site is a software that creates affiliate review sites for you in just a few minutes. The software contains a database of 25 top-converting affiliate products with matching reviews that you can use to promote these very same products and $1000+ per day.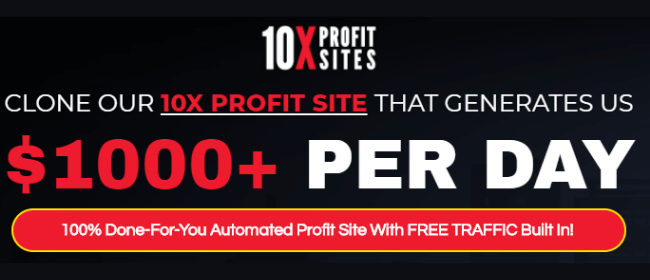 These DFY sites are almost completely ready to be promoted. They include text review, video review, images, graphics, ratings, etc. All you need to do is customize the review site with your unique ClickBank affiliate link to make sure that the money goes to you and send traffic.
Each time some of your visitors buys something using your affiliate links, you earn a commission.
Along with these DFY sites, 10X Profit Sites comes with video tutorials that you can use to learn how to put these sites into action. The only problem is, there are only three very short videos.
In other words, you will not get step-by-step training for making money online. That said, without proper training, you will have very slim chances of making it happen online, especially if you're a newbie.
Now, that is the theory, guys. However, there are a few things that are not written on the sales page that you need to know about 10X Profit Sites.
A Few Scam Signals Right For The Start
First of all, this is a rebranded version of AffiliSites PRO software. It means that it's the same software inside that does all the same things as 10X Profit Sites and guesses who the owner is? You're right, it's Glynn Kosky, the same guy.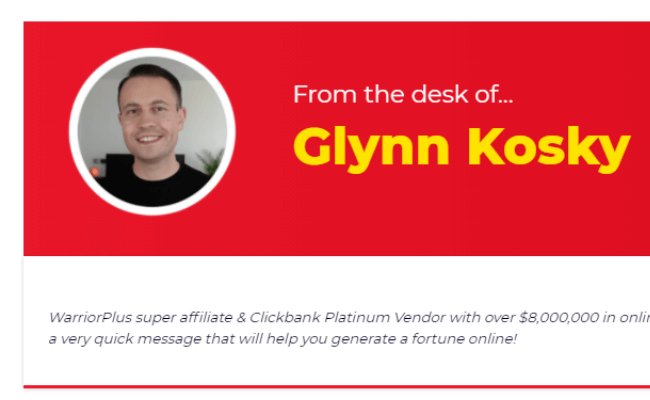 Secondly, there's no such thing as an instant authority in affiliate marketing or any other business. These toy software do produce nice-looking review sites, but they can't get you an instant authority because there NO SUCH THING as instant authority!
Thirdly, those 25 sites that you'll find inside are cookie-cutter websites. Do you know what it means? It means that those sites contain duplicated content that is identical to other sites. Good luck with getting free traffic from search engines.
Speaking of free traffic.
Fourthly, 10X Profit Sites promise built-in free traffic. It sounds awesome, but it's not going to work like that. The software is going to help you to share your affiliate reviews online, but you will not get free traffic automatically.
In fact, there's no such thing as free traffic on autopilot. That's just a marketing trick.
The only way to get fast free traffic to your 10X Profit Sites is if you have a large social media following or access to a huge email list. Then, you could share the links with your audience and probably even make some fast sales.
But to tell you that software comes with built-in free traffic is just a load of BS!
Lastly, as always, Glynn is selling software for only $17. Not a lot of money, right? I mean, you get 10X Profit Sites that are ready for commissions and even push-button free traffic. It's a no-brainer, right?
Well, not so fast!
See, as soon as you come inside, you'll get slapped with, check this out, SIX UPSELLS! What does this tell you?
Well, it tells you that there's much more to this affiliate software than it meets the eye. In other words, 10X Profit Sites is a clever marketing campaign designed to make money off you.
Don't get me wrong. I'm not trying to say that 10X Profit Sites is a scam. It's not. But it's obvious that the owner uses you to make money through an expensive sales funnel.
Glynn Kosky has done this so many times before that I'm not even surprised anymore…
How Does 10X Profit Sites Work?
The idea behind the 10X Profit Sites is simple. You buy the software and log in. Then, you choose one of 25 products from ClickBank that you want to promote, add your affiliate link, send free or paid traffic, and earn commissions.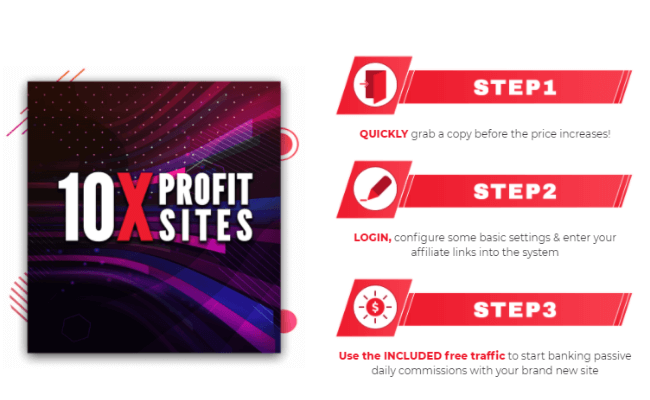 No worries, you'll get three training videos where you can learn how to do this. Wow! Can you guess how long these videos are? Two are about a minute or so, and the third one is about ten minutes long. That's "a lot" of content. lol
Also, there will be a sidebar full of features that you can explore as well. Keep in mind that most of those features are locked (UPSELLS), which will give you a very little room with this software. In other words, if you want to take full advantage of 10X Profit Sites, you'll have no other option but to upgrade.
I almost forgot. You'll have to purchase an autoresponder individually, which is going to be an extra cost. You'll need an autoresponder to collect email addresses from your visitors.
So how does all this work?
Once you get access to your 10X Profit Sites, you will have to choose a DFY website that you like the most. Then, the idea is to customize these sites with your unique affiliate link so that commissions go to you.
However, to make commissions, you need traffic first. And with this software, you can share your sites on social media via the dashboard. This is what Glynn calls "built-in free traffic."
And that's it.
Once you start getting visitors to your website, you will also get a chance to make money.
IF you want to learn more and see how 10x Profit Sites look from the inside, feel free to take a look at this short video review below.
How Do You Get Free Traffic With 10X Profit Sites?
I have to admit, those affiliate review sites do look very professional. They contain graphs, charts, videos, images, text, and everything a review site should be having. But these will be useless if you don't know how to get traffic.
The chances that this software is going to get you tons of free traffic are below zero! See, no software can ever get you unlimited free traffic. You either have to work for it or pay for it. There's no other way around.
So, as I mentioned earlier, 10X Profit Sites comes with a few upgrades (I'll disclose these later in this 10X Profit Sites review). This means that some of those upsell contain training on traffic generation (probably paid traffic), and you'll be required to take them if you want to make it work.
But you see, even if you manage to get some traffic to your sites, I'm not positive that these affiliate review sites will work. See, duplicated content is never a good idea. People will see this and avoid duplicated sites.
Moreover, you can forget about free traffic from SEO. Search Engines will detect duplicated content and will exclude your sites from the results. The #1 rule of SEO is to publish fresh and unique content on your site. Cookie-cutter sites will only get you in trouble.
All in all, I'm not remotely impressed with 10X Profit Sites. It has too many negative features that were not mentioned on the sales page. This software looks like another scam to me, honestly.
What Is The Price of 10X Profit Sites?
Now, let's take an honest look at the most important section of my review. Let me show you how much 10X Profit Sites could cost you if you ever go for it.
Front-end Software 10X Profit Sites ($17)
For $17, you will get access to a basic version of the software. This version contains 25 DFY affiliate reviews that are hand-picked from ClickBank. Also, you get free hosting and traffic (the latter is BS).
Upsell #1 – Unlimited Upgrade ($47)
One of the advanced features of this software is that it allows you to create unlimited affiliate review sites. However, you'll have to buy this upsell if you want to unlock this feature.
Upsell #2 – Done-For-You + Additional Features ($67)
If you're lazy to put it all together by yourself, you can use this upsell and have it all DFY. This means that you'll get access to a library of additional DFY sites, DFY themes, menus and themes. Also, you can add more of your own reviews too.
Upsell #3 – Automated Traffic Flow ($67)
As you can see, there's an OTO called automated traffic flow, which means that the story from the sales page about built-in free traffic was nothing but a marketing hook. If you really want to get access to the traffic system, you must take this upsell.
Upsell #4 – Conversion Boosting Tools ($47)
This upsell unlocks advanced features that allow you to add your FB Pixel into your affiliate review sites for tracking your visitors to maximize conversions (this is useful only if you're using paid traffic from Facebook).
Also, you get special features and conversion boosting tools such as Facebook Chat widget, countdown timers, popups, social proof, etc.
Upsell #5 – Bonus Page Creator ($47)
Adding bonuses to your review pages is always a good idea. However, you cannot do so unless you purchase this upsell. It allows you to create bonus pages to improve your conversions. Allegedly, these pages are DFY, so all you have to do is set them up and you're ready to go.
Upsell #6 – License Rights ($97)
The last upsell allows you to resell 10X Profit Sites using a DFY sales funnel that includes everything you need to successfully promote this product. And it allows you to keep 75% of the profit from all sales.
THE BEST WAY TO MAKE MONEY ONLINE IN 2023 >>
(NO Upsells)
What I Like About 10X Profit Sites
It's time to be 100% honest. I don't like anything related to this software. See, in my opinion, the front-end product is practically useless. And if you want to get something out of it, you'll have to spend around $350 on all those upsells from the above section of this 10X Profit Sites review.
That said, this offer is the best for the owner how is tricking you into thinking that you can get the instant authority and make affiliate commissions without having to do any work yourself.
Is 10X Profit Sites a Scam?
Now, let's answer one more question before I let you go. Is 10X Profit Sites a scam or legitimate software for making money online? My answer is yes and no. Since you get value in return for your money, logical thinking is to say that it is not a scam.
However, my gut feeling always tells me that products like this are never going to work like you've been told. And if something is falsely advertised to gain your confidence, then by the definition, it's a scam.
Let's take a look at some of the key problems with 10X Profit Sites before we call it a scam or legit.
10X Profit Sites Is Not 100% Done-For-You
On the sales page, Glynn Kosky repeats over and over that this software will do all the work for you. He claims that everything is 100% DFY and all you have to do is plug it in and watch the commission rolling to your account.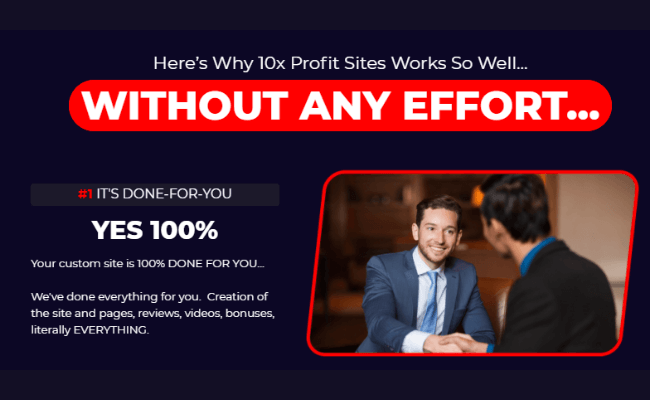 This is not true. Nothing is ever 100% DFY. You'll have to invest time and effort into this.
You Don't Get 100% Free Traffic & Instant Authority
The owner of 10X Profit Sites promises 100% free traffic built-in to the system. Also, he says that these sites will get you an instant authority in the affiliate marketing niche. These claims are also blow out of proportion.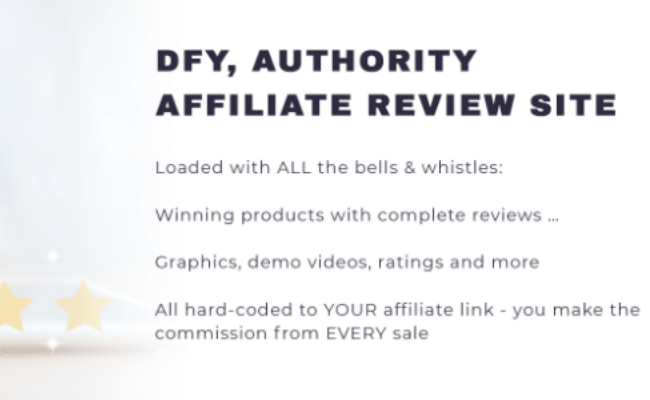 First of all, free built-in traffic is BS and a scam. These sites will never do well in search engines because they are duplicated. Secondly, you can't get instant authority just like that.
Words instant and authority can't be put in the same sentence!
You have to build and earn your authority. No software is going to magically get you authority.
Only 3 Training Videos With Basic Package
10X Profit Sites come with only three training videos. These videos are brief and only show you how to set up those basic DFY sites. That's all there is. You will not get comprehensive affiliate marketing training unless you buy upsells.
Is this enough to say that 10X Profit Sites is a scam? Let's see what else is there…
It Does Not Work In 3 Simple Steps
You've been told that all you need to do is buy the software, activate it with your affiliate link, get traffic, and relax while it works to get you tons of commissions on autopilot.
This is far away from reality…and a huge reason to say that 10X Profit Sites is a scam.
Cookie-Cutter Websites Are A Bad Idea
Cookie-Cutter websites fall into the category of Black Hat SEO techniques. In other words, these sites use copy-pasted content from other sites in an attempt to get fast rankings.
This might have worked a few years ago. Today, your site will end up at the bottom of the ocean for this.
10X Profit Sites Is Rebranded Version of AffiliSites PRO
One of the things that bother me about 10X Profit Sites and the main reason why I think it's a scam is this. Glynn Kosky keeps repacking and rebranding the same software over and over again.
The previous version was called AffiliSites PRO and it failed to deliver. Then, before that, it was called DFY Profit Funnels. And before that, it was called CB Profit Sites. Do you see my point here?
You Must Purchase Upsells To Complete The System
As with all those previous versions, the only way to try to make something out of this system is if you buy those expensive upsells. And that's exactly what they want you to do from the very beginning.
They never tell you that 10X Profit Sites is not going to work without these upsells, which is a scam sign in my book.
10X Profit Sites Review – Conclusion
So, what's the final verdict? Is 10X Profit Sites a scam? Is it legitimate software for earning commissions?
In my opinion, it's closer to being called a scam than a legitimate way to make money online. I've seen tons of this software before. All they do is cheat you into believing that you can make money online without any skills or experience.
Moreover, it's just a matter of time before 10X Profit Sites becomes something else. In other words, as soon as the bubble bursts, the creator is going to rebrand it and sell it to unsuspecting newbies over and over again.
That said, this offer is NOT my recommendation! Thanks for reading my 10X Profit Sites review.
What do you think? Is 10X Profit Sites a scam or legit? Have an experience that you would like to share? If you have questions, make sure to reach out using the comments section below.
How To Make Money Online For Real!
Trust me. There are no fast and easy ways of making money online. Shortcuts like 10X Profit Sites will get you nowhere except running in circles and eventually giving up.
The ONLY way to make money online is through hard work and dedication combined with a proven step-by-step system. I've learned this the hard way after falling for a ton of get-rich-quick schemes like 10X Profit Sites.
Luckily, I bumped into an awesome platform that gave me everything I needed to make it happen.
I took advantage of this system, invested a lot of work and time into my business, and today, I'm earning $100's per day with affiliate marketing.
If you're interested in REAL WAYS of making money online that REALLY WORK, click the button below…
>> Check Out My #1 Recommendation Here <<