Welcome to my CB Profit Sites review.
With this latest WarriorPlus release, you can get free traffic and hosting, keep all of the commission from the DFY review site, using a proven method developed by a super affiliate and ClickBank platinum vendor. In other words, all you have to do is push a few buttons to earn an income.
Have you heard this already? Moreover, have you tried one of these "magic" sites before? Let me guess, you have, and somehow, you failed. You pushed those buttons, followed those simple three steps and still, results were disappointing, am I right?
Well, guys, guess what? It's not going to work like that.
In this CB Profit Sites review, I'm going to show you why only 2-5% of marketers earn all of the commissions out there, while the rest falls on stupid BS. Also, you'll see how this DFY system works, and some more!
CB Profit Sites Review – Overview
CB Profit Sites is a DFY marketing system created by Glynn Kosky. Glynn promises that this is the fastest & easiest way to make game-changing DAILY profits online… there's no selling involved, no hours behind the screen, etc.
And those claims are not far away from being true. Except for one little thing. He promises fast and easy traffic included with the program, which is not 100% honest promise. There's no traffic unless you buy a traffic upgrade or if you already know how to get tons of buyers to your site on your own.
That said, this is not a scam, but it's not 100% recommended. In fact, I don't recommend this system because it's not the way to build long-term success online.
But if you decide to go for it, the program is selling via WarriorPlus for $23 by the time of writing this CB Profit Sites review. Also, keep in mind that the funnel contains six OTOs (one-time-offers) or upgrades that complete the system.
To learn more about the system, check out the rest of my review. Or if you're tired of scams and schemes, make sure to discover the best way to make money online below…
CLICK HERE TO DISCOVER THE BEST WAY TO EARN AN INCOME ONLINE >>
What Is CB Profit Sites About?
According to an overhyped sales page, CB Profit Sites is all about stealing some profit sites that make $1000+ per day in affiliate commissions on complete autopilot. The method does not require any paid ads, experience, or even skills for that matter.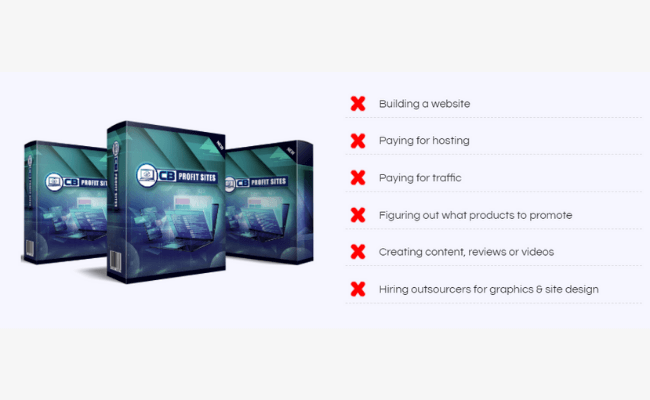 But let's forget about fiction. What is it really about? Well, this is about done-for-you affiliate review sites that you can customize with your links, logo, name, etc. And deploy as your own to earn an income online by promoting products from ClickBank.
The method has been developed by Glynn Kosky, a super affiliate and a serial product creator. You see, CB Passive Sites is not the first product of this kind. Glynn has a lot of them. And you'll discover that this one is a rehashed version of products like:
Basically, you get access to a cloud-based app that contains these preloaded review sites. Each website site is made up of generic information about a specific ClickBank product. Your task is to plug in your unique affiliate link to these sites and get as much traffic as possible to earn a commission.
So, in other words, the product is designed to cut short the way to success with affiliate marketing. But is it going to work like that? Well, I advise reading the rest of my CB Profit Sites review to discover the answers to that question too.
You see, the problem is that Glynn promises hands-free commissions, DFY profits and other things that are entirely unreal. He even claims that this product is the closest thing to printing money! I mean, if this were true, why isn't everyone plugging into this method?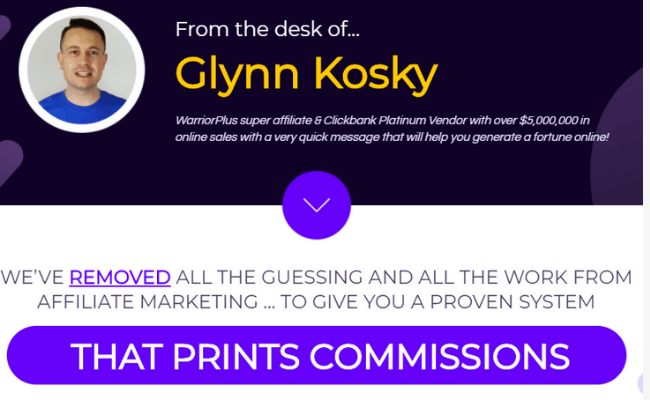 The reasons are apparent. The method Glynn promotes with this product is legit, and you get a lot of things done-for-you except one thing that is critical for success. I'll share this soon, let's go over the content of the program first.
What Do You Get With CB Profit Sites?
Heres's the list of features included with this purchase:
Your own affiliate review site ready to launch
Hosting included
Pre-selected top-converting products
Complete product reviews
Professional banners, graphics, and calls-to-action
Step-by-step video tutorials
Premium bonuses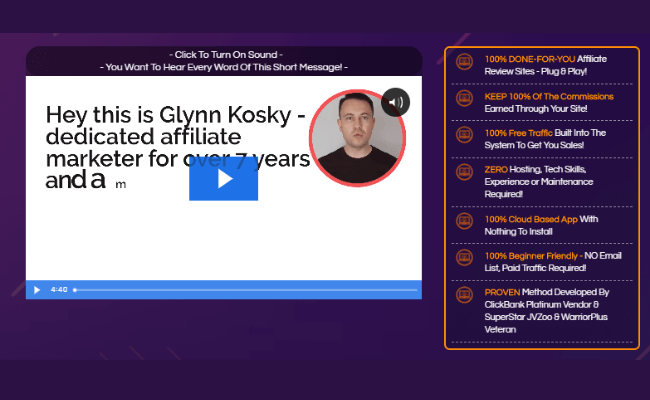 So as I said in the previous section of the review, there's one thing missing on this list that is critical for the success of CB Profit Sites system, and that is traffic. Although Glynn promises to give this as well, he's not being 100% honest about it.
Let me explain…
How Does CB Profit Sites Work?
According to the very shallow information from the sales page, the CB Profit Sites work in three simple steps:
Login to the cloud-based software & enter your Clickbank ID, so you get paid from every sale.
Customize with your details, then select the products for your DONE FOR YOU review site & bonuses you want to offer.
Use the included free traffic to start banking passive daily commissions.
You see, Glynn claims that he's going to give you access to unlimited social traffic and even some built-in authority that is going to get you the search engine traffic as well. However, this is not true. Well, one small part of it is, but the rest of these promises are pure BS.
Let me walk you through the system so you can see what I mean.
Step #1 – Login to the software and enter your ClickBank ID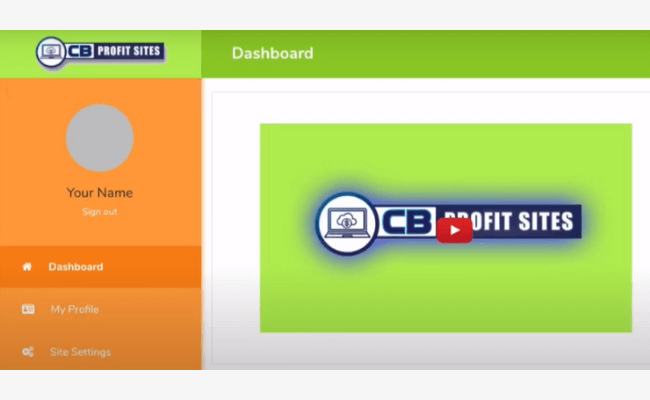 Once you get access to the software, you have to log in and fill in your profile with your name, email, social media accounts (this is important for step 3.), and you must choose a DFY product review from the list you wish to promote.
Step #2 – Customize review sites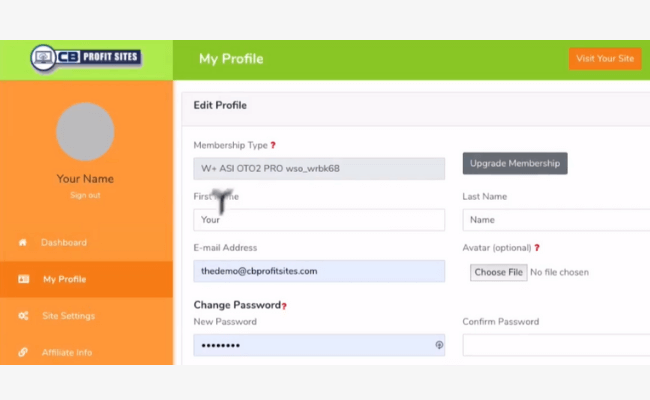 Once have chosen the product review you want to promote, the next step is to customize your review site. This includes changing a few things like the title, images, colours, etc.
Step #3 – Get Traffic to start earning commissions
Now, the last step is to save and publish your review site and get traffic to start earning commissions. However, despite what you have read on the sales page, this step is not DFY, and it's not going to be as easy as the product creator claims.
You see, you can use the one-click feature to share your review sites on social media. But this step is not going to work unless you have a substantial social media following. And Glynn is not going to show you how to attract targeted traffic through your social media.
So to me, this is a clear sign that CB Profit Sites is not going to work for newbies. On the other hand, if you do have a large social media following or big email list, you could send the link to your review and hope to score some commissions.
Who is CB Profit Sites For?
In my opinion, I would say that CB Profit Sites is a product for someone who has either vast social media following or an email list and does not like to spend time in creating sites or write product reviews.
You see, I found that building your own site and learning the process of traffic generation is the best way to success. I don't like these products that cut corners. Why? Well, I don't like them because they are not a solution for creating long-term success with affiliate marketing.
However, if you are a person who is looking to bypass the system, then CB Profit Sites might be for you. Just keep in mind that this is not going to work well (if at all) if you don't know how to attract a massive amount of traffic to your sites. I'm not talking about a few clicks here and there. You need 100's of clicks daily to achieve significant success.
How Much Does CB Profit Sites Cost?
At first glance, CB Profit Sites looks like a relatively cheap product, and it is if you skip through OTOs. You see, for $23, you get access to a set of DFY review sites that you can use to earn some affiliate commissions as I have explained earlier in this review.
And if you're skilled in traffic generation, the front end product might be enough for you. However, if you are a newbie, you should probably consider some of the following upsells.
I personally don't like these products, mainly because of the way they are structured. As you can see below, the owner pushes tons of OTOs to make more and more money off newbies that are looking for ways to do the same.
OTO #1 Unlimited Version: $97-$47
This one time offer lets you use CB Profit Sites to create more than one site. In other words, the front end version is limited to only one site, so if you want to leverage this product to money from multiple streams, you need this one.
OTO #2 DFY Version: $97-$67
Although the sites you get are already DFY, you still need to do some customization. So if you don't want to do this on your own, you can order DFY version and let the creators do the work for you.
OTO #3 Automated Traffic Flow: $97-$67
In my opinion, this OTO is the key to the success of this CB Profit Sites system. If you buy this upgrade, you're going to get access to DFY traffic as well, which means that you don't have to work on building a following or an email list. The creators are going to let you use the traffic they already own.
OTO #4 Conversion Boosting Tools: $67-$47
With this OTO, the creator is giving you access to a set of tools and resources you can use in your campaigns to boost your conversions. This includes features such as popups, email swipes, etc.
OTO #5 Bonus Page Builder: $67-$37
It's a known fact that giving away bonuses could potentially lead to more leads and better conversions. So with this upsell, you can get access to a feature called Bonus Page Builder that helps to build attractive bonus pages.
OTO #6 Licence Rights: $167-$67
If you are interested in selling CB Profit Sites to your subscribers, this OTO is going to allow you to keep 100% of profits after you make a sale.
What I Like About CB Profit Sites
There are a few things that I think CB Profit Sites is doing good. First of all, if you're a lazy marketer who is looking for shortcuts, this product is suitable for you because you get good-looking review sites that do not require too much work around them.
Secondly, Glynn Kosky is a super-affiliate indeed, and he knows which ClickBank products convert and which are not. So, he has included only the products that he's sure that is going to make money if promoted correctly. In other words, you don't have to worry about whether these products are going to sell or not.
For example, one of the product is called 12 Minute Affiliate, which is a similar product to this one and it's proven to sell on ClickBank every single day.
Lastly, I like the fact that CB Profit Sites comes with a low front end price. For $23, you get access to one review site that you can customize and promote to make money online. That is, of course, if you know how to get traffic without taking any of the upsells.
Review Sites are Done-For-You – No Content Creation
Designed to Promote Top-Converting Click Bank Products
Low Front End Price and Money-Back Guarantee
Related: Commission Shortcut Review
What I Don't Like About CB Profit Sites
I also want to share a few things that I don't like about this product. These are my personal views that are based on observation and experience with affiliate marketing and products like CB Profit Sites. If you have something to add, feel free to share.
Firstly, everyone who buys this product is going to get the same list of sites and products. It's true that you can customize yours to make them different, but in essence, they stay the same. And this is going to cause duplication issues among customers.
Secondly, I was disappointed to learn that you can't use CB Profit Sites to market other products of your liking. You have to stick to the list of products from the list strictly. This is not a big deal, but it would be ok if I could customize these sites to promote products that I like.
Furthermore, you'll notice that these sites and reviews are designed the same way CB Profit Sites sales page is. In other words, reviews are overhyped and do not share the unbiased information about the product. Review sites should be like mine, designed to help you to get all the information you need before making a purchase.
Then, another problem is in that the sites are cloud-hosted. This means that you're not going to be 100% in control of your business. Put differently, if the owner decides to shut down the entire system for one reason or another, your sites and business as the whole are going to disappear in a matter of seconds.
Another problem has been already addressed in this CB Profit Sites review, and that is traffic generation. The front end version of this product won't do you any good if you don't know how to get traffic. You'll have to spend time and time learning this on your own or invest more money in upsells.
Speaking of which, the last thing that I don't like about this product is the fact that it's incomplete without upsells. So instead of $23, this could cost you $ 100's!
All Users Get Access to the Same Sites – Duplication Issues
You Can't Promote Products Outside of the List
Product Reviews are Designed to Sell, Not to Inform as They Should Be
Sites are Cloud-Based – No Control Owner Your Business
Can't Earn Any Income if You Don't Understand Traffic Generation
Six Upsells are Needed to Complete This Product
Is CB Profit Sites a Scam?
If we are to judge by statements made by to owner, claims such as "it prints money, works on autopilot" and such, we can say that CB Profit Sites is a scam that cons people into buying imaginary results and features. Those things do not belong in marketing campaigns.
On the other hand, the product is legitimate because you do get what was promised. Well, almost. You get a DFY review site, cloud-based app that helps to customize and upload your sites, video tutorial, and more. However, they won't show you how to get traffic for real.
Sharing links on social media is not how newbies can make commissions on autopilot.
Related: Freebie Commission Review
Do I Recommend CB Profit Sites?
As I said earlier in this CB Profit Sites review, I don't like, and I don't recommend these DFY systems. The reason number one is that I think DFY is not the way to create a successful business online. It might be a faster way to commissions, but it's not a long-term solution.
You see, I like to build my own sites. I have established this site by myself. I write my own content which is 100% unique. And, as a result, I'm getting a continuous stream of free traffic from Google and make a consistent recurring commission by promoting my favourite training program (click the blue button to learn more).
In my experience, that is the way to a long term success with affiliate marketing.
Sure, CB Profit Sites might work as well. But imagine if the owner decided to shut it down. What would you do then? And keep in mind that this is a possibility.
If this happens, you are going to lose your income in a day. Even worse, you will not know how to rebuild your business because you were relying on a DFY system that left you with no skills to build your own system. You always want to learn how to create your own system, no doubt.
Conclusion and Honest Recommendation
That's it! Now you know that CB Profit Sites is a DFY marketing system that you can leverage to earn income through affiliate marketing. You get DFY review sites with which you can promote selected ClickBank products.
Also, you know that the system is not going to work without some severe traffic flow to your sites. You have learned all about the price, and more importantly, you know that the system is not 100% complete without upsells. If you ever go for it, my advice is to take traffic upgrade.
Thanks for reading my CB Profit Sites review. I hope this information was good enough to help you make a wise decision. If you have any comments or questions, please, leave them in the section below.
And while you're here…
Be sure to check out my top recommended program for starting a successful online business by clicking the button below. This program is designed to show you how to create your own business from top to bottom, which is going to lead to long-term success.
CLICK HERE TO DISCOVER THE BEST WAY TO EARN AN INCOME ONLINE >>
If you need any help or you have a question, feel free to contact me.
And don't forget to share this review with your friends and family!
All the best, Ivan. Founder, and CEO @freeaffiliatemarketingbusiness.com