Welcome to my AZ Sniper review.
What is it about? Can you make up to $1.500 today in just a few clicks? Is AZ Sniper a scam? I have recently purchased this program, so here is my review.
First off, yes, making money from Amazon is more than possible. One of the most popular online retailers spins millions and millions of dollars each month.
And some of those profits go directly to Amazon's affiliates.
In a nutshell, Amazon affiliate needs to build a website, reach out to visitors through their efforts, and send them to Amazon via a unique affiliate link.
If/when people buy something from Amazon, the affiliate gets rewarded with a commission after the sale.
In theory, it sounds effortless. All you need is a website, traffic, and share links, and you can make money.
However, programs like AZ Sniper will try to convince you that it's too easy, while in reality, making money with Amazon affiliate marketing is a long and tedious process.
So without further ado, let me show my AZ Sniper review! I will reveal a few scam signals that you have to see before going any further!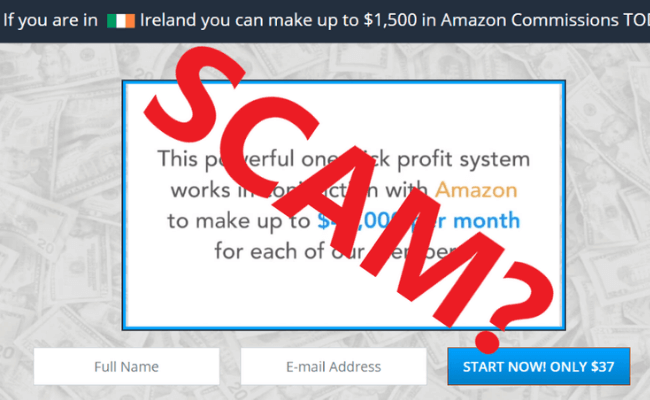 AZ Sniper Review – Overview
Type: Affiliate Marketing Training Course
Owner: Stephen Ford (Fake Name!)
Price: $37 + 3 UPSELLS
Money-Back Guarantee: 60 Days
Recommended?: NO!
Quick Summary: According to Stephen Ford, AZ Sniper is designed to help you make money with Amazon in just 15 minutes per day. Sounds like a scam, right?
In reality, AZ Sniper is just an overhyped, misleading, and expensive sales funnel.
It starts with unrealistic promises about getting tich by tomorrow. And, it ends with a simple PDF that talks about Amazon affiliate marketing.
In between, they will offer you tons of expensive upsells to make money off you, which I think, is the main intention with the AZ Sniper program.
You can see the same system of overhyped claims combined with hidden upsells being  used in these scams too:
Overall, it's not even real training and it won't help you too much to leverage Amazon affiliate marketing. All you get are some lame PDFs that brush over the topic of making money online.
See, their main objective is not to help you to start a business. The main goal here is to sell you a crapy product and bank in a sale.
The quality of the program is questionable, and your satisfaction is the least important. That's why many people claim that programs like AZ Sniper are a scam, including me!
In my opinion, it's best for the unknown owner who calls himself Steven Ford.
In other words, AZ Sniper is a scam and my best advice is to keep your distance from offers like this and find something legitimate that actually works!
Alternative: If you are tired of scams and bogus websites, MLMs, and pyramid schemes, check out a 100% legitimate way to make money online below I used to go from $0 to earning four-figure passive income online!
THE BEST WAY TO MAKE MONEY ONLINE IN 2023 >>
What is AZ Sniper?
AZ Sniper is a program for making money online that helps to start an Amazon business fast. Allegedly, it takes only 10 minutes to get started and make your first Amazon sale.
These days, however, it's common to hear how you can start making massive amounts of money in a matter of a few days if you follow this or that system.
Many so-called internet gurus will try to convince you of a seemingly legit opportunity.
But mark my words, they are just sugar-coating the truth.
Stephen Ford Wants You To Believe In Impossible
The truth is, AZ Sniper is another offer in a sea of internet scams that promises quick success without any experience or technical skills.
Yes, you can start without experience. I can't argue with that one, that's how we start things.
You can learn everything. I like to say that every professional was an amateur at one point in his or her career.
But don't listen to people who will tell you that you can start making money as of today or the next day with some automated system.
There's no such thing.
For example, you can see how the creator of Explode My Payday scam is using the same tricks as the creator of AZ Sniper as well.
Another thing you can hear in connection to this offer is that you can make big bucks by selling stuff from Amazon through an affiliate website.
I've explained the process in a nutshell at the beginning of this AZ Sniper review.
It's called affiliate marketing, and yes, some people are making thousands per day by doing so.
Amazon Affiliate Marketing Is Legit Though
Amazon affiliate marketing is an entirely legit online business opportunity, no doubt. But once again, all those successful affiliates have spent years and years studying and perfecting the system.
Thousands of dollars are nothing but the result of many years of hard labor.
The people who have created the AZ Sniper are trying to sell you another lie. They say how the system takes care of everything for you.
However, what they are doing is trying to play on your lack of experience in the online world.
But AZ Sniper Is Not a Good Product
You see, everyone would love to make money by pushing a few buttons every day while relying on some super-secret system.
However, in reality, there is no such thing.
Bear in your mind that affiliate marketing itself is a system. You must learn the process before you can start making profits.
No one has done it in a few days and without learning the system first. People who are trying to sell you a magic button system are trying to scam you.
That said, make sure to keep your distance from Money Looper as well!
Now that you know that the video is just an advertisement, and the AZ Sniper is not what they say it is, let's move on to see who's behind the sales video.
In case you don't want to read, below is my AZ Sniper review in video format:
Who is Stephen Ford?
The spokesperson in the sales video introduced himself as Stephen Ford, the owner, and creator of AZ Sniper.
He shares a heartbreaking story about his life. And, of course, thanks to the world of digital marketing, his life today has an entirely different shape.
As an experienced internet surfer, I know when someone is lying about ownership.
You see if he or she is not sharing a picture of him or herself or a social media profile or anything which can prove that an owner is a real person, he or she is fake.
In this case, I'm led to believe that Mr. Stephen is only a pen name.
Now, let's jump to the section of my AZ Sniper review where I'm going to show you what you actually get with this program.
What Do You Get With AZ Sniper?
Once I purchased this product, I've found out that AZ Sniper is a set of PDF scripts about Amazon affiliate marketing.
Unfortunately, there is no in-depth training.
I've inspected the texts and can confirm that the information within is legit. However, those PDFs are not even close to what's really necessary to start an Amazon affiliate marketing.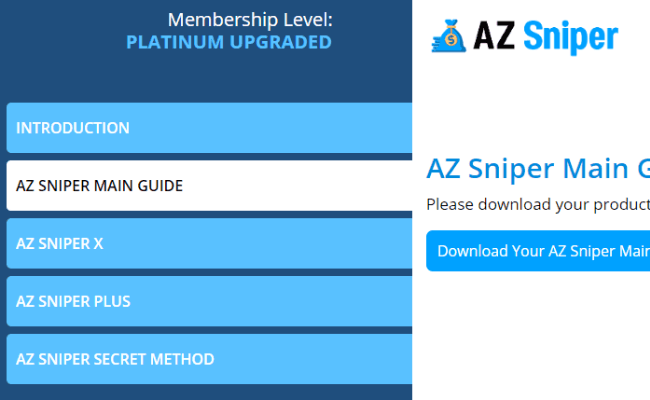 To start a real business, you'll need expert guidance, and hours of training and work until you can start seeing the first commissions rolling in.
This program is not going to cut it.
Free Website
Under the introduction section, you'll find an invitation to claim your free profit-ready website and to join the VIP members workshop.
About the website first, it's not free. It's not done-for-you or profit-ready either.
If you go for it, they will redirect you to another page where you'll get a chance to hear another sweet-talking video that will try to convince you that it is.
If you click and register, you'll get redirected to another site one more time.
The site is called CoolHandle. There, you'll have to shell out $143.04 to buy the hosting for your website which you'll have to set up by yourself by following the instructions from those PDF guides.
So much about a free site.
Then there is an invitation to join the VIP members workshop. If you click the link, you'll get redirected to a page where you can register for a free webinar with John Crestani.
I watched the webinar. I can say that there is no value in it at all.
He is throwing dust in your face only so he can pitch you his Super Affiliate System. The price of this program is $997.
It's another sneaky attempt to make money out of your desire to learn and has nothing to do with AZ Sniper.
Main Guide
The first script, which is located under the AZ Sniper Main Guide menu, is called the Amazon Affiliate Beginners guide.
The PDF is only twenty pages of material. It contains information about choosing your niche, keyword research, setting up a website, and content writing.
The knowledge is legit, but once again, it's not good enough to help you get started. Amazon's affiliate marketing is much more than twenty pages.
AZ Sniper X
Under this section, you'll find another PDF script.
This time it's only nine pages of material that talks about how to set up a WordPress site, the same one they've told you that it's free.
AZ Sniper Plus
This is a 38 pages long guide on YouTube Amazon affiliate marketing. The script is talking about how to set up a YouTube account, choose your niche, make videos, and monetize your content.
But once again, it's not in-depth material.
There is no real training that can help you make money as it's promised.
It's maybe enough to help you get a grasp of the business, but that's all.
AZ Sniper Secret Method
This is a 14 pages long script on SEO (search engine optimization).
The information here helps to understand how to use SEO to get visitors through the Google search engine once you have set up your site and account Amazon.
However, it's short and not adequate to help you understand SEO.  Search engine optimization is the field for itself and it can fit into much more than 14 pages.
As you can read, there is nothing inside even close to what is advertised.
You can find the same information that is covered here all over the net.
How Much Does AZ Sniper Cost?
If you are interested in getting your hands on this material, it's going to cost you a $37 one-time payment.
It may seem like a bargain. However, that is only an entrance fee to something more expensive.
You see, the person who is behind this offer is going to use every opportunity to make more money off you.
The AZ Sniper is a money-making funnel that has a slight value.
It only serves as a way to John Crestani's Super Affiliate System, which is, on the other hand, a legit but expensive affiliate marketing training.
AZ Sniper Upsells
Once you pay those $37 to get in, you'll get three additional offers instantly! Here is how much you will be asked to pay:
$197 (Upsell #1)
$177 (Upsell #2)
$67 (Upsell #3)
Each upsell comes with another sweet-talking video from the owner.
If you are not careful enough, these offers can cost you a lot more than you have initially thought.
I have no idea what's behind those upsells. And honestly, I don't care.
It's probably just another slim training that leads to Crestani's SAS.
When you add everything together, the AZ Sniper has the potential to cost you well over four hundred bucks, $448 to be more precise.
Who is AZ Sniper for?
It would be fair of me to say that this offer is for no one! Everything you had a chance to hear is designed to rip you off.
The creator of the funnel is trying to sell you a dream about affiliate marketing for a starting price of only $37.
On the bright side, those PDFs could be for someone who wants to read about Amazon affiliate marketing.
But once again, you can find the same information all over the net for free.
Google it or scroll to the bottom of this AZ Sniper review if interested in learning more.
AZ Sniper Pros 
After a thorough inspection of this offer, I can say that there is only one positive and honest thing about it.
60 Days Money-Back Guarantee
This product is a part of the ClickBetter marketplace. All products sold through this site come with a 100% money-back guarantee.
If you have made a mistake by purchasing this product, you can ask for your money back in the first 60 days after the purchase.
Promotes Legitimate Affiliate Business
Amazon Affiliate Marketing is legit. However, to become successful, you need step-by-step training, tools, coaching, community, and more!
A few pages of PDF are not going to help you on your mission!
AZ Sniper Cons
To summarize everything that's wrong with this offer, I'm going to show you why I think that AZ Sniper and others alike are a scam.
Unrealistic Income Claims
The person who is behind this offer is flashing big numbers trying to convince you that you can make the same money if you buy this product.
In reality, the truth is far away from what you can hear from him.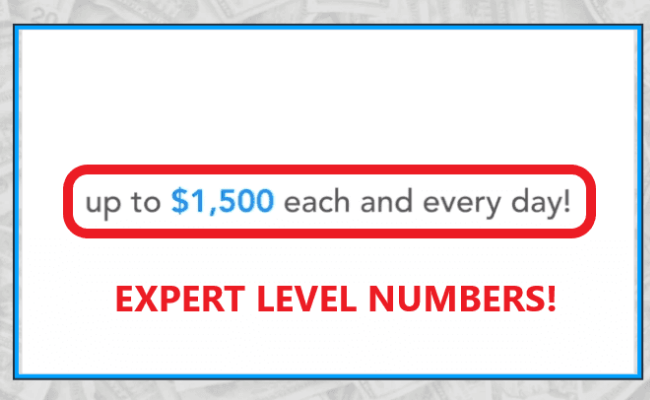 Thousands per day are unrealistic claims which come without any evidence.
These claims are highly misleading and hard to achieve, especially if you are a beginner at affiliate marketing.
It takes years to reach that level of earnings, so don't believe anyone who is trying to sugarcoat the truth.
That said, if you bump into Click Wealth  System, don't believe them either!
Misleading Information
The owner is going to tell you how you can start making money with AZ Sniper from just 10 minutes of work each day.
That statement is only one of many highly misleading claims which have nothing to do with the real world.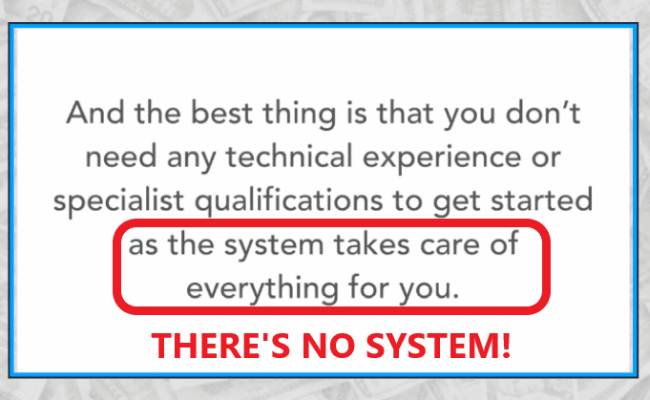 Affiliate marketing is not something that you can do for 10 minutes each day and expect to make money.
I'm studying in this field for two years now. It took me hours and hours of study and work each day to get where I am right now.
It's not easy to make it happen. If you are willing to invest some money in a mentor as well as a couple of hours of work each day for a year, you'll start seeing your first tangible results.
Everyone else who claims differently is trying to scam you. You can see the same dirty trick being used in Perpetual Income 365!
Stephen Ford Is a Made up Character
One of the things that indicate that AZ Sniper is a scam is a severe lack of information about the owner.
While I don't mind hearing those 'rags to riches' stories mostly because they tell that anyone with any background can succeed, I hate to see fake names and made-up stories.
You see, Stephen Ford is most likely a fake character. His life is only fiction.
The reason why they tell you those fairytales is that they want to play on your emotions.
In other words, they want you to get emotionally connected with the owner so he can sell you anything he wants.
Fake Student Testimonials
To make this offer look like it's a real deal and not a scam, the actual owner of the AZ Sniper hires actors to give the fake student testimonials.
How do I know that they are fake? Well, look at the images down below.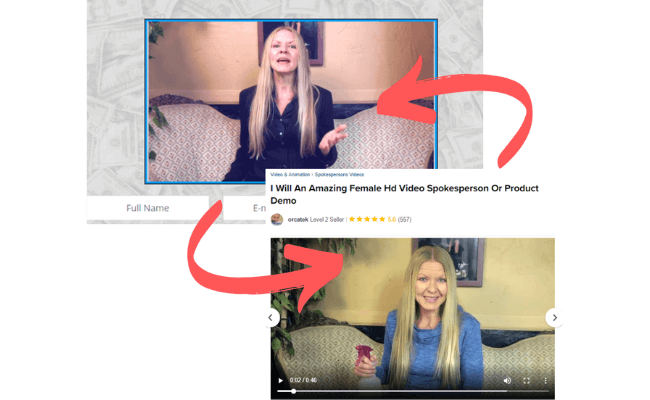 The person on the image offers the video spokesperson service on a popular website called Fiverr. She's not the only one.
Many people offer the same service for as little as $5, hence the name of the site. You can hire them to say whatever you want them to speak in front of the camera.
They speak about this offer as if it has changed their lives, while in reality, they have no clue what they're talking about.
I've seen them praising 10 Minute Paydays and Bulletproof Profits scam as well so be careful!
Expensive Upsells
All those fake testimonials, misleading information, and unrealistic income claims are designed to make you buy this product.
But as you know, there is much more to those $37 once you join.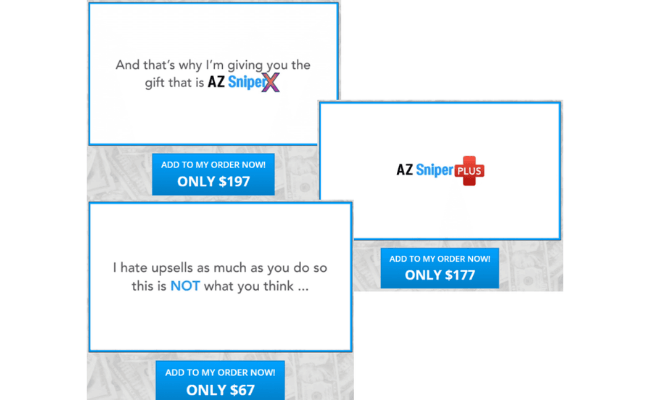 Most people have minimal experience in online marketing. They will believe in everything at the beginning.
The people who create these money-sucking funnels are well aware of the fact.
They will take it as an opportunity to make more money through those expensive upsells, which are probably worthless.
If you fall for Five Minute Profit Sites, you will see that they use the same funnels to scam you.
Is AZ Sniper a Scam?
In my review, AZ Sniper is a scam. I say this because nothing from the sales page matches the actual product in the back office.
Most of the products online promise the same things.
They'll tell you how today is your lucky day, and how from tomorrow, you'll be making thousands if you take this once-in-a-lifetime opportunity.
However, 99.9% of them are full of BS and are classified as scams. I don't believe the word they say and neither should you.
If you take a look at everything that I've laid out in front of you in my review, Az Sniper is a scam, at least in the sense of morality.
The owner is pulling your nose. He is not honest.
Furthermore, you can end up paying a lot more than $37, not knowing what you're buying or where you're going.
The offer is designed to make money for the owner and his affiliates.
The only reason why it couldn't be called a scam is that you'll get a set of PDF scripts in return for your money.
However, the information within is not enough to start making the kind of money they promise.
On the other hand, if you're looking for the best business model to earn passive income online as a beginner, there are other, more suitable, and cost-effective alternatives.
My top-rated course has helped me to go from earning $0 to $100's per day!
THE BEST WAY TO MAKE MONEY ONLINE IN 2023 >>
AZ Sniper Review – Conclusion
This program is not worth your time or money. It's a poor info-product that has little to no value in my eyes.
Whoever owns this program is only trying to scam you into spending a lot of cash.
That's not how you help people to make money online.
But at least now you know what scams look like so you could avoid the trap next time you see one.
That said, make sure to watch out for Multiple Income Funnel, and Affiliate Millionaire Club scams too!
Thanks for reading this AZ Sniper review. I hope I have helped you to learn more about what it is and how does it work.
If you have any questions about the program or maybe you can offer an experience, feel free to leave them in the comment box below.
Is There a Better Way To Make Money Online?
I know how hard it is to trust websites these days.
There are too many scams out there, especially in the make-money-online world.
I know, because I reviewed over 700+ sites so far!
Why did I review so many sites? Well, I wanted to find the best (and cost-effective) way for a beginner to start income online.
While searching for this information, I bumped into affiliate marketing.
Thanks to a decision to learn more, I went from waiting tables in restaurants to earning a full-time passive income online.
And today, I like helping people as you follow in my footsteps,
Keep reading…
How I Make Money With Affiliate Marketing
I earn online by creating simple affiliate websites that I use to connect people with products they are already looking for.
It requires no special skills or previous experience, which makes it the best way to start online.
The best thing about affiliate marketing is that it is passive in terms of results and income.
In other words, you could be earning an income from your affiliate website for years and years to come, even when you sleep.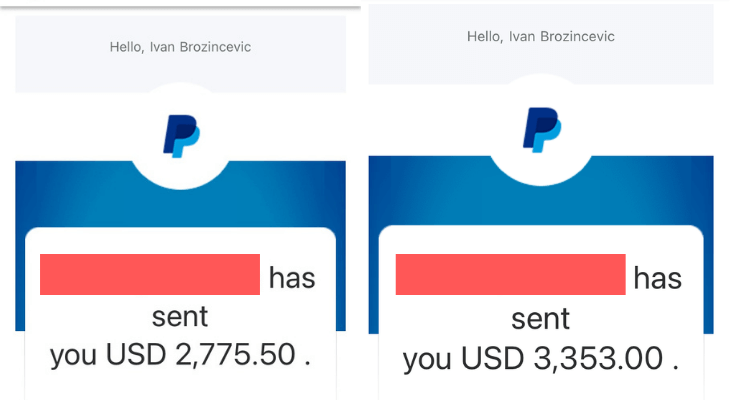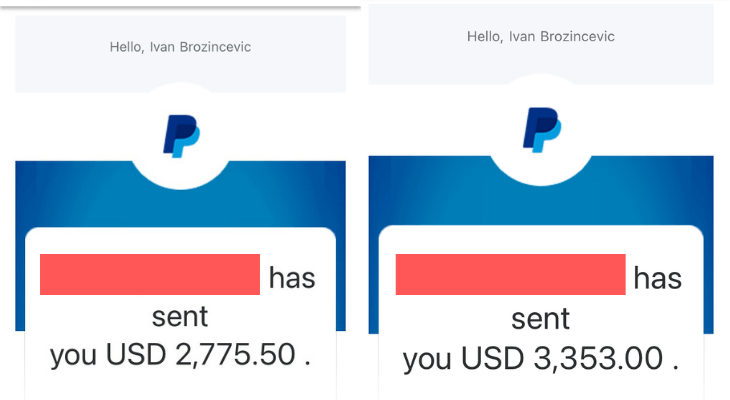 If you want to learn more about how you can start making money online with affiliate marketing, click the button below!
After evaluating over 700+ programs on the web, my conclusion is straightforward. This is the best way to start earning passive income online.
And if you're looking for the very same, I'll see you on the next page…
THE BEST WAY TO MAKE MONEY ONLINE IN 2023 >>
If you need any help or you have a question, feel free to contact me.
And don't forget to share this AZ Sniper review with your friends and family!
All the best, Ivan. Founder, and CEO @freeaffiliatemarketingbusiness.com