Super Affiliate System Review – SUPER SCAM or Make Money?
Welcome to my Super Affiliate System Review. If you are looking for an answer to the question is Super Affiliate System a scam or legit, look no further. Stay here and read more.
A while ago, I bought into the Internet Jetset training course. Maybe you too are familiar with it.
The training itself is not so bad. It's not the best, either. I've learned a few things from Crestani.
However, I've abandoned the training for many reasons, and here is number one.
IJS is bait for the SAS! And SAS is a pricy MF.
They call it 'bait & switch.' But I call it BS.
Crestani serves IJS for a low price ($47/monthyl) to get you interested. Then, he pushes SAS for a lot more!
It's not my cup of tea. You see, I'm more for honest and legit business.
Things that Crestani is doing to make a sale are crossing many lines. His greed (he has said that he is a greedy man in one of the video modules) is a reason why some people think that the Super Affiliate System is a scam.
Let's start this Super Affiliate System review and see if it's a scam or not.
Official Website: superaffiliatesystem.org
Owner: John Crestani
Is Super Affiliate System a Scam?
Super Affiliate System is not a scam.
Many people think that it is because they've purchased Internet Jetset and they haven't made any money with it.
As you know, IJS is a part of the system, but it's only the first step of the system.
Remember BS?
Like I've said, it's not the business blueprint that I like and respect, but that's how it is.
What Is It Then?
It's an affiliate marketing training program that can teach you how to start with a paid advertisement through Facebook, YouTube, and Search Engines. In other words, for those of you interested in PPC.
It's the six-week training module. John is teaching how to find products that convert, and then how to create sales pages with connecting ads to sell that same.
Most of the products are coming from ClickBank.
I'm going to cover all the details about the training later in this Super Affiliate System review. Let's shift the gear and see who is the most suitable candidate.
Who is Super Affiliate System for?
It's for people who like the idea of PPC. The perfect candidate should be a person who knows what he is doing.
The course itself is expensive. Moreover, you'll have to invest a couple of hundreds in paid ads during the course if you want to make it work for you.
So to sum up quickly, it's for people who are ready to invest and have previous internet marketing experience.
MY #1 RECOMMENDATION FOR MAKING MONEY ONLINE!
What's Inside the System?
Super Affiliate System covers everything from an essential website set up to learning how to run a paid advertisement and finally, making money online. It includes over 50 hours of training.
Crestani started with his training system back in 2015. For the last fours years, he is continuously improving his methods.
You'll get access to a free webinar where John is going to explain how the whole system works. He'll give you some food for the thought before you decide to jump in.
That is if you choose to join.
If you decide to start, you can purchase the SAS straight away. You'll get the basic training as well (Internet Jetset Review).
Or you can take the Internet Jetset for a lower price if you want to start slow. Then, when you learn the basics, you can upgrade and start learning from intensive six weeks training on paid advertisement.
Down below is a list of the modules.
How to get everything set up
Niche research, mindset, intent, and networks
Basic copywriting skills
Facebook ads
Native ads and YouTube
Scaling and automation
Bing, Taboola ads and LinkedIn
Bonus Features
SAS is continuously evolving. As it grows more, John is throwing in some cool special features like resources, weekly webinars, and other bonuses.
Ready To Run Campaigns 
Together with the training in a paid advertisement, you'll get a few ready to launch campaigns already done for you. Because Crestani emphasizes on quick success, he's doing everything to prove his point. He'll give you access to ads, targeting campaigns, landing pages, and offers.
Weekly Workshops
Like every other fair affiliate marketing training course, Super Affiliate System is running a webinar per week. Within those webinars, you'll get a chance to receive live updates, tips, and tricks from real millionairess, news about top current top offers, and more!
Access To Community
John has prepared a live group on Facebook. Many members share their experience with the system.
Super Affiliate System Review
Now then you know what is this corse about, we can get into the more detailed walkthrough. As I've said already, the course runs through six weeks.
Also, be ready for further investment. You'll have to buy a brand new hosting for your site. And, you'll have to prepare a couple of hundred more for advertisement.
Week One:  Affiliate System Set Up
During the first week, you and John are going to go over some basic requirements for your new affiliate marketing business.
You'll have to buy and register a domain name. Also, you'll learn how to set up the website if you don't know. John is going to walk you through setting your Facebook ads account, finding the right networks to work with, and more.
Week two: Choose Your Niche & Offer
The right mental attitude is going to be more than necessary if you want to follow through. People tend to give up because they are not prepared for it.
Also, you're going to go over niche research. In this module, you'll get to know your future users in more detail.
Week three: Copywriting & Marketing Skills
You're going to meet one of Crestani's friends and successful 7-figure copywriter, Ronnie. He's going to teach you some necessary copywriting skills.
John, on the other hand, is going to show you his copywriting formula that works for him every time!
Or at least he claims so.
Week four: Google and Facebook Ads
When week four comes in, you should be having your grounds ready. It's going to be the time to start getting more familiar with Facebook and Google ads.
John is going to show you a few case studies. And his guest, Brian, is going to walk you through the process of making $100k per month on Facebook ads.
Week five: Native and YouTube Ads
In week five, your advertisement skills are going to reach another level with native ads. John is going to teach you how to set them up properly.
He's going to show you the secrets of YouTube so you can reach the maximum ROI.
Week six: Scaling and Setting the Autopilot
By the end of week five, you should be having an effective campaign in your hands. Now it's time to learn how to scale your business from $1k to $20k.
John is going to show you a few case studies, as well as ways how to use survey funnels to do so.
MY #1 RECOMMENDATION FOR MAKING MONEY ONLINE!
Super Affiliate System Pros
Working sales system
Step by step course
Private community
Weekly live webinars by John
Super Affiliate System Cons
It's expensive
Additional investment required
Not for beginners with zero knowledge
Unrealistic earning claims
Super Affiliate System Price 
Now, here's the deal.
If you decide to spend $997, you'll get complete access to all the features.
This deal includes live webinars, private community, basic and advanced affiliate marketing training, live help, bonus material, and more.
For $997 one time, you'll get the Internet Jetset as bonus material.
As I have mentioned for a few times so far within this Super Affiliate System review, you'll have to make sure that you'll have at least $1k on the side for additional costs.
By this, I mean that you'll have to buy your hosting. There are different hosting available, but John recommends ClickFunnels, which is one of the best online. It's an additional $97/per month.
Then, you'll have to buy a domain as well, which is around $15/yearly.
In the end, your most significant investment will be the advertisement itself. You can expect to spend between $1-2K on a paid advertisement across Facebook, YouTube, and Google.
If you want to get the best results from this system, you'll have to be sure that you'll come well prepared. And by this, I mean that your stack is high.
Do I Recommend Super Affiliate System?
Huh, it's a tough question. My answer is yes and no.
Yes because you can actually learn how to sell ClickBank products using PPC methods. The course is legit and it has value.
No because of the way how it is promoted.
Is There Something Cheaper and Beginner-Friendly?
Thanks for coming to the end of this Super Affiliate System review.
If you are looking for something better than SAS, which doesn't require too much of initial investment, I have an excellent recommendation down below.
My recommendation is ideal for complete beginners with zero knowledge!
The best thing is, you can start for FREE.
After you join with a free account, you'll be offered to take PREMIUM membership for only $19 for the first month.
Afterward, it'll be $49 per month. No upsells, no hidden costs!
Here is what you will learn at Wealthy Affiliate.
Firstly, you'll be choosing a niche.
A niche in affiliate marketing is an area of interest. For example, my niche with this website is affiliate marketing training courses. After you pick a niche, you are going to find affiliate products. Those products will be your offer and one of the ways to make money.
Secondly, you'll be building a website.
A website is not too hard to build. We will develop and maintain your site for you. All you have to do is choose the name, pick one of the preset themes, and the rest is on us. We are going to show you how to handle your site so you can approach the next step.
Thirdly, you'll be attracting visitors to your site.
The first roadblock to all brand new affiliate marketer is finding the right source of traffic. We are going to show you well-kept secrets to unlimited FREE TRAFFIC from the internet. However, you'll have to work to get it. It takes time to create a free flow of organic traffic, but it's worth it.
Fourthly, you'll be selling the products of your choice to your visitors to make money!
It takes a bit of time to learn the skill of selling on the internet. In my opinion, Wealthy Affiliate is the best place online to learn the talent that will stay with you forever. We are going to show you how to do it in the most ethical and honest ways possible.
Ready to Start Your Online Business?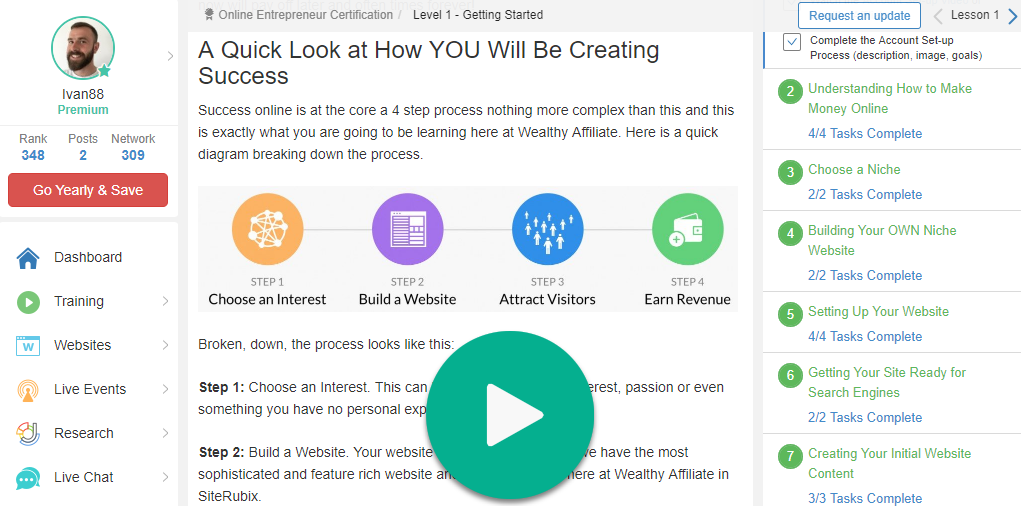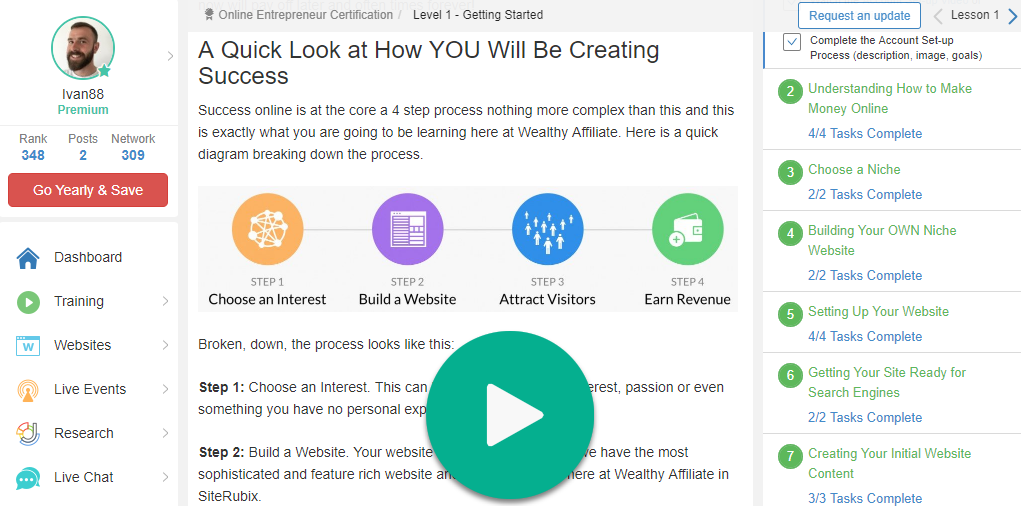 PRESS PLAY TO LEARN MORE!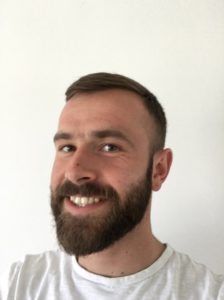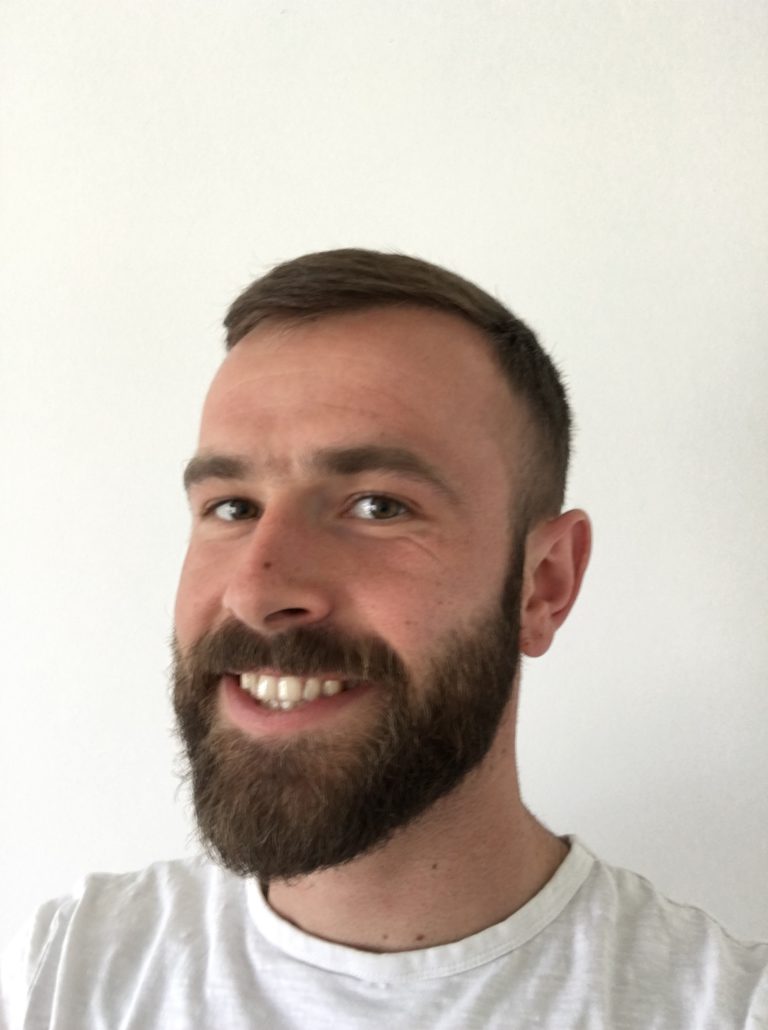 I wish you a successful online marketing journey!
If you need any help or you have a question, feel free to contact me!
All the best,
Ivan,
founder, and CEO at
freeaffiliatemarketingbusiness.com