Welcome to my Bing Bang Profits review.
What is the most critical part of every digital marketing campaign? Is it the offer? Could it be the sales pitch? Or is it the number of views your sales pitch and offer get each month?
If you have said the latter, then you're well on your way to success online!
However, there is a small problem…
Most people get enthusiastic when starting with online marketing. But the majority fall off the train as soon as they reach the roadblock called traffic generation.
Getting leads to your offer is one of the hardest tasks you'll encounter. That's why you have to have at least a few aces in your sleeve, and Bing Bang Profits could be one of them.
So the main question in this review is: Is Bing Bang Profits a scam or a legit way to get leads & sales?
In a nutshell, this program is specialized in teaching you how to get leads and sales from Bing! Yes, from Bing!
If you have neglected this search engine, then you're probably missing a lot of traffic, and with it, a lot of earning opportunities.
But first, who am I? And why should you listen to me?
Hi, I'm Ivan! I'm a successful affiliate marketer. I went from waiting tables to earning a five-figure income online with my affiliate marketing business!
Moreover, I have also reviewed 500+ schemes and scams to find the best way to make money online. In other words, I'm passionate about affiliate marketing and helping you to follow in my footsteps!
So without further ado, let's jump into this Bing Bang Profits review to see could this program help you to get more sales and leads or it is a scam.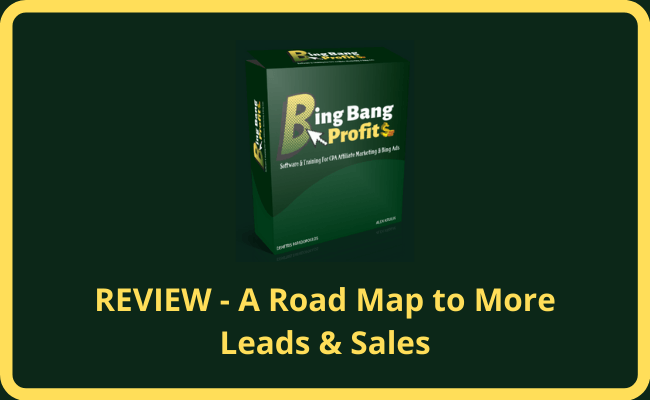 Bing Bang Profits Review – Overview
Product Type: Affiliate Marketing
Owners: Demetris Papadopoulos and Alek Krulik
Price: $47 + Upsells
Money-Back Guarantee: 60 days
Recommended: See below
Quick Summary: Bing Bang Profits is a training program that is focused on showing how to start earning an income online by promoting products via Bing ads.
✅ I like the fact that this program was created by two guys with a real online experience. Moreover, their training is well organized, and even includes case studies that you can use as guides to your own success.
Another thing I like about BBP is that it is covered with ClickBank money-back guarantee. You don't have to jump through hoops in case you change your mind about this program.
? I don't like the fact that the sales page is overhyped and a bit misleading in terms of the speed of results. Like with every other business, there is a learning curve, so you can't expect fast results.
Also, as a fan of free traffic and SEO, and a successful SEO student, I prefer working with search engines and their users on free traffic.
So is Bing Bang Profits a scam or legit?
In my opinion, Bing Bang Profits is a decent course that could help you to understand how to make money online by running ads via a second-largest textual search engine.
I don't see any reasons why to call Bing Bang Profits a scam.
And with this Bing Bang Profits review, I'm going to show you how this software could help you to master (hopefully) the art of selling things via paid ads.
Alternative: If paid ads are not for you, click the button below to earn an income online with free traffic from Google, Bing, and Yahoo! I use this exact system to earn $1000's each month from my websites!
THE BEST WAY TO MAKE MONEY ONLINE IN 2023 >>
What is Bing Bang Profits?
Bing Bang Profits is software that instantly creates profit-optimized ads on Bing that have the potential to bring you, according to the creator, a massive ROI.
The software helps you to create multiple Bing ads almost instantly.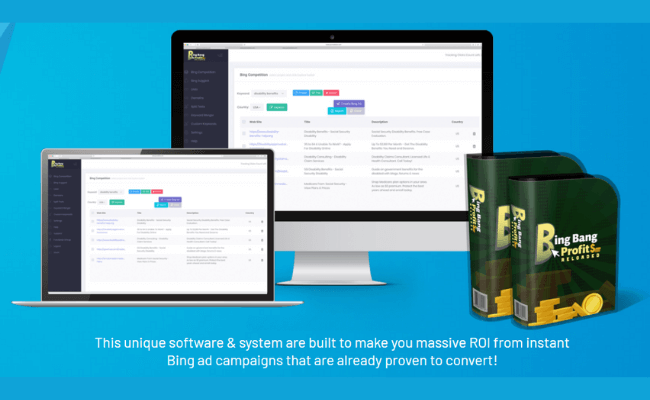 You can use this piece of artificial intelligence to find profitable keywords, spy on your competition, and thus, increase the chances for success.
Bing Bang Profits software comes with training as well, so you don't have to worry about being alone in this.
They will show you three steps that you can take to create your Bing ads campaigns, which, if applied to the letter, could bring you more leads and sales.
And as much as I don't like paid traffic, I understand that there's some potential there to get traffic as well.
I personally prefer SEO and free organic traffic, which unfortunately is not covered within the Bing Bang Profits program.
However, it seems like a legitimate course, which is a great sign.
If you want to master free traffic generation and SEO, check out Wealthy Affiliate instead. WA is my #1 recommendation and leading SEO training company today.
So can you make money with this software? Keep reading this Bing Bang Profits review because will show you some features of the software and how it works in practice too!
Why Bing Ads?
You can look at Bing as Google's little brother if you wish. Bing is not as large and popular as its big brother, but it still gets 30% of the market.
And when it comes to using these channels for getting leads and sales, the difference is also massive.
First of all, Google is dominated by big brands and authority sites.
This means that getting free traffic from Google is harder, but not impossible.
And if you wish to leverage the world's largest search engine to get leads using paid ads, you'll still have to fight with a lot of competition.
This also means that you'll have to spend more money on Google ads compared to Bing ads where there is less competition.
Bing is an excellent alternative for rising marketers to take their piece of the pie. 30% of search traffic is still enough to get a substantial amount of leads and sales.
This is something the owners of Bing Bang Profits have realized too. Speaking of which…
About Demetris and Alek
Demetris Papadopoulos and Alek Krulik are creators and owners of the Bing Bang Profits training program.
They have created Bing Bang Profits to show you how to use the Bing ads platform for selling something, offering something, or just being an affiliate to generate commissions online.

Demetris is an affiliate marketer, blogger, and online entrepreneur.
He's been using Bing ads to direct traffic to his blog, generate leads, sell offers, and make commissions through landing pages for various CPA offers or affiliate marketing product reviews.
And as a result of his experience in getting leads and sales from Bing, he's partnered up with Alek on this program to share this tool and their experience with us.
That said, keep reading my Bing Bang Profits review to learn more about the software and how it could help you to get more traffic, leads, and sales.
Related: Traffic Ivy Review
Bing Bang Profits Review – Program Features
The main feature of Bing Bang Profits is the software that helps to create profitable Bing ads in a matter of minutes.
And the main idea behind the software is to help you to get access to profitable keywords that you can use to create Bing ads.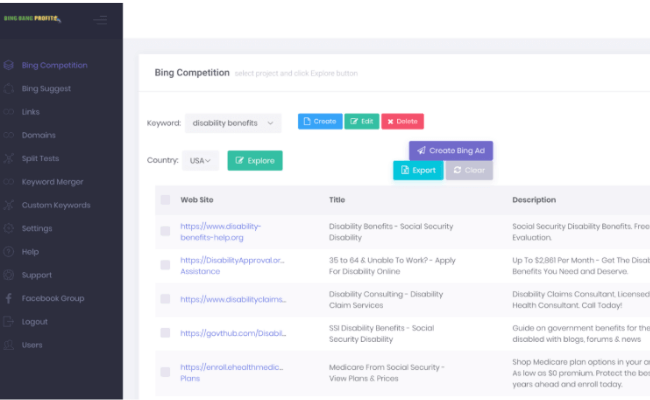 It starts with a niche first. The software will then analyze the existing ads and give you an end to your competition.
If your ad is successful, you could get traffic, leads, and possibly even sales.
But that's not all that Bing Bang Profits brings to the table. Here are some of the key features that characterize this program.
Bing Bang Profits Training
The problem with most tools and software out there is a lack of training and instructions on how to use the tool properly.
With Bing Bang Profits software, however, you don't have to worry about that.
Demetris and his partner include over-the-shoulder training where every detail of the Bing Ads is explained so that everyone can understand.
The Secret Formula To CPA Marketing
The creator has been using Bing ads and CPA marketing to earn an income online.
And with this feature of the program, he's going to share his secret formula for success with CPA and Bing!
Real Case Studies to Follow
Not only that they include their own examples, but they also include a set of case studies too.
This feature is useful because it allows you to see how others have benefited from Bing ads and this software.
Done For You Campaigns to Copy
In the basic training inside Bing Bang Profits, you'll be able to copy Demetris's exact template and campaign.
You can simply copy his template and campaign to get results with a CPA Affiliate Marketing offer that converts, as part of your entry to CPA Affiliate Marketing and Bing.
Create Multiple Ads of Bing Instantly
The cool thing about Bing Bang Profits software is the feature that allows you to create multiple Bing ads almost instantly.
You don't even have to go to Bing to create your ad and your CPA offer because everything is done within the software.
Spy on Your Competition
Another feature called Spy on Your Competition will get you real-life insights into winning ads of your competitors.
This feature could be used to determine what landing pages they are using, and more, so you can use them yourself.
Scrape Profitable Keywords
Every successful campaign starts with profitable keywords, and this feature will help you to get started on the right foot every time.
BBP software will show you the winners right from the start.
And in the next section of the Bing Bang Profits review, I'm going to show you how this software works in real life.
Related: Six Figure Formula Review
How Does Bing Bang Profits Work?
Inside Bing Bang Profits, Demetri will show you a way to generate leads and sales, using cloud-based software and over-the-shoulder training, in 3 steps.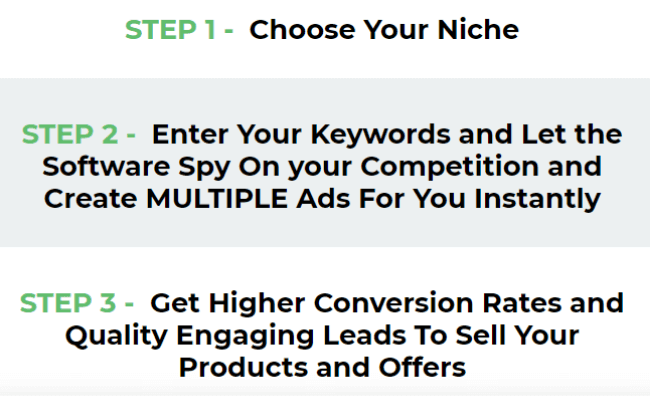 You can use these steps to generate leads, sales, build email lists, make money with CPA, and more.
Just a warning, these steps might sound easy, but in reality, this will take some time to work and to pay off as well.
So please, don't take this software as some trick to getting rich quickly because it'll disappoint you if you do.
Step 1. – Choose Your Niche
The first thing you need to do before implementing the software is to choose your niche.
Your niche could be anything you want since the software works well in any niche out there.
The point is to find niche-related keywords that you can use to create campaigns on Bing to direct the traffic to a specific offer or a product.
Step 2. – Enter Your Keywords & Create Ads
Once you have chosen your niche, you can use Bing Bang Profits software actually to create your ads.
The software will help you to create the Bing ad from scratch, which means that you don't have to do a lot on your own since to software is completely automated.
This step is critical because your entire campaign depends on your ads.
Step 3. – Get Higher Conversion Rates and Quality Engaging Leads
Now that you have an offer and ad in place, you should start running your ads on Bing.
And once you do so, Bing users will start clicking on your ads and visit your landing page as well.
If all goes well, the last step of the process is generating revenue by promoting the product and offering a service to your visitors.
But as I have highlighted already in this Bing Bang Profits review, this is a rather complicated process.
So don't expect fast profits with this software as that would be unrealistic.
Here's a quick demon of Bing Bang Profits software in case you want to learn more:
Who Is Bing Bang Profits For?
Bing Bang Profits is basically for everyone who wants to earn an income online using Bing ads.
More specifically, this program and software are for:
CPA marketers
Affiliate Marketers
eCommerce owners
Email marketers
Bloggers
Since the program is focused on Bing ads only, this means that it is for those of you who are interested in a paid advertisement.
Now, let's shift the focus of this Bing Bang Profits review to features and everything else you need to know about it.
Related: Paid Traffic Mastery Review
Bing Bang Profits Review – Price and Upsells
If you are still interested in this software, this section of my Bing Bang Profits review is all about the price and additional upsells that will be offered to you once you get inside.
To get access to the software, training, and all those features mentioned above, you'll have to shell out $47 one time.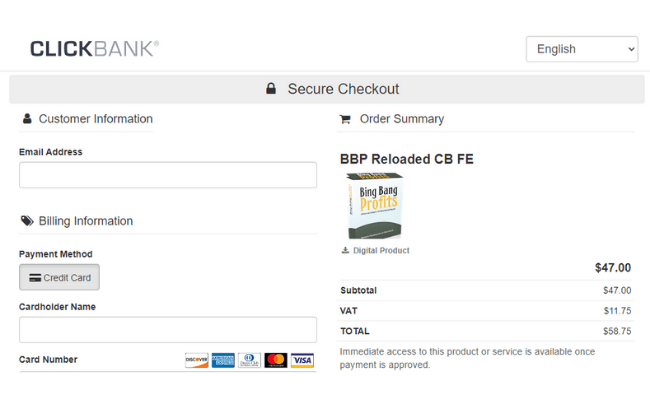 And then, guys will give you an option to upgrade your purchase with these upsells.
Bing Bang Profits Tracking ($47)
Some of the features of this offer are:
Built-in software for tracking affiliate links
Easily track entire sales funnels
Real-Time Stats
Advanced postback URL tracking
Dynamic affiliate links
Reveals all final URLs from all offers
Find which keywords converted for you
Inject tracking into your already existing ads campaigns
Bing Bang Profits Split Testing ($37)
Here are a few features that come with this offer:
Split testing your Ads and Keywords
Extra training that explains the process
20 DFY Bundle ($67)
Inside of this offer you get:
20 high converting offers you can copy and implement yourself
Access to advanced email list building training
Basic tracking winning keywords in your Bing Ad Campaigns
Inner Circle Private Group Coaching Group (Q&A)
Three real case studies for you to follow
Limitless Real Traffic Service + Inner Circle + Affiliate Blog Building Training ($197)
Some of the features of this last offer are:
Unlimited free targeted traffic to any of your websites online 1 Year
24/7 Real traffic with our traffic service
Bonus training on how to set up your first niche based affiliate website
Free High-End theme to help you with website building.
Private inner circle group, and live Q&A sessions
Major personal training courses will be unlocked

Bing Bang Profits Review – Pros and Cons 
Bing Bang Profits is indeed a great tool that helps to create Bing ads faster and with more precision.
However, you should be aware that this software is not going to be some magic tool that is going to make you rich by tomorrow.
What I'm trying to say here is that you shouldn't attach yourself to those claims from the sales page too much.
Like every other product out there, this one has a few pros and cons which I want to show you with this section of my Bing Bang Profits review.
Pros:
Over the shoulder training
Real-life case studies you can learn from
Additional features and resources
Software is cloud-based and relatively easy to use
Owners have experience with Bing ads, CPA marketing, affiliate marketing, etc.
30-day money-back guarantee
Cons:
Overhyped sales page
No Google ads feature or training
Requires a substantial budget
Not 100% sure to get results
No free traffic methods like SEO
Is Bing Bang Profits a Scam?
Bing Bang Profits is not a scam. In fact, there is zero evidence that could point at a fraudulent activity or any dishonest intentions of the program.
One of the main reasons for saying so is the owners of the tool. Demetris and Alek are two real digital marketers. I other words, they know how to leverage Bing traffic to make money online.
That said, for $47, you get access to a training course that shows exactly what it promises on the sales page – how to get more leads and sales using Bing Ads.
In addition to the course, you get instant access to case studies, bonuses, and even a software tool.
The only thing that is a bit scammy, in my opinion, is instant upsells. I don't like them as they are generally designed to make more money for owners.
But in this case, they contain value and could be a useful addition to the course.
Alternative: On the other hand, if you're looking for the best business model to earn passive income online as a beginner, there are other, more suitable, and cost-effective alternatives.
My top-rated course has helped me to go from earning $0 to $100's per day!
THE BEST WAY TO MAKE MONEY ONLINE IN 2023 >>
My Personal Opinion on Bing Bang Profits
Now here we are at the essential part of this Bing Bang Profits review where I'm going to share my personal opinion about this software.
As I said at the top of this review, you should always have a few options in place. Having more than one option where you can turn for more leads and sales is going to be beneficial in many ways.
Not only that you get more traffic, but you also get an alternative traffic source in case your primary method fails.
I can see the value in this software as it helps to get done with the hardest part of setting up the Bing Ads campaign.
In my opinion, BBP is a good program and useful software that helps to get more leads and sales. That said, Demetris and Alek are experienced marketers that could help you to start and advance online.
But as I said, this is not a quick way to riches, just remember that.
Related: eCom Success Academy Review
Bing Bang Profits Review – Conclusion 
First of all, thanks for reading my Big Bang Profits review. I hope this article was helpful for your research.
Even though I usually don't recommend paid traffic to newbies, this program seems to be suitable for beginners as well as advanced marketers.
That said, I would recommend this program. The owners are legitimate and they could teach you a thing or two about making money with Bing ads.
I'm personally not a big fan of paid ads, which is why I recommend something else below!
How I Make Money With Free Traffic
If you ever wondered how to make money with free traffic from search engines, wonder no more!
The program that I recommend as my #1 solution for making money online with affiliate marketing is 100% based on free traffic from SEO and blogging.
The best thing about this method is that it's FREE and EVERGREEN!
Below is the screenshot of my Google Search Console and my results with SEO.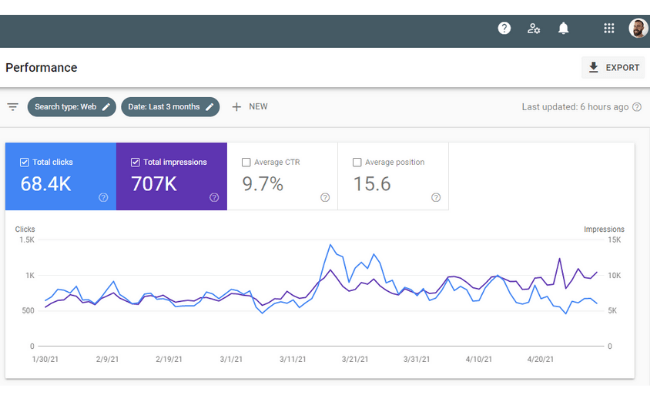 Basically, I'm creating content on my websites to help internet users to solve their problems and answer their questions. In turn, I receive thousands of clicks per month for FREE!
The best thing about this method is that it is passive in terms of results and income.
In other words, you could be earning an income from your site for years and years to come because this method is so POWERFUL and overlooked by many marketers.
Just take a look at commissions that I earn passively all thanks to my #1 recommendation.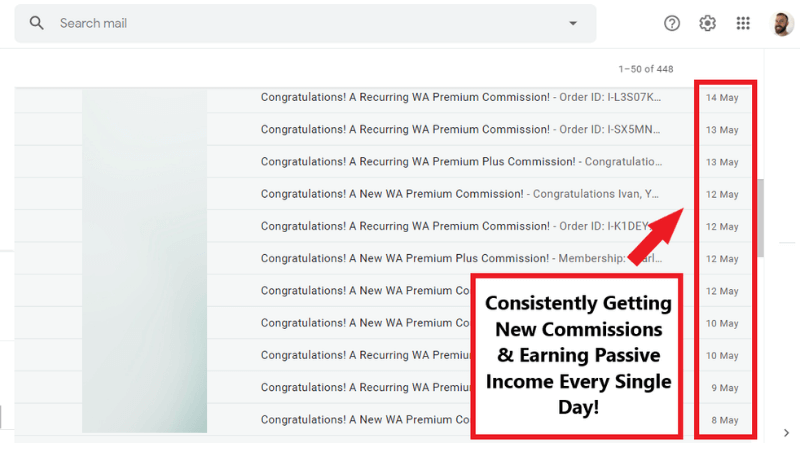 If you want to learn more about how you too can start leveraging SEO to get tons of visitors to your website and make money online, click the button below!
Among the best features of my # 1 ranked course is that you can take it for a test drive (just a $49 Premium subscription).
You will get one complimentary site and access to the very first ten lessons from the course to try things out.
After evaluating over 500 programs on the web, my conclusion is easy. This is the best course to learn about ins and outs of affiliate marketing.
And if you're looking for the very same, click the button below!
THE BEST WAY TO MAKE MONEY ONLINE IN 2023 >>
If you need any help or you have a question, feel free to share them in the comment box below.
And don't forget to share this Bing Bang Profits review with your friends and family!
All the best, Ivan. Founder, and CEO @freeaffiliatemarketingbusiness.com
Related: Traffic Authority Review