Welcome to my SEO That Works review. Who is Brian Dean? Can he help you to succeed with SEO? Is his program the best out there? Above all, is SEO That Works a scam or legit? You're in the best place to find out the truth…
SEO is a powerful game. Once you master the rules set by search engines such as Google, Bing, and Yahoo, you're guaranteed massive success online.
That's exactly what Brian Dean – the creator of SEO That Works – has done.
And with this course, he wants to teach you the exact strategies he uses every day to grow his online business. Should you trust him? Is this course worth the time, money, and effort?
Before I share my views, who am I? Can you trust my opinion?
Hi, I'm Ivan and I'm an online marketer who went from losing my time waiting tables to running a thriving online affiliate marketing business.
In the meantime, I have actually tried and reviewed 600+ courses, scams, and even pyramid schemes to find the very best way to generate income online.
In this SEO That Works review, I'm going to show you what exactly Brian Dean's course is all about. Moreover, you will get a chance to take a look inside, and more!
By the end of this review, I'll share my conclusion and a few pros and cons so that you make an informed decision. Also, I will share my best recommendation for getting free traffic through SEO and earning passive income online!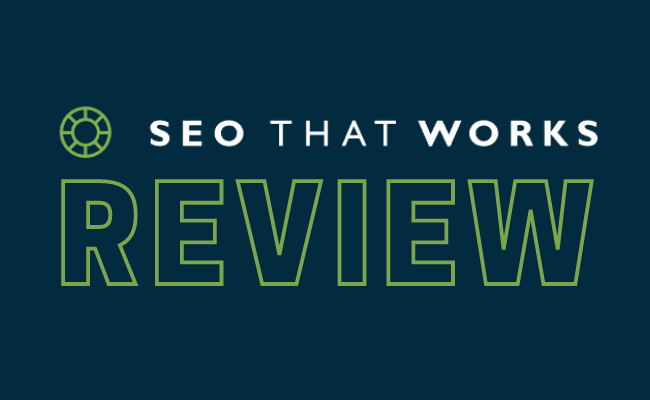 SEO That Works Review – Overview
Product: SEO That Works
Type: SEO training course
Owner: Brian Dean
Price: Learn more here
Money-Back Guarantee: no
Recommended?: Yes
Overview: Without a doubt, SEO That Works course by Brian Dean is one of the best content creation and search engine optimization courses out there. It's 100% legit and recommended.
Just keep in mind that the course is pricey. Furthermore, the content is not really suitable for SEO newbies.
Other than that, everything about this course is great. Brian is the top expert. His course is comprehensive. And people are getting results with SEO That Works. Keep reading my review to learn more!
Update 2022: Brian Dean has announced that he has released an updated version of the SEO That Works course (4.0), but enrollment is still closed. As soon as it opens again, I will bring you new updates in my review.
Alternative: On the other hand, if you're a newbie who is looking to earn passive income online, there are other, more beginner-friendly, and cost-effective alternatives. My top-rated course has helped me to go from earning $0 to $100's per day!
THE BEST WAY TO MAKE MONEY ONLINE IN 2023 >>
What is SEO That Works?
SEO That Works (STW) is a search engine optimization program created by Brian Dean. Up until now, there have actually been three modifications to this search engine optimization training course.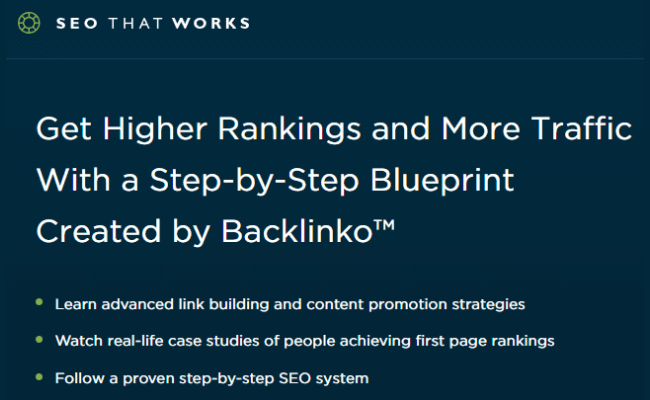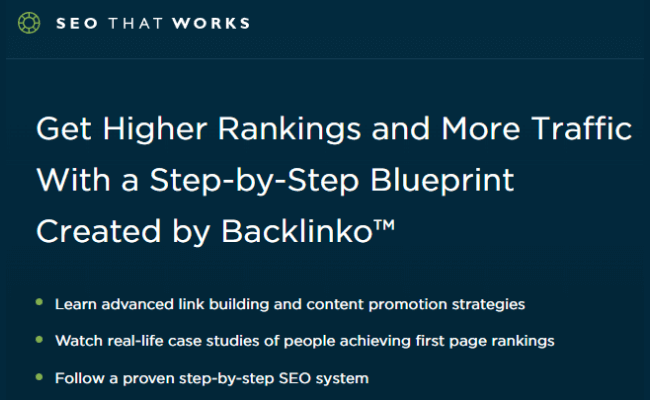 So what makes this course stand out amongst others?
Well, since a lot of internet marketers and bloggers rely on search engine optimization they recognize the value of SEO in their content. Therefore, they pay lots of cash to work with experts to give them premium search engine-optimized knowledge.
Still, the majority of people and their articles never rank on the first, second or third page of Google. Unfortunately, there's only room for a few selected websites.
So how can you get the best SEO results for your web pages without needing to linger months for them to rank?
The answer might be Brian Dean's SEO That Works course.
You see, Brian teaches reliable content advertising strategies. Brian's method is based on building extremely solid web content called The Power Pages and advertising the same to generate a ton of backlinks.
The same has been taught in Matt Diggity's Affiliate Lab course as well.
I will be talking about the exact step-by-step process later in my review of SEO That Works. Let's meet the creator of this course first, shall we?
Who Is Brian Dean?
Profiled as an "acknowledged SEO specialist" by Forbes, Brian Dean is an SEO professional that stands behind the SEO That Works program, and a super-popular website in the digital marketing niche – Backlinko.com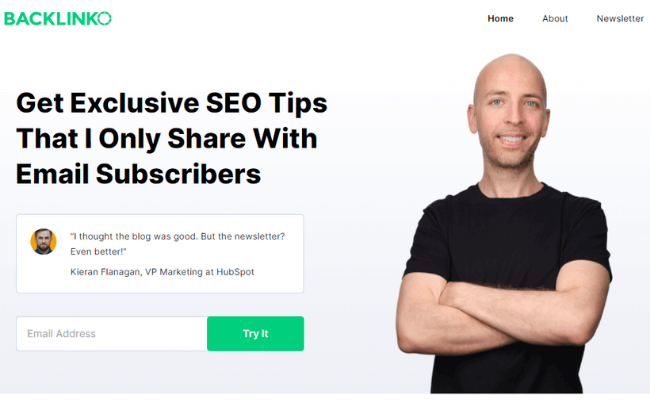 If you have ever googled anything related to search engine optimization, you have probably bumped into Brian's work.
One of the most popular searches in this niche on the internet is "On-Page search engine optimization" as well as "Link Building." And guess who holds the top results in Google? Brian Dean!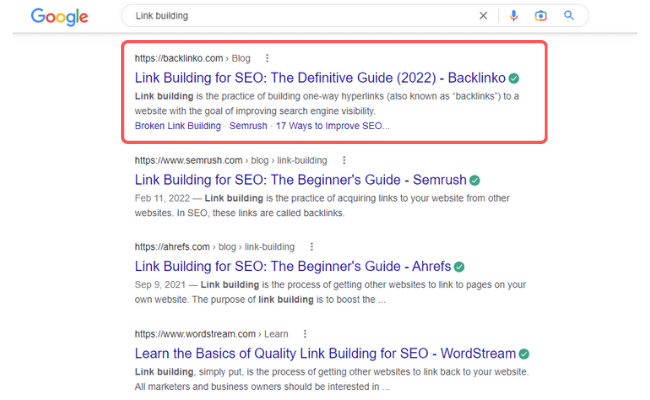 And if you have noticed, Brian has actually defeated various SEO experts in Google positions for these highly-competitive keywords.
Furthermore, Brian Dean owns a super-successful YouTube channel as well. On this channel, he shares a ton of value in form of video tutorials, guides, case studies and more.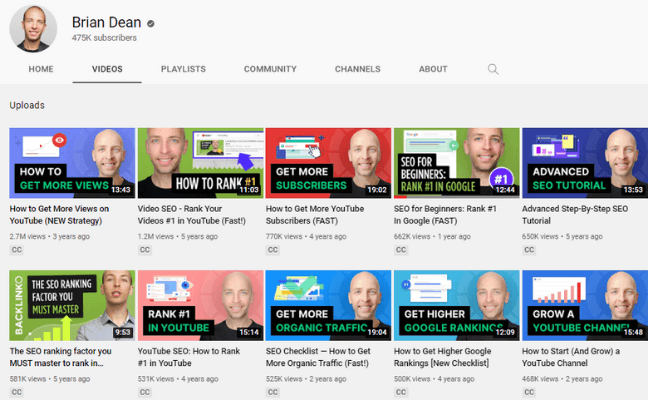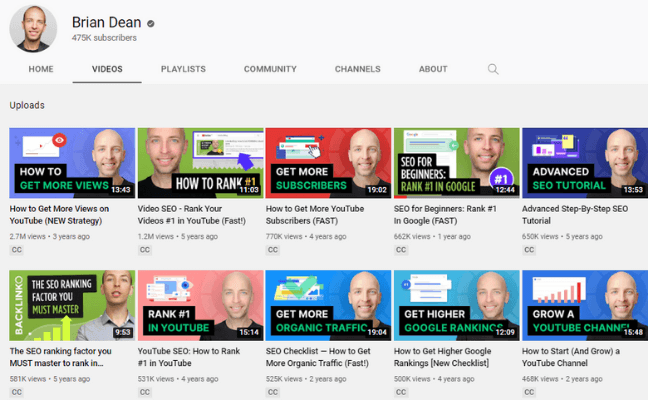 At the moment of writing my SEO That Works review, Brian's channel is a few subscribers shy of 500K!
That said, we can all agree that he's actually the top expert in the SEO niche.
Moreover, his trainees have currently become search engine optimization specialists themselves whose websites have positively achieved higher positions in SERP. In other words, Brian's course really works.
However, coaching is not the only thing that Brian Dean is involved in. He also has an agency that provides SEO solutions to services that are looking for the highest rankings in their niche markets.
Just look at some of the reviews from prominent sources he's worked with…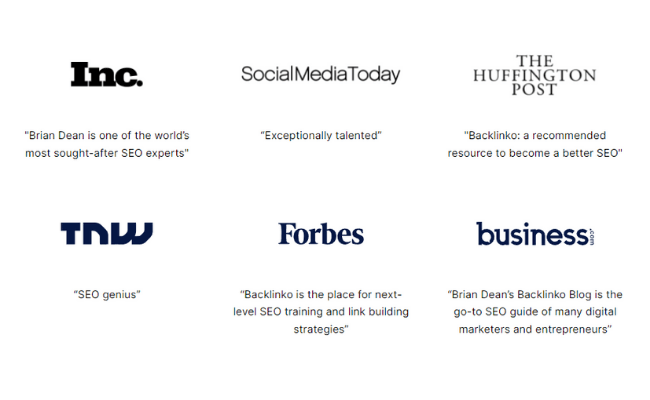 In the SEO That Works training program, Brian teaches not just the very best search engine optimization practices. He likewise shows his own techniques on exactly how he achieved the best results in Google.
In Brian's training course, you will get access to the precise same techniques that he used, consisting of search engine optimization methods for your social media platforms.
What Can You Learn From SEO That Works?
In the SEO That Works training course, Brian starts with a review of the standard SEO and backlinks and a comparison of this to his very own strategy that works.
Also, he will give you an SEO study to additionally back up this claim.
What Brian's ultimately educating in this program is what is called content advertising. The ultimate goal is to generate powerful backlinks to your own content.
In other words, Brian's technique is about constructing solid web content, what he calls The Power Page. Then you market that power web page to various other bloggers & influencers within your specific niche to link to and advertise on their sites.
The keynote is, bloggers are always wanting to link to extremely reliable content because it increases their integrity (if somebody else is supporting their position or insurance claim) and it makes them show up smarter if the web page is truly great.
This is not guest posting, however. In fact, Brian does not educate you on uploading your content on other sites in any way.
His strategy is about how to develop power pages with built-in "share sets off." Share triggers are features inside the content that makes us want to share it online.
You see, brian has identified the top share causes and different material framework that makes articles be shared significantly more than usual. Before I share more about that, let's go over the next section of my SEO That Works review to see what's inside!
What Is Inside SEO That Works?
Inside the SEO That Works, you will get access to four training modules. Furthermore, Brian shares some case studies, access to a private community, and more.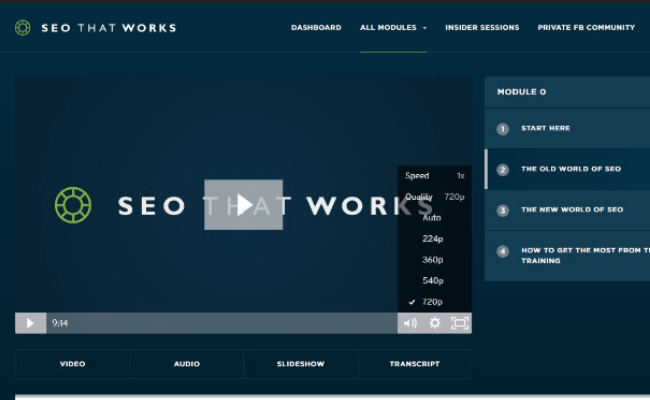 Module 0: Introduction
The first module is about the 3 common search engine optimization mistakes that hold a lot of individuals back from success.
These 3 mistakes were:
Focusing too much on fresh web content
Concentrating on long-tail key phrases
Not proactively building web links
He also clarified what's working today in SEO. He described what he calls The New World of Search Engine Optimization.
Module 1: Fast Track SEO Success
This module is everything about how to get your sites to rank on the first web page of Google. And also his techniques declare it can be done within a brief amount of time.
Furthermore, he describes the "Linkreators" strategy. In other words, he shows how to create content that other individuals in your niche would certainly be excited to link to as well as share.
Module 2: How To Publish Content That Attracts Links, Traffic And Customers
Inside the second model of SEO That Works, you will be instructed on how to develop quality web content for "Power Pages" which you can make use of to generate website traffic and also authority backlinks consistently.
Also included are seven tried and tested Content Structures that effectively drive targeted website traffic. Moreover, these will help you to build links with real sites from which you can draw ideas as well.
Furthermore, Brian shows how to produce what he calls "Share Triggers." These Share Triggers are viral infographics that can be shared to generate buzz and also subsequently make you a well-known go-to expert in your particular niche.
Module 3: How To Promote Your Content And Get Backlinks From Authority Sites
This module is all about how to reach out to your Linkreators and advertise your power pages to them.
Brian shares numerous email pitches that you can utilize. He advises the quality of pitches over quantity. Developing a connection first, connecting to them on social media sites, sharing their pages & commenting significantly raise the likelihood that they will agree to hear you out.
Module 4: SEO Energizers
Lastly, Brain reveals off-page SEO methods that will most definitely get results even without too many backlinks and shares.
Among the most effective techniques is the Damp Clay Web link Structure strategy. This strategy brings link opportunities to your inbox every day.
Furthermore, you will learn how to increase the effectiveness of your on-page search engine optimization. He also instructs The CTR Magnet Method which drives even more internet search engine web traffic to your website within days.
Does SEO That Works Deliver?
Based on Brian's success alone, it is safe to say that SEO That Works delivers on its promises. Brian's innovative approaches have actually brought substantial adjustments to the search engine optimization world.
SEO That Works techniques virtually guarantee high rankings within a brief amount of time. These techniques are well discussed in my SEO That Works review so that by the end, you are able to review whether they deliver or not.
One of the most important things to mention is also Brian's student testimonials such as those below…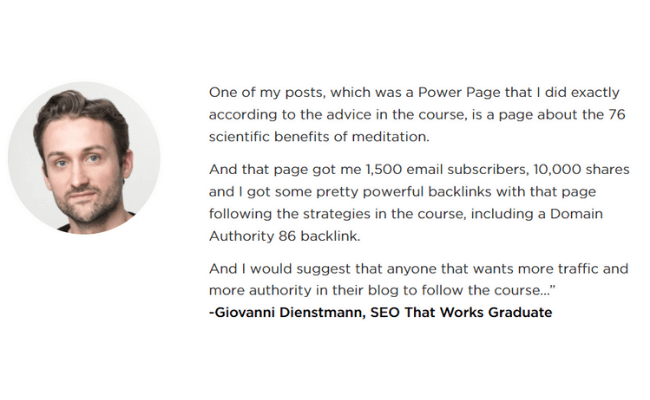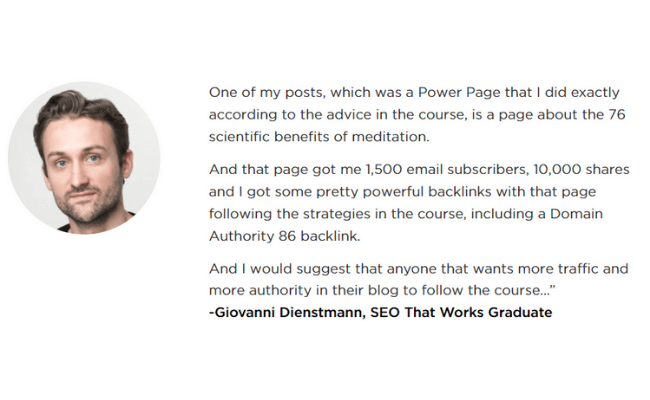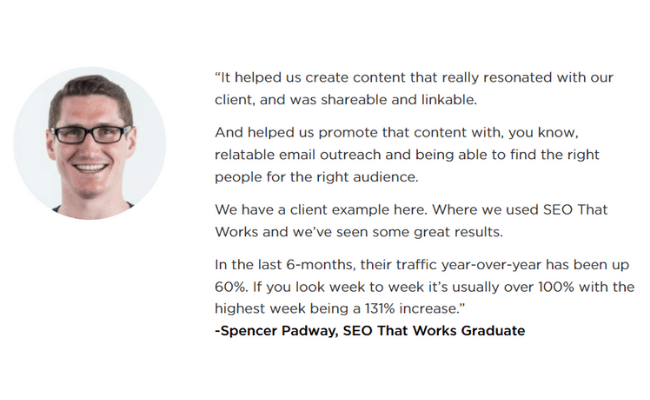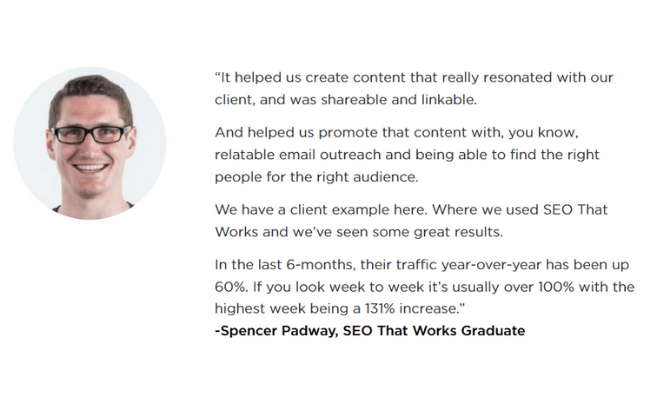 Although this training course is a wonderful source for SEO beginners as well as internet site owners, you ought to know that search engine optimization is hard and is not foreseeable.
That said, I still believe that your success relies on how you use what you learn from this training course.
In other words, nothing and no one can guarantee your success. SEO requires a lot of hard work, dedication, learning, experimenting, and testing until you finally find a formula that works for you!
How Much Does SEO That Works Cost?
SEO That Works is a program that is only available to the public a couple of times each year. Each time the training course is "launched," it is upgraded. This indicates that the rates adjust with every revision.
Keep in mind that it is one of the most pricey training courses on the internet. Presently, you can join Brian Dean's waiting checklist if you go to the SEO That Works site.
You can join Brian Dean's SEO That Works training course with a membership degree plan. There are 3 various levels:
Complete Plan
Advanced Plan
Standard Plan
As you can see from the graph below, Brian includes a lot of value with each membership lever. However, keep in mind that the pricing changes with each modification of the course.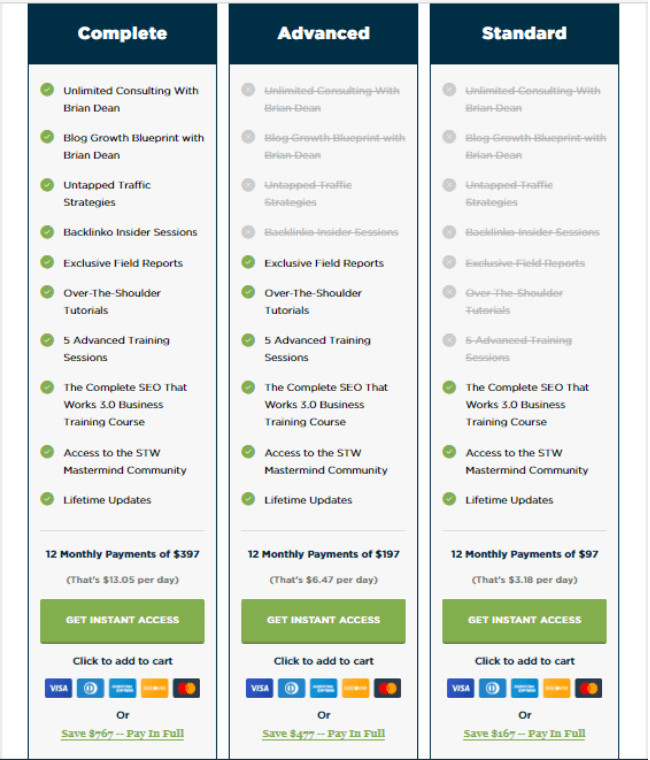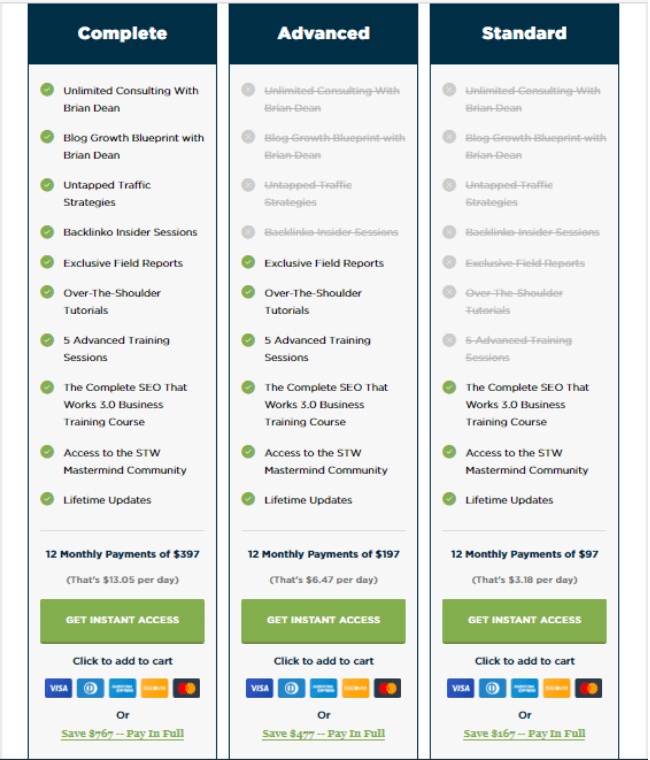 The Complete strategy sells for 12 Regular monthly Repayments of $397. The Advanced strategy sells for 12 Regular monthly Payments of $197, as well as the last one, the Standard goes for 12 Monthly Settlements of $97.
Does SEO That Works Offer a Refund?
Although the course is expensive in the long run, you can still get a refund during the first 30 days. And that's great news for anyone who wants to give it a try.
Below is the SEO That Works official refund policy…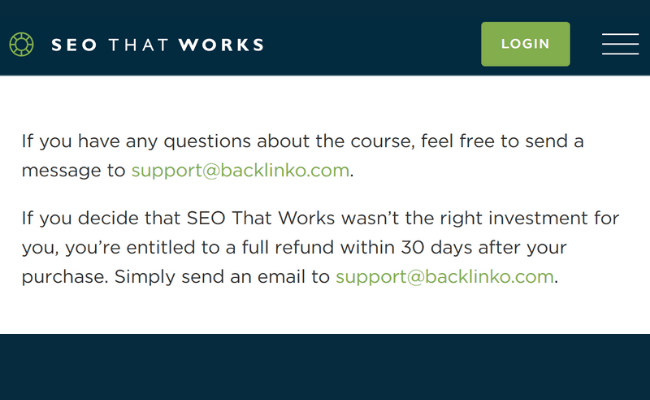 As far as I'm aware, there are no hoops or tricks to getting your money back from Brian.
All you have to do is send an email to the support team within 30 days of the purchase of SEO That Works, ask for a refund, and you will get it.
Is SEO That Works Worth It?
Though you might find less expensive SEO programs, some would certainly be cost-free even, the approaches in the SEO That Works training course are far more advanced and one-of-a-kind.
What separates SEO That Works from the other search engine optimization training courses is that Brian Dean developed his own special approaches that have actually been proven efficient by numerous website owners.
Therefore, it is worth the cash! However, I would not recommend it if you are a rookie or any individual who isn't ready to invest that much money.
You may check out various other programs such as The Authority Site System or Wealthy Affiliate.
Is SEO That Works a Scam?
SEO That Works is not a scam! Brian Dean's course is 100% legit training for learning search engine optimization.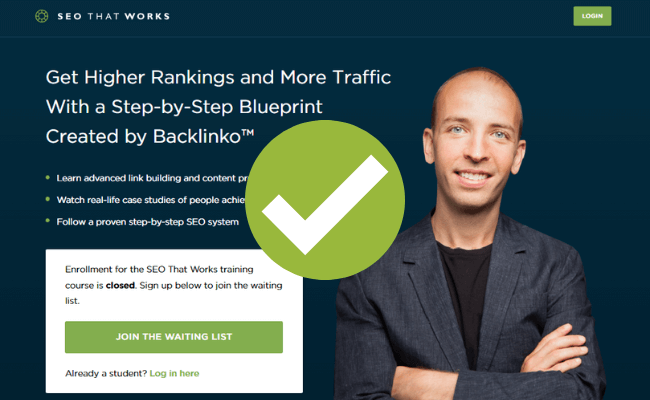 There are lots of search engine optimization "experts" and programs online. You have complimentary ones that yell, "join my course so I can scam you," and afterwards there are specialists like Brian Dean.
He has gained the authority that allows him to put any price on his course. His results as well as the testimonials of his training course confirm that SEO That Works is legit.
In other words, Dean has pages of endorsements and also stories from enthusiastic participants that promote their success utilizing Brian Dean's technique for ranking on SERPs.
Moreover, this course has actually undergone several updates so far.
Depending on when you're reading this SEO That Works review, you'll have the ability to include your name on the waiting list, so you'll be alerted the next time that Dean opens up enrollment.
That said, once again, SEO That Works is a 100% legit course.
Alternative: On the other hand, if you're looking for the best business model to earn passive income online as a beginner, there are other, more suitable, and cost-effective alternatives.
My top-rated course has helped me to go from earning $0 to $100's per day!
THE BEST WAY TO MAKE MONEY ONLINE IN 2023 >>
What I Like About SEO That Works
Easy-to-follow step-by-step blueprint
Short digestible videos and transcripts
Brian Dean is the top SEO expert
He teaches 100% white-hat techniques
His methods will survive algorithm updates
Worksheets, audio files, and slides included
Great course for seasoned SEOs
What I Don't Like About It
SEO That Works is a bit pricey
Not everyone has the skills to build Power Pages
Brian's course is narrow and teaches only his methods
SEO That Works Review – Conclusion
SEO is a really extensive subject that involves a strategic plan that includes a lot of factors and elements of the internet search engine's ever-changing algorithms.
One of the most annoying things about search engines is that you'd find websites with crappy web content ranking high in SERPs. That's because they use a grey hat and even black-hat techniques.
On the other hand, the SEO That Works course gives you a thorough and extensive overview of how to generate as well as execute white-hat SEO-driven results.
Another great course where you can learn the same strategies is called Blog Growth Engine, in case you want to check it out.
In my opinion, Brian Dean's innovative SEO approaches to web content advertising are amazing, with a terrific focus on top quality over amount. And the quality of the program products reflects exactly that.
The good news is that SEO That Works can definitely help you to stay up to date and improve your rankings.
Not surprising that people are investing in it regardless of the not-so-cheap price tags.
Thanks for reading my SEO That Works review! If you have questions or concerns, feel free to reach out via the comment section below this article. I'll get back to you ASAP.
Is There a Better Way To Make Money Online?
I know how hard it is to trust websites these days. There are too many scams out there, especially in the make-money-online world. I know, because I reviewed over 600+ sites so far!
See, SEO That Works is just one of the many online courses I have reviewed…
While searching for the best ways to make money online myself, I bumped into a program that helps you to start making money online in the best way possible.
It is a 100% legit course that helps people to create a successful affiliate marketing business.
Keep reading for more info…
How I Make Money With Affiliate Marketing
The program that I recommend as my #1 solution for making money online with affiliate marketing is based on a 100% proven and tested system.
The best thing about this method is that it is passive in terms of results and income.
In other words, you could be earning an income from your site for years and years to come because this method is so POWERFUL and overlooked by many marketers.
Just take a look at commissions that I earn passively all thanks to affiliate marketing.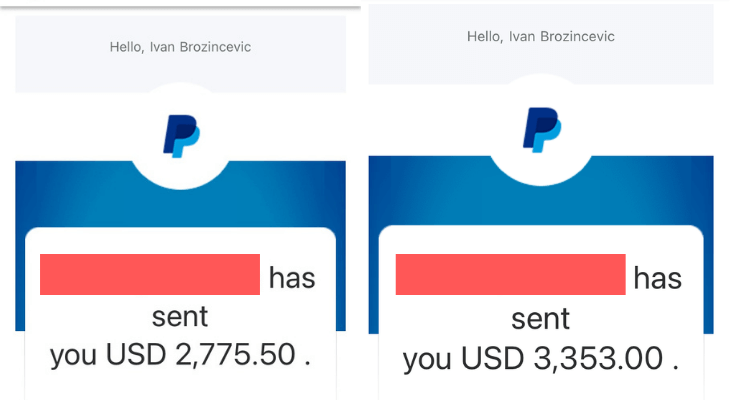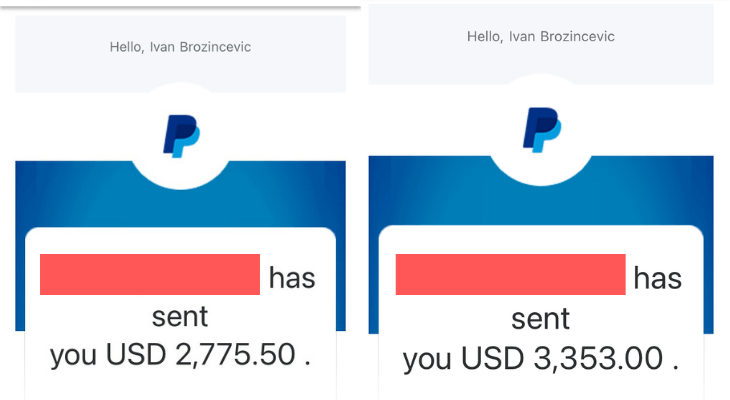 If you want to learn more about how you too can start making money online with affiliate marketing, click the button below!
After evaluating over 600+ programs on the web, my conclusion is easy. This is the best course to learn about ins and outs of affiliate marketing.
And if you're looking for the very same, click the button below!
THE BEST WAY TO MAKE MONEY ONLINE IN 2023 >>
If you need any help or you have a question, feel free to contact me.
And don't forget to share this SEO That Works review with your friends and family!
All the best, Ivan. Founder, and CEO @freeaffiliatemarketingbusiness.com