Are you looking for an honest and unbiased Easy Passive Profits review? Before you start, I want you to know that, unlike many other reviews out there, I'm not associated with this product. So, If you're looking for the truth, stick with me. Shall we?
A few days ago, I got an email where it said that I need to claim my $0-$100 per day software. After I clicked the link, I stumbled across Easy Passive Profits. At first glance, the proposal looked like another get-rich-quick scheme. And frankly, it's not far away from being one.
The offer promises "free buyer traffic" and many other things that are entirely newbie-friendly and pretty much done-for-you. However, after buying the system myself, I soon realized that it's not going to be as easy as it's been promised.
Making money online is not that easy as these guys make it. You see, all they really want you to do is to become a buyer. And today, I'll show you the real deal behind this offer.
By the way, congratulations on researching before giving away your hard-earned cash. If you are looking for a legitimate way to create a passive online income, check out my #1 recommendation for making money online.
In this Easy Passive Profits review, I'm going to show you how it works without trying to sell you anything. You'll see that it's not as easy as advertised. Also, I'll disclose the full price of the system and more! Let's begin, shall we?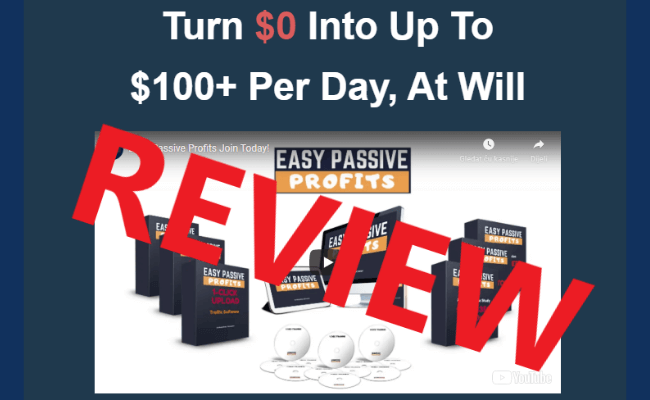 Easy Passive Profits Review – Overview
Product Type: Affiliate Marketing
Product Price: $7.45 + UPSELLS
Product Owner: Michael Sirois, Matija Balanic, and Rick Lawson
Money-Back Guarantee: 30-days
Recommended?: No
Overview: Easy Passive Profits is allegedly a system that is going to help you to turn $0 into $100 per day, at will, and without any recruiting. It's is supposed to be some unseen system completely different from anything you've ever seen before.
The creators of this product promise the following benefits:
This fresh method brings you big paydays
90% is click/copy/paste
The results are fast- most beginners started making money within 12-36 hours
The traffic is free and qualified to have valid credit cards and PayPal accounts
Scaling-up To life-changing profits is super easy as you can see by now – you can rinse & repeat on demand
Now, we both know that those claims are pure BS. There are no such things and this software is not going to work like that. On the other hand, Easy Passive Profits is training that could show you how to make money with affiliate marketing. The owners are legitimate marketers too.
However, the system is promoted as a get-rich-quick scheme while in reality, it's far from that. It takes a lot of groundwork before you can even expect to profit. Also, the system relies upon shaky traffic methods from Facebook that might not work at all.
Lastly, the price is not advertised correctly and there are a lot of hidden upsells and costs down the road. The bottom line is that I don't believe in this product and don't recommend it.
My #1 recommendation (is a 100% legitimate program that helped me to go from being a complete newbie to making $100's per day with affiliate marketing!
THE BEST WAY TO MAKE MONEY ONLINE IN 2023 >>
What is Easy Passive Profits?
According to the info from the sales page, Easy Passive Profits is a 100% never-seen money-making system. The system makes you reliable passive income in just a few minutes of work per day. This method is entirely newbie-friendly. You don't need to have any special skills or knowledge.
However, the sales page as every other sales page is a bit overhyped compared to what's inside. This system shows how to leverage affiliate marketing. But affiliate marketing requires a decent amount of time and effort to make it work. A few minutes per day, guys, just won't cut it.
You see, most reviews of Easy Passive Profits are copy-pasted sales pages. Those guys are all affiliates that are looking to make a buck or two from you. I believe that none of them had actually tried the system.

As you can see, the official sales page claims that you can profit in the next 24 hours with their system. The system relies on software that makes everything automated. They say that 90% of work is done-for-you.
Sounds a little bit too good to be the truth? Well, that's because it is.
Done-for-you and copy-paste systems usually don't deliver as advertised. Based on my experience with "automated" software, it's never as easy as it sounds. Every system, no matter how ridiculously easy it might look at first, requires a lot of work on your effort. There are no ways around it.
Even the owner of the Easy Passive Profits had said that he's been perfecting this system for four years!
Who Owns Easy Passive Profits?
The system is created and owned by Michael Sirois, Matija Balanic, and Rick Lawson. We know very little about those three guys. All I could discover is that they are WarriorPlus marketers. They own products like Easy Passive Profits, Easy Instant Profits, Easy Profit Markets, etc.
Notice the similarity?
Anyway, it's refreshing to see that real people are behind the product. That's an encouraging fact that gives it a little bit more value since you can contact them personally if you ever experience problems with their products.
You see, most of the product owners today hide behind fake names and characters. In this case, these guys seem to be legit, but how about their system? Is it legitimate or just another one designed to make cash for the owners?
Related: Profits Engine Review
Easy Passive Profits Funnel Revealed!
As I've said at the top of this review, these guys will make you spend before you can ever get your hands on their system. Easy Passive Profits is, among all things, a sales funnel. You might be thinking that a few bucks are all you need to pay. But you would be wrong.
You see, most marketers today create these kinds of funnels to make more money. This WarriorPlus offer is no exception. It makes me wonder, are they trying to help you to make money or for themselves?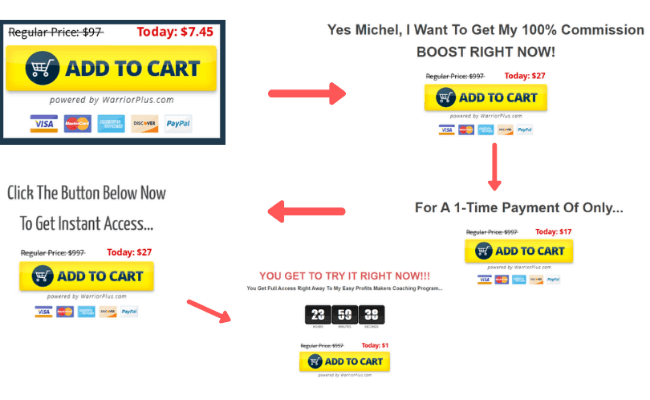 The system sells for a measly $7.45. Also, and this is not disclosed on the sales page, but that's only for the first 14 days. Later on, I'll be $19.95 per month if you want to keep the access!
And that's only an entrance point. As soon as you pay the fee, these guys will throw a few upsells right in your face without any warning. Once I've purchased the Easy Passive Profits system, I had to decline three annoying upsells. Each one is a super special system that adds value to my purchase. Yea, right.
Upsell #1 – Commission Booster $27
Upsell #2 – Auto-Lead Monetize System $17
Upsell #4 – Easy Profit Markets – $1 trial + 47 per month!
This is how these guys will make more money off your desire to make some as well. The price of the system jumps from measly $7.45 to $100 in a few minutes! One of those upsells is also a monthly subscription for Easy Profit Markets. So basically, they push another of their products to make more sales.
How's that helping you succeed online?
As a customer who was looking to purchase a system for $7.45, I hated to see so many additional offers. Of course, you can decline them all. But still, I thought this is something that will help me to make money, not spend more.
If you are sick of hidden costs and annoying upsells, make sure you check out the blue button below. No upsells, no hidden fees, no credit card info needed! Free to join and free to use for as long as you want!
THE BEST WAY TO MAKE MONEY ONLINE IN 2023 >>
What's Inside of Easy Passive Profits?
Once I managed to pass by those upsells without spending more of my hard-earned cash, I finally have got the system in my hands. If you are looking to buy Easy Passive Profits, make sure you decline those upsells as well. You don't need them!
That being said, let's take a look at what's inside of the system.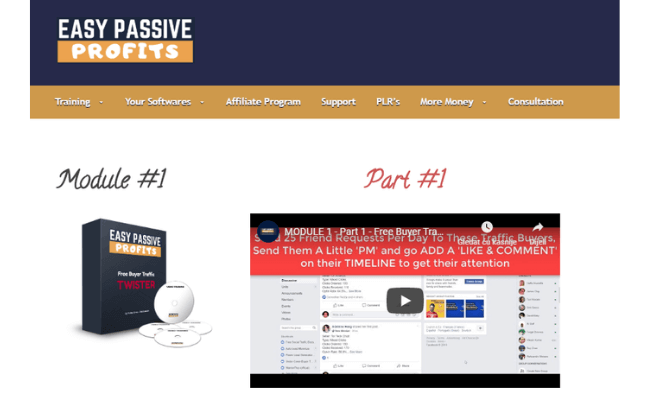 Training
The training section of Easy Passive Profits contains four modules that explain how the system works. Each module is in video format. The host of the lessons is Michael Sirois.
Free Buyer Traffic Twister
Free Traffic Transistor
Automated Sales Booster
$0-$356 per Day
Your Checklist
There are eight short videos altogether that explain the process. I'll explain how it works under the next headline.
Your Softwares
This is a section where you can access to so-called software that you're going to use for your campaigns. But basically, you'll get a free WordPress theme, a re-brandable website (probably an additional cost), and a traffic software that is actually an auto-responder which is going to cost you extra as well.
Free HUEMAN Theme
Your 1-Click Re-Brandable Website
Your 1 Click Traffic Software
Affiliate Program
Here you can sign up for their affiliate program so that you can start promoting Easy Passive Profits. It seems that the whole system is geared toward getting you to do so and start promoting this offer.
Support
Here you can get access to the Easy Passive Profits Facebook group where you can ask for help if needed.
PLR's
This section contains a bunch of PLR products that you can use in your campaigns as giveaways and bonuses to boost your conversions.
More Money
In this section of the Easy Passive Profits system, you'll find, once again, all those upsells. In other words, this is the section where the owners are making more money.
Consultations
The consultations section is a link to a private website hosted by Michael Sirois and his team. It's called IM Training Masterminds. Here you can get a free consultation and a chance to spend more money.
How Does Easy Passive Profits Work?
Alright, let me explain how this never-seen system works. I sat through lessons diligently watching the training. After a few hours, I've got a sense of it. Generally speaking, Easy Passive Profits is not the best method for making money that I've seen. But it might work after all.
So the whole point of the system is to create affiliate funnels for various WarriorPlus, and JVZoo offers and to promote them through Facebook groups. In a nutshell, you need to create a FB fan page for each product and invite people to join. In theory, you need to get people who are ready to buy, and Michael has got you covered. At that's what he claims.
To get people to join your FB fan page, you need to visit various FB groups where people are buying and selling Solo Ads. No, you're not going to buy Solo Ads. All you need to do is to handpick 25 buyers each day and invite them to your Facebook fan page. According to Michael, those people are ready to buy IM products since they are marketers themselves who are always looking to promote stuff.
Then, once you have the sales funnel ready and connected to your FB fan page, you can start sending them invites and promote your offer. If everything has been done correctly, you should be making sales.
In theory, Easy Passive Profits sounds like a reasonable system that might actually work. However, the system is not done-for-you, nor you could make it work in just a few minutes per day. Based on my experience with the training, it could take a few weeks to get everything up and running. You could spend weeks asking people to join your group.
Can You Make Money With This System?
Once again, in theory, you could make some money with Easy Passive Profits. But I doubt that you'll make profits in the first few days as it's been promoted on the sales page.
As I've said, this is not the best system for making money online that I've seen. The whole thing might work. But it could also backfire easily. Even Michael and his team admit that some people never see the results. That said, I guess it's all up to you and your efforts.
Related: Internet Retirement App Review
What's Good About Easy Passive Profits?
I scanned this system in-depth and managed to find a few good things about it. Here's the set of pros.
1.) Legitimate Owners
Unlike many scammy systems and products out there, Easy Passive Profits owners are real people. They don't hide behind fake characters and pen names. Michael Sirois, Matija Balanic, and Rick Lawson are legitimate marketers. That's a plus. You can even contact them personally if you ever buy their products and ask them questions related to their work.

2.) Easy to Follow Training
After I sat through training, I've got a feeling that it's very easy to follow the lessons. Michael doesn't talk too much or gets lost on the topic. Videos are short but on point. Even though the system is not as easy as they've made it look, I think that even a complete newbie could follow and execute the lessons with ease.
3.) Low Entry Fee + Money Back Guarantee
I was hesitant to put this one here because, as you know, the price is not final. However, compared to many other systems out there, Easy Passive Profits is a relatively cheap product. It costs only $7.45 for the first 14 days. Then, it's going to be $19.95 per month if you want to keep the access. Also, if you don't like it, you can ask for a refund. The system is covered by a 30-day money-back guarantee.
What's Wrong With Easy Passive Profits?
On the other hand, I managed to find a lot of things that bother me. These are the cons.
1.) Sales Page is Overhyped
When you first get in contact with Easy Passive Profits, you end up thinking that it's a secure system that'll make you rich in a few days.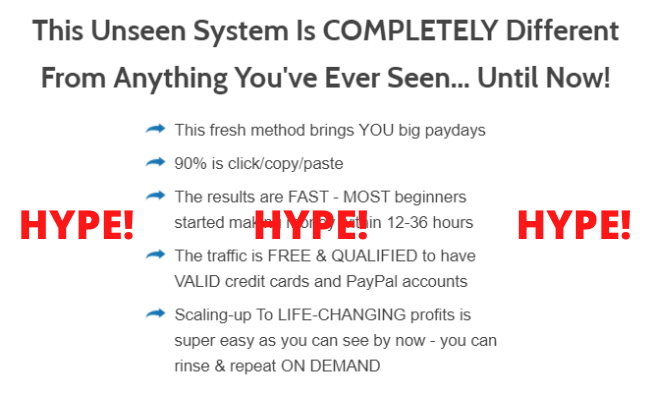 The sales page is overhyped with earning claims and other things that are designed to sell you the system. However, the reality of things is always much different.
2.) Customer Testimonials are Fake
One of the elements from the sales page that bother me the most is fake customer testimonials. As you can see in the image below, the guy that claims how Easy Passive Profits is the best way to make $100 per day is actually a golf player. On the sales page, his name is Brian Somners, and in reality and on this website, his name is Cameron Epp. Other testimonials are probably fake, as well.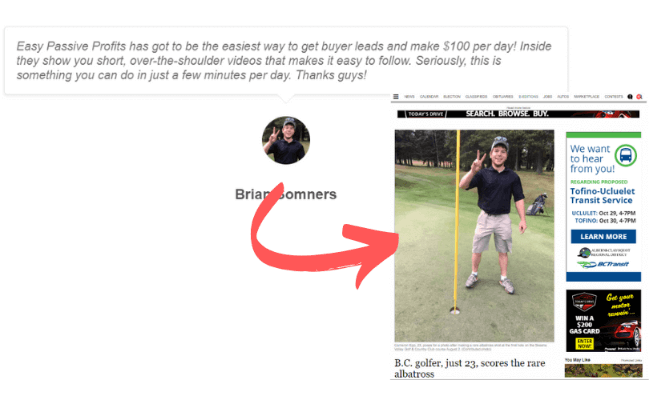 3.) The System Requires a Lot of Work
Easy Passive Profits might sound effortless at first glance, but trust me when I say that you'll need to grind a lot to make it work, if at all. The system is reasonable and relies on affiliate marketing, which is a legitimate method. However, it could take you weeks, even months, to set up the system. Finding those free buyers from Facebook could take ages.
4.) The Results May Never Come
I've joined those FB groups where Michael claims that you can get free traffic to your offer. He suggests inviting buyers to your FB fan page. But all I could've seen were sellers. There are barely a few buyers out there. Even if you manage to get buyers to like and join your FB fan page, the system might never work. This traffic method is one of the weakest that I've ever seen in my online marketing career.
5.) Too Many Upsells and Hidden Costs
The last thing that I don't like about Easy Passive Profits is hidden upsells and other costs that appear during the training. As you know, the system is selling for only $7.45. However, once you get inside, you'll be bombarded with upsells. The price could quickly jump from just a few dollars to a hundred! Also, if you want to make the system work, you'll need to buy an autoresponder, which is an extra cost.
Related: Affiliate Funnel Bots Review
Is Easy Passive Profits a Scam or Legit?
I don't think that Easy Passive Profits is a scam. Based on my review, it's a legitimate way to make money online. Not the best one, but it sounds reasonable.
In a nutshell, you can learn how to make money with affiliate marketing promoting various WarriorPlus and JVZoo offers. The system is legitimate, and it relies on free traffic from Facebook. However, I have a few concerns about those traffic methods. Social media is not the best way to get free internet traffic. Compared to SEO and free traffic from search engines, this traffic method looks very weak.
In addition to not so reliable traffic sources, there are many other things that I don't like about Easy Passive Profits. For example, the sales page full of unrealistic and misleading claims. Also, I have a feeling that the whole thing is geared toward making money for the owners only. They will try to recruit you to become an affiliate and upsell you on every chance they get.
In the end, the choice is yours. Easy Passive Profits is not a scam. But I would be so brave to recommend this system, especially when I know that there are much better ways to make money with affiliate marketing.
How I Make Money With Affiliate Marketing!
Thanks for coming to the end of my Easy Passive Profits review. It shows that you are a serious person who takes every step with the most attention. Congratulations on that.
Would you like to learn how I make consistent passive income online with affiliate marketing completely free? This method allowed me and thousands of other REAL PEOPLE to live the laptop lifestyle, quit our 9-5's, and enjoy life!
Affiliate marketing is indeed one of the best ways to make money online. It gets even better when you can learn how to do it with zero costs. If you like the idea, make sure you check out the blue button below! 🙂
THE BEST WAY TO MAKE MONEY ONLINE IN 2023 >>
If you need any help or you have a question, feel free to contact me.
And don't forget to share this review with your friends and family!
All the best, Ivan. Founder, and CEO @freeaffiliatemarketingbusiness.com