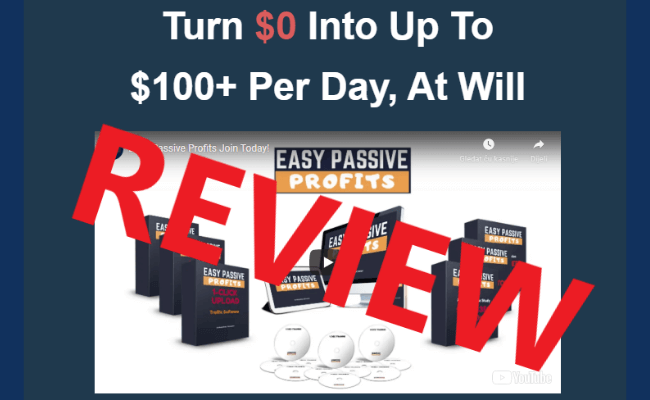 Welcome to my Easy Passive Profits review!
Easy Passive Profits promises to show you how to turn $0 into up to $100+ per day, at will. Bold claims…
If you want to learn:
Is it a scam or a legit
How good is the training
The real cost to start
Whether students are successful
And much more!
You've come to the best page!
I've dedicated a few days to analyzing this training program, taking notes, uncovering information, and thoroughly going over the details so that I can provide you with a helpful Easy Passive Profits review.
| | |
| --- | --- |
| | Course that teaches how to make money with affiliate marketing |
| | $7.45 for 14 days, $14.95 a month afterwards, plus upsells and extra costs. |
| | Creators are real marketers. Well-structured training. Low entry fee. 30-day refund policy. |
| | Overhyped sales page. Fake student success stories. No proof from real users. Misleading claims about easy money. Low-quality traffic generation training. Lots of upsells and hidden costs. |
| | Easy Passive Profits is actionable, and affordable but low-quality and not recommended affiliate training. |
| | |
| | |
I Want To Know…
About the Reviewer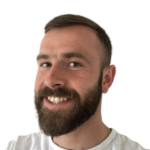 Hey, I'm Ivan Brozincevic!
Since 2018, I've been making a full-time income online, which allowed me to quit my old job (about me).
In the beginning, I struggled to identify legit courses and avoid ones that were just out for my money.
That's why I created this website – my main goal is to help you steer clear of pitfalls and discover the top online business courses.
Every week, I invest hours in reviewing online courses and writing reviews based on my fact-driven review guidelines to assist you in making an informed choice.
Related: Check out my FREE training program for making money online.
Is Easy Passive Profits a Scam or Legit?
I don't believe that Easy Passive Profits is a scam. Based on my review, it's a legitimate way to make money online. It may not be the best method, but it seems reasonable.
In summary, Easy Passive Profits teaches you how to earn money through affiliate marketing by promoting various WarriorPlus and JVZoo offers.
The system is legitimate, relying on free traffic from Facebook.
However, I have concerns about the effectiveness of these traffic methods. Social media is not the most reliable avenue for generating internet traffic.
When compared to SEO and traffic from search engines, this method appears weak.
Apart from the unreliable traffic sources, there are other aspects of Easy Passive Profits that I find unappealing. For example, the sales page is filled with unrealistic and misleading claims.
Additionally, the entire system feels geared towards maximizing profits for the owners. They will continuously encourage you to become an affiliate and upsell you on every opportunity they get.
Ultimately, the choice is yours.
While Easy Passive Profits is not a scam, I wouldn't be bold enough to recommend this system, especially when there are much better ways to make money through affiliate marketing.
See the rest of my review for more details.
What is Easy Passive Profits?
Based on the information provided on the sales page, Easy Passive Profits claims to be a revolutionary money-making system that guarantees 100% profitability.
It promises to generate reliable passive income with just a few minutes of work each day. This method is designed to be beginner-friendly, requiring no special skills or knowledge.
However, it's important to note that sales pages often tend to be overly exaggerated compared to the actual content.
While Easy Passive Profits teaches how to leverage affiliate marketing, it's worth mentioning that achieving success in affiliate marketing requires a significant amount of time and effort.
Merely dedicating a few minutes per day will not suffice.
Additionally, many reviews of Easy Passive Profits appear to be generic and repetitive sales pitches.
These reviewers are essentially affiliates who are primarily motivated by earning commissions. Likely, none of them have tried the system.

The official sales page claims that you can start profiting within 24 hours using their system. According to them, the system relies on automated software that handles 90% of the work for you.
However, this might sound too good to be true, and that's because it usually is.
In my experience, most "done-for-you" and copy-paste systems don't live up to their promises.
Regardless of how easy they may seem at first, they still require a significant amount of effort. There are no shortcuts.
Even the owner of Easy Passive Profits mentioned that he has been refining this system for four years.
Who Created Easy Passive Profits?
The system was created and owned by Michael Sirois, Matija Balanic, and Rick Lawson.
Although we have limited information about these individuals, they are known as WarriorPlus marketers and have developed products like Easy Passive Profits, Easy Instant Profits, Easy Profit Markets, and more.
What stands out is that real people are behind the product, which is refreshing. This reality adds value, as it allows for direct contact in case any issues arise with their products.
Today, many product owners hide behind fake names and characters. In this case, these individuals appear to be legitimate.
However, the question remains: is their system also legitimate, or is it just another venture aimed at lining their pockets with cash?
How Much Does Easy Passive Profits Cost?
The Easy Passive Profits system is initially priced at just $7.45, but it's important to note that this is only for the first 14 days.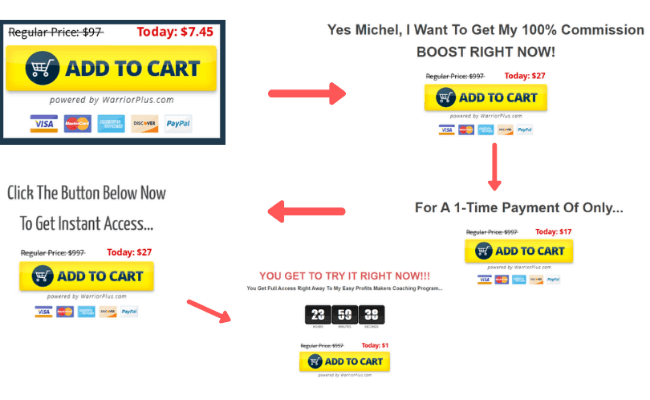 After that, the monthly fee increases to $19.95 if you wish to maintain access.
Unfortunately, once you purchase the system, you'll encounter several upsells without any prior notification. Each upsell promises to add value to your purchase, but they come with additional costs.
Here's a breakdown of the upsells:
Commission Booster – $27
Auto-Lead Monetize System – $17
Easy Profit Markets – $1 trial + $47 per month
It's clear that the intention behind these upsells is to generate more profit from your desire to succeed online. Within moments, the overall cost can jump from an initial $7.45 to over $100.
Additionally, Easy Profit Markets is a monthly subscription, further pushing their products on customers.
As a buyer, I found it frustrating to be bombarded with these additional offers. I had hoped that purchasing the system would help me make money, not spend more.
Does Easy Passive Profits Offer a Refund?
Yes. Easy Passive Profits promises to refund your investment during the first 30 days if you are not happy with the product.
What's Inside of Easy Passive Profits?
After successfully bypassing those upsells and avoiding spending more of my hard-earned cash, I finally have the system in my hands.
If you intend to purchase Easy Passive Profits, be sure to decline those upsells too; they're unnecessary!
With that being said, let's now take a closer look at what's included within the system.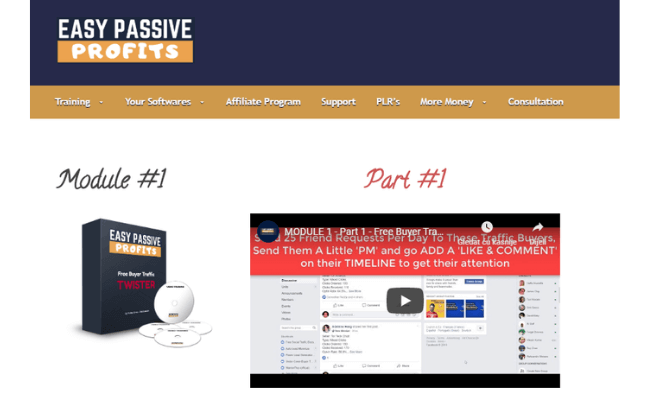 Training
The training section of Easy Passive Profits is divided into four modules, each presented in video format.
The modules include:
Free Buyer Traffic Twister
Free Traffic Transistor
Automated Sales Booster
$0-$356 per Day
In total, eight short videos comprehensively explain the process. I will provide a detailed explanation of how it works in the following section.
Your Softwares
In this section, you can access software for your campaigns. You will receive a free WordPress theme, a re-brandable website (at an additional cost), and traffic software that serves as an auto-responder (which will require an extra fee).
Free HUEMAN Theme
Your 1-Click Re-Brandable Website
Your 1 Click Traffic Software
Affiliate Program
You can sign up for their affiliate program here to start promoting Easy Passive Profits. The entire system seems designed to encourage and support your promotion of this offer.
Support
You can access the Easy Passive Profits Facebook group here, where you can ask for help if needed.
PLR's
This section includes a variety of PLR products that can be used as giveaways and bonuses in your campaigns, effectively boosting your conversions.
More Money
Within this section of the Easy Passive Profits system, you'll come across, once again, various upsells. Put simply, this section is where the owners generate additional revenue.
Consultations
The consultations section is a link to a private website called IM Training Masterminds, hosted by Michael Sirois and his team.
Here, you can receive a free consultation and explore additional opportunities to invest.
How Does Easy Passive Profits Work?
Let me break down how this never-seen system works. I dedicated time to watching the training lessons diligently, and after a few hours, I grasped the basics.
Now, I'll be honest, Easy Passive Profits isn't the best money-making method I've come across, but it might have some potential.
The main idea behind this system is to create affiliate funnels for WarriorPlus and JVZoo offers and promote them through Facebook groups.
Here's the gist: you'll need to create a dedicated Facebook fan page for each product and invite people to join.
The goal is to attract potential buyers, and apparently, Michael has everything covered, or so he claims.
To get people to join your fan page, you'll have to browse various Facebook groups where individuals buy and sell Solo Ads.
However, you won't be purchasing any Solo Ads. Instead, you'll handpick 25 buyers each day and invite them to your fan page.
According to Michael, these individuals, being marketers themselves, are always on the lookout to promote various products.
Once you have your sales funnel set up and connected to your fan page, you can start sending out invites and promoting your offer.
If everything has been done correctly, you should start generating sales.
In theory, Easy Passive Profits seems like a reasonable system that might work.
However, it's important to note that this isn't a "done-for-you" solution, and it won't magically work in just a few minutes per day.
From my experience with the training, it may take a few weeks to get everything up and running smoothly. You could spend weeks simply trying to persuade people to join your group.
Can You Make Money With This System?
While it is theoretically possible to make money with Easy Passive Profits, the likelihood of immediate profits as advertised on the sales page is dubious.
As previously mentioned, this system may not be the most effective method for generating online income. It carries a level of uncertainty and potential for failure, which even Michael and his team acknowledge.
Ultimately, the results depend on your efforts and decisions.
Are Easy Passive Profits Students Getting Results?
Apart from the claims made by creators, and people who wrote biased affiliate reviews, there is no other evidence that students are getting results with Easy Passive Profits.
Easy Passive Profits Green Flags
After conducting a thorough system scan, I discovered several positive aspects worth mentioning.
Here are the pros:
1.) Legitimate Owners
Easy Passive Profits owners, Michael Sirois, Matija Balanic, and Rick Lawson, are real people who don't hide behind fake characters or pen names. They are legitimate marketers, which is a plus.
If you ever purchase their products, you can even personally contact them and ask questions relating to their work.

2.) Easy to Follow Training
After going through the training, I have a sense that the lessons are straightforward to follow. Michael stays on topic without getting lost, and the videos are concise yet informative.
While the system may not be as simple as portrayed, I believe even a complete newbie could effortlessly follow and execute the lessons.
3.) Low Entry Fee + Money Back Guarantee
Although I was initially hesitant to include this one, I want to acknowledge that the price is not yet final.
However, when compared to other systems on the market, Easy Passive Profits stands out for its affordability.
For the first 14 days, the product is available for only $7.45. If you wish to continue accessing it, the monthly fee will be $19.95.
Additionally, if you're not satisfied, you can request a refund as the system is backed by a 30-day money-back guarantee.
Easy Passive Profits Red Flags
However, I did come across several items that bother me, which I will now list as the cons.
1.) The Sales Page is Overhyped
Upon initial engagement with Easy Passive Profits, one might mistakenly perceive it as a secure system that promises rapid wealth accumulation.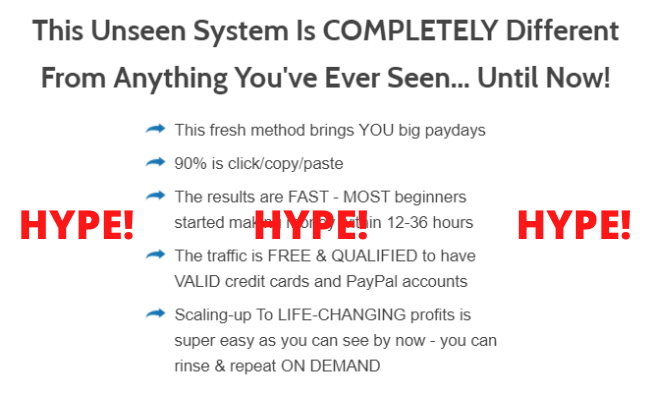 The sales page tends to be overhyped with earning claims and various selling tactics that aim to convince you to buy the system.
However, the reality often differs significantly from what is presented.
2.) Customer Testimonials are Fake
One aspect of the sales page that truly bothers me is the inclusion of fake customer testimonials.
As shown in the image below, the individual endorsing Easy Passive Profits as the ultimate method to make $100 per day is a golf player – the person goes by the name Brian Somners on the sales page, but here, on this website, he is identified as Cameron Epp.
Likely, the other testimonials are similarly fabricated.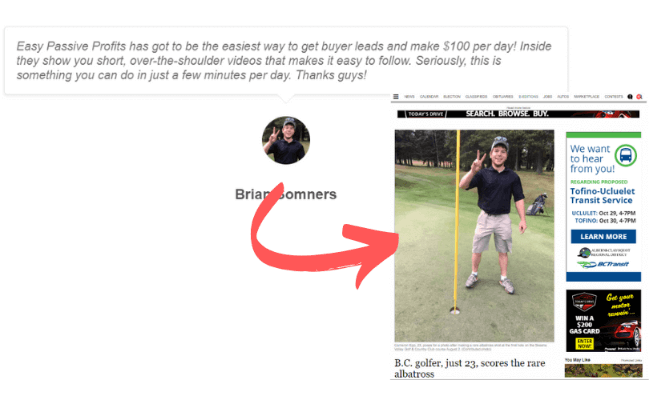 3.) The System Requires a Lot of Work
At first glance, Easy Passive Profits may sound effortless. However, trust me when I say that making it work will require a lot of grinding if it works at all.
The system is reasonable and relies on legitimate affiliate marketing.
However, setting up the system could take weeks or even months. Additionally, finding free buyers from Facebook might take ages.
4.) The Results May Never Come
I have joined FB groups where Michael claims that you can generate free traffic to your offer. He suggests inviting buyers to your FB fan page.
However, all I have observed are sellers, with very few buyers. Even if you manage to attract buyers to like and join your FB fan page, the system may never work.
This traffic method is one of the weakest I have encountered in my online marketing career.
One thing I dislike about Easy Passive Profits is the presence of hidden upsells and additional costs that arise during the training.
Although the system is initially sold for only $7.45, once you access it, you'll be bombarded with upsells that can quickly escalate the price from just a few dollars to a hundred!
Furthermore, to effectively use the system, you'll need to invest in an autoresponder, which incurs an additional cost.
Easy Passive Profits Review – Verdict
Although Easy Passive Profits is a legit affiliate marketing course, I don't recommend it because it has many flaws.
In my experience with the course, the main agenda seemed to be getting me to spend lots of money so that the creators could make money.
Their system, on the other hand, lacks critical information on generating traffic and leads to your promotions.
There are much better affiliate marketing courses. Check out:
The Best Way To Make Money Online
I earn online by creating simple affiliate websites that I use to connect people with products they are already looking for.
It's called affiliate marketing and it is the best way to make money online (at least in my humble opinion).
If you want to learn more about how you can start making money online with affiliate marketing, I would strongly suggest you sign up for the free training on the next page.
And don't forget to share this Traffic For Me review with your friends and family!
All the best, Ivan @freeaffiliatemarketingbusiness.com