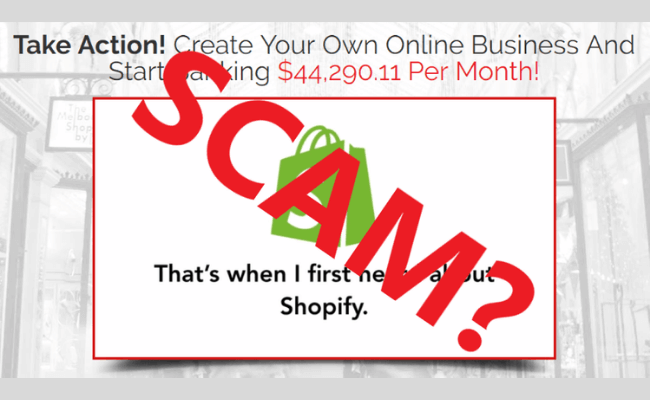 Welcome to my eCom Profit Sniper review.
eCom Profit Sniper claims to help you create your online business and start earning $44,290.11 per month!
If you are interested to learn:
Is it a scam or a not
What is inside
How it really works
The real cost
And more!
You've come to the right website!
I've dedicated a few days to analyzing this attractive offer, taking tons of notes, and thoroughly going over the members' area so that I can provide you with the most insightful eCom Profit Sniper review.
| | |
| --- | --- |
| | Info product on dropshipping business. |
| | $37 on front end, $393 for upsells, plus extra costs for tools. |
| | 60-day money-back guarantee. Pretty basic dropshipping course. |
| | Incomplete training. Fake owner persona. No info about the real owner. Overhyped and misleading claims on the sales page. Expensive upsells once you pass the checkout. Fake testimonials. No proof from real users. No free website as promised. |
| | eCom Profit Sniper is just another overhyped product that doesn't live up to its promises. It's best for no one! |
| | |
| | |
I Want To Know…
About the Reviewer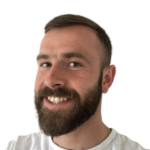 Hey, I'm Ivan Brozincevic!
Since 2018, I've been making a full-time income online, which allowed me to quit my old job (about me).
In the beginning, I struggled to identify legit courses and avoid ones that were just out for my money.
That's why I created this website – my main goal is to help you steer clear of pitfalls and discover the top online business courses.
Every week, I invest hours in reviewing online courses and writing reviews based on my fact-driven review guidelines to assist you in making an informed choice.
Related: Check out my FREE training program for making money online.
Is eCom Profit Sniper a Scam?
Although eCom Profit Sniper is not technically a scam, as you are about to see in my review, it has more disadvantages than advantages.
If you purchase this offer, you will receive a dropshipping training course. However, the training is subpar, and the described method is a legitimate money-making opportunity with no scammy elements.
On the other hand, considering the numerous red flags I discovered, one could argue that eCom Profit Sniper is designed to deceive and cheat you.
However, despite all the marketing strategies employed, it is unfortunate that there is nothing illegal about it.
In my opinion, eCom Profit Sniper is, at the very least, an unethical sales funnel. It uses fake testimonials and hype to manipulate you into buying it. These tactics are used to upsell you expensive offers from an unknown owner.
As for the end product, well, it is safe to say that it will not help you succeed online.
That much is certain. I believe that this benefits the owner and those who profit from promoting it to unsuspecting beginners.
Update: eCom Profit Sniper is now available on the DigiStore24 affiliate marketplace. If you are dissatisfied with the product, you can still request a refund.
What is eCom Profit Sniper?
eCom Profit Sniper is a system that promises to help you build a Shopify store using the dropshipping or eCommerce business model.
Tom Parker presents this business opportunity as effortless, claiming you can start making big commissions today even without any previous eCommerce experience.
However, there are two sides to this story.
Firstly, it's important to note that there is no magical way to start making money instantly. Many internet gurus may try to convince you otherwise, but it's not easy and requires consistent effort.
In the case of eCom Profit Sniper, the presenter goes to extreme lengths, suggesting that you can start making money within just 20 minutes of work. He even goes as far as claiming you can earn $2,000 today and maybe even $10,000 this week!
It's crucial to approach these claims with a healthy dose of scepticism and thoroughly research the system before investing your time and money.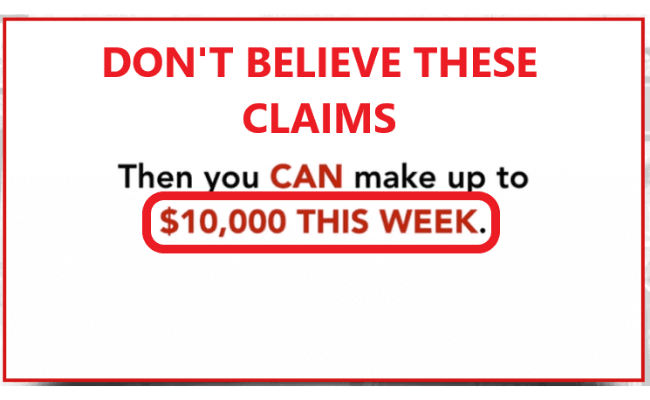 I believe it's evident that the statement is an outright exaggeration and simply impossible. It sets unrealistic expectations that are disconnected from reality and serve as a clear indication of a scam.
Why Does eCom Profit Sniper Sound Like a Scam?
As I was saying, the spokesperson in the eCom Profit Sniper sales video, Tom Parker, discusses the potential of making money with dropshipping from the comfort of your home.
While the business model he promotes is not inherently flawed, there are some significant concerns regarding his approach.
Before considering any further steps with eCom Profit Sniper, it's crucial to understand that online business is not as seamless as portrayed.
These online gurus will employ various marketing tactics to entice you into purchasing their product.
If you come across phrases like fast, big, and juicy commissions, secret methods, money-making loopholes, and the like, it's best to close the window and move on.
Trust me, I've been in that position before, and it never lives up to its promises.
Here are a few other points to be cautious of:
On the bright side, dropshipping is a legitimate opportunity to make money via Shopify.However, it's important to address the unrealistic claims made by products like eCom Profit Sniper.
No matter which path you choose online, creating a successful online income requires dedicated hours of work, especially in the beginning.
The person behind this offer has crossed boundaries in their marketing tactics to sell a subpar dropshipping course. It's important to remember that there are no shortcuts to success despite what some gurus may claim.
On the other hand, dropshipping is a legitimate way to earn money online. If you're unfamiliar with the business model, let me explain briefly.
What Is Dropshipping Business?
Dropshipping is a direct fulfilment method where a store doesn't keep the products it sells in stock. Instead, when a store sells a product, it purchases the item from a third party and has it shipped directly to the customer.
As a result, the merchant never sees or handles the product.
Due to the massive popularity of platforms like Shopify, many people have recognized this opportunity, with some even managing to make a living from it.
However, achieving success in dropshipping requires hard work and dedication. It is not the easiest way to start an online business and comes with its challenges.
Starting a dropshipping business involves significant start-up costs, inventory problems, and various other issues that arise when building your own store.
This brings us to the question: Is eCom Profit Sniper a scam or a legitimate program that can simplify the process?
Let's delve deeper to find out.
Who Owns eCom Profit Sniper?
Unfortunately, there is no evidence provided in the eCom Profit Sniper sales pitch to establish the authenticity of the person presenting.
I am sceptical about the credibility of the name "Tom Parker" and am inclined to believe that the individual in the sales video is merely hired to read a scripted text, which further reinforces our suspicion of this being a scam.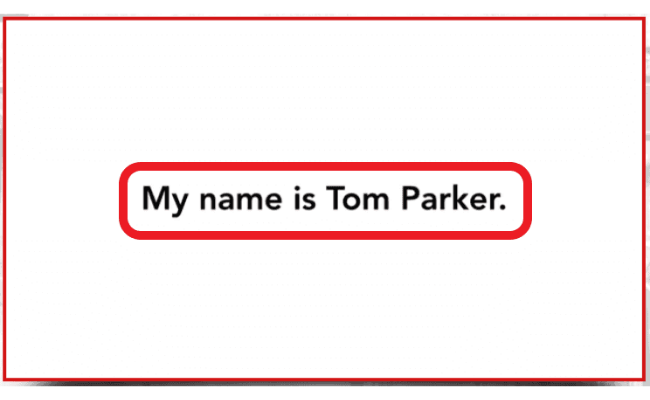 I attempted to find more information about Tom Parker, but unfortunately, I was unsuccessful. However, it is worth mentioning that legitimate programs are typically backed by real individuals.
I wonder why Tom isn't transparent about his true identity. Could this possibly be another scam? Curiosity led me to purchase the course in order to uncover the truth.
Let's find out!
What Is Inside eCom Profit Sniper?
Inside eCom Profit Sniper, I came across another hyped video presentation, as usual, coupled with subpar training on Shopify.
Before I delve into the quality of the training, let me highlight some additional surprises that await those who join eCom Profit Sniper.
The Two Steps
Upon entering the eCom Profit Sniper members' area, you will encounter two steps that need completion.
The first step involves claiming your free profit-ready website. They will inform you that the website is valued at $2,995, but as a member, you can acquire it for free.
However, following the process reveals an unexpected cost of $167 for hosting.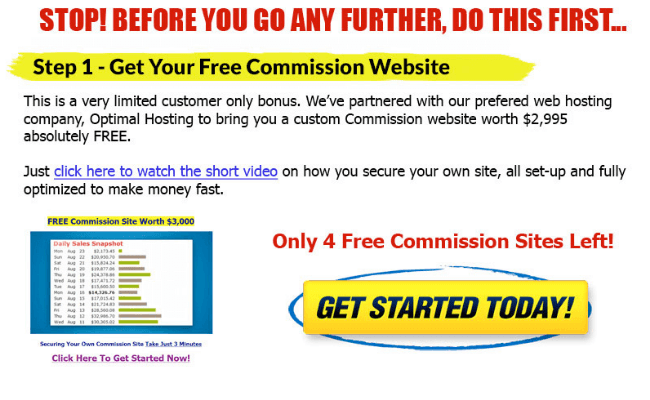 The second step is to register for the VIP member's workshop. This workshop, described as time-limited, aims to provide valuable insights on generating your first commission tonight.
However, it's important to note that the workshop is actually a prerecorded webinar featuring John Crestani, who takes the opportunity to promote his Super Affiliate System.
The training is priced at $997. Despite these offerings, I decided to skip both opportunities as they are unrelated to the eCom Profit Sniper.
The Training Area
The training consists of four modules, each featuring videos that guide you through the process of setting up a Shopify store. After going through the training myself, I have to admit that I feel like there's something missing.
When I come across training programs like eCom Profit Sniper, it leaves me with limited options but to question its legitimacy.

The course contains valuable information, but there are a couple of issues with the training:
The training is cut short. Regardless of what Tom Parker claims, it's unrealistic to expect accelerated learning.
This program appears to be another one in a series of mediocre digital marketing courses that are common on the internet.
A Short Course About Shopify
eCom Profit Sniper provides you with instructions for setting up a Shopify store.
It also covers important information about AliExpress and Oberlo, including finding products, selecting images, conducting keyword research, and other aspects of the dropshipping business.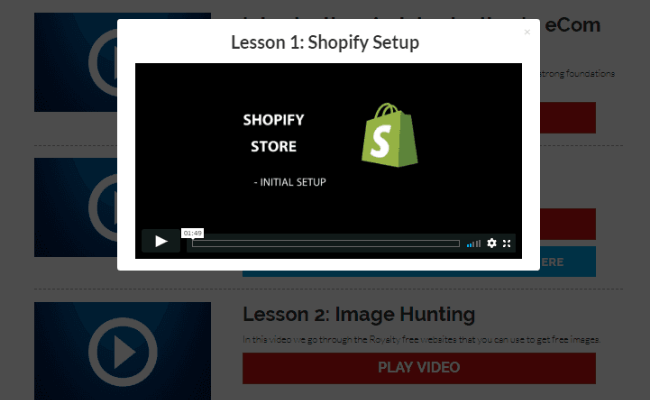 This training covers the following topics:
Introduction to eCom Profit Sniper
Setting up your Shopify Store
Finding Images
Settings (notes)
Settings (video)
Theme settings (notes)
Theme settings (video)
Collections & Products
Using Oberlo (Shopify Extension)
AliPay and Oberlo
Creating Your Collection
How to Add Products to Your Shopify Store
Product Categories
Selecting You Category
Where to Find Products
Facebook:
Facebook Pages
Facebook Posts
Using Facebook Pixel
Does eCom Profit Sniper Work?
I believe that drop shipping and other businesses require time to establish themselves. Even experienced online marketers invest significant effort in setting up their ventures.
There are several phases that cannot be skipped or rushed. The first is the setup stage.
Afterwards, the focus shifts to generating traffic. Finally, there is an optimization stage where fine-tuning is necessary to maximize returns.
If you are a beginner, it is my opinion that eCom Profit Sniper alone may not be sufficient.
Additionally, the later parts of the training concentrate on acquiring targeted traffic from platforms like Facebook, Google, and YouTube.
However, the videos only provide a brief overview of the topic.
What concerns me the most is the omission of the fact that PPC traffic generation requires at least $1000 to start. Merely having a store is inadequate if you lack funds to advertise your offer online. No traffic means no business.
eCom Profit Sniper appears to be yet another 'get-rich-quick' scam. Every aspect I've encountered since my initial exposure reminds me of the few honorable mentions discussed earlier in this review.
The training content is superficial and seems to exist solely to justify the price.
Are People Getting Results With eCom Profit Sniper?
I couldn't find a single person who could confirm that the eCom Profit Sniper training really works and delivers results. Surprisingly, all I found online were negative reviews and user complaints.
This just confirms everything I mentioned in my eCom Profit Sniper review – it doesn't seem completely legitimate, so it's probably best to avoid this offer altogether.
By the way, those testimonials from the sales video are fake. I have proof further down in my review!
Who is eCom Profit Sniper for?
To be frank, eCom Profit Sniper is an expensive sales funnel primarily beneficial for its owner.
Nonetheless, the inclusion of dropshipping education in the package makes it suitable for individuals interested in acquiring knowledge about setting up a dropshipping site.
On the other hand, if you're looking for the best business model to earn passive income online as a beginner, there are other, more suitable, and cost-effective alternatives.
My top-rated course has helped me to go from earning $0 to $100s per day!
THE BEST WAY TO MAKE MONEY ONLINE IN 2023 >>
How Much Does eCom Profit Sniper Cost?
The initial cost of eCom Profit Sniper is only $37. However, once you pay for this seemingly legitimate opportunity, you'll quickly realize there's more to it than meets the eye.
You see, eCom Profit Sniper functions as a marketing funnel. It's far from what you may have heard in the video presentation.
The funnel is designed to entice you with a persuasive video, making grand promises of a luxurious life if you choose to participate.
However, once you're inside, you'll discover there's much more complexity involved.
eCom Profit Sniper Upsells
After passing through the security checkout and obtaining my license, I was bombarded with two additional upsells:
Premium eCom Package – $197 (downsell to $97 if you decline the first offer)
Targeted Traffic Booster – $196 (downsell to $96 if you decline the first offer)
Although I declined both upsells, I was taken aback when I discovered that both packages were unlocked upon accessing the training dashboard. What's the deal with that?
Anyway, let's now delve into a detailed examination of the pros and cons of eCom Profit Sniper.
Can You Get a Refund?
Yes, there is a valid refund policy in place so if you decide to save your money, all that you have to do is contact the support and get a refund.
You have 60 days to do so, which is a pretty generous refund policy.
eCom Profit Sniper Review – What I Like
As mentioned earlier in this review, eCom Profit Sniper focuses on drop shipping, a legitimate opportunity for earning money online. However, this training falls short of delivering on its promises.
That being said, let's discuss the positives.
Basic Shopify Training
The eCom Profit Sniper course offers legitimate information on dropshipping. While it provides introductory material on setting up a Shopify store, it falls short in terms of generating quick profits.
However, if you have an interest in dropshipping, there are a few valuable takeaways from this course.
100% Money-Back Guarantee
If you decide to give it a try but end up unsatisfied with eCom Profit Sniper or fail to achieve the promised results, don't worry. ClickBetter, the retailer, provides a 60-day money-back guarantee.
Simply reach out to customer support, and your refund will be processed within 24 hours.
Update: eCom Profit Sniper is now a part of the DigiStore24 affiliate marketplace. If you are unhappy with the product, you can still get a refund.
eCom Profit Sniper Review – What I Don't Like
From the moment I encountered the sales page, I had an immediate dislike. My gut instincts warned me to exercise caution, and, as usual, they were correct. Here are the cons I observed:
The Lack of Information About the Owner
Nowadays, it's rare to come across an online marketing program with a proud owner. If you can't find any information about the owner, chances are the program is a scam or simply not worth your time.
In the case of eCom Profit Sniper, the supposed owner goes by the name of Tom Parker. He shares a life story, explaining how he managed to overcome his struggles after discovering Shopify.
However, the lack of additional details about himself raises doubts about his credibility. Having a social media profile, at the very least, would help build trust.
Personally, I see this as a major red flag.
No Proof That the Numbers Are Real
In the eCom Profit Sniper video presentation, the numbers can easily captivate you. The spokesperson will display some alleged earnings snapshots to grab your attention.
However, there is no real proof that these numbers are authentic. Keep in mind that Photoshop can create wonders.
While it is true that some people do earn the amounts of money mentioned in the video, it is important to note that these individuals are highly skilled and experienced in their respective fields. Achieving a weekly income of $10,000 requires years of perseverance and learning from failures.
It is crucial to be aware that anyone who claims otherwise is being dishonest. This should be considered a serious cautionary sign.
Dropshipping is Not As Easy As Presented
The sales video presents dropshipping as a get-rich-quick scheme. The narrator claims that you can make money with eCom Profit Sniper by working less than 20 minutes each day.
This statement is ridiculous!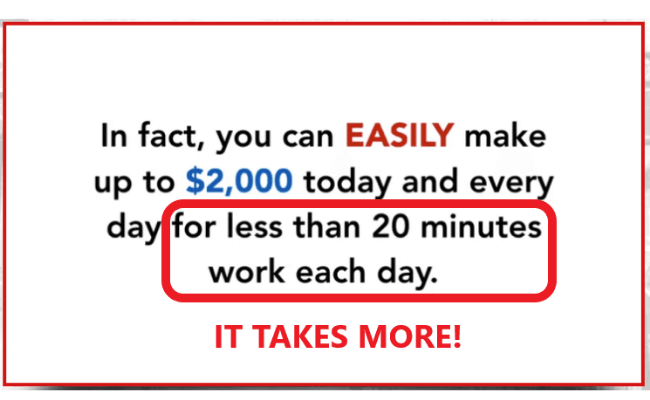 Learning the basics is crucial before expecting to make money.
Just like any other business, dropshipping takes time.
Devoting twenty minutes daily won't get you anywhere, but consistently investing a couple of hours for six months or more might do the trick if you remain patient and dedicated.
Student Testimonials are Fake
During a conversation, you may have come across three individuals discussing the positive impact of eCom Profit Sniper on their financial status.
However, it is important to note that the reality differs greatly from what they portray.
These individuals are providing false testimonials for a product that they have neither witnessed nor experienced.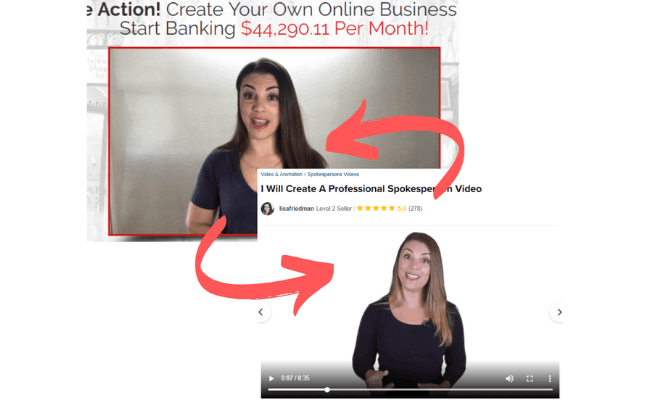 This woman, as seen in the image above, provides a video spokesperson service on a popular freelancing website called Fiverr.
However, it is advisable to be cautious with the information she presents.
There Is No Free Website
One more thing that bothers me about eCom Profit Sniper is the information about a free website.
They claim that the site is fully set up and optimized to make fast money. However, that is simply not true.
The site is not free, and it's not fully optimized or profit-ready. You'll have to pay for it and set it up on your own.
This is another serious scam warning about eCom Profit Sniper.
Expensive Upsells
One aspect of eCom Profit Sniper that I found particularly repulsive was the inclusion of expensive upsells.
When I tallied up all the additional costs, the price of the course skyrocketed from $37 to $430!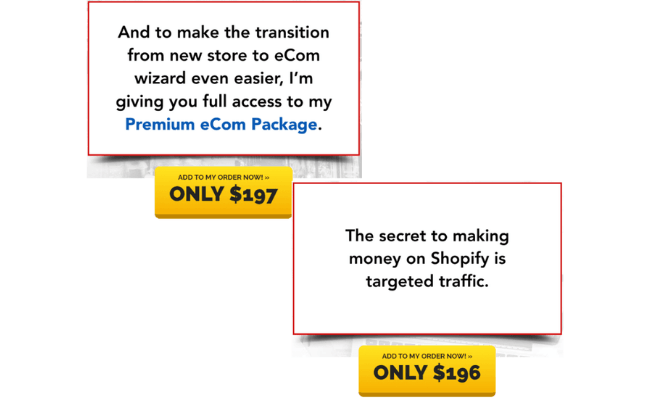 I value complete transparency. If someone isn't entirely honest about the price, they aren't worth my time or money.
Do I Recommend This Training?
After carefully reviewing this offer, I must admit that I'm not a fan of marketing funnels like eCom Profit Sniper.
I firmly believe that overnight success is a myth, and anyone claiming otherwise is simply sugarcoating the truth to sell a low-quality product.
In conclusion, I cannot endorse or recommend this training course.
eCom Profit Sniper Review – Conclusion
In my experience, I find eCom Profit Sniper to be an overhyped product that fails to deliver on its promises. It claims that you can make $1000 per day working only 20 minutes or less, but this is simply not the case.
While the training is okay and attempts to teach about dropshipping, the sales pages are highly unethical and should be banned.
It is disheartening to see these kinds of products on the internet, as they target gullible newbies and prioritize profits over providing real value.
To summarize my eCom Profit Sniper review, it is not worth your time, money, or trouble. I hope this post has been helpful in revealing the truth behind overhyped products like this. I
If you have any questions, please feel free to leave them below.
| | |
| --- | --- |
| | Info product on dropshipping business. |
| | $37 on front end, $393 for upsells, plus extra costs for tools. |
| | 60-day money-back guarantee. Pretty basic dropshipping course. |
| | Incomplete training. Fake owner persona. No info about the real owner. Overhyped and misleading claims on the sales page. Expensive upsells once you pass the checkout. Fake testimonials. No proof from real users. No free website as promised. |
| | eCom Profit Sniper is just another overhyped product that doesn't live up to its promises. It's best for no one! |
| | |
| | |
The Best Way To Make Money Online
I earn online by creating simple affiliate websites that I use to connect people with products they are already looking for.
It's called affiliate marketing and it is the best way to make money online (at least in my humble opinion).
If you want to learn more about how you can start making money online with affiliate marketing, I would strongly suggest you sign up for the free training on the next page.
And don't forget to share this eCom Profit Sniper review with your friends and family!
All the best, Ivan @freeaffiliatemarketingbusiness.com