Welcome to EZ Bay Payday review. Can this program help you to generate thousands per week with a totally DFY system? Or is it after all just another overhyped scam? I did a research to help you find out the truth.
Steve Richards, the owner, and creator claims that his system is unlike anything that the world has ever seen before. Moreover, his method is the world's first and only 100% profit-generating system tapping into the world of eBay dropshipping.
But how much of this is really true?
Based on what I've seen, very little. You see, these sales pages are perfect for catching people who are looking for a get-rich-quick scheme. And generally speaking, EZ Bay Payday fits the profile.
They promise thousands per week without any work or effort. But in reality, things are not rolling like that. eBay dropshipping is a legitimate business opportunity. However, this offer might not be so legit.
In this EZ Bay Payday review, I share insider details about this course. You are going to learn what's inside and how it works. Also, I give a list of pros as well as a few warning signs that indicate that, after all, EZ Bay Payday might be a scam.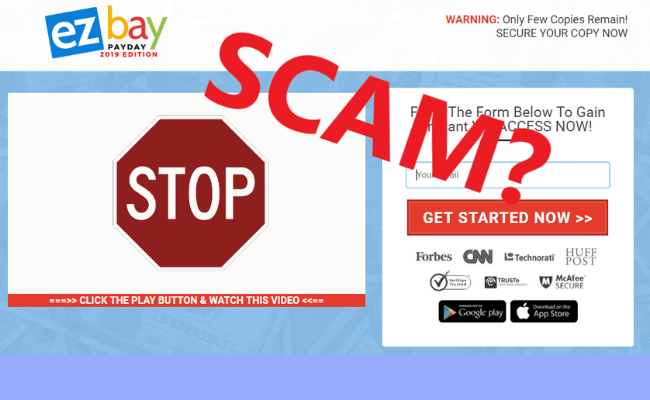 EZ Bay Payday Review – Overview
Product Type: Dropshipping
Product Price: $47 + Hidden UPSELLS
Product Owner: Steve ???
Money-Back Guarantee: 60-Days
Recommended?: No!
Overview: In a nutshell, EZ Bay Payday is a misleading and overhyped offer from ClickBank that promises $500 in the next 24 hours among many other unrealistic things. Allegedly, you can use this system to start making money in a few clicks and minutes per day.
However, these claims have nothing to do with reality. Making money online with eBay is not going to happen with a few clicks and 20 minutes of work each day.
Worst of all, the training is shallow and not finished. To top it off, they use fake testimonials and fake names to sell you a dream about getting rich quick. Yes! I've got proof in this review!
Overall, I believe that EZ Bay Payday is just another overhyped scam designed to lead you to buy a cheap front-end product. The idea is, once you're inside, to upsell you more products. That's how a fake owner is making tons of cash.
And if you fall for it, you can expect more shiny objects from fake people being delivered to your email every day!
The good news is, you can get your money back. The bad news is, EZ Bay Payday is a scam and I recommend caution.
If you're tired of these scams, make sure to check out my top recommended program for making money online that helped me to go from $0 to earning $100's per day…
THE BEST WAY TO MAKE MONEY ONLINE IN 2023 >>
What is EZ Bay Payday?
According to the sales page and Steve Richards, EZ Bay Payday is a proven system that will help you go from zero to getting paid online. Also, they claim that this system will help you get paid from the first day! This system is easy to use and 100% newbie-friendly. You don't any technical skills or previous experience.
Sounds very tempting? Well, that's the agenda here.
You see, most of the sales pages, especially this one, are specially designed to convince you that you are buying something out of this world. While in reality, it's not even close.
Steve gave you a speech about the secret system he has developed, which will help you to tap into eBay and make profits as of today. I can't argue with the fact that some people do make money with eBay.
It's, as you probably know, one of the world's largest online retailers. And yes, you can make money with it. Though most experts claim that eBay dropshipping is dead. But more about that later.
Before going any further, I must warn you that making money from your first day is close to impossible.
EZ Bay Payday system uses a lot of dirty tricks to appear like a real deal, much like many other ClickBank products that I have had a chance to review.
The sales system usually looks like this. They get you all excited with the video first. Then, you follow the instructions and start the program. The owner of the funnel, because that's exactly what it is, a funnel, banks a commission on every fool that falls for it. In the end, you get a half-baked info product in your hands that can't help you make a dime. Disappointment follows quickly. And the owner is happy as long there are fools out there buying this.
I don't want to burst your bubble or kill your hopes.
Understand that EZ Bay Payday is a professionally done marketing funnel full of lies. It's designed to sell you a crapy product and lead to expensive upsells until they bleed your wallet dry.
Who is Steve Richards?
Steve Richards claims that he is the owner and creator of EZ Bay Payday. He was nothing and no one. But then one day, Steve discovers a secret to making money with eBay.
Consequently, because he is such a nice guy, Steve spends the next six months in blood, sweat, and tears to create this system. Today, he is proud to share the system with you.
You see, every time I bump into something like this, I check the owner first. Because in 99% of the cases, I discover the same thing. In other words, I find fake names and fake photos.
Therefore, I did a little bit of research and discovered that Steve is not a real person. It's only a pen name. In other words, a fake character. It's only the first of many signals that EZ Bay Payday might be a scam. I'll prove it by the end of this review.
Think about it. Would you use a fake name and stock photo if your course was legit?
Of course, you wouldn't. Scammers use these tricks to sell you a piece of generic information under promises that it will make you $1000's overnight. Speaking of which, let's take a look at the next section of the EZ Bay Payday review to see what is inside.
EZ Bay Payday Members Area
After all these different steps you finally get to the EZ Bay Payday Course. The course is made up of 11 modules. Each module contains 1 or more videos. Many of the videos only last 1 or 2 minutes.
Let's see what information they contain!
Training Videos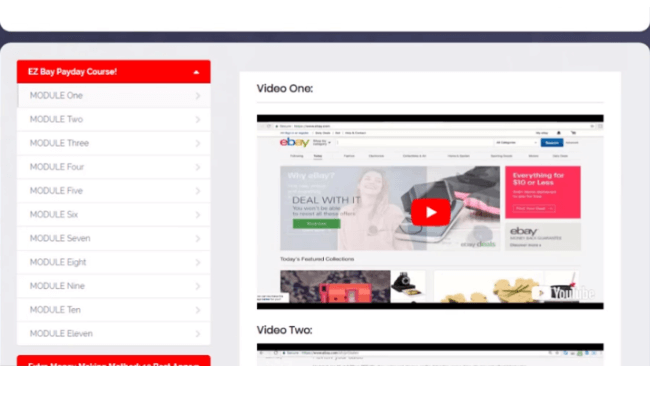 Module 1 (3 videos)
These videos are an introduction to the course where you get to meet a person named Toni who is allegedly a very successful drop shipper.
This just proves that EZ Bay Payday is a scam. First, you were told that fake Steve was the owner and creator. Now, some guy named Tony appears out of nowhere.
Module 2 (3 videos)
In this training module, they explain what eBay is and why you should start dropshipping with eBay. You get three very basic videos that contain generic info that you can find all over YouTube for free.
Module 3 (2 videos)
The next two videos briefly talk about what is PayPal and how to set up your own account. Once again, there's nothing special about this module of EZ Bay Payday.
Module 4 (4 videos)
These videos talk about how to set up an eBay business account, choose the name, set up your profile, etc. And that's basically it. A few short videos on a simple topic.
Module 5 (2 videos)
In these two videos, the spokesperson shares some tips on how to find good products to sell with your eBay store. I didn't find anything spectacular in this module of EZ Bay Payday.
Moreover, this information could fit into a lot more videos than you get here…lame.
Module 6 (4 videos)
These videos continue with choosing profitable products to list in your store. Basically, they will show you how to set up a listing but the content is once again generic and not in-depth as it should be.
Module 7 (3 videos) 
In these lessons, they show how to list your products using the software. There's some slight value in this module of EZ Bay Payday. Who would have known?!
Module 8 (1 video)
This is a short video that talks about optimizing your title. How can you call one video a training module???
Module 9 (3 videos)
In this module, they talk about making sales and show how to use cashback sites to add extra income. There seems to be a big gap here and this module of EZ Bay Payday is not very helpful.
Module 10 (1 video)
This video explains how tracking works. Once again, we have only one video in this training module. I'm getting very disappointed, guys.
Module 11 (1 video)
This video shows how to get the tracking number for each item and upload it to eBay.
And this is where the show stops!
As you can see for yourself, the EZ Bay Payday training program is not complete. In other words, these videos are nothing but fake-ass attempt to show you how to start with eBay dropshipping so they can justify their actions from before.
Bonus Resources
Also, you'll find a few more resources within the members' area. These resources have nothing to do with an advertisement from the beginning and are once again, thrown in there to make you believe that you get something real.
The first resource talks about making money taking online surveys.
The second one talks about making money with UserTesting.com.
A short guide to making money as a freelancer.
And there's one more resource within EZ Bay Payday members' area, but it looks like there's nothing inside.
How Does EZ Bay Payday Work?
As I've explained already, EZ Bay Payday works by design. They pull you in with a flashy video to buy some miraculous system for making money with eBay. They swear that you'll need to put in only 15-20 minutes of work each day to make this system work.
However, if you really want to make money with eBay, prepare yourself for months and months of hard work. It's not impossible. But once again, it's not even close to what Steve, or whoever he is, tells you.
To make you think it's easy and anyone can do it, the guy tells you to follow a few simple steps.
Login to your account
Choose a niche and products
Connect your EZ Bay Payday Cash Magnet
Make money
Even worse, he promises you $500 till the end of your first day. Now again that's complete BS. If it were so easy, wouldn't you agree that everyone would be doing it?
Trust me, the story is always the same. If you ever get into it, you'll find a low-cut training course on eBay dropshipping. Honours to exceptions. The training may help you to understand what dropshipping is and how eBay works in connection with this business model.
However, the real agenda behind EZ Bay Payday is not to teach you eBay dropshipping, but to funnel you to some expensive upsells and affiliate promotions. They are usually very expensive. Consequently, the price can quickly jump from a few bucks to a couple of hundreds. The worst thing is you don't know what you're buying.
In the end, it can cost you a lot to learn that EZ Bay Payday is nothing short of a scam.
What's Good About EZ Bay Payday?
In my opinion, the only good thing about EZ Bay Payday is the ClickBank 60-day money-back guarantee. If you ever decide to purchase this to test it out and for some reason, you don't get the promised results, you can ask for a refund.
The good thing is that ClickBank issues refunds with no questions asked. So basically, you're 100% covered, but only if you act within 60 days after the purchase, of course.
Who is EZ Bay Payday for?
Based on everything I've said in this review, EZ Bay Payday is the best for Steve Richards, or whoever he really is. I don't trust this website and I can't see how this is a legitimate offer that could help you start eBay dropshipping business.
EZ Bay Payday Scam Signs
Before I give my final verdict regarding EZ Bay Payday, let me walk you through a few warning signs. These red flags are a clear indicator of a possible scam.
1.) Overhyped and Full of Get-Rich-Quick BS
The sales video for EZ Bay Payday is hands down one of the worst get-rich-quick promotions that I've seen so far. I review products like this daily. It's become almost normal to hear these claims.
As per usual, the owner of this funnel is going on and on about easy money. I don't mind if they tell you that you can make a thousand bucks down the line because that's a reasonable outcome for those who stick to the plan for an extended period.
However, to hear that you can make money until the end of the day is ridiculous. On top of that, the spokesperson is flashing with totally unrealistic earning potential non-stop. You shouldn't take seriously any of that. If you read the Income Disclaimer, you'll see that in the real world, they don't guarantee success with EZ Bay Payday.
Products like this have potential, not only to do the damage to your wallet but to your mindset too. Beware of anyone who promises money overnight!
2.) Steve Richards is a Fake Character
I've already explained that Steve Richards is not a real person. To prove to you that I know what I'm talking about, I took another screenshot from the EZ Bay Payday sales page.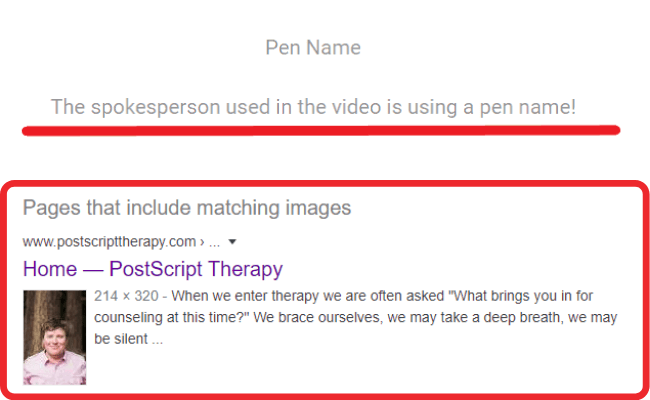 The real owner of EZ Bay Payday has created the Steve character to gain your trust. He knows that if you hear a heartbreaking story about some guy named Steve, you might easily connect with him. As a result, sales are almost guaranteed.
A fake owner with a convincing story is a popular tactic to gain the trust of the visitors. But it's also highly unethical. I wouldn't give my money to someone who is doing things like this.
Would you?
3.) They Use Fiverr Testimonials (FAKE!!!)
Together with Steve's character, the rest of the EZ Bay Payday sales page is also fake. I don't even know where to begin with this one.
You see the main issue, at least for me, is fake student testimonials. The sales page is full of people who claim that they are making thousands of dollars with this system.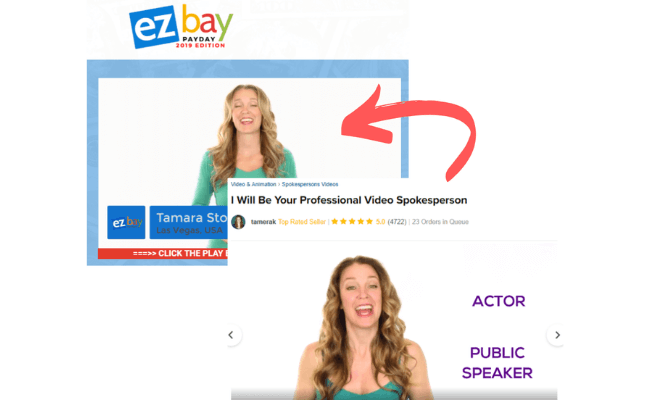 In reality, none of them had anything to do with it. Except a few of them who have been paid to record a fake testimonial. That's right! As you can see in the image above, those people offer video spokesperson service on a popular site called Fiverr.
4.) Fake Pressure is Used To Push You In
The owner of EZ Bay Payday is using one of the smartest marketing tricks, time pressure. The video presentation and sales page are both full of it. I don't mind pressure if a person is selling a physical product that can run out.
But only a few copies of digital product…come on!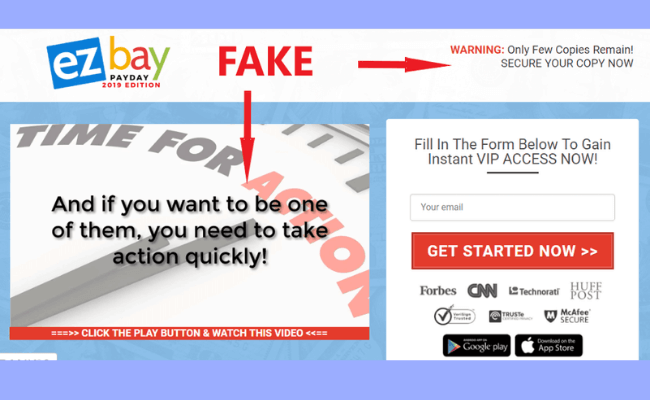 For example, they tell you that there are only a few copies left and you should act fast if you want to get yours. Or that the spots are filling up quickly and of course, the number of places is limited. Or if you don't act now, the page might not be there next time.
Do not take seriously any of that. Don't take this offer seriously at all.
5.) eBay Dropshipping is Not Easy as Presented
EZ Bay Payday sales video serves you a story about quick success. The statements like 'make $500 a day by working a few minutes a day' are ridiculous. And even when you have a store ready, the work is not done. You'll have to monitor stock issues, deal with the return issues, and a lot of other small tasks that can take a few hours of your day.
Dropshipping is not an easy business. Moreover, it takes a lot of time, work, and money (!) to make eBay dropshipping profitable. Do not believe people who are sugarcoating the truth.
6.) Training Videos Are Not Complete
Lastly, EZ Bay Payday training is nowhere near to being called legitimate education on dropshipping. They have included a set of worthless videos that talk about eBay and dropshipping but have taken care to finish the course!
How to justify an unfinished course?
In my opinion, there is no way to explain this. It just shows that they are looking to scam you for your hard-earned money by giving you false hopes about making $1000's overnight.
Is EZ Bay Payday a Scam?
Let's summarize this EZ Bay Payday review and everything related to this program to decide whether or not it's a scam.
You see, I have accumulated a lot of experience with products of this kind. After some time, you develop a 'nose' for those who are selling you crap wrapped in beautiful paper. It takes a few minutes for me to recognize who's honest and who's a scam.
In the case of EZ Bay Payday, you've had a chance to read five warning signs which indicate that it is a scam in question. To name a few in case you have forgotten. The real owner is pretending to be Steve Richards. Furthermore, success stories are coming from Fiver actors. The whole program breathes with get-rich-quick signals.
How can you trust anyone who's doing this to make a sale?
If you remember, I've said that EZ Bay Payday is a marketing funnel. It's designed to make money for the owner in the first place. To mask the intention, they give you a crappy, half-baked, low-cut training course on dropshipping and/or a few PDF's on the same topic.
The owner will use the space between the video and the time you reach the material, to push a couple of upsells. The price can quickly jump from $30 to $300! Moreover, once you get in, you'll have to pay for things like website hosting and domain name. The owner will get a commission on every sale.
Nobody has told you this in the video!
That's not all. You'll need to leave your email address. The creator of this offer will use it to send you more 'get-rich-quick' type of offers. As an affiliate for those programs, he makes money every time someone buys.
EZ Bay Payday is an unethical product, and it fits into the profile of a scam.
In the end, I'll let you decide for yourself. What do you think? Is EZ Bay Payday a scam or legit? Have you tried it yourself?  Let me know your thoughts in a comment box at the end of this review.
Final Words and Recommendation
Before I finish this EZ Bay Payday review, I want to say that I do not recommend it.
In my eyes, it is a highly unethical sales funnel that has nothing to do with helping you to start a dropshipping and make money online. There's nothing right about this product and I suggest avoiding it completely.
Here are a few more to watch out for:
If you are interested in making money online, but you've failed to find a legitimate training program, make sure to check my top recommendation below that helped me to go from $0 to earning $100's per day!
THE BEST WAY TO MAKE MONEY ONLINE IN 2023 >>
If you need any help or you have a question, feel free to contact me.
And don't forget to share this review with your friends and family!
All the best, Ivan. Founder, and CEO @freeaffiliatemarketingbusiness.com