One of the most popular questions in this niche is; is doTerra legit or a scam (MLM) multi-level marketing company? Is doTerra a pyramid scheme? See my review to learn more!
doTerra sells essential oils and has a consumer rating of 3.07 stars from 48 reviews, indicating satisfaction among most buyers.
Their customer service is frequently praised. While the company itself appears legitimate, there is limited information on whether doTerra MLM is a scam or a genuine opportunity.
Essentially, their MLM program allows you to earn money by selling their products, specifically essential oils.
In this review, I will discuss the viability of this method for making money and whether it is a scam. Read on for insights into doTerra and my personal opinion on whether it is a legitimate MLM opportunity.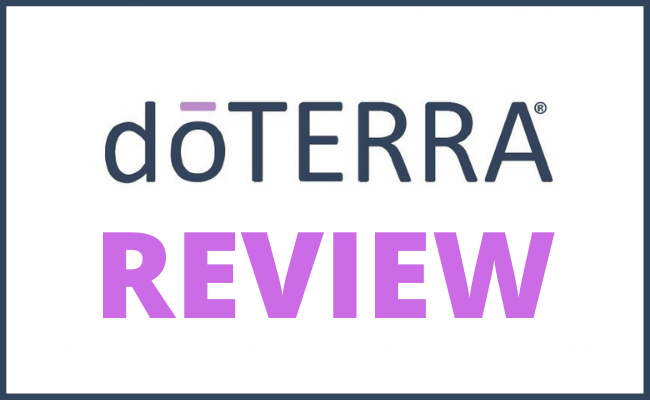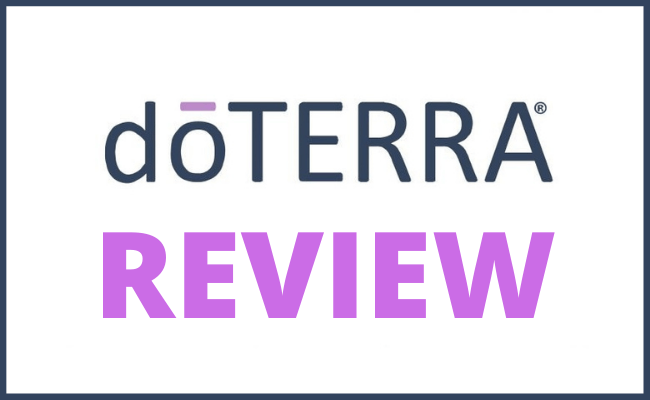 Is doTerra a Scam?
In my review, I want to clarify that doTerra is not a scam. However, there have been some negative reports regarding their practices. Essentially, they have been accused of making exaggerated claims and overhyping their products.
Recently, the FDA conducted an investigation into the company to determine the legitimacy of these claims.
It was discovered that many of the claims they made about certain products were in direct violation of new drug regulations. In a released letter, the FDA stated,
"your products are "new drugs" under section 201(p) of the Act [21 U.S.C. § 321(p)] because they are not generally recognized as safe and effective for use under the conditions prescribed, recommended, or suggested in their labeling. Under sections 301(d) and 505(a) of the Act [21 U.S.C. §§ 331(d) and 355(a)], a new drug may not be introduced or delivered for introduction into interstate commerce unless an FDA-approved application is in effect for it. Your sale of these products without approved applications violates these provisions of the Act."
In 2014, the FDA sent evaluation letters and alerts to businesses whose products claimed to treat various conditions, including viral infections like Ebola, bacterial infections, cancer, brain injury, autism, endometriosis, Alzheimer's disease, tumors, and ADHD.
However, there is no scientific evidence supporting these claims regarding the use of essential oils to treat Ebola or reduce tumor size.
There was also a lawsuit involving Young Living, a competing company, which claimed that doTerra had violated contracts and used trade secrets. However, the courts dismissed the case and rejected the claims against doTerra.
But, as I mentioned in my review, disregarding all those marketing claims, doTerra is not a scam. If you are interested in joining their MLM and becoming a representative, it is a safe option.
Alternative: If you're a newbie who is looking to earn passive income online, there are other, more beginner-friendly, and cost-effective alternatives. My top-rated affiliate marketing course has helped me to go from earning $0 to $100's per day!
THE BEST WAY TO MAKE MONEY ONLINE IN 2023 >>
What is doTerra?
DoTerra is a popular brand known for marketing essential oils and providing an opportunity to resell its products through a well-established MLM business model.
The overall objective of doTerra is to help people improve their health and well-being. They offer a wide variety of essential oils that can be used for various purposes.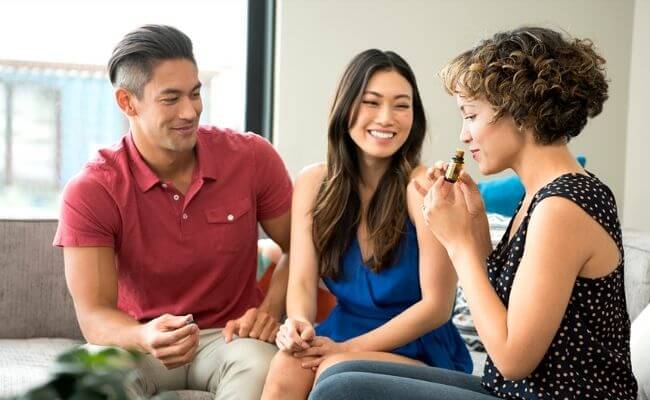 The brand is well-known for its efficient marketing approaches. Established in 2008, they have successfully reached a wide audience.
I suspect you have been approached by one of their skilled sales representatives, which is why you are searching for doTerra reviews and inquiring if doTerra is legit or a scam.
The company offers a lucrative compensation plan that rewards successful salespeople and recruiters. This opportunity is open to anyone interested.
However, due to the representatives' primary focus on recruiting, many people question whether doTerra is a pyramid scheme.
In the following sections of this doTerra MLM review, I will guide you through this business opportunity to help you gain a better understanding before taking any further steps.
Related Review: Young Living MLM
What Products Does doTerra Sell?
DoTerra markets a wide range of essential oils, which are extracted from various plants. These oils are therapeutic-grade and have legitimate medical applications.
To learn more about their products, you can watch the official video clip below.
Essential oils have been used for centuries in various ways including as scents, for aromatherapy, and for spiritual and superstitious purposes.
Each of DoTerra's oils possesses unique therapeutic properties and is highly potent. However, they should be used with caution and never ingested without the guidance of a medical professional.
What are doTerra's Most Popular Products?
DoTerra offers a wide range of essential oils, including distinct blends they create themselves. The top three essential oils from DoTerra are lavender, peppermint, and incense.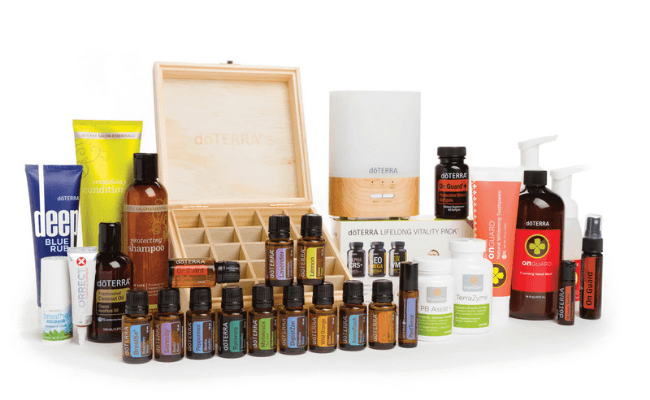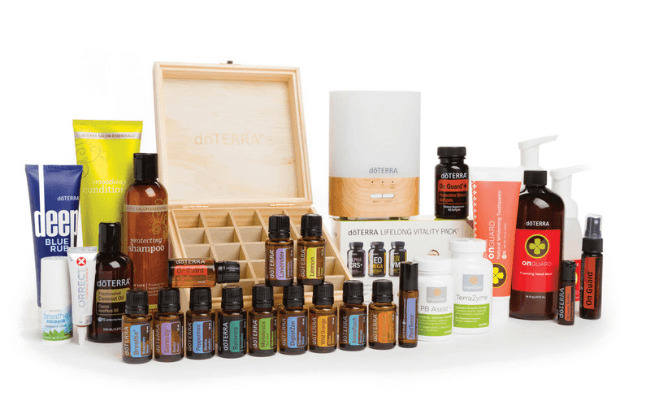 As mentioned in my previous review, DoTerra offers a variety of different blended oils. Here are some of the most prominent ones they sell:
Breathe: This mixture of oils aims to open your bronchial pathways, making it easier to breathe.
Deep Blue: Designed to soothe discomfort in muscles and joints, Deep Blue should be applied topically.
OnGuard: This oil is intended to boost your immune system and promote overall wellness, keeping your body strong and healthy.
Are doTerra Essential Oils Any Good?
When it comes to reading DoTerra reviews, today's buyers are more discerning. They are aware of the potential risks associated with chemicals and artificial additives in our food and household products.
As a result, there is a growing interest in natural, holistic, and healthy options. Essential oil enthusiasts appreciate the fact that these powerful organic substances can be incorporated into various health, wellness, and skincare products.
Below is a diagram outlining 3 simple steps to using DoTerra essential oils.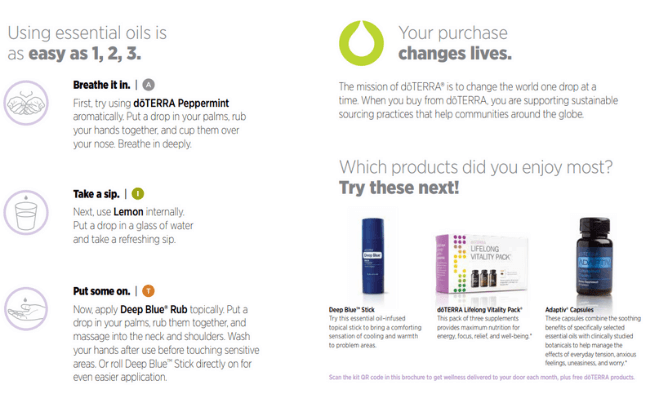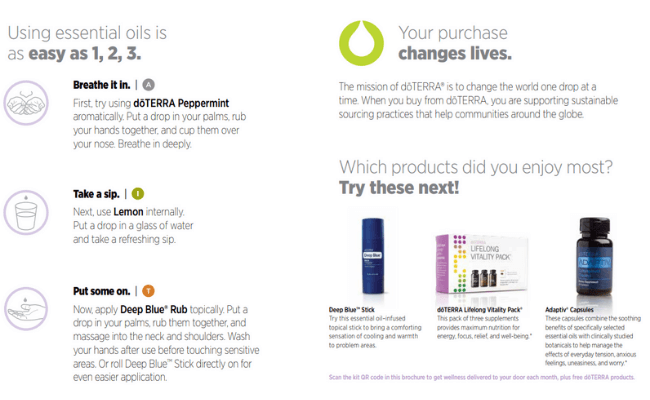 DoTERRA has successfully capitalized on the growing trend of using safe and natural products in our daily lives. They offer a wide range of essential oil-infused items, such as hair shampoo, antiperspirants, skin cleansers, lotions, nutritious drinks, and nutritional supplements.
Additionally, they have the doTerra Kid's Oil Collection, which features gentle blends suitable for children of all ages.
Do doTerra Essential Oil Products Work?
Numerous studies have been conducted on essential oils and their restorative properties, owing to their growing popularity. However, it is important to note that scientific research in this area is still relatively nascent.
To the best of my knowledge, doTerra's oils have not been included in any research studies. Nevertheless, based on consumer testimonials, there is no reason to believe that they would not be effective for you as well.
The reputation of the brand would not have become so well-known if the quality of the oils was subpar. Despite this, there are still skeptics.
Before I address the question of whether doTerra is legitimate or a scam, I will provide you with more doTerra reviews below.
Related Review: Coway MLM
Are doTerra Essential Oil Products Pure?
The company developed the CPTG Certified Pure Therapeutic Grade procedure to ensure that every bottle of essential oil meets rigorous quality standards. This guarantees that the oil is pure and free from toxins, synthetic fillers, or pesticide residues.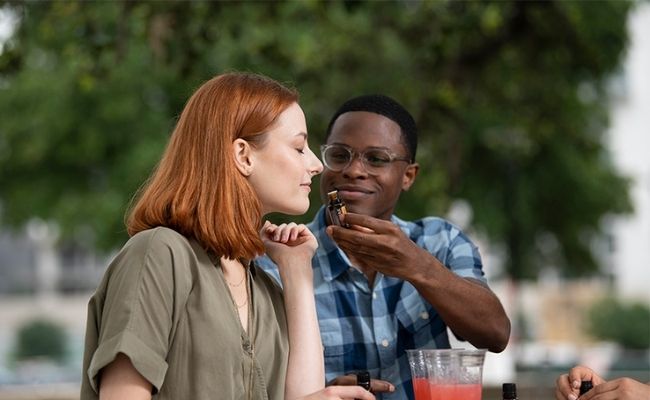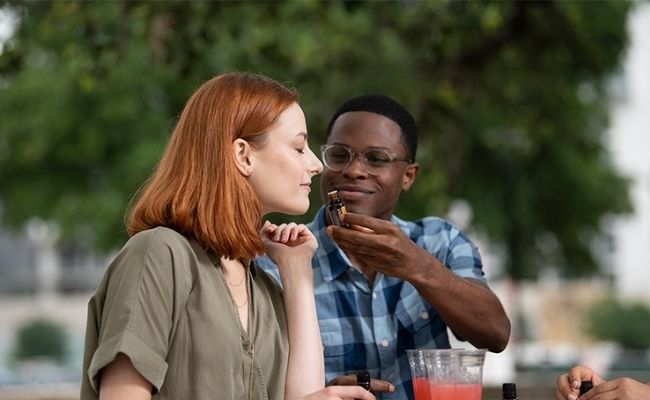 To ensure accountability, the CPTG treatment involves multiple steps. Firstly, there is a thorough inspection of each batch of oil, accompanied by third-party screening.
DoTerra promptly initiates the CPTG screening treatment after purification, which includes analyzing the chemical make-up of each oil.
The second round of screening takes place at the production facility to confirm that the oils distilled and examined in the initial stage are the same ones received at their facility.
Before the oils are packaged and shipped to consumers, a third study is conducted, analyzing the chemistry of the oils. Each examination serves to validate that the oils are devoid of toxins and that there have been no unexpected changes during production.
How Much Do doTerra Products Cost?
Their essential oils and other products are available on their website. The company's website includes an integrated online shop where you can easily browse and purchase all their products.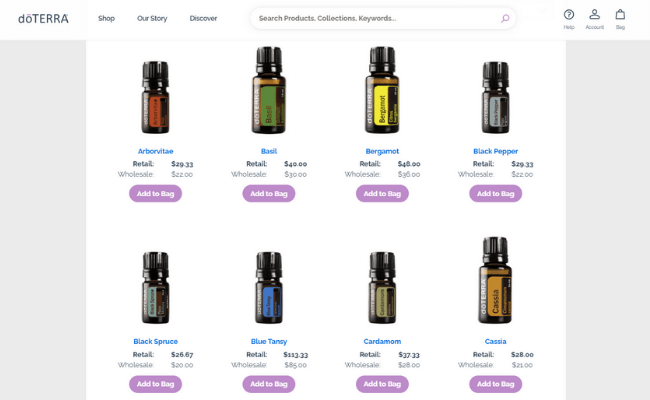 Also, you have the option to register as a Wholesale Member, which grants you access to shop at discounted wholesale prices. Alternatively, you can sign up as a distributor to enjoy the same discount while also having the opportunity to generate income through DoTerra MLM.
It's worth noting that DoTerra is one of the few MLM firms that do not make their products available on Amazon.com or other online markets. However, you can still purchase the Introductory Sales Sets on Amazon.com if you wish.
Keep in mind that DoTerra oils are much more affordable when you purchase them wholesale. To illustrate, here are some examples with the original list price followed by the corresponding wholesale cost:
Basil essential oil: normal price $67.00, wholesale price $20.00
Cilantro essential oil: normal price $67.00, wholesale price $26.00
Ylang ylang: normal price $47.00, wholesale price $35.25
Alternative: If you're a newbie who is looking to earn passive income online, there are other, more beginner-friendly, and cost-effective alternatives. My top-rated affiliate marketing course has helped me to go from earning $0 to $100's per day!
THE BEST WAY TO MAKE MONEY ONLINE IN 2023 >>
How Does doTerra MLM Work?
In my DoTerra review, I mentioned that the company offers an MLM business opportunity. This means you can sign up, market items, and even recruit members to do the same.
By doing this, you earn rewards and discounts on products. Specifically, you earn a percentage of compensation from the people in your downline—those you recruit and those they recruit, and so on.
However, this raises the question: Is DoTerra legit? Some argue that DoTerra's multi-level business model resembles a pyramid scheme.
Is doTerra MLM Legit?
In my review, I already mentioned that doTerra is a legitimate MLM.
They offer genuine products, which have been subjected to scientific research studies for verification. Essential oils are incredibly versatile, and the growing trend of natural and holistic practices in health and wellness is gaining momentum among consumers.
One of the key aspects that make this MLM legitimate is the exceptional support system provided to their distributors by doTerra.
Additionally, their corporate seminars are professionally conducted with a high level of expertise.
Related Review: Forever Living MLM
How Much Is doTerra Membership?
Unlike other MLMs that require an annual membership fee, the DoTerra membership offers pure essential oils at discounted prices, up to 25% off, for an entire year.
For a doTerra membership, the initial annual fee is $35. After the first year, to maintain your account, there is a $25 renewal fee. As an added bonus, you will receive a complimentary Peppermint essential oil.
Related Review: Primerica MLM
How Much Can You Earn With doTerra?
Regarding compensation plans, DoTerra offers three different ways for Health Advocates, distributors, or interested individuals to earn money.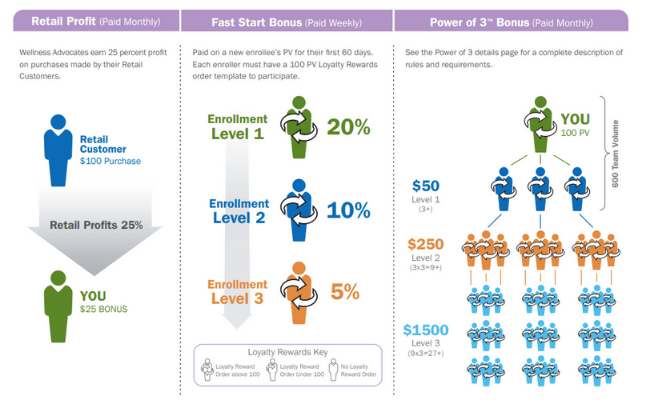 Retail Profit – Earn a 25% commission on all retail purchases.
Fast Start Bonus – Within the first 60 days, earn a higher percentage from your first three downline levels: 20% for Level 1, 10% for Level 2, and 5% for Level 3.
Power of Three Bonus – The Power of Three Bonus offers a $50, $250, or $1,500 monthly bonus. To achieve this, distributors need to build a structured team and reach certain volume goals. As you work towards qualifying for the Power of 3, you can also progress through the ranks of doTERRA leadership. This requires having three distributors who exceed their usual purchases.
Concerned that the doTerra compensation plan may be confusing? Don't worry, many MLM companies make it intentionally complicated. The important thing to know is that they do pay commissions for each sale made by you or someone in your team.
So, is this a legitimate business?
Alternative: On the other hand, if you're looking for the best business model to earn passive income online as a beginner, there are other, more suitable, and cost-effective alternatives.
My top-rated course has helped me to go from earning $0 to $100's per day!
THE BEST WAY TO MAKE MONEY ONLINE IN 2023 >>
Is doTerra Pyramid Scheme?
To provide an informed review on whether DoTerra is a pyramid scheme, it is crucial to first understand the concept of a pyramid scheme.
What Is a Pyramid Scheme?
As per Wikipedia, a pyramid scheme is a business model that recruits members by promising payments or services in exchange for enrolling new members into the scheme.
This model does not focus on providing investments or product sales.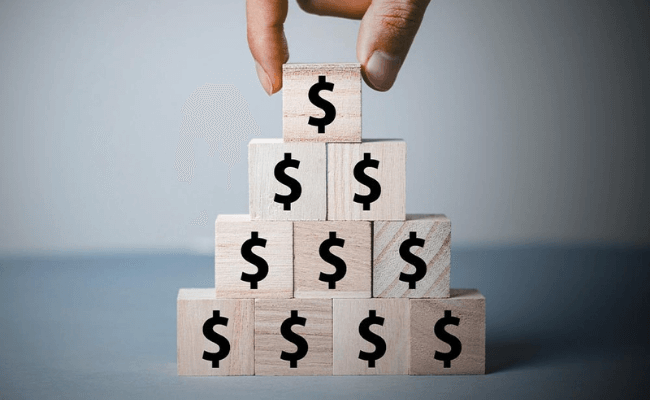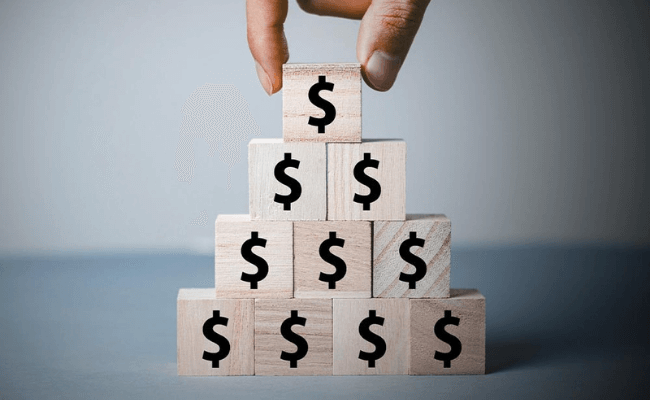 Since this company offers tangible and valuable products, there is minimal evidence to suggest that it operates as a pyramid scheme. In other words, members do not solely depend on recruitment for income; the business has a legitimate product to sell.
Consequently, I cannot classify doTerra as a pyramid scheme.
Why doTerra is Not Considered a Pyramid Scheme?
DoTerra is not considered a pyramid scheme because it does not meet the FTC definition of one.
The company's compensation plan may have some viability issues, but it does not mislead distributors into thinking they can earn substantial profits like a pyramid scheme would.
Additionally, doTerra does not require distributors to purchase additional items on a monthly basis or pay extra fees for necessary training or events.
The main focus is on selling the product, rather than recruiting, which categorizes doTerra as a regular MLM, not a pyramid scheme.
Unlike borderline pyramid schemes, doTerra MLM does not pressure representatives to recruit more people to sell starter packages.
Based on these factors, it can be concluded that doTerra is not a disguised pyramid scheme.
Related Review: Nu Skin MLM
doTerra Reviews & Complaints
Like any business, doTerra has received a wide range of consumer reviews. Some individuals express dissatisfaction with the business structure or have had disappointments. However, it is important to note that such experiences are common in this industry.
If you want to read a few of these customer reviews, go visit SiteJabber.com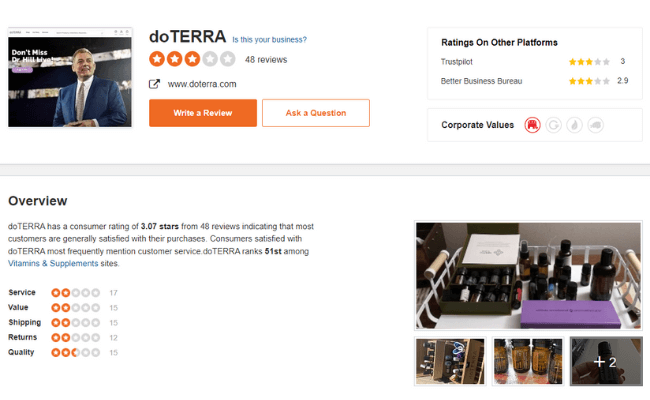 One of the recent reviewers mentioned that doTerra requires customers to purchase products on a monthly basis, and if they don't, their account will be closed.
This particular reviewer had to close their account during a move because they didn't have an address to provide. However, it's important to note that many other customers have had incredibly positive experiences.
For instance, the previous customer has been using doTerra products on her family for five years and has never been more satisfied with them.
Alternative: If you're a newbie who is looking to earn passive income online, there are other, more beginner-friendly, and cost-effective alternatives. My top-rated affiliate marketing course has helped me to go from earning $0 to $100's per day!
THE BEST WAY TO MAKE MONEY ONLINE IN 2023 >>
Related Review: Herbalife MLM 
doTerra Review – Conclusion
In my review, I want to clarify that doTerra is a legitimate MLM business. It is not a scam, pyramid scheme, or any other form of mistreatment.
doTerra has established itself as a reputable online marketing company that prioritizes the well-being of its members and customers. They provide high-quality essential oils.
Now, the decision to join their MLM and sell their essential oils is ultimately yours to make.
It's important to note that while you can make money with any MLM, including doTerra, there are no guarantees of achieving full-time income or success.
Please don't misunderstand me. You can certainly generate income with multi-level marketing by putting in dedicated effort and learning the ropes.
However, it's a fact that most people fail in this endeavor.
Statistics show that only about 2% of individuals achieve substantial earnings, while the majority waste their time and money. Therefore, I do not recommend MLMs to my readers. There are better ways to make money online.
Thank you for reading my doTerra review. If you have any further questions, feel free to ask!
About doTerra Pros:
Essential oils are backed up by science
These oils are becoming more and more of a popular 'trend'
DoTerra has created a welcoming community and support system
The company gives its members free training and lots of material
They are run very professionally and have good customer service
The company's compensation plan is better of other MLMs
About doTerra Cons:
You need to pay $35 to sign up and promote their products
DoTerra doesn't own the farms where the oils are made and harvested
They have been the subject of FDA review
In a free market, their essential oils are a bit expensive
Although DoTerra MLM is legit, only a few people succeed
Is There a Better Way To Make Money Online?
I know how hard it is to trust websites these days.
There are too many scams out there, especially in the make-money-online world.
I know, because I reviewed over 700+ sites so far!
Why did I review so many sites? Well, I wanted to find the best (and cost-effective) way for a beginner to start income online.
While searching for this information, I bumped into affiliate marketing.
Thanks to a decision to learn more, I went from waiting tables in restaurants to earning a full-time passive income online.
And today, I like helping people as you follow in my footsteps,
Keep reading…
How I Make Money With Affiliate Marketing
I earn online by creating simple affiliate websites that I use to connect people with products they are already looking for.
It requires no special skills or previous experience, which makes it the best way to start online.
The best thing about affiliate marketing is that it is passive in terms of results and income.
In other words, you could be earning an income from your affiliate website for years and years to come, even when you sleep.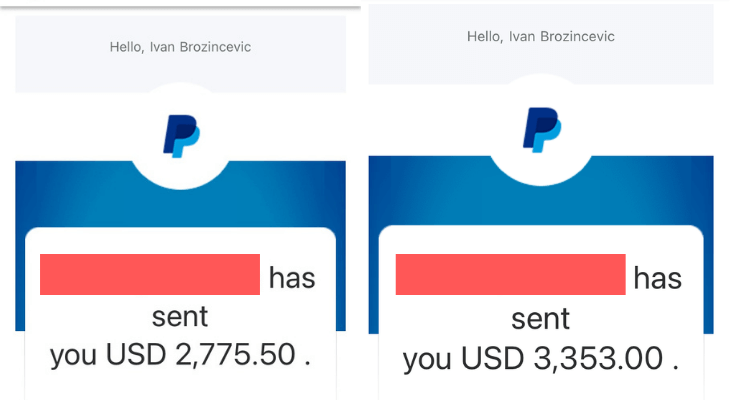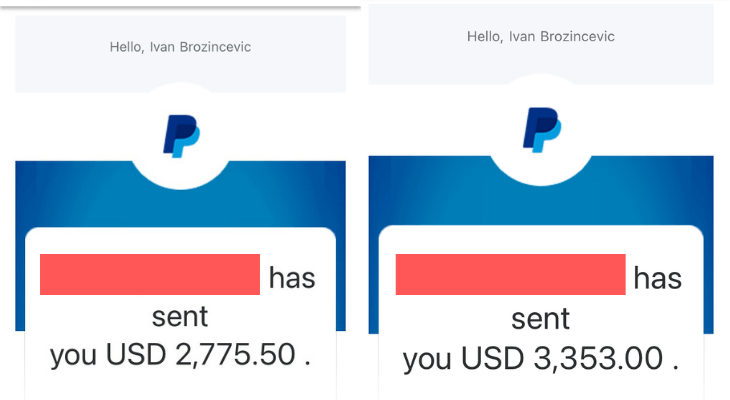 If you want to learn more about how you can start making money online with affiliate marketing, click the button below!
After evaluating over 700+ programs on the web, my conclusion is straightforward. This is the best way to start earning passive income online.
And if you're looking for the very same, I'll see you on the next page…
THE BEST WAY TO MAKE MONEY ONLINE IN 2023 >>
And don't forget to share this review with your friends and family!
Thanks for reading my review of DoTerra MLM!
All the best, Alex. contributor @freeaffiliatemarketingbusiness.com
Related Review: Amway MLM